What the April Jobs Report Tells Us About the Economy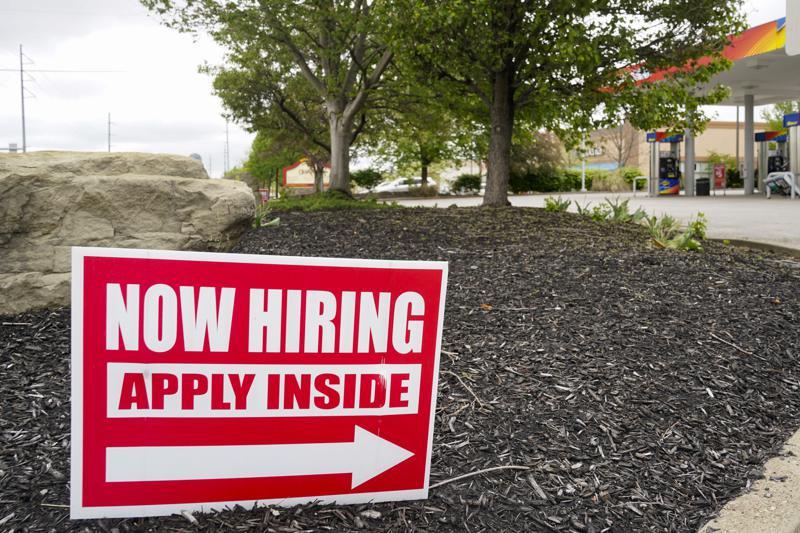 Transcript
[music]
Sarah: This is The Takeaway. I'm Sarah Gonzalez and host and reporter with NPR's Planet Money podcast, in for Tanzina Vega all week, broadcasting from LA. On Friday, the April jobs report was released and things aren't looking as rosy as many economists were predicting, with vaccinations increasing and cities and state across the US lifting pandemic-related restrictions, economists expected April to bring a huge hiring surge. According to the US Labor Department, the unemployment rate actually rose from 6% in March to 6.1% in April.
Employers added just 266,000 jobs overall. In March, by the way, more than 700,000 jobs were added. In a speech Friday, President Joe Biden tried not to dwell too much on the negative trends and instead use the jobs report to hit home the necessity of his administration's recent actions on the economy, including his $1.9 trillion pandemic relief package.
President Biden: Our efforts are starting to work, but the climb is steep, and we still have a long way to go.
Sarah: Although investors are still anticipating job growth in the coming months, the financial toll of the pandemic on low and middle-income Americans is still dramatic. Millions of people around the country remain unemployed, and in some ways, such a slow recovery might say less about the pandemic, and more about the fundamental nature of the US economy, and how it could be changing permanently. Let's talk about it. Heather Long is an economics correspondent for The Washington Post. Heather, always great to have you here.
Heather: Hi, Sarah. Good to be back.
Sarah: Also with us is William Spriggs, professor in the Department of Economics at Howard University and chief economist to the AFL-CIO. William, thank you so much for being here.
William: Thank you for having me.
Sarah: William, were you surprised that the unemployment actually went up a little? Were you expecting that?
William: At some point, I expected the unemployment rate to go up as people returned to the labor market and were bidding the jobs that were being created. That is what happened for African Americans. I was more surprised of the weakness outside of the rebound we're seeing in the restaurant industry. I just had not been thinking that we would have that much weakness in manufacturing and especially with the economy expanding weakness with temporary help.
Sarah: William, the most optimistic economists have been predicting that the labor market could be back to its pre-pandemic levels by the end of the year. There are still more than eight million jobs left to recover. Are there more concerns now about whether we'll recover all the remaining jobs?
William: I hope there will be because with the large number of long term unemployed workers, prior to this report, there was no way I saw we could erase the deficit we have in the labor market by September, when key elements of the reform to the unemployment insurance system will lapse. Now, I think more people will start to pay attention to what we are going to have to do in September to extend some provisions of the modernization of the unemployment insurance system, because we're going to still have, obviously, millions of people, either long term unemployed, or still having difficulty connecting to the labor market.
Sarah: Okay. Heather, why do we think we saw fewer jobs added in April than in March? What's the main issue here? Are businesses just still not hiring or are businesses struggling to find enough workers?
Heather: I think there's two good explanations for what happened. One is the Wall Street explanation. You still saw the stock market rallying on Friday, and that is, a lot of investors just shrugged this off. They said this is an anomaly or a blip, and that we are still going to see a pretty strong economy and probably some big months of hiring later this summer. That's one way to read things. Okay, that maybe there was just some weird, seasonal adjustment that the Labor Department did, Particularly as Bill Spriggs was explaining, some of those industries like construction. We all know there's this boom in the housing right now. These home prices are through the roof and yet construction added no jobs, which was a head-scratcher.
I think the second explanation which is probably, in my mind, the more correct one, is I talk to unemployed workers pretty much every day and I hear three things over and over again. The first is a lot of people are still a little nervous about going back to work, given that we're still in a pandemic, and they haven't gotten their first or second shot yet. They're trying to get vaccinated, but they're not quite fully vaccinated yet.
The second one that's overwhelming I hear is childcare concerns. Even though many schools are reopened, a lot of kids are back maybe two days a week, three days a week in the classroom. It's not full-time in many parts of the country yet. You can see in this report, it was interesting, pretty much all the job gains went to men. We actually saw women's employment fall a tiny bit, and particularly women's labor force participation, so that's women employed or even looking for work. That pulled back by about 64,000. Raising that red flag again, that things are still not quite right for a lot of moms in this pandemic.
The last thing I hear, and I called this in a piece that ran in the front page of The Washington Post over the weekend, I called it the great reassessment. I hear this past year has been so psychologically damaging. We've all been through so many horrible experiences. A lot of workers tell me, "I'm not going to go back. I've really rethought my life. I'm rethinking what I want to do with my career." I've talked to folks at the high end of the spectrum, who are retiring early or retiring from their corporate job to do something they feel was more meaningful. I've also talked to retail workers and restaurant workers who say, "I'm not going to rush back to that $11 or $12-hour job that I felt very dehumanized in and demoralized, where people were yelling at me when I tried to ask them nicely to wear a mask." They are also looking for different careers and looking to shift what they do on a day-to-day basis.
Sarah: There's been this talking point, mostly from the right, that unemployment benefits are creating a worker shortage. They say unemployment benefits are so good right now so people don't want to go back to work. Is there any truth to that, Heather?
Heather: I think the fairest way to say it, and I'll be interested in what Bill says, but from my perspective, the fairest way to answer this question is-- and again, this comes from me talking to unemployed workers pretty much every day. Yes, there are some people who will tell you that they are getting paid more on unemployment than they would if they went back to a job, particularly a job that pays less than 15 an hour, and that is influencing some of their decision. The overwhelming majority of people I speak to, 9 out of 10, let's say, it's these other three issues that we just talked about. It's health care still, childcare issues still, and then this bigger, deeper question of, "My whole life changed in the past year. Do I still want to be that same person I was before the pandemic?" It's people looking to maybe move. I talked to a guy on Friday, used to work for 15 years at a big box retailer, now he's back in school to be a wind turbine technician, and I just hear more and more stories like that right now.
Sarah: Well, let's talk a little bit more about safety here too because when a job becomes more risky, the way it's supposed to work is the pay goes up. You start paying people more to convince them to take this riskier job. When people have a safer and frankly, better deal collecting unemployment, that should also drive up wages. That should make employers go, "We need to do something to convince workers to take this job again." This is how it's supposed to work. Is that happening? Are wages in the hospitality industry, in particular, going up at all, Heather?
Heather: I thought this was another one of the most interesting parts of the April jobs report, is we are seeing some evidence of that. The broad leisure and hospitality category that includes restaurants, basically, wages, on average, are up about $1 from where they were pre-pandemic. That sounds like, "Okay, they're raising wages a little bit," and you can certainly see these headlines of various restaurants or fast food places offering signing bonuses or other types of perks to lure people back. At the end of the day, that average wage is still below $18 an hour or somewhere about $17.80.
You compare that, what you hear a lot, and you can see it in comments on the Washington Post website on these job stories, people will say, "Why would I go and take that job when I could have a warehouse job?" Warehouse jobs have seen their pay go up by about $1.50, and now the average in that sector is well over $25 an hour. I think another problem, you alluded to it, what you were saying Sarah, is that so many other fields are paying way, way more than these retail and restaurant jobs. They're still the lowest pay out there, and so it's going to be a struggle for them to lure people back.
Sarah: William, are there particular sectors of the labor market that are seeing slower job growth than others?
William: Actually, restaurants are doing the best in that report in terms of adding jobs, which makes this idea that workers are reticent over the wage issue doesn't make sense. The slowness was in temporary losses in manufacturing and the perplexing news. Heather pointed out the perplexing number for construction, especially residential construction being among the only industries that has returned to prior February job levels. I think that we in the United States made a mistake by blowing up our labor market. It's a very complex labor market. The restaurant industry, in particular, relies very heavily on job networks to recruit workers. It has given them a false sense of what the wage level is.
We, economists, had the hardest time explaining to people why if you raise the minimum wage, it's not a bad thing. We use a theory about monopsony when you're the only buyer to try and explain to people, the conditions under which raising the minimum wage was bad, and people couldn't quite grasp it. Normally you learn about monopsony in the context of like, "I'm the major hotel on an island, so there's nowhere else to go to get a job." People would say, "But there's pizzerias in the middle of a street. How is it an island?"
Now when you hear the pizzeria say, "I can't find workers," in the midst of what we know is very high unemployment rates for restaurant workers, you go, "Wait, you're acting like you're on an island." That is how they act even in a normal economy because they're only looking at that segment of the labor market that works with their networks. Then, as Heather said, with this long period of workers being separated, they've had to break out of that old network. Many of them did find jobs working in warehousing because that area was expanding. Now, essentially those networks aren't there, and the employers, when they go to those networks, aren't gaining that many workers anymore.
Sarah: William, many of the layoffs during the pandemic were supposed to be temporary. Do we know if recent layoffs were of that nature or more permanent?
William: That was the other disturbing thing in April. There was a spike in layoffs, a large number where people completed temporary jobs, which pretty much matched the decline and the temporary help agency numbers on the payroll side. Then we saw a equal jump in some people referring to themselves as being on temporary layoff. Again, I think that's one of the things that surprised us, was that we were continuing to see numbers losing jobs, offsetting gains. When you look at the labor flow data, the problem was there was a uptick in people who were employed who transitioned to unemployment, compared to the unemployed transitioning to employment, and that gap was narrower. There was just this general slow down in part because of these layoffs in total jobs.
Sarah: William, will you remind us what is the link between the labor market and economic recovery?
William: United States does not have a very good matching system. Other nations' employers rely heavily on the public employment service and they have a higher level of union density, and unions and those employment services tend to do a good job of matching workers. In our system, large segments of workers are hired using networks. These networks are highly segregated, just like our lives are highly segregated. You can see this particularly in the personal service sector, that is the one that blew up. Think about how many times you've been to a restaurant and the workforce seems highly segregated, and you're thinking to yourself, "Well, if this is a job, which in theory, many different people could do and within defines of the city do, why is this establishment look segregated?"
That's part of the segregation of our lives and the job networks that the companies rely on to recruit workers. That makes it hard to reconnect people if you have a disruption on the order that we had. In Europe, because they retain workers with their firms, they're not going to have the same issue coming out of this. They're going to have the issue of, how many of those firms are going to remain viable once they come out of this? We will continue to have that difficulty. That's why it's going to be so hard to clear this backlog of unemployed workers. You're going to continue to hear I think especially from restaurants, but other industries that rely heavily on networks, they can't find workers, even though clearly there are millions of unemployed Americans.
Sarah: Heather, how has government relief from the Biden administration factored into everything that we've been discussing? Have relief checks, for example, allowed for more consumer spending?
Heather: We're slowly starting to see a good bit more consumer spending, and we've had over 160 million of those checks or payments direct deposits in many cases go out. Obviously, we've seen this also continuation through September of this extra $300 a week for unemployed people. The average unemployment payment is around $300 in normal times. You put another $300 on top of that, many unemployed people are getting around $600 a week, and would continue to do that as long as they're still job-hunting through the summer. The relief has made a huge difference. There's no doubt that that's helping to stabilize and improve the economy. This year is expected to be the best year for growth, potentially since the early 1980s.
The outlook is still pretty bright, but the question is how many workers are going to come back and how quickly? I think what we normally see in recoveries is growth. The overall economy gets back a lot faster than workers do. We're trying to change that this time around with all of this government support to speed up the rehiring, but obviously that's why the April jobs reports send off so many alarm bells because it was so much weaker than expected. I think we really have to watch and see May, June, July, do we get that burst of hiring that everybody is expecting, or is the economy fundamentally changing? We've certainly seen evidence of a lot more automation and use of robots during this pandemic.
Sarah: All right. Heather Long is an economics correspondent for the Washington Post and William Spriggs is a professor in the Department of Economics at Howard University. Thank you both for joining us.
Heather: Thanks, Sarah.
William: Thanks for having us.
[music]
Sarah: In light of the latest jobs numbers, which were not as good as expected, we wanted to hear from you about what your employment status and personal finances look like as a result of the pandemic. Here's what you told us.
Jay: Hi, my name is Jay, and I'm an international student, so I'm not allowed to seek employment outside of campus. My personal finances look dead [chuckles]. Last year I was depleting everything I'd saved to pay for groceries and transportation and some tuition. I barely paid my rent and the apartment I lived in at the time was not the best with understanding the circumstances. I was very fortunate to move out of there in the middle of last year and find an on-campus job, but [scoffs] I'm still barely there.
Jack: My name is Jack from Carrollton, Texas. From the start of the pandemic, I lost half of my income because of my clients were no longer [unintelligible 00:18:41] during the pandemic and they still haven't recovered, and are mostly daycare centers. Then also I was working part-time at Panera Bread as a delivery driver, and this past Christmas, they eliminated that position for everybody. I've been trying to find a decent paying job, something that pays more than $9 an hour around Dallas-Fort Worth. Just want to find something that's enough money to pay the rent. Thanks. This is Jack in Carrollton, Texas.
Speaker 1: I live in a resort area in Colorado, and I work in the financial sector. There are thousands of people who are selling their homes on either coast and moving here, moving rurally. Interest rates have been so low that people are selling their homes or buying second homes and moving to the country. That changes the culture of our little town, and real estate prices have skyrocketed. Financially, this is the best year of my career, but it's also a major cultural
shift.
Mark: My name is Mark and I'm from Minneapolis, Minnesota. I got to tell you, a year ago March, I had COVID early, I was out for a month. I run a handyman service. We fix up houses and repair things. Once I was out of bed, work started flowing in like crazy. The phone's ringing all the time, projects all the time, everywhere everyone is tired of sitting in their home and looking at their broken stuff or their stuff that needs to be painted or remodeled or whatever. Secondly, I didn't go out for a year. I have saved literally tens of thousands of dollars by not going out to eat or drink or party or travel. I just stayed home and stayed in my bubble.
Speaker 2: I saw my employment go away, I saw myself just jump into entrepreneurship and to think about really what I want in life and what I want to accomplish before I leave this earth because who knows? It could be another virus that takes me out. My finances got shook up yet got stronger, watching my credit improve, my FICO score get better, life get better, and as we come out of this pandemic, by the time we're done, I expect to be totally on my feet strengthened for the future.
Sarah: As always, we want to hear from you, give us a call at 877 869-8253 and tell us how the pandemic has changed your personal finances and employment prospects, or record a voice memo on your phone and email it to us @takeawaycallersatgmail.com. This is The Takeaway.
[music]
Copyright © 2021 New York Public Radio. All rights reserved. Visit our website terms of use at www.wnyc.org for further information.
New York Public Radio transcripts are created on a rush deadline, often by contractors. This text may not be in its final form and may be updated or revised in the future. Accuracy and availability may vary. The authoritative record of New York Public Radio's programming is the audio record.