Andrew Cuomo is Stepping Down, But the System That Supported Him Remains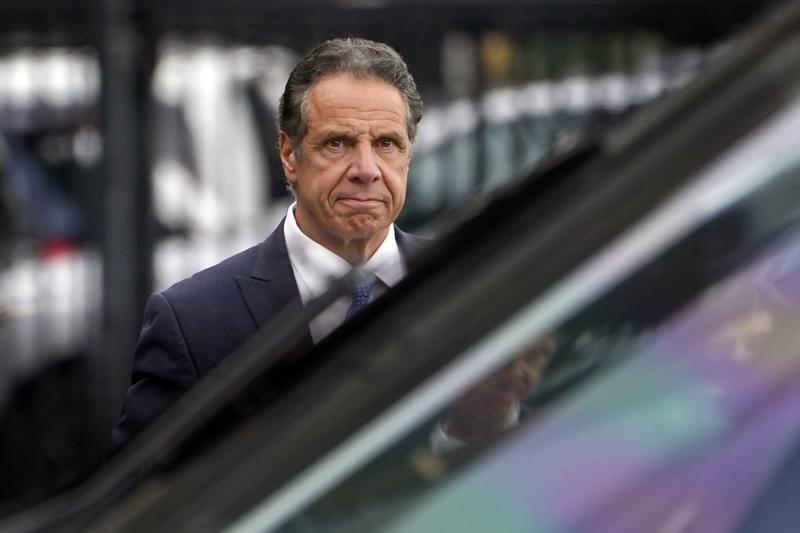 Transcript
[music]
Andrew Cuomo: I think that given the circumstances, the best way I can help now is if I step aside and let government get back to governing.
Melissa Harris-Perry: This is the Takeaway. I'm Melissa Harris-Perry, and you just heard the voice of New York governor, Andrew Cuomo, announcing his resignation on Tuesday. Cuomo's decision to step down came in the wake of Attorney General Letitia James' report detailing allegations made by 11 women who say that Cuomo sexually harassed them and created a toxic work environment.
Even as he resigned, Andrew Cuomo continued touting his legacy as governor, denying most of the allegations made by the women, and insisting that his decision to leave office was made for the benefit of all New Yorkers. In 13 days, New York state's lieutenant governor, Kathy Hochu, will take over for Cuomo, making her the first woman to serve as governor in the state's history.
Joining me now to discuss these developments are Rebecca Traister writer at large for New York Magazine and Christina Greer, associate professor of political science at Fordham University. She's also co-host of the podcast FAQ NYC. Thank you both for joining us.
Christina Greer: Thank you for having me.
Rebecca Traister: Thank you for having us.
Melissa Harris-Perry: All right, Rebecca. I want to start with you because I immediately wanted to talk to you in part because you and I have been in an ongoing conversation and, of course, you wrote the lovely book around women and anger. I'm wondering when you see what is going on at this moment and Cuomo's decision to resign if that feels to you like part of a longer trajectory or something that is a standalone moment.
Rebecca Traister: Well, it certainly feels like part of a longer trajectory, but I would emphasize the long trajectory when it comes to a story like this because, in the scope of Andrew Cuomo's career as governor, he has had two women run against him making many of the points about his failures beyond sexual harassment, which is extensively the reason that he's stepping down right now, about his failures of governance. Women have been making that point over the years that he has been in power to no avail.
The most recent iteration of the Me Too movement, which exploded in November of 2017 in the wake of the reporting on Harvey Weinstein, preceded Andrew Cuomo behaving in the ways that he behaved with women. It didn't make any impression on him apparently. If you read the Letitia James' report, you will find that more than half of the women she spoke to describe sexualized harassment that happened after the reporting on Harvey Weinstein.
It's not a story like oh, there was Me Too and women started talking about sexual and then this governor was brought down. Many of these stories that are in Tish James's report were made public in great corroborated detail in the spring of this year and he has stayed the governor until August. I want to emphasize is that it's not as simple as people, including many women, got furious at Andrew Cuomo and brought him down because it sure didn't happen that easily or that swiftly nor was there quite cause-effect in that way.
This has been a long process and he sure didn't want it to happen and kicked and screamed and had his own women out there defending him right until the end.
Melissa Harris-Perry: Indeed. In fact, was still defending himself, Chrissy. I wonder what you make of his resignation remarks.
Andrew Cuomo: The most serious allegations made against me had no credible factual basis in the report. There is a difference between alleged improper conduct and concluding sexual harassment.
Melissa Harris-Perry: If you hear in that a willingness to still be may be thinking at this point about running for political office.
Christina Greer: Right. You'd listened to that resignation speech. I think what angered me so was he's still blaming other people. He's still talking about what has been done to him and he's the victim. My biggest pet peeve, Melissa, is if you're going to apologize, you need to apologize wholeheartedly and fall fully on the sword and he hasn't.
He still does not see how he has created not just a culture within his administration, but a culture in Albany that has aided and abetted this type of behavior, not just from him, but by several others as well. I always say that Andrew Cuomo has been raised in captivity. He knows Albany, he's synonymous with Albany. He's been there since he was 19 years old, living in the shadows of his father trying to avenge, the fact that his father didn't win his fourth term.
It is a Greek tragedy through and through, but he still fails to recognize the ways in which he has brought himself to this point. I think that is the piece that will continue to haunt him. Until he can sit back and see the entire history of his behavior, he's not going to be able to move forward, but I don't see that happening with Andrew Cuomo. I will say this, we have a very short political memory.
Especially in New York, we've seen Spitzer have a second act, Schneiderman I'm sure could have a second act. We've seen lots of people who have had bad behavior come back, be forgiven. In many ways, because Andrew Cuomo was America's governor for a period of time, I think that there's still a window for quite a few people who don't really think that these allegations are credible.
I think that there are quite a few people who believe the governor was wronged and you could hear him echoing that and hinting that in his resignation/apology, which I put in quotes.
Melissa Harris-Perry: Rebecca, I want to come to something that Chrissy said though, here around this idea that if he was raised in captivity, if he has been, as you were pointing out, engaging in these practices for such a long period of time, I've been worried across this long trajectory that at least in our media and public discussions of this, we tend to think that individual retribution, removing the one bad actor or the few bad actors is sufficient for changing these absolutely toxic and inequitable environments.
I'm wondering if there is a way for us to begin to push past that, certainly asking for individual accountability, but acknowledging and recognizing things like this do not go on without full institutional complicity.
Rebecca Traister: Yes. I was just sitting here nodding wildly as Chrissy was talking about-- He comes out of Albany, right? This is not an Andrew Cuomo problem. It's not even a governor of New York problem given that we also can point to Schneiderman to Spitzer, right? These behaviors, and I'm talking not just about the sexualized harassment that Tish James' report just detailed, I'm talking about broader levels of toxicity, bullying, a view of power that is about dominance, lying, cover-up.
The idea that power comes from the top and that those with it can do anything to perform their dominance and thus build walls around their power, make those around them small and impotent while they become more powerful, this is an American norm. This approach, this posture toward authority is just absolutely woven into an American apprehension of how power, including political power, work.
It's absolutely in Albany. It is in Washington. It is across the country. It is an old norm born within and made strong by the American form of brutal white patriarchy. This is not just about Andrew Cuomo. The question is-- and what is at this juncture, his resignation, leads us to other questions about, can we revise our approach to how political power works, how you can build it, and how you can protect it?
In Cuomo's story, we see an example because it's built on people who were willing to challenge that power. There's not a lot of evidence that challenging Andrew Cuomo was going to work, right? He has won election, re-election, re-election despite having been caught out in corruption and all kinds of things in the past, he keeps winning. There's not a lot of reward for this. Plus, he's a guy who is willing to punish.
You have people who are willing to come forward and speak up despite the fact that all of history would say that's not going to work out well for them. Nobody's going to listen to them. They're going to listen to Andrew Cuomo, the guy with the power, but people did it. There are these questions; can you build power from the bottom up?
Can people who have historically been on the outside, including women, including people of color, people who have been marginalized by those at the center of brute white patriarchy, can they build power, sometimes, very often in coalition with each other, and build a strong enough base to actually challenge, correct, and bring down those who are abusing power in the center?
That is an open and ongoing question in American politics and Andrew Cuomo and his downfall is a really important data point, but it's certainly not the end of the story. It's just one tiny chapter in the middle of this far broader story.
Melissa Harris-Perry: Chrissy, as I'm listening to Rebecca talk about this possibility of building power of gaining power in different spaces, can we just talk for a second about AG James?
Christina Greer: You just called her AG James but everyone in New York just calls her Tish. I say that deliberately because I believe in honorifics, especially for women of color. In Brooklyn, Tish James' career has been one where she does the work and the promotions seem to come, unlike some of her male colleagues who are just doing things so they can get the promotion.
Of course, when the report came out, everyone asked, is she going to run for governor? She may or may not run for governor but that report isn't for her to run for governor, she did not interview these women and interview hundreds of people in Albany just so she can run for governor. She took an oath to protect the citizens of New York State and that's what she did.
It's a sad day for New York, first of all, the crimes that were committed in the report that are laid out are pretty egregious, and no one should have to go through those. I know that there's a lot of celebration, especially on the left that Andrew Cuomo is leaving, but we elected a man to represent us, and he failed. We have a long line of Democratic leaders in New York state who have failed us and Republican leaders.
There are many people in prison if you go through the list. Tish James has an interesting future ahead. I think she's been slowly and steadily doing the work in Brooklyn and it's led to her representing the citizens of New York citywide, and now it's statewide. We have to remember, Melissa, we've never had a Black female governor in the history of the United States.
If Tish James does decide to run for governor, even though she's won statewide as AG, as the first Black woman to ever do so in the state of New York, she will still have an uphill battle because we don't have precedent. Many people still think that this report is a witch hunt, which Andrew Cuomo is tacitly saying that he agrees with, and there's a generational gap that seems to be in believing Andrew Cuomo and feeling as though he's wronged.
There's a generational gender gap, where anecdotally when you talk to older women, they don't really see what Andrew Cuomo has done is a crime or inappropriate in a way where he should lose his job. It'll be interesting to see how the primary in New York plays out. How candidates because it will be many, how they talk about not just policy and COVID, but also changing the culture in Albany, and whether or not that will stick with the voters.
We also know that women can be upholders of patriarchy just as well as men, especially white women historically. We'll see if it's a Hochul versus James primary, how that also shakes out if those two emerge as the two leaders. In many ways, the culture in Albany that Andrew Cuomo didn't create, he just expanded in many ways, was able to exist not just because of the men who like dominance and ruling by fear and power, but the women who also supported that and made that happen in such a seamless fashion for so long.
Melissa Harris-Perry: Chrissy Greer is an associate professor of political science at Fordham University and Rebecca Traister is a writer at large for New York Magazine, and I'm about to get us a Takeaway segment call Chrissy, Missy and Becky are mad as hell, and we're here to tell you why. Thank you both for joining us.
[laughter]
Rebecca Traister: [inaudible 00:13:21]
Christina Greer: Thank you.
Copyright © 2021 New York Public Radio. All rights reserved. Visit our website terms of use at www.wnyc.org for further information.
New York Public Radio transcripts are created on a rush deadline, often by contractors. This text may not be in its final form and may be updated or revised in the future. Accuracy and availability may vary. The authoritative record of New York Public Radio's programming is the audio record.