Amid COVID-19 Pandemic, Anti-Asian Violence Spikes Across the U.S.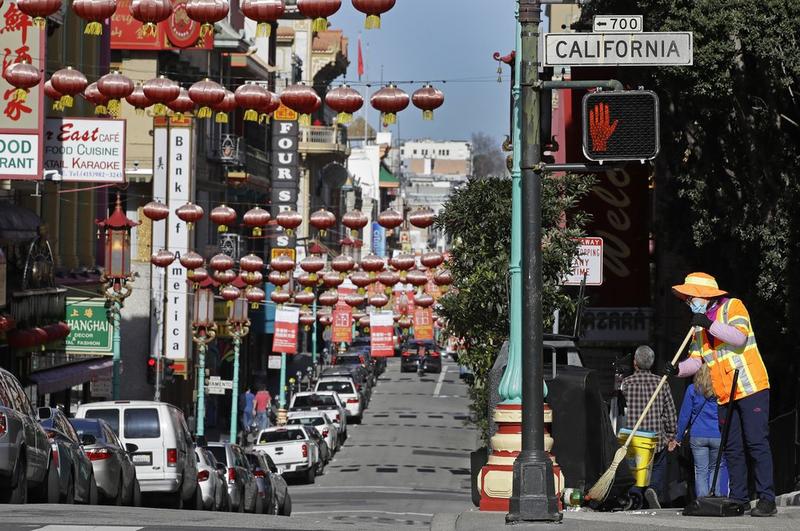 Transcript
[music]
Cindy Rodriguez: This is The Takeaway. I'm WNYC Cindy Rodriguez in today for Tanzina Vega. It's good to have you with us.
Audio clip: The yeas are 57. The nays are 43.
Cindy: In the big news of the weekend, the Senate voted 57-43 to convict former President Donald Trump of inciting the insurrection on January 6th. However, due to the 67 vote threshold needed for conviction, Trump was acquitted, again, in his second impeachment trial. While the acquittal was seen as likely, seven Republicans broke with their party and voted to convict Trump for inciting the riot at the Capitol building. Even some GOP members who voted against conviction still excoriated the former president's behavior.
Audio clip: This was an intensifying crescendo of conspiracy theories orchestrated by an outgoing president who seemed determined to either overturn the voter's decision or else torch our institutions on the way out.
Cindy: Later this hour, we'll look at some of the major challenges that lie ahead for the former president now that he's out of office. But we're going to start with another important story that hasn't gotten much attention. Attacks against the Asian American and Pacific Islander population are on the rise across the US. In recent weeks, there's been a surge in violent incidents in the Bay Area and beyond, specifically targeting Asian American elders.
In San Francisco, an 84-year-old Thai man died after being shoved to the ground during a morning walk, and in nearby Oakland, a 91-year-old man was violently pushed to the ground unprovoked in the city's Chinatown. But the recent violence against the AAPI population isn't coming out of nowhere. Since the pandemic started, anti-Asian racism and violence have surged in the US, in part fueled by the racist and xenophobic rhetoric and policies that came out of the Trump White House.
According to Stop AAPI Hate, an organization tracking racist incidents against Asian Americans, there have been more than 2,800 incidents of anti-Asian discrimination since March. That includes everything from physical violence and verbal harassment to bullying and vandalism. Although it's unclear whether the recent attacks were racially motivated, the pain and fear experienced by the AAPI population is clear. This surge in anti-Asian violence is where we start on The Takeaway today.
With me to talk about this is Chris Kwok, a mediator based in New York City and co-executive editor of the new report, A Rising Tide of Hate and Violence Against Asian-Americans in New York During COVID-19. Chris, welcome to the show.
Chris Kwok: Hello.
Cindy: Also with us is Russell Jeung, a professor with the Asian American Studies Department at San Francisco State University, and a co-founder of the group Stop AAPI Hate. Russell, it's good to have you with us.
Russel Jeung: Great to be here.
Cindy: Russell, let's start with some of the recent incidents of anti-Asian violence. What's happening in the Bay Area and elsewhere in California?
Russel: Well, it's been horrific. During lunar new year, the first thing you do is greet your seniors or elders and bow to them, and now instead what we're seeing are horrific attacks against our senior and elderly population. There's been a spate of street violence and crime that, again, aren't necessarily racially motivated, but are just creating a fear and anxiety within the Asian American community.
Cindy: You talk about motive. Has there been a motive identified in these attacks?
Russel: Not that we know of yet, but what we do know is that in the past year, anti-Asian racism and hate have surged. Not only because of the fear of the pandemic, but because of the racist political rhetoric that just has incited hate speech and then hate violence.
Cindy: Russell, you talked about the lunar new year, so this is a chance for many Asian families to gather together. How are the communities responding to these attacks right now?
Russel: I think our community has really stood up against the racism and the violence directed towards us. In the Bay Area over 50 community groups have held rallies the past weekend to show support of our elders and to heal our communities, to build racial solidarity. Across the nation, I've seen celebrities and athletes, high school students, people from all walks of life, really rallying to, and mobilizing to stop the racism.
Cindy: Chris, these kinds of anti-Asian attacks aren't just happening in California, but they're happening across the US. You recently authored a report that was looking at this trend in New York City. Can you tell us a little bit about what you found?
Chris: What we found in 2020 was a nine-fold increase in the anti-Asian attacks in New York City and these are just statistics that the NYPD has collected, so we think it's just the tip of the iceberg and that they were actually much more in 2020. This concerned us because we are not aware of any prosecutions on the criminal side, nor any resolutions on the civil side of any of these incidents. We're worried as to where it's leading in New York City as well.
Cindy: Can you tell us how this racism manifests itself? Besides the very violent assaults, what else is the AAPI population experiencing?
Chris: It ranges and it's directed towards like mothers playing with their children at the playground, where other mothers would say, "Hey, don't play with that Asian kid because they're the ones that bought corona here." It really runs the gamut and it's a chilling sort of effect on Asian Americans as they go about their daily lives.
Cindy: Russell, is that a similar experience in California for the Asian community?
Russel: Yes, it's clear, people are targeting what they perceive are vulnerable populations. Women are harassed 2.4 times more than men. Youth and elderly are disproportionately represented in our reports.
Cindy: What is this doing to people's mental health, Russell?
Russel: It's had a severe impact. Not only are Asian Americans concerned about getting COVID, they're concerned about their elderly parents and we live in more multi-generational households and the rest of the nation. We're concerned about our livelihood, and then the racism compounds the stress and anxiety. Asian Americans are the racial group experiencing the most depression, anxiety, and from the racism, racial trauma during COVID-19.
Cindy: Russell, there has been some arrests in California, at least one arrest. Is that person being charged with a hate crime?
Russel: No, not necessarily. Hate crimes, again, are incidents where you can be arrested and where there's racial bias that's been demonstrated. Again, these incidents seemingly are unprovoked and there aren't witnesses to hear what the person said so you can't tell if it was racially motivated or not. We do know in our incidents that have been reported, about one third include racist statements when the perpetrators say things like, "Go back home you F-ing chink," or "It's because of you and your people we have the coronavirus." So people are using racist language and racial slurs to attack us.
Cindy: Chris, how is the NYPD responding?
Chris: Well, they created an anti-Asian task force and we applaud them for that. Our recommendation was that they go further along. They made it permanent recently but we think that-- Right now it's a volunteer task force, which means that the detectives are serving full-time on another role and then take this on on a volunteer basis. We think it should be a full-time assignment and the commander be given a budget and have this exist until there's no need for it.
Cindy: Chris, do you believe that a lot of these incidents are going unreported?
Chris: Absolutely. There's a big language disconnect between the police and Asian American populations, particularly ones who don't speak English well. There is, I think, a general feeling that if you report it, it's not going to go anywhere. It's going to be extremely time-consuming. We have specific recommendations that we think might make it easier for these reports to be taken seriously.
Cindy: Russell, are racist crimes against the AAPI population historically under-reported?
Russel: They've been historically under-reported for the same reasons Chris mentioned. Language, access, thinking it's not going to do any good. It's clear that we're receiving much more reports than the police are, including physical assaults. People are reporting to us because we have 12 different languages. We're a trusted community partner, and because people feel like they don't necessarily want to criminalize people, but our people, our respondents want a collective voice just to stop it from happening to others.
Cindy: For either of you, what's the media coverage been like? Have these attacks been getting much attention from mainstream media?
Chris: I think that they have been covered particularly in the beginning, which was like in March of 2020, and then it petered out during BLM. Then I think that social media, in the recent death at the Thai American, social media really began to ring the bell, then I think it's made its way into mass media. I think that the social media and Asian Americans on Facebook and Twitter have really made it an issue during this second wave.
Cindy: Right, there's been some celebrities who have stepped in and tried to highlight these incidents, Russell do you want to talk about that?
Russel: Yes, even though these thousands of cases are really horrific and traumatizing, I've been actually heartened to see the Asian American community stand up and mobilize at this moment. We're seeing people from all walks of life, celebrities, athletes, but also high school students, data scientists, working with Stop AAPI Hate to address this racism and to call for racial solidarity at this moment.
Cindy: Wasn't there an Asian American graphic designer who created a portrait of one of the men who died?
Russel: Right, that's one of the images that have gone viral and like Chris said, Asian Americans are using the platforms that they have, social media, alternative media, to get the word out, to stand up and to mobilize our communities. It's been an amazing movement actually from the Asian American perspective.
Cindy: Early on in the pandemic, there was some reporting about the financial toll on Chinatowns across the US. We've got about a minute before we need to take a break but, Chris, do you want to talk about that a little bit?
Chris: Before the shutdown in March of 2020, the financial hit was felt by Chinese restaurants, because people thought if you could avoid Chinatown, you could avoid Chinese restaurants, you avoided COVID-19 in New York City, and so Chinese restaurants began to experience a dramatic decrease in business early on. After the pandemic hit and the PPP loans came, they had enormous difficulty in accessing federal loans, and in New York City, there's been difficulty in accessing emergency loans, so it's a real crisis in Chinatown.
Cindy: Russell, are businesses in California also experiencing this?
Russel: We've seen in news media accounts that Chinatowns globally have been down 50 to 75%. Like Chris said, people were shunning and avoiding Chinatowns before shelter in place occurred and so our Asian businesses have shut down sooner than other businesses, and we have really high rates of joblessness within the Asian American community. It's going to be really difficult to recover after the pandemic.
Cindy: During the pandemic, we haven't just seen racism at the individual level, but there's also in terms of actual policy, so can you remind us what we saw under the Trump administration last year, Russell?
Russel: Beyond the interpersonal violence that we experienced, the political rhetoric translated into interpersonal violence, and also racist policies. The Trump administration actually stopped migration and so that stops families from uniting. He banned Chinese scientists and researchers. He banned WeChat, the major Chinese online platform. He banned racial sensitivity trainings in the federal government, so a lot of my talks were canceled just because I talked about race. He cut refugee resettlement. He cut H1B visas.
All these policies had a disproportionate impact on the Asian American community. Our ability to see our families, our ability to communicate with our families, our abilities to do business. They were actual infringement of our constitutional rights.
Cindy: Chris, have you seen any difference since Joe Biden took over as president?
Chris: I think I felt the difference. Political leadership, it's so important and I think people maybe that didn't understand it before, now understand what it is when President Biden signed that executive order in January 26th of this year. It was symbolic, but symbols matter in politics and I think Asian Americans across the country, breathed a sigh of relief through the executive action which said, "No more racist language. Let's not call it a Chinese flu and if there's anything we should draw it back a little bit." People felt the difference. I know I did.
Cindy: Right. Moving forward, what else do you want to see from the federal government?
Chris: I think the federal government needs to be really engaged in the leadership position from this. The state and city governments a lot closer to everyday life, but the federal response with political leadership from Kamala Harris, Biden, signaling what they have, and then putting that into action through the federal government bureaucracy, leading talks, making sure that hate crimes are being prosecuted, that there's also a civil resolution component through mediation of these things. It can play a really effective leadership role here.
Cindy: Russell, in California, does the Asian community want perpetrators to be charged with hate crimes?
Russel: There's a range of responses. What Stop AAPI Hate is calling for is more restorative justice, like Chris mentioned. We're working with the Department of Fair Employment and Housing to promote mediation, and to expand our civil rights protections. Again, most of our incidents that we're experiencing aren't necessarily hate crimes, but hate incidents where we're getting verbally harassed, we're getting barred from establishments, and so what we want are expanded protections and safe access to goods and services. We went public accommodations.
Again, Stop AAPI Hate, we're working with the DFEH to encourage people to pursue that remedy. We're holding a seminar in multiple languages, to encourage people to fight for their rights, and we think that's probably a better way to address a lot of these issues.
Cindy: You mentioned mediation. Can you talk about that a little bit? How do you envision that?
Russel: Chris is a mediator so we learn a lot from him. For example, if customers are harassing one another, an Asian American can complain to a corporation, file a complaint about the corporation's lack of protection, and the corporation could put up better signage, could train its employees, can work out financial restitution to a targeted Asian American. That type of mediation, again, doesn't necessarily criminalize the racist person, but it works to hold that individual accountable, hold the corporations accountable, but also provides healing and reconciliation for the targeted person.
Cindy: Chris, Russel is right, you're the mediator. Do you want to tackle that question as well?
Chris: Yes. During the '60s, the Department of Justice created something called the Community Relations Service, and not a lot of people know about it, but it's a community mediation service where mediators come into communities that are in the middle of a conflict and sit down with groups and try to find some way out of that conflict point and that's one of the wonderful things that the federal government can put into action. It really suffered a lot during the Trump administration in terms of funding and things like that, but it can really be put to good use. It's already there.
Cindy: Well, gentlemen, thank you so much for joining us. Russell Jeung is a professor of the Asian American Studies Department at San Francisco State University, and co founder of Stop AAPI Hate. Chris Kwok is a mediator based in New York City and co executive editor of a new report, A Rising Tide of Hate and Violence Against Asian Americans in New York During COVID-19. Thank you both for coming on the show today.
Chris: Thank you.
Russel: Thank you.
Copyright © 2020 New York Public Radio. All rights reserved. Visit our website terms of use at www.wnyc.org for further information.
New York Public Radio transcripts are created on a rush deadline, often by contractors. This text may not be in its final form and may be updated or revised in the future. Accuracy and availability may vary. The authoritative record of New York Public Radio's programming is the audio record.