An American Injustice: The Story of Darryl Hunt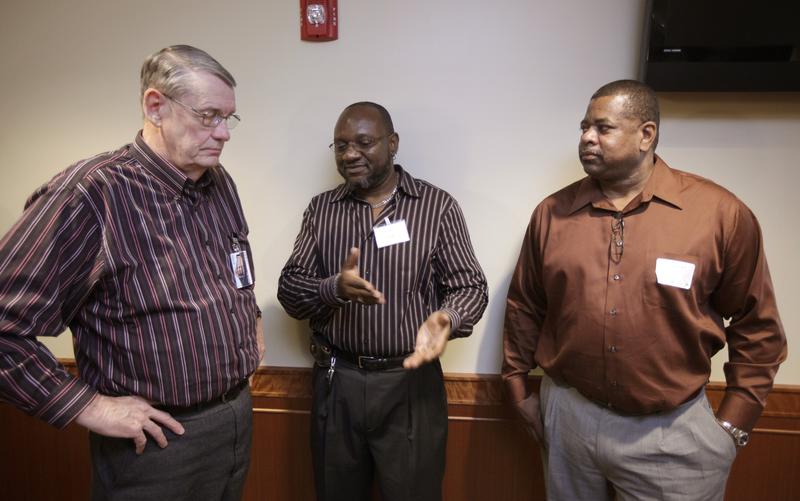 Transcript
[music]
Darryl Hunt: I was the Black man accused of raping and murder, and in prison, that was a no-no.
Melissa Harris-Perry: This is The Takeaway. I'm Melissa Harris-Perry. You just heard audio of Darryl Hunt speaking in the 2007 HBO documentary The Trials of Darryl Hunt. The feature documentary follows Hunt's story. He's a Black man who was twice wrongfully accused and convicted for the brutal rape and murder of Deborah Sykes, a 25-year-old white woman working as a copy editor at a local newspaper here in Winston-Salem, North Carolina back in 1984. At the age of 19, Hunt was wrongfully convicted to life in prison, and he spent the next 19 years of his life there until DNA evidence exonerated him in 2004.
After he was exonerated and released, he became an advocate for incarcerated people as well as those reentering society after years of incarceration. Then, tragically, six years ago this past Sunday, Hunt died by suicide. His story is a reminder of the injustice of our criminal system and how traumatizing our carceral system can be, even for those who seem to have found a measure of justice. Phoebe Zerwick spent years investigating and covering Hunt's case. She wrote an eight-part series for the Winston-Salem Journal in 2003 that led in part to Hunt's exoneration. Today, she's the director of the program in journalism at Wake Forest University, where I also teach, and she's author of Beyond Innocence: The Life Sentence of Darryl Hunt.
Phoebe Zerwick: Darryl Hunt was a 19-year-old teenager living in Winston-Salem in 1984 when a young white newspaper editor was attacked, and raped, and murdered, stabbed to death right near the newspaper office. He quickly became a suspect through some series of fluky incidents, and essentially, the moment he was arrested, his conviction was all but inevitable, and he was convicted in this rape and murder, sentenced to life in prison. He almost was sentenced to death, by the way. He was railroaded in another earlier murder, so,
for a while, he was facing two murder charges.
He turned down a plea agreement in 1990 that would have allowed him to go free, but he would not plead guilty to something that he had not done. He very quickly attracted a big group of supporters, the Darryl Hunt Defense Committee. From the start, he was a cause célèbre in Winston-Salem and something of a celebrity. He fought for his innocence for almost 20 years, and then in 2003, the crime was finally correctly solved with the DNA evidence that identified the true culprit.
Melissa Harris-Perry: This happened right in downtown Winston-Salem, not a place known for its high crime rate.
Phoebe Zerwick: First of all, it was just a terrifying crime for a woman to be attacked like that on her way to work in daylight. It was very early in the morning, but it was broad daylight, but then the other thing about this crime is that there were witnesses who saw her with a Black man. It immediately was a crime that fed the racist ideas that have been part of our history and our culture since the beginning of our history, right? There's always been this myth of Black criminality, and Black beasts, and the myth that somehow or other white women were going to be attacked by Black men. It fed into that frenzy and that fear that we have in this country.
Melissa Harris-Perry: Even at his trial, Hunt was at a disadvantage. He had lawyers who'd never worked on a murder trial, and they had limited resources and limited discovery, and there were red flags in the prosecution's case. In a county where 25% of the population was Black, the prosecution excused all but one Black juror, and there were also unreliable witnesses. Maybe most important of all, there was no physical evidence to tie Hunt to the murder of Sykes.
Phoebe Zerwick: At his first trial, he had two lawyers, neither of whom had ever done a murder trial. They were both persuaded very early on that he was innocent, so that really added to the pressure that they faced, but they had very limited resources. Also, at the time, they had very limited discovery, so they didn't get any of the police reports until they were there in the courtroom. They had very little time to prepare, really, for the witnesses that they had to cross-examine. They had their heart in it, and they had their energy and their conviction, but they had limited experience in this kind of work. The deck was really stacked against them from the get-go.
Melissa Harris-Perry: Even the jury had lingering doubts about the case, and although the death sentence was on the table--
Phoebe Zerwick: They were really not persuaded of his guilt, and so they gave him life instead of death.
Melissa Harris-Perry: Hunt was convicted to life in prison for a crime he didn't commit, but Hunt and his friends and family, and his community of supporters continued to fight for his exoneration. After his first trial, he appealed his case, and in his second trial, in 1990, before an all-white jury in Catawba County, he was sentenced again to life in prison. He was now 25 years old. At this point in the 1990s, technology for DNA testing became much more widespread, and in 1994, Hunt's lawyers filed for DNA testing in the case. Hunt's DNA did not match the sample found on the victim's body at the crime scene all those years ago, but it doesn't seem that made much of a difference. Here again, is journalist and professor, Phoebe Zerwick.
Phoebe Zerwick: DNA showed that he was not the rapist, but because of the way our appellate court system is set up for finality, every appellate court turned him down. All these judges said, "This DNA really isn't at all that relevant actually to this murder." He could have still killed her, he could have still stabbed her even if he didn't rape her.
Melissa Harris-Perry: Finally, nearly 10 years later, in 2003--
Phoebe Zerwick: We had data banks of convicted offenders, and he filed a motion for a new round of DNA testing. That testing eventually identified a man named Willard Brown as the real rapist in the Sykes case. When he was identified and convicted, we eventually learned that the police knew about Willard Brown all along because he had been identified by a woman who'd been raped after the Deborah Sykes murder. She'd been raped, and she'd identified Willard Brown in a photo lineup and in a live lineup as the man who'd attacked her, but she was discouraged from trying to make a connection with the crime that Darryl Hunt had been convicted of, even though she kept asking and asking, "Maybe it's the same man. These crimes are so similar," and police said, "No, we've got our guy, so we're not going to look in that direction." DNA evidence also exposed the cover-up in Darryl Hunt's case.
Melissa Harris-Perry: All this, it couldn't have happened without Zerwick's reporting, which changed the course of the police investigation. In 2003, before Hunt was exonerated, some new editors at the Winston-Salem Journal asked Zerwick to take a fresh investigative look at Hunt's case.
Phoebe Zerwick: This series of stories I wrote were published over eight days, and it really helped change public opinion about Darryl Hunt, and it helped change the opinion of people pretty critical to the case, like the judge who had ordered new DNA testing, and after reading my stories, he also found out that the state was ignoring his court order for DNA testing, and because of the work I did, he threatened to hold the state crime lab in contempt of court if they didn't quickly go ahead and do that testing. The work I did also led me and the police to take a new look at this rape that I mentioned earlier.
I wrote a little bit about it at the end of the series, but it also meant that I had the name of the man she identified. The police had her files pulled up, and so when they did finally, this new round of testing, they found a partial match with the brother of this man, Willard Brown. A partial match is meaningless, but because of my theories and because of the judge's interest, they went ahead and looked at the brothers of the man that had the partial match, and they found Willard Brown by a miracle. He was in the county jail on a probation violation.
They had no real grounds for a search warrant, but they went and talked to him, and they gave him a cigarette just out of TV, basically, and he dropped the butt on the ground, and so that was fair game. They tested the cigarette butt, and they got this perfect match, and the crime was solved.
Melissa Harris-Perry: After 19 years in prison for a crime he didn't commit, Darryl Hunt was a free man. Last week we passed a grim milestone. According to the University of Michigan's National Registry of Exonerations, there have been over 3,000 proven cases of wrongful conviction since 1989. That's more than 26,000 years of human life lost to false imprisonment. An exoneration is not easily accessed or even been often fought for in the US criminal legal system. Darryl Hunt's story is just one example. He was convicted twice of a 1984 North Carolina murder that he didn't commit.
Even after DNA results showed his innocence in 1994, it still took more than a decade of legal appeals to have him walk free. Despite the hurdles he faced in his life or maybe because of them, Hunt became an advocate for criminal justice reform. He helped those who were re-entering society after time spent in prison.
Phoebe Zerwick: After his exoneration, he really almost immediately became an advocate. It was something that he wanted to do even while he was in prison. At various times in his 19 years in prison, he worked on behalf of other men who were in prison with him. This was not brand new to him, this role of being an advocate. He was featured in a marvelous HBO documentary called The Trials of Darryl Hunt, which really put him on the national stage, even international stage. He worked to lobby against the death penalty for reforms and in the way investigations are conducted.
His advocacy work led to the passage in North Carolina of the Racial Justice Act, which allows people on death row to appeal, not their conviction but their sentence if they can show racial bias in their case. That's led effectively to a moratorium on executions in North Carolina because almost everybody on death row has grounds for making a racial bias appeal.
His work also led to the establishment of the Innocence Inquiry Commission, which is a state agency. It's the only one of its kind in the US that will actually look into claims of innocence.
Innocence is not a legal claim, which is astonishing to me, and it's astonishing to people who aren't lawyers. You cannot go to court and say, "The jury got it wrong, the judges got it wrong because I'm really innocent." In North Carolina, you can now do that. You can go to this Innocence Inquiry Commission, and they will investigate your case. Their work has led to the exoneration of 15 people in North Carolina. All of that is part of Darryl Hunt's legacy.
Melissa Harris-Perry: Following his exoneration, Hunt worked with people recently released from prison because he intimately understood the challenges they would face in adapting to life on the outside.
Phoebe Zerwick: He understood that our system is really set up to make it almost impossible for people to start their lives over again. The subtitle of the book, The Life Sentence of Darryl Hunt, really comes from an interview that he gave in 2007 where he talked about the idea that once you have a criminal record, you're carrying that with you for the rest of your life. Regardless of the number of years you've spent in prison, any criminal record really acts as a life sentence because it prevents you from all the ordinary privileges that the rest of us have.
In many states, you still can't even vote if you have a criminal record, but you're also blocked from many, many jobs. You can't live in public housing. You can't apply for a student loan. In some places, you can't even be licensed to be a barber or a hairdresser. Darryl devoted much of his energy working one-on-one with people coming home from prison in Winston-Salem and trying to help them get jobs, trying to use the influence that he had, the social capital that he had, to sit with people and help them re-adjust in a world that, really, he knew didn't want them.
Melissa Harris-Perry: While he had dedicated his life to helping others, Hunt was facing his own trauma after nearly two decades of wrongful imprisonment.
Phoebe Zerwick: By 2016, he and his wife were divorced. He had moved to Atlanta, and he was telling people that he had terminal cancer. He came back to Winston-Salem. I remember seeing him at the very beginning of 2016. He came to speak with my students at Wake Forest. I knew that he was telling people he was sick. He looked thin, but he looked healthy. I commented on how glad I was that he was back in town, and he said, "Well, it's good to be back among people you know who love you. If I'm going to die, I'd rather be here."
I took it as the words of somebody who is facing an illness with stoicism. He had this grace and dignity around him, and those words just seem to fit the way he'd conducted himself. It turned out that he was really struggling psychologically and had been for a great many years. He gave hints of that in interviews, but I know I didn't pick up on it. People close to him who knew that he was struggling, I don't think they knew the deep despair he was in. He was found dead early on a Sunday morning with a gunshot wound in his abdomen in front of the coliseum in Winston-Salem in a rundown shopping center.
Melissa Harris-Perry: Darryl Hunt died a free man, but he faced physical and mental challenges re-entering society after nearly 20 years of incarceration. Here's an excerpt from Hunt's diary read by Professor Phoebe Zerwick. He wrote this around 1994 after he was denied a new trial even after testing showed that his DNA did not match the sample found on the victim's body.
Phoebe Zerwick: "I found that no matter how much you try to explain how it feels inside this jungle, the less people understand. At first look, we look fine, but inside this crap eats you. You try to give people some understanding, but there is no words that can express how you feel."
Melissa Harris-Perry: Even after Hunt was exonerated, Zerwick described the continued trauma that Hunt faced.
Phoebe Zerwick: When he was first arrested in the warden's office in Winston-Salem, they used to put people in, I've never seen it, but it was a cell. It really looked like a cage because it was just in the warden's office. They would invite journalists in to take pictures of the person they just arrested. Darryl, to keep his composure, he stared at the socks of one of the reporters that was in that room staring at him. The socks were lime green. Years later when he was out of prison and he was doing his advocacy work, he was in a hotel lobby in Washington, DC.
It was decorated with all kinds of neon lights, and there was a light that was lime green. That took him back to that moment of his arrest, and he had a all-out panic attack. He was with his attorney, Mark Rabil, who noticed. It was clear to Mark that Darryl was suffering from probably PTSD, but Darryl always told people that he could handle it. I think people believe that he had survived and seemed so resilient all these years. I think people believed that he would be able to handle all these setbacks.
Melissa Harris-Perry: Darryl Hunt is not alone in the challenges that he faced following his time in prison. The Takeaway spoke with someone who works directly with individuals who are wrongfully convicted.
Suzy Salamy: My name is Suzy Salamy. I'm the Director of Social Work at the Innocence Project.
Melissa Harris-Perry: Salamy explained how her clients feel after coming home from prison.
Suzy Salamy: The initial re-entry process, it's traumatic for anyone. It's simultaneously exhilarating, the thing they've been waiting for, usually, for decades, in our particular population. It also is terrifying because, most of the time, people have been institutionalized for having been inside and controlled for so long. It's this revelatory freedom moment combined with, "What do I do now? Where do I live? How do I take care of myself? How can I provide for others?" if they are in charge of that. "How do I get a job? How do I get basic necessities? Where do I get that money from? Who's going to hire me now?" Then, of course, "How do I deal with the trauma?"
Melissa Harris-Perry: It's a unique set of challenges brought on by a deep sense of what was lost.
Suzy Salamy: When I look for therapists for people to get into therapy with for our clients who are exonerees, I actually will talk to people who've worked with torture survivors because we're talking about people who've been contained unwillingly in a cell with little movements, usually, maybe an hour a day, and all of their rights taken away from them. The level of hypervigilance, the level of usually compounded trauma, because most people go in with a level of trauma from their own experience beforehand, and the lack of care.
It's not like they're getting holistic services while they're inside that's dealing with the mental health issues that may arise, the PTSD, other undiagnosed mental illnesses that might have possibly occurred beforehand that are compounded, dental care, medical care, all these things. When you are leaving and those things have gone untreated for so long, there's a sense that you're afraid to show the world all these things that have happened to you and to show the world that you may need some support and some help. The trauma could really be endless. I think it's added up by how many years you've been inside. Then also, you have to take into account what happened beforehand.
Melissa Harris-Perry: Salamy says hope can be a powerful coping mechanism.
Suzy Salamy: It's very difficult to believe and have hope, and not turn that into bitterness and anger for anyone, but especially people who have been wrongfully convicted. Miraculously, a lot of what I've seen are people who somehow, inside, figured out that they would survive on hope, that they would allow that hope, through the letter writing, to reaching out to the Innocence Project or other organizations, to help them survive through this ordeal. When they actually do become exonerated, do become released, there's a euphoria that exists, and that pushes them through the finish line.
Then there's actually the work that needs to be done because if you've lived for that moment, for decades, what happens next? That's where we come in as a social work department, helping exonerees reenter in a world that shunned them and shamed them, and told them that what they had done was actually not what they did and never believed them. Now we do, of course, and we're trying to help them restore their freedom.
Melissa Harris-Perry: Darryl Hunt, he had held on to the hope that someone would acknowledge his innocence, but for some, that feeling of euphoria or hope, it's just not enough.
Suzy Salamy: There's a high level of depression, anxiety, and for anyone who's experienced prison, and especially for decades at a time, that have gone untreated, there aren't very healthy coping mechanisms that are able to be engaged right away. If there was a substance issue before they went, or even while they were inside, it might be exacerbated. That, in combination with feelings of depression, anxiety, and just hopelessness, ironically, after freedom, can lead to suicidal ideation. I would say most people have a remarkable outlook because now they've achieved this thing they've long waited for, but they're like anybody else.
When you deal with life on the outside as well, after having that trauma, it's tough. It can be really tough. If you don't have resources, if your life was taken from you for 10, 20, 30, sometimes 40 years, how do you rebuild? A lot of the process for our exonerees is actually just grieving.
Melissa Harris-Perry: The grief is in part about grieving their possibilities, grieving the life that was taken away, and the time that they will never get back
Suzy Salamy: In any release, any reentry program for formerly incarcerated people, wrongfully convicted or not, there has to be a holistic approach. There has to be housing, medical care, mental health care, and compensation, like monetary compensation because all those things should be offered for free. Then their time should be paid for because they need to live. Some people are so traumatized, have such a high level of PTSD that their ability to work is really not possible. Their disability that they may get on in terms of benefits are not going to be enough to actually live in a healthy way.
Melissa Harris-Perry: For Darryl Hunt, the demons were too much. We lost him six years ago, and we remember his life and legacy today. Thank you to Phoebe Zerwick and Suzy Salamy, and thank you to the entire community of Winston-Salem who continues to grieve and remember Darryl Hunt.
[music]
Copyright © 2023 New York Public Radio. All rights reserved. Visit our website terms of use at www.wnyc.org for further information.
New York Public Radio transcripts are created on a rush deadline, often by contractors. This text may not be in its final form and may be updated or revised in the future. Accuracy and availability may vary. The authoritative record of New York Public Radio's programming is the audio record.