Replay: All Hail 'The Woman King'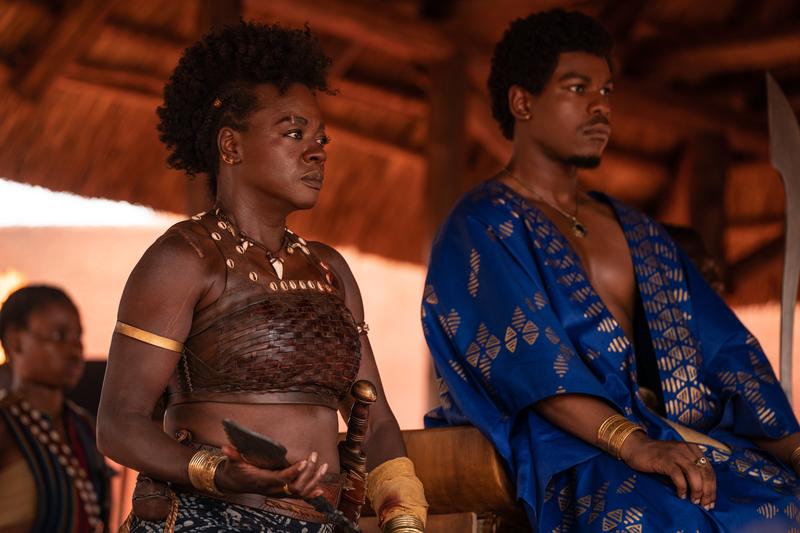 Transcript
[music]
Melissa Harris-Perry: Thanks for being here with us on The Takeaway. We're back with one of the Fall's most highly anticipated films, and it's out this weekend, The Woman King.
Movie: We fight not just for today, but for the future. We are the spear of victory. We are the blade of freedom.
[women chanting]
Melissa Harris-Perry: The Woman King is based on the real-life West African woman warriors of the Dahomey Kingdom known as the Agojie. Fierce, lethal, and skilled in hand-to-hand combat, the Agojie originated in the 17th century, and eventually grew to a force of 6,000 strong. The movie doesn't shy away from slavery, or the fact that the Dahomey participated in the Transatlantic Slave Trade while trying to protect their people and kingdom. The Woman King is complex and nuanced, and it is entirely Black woman-centered.
Gina Prince-Bythewood: My name is Gina Prince-Bythewood, director of The Woman King.
Cathy Schulman: I'm Cathy Schulman, producer of The Woman King.
Melissa Harris-Perry: I got to be honest, this movie really brought up a lot of emotions for me. I asked director Gina Prince-Bythewood about her process, and what it was like for her and for this extraordinary cast on the set.
Gina Prince-Bythewood: Well, let's start with putting together this cast. It was such an incredible group of women. I knew I wanted a couple of specific things. Foremost, I wanted women actors with incredible chops, but also incredible passion to tell the story because I knew the amount of work that it would take, I knew where they would need to go, and to do that kind of work, you have to be passionate.
The other important thing was that, in telling this specific story about these women, I wanted to make sure that we pulled women from all over our diaspora to come together to tell the story. Women from African American women, women from South Africa, women from London, women from Jamaica, Uganda, West Africa, to come together on the continent to tell the story together, and that's the vibe that it was and the incredible sisterhood that was built with it, and for this.
There were days where it was completely joyous and fun, and there were other days which were incredibly hard for the actors. These are actors who feel things so deeply and guterly, and it was, at the end of the day, on me as the director to create a space where they felt safe to give us everything, and they absolutely did.
Melissa Harris-Perry: They absolutely did. When you talk about pulling folks from across the diaspora and doing so on the continent, can you maybe just give me a sense of even some part of your process in terms of those initial days of building rapport, because so much-- I'm trying not to give anything away, so much of the film is about the ways that a particular kind of sisterhood that is facing extraordinary odds and violence and loss, nonetheless, find a way to stand for one another. I'm assuming that some of that had to be created in the 21st century, right, and yet looking back?
Gina Prince-Bythewood: It really did start with everyone's why, why they came to tell the story. This is a group of women who are deeply connected spiritually to their ancestors, and they felt like they were honoring them, and in that, they needed to do the work. The work that they had to do it was part of the rehearsal process, part of building character, and part of building the sisterhood.
The training that they did, it was imperative to me that they did their own fighting and their own stunts. I needed them to be the ones doing it. It makes for better action. I think it makes for better storytelling when you get performance within these moments. To do that, though, you have to put in the work. This was months of training and hardcore training two times a day, six days a week.
To go through that experience together was so bonding for these women because they had to root for each other. They were competitive in the best way with each other. They had to pull each other up when you're crying, when you don't feel like you can get through it, when you're questioning, "Can I ever get through this?" They were there for each other in the most beautiful ways, and that just centers you, bonds you. By the time we got on set, this was such a strong group of women who were incredibly bonded and incredibly eager to then tell the story and then body these women who were real-life women.
Melissa Harris-Perry: Cathy, I kept thinking to myself, "How did this get greenlit? Did people know what this was?" I'm wondering about the actual process of getting to the point where this story told in this way with this kind of budget was possible.
Cathy Schulman: Yes. Well, there were a number of factors at play, and, without a doubt, there's still a part of me wondering how it actually happened. [chuckles] It feels a bit like a miracle, but there were a number of factors at play.
First of all, the marketplace is enormously crowded right now. That's something that's happened, obviously, with the increased content coming out of the streamers, whereas in the past, selling ideas had a lot to do with telling studios what made something similar to what they've done before. There's starting to be a crack in that where one way to bring an audience is to identify content that is actually self-distinguishing. Its uniqueness became a badge of honor for it. The idea was to really lean into its uniqueness and explain to a studio why this could stand out in a crowded marketplace.
Melissa Harris-Perry: Maria Bello is one of the writers. Can you say a little bit about the process that you had, Cathy, in terms of working with her initially?
Cathy Schulman: Yes, Maria took a trip to Benin and came back from that trip, and she-- we're friends, and she told me the story of the Agojie warriors. Honestly, when I first heard it, I didn't believe it was completely real, but most importantly, that this army of women had been so successful in its intentions. We started to talk about a time and a place within the 500-year history of this particular culture to set a story.
We were fascinated by the notion that the warriors took a vow of chastity. In looking at a place for drama, if someone says you need to take a vow of chastity, the question of what would happen if you broke it became sort of interesting, not sort of interesting, very interesting, and that kicked off the process.
Then shortly, thereafter, once we were at the studio, Dana Stevens came on board and really cracked the full story and exactly when to set it at this very intersectional moment for the Oyo and the Dahomey tribes, right towards the end of their historic battle with one another. From there, we developed the screenplay for a couple of years.
Melissa Harris-Perry: Gina, sexual violence is a thread throughout the film. You made some cinematic choices in how it is portrayed that are incredibly powerful. Can you talk to me about both the cinematic choices and the narrative choices to include the particular forms of sexual violence that we see?
Gina Prince-Bythewood: I'm going to say is particular to me as a female director, I knew how I wanted to shoot it immediately because I never wanted it to feel exploitative in any way. I wanted to be truthful to it, and I wanted to be truthful to the character. For me, it was always going to be from her point of view. Roxane Gay's book, Hunger, was an incredibly important read for me, as well as thinking about the testimony of Christine Ford.
Both women spoke about remembering more what they heard, and moments that they saw. That was the way that I wanted to approach it. Truly, from Nanisca's point of view, and truly evoking what after 20 years, this trauma that felt like yesterday, to make it feel visceral without triggering, was my hope. This line of trauma is incredibly important to Nanisca's character. It was incredibly important to Viola to portray this. We spoke a lot about what happened in Rwanda, certainly, and happens in many, many countries where there's war and conflict, where women are the targets in use, and this was no different. A lot of thought went into it.
Again, I feel like women have the reason why more of us should be directing because we often do see it portrayed in movies and it has to be done the right way. It can never be used as strictly at plot point for anything other than, I hope, the way that we used it which was fully character-based.
Melissa Harris-Perry: As hard as that aspect was for me to watch as a survivor, as simply as a human, I was able to get through that part of the film but I will say there came a moment when-- and I want to be clear, I was watching this alone in a movie theater. I mean alone in a preview, and I started heaving, weeping, and crying. I just, to be clear, I don't like 99% of movies. I'm a hard nut to crack on that kind of thing. It was-- without giving anything away, it was the point that you made earlier about the connection to ancestors.
There is a moment where I am rooting for a character to take her own life. I see what looks like is going to be a moment of moving into intergenerational channel bondage and I am like, "No, girl, just don't let him take you. Don't go across that Atlantic." In a way, that never in another film did it hit me that I wouldn't exist except that most went ahead and got on that ship knowing that they had that option to take their own lives and they didn't, and it's the only reason I exist.
It took me out. Gina, I could barely recover to see the rest of it. It's not that I didn't already know that, it's not that I hadn't already written about that kind of thing, it's something about how this film gets us to that gateway to slavery wiped me out. Suddenly, it shifted how I saw the film so that it felt both like the story you're telling, but also like this broader allegory about our diaspora. I don't even know that I have a question. I wanted, more than anything, to share with you the effect that that had on me.
Gina Prince-Bythewood: It's an incredible thing to hear because that is what we were feeling on set on those days that we were in [unintelligible 00:12:18] was incredibly tough and there were tears behind closed doors. Then when we got on set, it was because you're walking in front of hundreds of people and you don't know the intent of every single person where they come from, what they're thinking, and for us, certainly, it was the depths of what we were portraying knowing that we were portraying our ancestors and what they went through.
It was, you cannot describe shooting something like that and preparing for that. There was no laughter. There was-- if you look into the actor's eyes on those days, they were in another place. It's what's so incredible about these women and it's one of the hardest things as a director to ask of others to go to that place but they were willing to go because our ancestors went to that place, were forced into that place.
Melissa Harris-Perry: There were no smiles or laughter in those moments but there is a lot of joy in the film. I want people to know that as well. There is some incredible dancing, there's singing, there's intrigue, there's a little romance, there's a lot of tenderness, and there's a lot of just straight-up, good action scenes. Cathy, talk to me a little bit about finding that balance.
Cathy Schulman: I think that the best kinds of stories to tell are those stories where we can find truths and universality without being coying, laugh and cry in the same stories. The goal here was to find a way to tell this story that could also be done in a commercial way for a wide audience because the crucial importance of a story like this needs to get to everyone.
The biggest goal is to bring in the largest worldwide audience of people of all types and all backgrounds to come see this crucial story to help us better understand one another. I don't like to be grandiose, but I truly believe that the stories we tell through movie-making are the best way to make the world a better place because people get their information off of screens. If we learn more about people who aren't like ourselves, we have a much better chance of understanding one another. With understanding comes a much greater unity and much better decision-making as nations.
The idea was to anchor a traditional heroic journey with all of its pain and suffering with the glory of success, which is a lot of what makes the movie both entertaining and victorious. I thank you very much for saying that the movie, while it is anchored in these enormously difficult issues, does in fact celebrate the heroism and the courage of these women, and most importantly, to me, the sisterhood that all women can have.
This movie-making experience was a glorious sisterhood in every way in front of the camera, behind the camera, as a business prospect, every single thing. I still look back now to the days of working in the jungle and watching women traipsing through these read fields and trying to not have our equipment sink into the mud while dealing with bugs and spiders.
The whole thing was such an ordeal in the best possible way. I think, in the same way that you see that sisterhood on screen, it happened behind the cameras too. It was something that we shared as a group of moviemakers, but also we hope that that same intoxicating sisterhood spreads to audiences worldwide.
Melissa Harris-Perry: I want to just lift up one more piece and that is it is a visual experience, but it's also a sonic one, who went out and got my guy, Terence Blanchard, to do this score.
Gina Prince-Bythewood: Terence's score is magnificent. It's the best word I can use to describe. From the moment I came aboard, he was the first and only person we were going to go to. I'd worked with him before. Obviously, his work is extraordinary, but I just felt like he was going to go deep with this one and create something that we hadn't heard. You mentioned before, there are some really beautiful song and dance sequences within this film as well that was a big part of this culture. These choreographed dance sequences that they did before war to honor their king, to honor each other.
We also went after Libo M who's best known for the Lion King and that he created the songs within it. Then Terence really came together to create something that we described as orchestral but cultural using African instrumentation to turn what the word classic is into ours. In addition to voice, the incredible Diane Reeves that's her voice in there as well as choir and that combination of connecting. I say it a thousand times but that Diane's voice was our ancestor's voice. We used that a lot throughout the score as well.
Melissa Harris-Perry: Gina Prince-Bythewood, director of The Woman King, and Cathy Schulman, producer for the film. Thank you both for the film and thank you for joining us today.
Gina Prince-Bythewood: Thank you.
Cathy Schulman: Thanks for having us.
[music]
Copyright © 2022 New York Public Radio. All rights reserved. Visit our website terms of use at www.wnyc.org for further information.
New York Public Radio transcripts are created on a rush deadline, often by contractors. This text may not be in its final form and may be updated or revised in the future. Accuracy and availability may vary. The authoritative record of New York Public Radio's programming is the audio record.