Aligning Our Beauty Routines with Our Values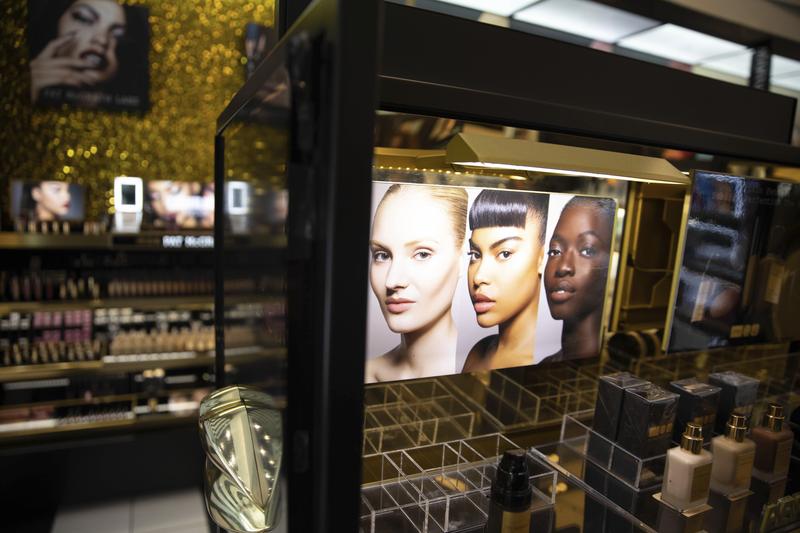 Transcript
Melissa Harris-Perry: I'm Melissa Harris-Perry, and this is The Takeaway, and let's be honest, right now, I'm a bit of a mess. I'm wearing a $12 elastic waist, black cotton capris, and an $8 black cotton t-shirt and yes, I'm barefoot. When I have an important Zoom meeting, all I do is put on a blazer. Now, personally, I see this as a win, my ability to talk with y'all each day, while looking like this is a reason radio is so much better than TV, but this is not how everyone has responded to this social isolation of quarantine.
I have one friend, Janice Johnson Dias who stays on IG, looking like quarantine has been her personal spa vacation. Like me, Janice is a professor, spouse, and mom in her 45 pluses. This year, she released her first book and completed a virtual book tour and she looks amazing. I asked her about it and here's what she said.
Janice Johnson Dias: I am determined for the people not to take any more from me. The least I can do is make sure that I get myself all the way together in the middle of this pandemic. I'm aware that [unintelligible 00:01:06]. I am going to figure out how to contour. I'm going to get into it. Each day, I'm out here trying to figure out how I'm going to be Zoom fly or how, when I come out to see the people in these small groups and my mask, how I'm going to be fly without lipstick. It's a thing when you're 49 plus, you have to remember the good old days that there is still a little flyness in you, even in the midst of this craziness, that is America.
Melissa Harris-Perry: I've been thinking just what are the new standards of grooming, beauty, and fashion. Are we facing a season of MHP frump or an era of Janice Johnson Dias fly? Joining me now is Darian Symone Harvin, a reporter covering beauty at the intersection of politics and pop culture. She also writes the newsletter, Beauty IRL. Darian, welcome to Takeaway.
Darian Symone Harvin: Thanks so much for having me. I'm really excited for this conversation.
Melissa Harris-Perry: What happened even with our definition of beauty over the course of the past year and a half of the pandemic?
Darian Symone Harvin: Whew. Yes. If wellness self-care was already not a part of the beauty conversation, it now is the dominating conversation. I think that a lot of times when I'm thinking about this from the perspective of not just the industry, but more of a consumer for lack of a better word, just as a person walking down the target aisle, something for the past year, we have not been able to do at the leisure that we may want to.
I think that now the definition of beauty has broadened to also question, how we are taking care of ourselves. I think that as we saw a decrease in certain sectors of beauty, is a resilient industry, revenue, and the monetary value in comparison to whether it be groceries or fashion, or personal care products. I think that out of all of them, beauty is the most resilient.
As much as we saw maybe a hit within maybe a makeup or a decrease in lipstick sales, we also saw an increase in personal care products now being viewed as I'm a part of our beauty regimen from our body oils to our body lotions, to also DIY thinking about press-on nails and doing your own gel, I'm your gel manicures, things like that became popular. I think it has almost been more of a looking yourself in the mirror. I also think that a lot of people who thought that they didn't care as much about that hair color or that haircut realize that they do. It affects the way that they look at themselves, whether it's on Zoom or in real life now.
Melissa Harris-Perry: Let's talk a little bit about what we're buying because it did feel like a weird year. I heard you talk about lipstick. On one hand, when you're out in public, you were masked, during the winter months, you also had a hat down. It wasn't as though people out in the world could see you. On the other hand, Zoom was really intimate. People all up in your pores and your eyebrows. Talk to me about what parts of, for example, our face or of our hands. Maybe we got more focused on this year.
Darian Symone Harvin: This conversation is so nuanced and so personal, but there are definitely some trends that we saw as our collective lifestyles change, particularly around work in this environment where we did feel that we had to show up in a certain way between January 2020 and mid-March. This is during the mid-March is essentially when most states within the US went on lockdown. Zoom usage jumped 67%. That directly affected the way that literally people viewed their faces and how that is different from the mirror. It's different from even your phone.
It made people really think about getting procedures done, whether it is something around, maybe that takes more of a healing time and is more invasive, such as a nose job, or maybe it's something around Botox. Now I think that within the world of plastic surgery, we are seeing that also there are these regimens or the services that you can do. That's not quite Botox or it's not quite a lift, it's something that may be temporary, and so we saw an increase of people exploring those options and really basically asking the question, do I look the way I think I looked?
Melissa Harris-Perry: No, it's true. Typically, if you are speaking to a group of people, you're not also looking at a reflection of yourself as you're having that conversation, it's very disconcerting in a way, it makes it harder to forget what you look and just be in your head because there you are staring at yourself while you're talking. I'm wondering if we know anything about that connection, the Zoom impact of looking at yourself while you're trying to work, and what that's meant for the other part of our beauty, our bodies. Are we carrying the stress in our bodies? Are we putting on weight? Are we taking off weight?
Darian Symone Harvin: I wrote a piece for a Lord. I was just able just to talk to you, a variety of women and femmes across ages. I think that something that I did feel was a common thread. All of us were looking ourselves in the mirror longer or on Zoom and our reactions were different. I spoke to a woman who routinely got her hair colored because of the graze. Now, she realized, "Hey, this is who I am. I'm going to continue to wear my [unintelligible 00:06:53]."
I think that actually all of those things are still connected to beauty and taking care of yourself even mentally, and we are sometimes required by society to look a certain way. I think that within that respect, people have new perspectives that I think are attached to wellness. Maybe as we saw a decrease in hair coloring, is an increase in hair care. People are just looking to take care of their hair more from the inside out. We also saw an increase in sales of body washes, soaps, and lotion and this is all according to Mckenzie and a recent report that they came out with on how COVID is changing the world of beauty.
I do think that the beauty industry has worked to address these sentiments. Yes, some people are looking in the mirror and saying, "Hey, I want to get this procedure done." Other people are like, "You know what? I'm going to grow up my gray hair because I'm focusing on my skincare now more. I haven't bought that hair color yet. I'm not going back to the hair salon as often as I did."
Melissa Harris-Perry: Obviously, the pandemic marks so much of what this year was. Another critical aspect over the course of the past year has been the movement for racial justice. How has that shown up in our beauty standards and our beauty purchasing?
Darian Symone Harvin: The death of George Floyd, the awareness of the death of Brianna Taylor, really in conjunction with us being during this time where people really had to sit with this idea of not always centering themselves and their problems every day, really allowed people to take the idea and the responsibility that they feel that grants have to be ethical to a whole new level.
I think that people were already looking for brands to be transparent, but it was more around ingredients and it was more around what I'm putting on my skin. Now, I think that people want to know who the founder is. They want to know what you believe in. They want to see that you support people of color in some way. They want to know the racial makeup of your corporate office.
All of these things now people feel are how brands now need to compensate for how they have attributed to systemic racism. I think that where people are at now is that people are essentially trying to figure out the role that brands are supposed to be playing in social justice and in improving the world. That is something that I don't even think I have the answer to either. I think that we look to brands as being the voices, but I don't think that they're actually equipped to be our voices.
Melissa Harris-Perry: We had a conversation on the show earlier this week about TikTok and TikTok dance creators, and the strike relative to white TikTokers using the creative production of Black creators. I've been thinking about this relative to beauty as well. The ways that Black women's aesthetics might get picked up by folks outside of the community. Could this be a problematic side of the movement for social justice, when we see an appropriation of beauty norms and standards?
Darian Symone Harvin: Oh, that's an interesting question because I'm thinking about the world of natural beauty and clean beauty and when you look at the, I think, both Indigenous practices, but also, the practices of people of color and how we have sourced our beauty. I think that there are some ingredients or rituals or now even plants that are becoming popular now that have been popular already amongst Black folks now. I think that we're ultimately probably going to start to smell, see more as is more of that.
It actually makes me always think about this moment and work, again, tying it back to pop culture. I'm appropriation. I think back to Zendaya who I remember when she wore a dreadlocks too, or she worked full locks to the Oscars. I'm blanking on the which year it was, but Giuliana Rancic the hosts on E and also a part of fashion police. She talked about how it looked like she smelled of weed and patchouli. Do you remember that this happened?
Melissa Harris-Perry: I do, I think I blocked that out.
Darian Symone Harvin: Yes and weed and patchouli, I think she may have said cannabis and patchouli oil, but essentially the point was that it looked like she was carrying this vibe or she looked Rastafari and she was from the earth. Now we're starting to see a continuation of, we love coconut oil. We love a Shea butter now. Patchouli is now a popular and a fragrance ingredient and really always has been.
I think that, again, there are a lot of very, very interesting ties, and when we look at, tying it back to TikTok some and looking at Black creators being on strike, so much of it is about dance, but a lot of it is about aesthetic too, and how you are able to use voices to own a persona or to own a look. I think that we have a lot of people right now who are doing that and thinking it's just for fun and other people who are saying, hold up now it feels like you're taking some of my identity and I want to know why you have a million views for it.
Melissa Harris-Perry: Last question. I just want to tie this back to politics a little, there are some pop culture icons who were always looking to for beauty tips, but I'm wondering if there are political ones. I know you've written about the Michelle Obama Bounce, but I'm wondering if we are seeing that, for example, with VP Harris or if there are other people in the political realm marking, what is beautiful?
Darian Symone Harvin: Yes, absolutely. I think that is often done in these very subtle ways. I think that I look at someone like VP, Kamala Harris who she has ultimately worn the same hairstyle for years. I think that we've seen these throwback photos of her and the '80s or the '90s where maybe she had a shorter cut or a different color or whatever it be but now we very much associate her hair, I think, with just her image and who she is.
It's funny because I was just watching this TikTok and it was basically this girl talking about Kamala Harris's hair, I think that there's still such a beauty and a consistency. You can tell she's been wearing her hair like this for a long time because she knows how to take care of it or she knows how it'll look. It's her fail-proof look. I think it will be interesting if and when she ever makes these changes and to see how people react because a lot of times it's normally I think that a lot of the beauty practices that are done within the political realm often end up being practical ones.
I think also somebody like AOC who actually really does and has talked about the power of beauty and how the way that she decides to present herself, especially in the political realm, I think is about symbolism and resistance to some degree, I think we've seen it both in their fashion when certain members decide to wear white, but also AOC. She has a red lipstick that she's known for.
I also think about people like Congresswoman, Ayanna Pressley, who she decided to just go bald and she can no longer wear wigs or extensions because she has alopecia. That is a beauty choice, especially within this realm where Black women's looks are policed, not only in the workplace but also just out in society. I think that those are probably the main people who I am always paying attention to. I also think it's really interesting to also think about politicians who either identify as non-binary and trans.
I think that particularly makeup and beauty has been an armor for them as a way to always express themselves, not just in politics, but I think it's particularly interesting in politics in this a world where it is about suits and not being too crazy with your hair or whatever it may be. I also think Nikole Hannah-Jones, author, investigative reporter, leader of the 1619 Project who has continuously wear bright red hair in this world that we come from and we know that bright red hair is not the norm. Sometimes people question how serious you are, literally how good at your job you are, if you have a hair color that may not seem like that is more vibrant. There are these choices that we do make here and there.
Melissa Harris-Perry: I love that you brought us to Nikole Hannah-Jones, and I adore that you brought us to Ayanna Pressley because she is what gave me the courage to shave my head but it turns out my head isn't shaped nearly as beautifully as Rep Pressley is. Darian Symone Harvin is reporter covering beauty at the intersection of politics and pop culture, she also writes the newsletter, Beauty IRL. Darian, thank you for taking the time.
Darian Symone Harvin: Thank you so much for having me.
Copyright © 2021 New York Public Radio. All rights reserved. Visit our website terms of use at www.wnyc.org for further information.
New York Public Radio transcripts are created on a rush deadline, often by contractors. This text may not be in its final form and may be updated or revised in the future. Accuracy and availability may vary. The authoritative record of New York Public Radio's programming is the audio record.