Music In Their Own Words: Sylvan Esso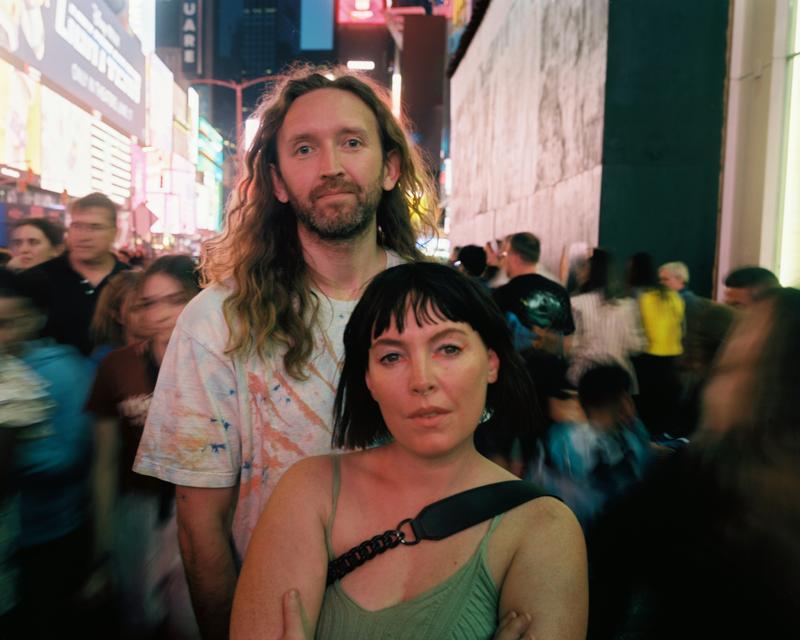 Transcript
Melissa Harris-Perry: It's The Takeaway, I'm Melissa Harris-Perry.
It's time for another installment of Music In Their Own Words. It's our series with musicians who give us a window into their art and their work.
Amelia Meath: How can I be moved when everything is moving? How can I be moved when everything is moving, it's about wanting to step off the train, wanting to have a moment of stillness, be able to absorb the enormity of life, but of course not being able to. My name is Amelia Meath and I am a producer, and songwriter in the band Sylvan Esso. Sylvan Esso is an electronic pop band made of two members, myself and Nick Nick Sanborn, the main composer.
Melissa: Nick wasn't able to join us this time, but his presence is unmistakable in every aspect of the duo's latest album including its title, it's a reference to Sanborn's nickname, No Rules Sandy. The album gets a physical release on January 20th, and Amelia joined us in the studio.
It's a jump to rise
Lift off right now
Don't know how to swim in the air
Come on, I'll teach you how
Three words are used to describe No Rules Sandy, immediate, vulnerable, electric.
Let me help it, let me fight
Let me remember how to live my life
Amelia: The way that we made the record was really fast. Nick and I got in our car on the 1st of January in 2022 and drove to Los Angeles from our home in North Carolina. We set up a little studio in a rental then this wave of Rona hit and everything got canceled. Nick and I just started waking up every morning and we would try to write a song. We kept on writing a song every day. We've never written songs at that speed, and because of that like I've never written lyrics this fast. Most of the ways that I write songs has been very curated. All of a sudden it was just like, no, no, no, first thought, best thought, truly.
Even back then
With me all the time
Under my tongue, behind my eyes
There's a song called How Did You Know, about me having known how to take care of myself as a small person, or figuring out how to give yourself the love that isn't necessarily provided for you.
Thinking back to who I was
When did I learn to raise myself? How?
Who was she to carry me?
How did I find the will to be? How?
I wanted to keep on recreating the creative like fugue state in which this record was made, and because of that, I didn't ever really want to leave a pause because truly there wasn't a pause for us. I wanted the record to sound seriously dense with everything that we had been surrounded by. I wanted there to be no silence between the songs. We both went through all of our voicemails and found things that were sent during that time. The voicemail from my dad, there's like the sound of a street in Las Vegas, the detritus of being a person with ears and walking around like all of the wild sounds that we're surrounded by that we don't identify as music very often.
Oh, I can't stop ringing
My favorite thing about working in audio is that it's like working in collage, and that like you cut something out of a paper and then you're left with the negative, the shape of the thing that you just cut out. That is just as interesting as the shape itself.
Oh, I can't stop ringing it
Oh, I can't stop ringing it
Oh, I can't stop ringing it
We kept on realizing that we had accidentally put roadblocks in front of ourselves, like trying to make a very commercially viable pop song or make better music than we've ever made. Also fighting our own fear.
(Oh yeah, oh yeah-I, oh yeah, oh yeah-I)
Feel the earth quakin', get the shivers
It would hit me like a train
(Oh yeah, oh yeah-I, oh yeah, oh yeah-I)
With this one, the rules that were being disregarded were both editorial rules, but also just trying to go where the joy is.
Wouldn't she like to know how the story ends?
(Oh yeah, oh yeah-I, oh yeah, oh yeah) but then again
I didn't care
And I couldn't feel it in the air
I didn't know
We're always seeking the way it feels as opposed to like the structure of the song looking perfect because we've agreed on that's how we write them. It's become much easier. Also, it means that when you split the song into its parts, it just looks like absolute chaos. Sandy was doing improvising and I found the chorus truly just mumbling, and Sandy was like, "Yes, yes, that's it." I realized that the song was going to be about-- I write songs about a dance party of your dreams a lot.
There's a lot of people dancing downtown
Yeah, we all fall down
But some stay where they got dropped
Echo party, a place that you're trying to get to that is euphoric where all of your friends are that you have yet to make and they're all raging. When you walk in the door everyone will turn and chattery.
Some stay where they got dropped
It's an echo party ringing all around
Yeah, you can't play it down
But you want it to feel right now
It's basically like a labyrinthian tale. I wanted it to be in a subway system that was abandoned. If you're in like a tunnel system hearing where the echo's coming from and you following.
Melissa: I'd like to talk about Cloud Walker.
Amelia: My favorite song on the record.
Cloud walker
It doesn't make sense
But you've done it so many times
So we accept
Cloud Walker is about the absurdity of plane flight. Also just the wild decadence of being able to have a cocktail in the air, and everyone on the plane believing that the plane will fly through the air, and so it does.
Move as one
Step in step
There and gone
Hold that breath
The weird, the divine that is found within collective human intention.
Move as one
Step in step
There and gone
Hold that breath
Feel the sun
Hold it, hold it
But not too long
This is how you forget
Nick made this beat that's unlike anything that he's ever made before that I loved and he did not like, and I had to really work hard to convince him to keep it. Because of that, I like wrote a small but very catchy chorus for it so that he would feel like he couldn't throw it away.
Every time you do it
Wilder you grows smaller still
And you're just walking like you do
Like you do
We've been working together for almost 10 years, and we can pretty much say anything we need to, to each other. I mean we still offend each other all of the time, but there's a lot of trust there.
Like you're doing, doing it
It's like we invented a dance, and we are really good at doing it together.
It doesn't make sense
But you've done it so many times
So we accept
Hold that breath
Move as one
Step in step
There and gone
Hold that breath
Feel the sun
Melissa: More coming up from Amelia Meath of Sylvan Esso right after this.
Hold that breath
Move as one
Step in step
There and gone
Hold that breath
Feel the sun
Hold it, hold it
But not too long
It's The Takeaway, I'm Melissa Harris-Perry. I'm passing the mic to Takeaway producer Mary Steffenhagen. She sat down for more with Amelia Meath of Sylvan Esso for a look at the duo's latest album, No Rule Sandy.
Mary Steffenhagen: I know on your last album you stepped into doing more producing. Is that something you continued with, No Rule Sandy?
Amelia: Yes, I used the last album as a way of talking about how I was stepping into producing, but I think I have been producing this whole time. It never occurred to me that the thing that I was doing organizing and shifting and moving the way that the sound feels. I've been doing that for this entire time, but I always just thought it was me having an opinion, and of course, that is production. Last record I was like, I have stepped into producing. Really it's that I stepped into owning my role
Mary: On that theme of owning a role, your own sort of stage presence has evolved. I feel like you've danced more openly, and your outfits have become more maximalist and big. You just seem to be taking up more space. I'm wondering if you see it as an evolution.
Amelia: I had always wanted to be wearing eccentric outfits and dancing all over the place. Part of it is that when you're a duo-- Nick and I are already in a stereotypical situation and that like I am a femme vocalist and he's a producer. I was very self- conscious of that when we first began.
Also, I come from the DIY space, so the idea of me looking very glam and him just being a guy in jeans was not something that I wanted to participate in. I dulled my own presentation down to make it be like, no, we're just like two guys who are in a van and we get out of the van and create this incredible party. That's what we do. Once people started looking at me more, I began feeling the pressure to present in a more-- having a body is horrible in general.
[laughs] The pressures of having to present that body and be like-- also the fact that in order to sing I'm like singing the imprint of my insides to people and moving my little weird self all over the place, how to make it so I felt more comfortable. Costumes have been incredibly helpful with that. To me, the louder I look on the outside, the more comfortable I feel on the inside, but I started giving myself permission to do that with these shows.
Once I got over the complete overwhelm of-- the shows got really big really fast, and with that came a lot of pressure to look beautiful and look like I had considered what I was wearing was very large. I just started having fun with it. At this point, my favorite thing to do is to try to figure out how to have as many different silhouettes as possible. Wearing like a big giant trash bag, that see-through that you can see my body through, so there's always two things that feels the safest to me.
Mary: Did the costumes make you then feel more like yourself, or a certain part of yourself, or someone else entirely?
Amelia: I think they make me feel simpler. Also, the thing I'm really most comfortable wearing is a leotard. It's like I'm like at my own ballet dance recital when I was six. That feels great.
Mary: Is there a sound that's sort of like your earworm that you feel you have to have in everything that you do?
Amelia: For a long time we really heavily relied on an audio transitional cheat that we called shoops. Anytime we're transitioning between a verse and a chorus, or anytime anything dramatic is happening, we'll add a tape hiss that we raise in volume. It goes like shhh. With No Rules we stopped doing that because the songs were coming so fast that we weren't really spending that much time on the minutia of the energetic shifts. I have a lot of lyrical themes that are embarrassing to me because I just keep on-- there's some metaphors that I just love talking about. I really love talking about circles or I really like talking about neon. There's just some words that I really gravitate to and some images that I really like running on train tracks.
Mary: Dance party in a subway.
Amelia: Dance party in a subway, yes.
Mary: You and Nick have both continued to work on projects outside of Sylvan Esso, how important do you feel like having those separate endeavors is to your creative partnership as Sylvan Esso?
Amelia: It's really nice to be able to feel what we are independently because we've been writing songs together so closely for so long. Sometimes it's hard to tell what's him and what's me. When we have independent projects I can see Nick and I can see me. I can identify what parts of our collaboration are whom. Though honestly at this point we've adopted all of the things that we like about each other's process into our own processes. I'm like, there's a third partner that we have that's just him and I together.
I thought you were good and all
But I didn't hold you in my mind
I was busy playing shows
You were busy wastin' your time
Melissa: That's Amelia Meath, one-half of the pop duo Sylvan Esso. Their new record, No Rule Sandy is out now.
Actin' like I knew it all
Like I was writin' a book I-I-
[00:14:20] [END OF AUDIO]
Copyright © 2023 New York Public Radio. All rights reserved. Visit our website terms of use at www.wnyc.org for further information.
New York Public Radio transcripts are created on a rush deadline, often by contractors. This text may not be in its final form and may be updated or revised in the future. Accuracy and availability may vary. The authoritative record of New York Public Radio's programming is the audio record.