Alabama Union Coal Mine Workers Enter Fifth Month of Strike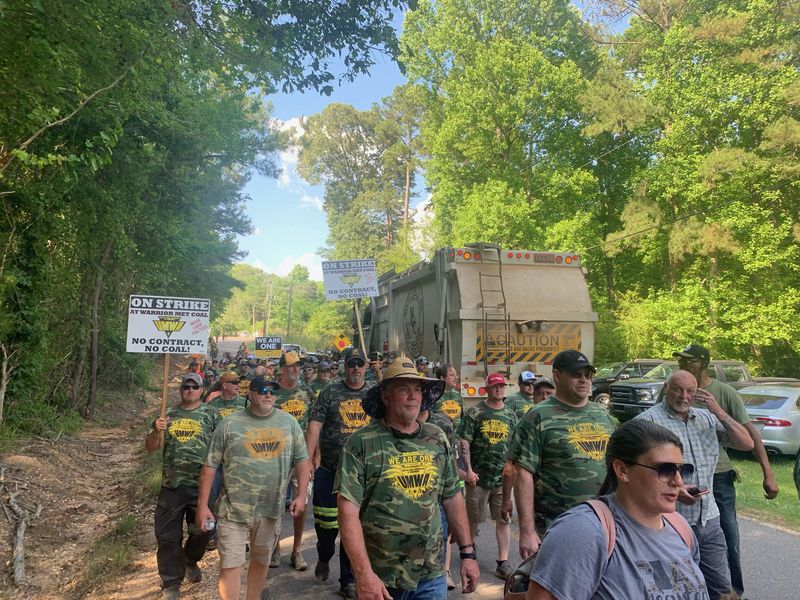 Transcript
[music]
Melissa Harris-Perry: I'm Melissa Harris-Perry and this is The Takeaway. More than 1,000 union mine workers from the Warrior Met Coal Mine in Tuscaloosa County, Alabama are entering the fifth month of a labor strike. The miners are members of the United Mine Workers of America Union, which has a deep history in Alabama, and in those very same minds dating all the way back to 1890. On Wednesday, mineworkers held a large rally in Brookwood, Alabama. Thousands of UMWA allies came in from Illinois, Indiana, Pennsylvania, Ohio, Kentucky, and West Virginia to show solidarity with the Alabama minors.
Braxton: We're just wanting back what we lost five years ago. We're wanting respect from the company, we're wanting our vacation time back, we're wanting our health concerns which the most important and just some of the money that we lost also.
Speaker: We're not backing down. We're fed up with all the scare tactics, all the stuff they're doing.
Speaker: We're fighting for all workers across America, not just for us here at the mines.
Melissa Harris-Perry: Journalists Kim Kelly spoke to those folks in Brookwood, Alabama, and she joins me now. Welcome, Kim.
Kim Kelly: Hey, thank you so much for having me.
Melissa Harris-Perry: Talk to me, what was the sentiment among the miners and family members at the rally yesterday?
Kim Kelly: There's a lot of good energy. One of the women I spoke tom Sherry, she's part of the Women's Auxiliary. She was saying that we get to see the community support firsthand because we handle donations, we handle groceries, but a lot of folks on the picket lines, they're just out there 24/7 fighting the fight. They don't get to see the nice part, the solidarity part. That was really a big deal for them to see all these folks from across the country coming out to support. Lots of media there, lots of union leaders were there. It was just a really beautiful event, honestly.
Melissa Harris-Perry: Talk to me about the working conditions at the Warrior Met Coal Mine. We heard a little bit from some of the strikers there, but what is it they're asking for?
Kim Kelly: The conditions there, you're never going to find great conditions working in a coal mine. It's a very dirty, difficult job, but Warrior Met, this is one of the deepest mines in North America. It's filled with methane gas, which has caused explosion, which has caused health issues for folks. The workers there, they're underground 12 hours a day, six days a week, sometimes seven. In the contract they have now, which was implemented five years ago when Warrior Met came into the mines, they lost $6 an hour off their pay, they lost vacation days, they lost overtime.
Melissa Harris-Perry: Wait, pause, go back for a second. They lost $6 an hour off their pay. How did that happen?
Kim Kelly: When Warrior Met came in, it was off the back of a bankruptcy from the former owners, and so there was a massive layoff, and when Warrior Met came in, they were like, "Okay, we'll hire you guys back, but this is what we're going to offer you. You're going to help us get on our feet, and then five years down the line when we're in a better financial position, that'll trickle down to you." Of course, it hasn't and now the average wage there is about $22 an hour to work in a coal mine 12 hours a day, six days a week.
Melissa Harris-Perry: All right, and I'm sorry I interrupted you. What else did they lose in that fire, get hired back?
Kim Kelly: The biggest thing, as Braxton mentioned, the quote you played earlier, is the healthcare costs. Their healthcare costs has skyrocketed, and as I'm sure you realize, coal mines, there's a lot of health conditions and medical issues and risks that those workers undertake, so their healthcare is a big deal, and now, they're paying a thousand more a month than they used to. That's impacting the workers as well as their families, their children, retirees. That's a huge deal.
Melissa Harris-Perry: They've been on strike for a really long time at this point, first of all, are they getting paid even that $6 an hour less wage during their strike?
Kim Kelly: Oh, no, the company isn't giving them anything but a headache. There was a strike fund that the UMWA has set up. As long as the worker completes their picket line duty, which is about, I think, 16 hours a week, they get a check for $700 every two weeks and that adds up to about $1,400 a month, which is very helpful, but that is certainly not enough, especially because the majority of these workers are parents and supporting family members as well.
Melissa Harris-Perry: Now, when I heard you say the company hasn't given them anything but a headache, are they allowing them, at least in the context of the strike to strike in peace?
Kim Kelly: No, ma'am. They have been terrible. Honestly, I've been shocked. I've been covering this story for since the very beginning and the amount of hostility and aggression that the company has displayed is just truly shocking. I know of at least five documented instances of company employees, whether they're bosses or scabs, contractors that were brought in, of running their cars and their pickup trucks into people on the picket line. Multiple strikers had been sent to the hospital.
Melissa Harris-Perry: What?
Kim Kelly: Yes, one of the strikers' wives, Amy, she was hit and she's still feeling it. These people are being hurt and the local police aren't doing anything and the union is fighting to get anyone to pay attention and to help them. It's really scary. We're really looking at another Harlan County down there.
Melissa Harris-Perry: When you say, first of all, that there are people striking peacefully in line getting hit by cars that you've been covering this now for months that I have to say, I'm a little surprised. It's certainly been covered some, but why hasn't it been covered much more widely in the news? Is this just about being pushed out by the headlines of COVID and other things like that?
Kim Kelly: I'm sure that's a factor. I have multiple theories about this. It's been driving me nuts because I had been covering it and I'm so invested in the story. I think perhaps the fact that the industry they work in; coal, fossil fuels in general, it's a little harder to tell a nuanced story there or to drum up sympathy because it is such a complicated issue. Also, it's a rural area in Alabama, there are a lot of assumptions that are made about folks in those areas.
There are a lot of folks who are more conservative who were involved in this group and I think most labor stories has been implied underlying of progressivism, and that's not necessarily the case here. Of course, the miners aren't a monolith. It's a very diverse group, but I think it's been a little tougher to get sympathy for a bunch of striking coal miners in Trump country than maybe it would be for another strike somewhere else of a different kind of people.
Melissa Harris-Perry: It's an interesting point when you call it Trump country. Obviously, Alabama predates former President Trump, as does in fact union activity in Alabama. I think some people might even be surprised to discover that there is this kind of a strong union in Alabama.
Kim Kelly: That's something I've come up against too. The labor movement in Alabama, they've had to fight even harder in some ways, because the legislator is so red and so anti-labor and so conservative. The labor history in Alabama is really incredible. It goes back, as you mentioned, UMWA has been there since 1890. There have been significant miner strikes, they've been involved in other massive strikes like the great uprising of 1934, there's the Mine Mill Workers Union.
We just saw several months ago there's tons of coverage of how workers at Amazon warehouse in Alabama, about 16 miles down the road actually, they tried to organize a union and it didn't go the way we wanted it to yet, but they have a chance at a rerun now. There's a lot going on. I think the fact that maybe it's in the deep south and their legislators are so bonkers.
Melissa Harris-Perry: That's a technical term.
Kim Kelly: I know that I'm on the radio, I was trying to mind my language. [laughs] They have to fight so much harder to get even an iota closer to workers in upstate like New York or California have to go up against. I think it's incredible that they're still there and they're fighting this hard because no one is paying attention. When you're screaming into the void, it can get discouraging but these folks are still going five months later.
Melissa Harris-Perry: I feel like I can tell you've been hanging out with some Alabama coal miners. You're like, "Oh, it's just too much." Talk to me about the Biden administration. Obviously, the Biden administration has put significant emphasis on green energy, and as you said, coal mining has become a bit of a dirty word among progressives. One, we're still going to need coal for a while, but if, in fact, the Biden administration is able to move us in a important way towards more renewable energies, where's that going to leave these workers in the long run?
Kim Kelly: One aspect of this story that I think is important to emphasize is, as you said, coal is not going anywhere for a little while, but the specific type of coal that they mine, metallurgical coal, is used to produce steel, so the demand for that is sticking around even longer. Actually, all of the coal that they mine is sent overseas to rapidly industrializing countries in Asia and in Europe. They're going to be around even if the rest of the country switched to a fully green economy tomorrow.
That's something that I think folks there recognize. They also recognize that the industry, as a whole, is on decline and that perhaps they might need to think about other options, but those options just haven't been presented to them in a meaningful way. It's hard to come up to someone who's worked in the coal mine, whose dad worked in a coal mine, whose grandad worked in a coal mine for 30 years and say, "Okay, we're just going to just have you building windmills now, that's fine."
That's not an acceptable compromise to some of these folks. There's a lot of pride in generational memory in those minds, and I think the government really needs to recognize that and recognize these coal communities whose entire lives are built around these mines and offer them something decent. Actually, the UMWA fairly recently came out with a statement that was a tentative support of Biden's green energy plans.
They're saying essentially like, "Okay, we get it, we're down with this, we'll support you, but you need to make sure our people are being taken care of." That's the thing, they don't want to be left behind.
Melissa Harris-Perry: You've gestured here, maybe more than gestured, towards the politics here, is there any possibility that participating in a five, six months strike against a company that is not being responsive in this way might actually shift some of the politics of these workers if, in fact, they were able to find an ally in the Biden administration?
Kim Kelly: I almost wouldn't even say the Biden's administration per se. The biggest amount of support that they've gotten throughout the labor movement, which is, obviously, majority more of a progressive body, a lot of the support they've been getting are from local socialist groups and lefty groups. Those are the people who are donating and showing up to rallies and helping out. I think the S-word is not necessarily the most popular in some pockets of Alabama, but I think actions over labels, that's something that people are recognizing.
I think people's stances on the left or Democrats or whatever, people on the other side, if you will, they are softening because they're seeing, "Okay, well, nobody from the Republican world is reaching out to us. Our Republican senators aren't paying attention, Fox News isn't paying attention. All these people that we thought were on our side aren't saying a word, and here's the folks who are," so I'm sure that's making an impact.
I've had some really interesting conversations to that effect down there. People recognize and realize who shows up for them, and I think that if the Biden's administration did put a little effort in. Biden made a whole video to tacitly support the Amazon workers, he hasn't done the same for these workers. No politicians have. I think it's a very ripe opportunity for someone who actually cares to step in and be like, "Hey, look, maybe we don't see eye to eye on everything, but we agree that y'all should be able to feed your kids and make it to and from work every day and survive and thrive." There is an opportunity here and I think a lot of people are blowing it, honestly. Where's Joe Manchin? Isn't this his whole thing?
Melissa Harris-Perry: Isn't this just his whole thing. Kim Kelly is an independent journalist and author of the forthcoming book Fight Like Hell: The Untold History of American Labor. Thank you so much for being here.
Kim Kelly: Thank you so much. I really appreciate you for looking into this story. It's great.
Melissa Harris-Perry: Absolutely. Also, please know The Takeaway asked Warrior Met Coal for comment. We have not yet heard back from Warrior Met, but when we do, we'll post the response at thetakeaway.org.
Copyright © 2021 New York Public Radio. All rights reserved. Visit our website terms of use at www.wnyc.org for further information.
New York Public Radio transcripts are created on a rush deadline, often by contractors. This text may not be in its final form and may be updated or revised in the future. Accuracy and availability may vary. The authoritative record of New York Public Radio's programming is the audio record.