Airline Industry Takes Off As Vaccinations Continue in the U.S.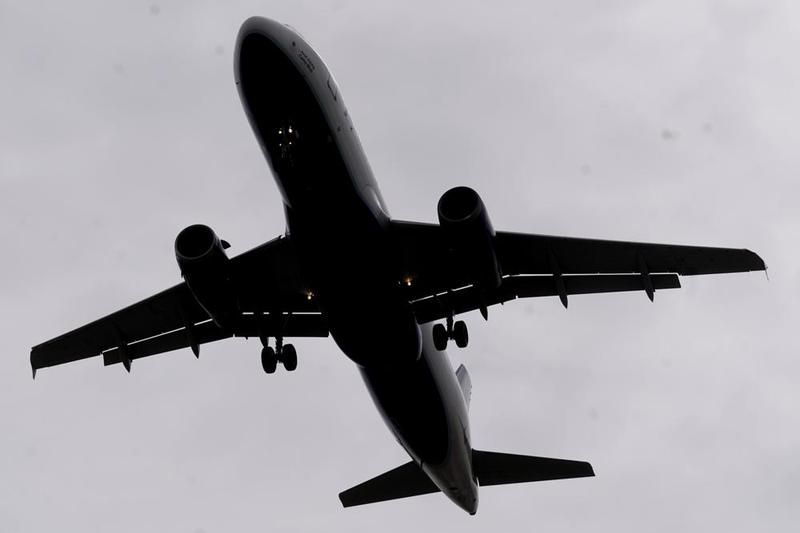 Transcript
[music]
Melissa Harris-Perry: This is The Takeaway. I'm Melissa Harris-Perry in for Tanzina Vega. Today, we are getting high, as in 10,000 feet and climbing. It's time to once again take to the skies. As vaccination rates rise, and businesses and entertainment venues reopen, Americans are packing our bags and stretching our wings, if not our legs with air travel.
Earlier this month, TSA airport security screenings exceeded 2 million people per day for the first time since March of 2020. While the current travel numbers are still well below summer 2019 totals, they do offer some hope to the airline industry, which lost more than $34 billion in 2020. The increased demand for flights is only part of the story.
Actor 1: "Can you fly this plane and land it?"
Actor 2: "Surely you can't be serious?"
Actor 1: "I am serious. And don't call me Shirley."
Melissa Harris-Perry: That little clip from the classic 1980 film Airplane! tells another part of the story. Major airlines including Delta and American Airlines are facing significant staffing shortages. In the case of American Airlines, those shortages have led them to cancel nearly 1,000 flights between now and the middle of July. For current airline employees, the skies have not exactly been friendly in 2021.
Passenger: "We are going to sue you."
[in-flight altercations]
Flight Attendant: "The fact that we get insulted and mistreated by passengers over things that we cannot control. It is disgusting."
Melissa Harris-Perry: Passengers acting inappropriately towards airline employees who are just doing their jobs has become far too common. The Federal Aviation Administration says they've gotten around 3,100 reports of unruly behavior since January. The agency told NPR last month that those numbers are significantly higher than what they'd seen in past years.
Listen, if y'all keep disrespecting these airline employees, they're going to have to turn into Harrison Ford in 1997's Air Force One.
Harrison Ford: "Get off my plane!"
Melissa Harris-Perry: At the end of May, Secretary of Transportation Pete Buttigieg spoke about the treatment of transportation workers on ABC's This Week.
Pete Buttigieg: "The flight crews and other workers you encounter, they're doing their job. They're following regulations and they're there to keep you safe. It is absolutely unacceptable to ever mistreat a transportation worker. And of course, there's very serious fines and enforcement around that."
Melissa Harris-Perry: Allow me to translate the Transportation Secretary in the words of Samuel Jackson in the 2006 film Snakes on a Plane.
Samuel Jackson: "I have had it with these [beep] snakes on this [beep] plane!!!!"
Melissa Harris-Perry: Joining me now to help us understand what's going on with the airline industry is Leslie Josephs, airline reporter for CNBC. Great to have you back on the show, Leslie.
Leslie Josephs: Thank you.
Melissa Harris-Perry: It's pretty clear that people are flying more, but do we know why? Are these personal trips? Is this business travel?
Leslie Josephs: The vast majority is leisure travel. People have been cooped up for more than a year, and it's clear that now they are ready to leave the house.
Melissa Harris-Perry: Given that it's leisure travel, and airlines, for the most part, were truly prior to the pandemic relying on those business travelers buying those full-fare tickets, how much of a difference does it make to airlines financially to have a return at least to summer vacation travel?
Leslie Josephs: It's a really big deal considering what a low bar they're coming from. Airlines in the US they had record losses more than $35 billion last year, and air travel essentially for part of the year have been close to stopped. Anything is good. What we're seeing now, summer is usually the peak season for air travel in the US.
We're seeing leisure travel almost return to 2019 levels, but we still don't have that business travel. Companies are not putting their people out on the road in the numbers that they used to. Especially, the really big airlines like Delta, United, American, they relied on those travelers. The other thing, some of those business travelers were traveling abroad, and many of those destinations are still close to us.
Melissa Harris-Perry: That was the very next question I wanted to ask is, what does international travel look like both for folks coming into the US for their vacations or business, and us leaving?
Leslie Josephs: It's starting to open up a little bit. One bright spot during all of this for the US airlines anyway has been Mexico, which has not had the travel restrictions that we've seen with destinations all around the world, and it's mostly like leisure destinations, beach, and that's been a support for the airlines.
Europe is starting to open up. You're seeing individual countries; Spain, Italy, Greece, Croatia, countries that are very reliant on tourism, open up their doors with various requirements, either proof of vaccination or COVID test or a combination of both. That is starting to open up.
The EU as a whole is recommending that travelers from the US be let in. On the other side, it is the US has not yet changed its travel restrictions. It bans most non-citizens that have been in the EU and the UK, Brazil, and several other countries from coming into the US. We've been a bit more conservative. People who have dual citizenship, maybe have partners, family across the ocean, they're getting very frustrated with how long it's taking the US to open up.
Melissa Harris-Perry: That doesn't mean if you take your family on a European vacation that you can't get back in. As long as you're a US citizen, borders are open both ways as long as the other nation is open.
Leslie Josephs: It's for non-citizens. Of course, US citizens, permanent residents are allowed back in. Europe is opening up to us, but we are not so far opening up to them. There has been some talk of the Biden administration says they're looking at it. They're creating a task force of various countries, everyone from Canada, Mexico, UK, EU, to look at how to safely reopen the border. Mostly, for now, we can take a vacation to Greece, let's say, as US citizens, but if you're a non-citizen in Greece, you cannot come into the United States.
Melissa Harris-Perry: Passengers are one part of the story, but obviously the passengers aren't flying the planes. They're not staffing the planes. They're not cleaning the planes after a flight. It's my understanding, and because of your reporting, you've been reporting on some of these staffing shortages among the airlines. What's going on there, and are you expecting it to get better?
Leslie Josephs: It should get better soon. One thing to understand is a year ago, airlines were begging, pleading with their employees. Please take leaves of absence. Please consider a buyout and early retirement, and leave the company, so we can get our labor bill down, because they were hemorrhaging money, and many of them are still losing money. Now what happened is after they got rid of all of those employees, and also got $54 billion in taxpayer money to keep the rest of their employees, airlines are finding in some areas they don't have enough people to handle this crush of travel we're seeing this summer.
Delta Airlines, for example, earlier this week, said they're going to add I think it's about 1,300 reservations agents, because the whole times of their call center were so long. American is also adding some more automated features so that people don't wait on hold. I called recently, and the whole time was longer than the flight I was calling about. They're trying to catch up.
Pilots is another issue. It's very extensive and time-consuming to train pilots. Because there was so much chaos last year retiring planes, airlines were rethinking their schedules, a lot of pilots got, you can say, like displaced. They're not only coming in for annual federally mandated training. They're coming in to learn a whole new aircraft, and that takes time.
What we saw earlier this week is American Airlines said that they're going to trim their schedule of the first half of July by about 1%. It's not a ton, but what they're trying to do is make sure that people don't get to the airport and have these long, rolling delays, or they get canceled there, and problem that can cascade to other flights and cause a lot of other disruptions. They'd rather just cut 1% off the top early, and then put people on other flights.
It's not a ton of flights but if it does affect you, it's not the news that you want when you're looking forward to your first vacation in maybe 15 months.
Melissa Harris-Perry: You mentioned the billions in government funding during the pandemic. Where did that money go? What were they using it for?
Leslie Josephs: The $54 billion is actually over three different aid packages. A requirement to receive that money was that you couldn't furlough and voluntarily furlough, cut any jobs, and you couldn't cut the pay rates of your employees. That didn't stop airlines from urging their employees to take voluntary measures like the buyouts and early retirements, and many took them up on it. Some of the offers included lifetime flight benefits and things like that. If you're a few years away from retirement and you could fly for free, some people thought that that was a good enough deal.
The big argument for getting this aid as airlines were losing all this money; one, it got rid of the idea that some could go bankrupt and very quickly, so they did have a bit of a cushion. The argument that they give to lawmakers in Washington was that they would be ready by the time that there is a rebound in travel, and they all said that eventually if we're going to have this rebound in travel.
Not that they're not completely ready, but there are some growing pains here. I mean, not enough people in the call center, not enough pilots are ready to go. So this rebound in travel really was just like fast and furious, and doesn't show any sense of stopping. There are some issues where they're short-staffed in some places, and maybe too many people left for the number of people who are traveling.
Melissa Harris-Perry: Certainly, that rebound in travel is in part driven by vaccination. You get your double shot. You wait a few weeks, and you're like, "I'm ready to go." Where are airlines relative to their employees and requiring vaccinations for them?
Leslie Josephs: The airlines have various policies. No one has required for all of their employees outright so far. United Airlines earlier this year, the CEO, he said that the airline should require this vaccination, but so far, we've seen airlines for the majority strongly, strongly encourage their employees with incentives like United is offering some extra vacation days for next year. I think American is doing something similar, and Delta, they came out, I think, it was about a month and a half ago and said, "We want all new employees to be vaccinated."
Which is the easier thing to do when you're not hiring, you're starting over, and when you have tens of thousands of employees to say that it's required for all of them. It's a bit more complicated and effort. The airlines have a specific issue because they also have to send their crew members once the world opens up a bit more abroad, and those crew members could face entry restrictions of vaccine requirements, so they've warned some of their flight crews, like pilots and flight attendants that, "We strongly encourage you to get this and keep in mind, you might not even be able to go to some of those choice destinations."
Melissa Harris-Perry: Leslie, as you were talking about, you've got people going back right after having not flown for a while, being excited to be on their vacations, but you also have lower staffing, so now you've got long waits. You've got all of the various realities of going through security, all of that, and it definitely sounds like a toxic stew for some distress. What has been going on in these interactions?
Leslie Josephs: There has been a spike in unruly passengers on planes. Pretty much for the last year, the reporting has gotten more robust, and airlines say they have also seen a spike in this since this year. After the riot on January 6th, the FAA came out and said that they're putting in a zero-tolerance policy. During that weekend, there were several high-profile incidents, including one passenger shouting at Mitt Romney on a plane, and some other ones that were politically tied. The flight attendant unions had very strongly urged the FAA to come out and do something. They didn't feel safe, and they wanted to protect their crews.
So far, the FAA this year has received 31,100 reports of unruly travelers, and that's ranging from shouting, general disruption, verbal abuse, name-calling, mask noncompliance, which makes up the majority of these cases, to assault. A Southwest flight attendant, according to her union, lost two teeth after she was punched by a passenger in May, so there is a pretty big range in some of these cases, and they do rise to the level of physical assault, which could be in jail time for the person.
Melissa Harris-Perry: In a case like that, is that passenger then banned from flying full stop?
Leslie Josephs: The airlines have been banning passengers simply for not following the mask mandates. That is the least of it, but you could face up to 20 years in jail and fines of several hundred thousand dollars in those cases. For unruly behavior, it's the law to follow crew member instructions. It's against the law to interfere with the duties of a flight attendant if you prevent them from performing safety tasks, let's say. So what the FAA is saying now, they've issued fines more than $560,000 in total, and they say they're ready to do more.
We know of at least a few lawmakers that are looking at coming out with some legislation this month that would also address this. The details are not clear yet whether this means a separate no-fly list. There's one for terrorists and things like that, but how do you handle this when you have passengers that are acting out on planes? Like I said, the vast majority, more than 70% start with people who do not want to wear the face mask on board, and that policy is going to be in place until at least the middle of September.
Melissa Harris-Perry: I did not fly frequently during the time of the pandemic before I was vaccinated, but I did have to fly twice relative to picking up and dropping off my daughter for college. In both cases, I actually found it to be a lovely experience. There were fewer people on the plane. The prices were lower, middle seats were open, and the airline staff were just really lovely, and it felt as though we are all in this together. Are the middle seats coming back? Is the stress of flying back, and might that be part of what's going on here?
Leslie Josephs: It's part of it. Lots of parts of our lives are stressful. It doesn't necessarily mean that we all lash out at the person closest to us or like a person in authority, whether it's someone operating a train or a flight attendant who's running the safety of an aircraft. I've talked to some psychologists about it. Yes, there is increased anxiety. People might be more on edge. Planes are flying very full, and with this rush of travelers, 2 million plus a day, numbers we haven't seen since even before coronavirus is declared a pandemic in the middle of March in 2020. We're still below where we were in 2019, but we're all playing musical chairs.
Airlines have cut service in number of flights that they're operating, so planes are flying very full. That means that the middle seats are getting filled up. Delta was the last US airline to get rid of the open middle seat policy because it's cheaper for an airline to fill up the entire plane than run more planes and keep the capacity. It'll limit it. Other airlines; Southwest, Jet Blue, Alaska, had similar policies, and they had gotten rid of them months before. So the middle seat and physically distancing on a plane is nearly impossible this summer. We'll have to see after the summer rush maybe the plane will fly a little bit emptier, but airlines are also likely not to have as robust schedules if that's the case.
Melissa Harris-Perry: The lobbying group Airlines for America recently wrote to the Department of Justice regarding these acts of violence that you've been talking about. Can you tell us what they are requesting from the DOJ?
Leslie Josephs: These cases have become so alarming that the Airlines for America, which represents most of the US airlines, plus all the pilot and flight attendant labor unions, reached out to DOJ and asked them to prosecute to the full extent of the law any of these cases. That serves two purposes. One, to hold the person who commits some of these acts accountable, but also sending a signal to other passengers that they can't act out on a plane. The reasons behind it can vary from anxiety to upbringing to alcohol.
American and Southwest have put off their plans to sell alcohol in the coach cabin. There are very varying reasons behind it, but flight attendants are extremely worried about the mental stress of it, and after a year of job insecurity worrying about if you're going to get the virus on the job, and then you have to deal with passengers that are acting out in one way or another.
It's very rare that it happens considering the number of flights that are out there, and airline executives are very quick to note that, and it is. There are thousands of flights. In the first six months of the year, we have about 3,100 cases. So it is rare, but it is much higher than the numbers. We used to see a few hundred of these a year, and there were so many more people flying. The passenger numbers went down, the incidents went up. Not everything, but the large majority of them seem tired to this mask mandate.
Melissa Harris-Perry: Leslie Josephs is an airline reporter for CNBC. Leslie, thanks so much for joining us. Thank you for my favorite hypothesis about what is going on: upbringing. "Maybe your momma just didn't tell you how to talk to people right." [chuckles] Thank you, Leslie, for being here.
Leslie Josephs: Thank you. Thanks for having me.
[in-flight altercations]
Melissa Harris-Perry: That's some sound there from a Southwest Airlines flight on May 26th, and as we've been hearing, there's been a spike in unruly passenger complaints aboard flights this year. According to reports, most of these altercations have been caused by disagreements over mask-wearing, and it's not just a problem on planes. Here's some of what we've been hearing from you.
Amy: Hi. My name is Amy, and I'm calling from Ferndale, Washington. A few weeks ago, my child's high school decided to have an in-person audience for their school play. They had very strict masking and social distancing requirements. Nobody was allowed to enter without a mask. When we were sitting inside, the family group in front of us took their masks off, and we're all talking to each other. It was a group of 10 people.
I went to the front and I found an usher, and I asked him to please remind the family to wear their masks. He did come over and talked to them, and they put their mask on for like five minutes or so, and then they all pulled them down around their necks again. At that point, we all just decided to ignore it because it was clear that they weren't going to comply. The only option would have been to make a huge fuss and disrupt the event. We didn't want to do that. Luckily, we were all vaccinated in my family group.
Chris: This is Chris from Quilcene. We very politely asked the clerk at a hardware store to put his mask on. He replied, "If you don't like it, you can leave." So we did, and left a couple of $100 worth of merchandise sitting on the counter. We haven't been backed either.
Langston: It's interesting here in North and South Carolina, masks are very rarely required, except, of course, in medical situations, but people still look a scotch at one another if they're wearing a mask and others if they're not wearing a mask. It's an interesting time here in Caesar's Head, South Carolina. My name is Langston Nakil.
Rose: Hi, my name is Rose Annala, and I'm calling Waldport, Oregon. Yes, I have. However, I don't say anything because I never know what kind of response to make it, and folks seem jittery these days, and I don't want any trouble.
Tom: Hi, it's Tom from Glendale. I've had both my shots, but I still wear my mask when I'm outside, and of course, when I'm taking a train or a subway because of public transit, and primarily, because I don't trust the general public. Seeing you without a mask doesn't tell me you've had your shots. It just tells me that you aren't wearing a mask.
Mark: Yes, I have witnessed frequently people not wearing masks in places where they are supposed to be wearing. I am wearing one in all of those locations, and I am fully vaccinated. What I do is just steer clear of those individuals. Most of the time it's not worth saying anything. Personally, I cannot really understand why anyone without a legitimate medical reason is not being vaccinated or wearing a mask where required. It just makes no sense to me. This is Mark Manheimer, calling from Bradford, Massachusetts.
Jeff: My name is Jeff. I'm calling from San Carlos, California. My Lyft driver wasn't wearing a mask. I only recognized it when I was more than halfway to my destination. He must have recognized, and I noticed, because he then asked if it was okay that he was not wearing a mask, because he was vaccinated. It was so hot, and he hated wearing the mask.
Of course, there's no vaccine for the variants. Since I was already halfway to my destination, I was fully vaccinated, and the windows were open. I said, "Okay," but I'm 74, and I have medical problems that make me more vulnerable to COVID-19. Yelling at him wasn't going to help. Looking back at it though I should have said that I wished he had said something before I got into the car.
Melissa Harris-Perry: Thanks to all of you who called in. Now do you have a story you want to share about mask wearing or anything else, because we always love to hear from you. The number to call is 1-877-8-MY-TAKE. That's 877-869-8253.
Copyright © 2021 New York Public Radio. All rights reserved. Visit our website terms of use at www.wnyc.org for further information.
New York Public Radio transcripts are created on a rush deadline, often by contractors. This text may not be in its final form and may be updated or revised in the future. Accuracy and availability may vary. The authoritative record of New York Public Radio's programming is the audio record.