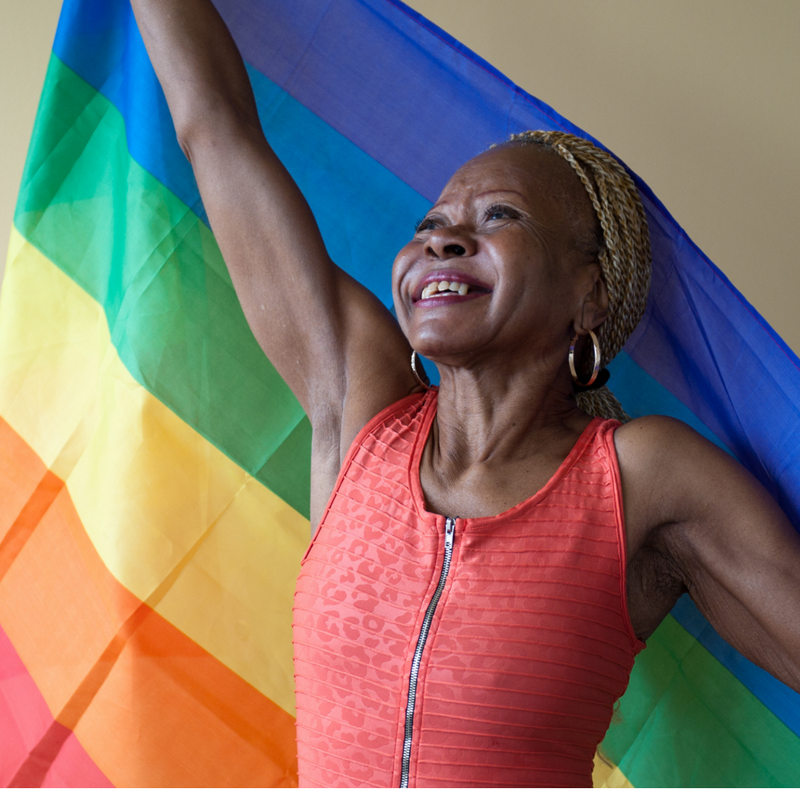 Transcript
Melissa Harris-Perrry: I'm Melissa Harris-Perry, and you're back on The Takeaway. America is aging. According to data from the Urban Institute, the number of Americans over age 65 will double in the next 40 years. The number of adults over 85, which is the group who most often needs assistance in daily life will quadruple. By 2040, there will likely be 80 million older Americans. Honestly, I kind of can't wait because my generation is lit and we are going to be some fabulous old folk. Now, to be clear my girls and I will be solidly in the over 65 demo in 2040, and yes, we will still be rocking out to be on stage.
[music]
Not only will our generation be the most racially diverse seniors in American history, we will also be the most openly queer. In the coming decades, an estimated 10 million older adults will be LGBTQ identified, and with the graying of gay America, come unique intersectional challenges. We're kicking off our new series here on The Takeaway. Aging While Queer. To get us started, we're rejoined now by Michael Adams, CEO of SAGE, the country's largest and oldest organization dedicated to improving the lives of LGBTQ older people. Welcome, Michael.
Michael Adams: Thank you, Melissa. It's good to be with you.
Melissa: Can you tell us a little bit about some of the unique challenges facing LGBTQ elders?
Michael: Absolutely. Elders in our community face a range of challenges, among them being very high levels of social isolation and thin support networks. This comes in part from the fact that that so many of our elders and our parents for lots of historical reasons. In fact, as we grow older we're four times less likely to be parents than older Americans in general and twice as likely to grow older, single and living alone, and of course, we live in a society where adult, children, and partners and spouses are our primary caregivers in old age.
The absence of them creates a lot of isolation and thin support networks, which means as we age as queer elders, we have a greater need for professional services and care. Unfortunately, what we find is that often when we seek to access that care, what we find is discrimination, ignorance, lack of cultural competency, and these challenges are worse for queer elders of color, for trans elders in terms of higher levels of poverty and in terms of the intersectionality of discrimination based on identity and life experience. These are some of the challenges that our elders face as they get older.
Melissa: It was occurring to me as we were working on the production of this segment that marriage equality has only been on the books since 2015 and marriage even beyond the question of love has been a question about the capacity to extend protective resources to those you love. Things like your social security, so that if you live beyond your partner, that there are resources left to support your partner. That is so brand new in queer communities that it means not only the question of children but even of lifelong partnership may not have extended those fiscal supports.
Michael: Precisely. While marriage equality was a big breakthrough, frankly it came too late for many of today's elders in our community who are dealing with the accumulated impact of lifetimes of discrimination and marginalization. In the same way, with things like social security benefits accumulate. If you're let into the door very late in life, sometimes that's just too late when it comes to financial supports and resources and the benefits that come with our country's so-called safety net such as it is.
Melissa: Now, also walk us a bit through discrimination because I do think marriage equality is often a place where we both begin and end the conversation. In a time when we're seeing LGBTQ youth being targeted by new legal restrictions, what are the kinds of vulnerabilities like legal vulnerabilities that still exist for LGBTQ elders?
Michael: Well, it's so important that we not end the conversation with marriage equality because really for all of us, including our elders, it's just the beginning, and fundamentally we still see substantial levels of discrimination against our elders. Let's start with housing. We know from both our experience at SAGE and we work with tens of thousands of queer elders across the country and from research that there are very high levels of housing discrimination against our elders.
In fact, a study several years ago found that 48% of LGBTQ older adults are subjected to discrimination when they apply for senior rental housing. 48%. That's an incredibly, incredibly high number. We also know there are high levels of discrimination against LGBTQ older folks in long-term care, and by that, I mean things like nursing homes, assisted living facilities, and things of that nature. These levels of discrimination mean that our elders have a justified fear in terms of how they will be treated in senior housing settings and eldercare settings.
What that means for many of our elders is that they feel forced back into the closet as a self-protective mechanism, too, because they're at a point in life where in many cases they may be more vulnerable, less able to advocate for themselves, and feel what they can't take on that additional vulnerability of being out. This self closeting dynamic takes place for many of our older folks, especially who are in institutional care or working with home care attenders which is really a tragedy that has to come to an end.
Melissa: All right. Let's pick up on this question of long-term care, Michael. What is the Long-Term Care Bill of Rights?
Michael: The Long-Term Care Bill of Rights is a model legislation promoted by SAGE and now adopted in a number of states and jurisdictions around the country. The guarantees that queer elders will be treated with the dignity and respect that they deserve when they're in long-term care settings like nursing homes, like assisted living. The Long-Term Care Bill of Rights guarantees that our elders are protected from discrimination.
It guarantees that their gender choices will be protected and respected in things like room assignments and in the pronouns that long-term care staff use. That they will use our folk's preferred pronouns. It guarantees that same-gender-loving relationships will be respected in long-term care and things of that nature. Gradually, we are seeing more and more states and jurisdictions, states like California, New Jersey, the District of Columbia adopt these Long-Term Care Bills of Rights in order to make sure that our elders are treated with just the fundamental respect they deserve in their later years if they're in long-term care.
Melissa: Now, is that connected to the Equality Act?
Melissa: It's absolutely connected to the Equality Act. The Equality Act is a proposed federal legislation that would provide federal anti-discrimination protections to queer elders all across this country in housing and elder care, in elder services, and it is an essential bill that must be passed because the challenge is without the Equality Act, we have to enact these protections on a state-by-state basis. I think we all know that in some parts of this country that's going to be extraordinarily difficult. The Equality Act is fundamentally important. It's been passed by the House of Representatives and we're pushing hard to get the Senate to pass it as well.
Melissa: I'm curious about whether or not you even have data on this issue, but as you say that and you're talking about the state by state, as a Southerner, I'm thinking also a little bit about rural versus urban experiences. We just lost my own godmother to Alzheimer's and at the very end she was in a long-term care facility, and we were navigating even the issues of race and in the South in places where there are high populations of African-Americans, but where you're still in each facility trying to check and ensure that your elder will be cared for in a way that doesn't reflect, again, those generational biases. I'm wondering if you all know either by region or by the urban-rural divide where LGBTQ elders may be facing the harshest concerns in long-term care facilities?
Michael: I'm really glad that you're raising this question, Melissa, because in some ways it gets at the heart of an intersectional approach to this conversation around issues like race, like rural versus urban. One thing, for example, there tends to be this misconception that queer folks live primarily or exclusively in urban areas. Not true. An AARP survey from several years ago showed that just under 30% of LGBTQ elders live in rural areas, and 9 out of 10 of them report that they have access to absolutely no queer-friendly services or care. Then, we layer race and racism into that. We know, and of course, COVID put a spotlight on this in an incredibly dramatic way. We see tremendous disparities in health and healthcare, higher levels of discrimination.
For example, during the COVID era you referenced Alzheimer's, we saw that Black folks living with Alzheimer's are twice as likely to die from COVID as white people living with Alzheimer's. These layers of experience which include importantly where you live, both rural versus urban, and in what parts of the country, red versus blue or purple, and race, of course, tremendously complicate the experience that queer elders have as they age. Part of our policy agenda has to be to ensure that we enact things like the Equality Act and undertake other strategies to ensure that the progress we're making, the protections we're advancing, don't just reach queer elders in urban areas, or in blue states, or blue areas, but reach queer elders everywhere.
Melissa: What can you tell us about the housing that SAGE provides in Fort Greene and in the Bronx in New York?
Michael: One of the things that we hear from our elders is that some of the places where they feel least safe as LGBTQ people, and the most need to hide who they are, is where they live, which is truly, truly wrong. There is a movement in this country to create queer-specific, LGBTQ-focused elder housing with a strong focus on affordability, and SAGE has been part of the vanguard of that movement. In recent years, we have built New York City and New York State's first two LGBTQ-friendly affordable housing developments. One in the Fort Greene neighborhood in Brooklyn, the other in the Crotona neighborhood in the Bronx.
There are a variety of reasons why these two housing communities are important, but one of them is that we have been very intentional about locating these housing developments in historical communities of color, which is a departure from what has happened in other developments that, more often than not, were located in so-called Gayborhoods, which were predominantly white. The reality is that folks who most need this housing, in many instances, are queer elders of color, so we felt it was important to build this housing in the communities where our queer elders of color live.
Melissa: Do you have good partners? Are there either legislative partners who are working at the state, local, or federal level who get that? Particularly, as the boomer population is aging and along with the boomers, queer boomers are aging, and that there will be some specific needs and concerns.
Michael: We have outstanding partners. Among them, I would lift up in Congress, Representative Suzanne Bonamici, Representative Bobby Scott in the House, Senator Bob Casey in the Senate. I also want to lift up Senator Lisa Murkowski, a Republican in the Senate who has been a strong advocate and supporter for LGBTQ elders. Of course, we have many great partners in the advocacy world from the American Society on Aging to AARP, to the National Hispanic Council on Aging, and the National Asian-Pacific Center of Aging, the National Black Center on Aging. We are fortunate to work with a strong network of partners. Of course, not to mention our partners at the grassroots and community level here in New York City. For example, we work closely with GRIOT Circle, which is the country's only autonomous, BIPOC, elder organization.
Melissa: Michael Adams, CEO of SAGE. Thank you so much for your time and for kicking off our conversation. If you or a loved one is an aging LGBTQ community member and you don't know SAGE, get to know SAGE. You can go to sageusa.org. Michael, thank you for joining us.
Michael: Thank you, Melissa.
[00:14:21] [END OF AUDIO]
Copyright © 2021 New York Public Radio. All rights reserved. Visit our website terms of use at www.wnyc.org for further information.
New York Public Radio transcripts are created on a rush deadline, often by contractors. This text may not be in its final form and may be updated or revised in the future. Accuracy and availability may vary. The authoritative record of New York Public Radio's programming is the audio record.