Affirmative Action On Trial At The Supreme Court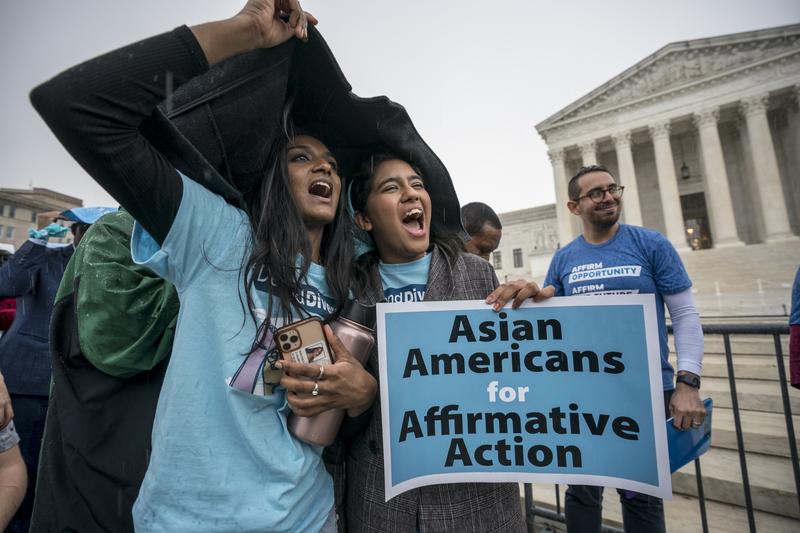 Transcript
[music]
Melissa Harris-Perry: We're back now with more on The Takeaway. I'm Melissa Harris-Perry.
On Monday, the Supreme Court heard oral arguments in two cases with the potential to alter the future of American higher education. The cases brought by a group calling themselves Students for Fair Admissions involve the University of North Carolina and Harvard.
In the UNC case, the plaintiffs argued that the university could achieve a diverse class without consideration of race. In the case involving Harvard, attorneys argue that Asian American students are discriminated against because less qualified white, Black, and Latino students are admitted.
David Hinojosa: Help universities open the doors of opportunities to highly-qualified students of color who are often overlooked in a process that typically undervalues their talents and perspectives.
Melissa Harris-Perry: Public Attorney David Hinojosa on behalf of the students at the University of North Carolina, a defendant in one of the cases.
Now, in previous challenges to affirmative action, the court has continued to rule that diversity in higher ed serves a compelling governmental interest. With a new Conservative super majority on the court, many observers believe that decades of precedent may be upended yet again.
With me now is Melissa Murray, the Frederick I. and Grace Stokes, Professor of Law at NYU. Thanks for coming back on The Takeaway, Professor Murray.
Melissa Murray: Thank you for having me.
Melissa Harris-Perry: What did you hear in the oral arguments yesterday? What were the big themes that emerged for you?
Melissa Murray: I think the bottom line is that affirmative action, as we have known it, is over. Grutter v. Bollinger, which is the 2003 precedent that upheld diversity as a compelling interest in higher education admissions is likely to be overruled by this conservative super majority that seems to take no heat of precedent and the prospect of stare decisis. Again, this is going to be another barn burner term for this court, and I think this case is going to be the linchpin in all of that.
Melissa Harris-Perry: There were a few, in certain ways, felt to me almost unexamined underlying beliefs that were emerging on both sides. The first had to do with the notion of qualification. We heard there from Attorney Hinojosa this language of, "Highly-qualified students of color."
What's going on here with this notion of what constitutes qualified?
Melissa Murray: This goes down to the basic point that many conservatives and maybe even many Americans have, that somehow diversity is incompatible with merit. Then, when you select with an eye toward diversity, you're necessarily compromising the qualifications of your pool. As you and I both know, that's not the case. In most of these admissions protocols, you're considering race alongside 30 or 40 other factors, everything from where a person lives to what kind of family they come from, what socioeconomic background they come from.
Race is part of an holistic inquiry that goes in here. We're thinking about broadly, who is this person? Is this person qualified as a threshold matter to be at the school? All of them usually are at this point in the admissions protocol. Then, we're picking at the margins for a class that will be diverse, that will offer different perspectives, different viewpoints that students otherwise might not be exposed to. Again, this question of qualifications really is a red herring. Almost every student who gets to the point in the admissions process is qualified.
The question is, what kind of class do you want to compile and compose here?
Melissa Harris-Perry: Professor Murray, I want to push on qualification just one more tick because I wonder how much qualification here is just another way of saying test scores. Test scores have their closest correlation, not with performance at the undergraduate levels, but instead with parental income. Maybe this will be surprising to folks, but I wonder if any 18-year-old should be rewarded for whatever it is they did between 0 and 18. [chuckles]
I get this idea of qualification, but we're talking about undergraduate admissions for a very traditional age population at a place like UNC or a place like Harvard. These are not adults who got off and accomplished something in the world. These are kids who have come out of their parents' households.
What if we just threw open the doors to college, full stop?
Melissa Murray: I think this is a really interesting idea. I agree with you, the emphasis on qualifications does correlate with an emphasis on grades and also test scores. As we know, these are not objective measures. Many people think they are objective, but they're not. Your grades may have a lot to do with the kind of high school that you attend. We know that minority students typically attend schools that are severely under-resourced in many ways.
We also know, as you say, that test scores are highly correlated with parental income and access to certain kinds of amenities that would enable one to secure a very good score on the test. Again, emphasizing these things in the admissions protocol has its virtues I suppose but it also winds up weeding out a lot of kids who just don't have these advantages, whether it's a very high-performing high school or access to these kinds of amenities that go toward preparing students for these tests.
The idea of throwing open the door to students of all stripes, I think is a really compelling one. It's something that actually Clarence Thomas has mentioned repeatedly in affirmative action cases and mentioned again in Monday's oral arguments.
Melissa Harris-Perry: I'm interested here also, and then I want to listen to some of this, but I'm interested here also in the extent to which the arguments that you heard yesterday either track with or separate from previous cases around race in college admissions.
Is this making the same case or are these new arguments?
Melissa Murray: I think one of the new arguments that we heard featured on Monday was this idea that somehow there is a finite life to affirmative action like, "When will this end?" This was something that was really pressed by the court's conservatives, many of whom seemed quite impatient with the idea that we live in a society where race is perhaps the most salient feature of modern life. They really wanted to know when will this no longer be necessary? When will we no longer have to think about the question of race when we're doing things like higher education, admissions or employment decisions, and things of that nature?
Again, this was just a very hard question to answer. We know that race continues to be something that impacts the lives of minorities in very profound ways. We are not that far away from a time when our country was deeply segregated. Yet, this court is looking at a 25-year sunset between 2003 when it last solidified this idea of the use of diversity and race in higher education, and the present. That was one thing that I thought was notable, the insistence on some sun-setting provision here.
Melissa Harris-Perry: We're going to take a quick break and come back with more on yesterday's oral arguments at the Supreme Court about race in college admissions. This is The Takeaway.
[music]
We're back on The Takeaway. This is Melissa Harris-Perry and I'm talking with Melissa Murray of NYU Law. Professor Murray.
I want to take a listen here to the newest Supreme Court associate Justice Jackson:
Justice Jackson: The first applicant says, "I'm from North Carolina. My family has been in this area for generations since before the Civil War. I would like you to know that I will be the fifth generation to graduate from the University of North Carolina." The second applicant says, "I'm from North Carolina. My family's been in this area for generations since before the Civil War, but they were slaves and never had a chance to attend this venerable institution. As an African American, I now have that opportunity and given my family background, it's important to me."
Now, as I understand your no race-conscious admissions rule, these two applicants would have a dramatically different opportunity to tell their family stories and to have them count. The second one wouldn't be able to because his story is in many ways bound up with his race.
Melissa Harris-Perry: Professor Murray, that hypothetical was put out there by Judge Jackson. What do you hear her saying?
Melissa Murray: This is an absolutely devastating hypothetical. Not surprisingly, Patrick Strawbridge who represented Students for Fair Admissions was a little flummoxed by it. Rightly so. It really got to the heart of this. Why should a student who is a legacy admissions prospect be allowed to tell her story but a student who is the descendant of slaves, who have been historically excluded from this university doesn't get to tell her story? Which is exactly what the prospect of a race-neutral admissions process would require.
She would actually be prohibited from telling her story. Strawbridge essentially said so. He noted that it would be unlikely that the second student's story could be valued in the admissions process because it was too closely correlated with race. That was actually a jaw-dropping moment for me. Of course, it's closely correlated with race. Slavery is closely correlated with race. If we're going to talk about slavery, we are necessarily talking about race to some degree.
Melissa Harris-Perry: It goes to this point that what is left in the law is an argument for affirmative action that relies exclusively on discourse about a diverse classroom. I wonder, in this case, it felt like Justice Jackson was returning this possibility of a reparative argument that the part of the reason we must account for it isn't because of simply the value, there is a value but not simply the value of a diverse classroom but the requirement that institutions that have done harm, repair that harm.
Melissa Murray: Well, this was a theme from many of the justices in the minority, including Justice Sotomayor, this idea that the interest in considering race and admissions is not solely so that all students get the benefits of diversity, although that may be a major part of it, but that we actually have a history in some of these institutions where certain groups have been excluded, and that, this is a means of not only repairing but remedying that past exclusion.
Justice Jackson's hypothetical really brought this home because she was essentially saying the real equal protection violation here is not the consideration of race in the admissions process but what you are proposing to, effectively, a phase, the experience of these underrepresented minorities when they want to tell their stories in the admissions process because you don't want to hear about race. That's the real equal protection violation here. Again, no one really had a good answer for that.
Melissa Harris-Perry: All right, Professor Murray, I want to take a listen here to the Solicitor General.
Solicitor General: For decades, this court has rightly recognized that student body diversity as a compelling interest that can justify limited consideration of race in university admissions. That holding recognizes a simple but profound truth when students of all races and backgrounds come to college and live together and learn together, they become better colleagues, better citizens, and better leaders.
Melissa Harris-Perry: Professor Murray, help me to understand with that being the legal basis that exists, what does that say about the UNC versus the Harvard case, which are making slightly different legal arguments. As you said, we're fighting over how we're going to get there, is there are some breadcrumbs here in how these two universities get to where they make their admissions decisions?
Melissa Murray: Sure. Again, these are two very different admissions processes, both of which use race. Harvard uses race in a lot of different ways. One of the allegations here, in this case, is that Harvard, in their use of race, is actually giving or disadvantaging Asian American students by assigning to them certain characteristics or attributes that don't code well in their admissions protocol. The UNC case does not even mention discrimination against Asian Americans. That's two very different features of the two cases.
Another very different set of features is UNC is a public institution. The nature of the inquiry, in that case, is a constitutional question. Does UNC policy considering race offend the equal protection clause of the Constitution? Harvard is a private institution. For that reason, the question is a statutory one. Does Harvard which accepts federal monies for certain things like labs or whatnot, has it violated its obligation to not engage in racial discrimination in using race in its admissions protocol and indeed, in engaging in what Students for Fair Admissions term discrimination against Asian Americans?
On the one hand, a statutory question, on the other hand, a constitutional question, but in many ways, the issues are really deeply, deeply conflated. You could imagine here, the court deciding that Harvard is going to lose and lose badly really going to have to revamp its admissions protocols but UNC is also going to lose. The real question is the constitutional loss, will it be mediated in some way by the view that race can be considered in certain ways, whether it's likely to students can have this opportunity to talk about their experiences as minorities, they're just not required and the university cannot make them or include in the admissions protocol some kind of racial box that they have to check. Again, we could get very different outcomes here, but I think the overall overlay is really the same.
Melissa Harris-Perry: I'm going to stand in a slightly different place than inside the courtroom here. You and I are both college professors, we're both on predominantly white university campuses. I know that you also were in the California system for a while.
Is American higher education anywhere close to being ready for this school year to likely be the last one in which affirmative action, some consideration of race in undergraduate admissions, is allowable?
Melissa Murray: There are certain systems, I think, that are prepared because they have through their state laws or state constitutions eliminated the consideration of race in admissions protocols already. California is the obvious example. There's also Michigan and Florida and Washington. Maybe some others that I have skipped over. Again, some places are already doing this so they are ready.
I think for the vast majority of schools, both public and private, this is going to be a real disruption to ordinary operating procedures. They're really going to have to think about how are we going to get to a diverse campus if that's something that they want to continue doing in a world where we may not be able to have students identify themselves in our admissions materials, nor can we have them talk about their experiences.
Melissa Harris-Perry: Melissa Murray is a professor of law at NYU, and co-host of the podcast, Strict Scrutiny. Thanks so much for your time.
Melissa Murray: Thank you for having me.
[music]
Copyright © 2022 New York Public Radio. All rights reserved. Visit our website terms of use at www.wnyc.org for further information.
New York Public Radio transcripts are created on a rush deadline, often by contractors. This text may not be in its final form and may be updated or revised in the future. Accuracy and availability may vary. The authoritative record of New York Public Radio's programming is the audio record.