Adrian Quesada's Boleros Psicodelicos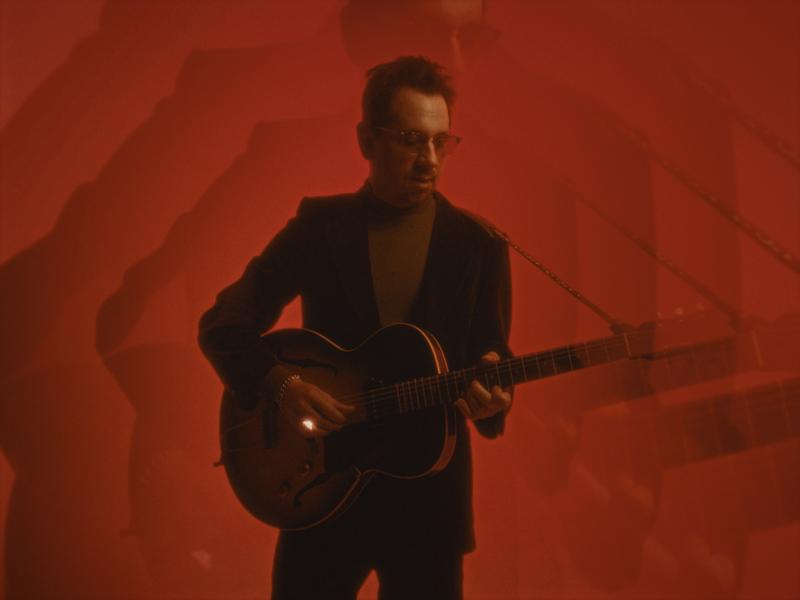 Transcript
[music]
[Mentiras Con Cariño by Adrian Quesada playing]
Melissa Harris-Perry: That's the sound of Grammy award-winning musician and producer, Adrian Quesada's latest project Boleros Psicodélicos. Now, Quesada is known for his work as part of the band, Black Pumas as well as his fearlessness when it comes to blending genres, cultures, and language in his music.
[Colors by Black Pumas starts playing]
Quesada joined us to discuss his most recent album inspired by the Psychedelic Balada Movement of the 1960s and 1970s which blended traditional Bolero music with the modern sounds of rock and roll, soul, and funk. In the midst of the COVID-19 pandemic, Quesada decided to set out to produce an album inspired by these revolutionary sounds of Latin America's past with the help of talented collaborators.
[Tus Tormentas by Mireya Ramos and Adrian Quesada playing]
Adrian Quesada: I had just been inspired by the first moment I heard something like this, but two decades of wanting to make it and then two years of making it during the pandemic, was 2020 when everything went away, I finally had time to do it. Not only was it that I actually had time to do it and was inspired, but it was also what ended up keeping me sane for a while. When those first couple of months of the pandemic were-- I think everybody was excited about having all this new free time, taking on hobbies, riding bikes, baking bread, and cleaning the house.
Then, third or fourth months, all of a sudden, started to get a little bit heavy and everybody was unsure about whether anything was ever going to go back to normal. This was also what just kept me sane through it all.
Melissa Harris-Perry: For others who don't know about Psychedelic Balada Music, talk to us about the era from which it comes, the places from which it comes, and why when you heard it two decades ago, you were like, "This is something I ultimately want to be able to do."
Adrian Quesada: The title Boleros Psicodélicos. Boleros are essentially ballads and it's a very traditional old song form that originally came from Spain through Cuba to Mexico to all over Latin America. It's a very beautiful song style and form that's a little more traditional. As a bolero is more acoustic and sometimes vocal harmonies and these really lush vocal arrangements, but it's very much music that is almost folky in terms of you can just play it with a guitar. In the late '60s, early '70s, with Balada movement, bands basically across Latin America were taking this song form that everybody was familiar with and taking the influence from--
What was happening at the time very much was in late '60s that the psychedelic revolution and you can hear influence of some rock and roll. You can hear influence of some soul and some funk music. It's just fascinating to me. When I first heard it over, like you said, two decades ago, I didn't know that this existed. I didn't know that this kind of interpretation of that music was out there. What I heard as a kid growing up on the border was-- Boleros weren't a very traditional sound. When I heard this, I'm like, "Oh, my God." Before they started singing, it sounded like a hip-hop song to me.
I just couldn't tell what it was. I was like, "What is going on here?" Then, the guy started singing. I was like, "Oh, this is a-- What is happening here?" It was weird. It was the craziest thing. It just completely blew my mind. I just got obsessed forever and ever. It was something that I think since I've discovered that probably influenced everything I've ever done musically.
Melissa Harris-Perry: Wait. Pause. Say more about that. This idea that it has already had this tremendous influence on your body of work. Where are the other places that now that we know that if we go back and re-listen, we'll be able to hear it?
Adrian Quesada: The most obvious I think you could probably-- I don't think that anything's overtly but you might be able to catch something. I probably listened to that song, Esclavo Y Amo by Los Pasteles Verdes. That's probably the song in my top five songs I've listened to in all my life. That includes music that I've been listening to since I was a kid. I just heard that song so much that all those sounds are just ingrained in me at this point. I think the most obvious place you could probably poke around and probably find some influence would be in the Black Pumas debut album. It was just such important formative musical experience for me when I discovered it.
Melissa Harris-Perry: I think one of the things I love about the way you're talking about all of this is that you're helping us to remember that notion of genre in music is actually quite blurred. That feeling like, "Wait a minute. Is this a hip hop? Is this a ballad? What's happening here?" How valuable is it for us? Or is it at all valuable to segment what we think music is into genre versus really being in tune sonically to how the genres are influencing each other?
Adrian Quesada: I grew up on the border of US and Mexico and South Texas. I grew up going back and forth between Mexico and the US. Going to Mexico was not like a grab-your-passport kind of thing. It was just getting the car and drive 10 minutes to go see your grandmother. I'd spend half my time in Mexico, half my time in the US, and listen to Mexican music on the radio, and then I would listen to hip hop music on MTV. Also, it's just like a culture down there where it's not quite Mexican, it's not quite American, and everybody's freely speaking English and Spanish back and forth to each other.
You can walk in somewhere speaking English and they'll speak Spanish back to you and vice versa. Those boundaries of genre and language and things like that just didn't exist for me growing up. I'm not fazing at all by two different cultures and sounds, or musics and languages, whatever. I think that always influenced me in that. I'm just not as fazed by it as a lot of people are. I do think it's fascinating with this music, with this sound that came about in the late '60s, early '70s is that--
Yesterday, my driver from the airport, my taxi driver was from Senegal and he was just talking about jazz music and American jazz music. Nowadays, it's so easy to be connected via the internet and a kid anywhere around the world. It's beautiful that a kid in wherever can completely get into music from another part of the world via Spotify, YouTube, et cetera. You think about back then for that influence to have crept into music-- They couldn't just find Pink Floyd on Spotify or 13th Floor Elevators or whatever psychedelic music and they couldn't find Al Green.
That was not easy for a band in Chile or Peru. You had to get the record. It's just fascinating to me that dots from around the world were connected way back then when it was much harder to do so. It makes you realize how much the power of music to bring people together and those boundaries can be blurred. I get that genres help people find things.
If you walk into a record store and if there were no genres, I totally get that it would be impossible to find the Duke Ellington record versus the Pink Floyd record because you have to go-- I absolutely get it. At the same time, I think it's important to not be completely boxed in by things like that.
Melissa Harris-Perry: I want to know a little bit more about the nitty-gritty of actually making this in the context of not being able to be in person as you were developing it. How did the distancing of the pandemic affect making this project?
Adrian Quesada: I don't think anybody-- Maybe at the very, very end in 2021 did I have somebody actually come into the studio and play some stuff, but this was completely done remotely. I'm actually personally used to working alone a lot. I'm not totally always fazed by it. However, there is something really special when people can get in a room and make some music together. I think everybody was home. I knew that. That was the one thing making this album was like. Nobody was on tour. There were a few artists who were busy working on their own albums, but everybody was home.
It was like everybody was able to record it. Nowadays, everybody has a way of recording. If they don't have a studio, they have a laptop or a friend with whatever. I think in a way, I was conceptually thinking like it maybe adds to the isolation, the feeling of some of the music is that none of us were ever in the same room making this. It was just completely done remotely. It's a very unique way to do things because-- Not anymore. Everybody can record and email parts around now, but I felt like it may be added a little bit to some of the isolation or the sadness or the themes.
On the other hand, it can be a little bit of a technical nightmare to mix it and make it all sound cohesive. I definitely had to nudge a couple of vocalists. I remember mailing one singer a preamp to make it sound better. I was like, "Can I send you something because it just doesn't sound great in your closet?" Some people went to a real studio, like a big studio. Some people had a good setup-up at home. Some people didn't. That presented a little bit of a challenge to then make it sound cohesive and good.
That's all technical stuff that probably 75% of people won't notice, but that was probably the hardest thing at the end was mixing it and making it sound like I wanted to it. Just conceptually, I think it added a little bit to what was happening musically and vibe-wise on the record. I'm pretty used to-- I can work for days and days on them by myself.
Melissa Harris-Perry: NPR Music has described this as timeless and cinematic. What ways is this project theatrical and maybe a bit more theatrical than some of your previous projects?
Adrian Quesada: There's a lot of drama to the music themes of heartbreak and romance and love. At some point, we threw away the rule book and just ran with it. I had this playlist of inspiration songs that I would send to everybody, but at some point, I actually just stopped listening to it and was like, "I think if I'm going to be doing some original music, it's already in me, let's just see what I can come up with." Thematically, I think the vocals and everything is so dramatic in what we're talking about.
I imagine this whole thing also playing out, there's instrumental songs on the album and I thought it would be like nice little intermissions to all. It's almost like theater and you have a little tiny intermission to go get your glass of wine or popcorn or whatever you have to do to set the mood. I heard it playing out all like that. Almost like a drama piece or something.
Melissa Harris-Perry: What's next for you?
Adrian Quesada: New Black Pumas record. I have a whole instrumental album that I did. At the moment, it's just a lot of touring with Black Pumas. We still have a lot of touring to fulfill and constantly, at the moment, I haven't had a lot of time in the studio unfortunately because of our touring schedule. We'll see what something will inspire something I'm sure.
Melissa Harris-Perry: Was it feeling good to be back with Black Pumas?
Adrian Quesada: Yes, absolutely. I'm very much a studio rat and without getting too woe is me, wawa. I was an only child. Like I said, about being by myself for days, I'm kind of an introvert by nature or studio rat. I can just not talk for a few days, et cetera. Being on tour is exhausting for somebody like me, but I would say that the pandemic really put everything into perspective or I will never take touring for and the opportunity to do this around the world and have people sing these songs.
I'm talking about Black Pumas back to us, even though they might not speak the language. I'll never take that for granted again, it's just an incredible opportunity to do this. It really gave me that perspective was what I needed to be like, "I will never complain about touring again. This is incredible." I have this new perspective on it where I just really, really like it.
I wish I had more time in the studio, but I'm rolling with the laptop, a microphone always, although the touring schedule a day off sometimes is like, we're lucky if we get out of the hotel room to go get coffee and get a couple of phone calls in. There is that side of it, but I just love playing with Black Pumas. Eric has really just reinvigorated this appreciation for live performance and our band is amazing and just a great group of people to travel with too.
Melissa Harris-Perry: Adrian Quesada, thank you so much for joining The Takeaway.
Adrian Quesada: Hey, thanks for having me.
Copyright © 2022 New York Public Radio. All rights reserved. Visit our website terms of use at www.wnyc.org for further information.
New York Public Radio transcripts are created on a rush deadline, often by contractors. This text may not be in its final form and may be updated or revised in the future. Accuracy and availability may vary. The authoritative record of New York Public Radio's programming is the audio record.