Actor Colman Domingo Tapped into Something Sinister for "Zola"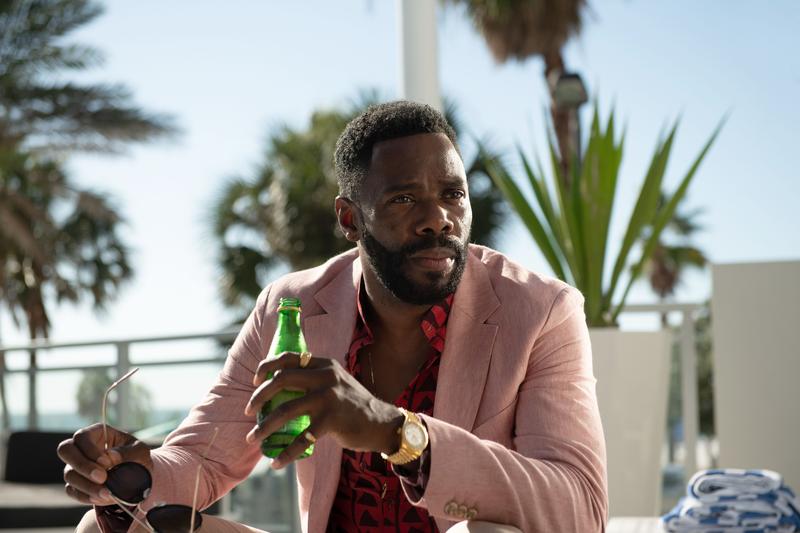 Transcript
[music]
Melissa Harris-Perry: This is The Takeaway. I'm Melissa Harris-Perry in for Tanzina Vega. If you receive this invitation from someone you only met a day ago-
Female Speaker: Hey, last month I went dancing at this cute spot in Florida where my roommate's girl made $5,000 a night. My roommate just told me that he going down there tomorrow, and he asked me if I had any friends that want to make some money and you the first I thought of.
Melissa Harris-Perry: -well, you should probably go ahead and say, "Thanks, but no thanks." That's at least one of the conclusions readers were able to draw from the Uber viral 2015 Twitter thread by A'Ziah King who goes by Zola. For those of you unfamiliar with that thread, let's just say the trip to Florida did not go as planned, and the roommate you heard mentioned in that clip was actually a pimp who tried to force Zola to engage in sex work.
This week, a movie adaptation of the Twitter thread entitled Zola is out in theaters, directed by Janicza Bravo and starring Taylour Paige as Zola. This movie captures the original thread in all its absurdity and horror. One of the film's biggest surprises is character actor Colman Domingo as the so-called roommate. You might know Domingo and his typically warm presence from movies, including If Beale Street Could Talk and Ma Rainey's Black Bottom, but in this role, he's capturing something much more sinister.
Colman Domingo: I think that I've been in the canon of very loving Black fathers and men and advisors, you name it. I think this is going to be a real swing for people who see me in this role. What did you think? Am I terrifying you? [laughs]
Melissa Harris-Perry: To be honest, even though he's ridiculously charming in real life, after watching the movie, I was kind of terrified to talk with him. I spoke with Domingo about why he took Bravo up on her offer to play this intimidating role.
Colman Domingo: It's fun, but it's also an incredible challenge. What I thought was, to be very honest, even when Janicza asked me to play that role, I just thought, "Well, what has she seen that would even remotely make her think of me for this role?" She knows that I'm a character actor through and through but also that I wanted to humanize this character. I think that was a huge challenge. To humanize a character that you know does awful, degrading things, especially to women, and I don't know, to find something about him that is charming, that is loving. I thought that was a great challenge for me.
Anything like that is a fun challenge where I'm like, "Okay, I have to go into the heart of some darkness but also find out what makes them tick and what makes them human." That's what I thought the undertaking was. I wanted to find out what was his dreams? What did he want? Once I found out he was also Nigerian, I was like, "Oh, okay, I can look at it from the point of view as an immigrant story and maybe what he has to have [unintelligible 00:03:06] in the world." He wants what everyone else wants. This is just his access point. He has no other way of attaining the American dream, but he wants it like everyone else.
That's the only way to make him human because otherwise if I judged him from the outside or as he is in the story or pretty much as a human being, I would think not the best things about him.
[laughter]
Melissa Harris-Perry: I can see your point about the access into his humanity through the immigrant story because it's the moment when he asked everyone to say his name and ensures that his name is said and is said well and is said right. I thought, "Ah." You helped me to see what's in that moment.
Colman Domingo: Absolutely. I think he wants to be acknowledged. He wants what everyone else wants. I'm sure he said, "I told you my name before again and again, and no one can ever say it." Think about that. I know that I'm always very particular about how people always put an E in my name. I'm just like, "You know, that's not my name," and lets-- not to sound like Tina Turner where you're like, "All I have is my name."
[laughter]
Melissa Harris-Perry: It is true. In fact, the producer is maybe laughing as they listen along because it is both one of the greatest challenges that I have as a monolinguistic speaker who only speaks English but also wants to have diversity in our show. I'm always like, I will go to bed repeating the names of my guests, trying to be sure I get them right and will still get them wrong because the American tongue is fat and lazy and a little bit pitiful on these things.
[laughter]
Colman Domingo: Absolutely. You said it. That's the truth. It's like we don't usually have to think about it. We're dealing with Bobs and Michaels and Johns. We don't have to really deal with-- Personally, when I went to Amsterdam for the first time, I was so confused just even looking at names of streets. I was like, "Okay," because we don't usually have that in our language. I get it. [laughs] I'm a lazy American too.
[laughter]
Melissa Harris-Perry: One of the places that can be most lazy is Hollywood, particularly in its representation of Black folk. Talk to me about what you are looking for in a script, in a character.
Colman Domingo: What a wonderful question. I think I'm always just looking at complexity. I want to look at a character that is flawed. They don't have to be just in good people. I think that people are very complex. I think one minute they say one thing and then they mean another. I'm looking for complexity, especially when it comes to the canon of African American men that I've played or will play. I never want to do the easy version of it. You can see that pretty quickly in a script.
The blessing is, I've been on this show, Fear the Walking Dead, for seven seasons now, and my showrunners really listen to me because they know that I'm just really trying to look at the complexities of a character and for him to never be monolithic. For him to be daring and to not just be a morally genuine, loving, kind person. I'm like, "No, there's all shades of grey. Don't be afraid of that because I'm African American, but lean into the complexities of a man."
I'm always just looking for that with any script, to be honest. With any script that I look for, I look for something that will scare me, to be honest, something that I have not played before, something that I think will change me, will also move me and help me see someone else's point of view. That's what's interesting to me instead of rehashing-- You can see it pretty quickly when you see a rehashing of something that they want.
For a minute, I honestly thought that people were trying to turn me into, not to say anything against this wonderful, wonderful legendary actor, but that voice of god, that Morgan Freeman. People get obsessed with the-- "You have a great voice, Colman. You're a soothing presence." In a way, sometimes, I feel non-threatening. [laughs] You know what I mean?
Melissa Harris-Perry: Yes.
Colman Domingo: I push against that and try to make choices to make sure that they're a very complex human being.
Melissa Harris-Perry: Well, Zola will help with you being non-threatening. I think [laughs] that will assist.
[laughter]
Colman Domingo: It's a good gentle assist. I think that's great. A character like X, I think in the hands of another actor sometimes could have just been set up as a trope. He can just get obsessed with being the villain and playing all the dark notes of this character and not humanizing him. I've seen those tropes of pimps and thugs, hood dudes who were just trying to get by and make some money and do terrible things, but I thought like, "There's more notes to that."
I think that will shine a light on who we are as human beings and make sure that we are more. We can see each other-- I can see something of myself in X, and I think any brother who thinks, "I have nothing to do with this guy," you can see that he has wants and he's like anybody else.
Melissa Harris-Perry: Can you say a little bit more-- I was intrigued when you said, "My showrunners listen to me." Last week, we had a conversation about Hollywood and about writers' rooms and about how frequently folks are actually not listened to, are ignored, or are just put into a single category. You've been on the show for a while. Did that listening happen over time or is that the culture of that space?
Colman Domingo: You know what? I think our showrunners-- I think I've been very blessed with-- It started out with Dave Erickson, who really wrote to my strengths. He created this character-- Specifically, I don't think that he was meant for an African American actor. He seemed like he was straight out of Shakespeare. He was like Richard III. I love language, and I came in with that love and passion for it. Then he wrote towards me in many ways. I think a good, smart showrunner will get to know their cast and see where their strengths are and where their weaknesses are and write towards or challenge those things.
In every single way in shape and form, I wanted to make sure that they knew that, yes, Victor Strand is a character that may not specifically have been written as a Black man, but I am a Black man, and his Blackness will have to be a part of it in some way. To be very honest, I know even in season six, my wardrobe supervisor started to notice that my character, I was, "Well like bring this hat to the side just a little bit of times." That's the way he wears his hat. It's not just straight up on his head. I said he's making a statement about his identity. He cocks it a little too aside.
His roots are from the east coast and from, urban America, and I'm like, "We need to see some of that sometimes." They're not afraid of it, which is great. I'm sure they don't lean into it in the beginning, but I have to do my work and be a collaborator in that way. I think, as long as there's a forum where you can speak your truth and question the process-- My showrunners have been very open. They hand me the pen, at times, say, "What do you think it is? I say, "I think he has to say this and has to be about that."
They listen and they incorporate my notes and thoughts. I think that's what my responsibility is as an actor as well. I come from the theater. It means just you give over everything. I don't need writing credit. I don't need any credits. I'm like, what it is we're trying to make the sausage together, you know what I mean? We need everyone's hands on deck.
I've been listened to which is great. Also, I think I even teach this. I know how to raise a question or collaborate without it feeling like I'm imposing. I feel like they know that I'm coming from a place of love and generosity. I'm just trying to make it the best that it can be and they hear it as such. The people who don't hear it, I think, have some ego issues. Luckily, I haven't had that on my set.
Melissa Harris-Perry: It is one of my favorite things about being in any aspect of media is that collaborative production that you talk about theater there. There's that sense, okay, the audience sees the actors on stage, or maybe on screen but that's the tip of the iceberg. Most of it is actually happening beyond the purview of the audience.
Colman Domingo: It's all happening in the purview of the audience. I think that's where I have my most joy, to be honest, is when we're creating that thing before anyone else sees it. We're wrestling with language, we're wrestling with character, every costume detail. You give over everything to it, without wanting credit for it, because you're like, "It doesn't matter to me who came up with that moment, or that idea." It is just you absorb it all and then you perform it. I think it's a beautiful thing.
Melissa Harris-Perry: Now you have another film that is on the horizon that again might help with this non-threatening situation. You're starring in the upcoming Candyman movie? Can you talk to me a little bit about this?
Colman Domingo: I can. A recent trailer just came out and I think it's phenomenal because it really centers on the story of Candyman. You can tell with my voiceover, that my character, I don't know, he's like, holding up the story and the legend of Candyman. My character was written for me by Jordan Peele. He wanted me to be this neighborhood guy, I think, who holds the trauma of the neighborhood in some way.
I think he's just raising questions of gentrification, of people coming in and not understanding all the things that have went down in the neighborhood, and basically saying, "I know this location is sexy and wonderful, and you want it now, but you can't just have the location without having the trauma, as well, that that's important for gentrification." I think that's what he's saying. I think that's saying something without saying everything but I think that that's the impulse of my character.
Melissa Harris-Perry: I find Jordan Peele's mind, at least as it's presented, through his films to be brilliant and completely terrifying. Im wondering about-- You've had this opportunity to work with really eclectic, Black directors, some of the best in the business. Tell me a little bit about what those collaborations have been like for you.
Colman Domingo: You know what they are? I'm just thinking, the moment you said that I thought of Janicza Bravo, Nia DaCosta, these people who are saying, "Colman, we want what you're bringing and we want you to help challenge this as well." They're not afraid of my mind as well because when I come on to any project, people know that you're going to get a dramaturg. You're going to get a full collaborator. I'm not just going to hit my marks and just say the lines but I'm going to help question and wrestle with this to make it the best that it can be.
I'm going to use every skill that I have because I've always believed that's what was required. I don't know. It feels like you can make some magic and you feel like you can challenge the way we're represented on film. That's what I think. I get that with even more senior directors like George Seawolf. George is the director who has been doing this for so many years, but when I tell you he gets down on the floor, and he's playing with clay, and he's always willing to challenge and wrestle, and really, I don't know, elevate but also not be afraid to be guttural with our experience as well, that we are all things that we are not just one. We're not just Cosby's, and we're not just good times but we're all of it in between. [laughs]
Melissa Harris-Perry: When I think of us being all things, I just want to return to this really lovely GQ profile from earlier in the year, detailing how you fell in love with your husband and how you first saw each other in a Walgreens. Then, found each other through the Craigslist misconnections post. It's like, "This is not normally how this goes down." I want to know, is this going to be a film? Are we going to get to watch this someday on the screen?
Colman Domingo: The funny thing is after we had this chance meeting 17 years ago, I actually wrote about it. I wrote a short story about it. It was called something like two birds, one with green eyes, one with open hands because there was some significant things that happen on our first date and I thought of him as a bird, and a bird with open hands because when he sat down, I noticed that he didn't sit with his hands with palms down. He sat with his palms up. It was the first time I've ever seen anybody do that. I thought, "Look at that. That's a real open human being. He's so open to the world." I don't know if it'll be--
Melissa Harris-Perry: It's a revolutionary position palms up because it means you can't be typing on a keyboard, you can't be laboring in a particular way. It's a very yogic position.
Colman Domingo: I think so. It's something that-- I was so taken with him. Honestly, the way we met truly was magic. I do believe that the divine resides. I believe there's magic and you just have to look for it. I know that that's how I got the love of my life. We met like I said, it was a chance meeting, and then a follow-up on Craigslist misconnections when I wasn't-- I looked-- He placed the ad, and two hours later, I found it.
I was looking for a used computer and then I just went to that profile, that site because I thought, "I wonder, I can't stop thinking about this interaction," and then he posted an ad for me. Then we met up two days later. I told him I loved him that night and we've been together for 17 years now. That's the thing that I know-- When people are like, "Did that really happen?" I'm like, "Yes, it did." I am one of those people that believe in magic. I really do. I believe that there's love. Love is available. You just have to have your eyes open. You can't be on a computer screen. You got to be out with your heart open and that's the only way it happens. That's what I think.
Melissa Harris-Perry: Your heart open and maybe your hands open as well. Thank you for that beautiful story.
Colman Domingo: You're welcome, Melissa. [laughs]
Melissa Harris-Perry: Colman Domingo is one of the stars of Zola and you have not seen him like this before. It's in theaters this week. Thank you so much for joining me today.
Colman Domingo: You're very welcome. This was wonderful. Thank you.
Copyright © 2021 New York Public Radio. All rights reserved. Visit our website terms of use at www.wnyc.org for further information.
New York Public Radio transcripts are created on a rush deadline, often by contractors. This text may not be in its final form and may be updated or revised in the future. Accuracy and availability may vary. The authoritative record of New York Public Radio's programming is the audio record.