Abortion Is Back in the Supreme Court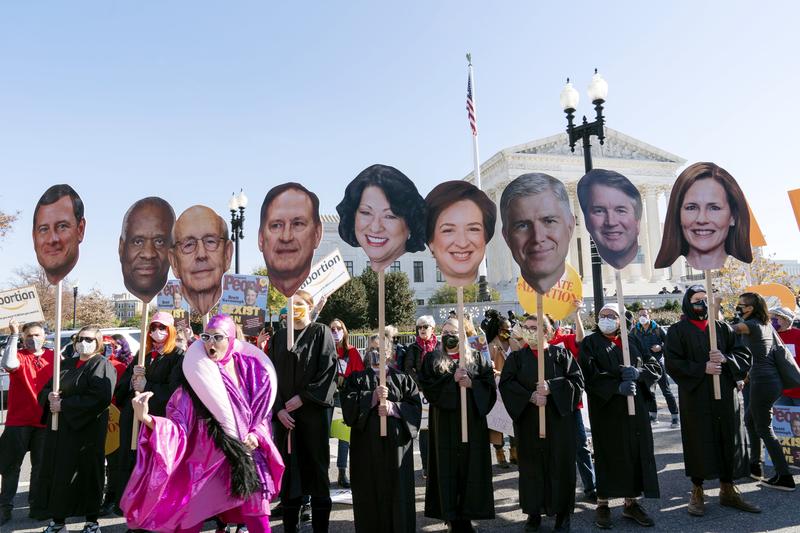 Transcript
Melissa Harris-Perry: Today all eyes are on the Supreme Court, as the justices hear oral arguments in Dobbs v. Jackson Women's Health Organization. Now, this is about a 2018 Mississippi law that makes most abortions illegal after 15 weeks. The case is a direct challenge to the landmark 1973 Roe v. Wade decision and is likely to be the most consequential abortion rights case in decades. As the justices hear arguments, advocates are gathering outside the court to express their support or opposition to abortion rights.
The Takeaway spoke with one of those advocates, Dr. Dawn God-bolt, Policy Director at the National Birth Equity Collaborative. Her organization filed an amicus brief with the Supreme Court in support of the Jackson Women's Health Organization, which is the only remaining abortion provider in Mississippi.
Dr. Dawn God-bolt: This morning the Center for Reproductive Rights is presenting oral arguments before the Supreme Court in Dobbs v. Jackson Women's Health Organization. Today we're here at the Abortion Is Essential: Rally For Our Rights. Essentially, Dobbs v. Jackson is a case on the constitutionality of Mississippi's Gestation age Act, which was passed in 2018 banning abortions after 15 weeks gestational age, except for the case of fetal abnormality and medical emergency.
There are actually no exceptions for rape, or incest, which usually are included in conservative, draconian, harsh bands that we see from states. There are an endless amount of problems with the ban, but the sticking point for Black women across the country and why my organization, the National Birth Equity Collaborative, submitted an amicus brief is because the case infringes upon one of the key tenets of reproductive justice. It is a human right to choose when and if we have children. We also know that when bands like these are imposed, they have a disproportionate impact on women of color and Black women in Mississippi.
Melissa Harris-Perry: Okay, I want you to walk through some of the pieces of that with me. I want to push because I know there are listeners for whom some pieces of that won't initially, all cohere easily. Start with why abortion is part of a reproductive justice framework.
Dr. Dawn God-bolt I think that's a really great way for me to dive into really the nuances around access to abortion, healthcare access in this country, and again, what we call reproductive justice. The term reproductive justice was defined by Loretta Ross as the human right to maintain personal bodily autonomy to have children, not have children, and to parent the children that we have in safe and sustainable communities.
When she met with a group of Black women to discuss our reproductive oppression, and more significantly, the ways in which the larger white women-led women's groups left the issues of Black and brown women behind in favor of those largely raised by middle and high-income white women, these women recognized that a new movement was necessary to steer conversations towards the comprehensive needs of Black women across the reproductive life course. That includes your yearly checkups, your annual exams.
It includes access to the full range of contraception and abortion care. Then the part about tying into sustainable communities is where we say, hey, let's look at the society that we live in. The society that produces maternal health disparities as a by-product of our system. The way we access health care, including abortion care. To piggyback really quickly, I do want to highlight that Jackson Women's Health Organization is the only abortion-providing clinic left in the state of Mississippi.
When we look at a state like Mississippi, which comes up last on many, many public health indicators for wellbeing and health for women, and in a sense, we asked ourselves, how can you say on one hand that you protect women's health when you have not enacted any policies that support women's health, support maternal health? In fact, you have enacted policies that restrict access to health care, including abortion.
Melissa Harris-Perry: You're talking specifically here about Mississippi, obviously, because that is where this case originates, but also expand for me, will it matter to anyone other than people living in Mississippi, this decision by the court?
Dr. Dawn God-bolt Absolutely. I think first, we should look at this as a series of attacks on Roe. Then we know the fallout that will come into play if Roe is overturned. There are 11 states that have trigger laws in place to be an all or nearly all abortions, including Arkansas, Idaho, Kentucky, Louisiana, Mississippi, Missouri, North Dakota, Oklahoma, South Dakota, Tennessee, and Utah. These are states where we are holding on based on the Supreme Court's decision, but for all intents and purposes, Roe, if overturned, will lead to the inability to access abortion in these States.
The nuances here is that it creates greater barrier. We hear people say well, why not just drive across state lines? Why not just find a provider online? It's not always that easy for people when we are talking about low-income people, we are talking about people of color, we are talking about people who don't have the information they need.
Melissa Harris-Perry: As you're talking about the vulnerabilities, and the communities most likely to be harmed as a result of fewer resources, and not being able to cross those state lines simply because even the cost of gas of staying a night in a hotel, of finding someone who can do that. Never mind that we continue to live in a pandemic. I'm wondering if advocates are maybe not even making the argument about just how far-reaching this could be. Just walk with me, Dr. Dawn, for a moment on this.
For a long time, the battleground has been about state laws around access. Your point about the one little pink clinic left in the state of Mississippi, but if Roe v. Wade is actually overturned by the Supreme Court, then are middle-class white women, are married women living even in California, for example, where there isn't a trigger law. Where we don't expect the next day for abortion to becoming legal. Are they made more vulnerable or is this really just a problem for the poorest and the brownest and the least enfranchised?
Dr. Dawn God-bolt It's a problem for all of us. For every one of us. Our liberation is tied to those of our neighbors and our communities across this country and even at a global level. The United States has some of the most draconian laws in place when it comes to abortion access. These laws follow a trend and a pattern. The same way that we have restrictions and bans on abortion, the inverse of that is that we do not have policies that support families like paid leave, or access to abortion or even equitable funding so that community health workers and perinatal birth workers can provide their services to all people.
This idea that maybe it's just a women's issue, or maybe it's a Black woman's issue, or maybe it's a low-income issue, this is not the case. We are talking about all people who have the capacity for birthing having their constitutional right taken away from them and this has a domino effect. I like to think of it as a web of oppression. This web that we live in, others call it a matrix that we live in, it works together to oppress all of us in some way. We know that for people of color, particularly Black people, and Native American people, the margins are far wider.
We are on the edge here. There's not a lot of room for pushing. We know that we have higher rates of poverty and with those higher rates of poverty come less access to healthcare, abortion care, and the other factors that people need to live healthy, full, and whole lives. Something that many of us across the advocacy space have been discussing is, are abortion stories powerful enough? Are we sharing enough? Have we mobilized in the right way? We have. There's a lot of work that we still need to do.
We have started the mobilization, but there are so many allies who need to step forward and join us in this fight. I will particularly call on our male counterparts who often receive benefits from abortion procedures and not having the child they chose. They did not want to have a child, but we don't hear those stories. We don't hear men standing up and saying, "When I was young and I was on spring break, I made a bad decision." We don't hear men saying, "I did not want my wife to have another child because of X, Y, and Z."
I also want to underscore the point that the reason that somebody needs to access an abortion, none of those reasons matter. It has nothing thing to do with how old you are or where you live. Nothing makes you more or less worthy to access the healthcare you need. We do know that some people have better access to resources. If you are from a middle or high-income family, you do have access to a car. You have reliable access to money that would allow you to go across state lines.
In the olden days, perhaps you knew, or your mother knew, or your grandmother knew somebody who worked in labor and delivery and could perform a procedure for you under the table and off record. We don't want to go back to those days where some people have access and others don't. The history of this country is one of inequitable access, bias systemic racism. All of those forces are at play here. Again, when we look at a state like Mississippi proclaiming to protect women's health, which first is paternalistic, we again say that women know what women need and what they want and should be in charge of making their own decision making.
Mississippi again ranks last among 50 states in public health measures and outcomes for women, one of the lowest-performing states in terms of maternal health. If we saw the state take a meaningful turn towards supporting women's health, it would include open access to contraception, open access to abortion. It would include those family supports like paid family leave that families need to thrive. Instead, we see this one issue carved out as being an indicator of the state's interest in women's health.
Melissa Harris-Perry: On exactly that, just to wrap our last question, talk to me about Momnibus about this legislative possibility that does exactly some of that health and life support work that you're calling for.
Dr. Dawn God-bolt: Black Maternal Health Momnibus Act of 2021 is a labor of love. It was led by representatives Underwood, Adams, and Senator Corey Booker, a set of 12 bills designed to comprehend address the ongoing Black maternal health crisis. Again, it upholds many of those tenets of reproductive justice. The Momnibus addresses 400 years of bad public policy like slavery, Jim Crow, and our unjust justice system. Black women's input was critical in crafting these comprehensive legislative solutions.
Congresswoman Underwood and Adams, they called on Black women, Black advocates, Black nurses, Black OB GYNs, Black doulas, Black midwives, Black people, and said, "Hey, what would a comprehensive set of maternal health legislation look like?" This is what we came up with. We're actually really excited because right now in the health version of Build Back Better, all of the eligible items for reconciliation were included in the bill. This means we have historic deep investments to grow and diversify the perinatal health workforce.
This includes nurses and midwives, doulas, and other community birth workers. We have money to shore up health equity grant programs, to advance maternal health research at our HBCUs and minority-serving institutions. The last thing that I will flag from Build Back Better actually, a bill championed by Congresswoman Kelly to extend postpartum Medicaid and CHIP coverage in every state to at least one year. These are full state plan benefits throughout pregnancy and the year after postpartum.
This is also including a $25 million Medicaid investment in maternal health homes to provide coordinated maternity care. We are really excited to see maternal health legislation moving. Again, we are the National Birth Equity Collaborative. Now we're just calling on our senators across the country to keep in those provisions that directly impact maternal health and the maternal health disparities that we are currently fighting and addressing.
Melissa Harris-Perry: Dr. Dawn God-bolt is the Policy Director at the National Birth Equity Collaborative. Dr. God-bolt, again, thank you for joining us.
Dr. Dawn God-bolt: My pleasure.
Copyright © 2021 New York Public Radio. All rights reserved. Visit our website terms of use at www.wnyc.org for further information.
New York Public Radio transcripts are created on a rush deadline, often by contractors. This text may not be in its final form and may be updated or revised in the future. Accuracy and availability may vary. The authoritative record of New York Public Radio's programming is the audio record.