"Now We're Able to Have Our Voices Heard": Young Latinos Speak Out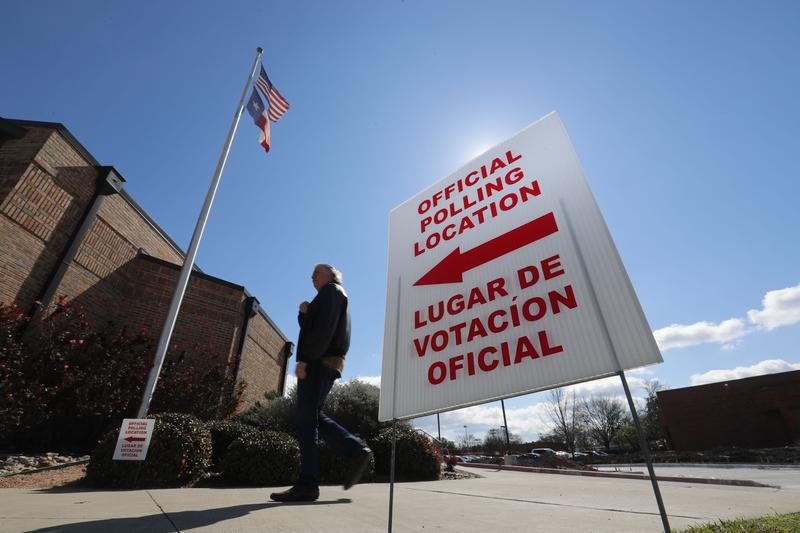 Transcript
Tanzina Vega: Since 2016, more than three and a half million Latinos in the United States have reached the age where they can vote and that means we could see an increased turnout of young Latinos at the polls come November. Today we're turning our lens to focus on what some young Latinos are looking for politically as part of our ongoing series about the Latino electorate called A Votar. Two of our guests say they plan to vote in this year's election. Another is an undocumented immigrant who won't be able to cast a ballot but is still politically engaged.
Juan: My name is Juan Mireles-Palomar. I'm a 22-year-old undocumented immigrant, currently working and living in San Francisco, and I also work in retail.
Kelsey: My name is Kelsey Hernandez. I'm an 18-year-old Chicanx first-time voter, in Boyle Heights, and a volunteer for Power California.
Antonio: My name is Antonio Villaseñor-Baca. I'm 24. I'm a creative writing MFA student at the University of Texas at El Paso and a freelance journalist. I live with two parakeets and a dog.
Tanzina: I spent some time speaking with Antonio, Kelsey, and Juan. I began by asking Juan what issues are most important in their community of San Francisco.
Juan: I think overall, in San Francisco, specifically, the coronavirus pandemic is one that's been driving a lot of the conversation, especially in the Latino communities here. The major one, the Mission District is heavily populated by Latinos from all over Latin America. I think these people who live in this area and the broader San Francisco area, have had to find ways of making ends meet with little to nothing with regards to help from the government.
Taking to the streets and having to find other means of providing for themselves and their families has been a struggle for this community here in San Francisco. Other than that, it's the xenophobia that we continue to see through this administration, and even during a world health crisis, we continue to see demonization, and we continue to feel the ostracization of our immigrant communities.
Tanzina: As we know, there has been an uprising for racial justice in this country over the past couple of months, particularly after the killing of George Floyd. We've also seen killings of young Latinos at the hands of police, including Sean Monterrosa, whose case is still being discussed in California. Antonio, when you look at this racial justice uprising, do you see that it has also energized young Latinos to participate and to eventually turn that energy into turning out at the polls?
Antonio: Absolutely. I think it goes even beyond just this idea of equality within treatment from law enforcement and governing bodies like that. We saw the direct result of how this administration's words can affect people on the border, when the shooting happened on August 3rd of 2019. It was mind-blowing to see how someone who committed atrocity like this could be apprehended with so much calm and that's just not the case that the Latinx community faces, even on the border in a city like El Paso where the population is 80% to 84% Latino. It's definitely been very motivating. It's definitely gotten a lot of people out and voting.
Tanzina: Kelsey, what about you? When you see the uprising for racial justice that's been happening, not just this year, but it has happened in prior years, and this year seems to be different, given everything else that's happening, what does that do for you and others to turn that activism into movement at the polls?
Kelsey: I think it's long overdue. We've seen this racism and continued violence from authorities for so long. Now that we as the new generation, a lot of us are first-time voters, now we're able to have our voices heard, especially in the Latino community, because many of our parents are undocumented, and seeing and experiencing so much violence in our communities, especially people of color, especially the Black communities.
I think with that connection, we help each other out, and we're able to talk to each other and understand each other and fight for each other. That's the most important thing about voting is that we get to do that. We get to have our voices heard. We get to vote on the propositions that we can, on the leaders that are going to represent our community. As young Latino voters and just the youth, we've done that a lot on social media because we're able to connect with people from different communities and hear each other's stories.
Tanzina: Antonio, I'm wondering, when we talk about-- So many media outlets talk about the Latino vote. They've mentioned things like the sleeping giant. Part of the reason we're doing this series is because there is no one Latino vote. There are many Latino votes and many Latino voters and we're trying to break that down. I'm wondering what you see are maybe one of the biggest misconceptions about Latino voters in particular, or maybe young Latino voters?
Antonio: Well, I think it comes down to exactly how you're saying that there is no one specific Latino vote. Really the problem for so long and why this demographic and this population has been that sleeping giant for so long is due to a lack of engagement with the community in different communities. How do you compare the "Mexican American population" along the border in Texas, to a Boricua community in New York to the Cubans in Miami? They're just so vastly different. Any past effort of saying, "This is Latino. This is how we get to this one population," has fallen very short.
I think we definitely saw them in 2016. Now, the difference is just how this current administration it's been very polarizing. Obviously, the campaign back in 2016, started with a comment calling Mexicans rapists. It's just been non-stop comments [bleep] whole countries, different comments like that, that have definitely just woken up a lot of voters, especially among the younger populations. It's not even so much about fiscal responsibility. It's not about health care, as much as it is about those things that there's just more at stake for these different communities more so than any other election.
Tanzina: Kesley, even though you've been active in getting people engaged, you're actually going to vote for the first time. How do you feel about that and do you know other people, other young Latinos who are, maybe they are not all young, do you know other Latinos who are going to be engaged to vote for the first time as well?
Kelsey: It's so amazing, because now I'm able to get my voice out there. My dad's not able to vote. My mom is, but she doesn't know anything, really, about voting just about the major election. Now I have the opportunity to make choices such as Prop 15 in my community. It would reclaim 12 billion every year to our schools, our local communities, to give back to the education and close any loopholes of corporate property taxes.
I've learned so much and I try to give that information to other Latino voters and first-time voters in general, because we have a lot of information to process. I've had a lot of people tell me that they're not going to vote. I think that's crazy, because voting is such a privilege. If you have the opportunity to do it, then you should. I think it's so important to get that message out there, especially to the Latino community, because we've always had this internalized fear of the government, and what they're going to do to our communities. Now that if we have the opportunity to do it, then we should, and we should all do it together.
Tanzina: Juan, you are undocumented, and I'm wondering as someone who cannot cast a vote, how do you think about your role in this election? Is it to bring awareness to some of these broader issues?
Juan: Most definitely yes. I think as someone who can't vote, my biggest thing has always been to try and shed as much light on the issues as possible. I feel like many people who do vote, don't think about sometimes the community who can't vote, which is gearing the United States, the undocumented community being 12 million people. That number is very frightening for people who fear that we may be voting Democratic.
I feel like being able to bring awareness to people who can vote of this community can help bring the conversation of citizenship for all to the mainstream to the forefront because it's an important issue. Given that I receive DACA at the moment, it's only a small sliver of the undocumented community. Many people will see the DACA program and say that that's enough that we've done everything for immigrants, that the Latino community doesn't need anything else. but In reality, it's only about 600 or less thousand people. That doesn't cover much. I feel like we shouldn't be complacent and we shouldn't let that be the end-all of the conversation about citizenship.
I know many immigrants who were undocumented before, who later gained citizenship and started dealing the issue differently, started asking questions like, why not do it the right way? Why not figure out how to get papers in another way. It's a difficult conversation to have, because many of us, it almost feels like we're being thrown under the bus by our fellow Latinx community members. To continue to have that conversation about citizenship for all continue to talk about issues that have plagued our undocumented communities is so important and is so vital for the Latino vote.
Tanzina: We know that about a quarter of Latinos voted for President Trump. There are Latino Republicans. We've in fact, just done some reporting on the Cuban and Venezuelan vote in this country. When you hear conversations about that, and that is not a small number of people, who are probably going to continue to vote for President Trump, do you understand the reasons why or is there more of a battle here for where, again, this big conglomerate of Latinos needs to be politically?
Juan: Through my experience, I would say it would be most likely with regards to religious reasons, given that the Republican Party's stance on abortion aligns almost equally with the Catholic stance, the Catholic Church's stance on abortion. Many of these Latinos come from Catholic-majority countries. That's a big drive. I also think that it's because of the economy. Many of these immigrants come from countries with economies that have been wracked with corruption and just incompetence. I feel like many who have gained citizenship in this country now feel like they have a stake in the economy, and feel like that their say in the economy is almost equal to what Trump is saying about the economy.
However, that's wrong. That's not accurate to say that Trump's looking out for the Latino economic voting block, because we continue to see his oppression of and the Republican's oppression of Latinos and undocumented immigrants.
Tanzina: Alright, folks, we have to wrap up here but I want to hear from all three of you on this question. When you look at the national political stage, do you see leaders who represent your interests? Or do you see Latino leaders who give you hope? Juan, what are your thoughts on that?
Juan: At least here in California, the candidate who's running against Dianne Feinstein, Xavier Becerra, he's been a staunch activist in the forefront of the undocumented struggle here in California,
Antonio: On a national level, definitely, Alexandria Ocasio-Cortez and Joaquin Castro have been two very large representatives for the Latino community. Although we do see how limited and dismissed they tend to be whether by the Democratic Party. Locally, in El Paso, we have Veronica Escobar, who took over for Beto O'Rourke when he ran for senate against Ted Cruz.
Now as a mayoral candidate, we have been Veronica Carbajal, who has definitely energized a lot of voters, especially younger voters. Just because for so long, despite El Paso being a democratic and Latino city, it was time and time again that we had at least a Republican mayor, but definitely a largely republican City Council. Now Veronica is trying to turn the table on that and getting people who look like the people who live in the city be represented in local government.
Kelsey: Yes, I would say AOC is a big one for me, because not only is she a Latina, but she's a woman. She's a Congresswoman and she's speaking upon issues such as Medicare for all, housing as a human right, giving immigrants their citizenships, and LGBTQ rights. She's not afraid to speak her mind. I take that a lot because I've always been afraid. I've always had this internalized fear about talking about government issues and thinking that no one will hear me. When I see her and she doesn't back down from anything, especially in a place where it's a majority white men, and she's still really representing the change for our communities. She's just such a big inspiration to me.
Tanzina: Kelsey Hernandez is an 18-year-old first-time voter from Boyle Heights, Los Angeles, and a volunteer for Power California. Antonio Villaseñor-Bacais a 24-year-old journalist and student based in El Paso, and Juan Mireles-Palomar is a 22-year-old, queer, undocumented immigrant living in San Francisco, where they are a writer and work in retail. Thank you so much for this great conversation.
Juan: Thank you really, really having me around.
Kelsey: Thank you.
Antonio: Thank you.
Tanzina: We were introduced to Juan and Antonio thanks to a collaboration between WNYCs Radio Rookies and YR media called 18-to-29 Now: Young America Speaks Up. You can check out the website for more at youngamericaspeaksup.org. You can find our whole series of conversations about the Latino vote in the United States at the takeaway.org/latino voters. It's The Takeaway.
Copyright © 2020 New York Public Radio. All rights reserved. Visit our website terms of use at www.wnyc.org for further information.
New York Public Radio transcripts are created on a rush deadline, often by contractors. This text may not be in its final form and may be updated or revised in the future. Accuracy and availability may vary. The authoritative record of New York Public Radio's programming is the audio record.