In 2020, a Record Number of Black Candidates Vying for Senate Seats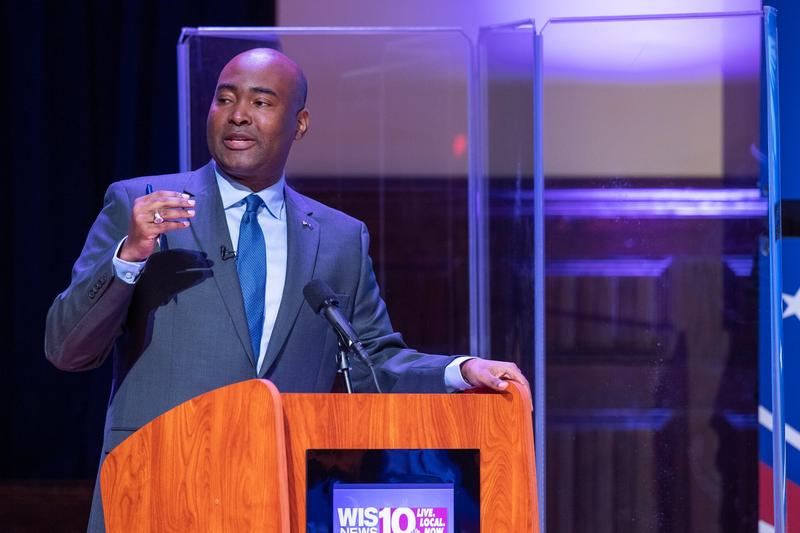 Transcript
[music]
Tanzina Vega: Throughout American history, there have only been 10 Black Senators, but this year could be a turning point for Black representation in the United States Senate. Some of these candidates are also bringing in record amounts of money, something that candidates of color have historically struggled to do.
The most high profile of these candidates is perhaps Jamie Harrison, the former head of South Carolina's Democratic Party. Harrison is neck-and-neck with the Republican incumbent, Senator Lindsey Graham. Harrison's campaign recently made headlines for raising a record breaking $57 million in one quarter alone.
Jamie Harrison: It's time for us to come together as a people. I hope through my campaign, a campaign that is built on hope that folks will see that and say that it's time for a new day.
Tanzina: Over in Mississippi, Democrat Mike Espy has also seen a big boost in fundraising in recent weeks in his race against Senator Cindy Hyde-Smith.
Mike Espy: I'm not going back to yesteryear. We are going to move forward. That's the kind of senator that I want to be.
Tanzina: Over in Georgia, polls are showing the Reverend Raphael Warnock soaring past the top two Republicans in his state, including incumbent Senator Kelly Loeffler. Over in Michigan, Democratic Senator Gary Peters is still leading in the polls, but Black Republican candidate John James is gaining ground.
John James: I am not standing here on this stage because of socialism. I'm standing here because of free enterprise and free will, and because self-determination works.
Tanzina: With more high-profile Black Senate contenders on the ballot this year than ever before, and more money flowing into their campaigns, 2021 could be a historic year in terms of what Congress actually looks like.
I'm Tanzina Vega, and that's where we start today on The Takeaway.
[music]
Joining me now are Amanda Terkel, Washington Bureau Chief at HuffPost, and Andra Gillespie, a political scientist at Emory University. Amanda and Andra, thanks for being with me.
Amanda Terkel: Thank you.
Andra Gillespie: Hi.
Tanzina: Andra, let's start with you. What can we attribute to this rise in Black Senate candidates this year? Why are there so many folks running for office?
Andra: This is an opportunity year for Democrats to run for office, as evidenced by the number who tried to run for president. People see a lot of dissatisfaction with it, of course, the country is going in a lot of dissatisfaction with the Trump administration. They think that that's actually going to have an impact on the chances of Democrats to be able to win races up and down the ticket.
Given the fact that African Americans make up anywhere from a quarter to a fifth of the Democratic Party coalition, it's not surprising that you would see so many African American candidates, particularly the Democratic candidates throw their hat in the race to run for office. There's just this deep bench within the Democratic Party coalition, and we've seen Black Democratic candidates do well, in recent years, even if they haven't won office. The idea that Black candidates are permanently disadvantaged because of their race is something that's openly being challenged by the performance of these candidates in races.
Tanzina: Andra, I'm curious about the money that we're seeing flowing into some of these campaigns, what's driving some of that?
Andra: Money is a signal of competitiveness. It's like investment. If people see a product, and they want and they think that it's going to be successful, they're willing to actually put their capital behind it. Then same way with candidates. If somebody sees that a candidate has a chance of winning, or is a candidate who's well positioned to perform well in an election, you're going to see people put their resources behind that particular candidate. I say the fundraising that we've seen, particularly for Jamie Harrison, in South Carolina, is a sign that one, he's well networked, but also that people actually view his race is actually being viable.
Tanzina: Amanda, speaking of Jamie Harrison, he's probably, as we mentioned, the most high profile of the Black Senate candidates this year. He's generated a ton of buzz. He's also generated a ton of money. How close is the race there now? What are the most recent polls telling us?
Amanda: Harrison, he is now pulling about even with Graham, and of the Black Senate candidates. This cycle, he is the closest. Harrison is getting a lot of attention, not only because he is running a good race, but also because of who he's running against. Lindsey Graham, is a villain to a lot of Democrats, and even more so now that you have him as Chairman of the Senate Judiciary Committee helping to push through Amy Coney Barrett for the Supreme Court. That's a big reason that Jamie Harrison saw such an influx of money after Ruth Bader Ginsburg's death, and when Trump made it clear he was going to nominate someone before the election. Again, all the Senate Democratic candidates, it's all out of donations, but Harrison is a real focus for the party.
Tanzina: Amanda, do we know where these donations are coming from? A lot of candidates often talk about, particularly presidential candidates have often talked about how small donors are really making the difference, particularly in the Harris campaign, but in the other campaigns that we're going to talk about, is this largely super-pack money? Is it individuals? What do we know?
Amanda: It is a lot of small donors. A lot of it is coming from out of state in the South Carolina race. That's not just for Harrison, but for Graham as well. It's attracting a lot of national attention, as did say Stacey Abrams, who is running in Georgia. Black candidates often have had trouble getting establishment support. They are often newer to politics, not always, but sometimes, and they just face these institutional hurdles, and higher barriers to showing that they're viable, and the main way to show that they're viable is through donations.
The establishment is sometimes slow to get behind these candidates. Harrison does have the support of the Democratic Senatorial Campaign Committee, which is in charge of electing Democrats to the Senate, as do all the one of the other Black Senate candidates this cycle. Some of them feel like they haven't gotten enough money from the party. It's taken too long for the party bigwigs to notice them. They've told me that they still face questions about, can a Democrat really win in your state and Black Democrat really win? Those barriers are still there. People like Stacey Abrams, and her historic runoff are helping to knock them down, as I'm sure these candidates will as well.
Tanzina: Andra, I'm curious about that, because I want to tackle that question head on, can a Black Democrat win, for example, in South Carolina? Is that question something that a lot of Black candidates are running into?
Andra: It is a question that Black candidates have faced historically across the country, but in particular, in the south. It's relevant, because there is racial polarization in party identification and voting. If you have the vast majority of whites in the state identifying and voting as Republican, and Blacks only make up 30% of the state and are the vast majority of the Democratic voters in the state, and you just have a numerical problem. There just aren't enough Democrats to be able to make up for the whites who are voting Republican.
The question there is whether or not that's a problem of being Black, or whether that's a problem of being a Democrat. The two have often been conflated, and what the candidacies of people like Stacey Abrams and Andrew Gillum showed us in 2018 was that the problem may be more about being a Democrat in a state that has more Republicans than Democrats than it is really about being Black. That doesn't mean that Black candidates don't face racial attacks. We saw them both, those nasty robocalls against Gillum and Abrams in 2018.
The allegations of voter suppression.
If we look at the overall numbers, we see how close the two of them got in 2018. We see the fact that in Georgia, Stacey Abrams in terms of absolute number of votes, got more votes than the whites who had previously run for that seat in 2014 and in 2010. We can see that people can figure out how to navigate around the challenges that are unique to them because of their racial identities. The rest of it is an issue of party building. That's a challenge that anybody is going to face. You can't just assume that if you put a white candidate forward, that they're going to be any more viable than the Black candidate was.
Tanzina: To that point, Andra, I'm wondering is that you mentioned Andrew Gillum and Stacey Abrams. I'm wondering if they were also able to appeal to white voters in getting as close as they did?
Andra: This is interesting. My colleagues and I have had debates about this. I would argue, yes, some of my colleagues would disagree, because they are comparing them to how Barack Obama presented himself in 2008. We look at Barack Obama as the quintessential deracialized Black candidate who really tried to de-emphasize race and to forge cross-racial bonds.
In 2018, because we're running in the Trump era, you're running at that point after Charlottesville, after Ferguson, race has become front and center in American discourse, and certainly in the Democratic Party platform. They ran more racially over campaigns because the salience of the issues in many ways demanded that they do so. They didn't do so at the exclusion, or to the exclusion of trying to build cross-racial coalitions. I would actually argue that what we've seen happen, and I talk about this in my latest book about selective deracialization of figuring out when it's appropriate to pivot, and then also, in some ways moving towards things that actually do have cross-racial appeal.
A safe one right now is talking about voting rights. That is an issue that harkens back to the classic long civil rights movement of the 20th century. Nobody would object to that. Policing is becoming something that is more mainstream. It actually doesn't look like it's going to be something that's particularly controversial but you see people shying away from defunding the police, for instance, which would [crosstalk]
Tanzina: That's something we're going to get into a lot more on the show just in terms of where policing stands, but I want to make sure before we end the segment here that we talk about some of the other candidates. Amanda, Mike Espy over Mississippi, his campaign seems to be doing relatively well. Where does that stand right now?
Amanda: He ran before and he is running again. He is a little bit closer to his Republican opponent, Cindy Hyde-Smith. He ran against her before. He is a candidate who is-- When he ran last time, he was criticized for why aren't you talking about race more, and he said that was a mistake. He told me that this is a different time now, and he said that he felt like a lot of young people couldn't connect with his campaign because he didn't talk about his history, fighting segregation, integrating his school and getting called the N-word and having teachers cursing and spraying fire extinguishers at him.
He's doing it this time because he realizes it's an important part of who he is, and he wants to be able to connect with young people. The other candidate that I want to highlight is Raphael Warnock. He is the senior pastor at Ebenezer Baptist Church. He is running in Georgia in the open special election. He's pulling ahead but right now, the problem is that he's in this open race where he's running against other Democrats and other Republicans. You have to get a majority of the votes in order to avoid a runoff. The question is, can he avoid a runoff, or will he face off against one of the other Republicans, but expect Democrats be paying a lot more attention to his race?
Tanzina: Amanda, we got about 40 seconds left. What about Black Republican candidate John James, in about 40 seconds, does he have a chance?
Amanda: He has a chance. He does have a chance. He's pulling a little bit behind Democrat Gary Peters, but he's someone that Republicans are very excited about this cycle as well.
Tanzina: We will be paying attention to all these historic runs. Amanda Terkel is Washington Bureau Chief at HuffPost, and Andra Gillespie is a political scientist at Emory University. Amanda, Andra, thanks to you both.
Amanda: Thank you.
Andra: Thank you.
Copyright © 2020 New York Public Radio. All rights reserved. Visit our website terms of use at www.wnyc.org for further information.
New York Public Radio transcripts are created on a rush deadline, often by contractors. This text may not be in its final form and may be updated or revised in the future. Accuracy and availability may vary. The authoritative record of New York Public Radio's programming is the audio record.