Mormon Deaths In Mexico Reignite Questions About the Ongoing Drug War 2019-11-18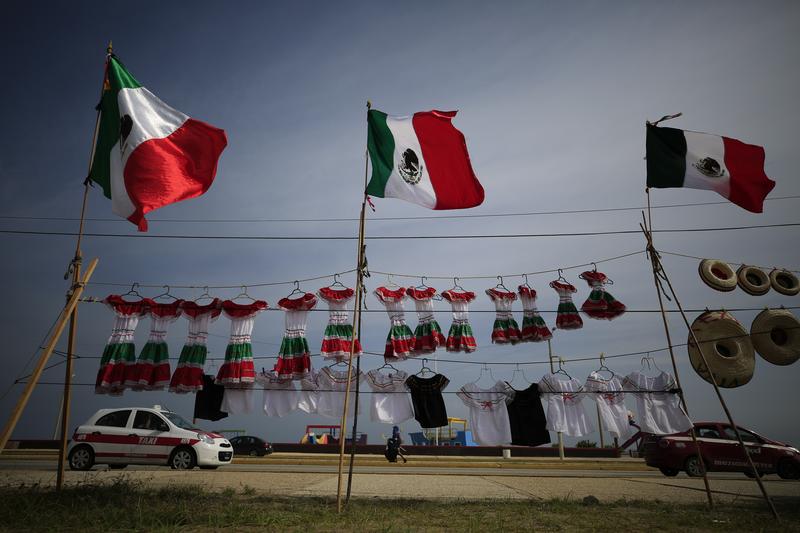 Transcript
Speaker 1:
WNYC Studios is supported by the Sy Syms Foundation. Since 1985, supporting progress in education, science, and the arts. Information at sysymsfoundation.org.
Tanzina Vega:
The killing of U.S. citizens in Mexico has led to calls for further militarization around the southern border.
Tom Cotton:
The only thing that can counteract bullets is more and bigger bullets.
Tanzina Vega:
I'm Tanzina Vega, and today on The Takeaway for November 18th, we take a step back to look at the history of the Mexican drug war and the United States's role in it.
Tanzina Vega:
Also on the show, water poverty frequently goes unaddressed in communities across the country, despite being a pressing concern for millions of Americans.
George McGraw:
It affects everyone, all 50 states, all colors, races, creeds.
Tanzina Vega:
And actor Mark Ruffalo talks about telling the true story of a fight against corporate corruption in his new film Dark Waters.
Mark Ruffalo:
People want stories and need stories about people who are selfless, who are doing good things for other people, even at their own cost.
Tanzina Vega:
We start in at the border. Let's get going.
Lafe Langford:
This is for the record. Nita and four of my grandchildren are burnt and shot up, right on the road out of La Mora.
Tanzina Vega:
That's Lafe Langford, Jr., filming the charred remains of a car that several of his relatives were driving in as they made their way through northern Mexico. On November 5th, six children with three women from the LeBarón family, all dual U.S.-Mexican citizens, were killed in an attack by organized crime. Following the killings, President Trump threatened to send U.S. troops to fight cartels in Mexico, and Republican Senator Tom Cotton from Arkansas echoed that call on Fox News.
Tom Cotton:
When three American women and six American children were gunned down and burned alive, the only thing that can counteract bullets is more and bigger bullets. If the Mexican government cannot protect American citizens in Mexico, then the United States may have to take matters into our own hands.
Tanzina Vega:
But the Mexican government has already gone very far down the road of militarization. Since 2006, Mexico has deployed its military to fight the drug war against organized crime groups or cartels. Those efforts have had little effect on violence in the country. So far, from January to September of this year, more than 29,000 people have been killed in Mexico, but the crisis has also been exacerbated by the illegal flow of American firearms and the demand for drugs in the United States.
Tanzina Vega:
Today on The Takeaway, a look at the history of the Mexican drug war and the U.S. government's role in the seemingly never-ending conflict. Joining us to help us understand all this is Alex Aviña, associate professor of history at Arizona State University.
Tanzina Vega:
Hi, Alex.
Alex Aviña:
Hi, Tanzina.
Tanzina Vega:
I'm also joined in studio here in New York by Oswaldo Zavala, author of The Cartels Do Not Exist and professor of Latin American Studies at the College of Staten Island, at the Graduate Center at CUNY.
Tanzina Vega:
Welcome to The Takeaway, Oswaldo.
Oswaldo Zavala:
Hello. Thank you for having me.
Tanzina Vega:
Alex, let's start with you. We're going to get to the violence in Mexico in a minute. But I just mentioned at the top that drug demand, U.S.-made firearms have also been part of the crisis so far. Can you give us a sense of what the U.S.'s role has been in this?
Alex Aviña:
That's been two of the main drivers of the most recent manifestations of drug violence in Mexico, at least since 2000. If you stretch our perspective back and go to the 1940s, '50s, '60s, and '70s, the role of the U.S. has been to gradually convince or, at worst, to blackmail Mexico into adopting anti-drug policies that are created or pushed by the United States government, and that mainly represents going after the supply side of drug production, going after farmers in Mexico, and attacking the trafficking of drugs.
Tanzina Vega:
Oswaldo, we talk a lot about the drugs war here, but was 2006 the first time we saw the U.S. and Mexico partner to try and stamp out drug trafficking?
Oswaldo Zavala:
There has been another episode, in 1975, when the U.S. and Mexico collaborated together in the militarization of the Sinaloa region. They used the military for burning down crops and dispersing the peasants putting together and producing drugs. But the scale of the militarization that began in 2007 was unseen in Mexico, and not only to the point that it brought in heavy military occupation in various regions of the country, but also the way it was used. They had pretty much carte blanche to operate within not only unpopulated regions, but also in the main cities of the country, say, for example, Monterrey and Ciudad Juárez. Now we have clearly understood that as many soldiers occupy the city, you would have as much violence. The militarization is no longer, of course, an alternative for fighting drugs, but rather is actually the cause for violence in many of these regions.
Tanzina Vega:
Alex, remind us who the LeBarón family were and why they were targeted by organized crime.
Alex Aviña:
We still have a lot of unanswered questions about this specific tragic incident. We know that the LeBarón family has been in Mexico since the early 20th century. They were part of a Mormon fundamentalist sect that moved to Mexico, and it's important to remember that they're actually dual citizens, as well. We played the clip from Tom Cotton at the beginning of the show talking about how, if U.S. can't protect American lives, the U.S. is going to have to do something about it.
Alex Aviña:
The LeBarón family has been living in Mexico for decades. They're also a Mexican family. I think it's interesting to think about why the attention on them and not necessarily the sustained attention that we should have on a conflict that, since 2006, has probably killed more than 300,000 people and at least disappeared 40,000 people.
Tanzina Vega:
Want to talk a little bit about those numbers because, Alex, you just said about 300,000 people dead since 2006, about 40,000 disappeared. Oswaldo, we know that Mexican president Andrés Manuel López Obrador's proposals, or at least one of them, is to fund more social programs so that people don't join cartels. How effective is that? Not to blame this all on López Obrador, but we have seen, at least in the first 10 months of the year, about 29,000 people who have died of violent homicide.
Oswaldo Zavala:
Unfortunately, violence continues, but I do not necessarily think that can be attributed to the new policy of López Obrador, but rather to the fact that social tissue is so damaged after 12 years of militarization that in many of the cities, unemployed people, gangs, people who have been marginalized from society systemically for more than a decade, are still operating and exerting many forms of violence, not necessarily just drug trafficking or drug-related violence.
Oswaldo Zavala:
In this sense, López Obrador's policy of pacifying the country had many different components. One of them, of course, was the deescalation, the bringing down the militarization a couple notches, and also to prevent the military to continue this aggressive enforcement. But on the other hand, of course, as you mentioned, there are many attempts now from the Mexican government to, first, decriminalize the consumption of drugs altogether, but also to form a new understanding of why the drug trade itself should be looked at as a matter of public health, and that is an issue of national security. I think that is key, really, to reverse not only the violence, but also to our common understanding of who the actors of the violence really are.
Tanzina Vega:
Which is something that here in the United States we're grappling with with the opioid crisis, reframing it as a public health issue as opposed to a criminal issue. I just want to be clear, the 29,000 people that we're talking about, do we know whether or not all of those people have been killed as a direct result of the drug war, or these are violent homicides that we cannot directly pinpoint back to that?
Oswaldo Zavala:
This is an important question, and I think the question should be extended to all the violence that began since 2007. It is very difficult to really understand that many of these victims are not even named. Many of the victims are found in graves that have been dug up recently. It's very difficult, in a country with such impunity and very little police work, to determine who is doing what exactly.
Oswaldo Zavala:
It is only because of this common understanding of the drug trade that we think that all this violence, it should be attributed to drug organizations, when in reality we do not have that information at hand. What we can see directly now and we can understand is that the militarization presence, the very presence of the armed forces in these regions, has been the condition to begin the unrest, if you will.
Tanzina Vega:
I want to get both of your thoughts as we close out this segment in a little bit on how the media is covering this. Alex, going back to the LeBarón case, the Mormon family that were killed recently, again, who had dual citizenship, we've heard President Trump and others call for militarization and a heightening of military intervention in Mexico. What were your thoughts on the way the media covered that case, Alex?
Alex Aviña:
It was not surprising to me. I think the fact that this family possesses American citizenship, I think that's what really captured the attention of the U.S. press. If you combine this incident with the previous incident that occurred in Culiacan in the failed operation to arrest El Chapo Guzmán's son, I think the fact that the U.S. media, and Mexican media to a certain extent, latch onto this to make a broader point about the so-called failure of the Mexican state to carry out a war on drugs, I think is really dangerous because it pushes us to try to accept solutions that have failed since 2006.
Alex Aviña:
Oswaldo just published an article in Mexico called The Temptation of War, and any time the media frames this issue as one of state failure in the face of powerful narcos. But what we have is something much more complicated. We have these local sovereignties that have been established in places like Sinaloa and in places in southern Mexico like Guerrero, where I research. These local sovereignties combine narcos and state agents, and they've done so for decades. So at what point... Where does the Mexican state begin and where does it end?
Alex Aviña:
This binary of it's the Mexican state versus the narcos that gets really pushed by sensationalized media narratives around specific events is really a dangerous suggestion. This only feeds the violence, and it creates this cycle of violence. You have incidents in southern Mexico where you have survivors of a dirty war that occurred in the 1970s, in which the military used the drug war as an excuse to wipe out leftist opposition, you have family members from that conflict looking for their disappeared loved ones now working with the families of disappeared ones as a result of this war on drugs.
Tanzina Vega:
Oswaldo, I want to get your thoughts before we finish out this segment here, because to that point, Alex is saying narcos, and I keep thinking about there was a whole Netflix series named Narcos. In the United States, we tend to sensationalize, whether it's entertainment, news, and even in our politics. The president began his campaign talking about the fact that Mexico is sending across people who are violent. He's called them bad hombres. What are your thoughts on how the U.S. media portrayed the conflict?
Oswaldo Zavala:
Well, certainly it's been a sensationalization of the news, but I would add to this that this narrative comes in origin from the U.S. government and the U.S. institutions historically. They are the ones that, since the 1980s, have taught us to talk about drug cartels as a threat to national security to justify, of course, U.S. intervention in the region and to push Mexico, as Alex was saying, and also Colombia, of course, into the militarization of their own countries.
Oswaldo Zavala:
Because of this narrative, because of this common standardized understanding of so-called drug cartels as organizations that can challenge, supposedly, the power of the state, we have grown immensely our security apparatus, doubling up our armed forces, and allowing them publicly to act and occupy their territory, to force us to live in a state of siege in our own nation. This is the narrative that must be challenged and must be criticized if we are really going to understand how violence operates, how [inaudible 00:11:50] everything in our country, and how to descale that militarization itself.
Tanzina Vega:
Oswaldo, how do you see the drug war being covered by journalists in Mexico versus here in the United States?
Oswaldo Zavala:
In reality, I see very little difference when it comes to the general narrative. Most of our common understanding about the drug trade has been instigated by an official narrative that began sometime in the 1970s, but then it became radicalized in the 1980s under President Reagan. We have now a common understanding that has been interiorized by most of the people working in the media today that leads them to react very quickly to any news of violence in the country.
Oswaldo Zavala:
Nowadays, if a reporter is covering, whether he or she comes or not from the U.S. or Mexico, any issue of violence, they would react immediately to talk about drug cartels or drug organizations, or a sicario using a gun, or drug wars, or groups fighting for territory. This narrative has become hegemonic. That has become precisely the standardized understanding that we as reporters spontaneously react to it.
Tanzina Vega:
Alex, your thoughts on what journalists here in the United States can do better when covering these topics?
Alex Aviña:
I think one is to explore things that remain unexplored. For instance, there's some researchers like Dawn Paley now who talk about how, by looking at the political economy of the conflict, what we miss out in the media narrative is how some of this organized violence in certain places is actually a way of opening up spaces for foreign investment, like, for instance, of Canadian mines. This really localized conflict between peasant landowners and transnational Canadian mining companies, that conflict gets subsumed under the broader narrative of this is a war on drugs and this is cartel-versus-cartel violence at the local level that the Mexican state is unable to control.
Alex Aviña:
And also, to look at the human cost of it beyond, again, this simplistic binary narrative. Local experiences and local voices are really important, and they need to be given a much more public platform to change what we think of the war on drugs in Mexico.
Tanzina Vega:
Oswaldo Zavala is a professor of Latin American Studies at CUNY and author of The Cartels Do Not Exist, and Alex Aviña is an associate professor of history at Arizona State University.
Tanzina Vega:
Thanks to you both.
Oswaldo Zavala:
Thank you.
Alex Aviña:
Thank you.
Tanzina Vega:
It's The Takeaway. I'm Tanzina Vega. I'm glad you're with us.
Tanzina Vega:
In 1998, Cincinnati-based attorney Rob Bilott was contacted by a farmer from West Virginia named Wilbur Tennant. Tennant said that his cows were being poisoned by chemicals left on a nearby property by the chemical giant DuPont. While Tennant knew of Bilott through a family connection, the lawyer was something of an odd fit for the job.
Mark Ruffalo:
He was a corporate defense attorney working at one of the biggest, most conservative law firms in the United States, in the world, and they did a lot of work for chemical companies.
Tanzina Vega:
That's Mark Ruffalo, who stars as Rob Bilott in a new film called Dark Waters. Part of what drew Ruffalo to this story was the fact that Bilott eventually agreed to sue DuPont despite his corporate ties.
Mark Ruffalo:
20 years later, he discovered the biggest criminal act on behalf of any corporation probably in the history of business and a 50-year coverup, and it was a story that none of us knew about.
Tanzina Vega:
Exposing that coverup of the harmful effects of a chemical used to manufacture Teflon, known as PFOA, is at the center of Dark Waters. Here's Ruffalo in a scene from the film.
Mark Ruffalo:
They want to show the world it's no use fighting. "Look, everybody, even he can't crack the maze, and he's help build it!" The system is rigged. They want us to think it'll protect us, but that's a lie. We protect us. We do. Nobody else. Not the companies, not the scientists, not the government. Us.
Tanzina Vega:
Ahead of Dark Waters's release this Friday, I sat down with Mark Ruffalo and the movie's director, Todd Haynes, and we started off by discussing why Haynes agreed to tackle Bilott's story after Ruffalo brought him the script.
Todd Haynes:
I really couldn't shake it. I couldn't really stop thinking about the story and the way it might be handled. I've always loved these kinds of movies, when they have that brooding sense of despair lurking over what these individuals confront, and how the process of those stories get revealed to an audience in a very close attention to the process. That was all in this film, as well as this really interesting network of people from different classes that have to join forces to come together to take on DuPont.
Tanzina Vega:
This is a story, as Mark mentioned and as we know from the actual reporting here, is that this played out roughly over two decades. As a director, how do you approach a story that's so long and can be so difficult, and unsatisfying in some instances, and bring it to the screen in a way that audiences will feel connected to and it will resonate?
Todd Haynes:
Yeah, I think that was the biggest dramatic and narrative challenge that I took very much to heart, and brought writer Mario Correa on board. Mario and I joined Mark in Cincinnati in May, June of 2019 and met all of the people firsthand and began talking to them and seeing their homes and their farms and where they live, and driving with Rob from Cincinnati to Parkersburg. You feel like, "Okay, this is going to have to be grounded in a human experience, and how that human experience brings people together and then alienates them again."
Todd Haynes:
Yes, this is a story about a guy at a certain point of our narrative going through hundreds of thousands of pages of discovery and piecing together a backstory that had been completely withheld from public knowledge, them assuming no human being would be capable of doing so, and Rob Bilott was that human being. So, yes, we had the challenge of watching a guy kind of get buried alive in boxes of discovery that finally he lands in his office at Taft, and figuring out a way to observe that process, to pull back from Rob and feel like the wall is closing in on him, and then finally there's a point in the middle of the film where he's ready to present what he's found.
Todd Haynes:
This is the centerpiece where we finally present this unimaginable scope of persistent practices of concealing, how they knew that this... The chemical we're talking about is PFOA, which is used for the production of Teflon. And they knew from the 1970s how toxic it was in animals and then in workers and then in water systems, and they were just dumping it, hundreds of thousands of tons of sludge, into the water systems of Ohio and into the air systems. This was completely within their knowledge, and they persisted in doing so.
Tanzina Vega:
This movie is coming out... As we speak, there are public impeachment hearings underway in Washington, D.C., and there will be for, at least from a news perspective, for the foreseeable future. Whistleblowers are very much a part of the national conversation. We've spoken to some of them here on this show about the risks that they take. Mark, do you see echoes of Rob Bilott's story in how the Ukraine whistleblower is being discussed or in anything that's happening that's playing out on the national political stage right now?
Mark Ruffalo:
It's very different in a lot of ways because he's not really a classic whistleblower. He's more in the investigative journalist, I think, category.
Tanzina Vega:
Which is a genre you like.
Mark Ruffalo:
It's a genre I love and I really appreciate, and I am grateful for it. But the same play that goes on is to create obfuscation, doubt, try to smear the person or create a charm campaign to in some way impugn the information that they're trying to bring forward to the world, these are all plays that are not just in politics, and we're seeing it happening right in front of our eyes in this impeachment hearing, but also it happens in the corporate world and it happens over and over again. You'll see an individual come forward with some truth of contamination or disease or addiction, and you'll see the machinery of the corporations kick into high gear to either create false, misleading science, to obfuscate and hide the truth, to change the rules, move the goalposts, and all of those things you see in this film.
Mark Ruffalo:
The film is about PFOA, but it's also about a system that we're living under that brings us tobacco, that brings us ExxonMobil knowing about climate change for 30 years and hiding that, the fossil fuel industry telling us that fracking is harmless to water and to the air, the pharmaceuticals telling us that oxycodone is less addictive than Advil. We see it time and time again. We hope that the film opens up a greater discussion about this systemic problem and this slavishness to corporate profit at the cost of the health and well-being of our citizens.
Tanzina Vega:
To that point, you've spoken a lot about environmental issues, including fracking at Standing Rock. On this show, we've had conversations about whether Hollywood and the arts more broadly are doing enough to bring these issues like climate change to light and through art. Do you think they are doing enough?
Mark Ruffalo:
You have to make a good product. You can't just take a shot at it just because you should. I wanted to blend more of my environmental activism with storytelling. That was important to me, especially coming out of 2016. I did see the power of it. I know the power that a film can have on issues, whether it's gay marriage, people understanding what happened during the AIDS epidemic, the priest molestation, or here with PFOA. If you can do it and you can find a compelling story, you can influence the discussion, or certainly create a space for a different kind of discussion with different knowledge.
Mark Ruffalo:
It's one thing to read something; it's another thing to watch a documentary or to hear a journalist talk about it. But to take a journey of people and tell stories about people's real experience as a farmer, conservative people in a part of America that's mostly conservative fighting against a corporate entity, that's relatable. That helps us transcend the politics and feel with our hearts the actual experiential understanding of these problems, and I think that opens us up to a conversation, these hard conversations that we're going to have to have.
Tanzina Vega:
Is it too simple to call Rob's story one of empowerment, one of inspiration? Is there more to it than that? Do you see this as something in this moment that might inspire, as Spotlight and maybe All the President's Men did, might inspire people to be more aware or to speak out?
Todd Haynes:
Oh yeah. It is an incredibly inspiring movie. It doesn't mean it's not realistic, tethered by the realities of how perilous a fight this can be and how much pushback you're going to face. In the end, because of Rob's efforts on DuPont, DuPont has splintered off into... Its manufacturing arm is now renamed Chemours, where it can continue to produce Teflon-like products. They had to change the name. They had to switch from PFOA, the C8 with eight carbons, to C6, as if it's something different. And they merged with Dow Chemical.
Todd Haynes:
DuPont as we know it doesn't even exist. The Teflon brand has been forever tarnished by this experience. In many ways, these are massive symbols of American industrial success and fame and profitability. He really did take those pinnacles of power down, and it takes a single individual and all the people around him to make that fight successful.
Mark Ruffalo:
I also want to add, every screening that we've done, we've brought Rob with us to do the Q&A's. Ty gets applause. I get applause. When this man walks into the room, people jump to their feet in a standing ovation.
Mark Ruffalo:
That is their understanding of a hero, and that's inspiring to them, because today you turn on the television and what we're being told over and over again is we're all lousy people, the world is a lousy place, you might as well just get as much as you can, be as selfish as you can, and one day you'll be the president that way. People want stories and need stories about people who are selfless, who are doing good things for other people, even at their own cost, at the own cost of their wealth, at the own cost of their health. That's just as meaningful and important a life to live.
Mark Ruffalo:
That's why people jump to their feet when they see this man in real life, and that's why the story is ultimately so inspiring. They're inspired to jump to their feet for him. He's not a hero because we all want to be him. He's a hero because we don't, because we know how hard that is to do, but we also know what accolades come with that, how meaningful that is. That's a meaningful life. That's a well-lived life, and that's what people are responding to in the movie.
Tanzina Vega:
We can't talk about structural issues and institutional issues without talking about Hollywood's institutional and structural issues. You were nominated for an Oscar for Spotlight in 2016, but around that time, that was about the second year that I think the OscarsSoWhite hashtag took off. Since then, we've seen the Me Too Movement reignited, particularly with a focus on Hollywood and big names there. Are you satisfied with the progress that has been made so far, whether it's in terms of addressing sexual exploitation of women and men in the industry, or the lack of racial diversity in the industry?
Mark Ruffalo:
We have a long way to go in my industry, but America has a long way to go as well. When you think of the changes... and I already see them. I've done sex scenes for 20 years now. We've never had an intimacy coordinator on set before. Now you don't do a sex scene without an intimacy coordinator, and whatever happens in that scene is agreed upon by the actors. There's no way you could strong-arm an actor or an actress in this kind of structure now, and there's a sense of safety there, but also a consciousness.
Mark Ruffalo:
My acting teacher used to say, "No man is greater than the time they live in." We grew up in this. It's like asking a fish about water. Unless someone can show it to you and differentiate it to you, you're ignorant. We're in this time now of training people, like decades, generations we're training people. This is deeply entrenched in us.
Mark Ruffalo:
When I see that, I walk onto a set and that's a consideration, or we're all meeting before we shoot the movie, all of us, the whole crew, everybody, and it's explained to us what discrimination is, what sexual harassment is, all of these things that we have been assuming our whole lives and have been taught cultural norms our whole lives, we're changing. That takes some time, but I see the behavior changing.
Mark Ruffalo:
Is it going to swing? It has to swing to extremes in order to correct itself, but I'm happy with what I'm seeing. I think it's happening... When you consider how long it's been going on, the changes that are taking place now are satisfying to me. It could be better, but I also see things happening. I see the next generation is going to know definitively what's acceptable and what's not. I think we have to make room for the older folks, the people who have been living in it the longest, to learn it, to stumble, to mess up, to still get it wrong, keep our hearts open that people can come around and do the right thing and learn to change, but also keep pushing for an institutional, systematic change that is more fair to all of us.
Tanzina Vega:
Mark Ruffalo is the star of Dark Waters, and Todd Haynes is the film's director. Thanks so much to you both.
Todd Haynes:
Thanks, Tanzina.
Mark Ruffalo:
Thank you for having us-
Rhiannon G.:
Opera has a new champion, and it's a podcast. I'm Rhiannon Giddens, host of Aria Code. In each episode, we break down one song from an opera so you can hear it with fresh ears, with top singers-
Speaker 11:
I am Tosca.
Rhiannon G.:
... and some unexpected guests.
Speaker 12:
I played in the NFL, now I'm an opera singer.
Rhiannon G.:
The New York Times calls Aria Code luminous. The New Yorker says its superb on every level. I think you're going to like it too.
Speaker 13:
It's a euphoric experience.
Speaker 14:
It's fantastic.
Rhiannon G.:
Listen to Aria Code, the new season, at ariacode.org or wherever you get your podcasts.
Tanzina Vega:
I'm Tanzina Vega, and this is The Takeaway. In 1974, Congress passed The Safe Water Drinking Act, which was landmark legislation meant to improve access to clean water. But despite the bill's lofty goals, the reality is that far too many people are still exposed to water that's not in compliance with the law.
Tanzina Vega:
According to the National Resources Defense Council, nearly 40% of people in the United States are drinking from an unsafe water source. While high-profile public health crises in Flint, Michigan, and Newark, New Jersey, have highlighted failures in water infrastructure, at least two million people in the United States are living without access to any running water and toilets at all. That's according to a new study from DIGDEEP and the U.S. Water Alliance. George McGraw is the founder and CEO of DIGDEEP.org, and he's with me now.
Tanzina Vega:
George, welcome back to the show.
George McGraw:
Thanks, Tanzina.
Tanzina Vega:
We talked to you earlier this year before you had the actual data about the scope of the problem. Your research is pretty stunning. Tell us some of the major findings there.
George McGraw:
Well, I think we were all surprised to find that at least two million don't have access to running water or flush toilets in the U.S., obviously one of the most prosperous democracies on earth.
Tanzina Vega:
George, how is that? I'm still trying to emphasize the in the United States.
George McGraw:
Yeah, it's wild. When people think of this problem, they think of sub-Saharan Africa or Southeast Asia. The reality is that in every state, we have families, entire communities who are hauling water every day, who can't take a shower, who can't use a toilet, who are going to neighbors' houses to do those things, or hauling drinking water on their backs in 2019.
Tanzina Vega:
How did you get the data for this study? What was the methodology?
George McGraw:
Well, it's difficult to measure this problem because the federal government isn't doing that. We used to use the census to measure access to water. In 1990, we removed some questions on wastewater. Just in 2016, we removed the question on a flush toilet. We're actually going backwards in our ability to measure this problem, a problem that literally every other country in the world measures.
George McGraw:
We couldn't go to the federal government data. We used that data as a basis to do some analysis about who are these Americans without access to water. But then we actually had to send researchers to the field. We picked six regions of the U.S. that have extreme circumstances, the California Central Valley, the U.S.-Mexico border in Texas, Appalachia, the Deep South, to name a few, and our researchers lived and embedded in these communities, collected local datasets, did site visits and interviews, so we could paint a picture of what this looks like.
Tanzina Vega:
Did you find any demographic differences in terms of who has access to water and who doesn't?
George McGraw:
Yeah, I think this is the thing that is so surprising, but also not surprising in a way. Race is the strongest predictor of whether or not you're going to have running water at home as an American in 2019. If you're Native American, you are 19 times more likely than if you're white not to have running water and sanitation in your house. If you're black or Latinx, you are twice as likely. The fact that those disparities still exist show us that really what we have at the heart of this problem is structural racism that has never been solved.
Tanzina Vega:
We hear a lot about what's happening in Flint, Michigan, and in Newark, and a lot of that has to do with just the pipes. The pipes are old. The structure is old. How do you explain the no water or the no toilet situation?
George McGraw:
Many of these communities were deliberately sidelined from infrastructural development that was built to serve the rest of the country. When we started investing what would be today trillions of dollars in our water infrastructure starting with the New Deal in the '30s, that infrastructure wasn't built to serve every American. Now you have communities who have to play catch-up, and the circumstances that they have to play catch-up under are much more difficult. It's technically difficult. It's expensive. Federal spending on water infrastructure has dropped off a cliff. In 1977, federal spending accounted for 63% of infrastructure. Today it's less than 9%. Those communities that have never had it before, it's more difficult now than ever before for them to catch up.
Tanzina Vega:
I don't have this problem in New York City. These numbers are pretty stunning. What can these communities do? What are these communities doing? This feels like a basic human right.
George McGraw:
Water access is absolutely a basic human right. You need water to do everything. One of the most beautiful things that we found in our local research by embedding these field researchers was that these communities are coming up with ingenious and creative ways to solve their own problems. You have firehouses delivering water to elderly and indigent residents. I was just visiting a food pantry in West Virginia that raised money to install solar panels that are going to pull water from the air and produce clean drinking water for an entire county. But they need to be supported with the right resources by government. They need to be supported with our attention. This is a crisis. This is an emergency happening right now.
Tanzina Vega:
You mentioned the census earlier, and I just want to make sure, for our listeners who aren't following every twist and turn with the census, because it has been quite politicized, particularly in this cycle, how has that affected the data that's being collected? We know that Kellyanne Conway, for example, in the Trump administration has made the argument regarding the census that people care more about toilets than they do about people. The toilet question, as you said, has been discontinued. But what has the politicization of the census done to the ability that you all have to collect data?
George McGraw:
Yeah, it's a tremendous shame to politicize something as important as the census. Ms. Conway has been talking about we care more about toilets than about whatever, but she is mistaken. We have removed this question on toilets recently. We removed that question in the middle of a census data collection period, which means we've destroyed our ability to compare the data now to previous years, and we've lost our ability to track our progress on solving this problem at a time when, according to our research, we're going backwards in six states and in Puerto Rico, meaning next year it's likely that more people in those six states and in Puerto Rico won't have running water than they do this year. The census needs to be strengthened. We need to reintroduce the question on toilets, add questions on wastewater, on water quality, on water cost, just to ensure that more Americans don't fall into this gap.
Tanzina Vega:
George, we've also covered a lot of natural disasters here on the show, fires, hurricanes, you name it. We're now in a moment historically where these disasters are expected to get worse. Do you see that playing out in terms of access to water in any way?
George McGraw:
In every one of the communities we surveyed, people mentioned changing weather patterns. I think this is probably most pronounced on the Navajo Nation, which was in the American Southwest. It takes up parts of Arizona, Utah, and New Mexico. There, I think more than 80% of surface water resources have disappeared in the last few decades because of climate change, and what few groundwater resources are available are contaminated with uranium from decades of uranium mining during the Cold War.
George McGraw:
What you're left with there are families scrambling to get by, scrambling just to get enough clean water every day to survive. Most of them are doing it by hauling very expensive bottled water. Those that can't afford it are still drinking that dirty water. Now is the time we need to invest in these communities and make them more resilient to the changes that we know are coming.
Tanzina Vega:
You also mentioned Appalachia as a community that's been affected by this. We're not just talking about people of color; we're also talking about poor Americans. Is that right?
George McGraw:
Yeah. We saw that lack of water access also correlates strongly with income and with educational attainment. It's not just the color of your skin, but it's also your position in the economy and society. In Appalachia, there are many, many families who used to rely on what are called coal camp water systems, simple, rudimentary water systems that were built by the coal mining operations.
George McGraw:
In one of the towns we visited, the population has fallen by 80% since that coal company left, and what it left behind was a failing water system and a lot of contamination. Now you have people, on foot, walking to springs on the sides of highways collecting water in gallon milk jugs to drink during the day, water that's not safe to drink. It's making them sick. But it's the only access to water they have.
George McGraw:
This is a universal problem. Yes, it does affect people of color more intensely. It does affect low-income and rural people more intensely. But it affects everyone, all 50 states. This is a big American crisis that no one is paying attention to.
Tanzina Vega:
United States 2019 struggling to have water. George McGraw is the founder and CEO of DIGDEEP.org. George, thanks again.
George McGraw:
Thanks, Tanzina.
Tanzina Vega:
That's our show for today.
Tanzina Vega:
We've got a big week of impeachment hearings coming up, so if you're following along, give us a call and tell us about the moments of testimony that really stand out to you. Our number is 877-8-MYTAKE. You can also send us a tweet. We're @TheTakeaway. Or tweet me directly. I'm @tanzinavega.
Tanzina Vega:
Thanks so much for listening. I'm Tanzina Vega, and this is The Takeaway.
Copyright © 2020 New York Public Radio. All rights reserved. Visit our website terms of use at www.wnyc.org for further information.

New York Public Radio transcripts are created on a rush deadline, often by contractors. This text may not be in its final form and may be updated or revised in the future. Accuracy and availability may vary. The authoritative record of New York Public Radio's programming is the audio record.