Politics with Amy Walter: Black Women Are Center Stage in 2020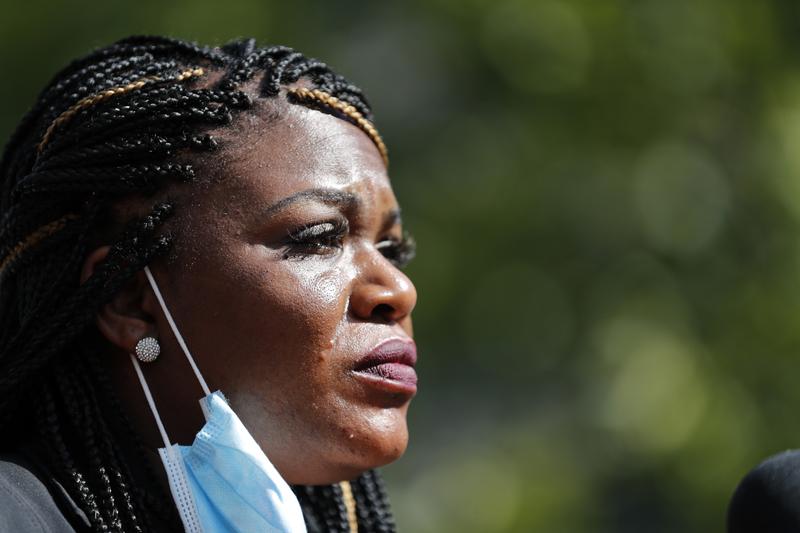 Transcript
[music]
Presenter: Listener-supported WNYC Studios.
[music]
Amy Walter: It's Politics with Amy Walter on The Takeaway.
Cori Bush: Almost six years ago to this day, Mike Brown was murdered; murdered by the police in the streets of Ferguson, Missouri. I was maced and beaten by those same police officers in those same streets. Six months from now as the first Black congresswoman in the entire history of Missouri,-
[applause]
[cheering]
I will be holding every single one of them accountable.
[applause]
[cheering]
Amy: That's Cori Bush. Bush defeated longtime Democratic Congressman Lacy Clay, in the primary for Missouri's first Congressional District earlier this week. A safe Democratic seat, Bush is all but guaranteed to win in November when she will become the first Black woman elected to the US House of Representatives for Missouri.
Cori Bush is one of more than 100 Black women running for Congress this cycle, a record-breaking number, according to an analysis by the Center for American Women and Politics.
I spoke to Kimberly Peeler-Allen, a visiting practitioner at the Center for American Women and Politics about this moment, and how we got here.
Kimberly Peeler-Allen: What we've seen really is that there are so many Black women who have said, "Now is the time. I have to step up because I can't leave the fate of my children, of my community, of myself to others. There are forces at the state, federal, and local level that are not keeping the concerns of my community in mind, and so I need to make sure that my community has a voice, and that voice is more diverse than what it's been historically." These women have just stepped off the sidelines and said, "If anybody can represent my community, it's me, so I'm going to run."
There has been so much interests across the board, not just from Black voters and Black candidates, but the electorate overall of making sure that we have diverse voices around decision-making tables to make sure that fewer people are left out of the process, because we've seen time and time again that when the majority of the decision makers are white and male, the priorities end up being predominantly those of people who are white and male. If we have a more life experience around the table, then we can make sure that all people are really being taken care of in this country.
Amy: Would you say that it was the 2016 election then that was the catalyst for this? Obviously, we saw the Women's March that weekend of the inaugural and record number of women running in 2016.
Kimberly: Yes, I think the 2016 election definitely was that catalyst. I think for many women, we saw the voter turnout of Black women in the 2016 election, but I think it was then followed up by the the turnout in Alabama in 2017, and also the fact that there were so many Black women who were running to lead our top 100 cities in this country in 2017, that it really was an awakening for women to say, "I can really do this, and I have something that I can really add, and most importantly, I can be successful." They saw that path to success, so they got off the sidelines and ran.
Amy: Let's talk a little bit about the women who are running for down-ballot offices. We saw this week, one of these women, Cori Bush, activist from St. Louis, defeat a longtime incumbent, Lacy Clay. She would be the first African American woman ever elected to Congress from Missouri. What to you did that race signify?
Kimberly: That race really signified the fact that you must persevere. This was actually the second time that Cori Bush took on Lacy Clay. She lost in 2018, and lost badly, but she was determined and dusted herself off and ran again, and really learned a lot from her previous campaign and ran a better operation. I think that's point one. I think it also talks about really the change in the tenor in this country.
There was definitely an appetite in 2018 for more Black women to be elected leaders particularly elected to Congress. We saw the largest influx with five coming into 116th. I think Cori really had the opportunity of really showcasing what she had done as an organizer in Ferguson, that there was a feeling within the district that we must have someone who is going to be a more aggressive advocate for our community than what they had. We have folks just saying we want a change, and we want a seismic one and we want it now.
I think there was just a lot of great confluence of events for her that she was really be able to tap into her life experience and bring that to the voters. It resonated with them, and it was time for a change in Missouri's first.
Amy: If we're looking back at the post-November landscape, what do you think success is going to look like for Black women both as candidates and as voters?
Kimberly: I think what success will really look like for voters is for them to feel that their values are being carried forward. That the people that have been elected to represent them truly understand the issues that they care about and that their legislative priorities. In the first 100 days in the first year are very much in line with the things that are keeping Black women up at night, whether it is a small business development, whether it is the economy overall, how we are handling COVID. There's just so much across the board not to mention criminal justice reform, as well as doing something about the systemic racism in this country.
There is so much, but I think the election is step one. Making sure that the elected leaders that these Black women vote for are held accountable to those Black women. Overall, it will be the long-term goal, and when we can say we've actually won something. It's one thing to get in there, but it's what do you do when you're actually at the table.
For the voters, I think that is critically important. For the candidates, similarly, are they able to move their legislative priorities? Are they in chambers that have not just Black women and people of color in the rank-and-file membership, but are there people of color in leadership? That's from state legislatures, all the way up to Congress, that are able to push and advocate for policies and legislation that is much more inclusive and lifts up more people than it had previously.
I think once we have the numbers; let us get the people in the seats, and then let's make sure that they are able to actually govern and lead in this moment, then we can really have a democracy that is reflective of America.
Amy: Kimberly Peeler-Allen, I thank you so much for coming and speaking with me about this.
Kimberly: No, my pleasure.
Amy: Kimberly Peeler-Allen is a visiting practitioner at the Center for American Women and Politics at Rutgers University.
[music]
Women of color have also become the focal point of discussions around who Joe Biden will choose as a running mate.
?Speaker 5: Please welcome back to the show, Senator Kamala Harris.
?Speaker 6: Illinois Senator Tammy Duckworth is joining me now.
?Speaker 7: Stacey Abrams.
?Speaker 8: That's the Honorable Karen Bass.
?Speaker 9: Please welcome Representative Val Demings.
?Speaker 10: Ambassador Rice, good morning to you.
?Speaker 11: Mayor Keisha Lance Bottoms, thank you so much for coming on our show.
Amy: With this attention and scrutiny has come criticism and attacks, many from within the Democratic Party itself, which follow along familiar lines of racism and sexism. Aimee Allison is founder and president of She the People, an organization that promotes the political voice and leadership of women of color. Earlier this week, she signed an open letter calling out this behavior, and she read a portion for us.
Aimee Allison: Regardless of your political affiliation, whether it's the media, members of the vice presidential vetting committee, a former Governor, a top political donor, or a small town mayor; we are not your Aunt Jemima's. The use of the racist myth of a happy, Black servant portrayed as a happy domestic worker loyal to her white employer is not lost on us. While some of the relentless attacks on Black women and our leadership abilities have been more suggestive than others, make no mistake; we are qualified and ambitious without remorse.
Amy: Ambition without remorse refers specifically to comments reportedly made by former Senator Chris Dodd about Senator Kamala Harris on a conference call with donors.
Aimee: It's not just that Chris Dodd is a former Senator. He's actually on a four-person vetting committee to choose to recommend the VP candidate. He's in a position of lot of authority and influence, and how dare he question the ambition of only the second Black woman to ever be a senator in this country.
As a group, Black women are proudly and unapologetically servant leaders and also ambitious. Particularly, now that Trump is sitting in the White House, he has no business using those veil, as what they would call it. Those racist and sexist inferences about Kamala Harris or--
These insults are coming from different quarters. It comes from people who consider themselves liberal. It comes from people who consider themselves conservative, and everything in between. This is part of making sure that we support and make space for women of color, leadership as to say. That language in a time where America is dealing with its racism, not only racist past but present. We call it out. We call out Senator Chris Dodd. We call out all of the people who particularly led by white male elected leadership making it difficult for Black women and other women of color to lead.
Amy: I want to go back to something that you all actually the people did. You had a series of virtual listening sessions, and your takeaway from those was that they were real wake-up call. You were quoted as saying, "We're ringing alarm bells." We're saying, "We want to win," but if you listen to the women on the ground, we're not there yet. Can you talk to us about those sessions and your conversations with the Biden campaign about them?
Aimee: She the People's network includes many, many women in the battleground states. The focus for us is in Arizona, Texas, Georgia, Florida, and the three Midwest states that Trump won last time, Michigan, Pennsylvania, and Wisconsin. We gathered local and state elected officials and heads of organizations, people who work on voter registration engagement, and we asked a series of open-ended questions. How much do you see yourself in the campaign? Has the Biden campaign been in touch with you? What are the issues that matter? What would need to happen for you to want to amplify the message? What are your frustrations?
What we heard is that there was a lot of frustration on the ground amongst the women of color who were in the middle of the critical voter turnout. We know in our big lesson from 2016 is that winning in 2020 is about turning out our voters and activating those who are most likely to vote democratic. That's women of color particularly Black women. In the states that I mentioned with very few exceptions, women of color about a quarter of the electorate, the majority of women. It's incredibly crucial that the women of color in these battleground states turnout at higher rates.
Amy: How was the Biden team's response?
Aimee: We had a meeting that there was a lot of openness and listening. I think there is some really smart women who the Biden campaign has brought on. I don't think it's any secret they're playing catch-up, because it's not like Biden's a new candidate. [chuckles] It's just that right now for the general election in this strange year, the women who were on board now both Black, Asian, American, and Latina, who are an indigenous, who are running-- Speaking of folks on the ground, they're open. They're listening.
The issue is that we didn't want to see these red flags and not talk about it. Many people who are in the business of electoral politics understand one of the biggest mistakes that the Hillary Clinton campaign-- When I say the campaign, it's a campaign. It was the priorities pack. It was the major donors. It was the party apparatus. There's a whole ecosystem. One of the biggest mistakes was not to deeply invest in Black voters, which is Black women, early and often, and look at it as turnout. There was way, way too much focus on trying to convince Republicans or moderate white voters with the messaging and all that in order to carry the election.
I still see evidence that we haven't completely learned the lesson from 2016, because who's going to be on the DNC stage. John Kasich, who is a Republican. He's a Never Trumper, but he's also the guy, who in Ohio as governor got rid of the early voting Sundays with what Black organizers would call "Souls to the Polls."
Here's a guy on the DNC stage, who was part of voter suppression in a key swing state that affected the Black community whom the Democrats depend on high turnout. We haven't gotten the lesson fully, but those of us who are on the ground understand what is going to need to happen, and we wanted to make sure to make those relationships and call out where we need to do some investment and fix things fast in order for us to have high turnout.
Amy: Aimee Allison, thank you for taking the time to talk with me. I appreciate it.
Aimee: Thank you so much for having me on.
Amy: Aimee Allison is founder and president of She the People.
[music]
Here's one more thing for me today. Now, I usually avoid getting sucked into the VP speculation frenzy. No one votes for or against a presidential candidate because of his or her running mate, and that's doubly true this year. The race for the White House isn't even so much between Biden and Trump as it is between Trump and not Trump.
Trump's supporters say they're voting for the president because they like him. While about half of Biden voters say opposition to Trump, not support for the former VP, is driving their vote. It doesn't mean that Biden's pick does it matter. Putting a Black woman on the ticket doesn't suddenly turn skeptical younger voters, especially younger voters of color into Biden stance, but it does at least say to these voters that he understands the important role that Black voters and specifically Black women play in the party.
Putting the first woman of color on a major party ticket would also help mute the very unhistoric candidacy of yet another older, white guy. Biden's age also means his VP pick will get more attention than normal from voters. After all, it's not inconceivable that this person will be asked to step in to take over the most stressful job in the world. This isn't the time for outsiders or those who haven't been tested on the national stage.
To me, Senator Kamala Harris fits the bill. It's not to say she isn't without flaws, but she feels like the right candidate for this moment. Biden is in the enviable position of leading this race with less than four months to go. He doesn't need to convince voters that Trump isn't doing a good job; a majority of voters already feel that way. What he does need to do is assure them that he isn't a risky pick. One way to do that is to pick a VP who voters see as capable and experienced enough to take over if he can't continue to do his job. It's really not any more complicated than that.
Thanks so much for listening. This is Politics with Amy Walter on The Takeaway.
Copyright © 2020 New York Public Radio. All rights reserved. Visit our website terms of use at www.wnyc.org for further information.

New York Public Radio transcripts are created on a rush deadline, often by contractors. This text may not be in its final form and may be updated or revised in the future. Accuracy and availability may vary. The authoritative record of New York Public Radio's programming is the audio record.