Politics with Amy Walter: How the Economic Downturn has Hurt Vulnerable Americans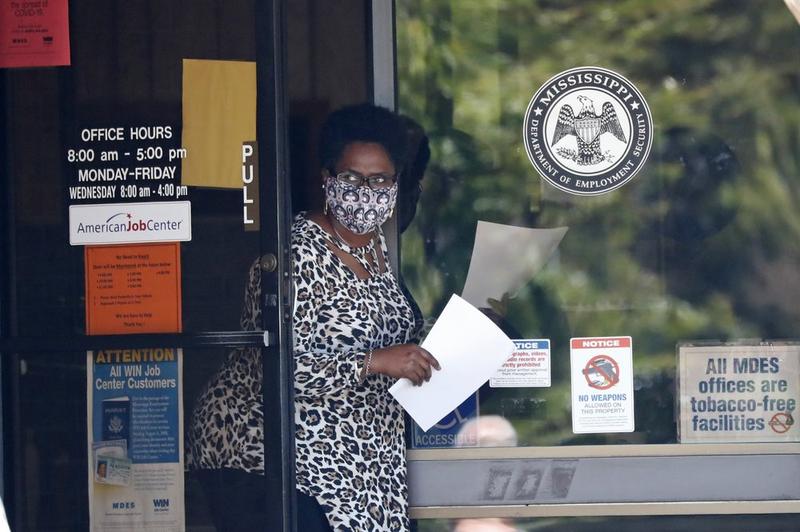 Transcript
Amy Walter: This is Politics with Amy Walter from The Takeaway.
[music]
It's been just about nine months since the economy initially shut down last spring in response to the growing COVID-19 pandemic. The economic devastation was immediate and intense. Hundreds of thousands of people lost their jobs, anxiety consumed the country, we watched helplessly as New York hospitals were overrun with sick patients, and we grieved with those healthcare workers, exhausted and scared, who were unable to save lives.
The shock of that moment and the potential for even greater losses over the next few months prompted an immediate response from Washington. In late March, Congress acted fast to pass a historic Relief Bill, totaling $2.2 trillion. It included one-time cash payments to individuals, increased unemployment benefits, and aid to small businesses with the Paycheck Protection Program. Experts agree that this quick infusion of cash into the paralyzed economy was critical, but that moment of collective action and unity of purpose has since dissolved.
Mask wearing has become the latest symbol of our partisan allegiances, wear one if you support the blue team, refuse to put one on if you support the red one. Meanwhile, bipartisan agreement on another stimulus package remains out of reach, this despite the fact that the pace of job growth has slowed and more and more American households qualify as food insecure, which should come as no surprise that the pandemic has revealed some of the structural inequities that exist and have always existed in our economy. On one hand, we've seen the stock market surge to record-breaking levels. Meanwhile, more than eight million Americans have gone into poverty since. It's also easy to become jaded when we hear a long list of numbers, but those numbers represent people with real lives and stories.
Hyatt: I was thinking of what I can do next. Looking for another job, my kids at home, it's not safe for them to be home and me going out and working. I was behind for rent, for gas, for internet. I literally was worrying how I'm going to feed them.
Warren Haved: We all lost our health insurance. Some of us are going without health insurance and some of us are either paying some subsidized amount or paying, like in my case, I'm paying the full amount every month, which is very difficult to try and balance my budget with.
Felicia Ball: I have reached out for help because I fell on hard times due to this pandemic. I've lost my job, I have no income, and I had nowhere else to turn to.
William Spriggs: My name is William Spriggs. I'm a professor of economics at Howard University and the chief economist to the AFL-CIO.
Amy: I asked Professor Spriggs to walk us through the current economic picture.
William: The industries that were most directly affected by the issues of orders to shut down or that loss business because people didn't feel comfortable in public spaces, they have been slowly recovering. The hardest hit, in terms of number of workers, was the restaurant industry, which is huge. We have to remember that at the beginning of the year, we had as many people working in restaurants as the entire United States manufacturing workforce. They have slowly recovered. They are still way below where they were before.
Retail had been making recoveries since it was another one of those hard-hit areas, but last month, because we normally expect retail businesses, the brick and mortar stores to add workers in the Christmas rush and get ready for Black Friday, a lot of businesses hired earlier in anticipation that they would have to do discounting ahead of Black Friday to keep people involved in shopping, and we didn't see the normal Christmas spike. Actually, the numbers came in, when you adjusted them seasonally, to be a lower number so retail has stopped making progress.
We're still not making progress and hospitality, people who work in hotels. We're still behind on most of the other personal services and transportation. On the other hand, because this wasn't a real economic collapse, and the market collapsed, we've had areas that have grown because people are not buying in stores. We've seen a big spike in transportation and warehousing. Those are the fulfillment centers of Amazon, Walmart, and others, who have successfully or already had a model of online shopping. It's this mixed bag.
Amy: It's pretty clear that the structural inequities that have been part of the US economy for some time now, have always been there, we're just really laid bare in this COVID era and seem to be getting even worse. Where do you see things?
William: I see the turn in the virus in part influenced by a sense that it had racially disparate effects, that Black workers who are dying at far higher rates than other workers somehow or another, I believe, gave us a sense that this was not as critical as everybody thought it would be, and that's part of what, I believe, turned this into a partisan issue as opposed to understanding it as this national crisis since we're about to lose more people from this virus than our casualties during World War II.
I am fearful because, what should have been unifying, this should have been like all the science fiction movies that everybody grew up on where the aliens come to earth and try and kill us and the world comes together and beats the aliens, well, the virus is the alien, and I worry because this has become partisan, and because the pain is not equally felt in all communities, there will be this tendency to accept the pain, the suffering, the loss, and attempt to solve the problem become a partisan issue and make it difficult to pull together, do the right thing on the virus so we can do the right thing on the economy.
Part of doing the right thing on the economy is making sure that we are unified, that we see this as this outside force that has attacked our economy, and that we understand if households can't go to grocery stores, if people aren't paying rent, this affects the whole economy, and supporting people becomes important for the economy. Instead, in this partisan world, it's become the typical, whether people are worthy, and our sliding scale on worthy has become disturbing. It used to be there's the deserving poor. Now, it's the deserving workers. We accept poor workers. We accept that. Now, we're into, "You have to be a deserving worker."
Amy: We have economists now saying, at least, this is a recent survey by Reuters of economists that they surveyed, with the majority of them saying we're going to see the economy reach pre-COVID levels within a year. What do you think about that?
William: They're optimistic. No one else thinks that. OECD doesn't think that. The World Bank doesn't think that. It will be well into 2022 when we can piece everything back together because it's going to be late into the summer before we have enough of the vaccine that people are going to feel confident enough and businesses will feel confident enough to get meetings going so that people are on airplanes, so people feel comfortable going to hotels and going back to Disneyland and Disney World, and going on vacation and sitting inside at restaurants. It's going to be somewhere around early 2022 before everything is back up.
We need patience with the economy as it gets to there. The Fed has signaled they're going to be patient, and we need those with the fiscal strings so that what the Fed is doing doesn't exacerbate inequality because if the Fed is the only one with the oar in the water, the canoe only goes in one direction, which is to increase inequality. We've seen that. Our billionaires have become trillionaires in the face of this because we don't have both oars in the war.
Amy: That works because they're going to be able to buy up a whole bunch of stuff and the stock market will be continuing to do well, meanwhile, a whole bunch of regular Americans continue to suffer.
William: Correct.
Amy: I just want to get you, as we end this here, to think ahead now beyond, let's say we are in 2022, the economy is back to the place where it's been, it seems to me that the challenge that we have and so many Americans have is, the folks who came back from the 2009 recession still hadn't gotten their feet fully planted before this big COVID wave hit them, and now, to come back up from that, what do you see as the next challenge? What is the next big wave out there that could make it difficult for them to ever feel like they're really back?
William: Well, if we don't give the aid to state and local governments that they really need, we won't reinvest. We won't make up for the investment that we have frozen. We know the disparities for kids at home based on their income has been huge and growing, so we have to put enough money back into our schools to help those kids make up ground, but that's not going to happen unless Congress does the right thing.
We know that we're going to end up with a drag on the economy because of state and local governments. We have to remember unemployment insurance is countercyclical. It helps when the economy goes down. As the economy starts to expand, it becomes a drag, especially in this situation because the state unemployment insurance systems are totally bankrupt, and they have to pay back that trust fund. They have to rebuild their trust funds.
We already saw from the Great Recession what North Carolina, Florida, Missouri, and other States did. They made the program less accessible, which is part of the reason we have the difficulty with handling this situation. People will find themselves further behind because the next time they go to get unemployment checks, it's going to be a much worse program. It's not going to be the safety net the economy needs. If we allow people to become homeless, to be evicted, it's no telling when they'll ever get back because we will ruin their credit scores, we would've wiped them out.
When people get evicted, they lose their possessions. They get evicted. They lose so much of their possession. It's not just that they're going to need an extra down payment to get the next apartment. It's not just that they have to figure out how can I get to work if I don't even have a roof over my head, and therefore, it may be harder to reattach them to the labor force, but we're going to have them even losing the little, tiny bit of possessions they had. It's going to be a much rougher road if we don't compensate the losers in this equation, and these were sacrifices we all benefited from. We all benefited from keeping the disease from being worse than what it would have been.
Amy: Professor Spriggs, I really appreciate you taking the time walking us this. Thank you so much.
William: Thank you for having me.
Amy: William Spriggs, professor in the department of economics at Howard University. He also serves as chief economist to the AFL-CIO.
[music]
Since the summer, Congress has been at loggerheads over additional federal economic aid to those impacted by the coronavirus pandemic. In fact, it's hard to remember a time when the two sides haven't been fighting over the contours of a stimulus bill, and that waiting will continue for at least another week as Congress has left for the weekend without a deal. Here to help us understand the sticking points is Heather Long, an economic correspondent at the Washington Post. Hi, Heather, welcome back.
Heather Long: Hi, Amy, good to be back. I wish the news were better.
Amy: I know. I wish it were too. In fact, the one issue I'm going to start with you is the latest jobs numbers, which were also pretty bleak this week.
Heather: That's right. 1.4 million Americans applied for new unemployment benefits. They hadn't filled out an application before last week. That is the highest number since mid-September, and it's going in the wrong direction. We obviously want to see more people getting back to work, and that's a signal to us that the complete opposite is happening. We are still seeing over a million people getting laid off in this country and needing to turn to government aid.
Amy: Why do we think those numbers rose so quickly in this last month?
Heather: A big part of it is the story we all know. We can see it in our own communities as these COVID cases rise and as governors are having to make these tough choices to restrict people going to gyms, restrict people going to restaurants again, a lot of places are takeout only for restaurants again, and you can see it in the small business data, there's been a big cutback in hours in small businesses, and a lot of small businesses have had to close again.
Amy: As I said in the opening, it seems as if Congress has been fighting over these two particular sticking points for months and months, which is Republican saying, "We need to have a liability protection shield for businesses, for schools," and Democrats saying, "We're not going to agree to anything that doesn't have more state and local funding." Why can't, after all this time, they come to some sort of agreement where both of them can feel like they got something, if not, everything they wanted?
Heather: I'm with you, why not? I think the really hard one is this liability shield because the details matter. What it would do is it would prevent workers or customers who get sick at a business place from being able to sue that company for not following the rules, for not taking enough protections around the coronavirus.
You understand that universities, schools, and hospitals, they don't want to close if they're flooded with a bunch of these lawsuits and they feel like they really tried to do the right thing, but at the same time, we don't want it so that if a company didn't do the right thing, didn't give workers masks, didn't try to put those plastic shields up, do the basics, and people are getting sick, it seems unfair to prevent people from being able to sue if they were truly wrong. That's where a lot of this is really boiling down to.
I will say what's interesting is Mitch McConnell, the Senate Republican leader, kept warning that there would be a flood, that there would be a huge number of these lawsuits, and interestingly, there isn't a liability shield right now, and we've only seen a trickle. We've barely seen any filed so far. It's a weird straw man if people are so worried about this flood of lawsuits when we just haven't seen any evidence of it, so far.
Amy: Let's say that they actually do find a way to agree on something by next week, before the end of the Congress, how quickly could people who need this aid, specifically the unemployment insurance, expect to receive it, and potentially, also, we're hearing about another one-time stimulus payment?
Heather: Well, the good news is, it could happen pretty fast. By pretty fast, I mean, probably two to three weeks to start getting some of that extra unemployment money out. They've talked about doing an additional $300. If somebody is already in the system, they are currently receiving money, all that needs to happen is literally plugging in the extra $300 on top of what they would've already received anyway. Stimulus checks, again, we've already done one round of those. They managed to get them out to close to 160 million families. The US treasury now has quite a few people's bank accounts so that should roll out faster if they do decide to go down that route. There's a debate about doing a $600 payment as opposed to $1,200 like last time.
Amy: Then, what about those PPP payments because we're seeing a lot of small businesses are struggling a lot.
Heather: That's a good point. There is $300 billion in the current bipartisan deal for small business, but you're right, that would probably need to have another application process, and that has been slower. That's been slower than anybody would like to see, particularly, if you're-- I think so many businesses, and you've probably had some on your show and talk to some business owners, it's do or die moment right now with the holidays. I think a lot of people are making decisions, "Am I going to stay open after January 1st?"
Amy: You've done such great reporting on the real people behind these stories, and if you could talk to us about the folks who are hurting the most, it seems, are women and especially women at home with small children.
Heather: I agree. I'll just say that, as we reported Monday, 12 million Americans are roughly $5,000 right now behind on rent and utilities. We profiled two moms with kids and I just don't-- They said, "What do I do?" I'm on the phone like, "I don't know."
Amy: You were able to help some of them. People reached out to you and asked how they could help, right?
Heather: I'm happy to say there's a lot of good Americans in this country. Both those women who were profiled in our article, a mom in Michigan and a mom in Nashville, readers poured money in. They were both several thousand dollars behind and readers gave over $20,000 to each woman, and singer, Taylor Swift personally donated 30,000 to each woman.
Amy: In between dropping a new album, she helped out as well. It's good to hear. Heather Long, thank you so much, really appreciate it.
Heather: Thanks, Amy.
Amy: Heather Long is an economics correspondent at the Washington Post.
[music]
COVID-19 cases are surging and the US has recently broken the daily record for coronavirus deaths twice. Since March, we've made it a point to hear from people dealing with the fallout of the pandemic. Just last week, more than 800,000 people filed for state unemployment benefits. About a third of those who are unemployed have been out of work since the beginning of the pandemic. All of this as a number of federal measures put in place earlier this year, like a moratorium on home evictions and expanded unemployment benefits, are set to expire. A one-time stimulus check wasn't enough to bridge the gap for millions of individuals that have lost work since March.
Hyatt: It was from 35 hours to 40, and now, it's announced 10 hours. 10 hours, what are you going to do with 10 hours? It's not going to pay you even one single bill.
Amy: Hyatt is a single mother living near Boston. Before the pandemic, she was working about 40 hours a week in customer service at a community rec center.
Hyatt: The pandemic came and it just crashes down everything, and I couldn't pay my bills, electricity, internet, gas. My worry was, when the winter was coming, I was thinking how I'm going to keep the home warm, myself, and my children.
Amy: The eviction notices she's received keep her up at night.
Hyatt: Nobody will understand the struggle of a single woman with three children and less money coming in and more coming out.
Amy: Hyatt received rent and heating assistance from an organization called Action for Boston Community Development. They've also hired her part-time so she can work from home and near her children, but even with two jobs, she's worried about getting by.
Hyatt: Whenever it comes, it comes to me like unemployment, and whenever the stimulus check, it went back to the landlord. I was paying my rent until August. After that, I couldn't. With one single mom with three children, you will never be able to keep up. $2,000 plus $500 just for the tank oil, how you going to keep up with all that? How you going to keep up with electricity, gas, internet, food?
Amy: She's not alone. More than eight million Americans have gone into poverty since May.
Felicia: My name is Felicia Ball. I live in Harvey, Illinois.
Amy: Felicia had been working as a custodian in a Sam's Club warehouse. Before the pandemic hit, she's used to working three 12-hour shifts a week, from Friday to Sunday. She worked reduced hours for almost nine months and is now five months behind on her rent.
Felicia: When you're used to income from a job being close to $1,000 to reducing it down to $450, then, yes, it's a drastic loss in income. My bills is all caught up before the pandemic, but when the pandemic hit, it was another story. It was hard. I get help from my family members. I receive food stamps. There'll be no problem with us eating. It's pretty much, right now, I'm robbing Peter to pay Paul.
Warren: In my job, I transport people with disabilities who, for one reason or another, cannot ride on a fixed route service. They may be in a wheelchair or they may have a mental issue.
Amy: Before the pandemic, Warren Haved was working as a paratransit operator in Portland, Oregon.
Warren: For those of us that are still out, this has been a very difficult and trying time.
Amy: Warren was laid off in April after almost 17 years on the job.
Warren: When Congress provided the additional $600, that wasn't just play money for a lot of my co-workers and myself, that was extra money that helped put food on the table, pay rent, and pay bills. The FEMA money that we got from the Trump executive order in August helped to, again, supplement that money, but we've now gone months without being able to do that.
Amy: Although he and many of his former colleagues want nothing more than to return to work, Warren's job prospects don't pay enough for him to get by.
Warren: One of the frustrating things that we're encountering right now is that the job market that's out there, in general, pays far less than what we were getting paid. Most of the jobs out there that I could apply for pay less than what I receive on unemployment.
Amy: Thanks to Warren, Felicia, and Hyatt for sharing their stories and their struggles. We know many of you are struggling too. Have you had trouble keeping up with your day to day expenses since March? How are you doing?
John: This is John. I'm calling from Nevada. My wage hasn't gone up in 20 years despite the fact that I have a bachelor degree. The struggling part is an ongoing thing. I'll be happy when they give us some assistance. Most of us are unemployed through no fault of our own.
Zack: This is Zack in Providence, Rhode Island. Almost as soon as lockdowns and initial stay-at-home orders rolled out, the small education nonprofit I was working at here began to struggle financially. Today, I'm still unemployed, and I'm barely hanging on. I'm aggressively pursuing work but to no avail, and I've burned through most of my savings. With approaching deadlines and only a small extension being passed on by Congress to delay my student loan payments, I'm pretty worried right now that I'm only months or maybe even weeks away from hitting the breaking point, financially.
Natasha: Hi, my name is Natasha, and I'm calling from Wichita, Kansas. I'm thankful to have maintained financial stability because my husband's job is secure and it pays well. My work in nonprofit housing, however, has seen housing insecurity just skyrocket. Many of the families that I serve are in danger of losing their homes. My fears aren't really for myself at the moment but I do worry about all my fellow Wichitan.
Alex: My name is Alex, and I'm calling you from Highland Mills in New York. I just wanted to say that as a person who is trying to survive on disability from the government, from Social Security, it has been difficult with this pandemic, physically as well as financially. I'm having to spend money on additional items that I normally wouldn't have to buy, as well as physically, is just harder. Everything is harder. When things are delivered to my home, I have to figure out ways to get it into my house and lots of other challenges as well.
JP: This is JP in La Jolla. We were able to get the loans, but now, we have to pay them back. We were promised at least part of it was going to be subsidized by the government, but it looks like we're going to have to pay it back. Also, we have to pay taxes on it and we can't write off, for example, employee costs against them. We're getting double tax on the money that they've loaned to us, really great.
Amy: Thanks for the calls, folks. We always appreciate you talking with us.
[music]
When President-elect Joe Biden takes office in January, he faces both a public health and economic crisis, and key to his management of these dual crises are the people he's surrounding himself with. Alex Thompson is a national political reporter at POLITICO and co-author of the Transition Playbook. He's been following Biden's nominations closely and says there's a lot we can tell from who he's picked on his economic team.
Alex Thompson: It's a lot of familiar faces is the first thing that I will say. You have Janet Yellen over at Treasury, Barrack Obama's pick to lead the Fed. You have Brian Deese to head the National Economic Council. He also is an Obama veteran. You have Cecilia Rouse who comes from Princeton but also is an Obama and Clinton veteran. You have Jared Bernstein, who's been with Biden forever, who is on the Council of Economic Advisors with Rouse.
Even Obama's former head of the National Economic Council, Jeff Zients, is the so-called COVID czar, but you imagine there's going to be a lot of meetings about the economy and economic recovery. I would say you're going to have a lot of people that have a lot of experience, that we've seen before, but that some critics say didn't exactly do the best job with the last economic recovery.
Amy: What kind of message then do you think he's trying to put forward, Alex? Why should we expect that their experience with one thing should tell us about their experience here?
Alex: Biden's signal is that he is prioritizing experience and people that he considers to be crisis tested over fresh thinking. There aren't a lot of new novel voices coming in here. Probably, the person that is most new would be Heather Boushey. She's going to be on the Council of Economic Advisers. She's a Gen X lefty. She's been very popular in left-wing Elizabeth Warren-esque circles, but she's just one voice on the Council of Economic Advisers. She's not heading it. It's unclear actually how much influence she'll have versus how much she is there as a way of trying to signal to the left, "Hey, we're paying attention to you."
Amy: What kind of reaction have these picks gotten from two groups, one, Republicans on Capitol Hill, obviously many of these folks are going to have to go through Senate confirmation, and then, as you pointed to the progressive left, who, there's been some rumblings that they're feeling as if their voices have really been shut out of the Biden inner circle.
Alex: It's been fascinating to watch the reaction of the left-wing to these picks because it really is symbolic of Biden's entire approach to politics over his career, which is, "We're going to find the exact center of the Democratic Party and plant our flag." Janet Yellen is a perfect example of somebody that is not going to anger the left, but it's not going to satiate them either. It makes it-- There's some grumblings on the left, but it's been hard for them to get really angry over anyone.
Probably, the one they're most angry at is Brian Deese, who, during the Obama years, was arguing for more austerity and some financial deregulation that angered parts of the left. Really, the left has been, I think, in some ways, frustrated there isn't a better target. It's not their ideal administration, but I think they've actually been hardened, but they haven't been completely overruled and that's not the return of Tim Geithner.
Now, your question about Republicans on Capitol Hill, so far, the reaction has actually been about the economic team. The rest of the cabinet's a different story. The economic team has been pretty good with one very notable exception, which is Center for American Progress's head, Neera Tanden, who's been tapped to lead the Office of Management and Budget. Now, in normal days, a think tank president probably wouldn't garner that much opposition, but Neera tweets a lot. She likes to fight a lot on Twitter, and she said some pretty tough things about a lot of the Republicans who she needs to vote for her now. She's tweets so much that John Cornyn, the number two Republican in the Senate, essentially declared her nomination dead on arrival the day it was made.
Amy: Well, Alex, I really appreciate you coming on, having this conversation with me. It's been really, really helpful. We look forward to checking in with you once again as these confirmation hearings actually start to get set up.
Alex: Looking forward to it.
Amy: Alex Thompson is a national political reporter at Politico and co-author of the Transition Playbook.
[music]
If you lived in New York during the last election cycle, you probably know who Nicole Malliotakis is.
Nicole Malliotakis: We have returned the 11th Congressional District to Republican hands.
[applause]
We will bring the Republican and conservative values that we hold so dear in our community to Washington.
Amy: Today, she's Congresswoman-elect from New York's 11th Congressional District, which includes Staten Island and part of South Brooklyn. Malliotakis is joining a record number of Republican women who've been elected to Congress, and her first days in office will likely include a showdown regarding a COVID relief package. In recent weeks, Staten Island has seen the number of infected residents rise and the COVID-19 death rate is now higher on Staten Island than any other borough in New York City. Unlike some of her colleagues who represent solidly red or blue districts, Malliotakis represents a purple one. I started by asking her about the issues that animated the 2020 campaign.
Nicole: Well, certainly, law and order was a top issue in this campaign. Under Democratic Party rule here in the city and the state, crime has skyrocketed due to a number of criminal justice reforms that have been put in place and have led to career criminals being released back onto our streets. People are seeing firsthand how crime has skyrocketed, everything from shootings to murders to burglaries are up significantly. They are very much concerned about that and also a socialist defund the police movement that actually led to a billion dollars being cut from the NYPD budget.
Amy: Let's talk about the other big issue, of course, which is COVID and the pandemic and its impact. Recently, new data has come out showing that Staten Island has one of the highest infection rates and one of the highest death rates, certainly, the highest death rate in the city. Why do you think that is? What do you think should be done to help make sure those numbers go down.
Nicole: Well, the track and trace program that has been in effect has identify that a large majority of the COVID positives are from within the same households, that it is spreading within people's homes. Staten Island is, as I said, not only a very family-oriented community but most people live in houses and they could have multiple generations living in that same home. It's not uncommon for large family sizes to live together under the same roof. That is, I believe, part of the problem. That family living, it's very different than, let's say, living in a studio apartment in Manhattan, just a single person. That, I believe, is part of the problem.
I would suggest and what I do is, when I'm with my parents, I wear my mask. When I'm eating with them, I always sit in a separate room just because they're elderly and they're vulnerable. I take that extra precaution. I think that people, with this new data that's showing that it's spreading in living rooms, that we need to take that into account and be mindful. I think some people come home and they're a little more lax because they're around their loved ones. They may not realize what's happening, or someone who is, let's say, positive in the household, not being properly separated from the rest of the family. If someone's feeling symptomatic, then they need to get a test as soon as possible to rule out whether it's COVID or not, so they could take that extra precaution.
Amy: There's been a high profile case in Staten Island with a pub owner who said that these orange zone restrictions were too onerous, the restrictions telling you that you have to only serve people outdoors, they can't come inside to eat, and you had been supportive of his protesting this. There were folks who actually took things into their own hands and went into the bar and stood around and were packed together. How do you balance this though? This idea that people have to take responsibility, as you said, for not bringing the disease into their own homes, and yet, at the same time, the reason that these orange or whatever zones were created was to try to ensure that people don't get sick in a eating establishment, and then, bring it back to their house.
Nicole: The issue is that the tracing program has not identified restaurants as a source of the problem. It has not identified hair salons or gyms as a source of the problem, yet, in the orange zone, the governor has shut down all three. I certainly think-- Look, I go to restaurants, and I'm cautious. I wear my mask, the tables are socially distanced, and we take responsibility, and we're cautious. That is the way any restaurant that's operating should be operating. I don't agree with people being jammed in a room with no masks, not socially distancing. I think that we need to be responsible. The one way that we can actually, as the public, help these small businesses is by being responsible and following those guidelines when we are in these establishments.
Like Governor Cuomo on Monday said that hair salons and gyms are not where you're seeing a lot of the spread, so why are they being shut down in the orange zones? The second thing is, in terms of the restaurants, the tracers have not been able to identify that indoor dining is a source of the spread. They've been able to provide no data. We made repeated requests, and they've not provided any information on what they're doing to justify this shut down.
Really, in my opinion, this is an arbitrary restriction just based on that, based on the fact that they don't have data to support it. That, I think, is the issue. I think that we need to continue to work together. What I tell my friends, my constituents, we need to abide by those safety guidelines and that is how we're going to help our loved ones, that's how we're going to help our frontline health care workers, that is how we're going to help these small businesses, but I'm very concerned about the governor potentially shutting all indoor dining citywide as early as next week. He's considering it. I think that's very detrimental to our economy. We need more of a balanced approach to addressing this, and what I had mentioned earlier would be my approach.
Amy: Right. You're saying, too, if an establishment puts up a sign that says, "In order to come in here, you need to be wearing a mask," and that's just the bottom line. You're saying that's appropriate. If someone's not wearing a mask, they shouldn't be in there, that ultimately the rules of the establishment should be followed. Do you think that would be enough without the government, whether it's the state or federal, making it a mandate?
Nicole: Not the rules of the establishment, it's the CDC guidelines.
Amy: Right. They would put those up, theoretically, saying, "Look, the CDC tells us, if we do indoor dining, we need to have masks. The only way you can come in here, you got to wear a mask." If people are complaining or saying, "I refuse to do that," what recourse do those restaurant owners have to make sure that their place is safe?
Nicole: I mean, that's just it, they don't allow people in if they're not following the CDC guidelines. Most restaurant owners I know, the restaurants that I've gone to, they've been very responsible. They abide by all the regulations. They've set up social distancing. They've set up outdoor tents. They've, in some cases, maybe kept parties to small numbers. They've made sure that their staff is properly wearing their masks.
They're ensuring that when people get up to a table to go to the bathroom that they're wearing their masks within. I think that most of the restaurants that I've been in, they comply with the CDC recommendations, and they're being responsible because they want their business to stay open. They don't want to be shut down. They don't want to see indoor dining be restricted. They're following those guidelines, but they need government to, at least, work with them.
Amy: As you're watching this stimulus bill plot along as it has for four months here in Washington, it may end up in front of you all when you come in for the new Congress, what to you are the important things that are included in a stimulus bill? If you believe there should be one, I guess, is the first place to start. If it does end up that it is punted to the next Congress, how likely is it that you think there could be a bipartisan solution? How committed are you to making that happen?
Nicole: Well, I'm very committed. I'm hopeful that they will pass it in this Congress because time is of the essence. Unemployment checks are going to be expiring at the end of this month. You're going to have small businesses that are going to just close. Every day is a challenge. The longer it takes for this PPP money to get to communities into small businesses, the harder it's going to be for these guys to hold on. I think that it's really important, that time is of the essence, that they pass a relief package now.
I'm disappointed that Nancy Pelosi really played politics with this and tried to put in all this ideological stuff for months and would refuse, I think, to negotiate in good faith. I think that she had some good offers coming from the White House that incorporate a lot of what they wanted but left out the ideological stuff like putting bail reform in there and a blanket release of convicted felons over a certain age, election law changes, things that had nothing to do with COVID relief. I think that that was really awful to witness this that putting ideological wish list ahead of the immediate need.
On a number of occasions, I think 41 times, the House Republicans attempted to at least get language passed that would release already allocated PPP funds to already approved small businesses. There are a couple in this district that have been waiting for PPP money, but because of this language, simple language to release the money has not been passed, they've been waiting for months because there was that expiration date for distributing the money, and it hasn't been extended, that date. That, to me, is horrible that they would put the small businesses in a situation where they can't receive this money.
I always felt that the House should have put aside the differences and just pass that simple language. If they couldn't agree on the other stuff, at least, pass simple language to do that part since they can agree, I would think, that small businesses should receive this already allocated money as they worked on the other components. Look, I support relief measure. It needs to be tailored, it needs to be specific to the needs of Americans and struggling small businesses, and it needs to pass swiftly. It shouldn't include anything that's non-COVID-related.
Amy: One of the big hang-ups, obviously we've been hearing about, especially in the Republican senate side, is money going to states and localities. New York, obviously, very hard hit by the pandemic, especially earlier in the spring, do you think that it is important to ensure that there is money in there for those communities that have already blown through their budgets and are looking at huge gaps?
Nicole: Look, of course, I want my city and state to receive more federal funding. I also want to ensure that it's being spent properly. I think that there needs to be certain commitments, certain restrictions in place to ensure that that money is going to be used appropriately, and to deal with the pandemic. That's my position on it. I know even our MTA is struggling tremendously, which is our transit system here in New York, is suffering significantly due to lack of ridership because the economy has been shut down. They need assistance. I support some assistance going to them. Again, it has to be used appropriately, and perhaps, with restrictions in place.
One of the things that I've suggested is, right now, there's no grant program from the state. Some states like California, New Jersey, have offered some grant programs to small businesses that have been mandated to shut down. Here, in New York, where we have these orange zones and red zones and Governor Cuomo continues to shut them down, there should be relief. These are small businesses that pay taxes for so many years. They deserve to get some of that money back if they're being shut down by government mandates. I believe that a portion of this money should be used toward providing some type of relief for those struggling small businesses that are being shut down no fault of their own.
Amy: Next week, the Electoral College is going to certify the results. What are your expectations? Do you think by next week, the president should concede, especially we are likely to get to a place where there are no more lawsuits that are pending?
Nicole: I don't know. I mean, every day, it seems that there's more witnesses, more evidence, there's affidavits. I think it needs to be heard. My concern is that there were so many-
Amy: In the Supreme Court, do you think, or you're saying-
Nicole: Well, number one, the states are having hearings that should play out, but I do believe that, if granted a court date, that they should be able to-- It depends on which state we're talking about. Again, I'm in New York. I don't know exactly what's happening in terms of the hearing processes in these states. I do believe that any questions of irregularities and fraud need to be thoroughly investigated. There's nothing wrong with that, ensuring that. In fact, our republic deserves to have that done, flushing out any concerns of irregularities or fraud.
Remember, this election year is very different because a lot of rules, a lot of laws changed to accommodate more absentee ballots. We have to make sure that people, who are submitting these absentee ballots, are submitting them legally. I can tell you in my district, we found a number of dead voters that voted via absentee ballot, and same thing has happened in other races in New York. I'm not as familiar with what's happening in these particular states, but I do believe that needs to be flushed out and heard.
Amy: You don't think all of the other cases and all of the other, again, secretaries of state, state legislatures, others who've said, "We've done recounts. We've canvassed. We've gone through these affidavits. There's nothing there." I guess my question is, when does it end? How are you going to feel like it has been resolved?
Nicole: Well, I think what's going to happen on Monday with the Electoral College will be a significant step, and we'll have to see how that all plays out. We'll have to see if the president, if his legal team, feel that they have enough to move forward in challenging, but the Electoral College, once the votes are cast, probably would determine the future. Again, I think that we have to see what plays out between now and next week and that's-- I think will be very-- I think it'll answer itself.
Amy: Nicole Malliotakis is the congresswoman-elect from New York's 11th District. This conversation is part of an ongoing series where we speak to new members of Congress ahead of their first days in office at politicswithamywalter.org/freshmen. Special thanks to the WNYC local politics team for their help.
[music]
That's all for us today. Our senior producer is Amber Hall. Patricia Yacob is our associate producer, and we had help this week from Ethan Oberman and Jackie Martin. Polly Irungu is our digital editor. David Gebel is our executive assistant. Jay Cowit is our director and sound designer. Debbie Daughtry is our board op. Vince Fairchild is our board op and engineer. Our executive producer is Lee Hill. Special thanks to the Action for Boston Community Development, the Illinois Association of Community Action Agencies, and the Amalgamated Transit Union for putting us in touch with some of the voices you heard on the show. Thanks so much for listening. It's Politics with Amy Walter on The Takeaway.
[music]
[00:51:28] [END OF AUDIO]
Copyright © 2020 New York Public Radio. All rights reserved. Visit our website terms of use at www.wnyc.org for further information.
New York Public Radio transcripts are created on a rush deadline, often by contractors. This text may not be in its final form and may be updated or revised in the future. Accuracy and availability may vary. The authoritative record of New York Public Radio's programming is the audio record.