Politics with Amy Walter: Democrats Gain Edge in Quest to Overtake the Senate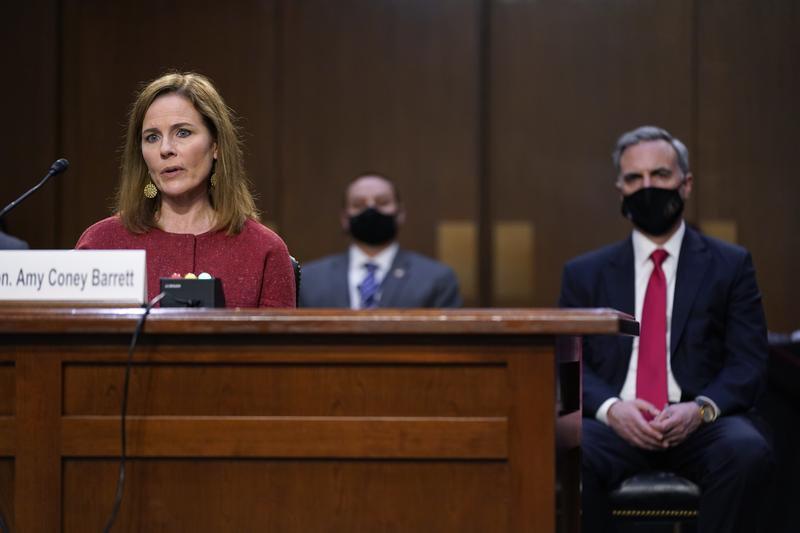 Transcript
[music]
Announcer: Listener-supported WNYC Studios.
[music]
Amy Walter: It's Politics with Amy Walter on The Takeaway, good to have you with us. After the death of Supreme Court Justice Ruth Bader Ginsburg on September 18th and the nomination of Amy Coney Barrett just a week later, there's been a lot of speculation about the political implications of a Supreme Court fight just days before the election. Democrats have seen a boon in fundraising with Jamie Harrison, the Democrat running against Republican judiciary chair, Lindsey Graham, pulling in millions in the days after Ginsburg's death.
Graham himself as well as several vulnerable Republican senators are hoping that the confirmation of a conservative to the court will help boost GOP enthusiasm and turnout in their states. This week, several of them, including Graham, Thom Tillis, John Cornyn, and Joni Ernst were in the spotlight during the hearings.
Lindsey Graham: There is no way you will ever convince me that Amy Coney Barrett is not qualified using any reasonable standard of qualification.
Thom Tillis: Thank you, Judge Barrett, and thank you for your family for enduring all the challenges that you have.
Joni Ernst: At the end of the day, that's my test for a Supreme Court justice. Will you defend the constitution?
John Cornyn: You stand accused of intending to violate your oath before you even take it. Further, our Democratic colleagues want you to guarantee a result in a case as a quid pro quo for your confirmation.
Lindsey Graham: We're going to vote on the judge on October 22nd.
Amy: As they wrapped up on Thursday, it was clear that Barrett had made it through the process unscathed. A vote is expected on October 22nd in the Judiciary Committee and by the full Senate at the end of the month. Progressive Democrats' ire, however, wasn't just aimed at Barrett. Liberals are calling for Democratic Senator Dianne Feinstein, the ranking member of the judiciary to be removed from the committee for this exchange she had with Graham at the conclusion of Thursday's hearing.
Senator Dianne Feinstein: Mr. Chairman, I just want to thank you. This has been one of the best set of hearings that I've participated. I want to thank you for your fairness and the opportunity of going back and forth.
[music]
Amy: Here to help us break all of this down is Sahil Kapur, national political reporter for NBC News, and Jessica Taylor, my colleague at The Cook Political Report, the editor who covers Senate and governors' races. Jessica, Sahil, welcome.
Sahil Kapur: Thanks Amy.
Jessica Taylor: Thank you.
Amy: Sahil, I'm going to start with you. The hearings went on for many, many hours, many of us were not able to stay glued to them as you were. Can you give us the TLDR version of events? Did we learn anything about Amy Coney Barrett that we hadn't heard before these hearings?
Sahil: We actually learned shockingly little about her, Amy. The reason is she did her best to avoid answering questions. Her attitude seemed to be, "I have the votes to get confirmed. I don't want to rock the boat, I'm just going to dodge as much as possible." Now, a lot of these dodges are normal. To reimport nominees always get up there. For decades, they've been getting up there and saying, "I'm not going to give any hints or forecasts or previews," which is, of course, the Ruth Bader Ginsburg standard on cases and legal questions that could come before me.
She went a step further and refused to answer even basic straightforward questions of law such as, "Does a president unilaterally have the power to delay an election?" The answer is, obviously, no. She didn't say that. "Does the president have the authority to deny a person the right to vote on the basis of their race?" She didn't say the answer is no. She made an attempt to not rock the boat, to avoid triggering the president and getting on his Twitter feed the way people do when they contradict him. That seemed to be a big part of her goal. She did, however, come across as extremely intelligent and well versed in questions of law when she was asked about her judicial philosophy about originalism and textualism and that pleased the Republicans and every indication is that she's in good shape to be confirmed.
Amy: Jessica, there were a lot of theories before these hearings began about the impact of the Supreme Court fight just days, weeks before the election. I'm wondering if you think it has had any impact on these races for the senate, especially since so many vulnerable Republican senators happen to sit on the Judiciary Committee.
Jessica: We know right after Ginsburg's death when I was talking with Republicans, I think they overall saw this as a way to change the conversation away from President Trump, away from COVID to remind voters, "Okay, you may not like the president but you like his judiciary nominees." To bring back some of those wavering independence, maybe even some traditional Republican voters that have since flipped on Trump.
I think that all evaporated after the first debate and then the president's COVID diagnosis because that brought COVID right back to the center and ultimately Republicans I've talked to this week they see it as a wash, they don't really see it as moving their voters or really moving these numbers because really after that week of the debate and the president going to the hospital then, they saw an average, I think. The poll numbers of Republicans drop about three to four points. I have never heard some Republican pollsters and strategists that I've talked to just sound so resigned almost to what they feel like their fate is going to be.
What it did do though is really energize Democrats. We saw that through fundraising. The third fundraising quarter numbers were due last night and I just finished adding up the numbers. In our most competitive races that we have rated at The Cook Political Report, races that we rate as toss-up or in our lean column. There are 14 of those total with 12 of those being Republican-held seats, just two Democratic-held seats. Democrats raised in a total of those races $328 million, Republicans just raised $134 million. Democrats were outraised those candidates by over $194 million.
Amy: I know that's remarkable. Again, challengers are not supposed to outraise incumbents who have all of the benefits of being a member of Congress, that's supposed to help you raise money but in this moment, that has not been particularly successful. Sahil, I want to go to something that did happen though in this hearing. It seems like Democrats are laying a marker down about what the impact of this is going to be, this hearing and the decision by Republicans to bring up this vote so close to an election. What that could mean for the future of relations in the Senate between Democrats and Republicans, especially if Democrats take control of the Senate. I want you to listen to something that Senator Sheldon Whitehouse, Democrat from Rhode Island, said the other day.
Senator Sheldon Whitehouse: Don't think that when you have established the rule of "because we can," that should the shoe be on the other foot, you will have any credibility to come to us and say, "Yes, I know you can do that but you shouldn't because of X, Y or Z." Your credibility to make that argument at any time in the future will die.
Amy: That's pretty ominous there, [chuckles] Sahil. You wrote that it foreshadows what could be a major fight among Democrats about whether and how to retaliate if they regain power. What options do Democrats have and what do you think that they're planning?
Sahil: That was Sheldon Whitehouse, the senator from Rhode Island, putting Republicans on notice that if Democrats do gain power and take some drastic action, don't expect them to listen to Republican arguments saying, "Please don't do this. It would erode norms and institutions," because the Democrats here are saying that Republicans are taking a highly unprecedented and extremely, politically dangerous step and that it could force Democrats' hand to retaliate.
Now, in terms of what they're going to do, the honest answer is and I spoke to dozens of Democratic senators and aides about this in recent weeks, nobody really knows. The honest answer is they're waiting to see. It will depend on what happens in the election. If they win a resounding mandate or they win a resounding election and feel like they have a mandate to do something unusual and drastic, they will consider it.
It could depend on what this new six to three conservative court does. Does it overturn the Affordable Care Act? Does it cripple abortion rights? That's the thing that could force Democrats' hand. In terms of what specifically they would do, what progressive activists want Democrats to do is to add seats to the Supreme Court, as many as four seats to make up for what, in their mind, is a theft on the part of Republicans from seats such as the Merrick Garland seat that President Obama didn't get to fill, went to Neil Gorsuch and now Amy Corney Barrett violating their standard in the view of Democrats in doing so, even closer to an election filling a seat.
That's what progressive activists want to do. Joe Biden yesterday in the town hall with ABC suggested he's open to changing the rules around life tenure in ways that some constitutional scholars have suggested would comply with the text of the Constitution. It's a little complicated. The bottom line is there are a lot of options. There's no certainty, and Democrats are not united at this moment, they're on any course of action. It will depend on what happens in the next few weeks or months.
Amy: Sahil, at the ABC Town Hall on Thursday night, Biden was pressed on issues involving the Supreme Court and he said he would give an answer to his opinion about changing the makeup of the court once the vote on Amy Corney Barrett had happened. What did you make of this?
Sahil: It was a clunky answer, but I listened to it a few times. He did say that it depends on how things go in the Senate. Is there enough time for debate? How quickly do Republican senators push this through? What is the impact of them in terms of whether they listen to certain Democratic arguments or not, whether they just steamroll the opposition, that sort of thing?
I think he was saying it depends on the process in the Senate and it also depends on the final vote, which could mean that if it's a straight-down-the-line party-line vote, and completely partisan, which Supreme Court nominees pretty much never get, then that could impact him as well, but really what I heard there was Biden trying to avoid trying to defer and to demur and to say, "I don't want to take a position on this now, and wait to see where the chips fall."
Amy: Jessica, that is a good transition to the question about, well, are Democrats going to be successful? Will they have a chance to retaliate? This week, you wrote that Democrats are favored to win back control of the Senate in November. Help us understand what's going on there and what changed over these last few weeks here to give Democrats this advantage.
Jessica: Really, just the bottom dropped out in this polling and what we have seen is voters see these Republican incumbents as the enablers of Trump. There are some last-minute efforts by some of these vulnerable Republicans to either criticize Trump, for instance, this week, Texas Senator John Cornyn said that Trump's response to COVID has been lacking, and then position themselves as a check and balance in a way of a potential Biden administration, which is what Senator Thom Tillis of North Carolina said.
Even in that race, that has been rocked by a sexting scandal with Democrat Cal Cunningham. Even after that has been all over, he is still leading. Despite that, these are things that used to sink candidates. Again, when the president's numbers really fell, which we know, we've seen national polls that have now been in the teens, 10 points, a little bit of a rebound this past week, but still very bad numbers for an incumbent president that would portend re-election. Similarly, just Republican senators then felt that down-ballot. I think that Trump is on a course to lose re-election, and there's a very likely chance that he is going to take some of these Republican senators down with him.
Amy: Jessica, I'm curious to this warning that Senator Whitehouse gave to Republicans. What is the response been from Democrats, especially new challenger candidates, many of them are first-time candidates about these questions, about changing the rules in the Senate, the filibuster rule or packing the court things like this, are they taking positions on these issues? Are they trying to stay away from that as long as they can?
Jessica: Most of them when pressed on, they've either said, "I'm not really interested in that," or some have tried to avoid-- sidestep the question. Yes, we are seeing Republicans try to make this an issue and even candidates that, of course, say that they wouldn't do this. I think the message Republicans are trying to send is that they're controlled by the National Party, and Chuck Schumer wants to do this. They're going to bend to the Alexandria Ocasio-Cortez wing of the party. We see that being intoned in ads. Hillary Clinton is still being invoked in a lot of ads.
Interestingly, you don't see Joe Biden invoked and a lot of these ads. I think it is. They're trying to show this scary or progressive wing of the party, which might have worked as a selling point if Bernie Sanders were the nominee, but it's Joe Biden. While Biden himself we've seen and again in that town hall that you mentioned, he fumbled that answer and wasn't really clear. It's not something Democrats want to be talking about certainly. I'm not sure that it really moves a lot of votes, ultimately, because I think this election is about Trump. It is about health care, which is the key issue that won Democrats back the House in 2018. I think, once again, it is on pace to win them back the Senate.
Amy: Sahil, I want to get to that question too, given what happened, and the backlash to Senator Feinstein for her literal and figurative embrace of Lindsey Graham. Does this suggest that for those new senators who are coming in, no matter what they said on the campaign trail, or tried to dodge the question on the campaign trail, they're going to be facing a lot of pressure from progressives to make serious changes to the Senate rules once they get there?
Sahil: That's absolutely right. That Feinstein moment with Lindsey Graham also underscored the extent to which there exists. A lot of older institutionalists and/or moderate Democratic senators who are resistant to making these big changes. Democrats are fundamentally not an ideological party driven toward a specific ideological goal and willing to do drastic things to get there. There are a lot of members who like to stay in the middle of the road and Dianne Feinstein is an avatar of that.
Yes, you're going to have that resistance from those long-serving Democrats to making these big changes. As she is learning, they and everyone else are going to be facing serious pressure from the activist progressive wing to be more aggressive and to do something to not let Republicans get away with what, in their view, again, is a theft of Supreme Court seats.
Amy: What is this back and forth with Dianne Feinstein going to result in? I know progressives are calling for her to be removed as the ranking member on that committee. Does that go anywhere? Does it matter at this point?
Sahil: It's hard to know exactly. It's not the first time Feinstein has faced pressure from the left. In previous instances, she has overcome it. A Democratic culture on Capitol Hill revolves heavily around seniority. It would be an unusual thing for her to be stripped of her role. I do see something a little different in the nature of this pushback that she's getting. I think it's more aggressive than anything I've seen before. It would be essentially up to Democratic leadership to say, "We no longer want you to lead this committee." Maybe she goes to another committee. Maybe she steps down from a leadership role and serves out the rest of her term. She is still a senator until 2025. She's not up for re-election anytime soon.
There are a number of ways this could go, but I think the overwhelming consensus among progressives at this point that she should not be the Democrats leader on the Judiciary Committee, which is going to be overseeing. If Democrats win, Democrats response to the courts; nominating judges, deciding whether to do something significant and restructure the Supreme Court and they simply don't see Dianne Feinstein as in touch with or anywhere close to in touch with where they want to go on this question.
Amy: Sahil Kapur, Jessica Taylor, I want to thank you both for talking with us about this. Really appreciate it.
Sahil: Thanks, Amy.
Jessica: Thank you.
Amy: Jessica Taylor is the Senate and Governors editor at The Cook Political Report. Sahil Kapur is a national political reporter for NBC News.
[music]
As we know, early voting is underway in a number of states across the country. We've been hearing from many of you about your voting experiences.
Speaker 3: Hi, I'm in Berkeley Heights, New Jersey. I dropped my ballot in a local dropbox, then checked online a few days later, and it says that my ballot arrived. It was so easy. I just wish that they're allowed to start counting now. Besides that, I couldn't be happier with the process.
Steve: Hi, this is Steve from Morrisville, Pennsylvania. I am still waiting for my long overdue ballot for the 2020 Presidential Election so I can vote by mail. During the primary in June, my mail-in ballot finally arrived about three days before the Election Day. Excuse me if I do not have full confidence in the voting process in Pennsylvania or for the 2020 Presidential Election in general. Thank you.
Barbara: Hi, this is Barbara calling in from outside of Portland, Oregon. I have never spent so much time checking the website for information on when my ballot will be mailed to me. We have vote-by-mail in Oregon. I understand that my ballot's been mailed and watching my post office box for it, and the minute it gets here, I'm going to be voting my choices and turning that sucker around and setting it into a local collection box.
Cindy: Hi, my name is Cindy. I'm calling from San Diego. I will not be mailing my ballot in this year, I'm going to be going to the polls because I'm not quite sure my signature that I have on my driver's license is going to match. In all these years of signing credit cards and [unintelligible 00:20:27], I'm worried that my signature is just turned into a big squiggle that I can't really match and I'm worried that the registrar voters might not accept my ballot. I will be going to the polls and just voting in person, which is nearby and I feel safe.
Amy: We always love hearing from you. The number to call 877-8-MY-TAKE. That's 877-869-8253.
[music]
Jill Biden: For the first time in a long time, winning Texas is possible.
[applause]
Jill Biden: Not only for Joe, but for the Senate and the statehouse as well, and if we win here in Texas, we are unstoppable.
[applause]
Amy: That was Jill Biden, wife of Joe Biden, campaigning in Texas on Tuesday, as early voting began across the state. Now for years, Democrats have been predicting that they can turn this red state blue, but the last time a Democratic presidential candidate actually won Texas was all the way back in 1976. Of course, we know Texas is changing; a diverse electorate, more than a third of those who voted in 2016 were Black or Latino combined with a backlash to Trump and traditionally Republican suburbs has given Democrats serious political traction.
The latest poll show President Trump leading Joe Biden in the state, but by only a narrow two-point margin. There's also a Senate race in the state this year. Back in 2018, another Texas Senate race was the center of the political universe. Back then, Democratic rep Beto O'Rourke raised millions of dollars and gained national attention for his race against Senator Ted Cruz, but work came up short, but his impressive showing gave him enough momentum and fame to mount a presidential run. Of course, the presidential run, that was pretty short-lived.
Two years later, another Republican senator is up for re-election, but this race hasn't gotten the same level of national attention as the O'Rourke-Cruz race did back in 2018. This week, I spoke to the Democratic Senate candidate and Air Force veteran, MJ Hegar, about her race against three-term incumbent Senator John Cornyn. Her campaign brought in $13.5 million in the third-quarter fundraising and she's been outspending Cornyn and TV ads over the past few weeks, but even though the race is tightening, Cornyn is still ahead by an average of seven percentage points. I first asked her what it's like to run a campaign during a pandemic.
Mary Jennings Hegar: We try to stay responsible, keep our staff and our supporters safe, but I also need to be out there. I need to be meeting with people, not in rally kind of format, but driving down to the Rio Grande Valley, the RGV as we call it here in Texas, just all over the state. Going to Houston, meeting with small business owners. It's really more one-on-one stuff, but that's where I build my policy platform, but I got to tell you the thing that COVID has done, I think, to campaigning is make a lot of the issues that were on people's mind and that we were running on already. All that more potent. We had a health care crisis--
Amy: If so, how so?
Hegar: We had a health care crisis in Texas before the pandemic. We had nearly one out of five of us without access to insurance, without coverage, and having that many people without coverage, obviously, number one is not a good public health situation but it also makes health care costs skyrocket and be ineffective or inefficient and it closes doors of rural hospitals and things like that. I worked in health care for five years and I saw the high number of people who were unable to pay, what that does to the business model, but in the middle of a pandemic, people are losing their jobs. We have these employer-provided health care models, and now nearly one out of three of us doesn't have health insurance. When people have to go get a COVID test, they have to save up the money for the test. It's a big part of why Texas has not been able to get this pandemic under control.
Amy: Right, and it is true that Texas, it seems like there are these waves. It looks like it's under control and now I see Dallas it's spiking back up again.
Hegar: Yes. I don't know if we ever would consider under control, to be frank, but yes. I think most public health experts have expected it to get worse as we get into cold and flu season. [clears throat] Excuse me, as we force open businesses and classrooms especially when people don't have the ability to go and see their doctor, then yes, we are going to struggle with this for a while. There's a lot of talk about the economic impact and I think the best thing we can do for the economy is get the public health aspect under control.
Amy: A lot of folks are looking to Congress right now, as a matter of fact, and the fact that there is a piece of legislation sitting up there on Capitol Hill and neither side seems to be able to push this thing over the finish line. Are you frustrated right now by the fact that there is no bill? If so, what would you be willing to vote for? There are a lot of Republicans who say, "You know what? If Democrats over on the House side just give us something within the $1.8 trillion range, we'll vote for it and the president will sign it." Do you think that's what we should be seeing?
Hegar: I think that the Democrats in the House have come down quite a bit and negotiated quite a bit, and they're not getting to see that, and I'm not one to just point fingers in a partisan way and just always defend Democrats and blame Republicans, but I really do think in this case, the Democrats have done a lot of negotiating and coming down from what we believe we need to do to get our country back. I don't see that from the other side as much, but I've been paying a lot more attention to what's going on in the Senate because I'm running for a Senate seat. It's really frustrating for me to hear my senator, John Cornyn, who I'm running against saying things like, "I don't see a sense of urgency at all. I don't feel a sense of urgency to get out another relief package. Let's just wait and see." It shows such a disconnect from regular working people.
They say things like, "Let's wait till after the election to negotiate another package." The election is November 3rd and rent due is on the first. [chuckles] You know what I mean? I think we need to elect more people who have beared that November 1st or first of the month in any month, who have worried about how they're going to pay their bills, have been laid off from a job like I have, have worked minimum wage like I have. I lost a parent to a workplace accident. I have these life experiences that many people in DC who have lived largely a protected life for so long are so disconnected from that they don't understand how that sounds to us when you say things flippantly like, "Oh, we'll just wait till after the election."
Amy: It does sound like at least on its face where the majority leader Mitch McConnell's coming from though is maybe there's something that's more targeted. You're not going to get everything that you want, but we'll give a certain amount of aid out before the election. Is that something that you could support? In other words, not getting everything again, like what we're hearing from on the House side, the price tag, even if it is a pared-down version of an aid package?
Hegar: I'm for that. I do get frustrated when I see something really important that we need to do get tanked because of the things that are attached to it that people can't vote for. That's my argument against the Green New Deal. I think that aggressive action on climate change is so important that we can't let it get politicized with additional things. When I look at aid packages, I would support a piecemeal approach. What I worry is our opponents tend to politicize things and tend to spread misinformation and tend to support their wealthy corporate special interests over regular working people. I do think that part of negotiating is, "Hey, if you want to be able to run on this--" We've heard John Cornyn say things like, "I wish the president would support a clean Dream Act because it would give me political cover." I understand how they think.
I don't think that that's the way elected officials should think about what gives them CYA, but if they want to run on something or if they want CYA or if they want to deliver for their special interests, then sometimes you have to attach to the things that are going to be there to work for regular people as well. That's part of compromise and negotiation, but I would support a piecemeal approach since it doesn't seem like anything else is getting through. The Senate hasn't done anything on COVID relief in six months. Whatever can get our government up and functioning again, let's do it.
Amy: They're calling it the "skinny" package right now that may be brought up for a vote. Let's talk about Texas Writ Large and Democrat. Obviously, you're running statewide as a Democratic candidate, and this is one of those states for Democrats that every year Democrats say, "This is the year returning Texas blue." 2018 Senate race really close, but just a little bit short. Why is this the year that Texas turns blue?
Hegar: I think every day we get closer and since we got so close last cycle and Ted Cruz, he's so strong in Texas. A lot of people don't-- they like to make fun of him and they like to act like he's the most hated senator, but he has a pretty high approval rating compared to the rest in Texas whereas John Cornyn has such a low name ID and approval rating is really under the radar. He's much more vulnerable than Ted Cruz in my opinion and that's what the data shows us but it's not just my race.
We are really running a strong, coordinated campaign that is ground up. We're very focused on flipping our statehouse, a lot of problems come out of our Republican-controlled statehouse. Things like not expanding Medicaid and a lot of voter suppression. I've been trying to run this very ground up. I keep telling people when I'm out talking to them that the lower down the ballot the race is, the more impact it has on your life.
Trying to help lift up those down-ballot candidates and get people more information on them. I'm so confident this cycle because of a couple of things, but we are setting registration and turnout records left and right. I think we registered 300,000 people in the two weeks leading up to the election. I think we've had over a million votes so far, but I could be wrong about that. I have to double-check the numbers, but we are setting just absolute records despite all of the efforts from Governor Abbott to suppress our votes.
There are people waiting in line wrapped around the building. The thing that is touching to me is how many stories I'm hearing from people saying not only do we have lines wrapped around the building, which sucks that people have to wait in long lines in the middle of a pandemic, but it's definitely invigorating to hear how many people are insisting that their voices be heard, but it's in places that people are reporting they'd never seen a line, let alone a line wrapping around the building. It's in areas that we've been 49th or 50th in voter turnout for so long and then we set some records last cycle and I knew we were just going to blow those records out of the water now and Texans are just really tired of their elected officials not sounding like them, not representing the values that they hold.
Amy: Obviously, 2018 Texas seemed to be the center of the universe and as you said, Ted Cruz, very high profile senator, Beto O'Rourke became a national figure, broke all records for Senate fundraising. Your race has not gotten that level of attention that we've seen in 2018 and then there are many other Democratic candidates that are getting millions and millions of dollars, whether it's South Carolina, North Carolina, others. Why do you think that is? What happened after 2018? Do people see how close Beto came and say, "Okay, but if he can't win, then maybe we can't win at all in this state."
Hegar: Oh, not at all. No, I think that in a presidential there's a lot more that people are focusing on obviously and frankly I'm perfectly fine with that. [chuckles] We are a grassroots organization and we raised $13.5 million just last quarter alone. We're setting fundraising records on our own and I'm pretty introverted and I'm a servant leader. Like I said, I'm running this ground up and focusing on down-ballot candidates and I think that those down-ballot, people coming out to support those great down-ballot candidates, I feel pretty strong that they'll vote for me while they're there too and for Joe Biden. I do think that it's the right approach as opposed to a top-down thing.
In the military, I was a rescue helicopter pilot and our mission was these things we do that others may live, and then that's just how I run my life. We never set out to-- we're not doing rock concerts. We're not doing a lot of national media. We've turned down appearances on some national TV shows. I'm really just focused on Texas and I'm focused on the things that are hurting my fellow Texans, the broken immigration system, the health care system obviously, wanting to make sure that we have an economy recover for regular working people in the middle class instead of just the wealthy CEOs, that's really been my focus.
Amy: Do you think the nationalized attention ended up hurting the Beto O'Rourke campaign in the end? It became a proxy.
Hegar: I think I do. I think a little bit. I think that I wouldn't be where I am if he hadn't shown us what was possible and really engaged as an enormous grassroots movement in the state that I've been able to build on. At the same time, I feel like there was an energized response from the right to that, and a lot of people on the right look at me and say, "You're a combat veteran, you are fighting for regular people," and I'm not touching on that passion to stop me as much, if that makes sense, because they look at John Cornyn and they don't see their values reflected in him and they see him say the things that they want to hear and then go to the Senate and not vote for those things.
We're having a higher information voter. We just had a debate that I think went very well for us on Friday where it was pretty easy to clearly show Texans how John Cornyn is not fighting for them and I think that people they've just had enough. For a third of our state, I think it's less about Republican and Democrat. It's really more about who's DC and who's Texas. Ted Cruz was able to make a name for himself early on as a Texan and somebody who stood up against the Republican establishment and if there's anything John Cornyn has never done in his life, it's stand up against the establishment. [chuckles]
Amy: That's the difference. One last thing here about you raised that you had a primary and then you had a runoff and recently your former Democratic primary opponent, the state Senator Royce West was quoted as saying that he's not voting for you because she's had a problem all along with Black folks was his quote. What's going on there?
Hegar: You should read the statement that he put out right after it. I think he was upset. This is what I'm talking about when I talk about servant leadership that politics has just become about the person and I don't think this race is about me and I don't think the race is about Royce. I don't even really think the race is about John Cornyn. It's about that person who is splitting pills because they can't afford their prescriptions.
It's about workers that are getting told you'd better go to work or else you're going to get fired, but we're not going to protect you while you're there. We're not going to give you PPE. We're not going to help you socially distance. We expect you to keep those grocery store shelves stocked or work in that meatpacking plant, but we're not going to help you do that and if you should fall, there's somebody behind you to take your place.
This idea that people are somehow disposable. It's the kids that are in cages and the people who can't see their loved ones because they're separated from them because of COVID when they die. Those are the people that I think we should be focused on. Frankly, when I'm out on the campaign trail, I only get this question from inside the political echo chamber. The voters know that this is about the issues and about fighting for Texas and they know that I can do that better for them than John Cornyn.
Amy: What you're saying is that the state senator, this is about an inside-outside fight between the two of you in terms of your views on the political establishment versus really the issues of and concerns for Black voters.
Hegar: Oh, of course. He's a 26-year state senator and I definitely don't please the establishment. [chuckles] I'm a non-conventional candidate. I'm a bit of a political outsider but I am so proud of all of the work that we've been doing in the Black and brown communities across the state because I got to tell you, Black Texans have been sold out, taken for granted, left behind for so long that going into these vibrant communities and working with faith leaders and working with-- I was endorsed by the Congressional Black Caucus and working with the Texas Coalition of Black Democrats and working with amazing servant leaders like Sylvester Turner, Sheila Jackson Lee, [unintelligible 00:39:11] Johnson.
There's just an enormous sense in the Black community that I get, that they just don't want a snake oil salesman. They just want someone who knows that we cannot win without Black Texas votes and that we shouldn't lead without the input of Black Texans because frankly, I don't think that my job is to go to DC and speak for everyone and come up with solutions to everything. I think my job is to go into communities, gather stories and voices, ask questions about solutions, and bring those voices with me to DC.
Amy: MJ Hegar. Thank you so much for taking the time to speak with me. Please be safe out there on the campaign trail.
Hegar: Thank you so much. Take care.
Amy: You too, bye-bye. We also reached out to MJ Hegar's opponent, Republican Senator John Cornyn, but he declined our invitation to join us for the segment.
[advertisement]
Amy: We're back talking about the political landscape in Texas this year. By the way, there is no basement in the Alamo, everyone. It is the largest red state in the country and it's in play for the first time in decades. We just heard from democratic Senate candidate, MJ Hegar. I also spoke to Abby Livingston, D.C. Bureau Chief at the Texas Tribune. Tuesday was the first day of early voting in Texas. I asked Abby what we're seeing in terms of turnout so far.
Abby Livingston: We are seeing huge jumps when you compare a day-to-day, first day of voting, early voting two years, four years ago versus now, much more dramatically larger than 2016 but the reason I'm cautious is, Republicans will say, "What if these are just election day voters who are coming in because they're so excited and they were going to vote anyway?"
My instinct is, this is probably more people turning out at this point probably is a good indicator for Democrats, but I'm reluctant to say that with a lot of confidence, because from my understanding, there are long lines in rural areas and I think it's safe to assume those folks may be voting for Donald Trump.
What I am gleaning from this early on is that we may be seeing an arms race of voters coming out rural versus city, and I just think waiting for more days to add up is probably a safer assumption and seeing where they come in county by county.
Amy: We also know that this week Joe Biden was in Texas saying, "Okay, this is it. We're going to turn Texas blue." But the Biden campaign has certainly not put in the investment money-wise that they have in places like Pennsylvania and Wisconsin, et cetera. What's really happening there at the presidential level? What are you hearing from folks in Texas about their expectations?
Abby: Expectations are all over the place. I think it depends on where the person I'm talking to lives, what they're seeing around them. Again, this divide of rural versus city just completely changes how people view things. I think the last time a Democrat seriously went for Texas was probably Bill Clinton in 1996. He was campaigning late into September of that year before he backed off. Hillary Clinton made some noise about it.
The Clintons have an affinity for Texas and she wanted that to be a thing, but they really did not spend much time or money in the state in 2016. Biden is spending money and he's got dozens of staffers. I think at this point, I think the last time I checked, it was more than 60 on the ground paid staffers. It is a pittance compared to Florida or Pennsylvania, but it is a huge escalation from past campaigns.
I think some of that is a matter of Biden having raised so much money, they have the money to do that. Many people in Texas have been lobbying for some semblance of that the state matters. I think there is now a point where folks are sick of being the ATM for the Democratic Party in the state. I think some of this is appeasing them, but Joe Biden does not need to win Texas to win the presidency. If Texas falls, it will be a landslide. I think there has been a real reluctance to do that, especially given the scars of 2016, they're watching it, but they're being careful.
Amy: After 2018 and Betomania, I think many of us expected that the 2020 Texas Senate race would get a lot of attention. What are you hearing about the Senate race? What do you think about the Senate race? First, why it has been under the radar after what happened in 2018? Two, why she doesn't seem to be hitting Biden level support in the state, at least in the polling?
Abby: I think it's probably going to escalate an interest in the final weeks of the campaign, but it definitely has not. I think, John Cornyn does not command the adoration or insight the hatred that Ted Cruz did. She's got a very large personality, but neither of the candidates this cycle compete with the ones of last cycle. I've long thought Cornyn will probably be fine and there's been enormous confidence in him in the Republican world because he is a former chairman of the Senate Campaign Committee for two cycles and so this is a guy who understands general elections in a way a lot of Texas Republicans do not.
Amy: What we saw in 2018 was that Democrats success in the state was really driven by the suburban vote around Dallas and Houston, is that where that energy is coming from this time?
Abby: Absolutely. Democrats picked up two us house seats last cycle and they are really significant areas. This is North Dallas and West Houston. Basically, the richest people in the state of Texas are now represented by Democrats. That is just fascinating in its own way of fundraising and how those dynamics play. But beyond those two seats, we saw margins close all over the state, almost every congressional district, the Republican won by less than the cycle before. These people came back and they're better and have more money and so we are just seeing this assault all over the state in areas I never dreamed would be competitive.
Amy: Talk to us a little bit about something else that Texas is in the news for at this moment in time, which is the decision by Governor Abbott to limit a one Dropbox for early votes per county. You have a lot of Democrats who say this is voter suppression and in a county like Harris County, which is Houston, there are millions and millions and millions of people. Can you put this into context about what's happening and what you think its impact could be on voters who want to participate early?
Abby: You've got counties in Texas, even in the rural areas, that geographically are larger than some states. Harris County is larger population-wise than some states. You've got all these people-- I believe the Harris County drop-off is one of the stadiums and it's an hour drive for some people to get there. There were lines of cars earlier this week waiting to drop off.
My question is, I almost think there's-- I have no doubt that it would probably mean some people will not vote or not execute because it's too much trouble. On the flip side, I wonder if you make such a big deal about keeping people away, is that like telling someone you can't have a candy bar? It just makes you want it even more. Does it make that person all the more determined to get out? We're just not seeing, at least this early on, evidence that people aren't showing up to the polls or dropping off. There's documented evidence that people are still coming out.
Amy: Abby Livingston, D.C. Bureau Chief at the Texas Tribune. You can't talk about Texas politics without talking about the Latino vote. According to recent estimates by the U.S. Census Bureau, the Latino population in Texas grew by 2 million over the last decade and it's on track to become the state's largest demographic group in 2021.
Now like any diverse group of people, these voters don't fit into a neat, easy to describe package, but that doesn't mean that political writers won't try to find a nice narrative to try to squeeze them into. For years, that narrative has been the "sleeping giant." Basically, it goes like this, Latinos are a growing population but haven't fully taken advantage of their political power because they don't vote. Once they do, this group of voters will become political kingmakers. To help us sort fact from stereotype, I spoke to Jason Casellas, an associate professor of political science at the University of Houston.
Jason Casellas: As everyone knows, Texas is a very large state and there's a very large, diverse Latino community of Tejano, Latinos who have been living in what we know as Texas since before Texas was even part of the United States. You have many Latinos who are not immigrants, whose parents, grandparents great-grandparents even, may not have been immigrants. You have that population and, of course, you have, because we have a long border with Mexico many newer immigrants from Mexico.
Then if you look at the big cities like Houston and Dallas, you have an increasing population of Latinos coming from all over Latin America. In particular Houston, you have traditionally large Venezuelan community. There's quite a lot of diverse population of Latinos within the major cities, especially more so than, of course, in the rural communities of South Texas, along the Rio Grande Valley where you have large Latino populations, but those Latino populations are much more rural, of course, and much different in terms of their outlook, I think, than those in the major cities.
Amy: When you look at whether it's the issue set or ideological leanings that are important to Latino voters in rural areas and those in urban areas, does it mirror what we also see in white communities? That we're all a little more conservative socially, issues like guns become more important as you get into urban areas, the social issue debate and issues about housing and other things become much more prominent.
Jason: That's a great point. I think that's true to some extent, although there are some differences and I want to talk a little bit about those in a second. We do see this, of course, rural versus urban divide in our politics. There's no mystery, listeners here know about it, where rural voters have increasingly become Republican and, of course, urban and to some extent, suburban have become more Democratic.
Among Latinos, I think you haven't seen that much of a switch in terms of Latino voters in those rural areas, voting for Republicans. Certainly, I think they vote for Republicans at higher rates than Latino voters in the cities but you still have the majority, of course, opting for Democrats. Now that doesn't mean that they support the Democrats on these social issues that you mentioned like guns and abortion and perhaps same-sex marriage, although that's become less of a national issue.
I think what you see, however, is that they do identify for the most part as conservative, especially the middle age and up. What that means to be conservative means something very different, I think, for Latinos and I think for African Americans as well than for whites in the sense that it doesn't often translate into support for the Republican Party. I think that's for a lot of reasons, especially the fact that even if you look at some of the polls recently that we've conducted, Latinos are saying coronavirus is the most important issue.
The economy, jobs, immigration has come down the list right now, but certainly, that issue has become an important one, it's lurking in the background, we're not talking as much about it. If we didn't have the pandemic, I think we would be talking a lot more about it. But when immigration becomes a salient issue there are certainly, I think some concern about some of the anti-immigrant positions in the Republican Party that may deter some conservative rural Latinos from voting for Republicans.
Amy: Let's also talk about Latinos and turnout. For years, this has been this stereotype of the sleeping giant. This idea that you have this big population that does not turn out at the levels that they could. I just read recent data of the 20% of those who cast a ballot in the last election were Latino, even though they make up as you pointed out over 30% of the population or at least voting age population eligible to vote. Can you talk us through some of those theories and what this means to be a sleeping giant? And if that phrase is just not an appropriate one when we talk about this?
Jason: I think that phrase is something every four years we hear it and traditionally we as scholars of political science and Latino politics, in particular, we have a visceral reaction to that phrase. In fact, today I've just read a recent great article in Texas Monthly by Cecilia Ballí, I don't know if you've read it-
Amy: That's what I was just quoting. Yes, that's what I was quoting this, exactly. It was great.
Jason: That was a fascinating read. I encourage everyone to read it because there's was such an in-depth look at the complexity of the Latino vote in Texas and how we shouldn't have this one-size-fits-all approach and how Latinos in many ways have been ignored by politicians, ignored by our political parties, both of them in many ways and so there's been a lot of debate about this.
Of course, voter turnout has traditionally been low. We know that that's the case. Although, this year it seems that turnout seems to be higher in our recent poll in Texas 76% of Latino registered voters said that there were certain that they will vote. Now, of course, we'll have to see what happens at the end of the day. There's certainly a predisposition to saying that and that is a socially desirable thing to say, but those numbers are fairly high.
We see that across other states as well, even higher in California and then about the same in Arizona and Florida. I think when we talk about the Latino vote and this idea of a sleeping giant, Latinos have always been involved in politics, have always had some sense in which they have participated in politics and participation is more than just voting.
We saw it with the protests and it's been a while now, but the 2006 immigration protests that there has been a lot of participation, and a lot of that participation is overlooked or ignored.
I think, in Texas though, obviously, I'm not going to lie, there has been an underperformance in terms of Latinos turning out to vote. We know a lot of reasons for this. A lot of it has to be tied towards idea that Latinos are disproportionately young and so we know young people, in general, are not as likely to turn out to vote, so that's a big explanation. Socioeconomic status, that's obviously a huge predictor of whether someone votes and obviously, Latinos have lower socioeconomic status.
I think that this is changing because we're seeing more and more Latinos, of course, get into the middle class as well and upwards. That's going, I think, have a positive effect on turnout. We're seeing, I think, slowly, more slowly than a lot of people would like, but slowly Latinos exerting more political influence in the state.
Amy: Again, a lot of the conventional wisdom after Trump's success in 2016 was that his rhetoric on race and race-baiting and on immigration was going to create historic gaps between the Republican Party and Latino voters and that this was going to turn away an entire generation of voters who are Latino, but it seems as if, again, in national polls, we're seeing this, I'm curious what you're seeing in Texas, that his support from Latinos isn't growing, but he hasn't necessarily lost their support that he already had.
Jason: Yes, that's right. I think we see a remarkable stability and that's why when we often hear about Latinos as swing voters or I think that's not right in the sense that if we look at how Latinos have voted in presidential elections since we were able to tell. For the most part, you see two-thirds of Latinos vote for Democrats and about a third vote for Republicans, plus or minus a little bit. George W. Bush did a little bit better and then Romney about 27%, McCain about the same. Now we're seeing Trump right about 24-27%.
We haven't seen a dip below that.
While we say this expression "Partisanship is a hell of a drug," I think that's true also for Latinos. Those who are Republican are going to stick by with their republicanism. It could be for a lot of reasons. They may overlook some of this rhetoric on immigration. If they're religious, perhaps it could be the abortion issue. If they're are young males who care about gun control or are not wanting gun control in rural areas, they may focus on that. Or may overlook a lot of these flaws that the president may have in favor of him just being a good businessman or being an outsider.
There are a lot of these sorts of, I think, ways to explain that 24-27%. For me, it wasn't a huge surprise at that number hasn't really gone down because there are a lot of ways in which partisans can overlook a lot of flaws in their own candidates.
Amy: Yet at the same time, Joe Biden seems to be not doing as well as Hillary Clinton, again, nationally among Latino voters. I'm curious if you're seeing the same thing in Texas and if so, why do you think that is?
Jason: Yes, I think that's right. I think the Biden campaign has been criticized for not doing enough to outreach to Latino voters. In many ways, I think it was part of the problem that Hillary Clinton had and that's taking Latino votes for granted. There's no way they're going to vote for Trump after all that he said about Latinos. Obviously, they're going to come to us. But I think Latinos need to be reached out to and it can't be in a pandering way. It can't be the mariachi politics or a Despacito on a cell phone.
I think it's got to go beyond that. I think that's been some of the criticism of the Biden campaign, that you just sit back and wait out the clock. He's benefiting just from the unpopularity of Trump among many Latinos but I think the criticism is that he could have done more and he could do more.
Amy: Jason Casellas, thank you so much for spending time with me today and helping us understand this a lot better.
Jason: You're most welcome.
Amy: One more thing for me today, every election about this time when asked about expectations for the election, pundits and campaign strategies say things like, "Well, it all comes down to turnout," which is the political cliché of all political clichés. Of course, it comes down to turnout. This year turnout is actually taking on new meaning. Experts are predicting a record turnout, but we've also never had to vote in a time of a health pandemic.
As the number of COVID cases climb, worries about the safety of voting in-person could rise as well. Poll workers may also feel nervous about showing up to work, leaving polling places understaffed. Plus, many of those who are worried about trying to vote by mail are worried that their ballots may not make it back to the election offices in time. Maybe the "it all comes down to turnout" is more than just a throwaway line. It's more important and unpredictable than ever. That's all for us today.
Our crew that makes this show rolls deep. They are Amber Hall, who's our senior producer. Lydia McMullen-Laird was our associate producer this week. Polly Irungu is our digital editor. David Gebel is our executive assistant. Jay Cowit is our sound designer and director, and Lee Hill is our executive producer. A special thank you and shout out to Debbie Daughtry, who has been our board up in these COVID quarantine times. She's been coming into the city every day to help us put on this show and we cannot thank her enough. We love you, Debbie. We'll see you around for sure. Thanks so much for listening. This is Politics with Amy Walter on The Takeaway.
[music]
Copyright © 2020 New York Public Radio. All rights reserved. Visit our website terms of use at www.wnyc.org for further information.
New York Public Radio transcripts are created on a rush deadline, often by contractors. This text may not be in its final form and may be updated or revised in the future. Accuracy and availability may vary. The authoritative record of New York Public Radio's programming is the audio record.