Politics with Amy Walter: A Presidential Transition Delayed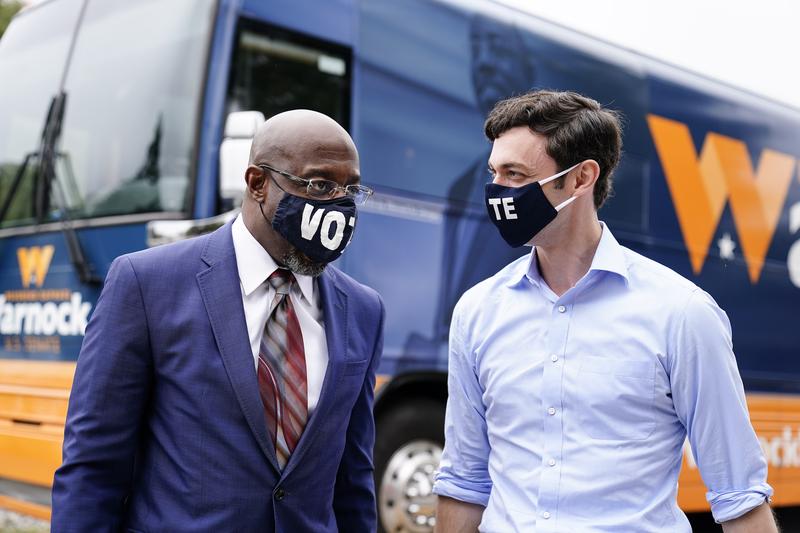 Transcript
Amy Walter: It's politics with Amy Walter from The Takeaway.
Biden: We're well underway, and the ability for the administration in any way, by failure to recognize our win, there's not a change to the dynamic at all in what we're able to do.
Amy: The peaceful transfer of power is a cornerstone of American democracy. Right now, president Trump is not only refusing to concede this election. He's also denying the incoming fight in administration access to key documents, funding and information they need to ensure a safe and smooth transition. Now the formal transition process is actually a pretty new thing. Congress passed the Presidential Transition Act just over 50 years ago and things proceeded from there with relatively little drama or problems until 2000.
Speaker 3: Mr. President, so you don't accept Florida's certification of George Bush as the winner?
President Clinton: It's not up to me to accept or reject. There is a legal process here. Let's just watch this happen. It'll be over soon, and we'll be ready for the transition.
Amy: It wasn't until weeks after that, Bill Clinton cabinet meeting December 12th, 35 days after the election that George W. Bush was officially declared the winner. That gave then President-elect Bush just over a month to plan for and staff his administration. Of course, nine months later, the September 11th terrorist attacks happened catching the nation and a relatively new president off guard.
When the 9/11 commission report came out in 2004, it pointed to this truncated transition as a weakness and recommended a more formalized process. Kathryn Dunn Tenpas is a senior fellow at the University of Virginia's Miller Center. She's also the senior research director at the White House transition project.
Kathryn Dunn Tenpas: Laws were passed in the 2000s. There's been three sets of laws that have been passed. They keep refining it and keep refining it but what they did primarily is that they enabled the winning candidates to receive funding to start their transitions after they were formally nominated. That meant that once Biden was the democratic nominee, he was provided with office space, some funding for salaries and the ability to start planning ahead.
Amy: Talk to us a little bit about how worried you are or how worried we should be as Americans about this. As you pointed out the attacks on 9/11 happened not that long after president Bush took office, if something happens January or February of this coming year, would the Biden administration be potentially unable to respond because they just simply didn't have the staffing and they didn't have the time to ramp-up and be ready.
Kathryn: Let me back up just a bit to point out that there are basically two important phases of the transition. The first I pointed out was after the nominee has been formally nominated by the party and they received some resources. The next big transfer of resources comes after the head of the GSA has ascertained the next president of United States. They use that verbiage, ascertain. That verb. I'm not really sure why.
That's the point at which the incoming president can start to have access to classified material. They can start to be part of the president's daily brief which tells them all of the national security issues. It enables the Biden transition team to have access to all of these individuals, civil servants and political appointees at the various agencies so that they can interview them.
What's happening now is they are preventing the Biden from moving to the next phase and what I would argue is the most important phase of the transition. It's critically important that the Biden's staff members be able to go to the department of justice, for instance, and to be able to interview the FBI director, the head of the criminal division, the head of the national security division, to try to get a sense of what's the lay of the land, what are the priorities? What are the crises that might be boiling over by the time we get here? That's what they're being denied.
I think there should be a lot of concern about the inability to advance to this next stage of the transition. It's not to say that it's going to necessarily result in some crisis. I don't know that, but we want a country that's prepared. It strikes me as-- we're basically just harming ourselves for no apparent reason and we're inhibiting our ability to be in the best possible situation we can be on January 20th. There's no reason for that. We have the resources, we have the capacity, so why?
Amy: Let's talk about the why and the who? Emily Murphy is a name that most of us probably weren't familiar with until now. She is the person who is at the head of the GSA. Can you talk a little bit about what her role is and how much leeway she has to continue to refuse to release these funds or to allow the Biden team to start integrating with the outgoing Trump administrator?
Kathryn: Emily Murphy is the administrator of the GSA. It's a political appointment and the GSA itself is largely responsible for all the government real estate so they help provide office space and oversee office space. In most situations you would never even hear of the GSA. In this particular case, because all the transition funding, the legislation housed it in the GSA. She has the capacity to release the funding and the resources to the party nominees and then eventually to the president-elect. By law she is the one that has to ascertain the election. There will be no funding going out until she does it.
What's tying her hands, she is appointed by President Trump. She must be a Republican who has some loyalty to this administration and is unwilling to buck the advice she's getting probably from Mark Meadows. Probably the chief of staff is weighing on her.
Amy: What happens let-- [sound cut] The electors meet in mid-December and they certify the results of this election. Is that the time in which you could argue that there just is no formal or legal option for the president to continue to obstruct this process?
Kathryn: Right. I think the meeting of the electoral college and the electors casting their ballots, and if the numbers show that Biden exceeds 270, as they appear to now, it strikes me that she has no justification to deny the Biden campaign or President-elect Biden the resources. However, this is a norm shattering president and we've never had a president who has not conceded when he's lost the election.
Normally, I would say, yes, that is clearly a decisive moment in American history when the electors cast their vote and if Biden exceeds 270, he is the president. At the same time. I honestly don't know what to expect in this administration. It's very hard to predict. Many of his political appointees have been loyal to the core.
Amy: You used the word norm-shut-- or term norm-shattering. I'm wondering how close we are to instead of norm-shattering, actual democracy damaging. Really fundamentally undermining the integrity of our government and the things on which it is built.
Kathryn: I would contend that President Trump, along with many senators who are denying the facts of the election results and are upholding Trump's baseless claims of fraud and stealing the election, that they are undermining the very tenets of American democracy. In order to have a healthy democracy, the citizenry has to believe in the institutions.
They have to believe that the elections that they vote in are free and fair. By actively perpetuating this notion that there has been fraud and some sort of stealing of votes, you are undermining the important tenets of American democracy and that has long-term implications and we are already at important and I would say high level of turmoil in this country. The pandemic has wreaked havoc on the economy, various incidents across the country have heightened racial tensions in this country. This is not a moment where we then need to undermine yet another important aspect of American democracy.
Amy: How much can the incoming Biden administration do, Kathryn, with the outgoing administration, informally? In other words, what stopping say, folks from calling up Anthony Fauci and saying, "Can you run us through what's going on over there?" Or other folks within the administration to at least have a download that's not official, but is still going to give them some information.
Kathryn: I don't think there is anything that is stopping the current political appointees and the current civil servants from reaching out to some extent to the Biden people. I think the biggest issue is that the Biden people cannot have access to top secret and classified material. I think the levels of classification in this country are such that often things that are really mundane are classified. I suspect that that means they don't have access to very much material at all, because so much of it in our system is classified. That's a big problem.
The other thing is that the transitions, because of the law, the agencies are required early in January, February to start to put together a comprehensive report about the state of the budget, about the staffing, about everything that has to do with that particular agency or department. These reports are ready. They had to be ready by November 1st. I don't know whether those can be handed over. I suspect that they are a part of the formal transition because legislation requires that they prepare these reports, but that's another thing that's being held up. They've already been prepared. These people have been laboring over these four months.
They can speak to former White House staff members who have departed and maybe have worked either in the executive office of the president or in the various departments. Again, they can get information that way, but I suspect that some of these people are bound to keep the classified information classified at this point. I think nobody wants to run the risk of violating those laws. To me, that's a huge impediment.
Amy: Especially as you pointed out, we're in the middle of a pandemic and I assume a lot of important information. There, do we think that any of that could be considered in the top secret section or it's just more about being able to access the real information, the data that is not public?
Kathryn: Yes, all of the data that I can think about, the labor department and the Bureau of labor statistics that has all of that information about joblessness. There's important problems in this country and where's the most joblessness occurring and what sectors of the economy are likely to rebound first and which ones we have to bail out. There's just a laundry list of information that you would like to have going into accepting the biggest job in the world.
The other side of this coin too is that, it's not just the practical purposes and all the roadblocks it's posing for the Biden campaign to stand up a government and be ready to hit the ground running on January 20th. It's that the world is watching and we are supposed to be this flagship of democracy and fairness and openness and participation and we're flailing right now. We're in disarray and our enemies can see that. Even those who aren't our enemies, our friends, it doesn't make us look good on the world stage and it's not necessary. This is a self-inflicted wound that we don't need to be doing.
Amy: Kathryn Dunn Tenpas, I appreciate you coming on, helping us understand this process. We're probably going to be talking to you a lot more in these next few days, so thank you so much.
Kathryn: You are very welcome. It was my pleasure. Thank you.
[music]
Amy: We've been talking about presidential transitions and while President Trump hasn't conceded the race, he does seem to be cleaning House. In the day since the election, there have been a number of high profile firings. Secretary of Defense, Mark Esper, Lisa Gordon-Hagerty, the administrator of the National Nuclear Security Administration, Bonnie Glick, the deputy administrator of the US agency for International Development, Neil Chatterjee the chairman of the Federal Energy Regulatory Commission, Michael Kuperberg, the scientist who oversees climate change for the US Global Change Research Program and more are expected.
With just two months left in the administration, I'm wondering, why do this now? Lisa Rein is a reporter covering federal agencies and the management of government and the Trump administration for The Washington Post.
Lisa Rein: As you said, there's been a slew of firing and in fact, yesterday, we had more at the Department of Homeland Security, the head of cybersecurity, the cybersecurity operation there, as well as another assistant secretary involved in international projects and of course we have the Pentagon, one of the biggest ones. It's really hard to divine what's going on and it's been described as a number of factors.
One is clearly that Trump had personal animus, again some of these higher profile officials like Mark Esper, the defense secretary. Gina Haspel of the Intelligence Director. CIA director is also said to be under consideration for firing, but I think cooler minds are trying to prevail on the president, but some of the lower-level agencies like the head of the nuclear safety administration which guards are our nuclear weapons, USAID had a big shuffling of people and some climate team that produces the national climate assessment.
These are described as people, I think, who have tangled with the administration in doing different things, carrying out different things than they wanted. For example, the cybersecurity guy DHS apparently had a website up that was just in the past week that was noting tried to put reality on the voting and saying, "No, actually these are areas where we know we're not disrupting the election. This has been a free and fair election", and you could imagine that that would unnerve the Trump people.
That's one theory, but then the other piece of this is that what we might expect in the next two months is that the administration will enact policies that let's say it felt it couldn't do, but he wants to do by the end of the term.
Amy: How much can you really get done in two months? Obviously, there's nothing legislatively could happen, but you're saying they could enact policies that could be significant and could the Biden administration then be forced to live under those.
Lisa: That's what's really unclear now. At the EPA and the interior departments, for example, and this is not really related to any staff movements, but you've got a bunch of regulations, environmental regulations that are essentially rollbacks that we've seen so much of in this administration, but these are the final ones that they really want to do and they're now in the final stages.
Those things could happen and what is likely to happen with those is that the Biden folks would use a law in Congress to try to undo a lot of those. Now, there's been a lot written in the past few days about the defense department and there are various theories. One which seems pretty farfetched, "Oh, they want to go to a war with Iran or they want to take some action against Iran and that's why they put in this team at the Pentagon or more likely they want to accelerate troop withdrawals from Afghanistan."
That's another theory. I don't know that that is going to happen and it's something that is hard to do on a dime. Then of course the more worry the Democrats are thinking that Trump wanted a new team at the Pentagon to put down any protests that might arise, whether it's more racial justice, protests or protests of his resistance to declare Joe Biden the winner.
I just don't know and that's the scary part, is that we've got about two months left and we don't know exactly what's going to unfold, but I think what we will see generally, regardless of these shifts in personnel is-- and this happens really in any administration. You will have 11th hour efforts for the Trump folks to get their priorities in. For example, just this week they signed a contract management at department of veteran's affairs, a labor contract with the employees. There is 250,000 employees.
That's pretty harsh and very much was a product of a lack of bargaining and is not really friendly to the union. They've taken a very anti-union stance in this administration and they were careful to wrap that contract up and it will be very hard, I think, for the Biden people to come and undo it that easily.
Amy: Lisa Rein, this has been really helpful and I appreciate so much you coming in and talking about it with me.
Lisa: Thank you so much for having me. It's going to be a lot of change and it's going to be really interesting to watch.
Amy: You're going to be very busy. Most people after an election and during the transition, they're bored, not you.
Lisa: [laughs] No, because this is where government and politics intersect, so it's fun.
Amy: Lisa Rein is a reporter covering federal agencies and the management of government in the Trump administration for The Washington Post. We spoke on Friday morning.
[music]
Setting aside the drama at the presidential level, there are plenty of transitions that are happening in Washington. On Thursday, newly elected members of Congress came to Capitol Hill for freshmen orientation while the polls suggested big gains for Democrats in the House, the party actually lost ground, at least eight seats and maybe more leaving Democrats with the slimmest of majorities. That's led to lots of finger pointing among house Democrats about who or what is to blame for their poor showing.
Many moderates argue that the push by progressives on issues like Medicare for All and police reform cost them seats in more conservative districts. I had the opportunity to talk to two incoming democratic freshmen about their expectations for their new job and this disconnect between the more moderate and progressive wing of the party. First up-
Mondaire Jones: My name is Mondaire Jones, Congressman-elect. Let me do that again. [laughs] This is the first time I'm going to be saying this. This is cool. My name is Mondaire Jones, Representative-elect from New York 17th congressional district.
Amy: New York 17th congressional district is home to some of the ritzier zip codes in the country. It also has some rather famous constituents like Bill and Hillary Clinton but that's not the whole story.
Mondaire: When I was on the campaign trail, I described New York's 17th congressional district as a tale of two cities. Obviously, it is one of the more affluent congressional districts in the United States. As the New York Times said, in its endorsement of my campaign, there are also pockets of deep poverty, like where I grew up, in the village of Spring Valley, for example. A working-class community where I was raised in section eight housing and on food stamps.
There are many places throughout New York 17th congressional district like Spring Valley. Of course, many, many people are defined as housing burden, meaning they spend more than 30% of their monthly income towards housing expenses. We are no stranger to the devastating effects of climate change, especially in our river towns. We are familiar with ICE rates all throughout New York 17th congressional district. We've got our share of challenges. I'm really excited to be on the cusp of providing representation to all parts of New York 17th congressional district, not just the affluent portions.
Amy: Tell me how that works because again, I think that many members of the affluent part of your district consider themselves to be progressive or progressive-minded. When the rubber hits the road, how open do you think this district is going to be to understanding the needs of the others that don't exactly look like them?
Mondaire: I think demonstrably, this district is already quite understanding of the fact that government wants to work for everyone, not just a subset of the American population. It's why I have found so much success in my own run for Congress, as someone who did not shy away from fighting for the big structural changes to meet our greatest challenges. I have been rewarded at the ballot box because of that message. People are ready.
Amy: I want to pick up on that, people are ready, because we've been hearing reports from within the House Democratic Caucus, from some incumbent members, especially those in swing suburban districts who say, "The message that progressives were putting forward on things like defunding the police, or democratic socialism argument really hurt us." This is what the moderate members are saying. There's no way Democrats can hold the house, while also pushing through an agenda that many members of the Progressive Caucus would like to see done.
Tell us, you're a new member, so you don't know-- Maybe you know some of these people, but you don't have relationships yet with your caucus. What are your expectations as you come in about balancing that? Again, what are you going to say to more moderate members of the Democratic caucus who say, "You know what, no, my district isn't ready for the structural change that you say that yours are ready for?"
Mondaire: My expectation is that we will have a data-driven conversation about why we lost House seats this cycle when we should have grown our majority. One observation that many people, including myself, have made is that all of the candidates in swing districts running on a platform of Medicare for all, were reelected in their respective swing districts, Katie Porter, Mr. Golden in Maine and others.
It cannot be as at least one person suggested that running on big structural changes that meet the moment, especially in a context where a majority of the American people support Medicare for all in the midst of a global pandemic is somehow fatal to one's electoral prospects. I think that defunding the police is a separate conversation and so we need to really look at the data on that.
The most important piece I want everyone to take away with is that no one ran on defunding the police. No one running for Congress ran on defending the police. I certainly didn't hear anyone say that. I didn't say it. It's really important that we have a nuanced conversation when cool heads can prevail. I'm looking forward to participating in that, and to bridging the ideological divides that sometimes make the headlines, but in actuality are not really as divisive as I think the media wants to portray within the caucus.
Amy: You are going to be the first openly gay Black man to be representing your district, but also you and Congressman-elect Ritchie Torres as the two ever elected to Congress. Can you reflect on that for a minute?
Mondaire: Yes. Ritchie and I will be the first openly gay Black members of Congress. That is something that frankly, I never imagined when I was growing up. I did not think that someone like me could run for Congress, let alone get elected. Had I been able to see someone like myself in Congress growing up, it would have been direct evidence of the fact that life really does get better as you grow older, and you come into your own.
I spent much of my life thinking that there were entire professions closed off to me, including politics because if I were to run for office, I would have to run as an openly gay candidate and people would reject that out of hand. I'm really excited whenever I get a message, as I often do from people all throughout my district, and all throughout this country, young and old, who were saying that my candidacy is helping them to accept who they are and to live authentic lives.
Of course, it is important for me and to so many others, including Ritchie, I think, to use our lived experiences to inform the policymaking discussions. The experience of queer people of color is an intersectional experience and to the extent that LGBTQ people have certain challenges, whether it's accessing necessary medical care, life-saving care, homelessness, especially if you're young, queer person, and so on and so forth. That challenge is compounded when you're a person of color, and I look forward to bringing that perspective into Washington as well.
Amy: Well, Congressman-elect I really appreciate you taking the time. Good luck getting yourself settled in your new job, and we hope to talk with you soon.
Mondaire: Likewise, thanks for the opportunity.
Amy: Mondaire Jones is the congressman-elect in New York 17th congressional district. We turn South now to Georgia, where Congresswoman-elect Carolyn Bourdeaux turned Georgia's 7th congressional district from red to blue. Bourdeaux originally ran for the seat back in 2018 but lost to Republican incumbent Rob Woodall by 433 votes. Woodall ended up retiring and Bourdeaux won this open seat in Atlanta is fast-growing suburbs. Of course, Georgia will continue to be in the political spotlight as both Senate races there are headed to runoffs in January. I started out by asking Congresswoman-elect Bourdeaux to describe her district.
Carolyn Bourdeaux: This is a very diverse district. It's the northeastern suburbs of Atlanta. It is very rapidly changing. Gwinnett and Forsyth, the two counties in the district are some of the most rapidly growing counties in the country, and have been for several decades. Gwinnett which is the anchor county has gone from 90,000 in the 1970s to over a million people today. It's a very new community. It's heavily college-educated. My mother used to call neighborhoods like this hatcheries. This is where people come to raise their children. They come from all over the country and all over the world.
Amy: As you were campaigning, which I know, for many candidates, it was challenging trying to campaign in a time of COVID. Talk to us about the issues that you focused on what people were talking to you about and whether or not there was a disconnect between what you heard from voters and what you were seeing in the national conversation.
Carolyn: COVID was just one of the dominant issues. I have an eight-year-old son. He is at home being digitally schooled. Over half of the children in my district are at home. That was a huge issue. Many of our businesses are just struggling right now because of COVID. The frustration with our national response was very present. We are also-- the CDC is not in my district, but a number of employees, people who work there live in this district. Just a lot of concern about how the state and how the national government was handling the coronavirus crisis. That was a really central issue we ran on that we need to get this under control. We need to get our economy back on its feet and we need to get our children back in school.
Amy: Now, I realize you have not come up to Washington yet. You haven't been sworn in yet and you probably don't know all the members of your new caucus, Democratic caucus, but I'm sure you've seen some of the news reports that there are tensions that are bubbling and coming out publicly between some of the more progressive members of the caucus and those who sit in districts like yours that were once Republican and the tensions really stemming over the agenda going forward. Specifically we heard some complaints from other Democrats running in districts that looked somewhat like yours, that issues like the defund the police or green new deal or Medicare for all were really problematic for those Democrats.
I'd like to get your point of view on that. I know just in going through ads that were run in your district, there was at least one that came after you for supporting the Black Lives Matter protests and alleged that you were anti-police, anti-law and order. Talk to me about how those issues played out in your race, in your district and how you think they will continue to be part of the conversation as you come up to Washington.
Carolyn: I tell folks I'm here to take a passionate stand for moderation and common sense and getting the job done for people. If you look at the message we talked about, which came from hundreds of community meetings. My background is in working in the state budget office and I was a key player in helping bring both parties together to balance the budget during the Great Recession and that was central, that I had worked with both parties to solve problems in a crisis and that we needed to bring those same skills and that same engagement to dealing with COVID and to dealing with the healthcare crisis.
I think we are called to just talk to people to explain that we are listening carefully to what they need and that we are here to be an advocate on their behalf to fix a lot of the very pressing problems that we are facing in this district as a state and as a country,
Amy: Realistically, how does this work given how narrow the margins are and that there doesn't seem to be a lot of incentive for folks to compromise. In other words, the people who are compromising didn't necessarily get reelected and the people who aren't compromising do win.
Carolyn: We have become very polarized and it is grounded both in, I think, how we talk to one another, but also in some structural features of our democracy and one of the things that I strongly favor is non-partisan redistricting. This is a district that favors that moderation I would be in little town halls or group settings and several times I remember people commenting, "Oh, you're so refreshingly moderate."
That's one of the wonderful things about this district. It is diverse, but it is really people who are grounded in just wanting common sense solutions. They want to end surprise billing. They want their prescription medications to be affordable. They want affordable health insurance and all of that it was very much a part of my platform. I am concerned about how deeply polarized we have become and we'll lean in to trying to bring people together to solve problems, but it may take us a little while to work through this period of really deep division.
Amy: Congresswoman-elect, congratulations. I hope you get a little bit of sleep before you have to jump into all of this but-
Carolyn: Thank you.
Amy: We will see you when you're up here.
Carolyn: Okay. Look forward to it. Thanks so much.
Amy: Carolyn Bourdeaux is the representative elect for Georgia seventh congressional district.
?Speaker: A recount is announced in Georgia where Joe Biden has taken the lead with a razor-thin margin.
Amy: Now, all eyes are really on Georgia and the Senate race is there.
?Speaker: Georgia GOP, senators and runoff races that could determine the balance of power.
?Speaker: Georgia begins his hand retaliation of roughly 5 million presidential ballots. Can you imagine this? I really can't wrap my mind around this.
Amy: If vice president Biden holds his lead over president Donald Trump, it would mean that the state has moved from red to blue for the first time, since 1992, for years Southern States like Georgia have sat reliably in the Republican column, but voters in cities like Atlanta and the surrounding suburbs played a definitive role in flipping the state as did grassroots organizers who worked to register and mobilize voters.
If that news wasn't enough on January 5th, the state will hold runoff elections where Republican Senator Kelly Loeffler will go up against democratic Reverend Raphael Warnock and Republican Senator David Perdue will face Democrat Jon Ossoff. The result of these two races will determine control of the US Senate at a time where the country has grown incredibly polarized. Joining me to discuss the state's changing electorate and what that means for the future of statewide races is Andra Gillespie, an associate professor of political science at Emory University.
Andra Gillespie: What's changed in the state, was that in the 2000s, we see a growth in the African-American electorate so that by the time we're getting to the 2008 and the 2012 elections Blacks make up about 30% of registered voters in the state. Then since 2012 we have seen the Asian American and Hispanic electorate growth so it's doubled since 2012 and so while it's still a small part of Georgia's electorate it's growing fast enough that along with African-American voters and liberal democratic voters who are white Democrats are in a position to be competitive.
Now, the numbers alone, aren't what has made Georgia vote democratic in this particular election. There's been a lot of political organizing behind the scenes to tap into latent democratic voters, to get them registered to vote, to get them educated about the process, to get them mobilized that really paid off in this particular election. It's in part the multiracial coalition, which I think distinguishes Georgia from other parts of the deep South, but it's also just this idea of mobilization and organization and the Democratic Party of 10 years ago in Georgia wasn't equipped to do that, but the new Democratic Party largely led by the efforts of Stacey Abrams is in a much better position to be competitive.
I don't think that Democrats are now going to win every election going forward. I think we're headed into a period of contestation or we're going to have close election outcomes where Democrats win and sometimes lose elections, but Georgia is decidedly now a swing state.
Amy: Let's dig into the point you made about Stacey Abrams and her success not just in 2018 in really engaging African-American voters and voters of color, but the work that's been done on the ground now for years in finding, registering and now turning out voters of color, what happens now in an era post-Trump, in an era where you're right, we maybe go back to "normal elections."
Andra: Some people are going to wonder whether or not this moment where Donald Trump has been on the ballot are a bit of an outlier. If races have become more competitive in the Trump era because of how divisive Donald Trump is. I have two answers to that question. One, we are going to pay attention to what subsequent election outcomes look like to see what post-Trump voting behavior looks like.
I also think it's really important to point out that these efforts at party building that Stacey Abrams and other groups that were mostly just interested in making sure that people of color turned out to vote so the Georgia Coalition for the People's Agenda, Black Voters Matter, et cetera. These folks have been on the ground and they were working long before Donald Trump descended that escalator in 2015 and the projections and the aspirations that the democratic party of Georgia predate the emergence of Donald Trump as a national political figure.
The narrowing of elections started before Donald Trump really emerged on the scene in a fulsome way. I think that there's a lot of evidence to suggest that while some of this may have been accelerated by Donald Trump and people's negative reactions to him, that this actually is something that was going on independent of the phenomenon of Trumpism.
Amy: It's also clear though, on the other side, on the Republican side, that president Trump has been really successful in turning out low propensity rural white voters to degree that we probably haven't seen before. Talk to us a little bit about that and if it's the coalition headed by Stacey Abrams that helped to really engage many for the first time, the voters of color. What happens with white voters, rural voters in a time post-Trump?
Andra: If we look at the numbers, we see increased voter turnout, amongst both Democrats and Republicans. It's how Joe Biden and Donald Trump have earned the highest and second highest number of votes ever in a presidential election in US history. The Trump campaign does deserve credit for its own mobilization efforts. I interpret their increased voter turnout two different ways. Just the vote choices standpoint, it looks like both the democrats and the republicans drill down deeper into their base to drive up turnout amongst people who they knew were predisposed to vote for them.
I think the story still holds about how Donald Trump didn't really expand his base, but I think the important thing to take away from what Trump did was that Trump did focus on voter mobilization. I'm less interested in what was happening on stage at the rallies because those don't vote, but it was the data that they were collecting on people who attended rallies, it was the voter registration that was happening at rallies that allow for opportunities for the campaign to collect data and follow up on voters. That are standard operating procedure for if we're going to do a good mobilization campaign. The Trump campaign deserves credit for its geo TV efforts.
Amy: These runoff elections and two Senate races of course, and one race features African American candidate, the Democrat, Raphael Warnock. I'm wondering what you think the impact will be of having an African American candidate on the top of the ticket and if that may be enough to keep voters who might drop off, say Democratic voters who showed up in the election to stay engaged and what your expectations are for what turnout could look like.
Andra: The last time there was a senate run off in Georgia was in 2008. Again, third party candidate played a little bit of a spoiler for the Republican incumbent Saxby Chambliss, and the Democratic candidate Jim Martin over-performed expectations, in part because Barack Obama was on the ballot that year. When it moves to the runoff, the race did go back to an equilibrium something that would have been perceived more normal for that time period where Chambliss was able to win pretty handily in the runoff election. At that time, that was very much a reflection of the fact that there were more republicans than there were democrats in Georgia.
I think what the general election results prove is that the Democrats have grown their base, and there are more democratic voters in the state, than there have been in a longtime proportionally speaking. Both campaigns have to assume a rough parity in terms of the numbers of voters that each party has at their disposal. Ultimately, I think this is going to come down to voter turnout. Whichever party has the best turnout operation is going to be the party that wins. I suspect it's going to be both seats. I don't expect a lot of split ticket voting.
Turnout is going to be lower than it would be in the presidential election but I still expect turnout to be pretty robust, just because of all the investment that's coming to the state and all the campaigning, that's likely to happen and because there's going to be a greater focus and attention by both Democrats and Republicans in terms of making sure that people turn out to vote early, because that might actually be the best way to bank votes from distracted people during the holiday season. I don't think that Republicans can rest on their laurels and assume that there are more Republicans than Democratic voters in the state or look at their prior history of success and runoff elections as a barometer for much of what's going on here at this particular point.
They may have one particular advantage in that older voters broke Republican in the general election and those voters would be the ones who have been more likely to be high propensity voters in this particular election. I expect that you're going to get your most rabid partisans to show up to vote, that they're going to be really motivated. That the parties and super PACs and other interested groups are going to do everything that they can to remind voters to turn out and vote and to give them all the details and the tools that they need to turn out and vote.
Amy: One thing and again, I don't know how accurate the exit polling is at this point, and we're gong to be digging into a lot of that later on. It does look as if, once again, we see that in Georgia, white voters overwhelmingly supported Republicans. This exit poll the AP's VoteCast says only 29% of white voters cast a ballot for Biden compared to 69% for Trump, and there really was no gender gap there. White women 30% white men 29%.
Then I watched the most recent ad by Republican senator Kelly LaFleur, who is running against Warnock, the democrat that we talked about. With a pretty clear racial undertone here, she attacks him for defending-- She says, "Jeremiah Wright remember him from the 2008 campaign. He was President Obama's pastor." Her AD I think it says save the senate save America is the tagline. It's not really subtle. Is it Andra what they're doing?
Andra: Kelly LaFleur hasn't run a subtle campaign at all this cycle. During the general election season, when she was trying to compete with Congressman Doug Collins for conservative bonafide she described herself in an ad as more conservative than Attila the Hun. I first saw that ad this morning as I was watching the news and I can't say that I'm surprised by it. I think people knew that given Reverend Warnock's theological stances and his endorsement of Black liberation theology that people were going to pour through his sermons and look for things that looked radical.
I think the big question here is whether or not you can invoke a 12 year old trope, and have it have the same effect. That's a reinforcing bit of information for people who are already predisposed to support. Kelly LeFleur. It's a question of whether or not that actually helps to grow her electorate at all. Does that appeal to suburban white women voters for instance would be a question. For African American voters, Jeremiah Wright and his theology are not unfamiliar, especially for people who did grow up in a Black church tradition and grew up in a liberation theology type of context.
There's been a lot of discussion since those ads first aired during the Obama campaign about the wider context of what Jeremiah Wright was saying. It's not like we don't know, when what preceded the comment where reverend Wright condemned America. Now it does put Reverend Warnock a different position because he's not going to give the same type of speech like President Obama did to neutralize the effect of that so we're not going to see a more perfect union speech from him.
These are relatively speaking known quantities and this isn't the type of attack that I think would actually demobilize African American voters because this isn't something that I think many of them would question, or would condemn even if they don't agree with the theological underpinnings of the statement because it's not something that's wholly unfamiliar. They would also recognize the racial attack and the racial undertones that go along with it.
Amy: Andra Gillespie is an associate professor of political science at Emory University.
[music]
In the hours days and weeks after an election, it's pretty standard. We tried to make sense of the patterns that developed after all the votes are counted. One element of the 2020 election that stood out to many is how in Texas, President Elect Joe Biden underperformed, when it came to predominantly Latino counties in South Texas. Those counties typically break for Democrats by wide margins. Now, Biden won the majority of support in predominantly Latino precincts in El Paso and Dallas counties, but in counties along the border, including Hidalgo, Zapata and Starr, Biden standing slipped considerably from where Hillary Clinton stood four years ago,
Even as Biden won an overwhelming majority of Latino voters, it's also clear that Republicans and the Trump campaign worked hard at the grassroots level, especially in these Texas border counties. To discuss all of this and more, I sat down with our Arelis Hernández, a San Antonio bass reporter covering the US southern border, immigration and Texas for The Washington Post. I started off by asking her if we should be surprised by the gains President Trump made in predominantly Latino counties along the border from 2016 to 2020.
Arelis Hernández: I think that depends on who you ask. Let's be clear Biden did win the majority of Borden County. What was surprising was the margins that Trump reached with largely Hispanic voters down there it's right at that mark that George W. Bush won when he was running for governor and later president in Texas.
Amy: Did you see that there was much of a difference though between how Latino voters around the border or in more rural communities voted this time, versus those in more urban or suburban areas say Harris County or around Dallas or San Antonio.
Arelis: There was a big difference and there's a couple reasons why. First of all, the border counties there are few big industries and one of those big employers is federal law enforcement. All the talk about defunding police, about border patrol, being enforcers of immoral immigration policies from the Trump administration. All those types of what they would view attacks is also an attack on the livelihoods of so many people who live down there, families and not just mothers and fathers, but cousins and uncles and aunts that are all part of this matrix.
Specifically in more rural areas like Starr County and Zapata County, these are places where the big employer is oil and gas. When Biden made his comments about transitioning from these fossil fuels into other types of energy, well, again, this is an attack on their livelihoods. They interpreted it that way, because these are folks who for the most part spend weeks at a time in West Texas working in this industry and there aren't that many other kinds of jobs that give you those kinds of wages in these rural areas.
Amy: I'm also thinking about the messages that we heard in the final days of the campaign in 2016, the president was talking about the big beautiful wall and banning Muslims and the Mexicans coming in who are bad people. In 2018 it was all the talk about the caravans. You're right in 2020, the talk was about more law and order issues. "Do we really want to defund the police? That's what Democrats are telling us. Democrats are socialists, Democrats want to get rid of ICE completely." Do you think that also had an impact just in terms of the fact that the issue of the wall and immigration and who immigrants were, was not as central to the conversation this time around as it was in 2016.
Arelis: For folks who live along the river, immigration is the part of their life but it doesn't articulate. It doesn't manifest in the same ways that other populations across the country think about it. They have far more nuanced perspectives. I was talking to the, for example, Zapata County's County Judge is the top political leader in that community. He would describe the perspective that they have is, yes, we want border security. Yes, we don't want drug smugglers and human smugglers to be getting away with what they're doing and coming through our lands, it's mostly as far as ranch land out there. We were hoping it was more of a technology security approach and not an actual physical barrier because there are other problems that come with the physical barrier of your are a ranch owner, for example.
Yes, the change in rhetoric even about socialism and I think that we need more reporting on this and more study of this. There was also quite a bit of misinformation about Biden's connections to socialism about, what can you expect in a Biden administration that also infiltrated these communities and was part of the conversation. I do think that folks were far more focused on issues of economy, of, "How my family is doing today."
Lastly, what I will say, going back to 2016 when President Trump started his campaign talking about Mexicans and rapists and all of that rhetoric, folks that I spoke to who live along the river and these border communities were able to rationalize in their heads that wasn't them. That who the president was talking about was not them they were talking about. I'm going to use the term they used, not to offend, but because of this what the parlance is. "He was talking about illegals. He wasn't talking about us, those of us who have been on this side since the 1500."
Amy: When we think about the next few elections going into the next midterm, the next presidential and these voters, how do you think about that?
Arelis: I think they're going to judge based on who had the most impact on their lives and how their lives improved during that time. They're responding to people who answered their most desperate needs. Things like healthcare education, the economy. I think that'll be a part of the calculation. I also think that for folks who work in these industries like oil and gas and federal law enforcement, frankly, they're going to be watching carefully to see how a president like Biden talks about and helps those individuals either maintain their lifestyle or help them transition into a different job that still pays the same wages.
One of the things I weighted into also in this piece and wanted to make clear is that part of the reason why these messages resonated or seemed to have resonated with so many people in border communities was the fact that the Republican party did the work. There was actual investment. There were actual organizers and activists on the ground that were doing this work and talking to people and convincing them that Trump's record on the economy and law and order as you had mentioned were things that were aligned with their own values.
Because this place has been so reliably blue for so long and to some degree still is, it seems as though the state party and to some extent the national party just basically took those votes for granted. This is what I'm hearing from activists who are from these communities and active in democratic politics. "We didn't do the work. We did not organize. We did not talk to these folks."
Amy: Arelis Hernández is a reporter covering the U.S Southern border immigration and Texas for The Washington Post.
One more thing for me today. I'm looking at the election results, a democratic White House, and the likely divided Congress and see a mandate for bipartisanship. I'm not quite as optimistic. Our elections have become proxies for cultural identity with voters attaching existential meaning to them. We see the other side as dangerous bent on undermining core American values.
These aren't the kinds of differences that can be bridged over with bipartisan infrastructure bills or a COVID stimulus package. Helping to fuel our estrangement is immediate ecosystem driven by algorithms and business models designed to keep us outraged with what the other side is doing. Is it realistic to think Biden can bridge this divide where Trump reveled in stoking animosity and division Biden is committed to turning down the heat and by doing so, he's hoping others follow his lead. President elect Biden also enters the White House with higher favorable ratings than Trump did back in 2017.
Is that enough? Can we see a real working relationship between a Republican health Senate and a Democratic White House? I don't see any incentive to make bipartisanship work. Politicians raise money and their profile by being voices of opposition, not moderation. In the past when I was asked what it would take to break the partisanship and gridlock in Washington, I said, "I thought it was going to take something truly horrible happening like a war or a great depression type of economic collapse."
Here we are almost a year into the worst pandemic this country has seen in a hundred years and this crisis instead of bringing us together has become yet another thing that divides us. Even as we flirt with a dangerous descent into a deadly third wave of the virus this winter, those divisions are likely to remain. This is one time when I hope I will be proven wrong, but I fear that I won't.
That's all for us today. Our senior producer is Amber Hall. Patricia Yacob is our associate producer. Polly Irungu is our digital editor. David Gebel is our executive assistant. Jay Cowit is our director and sound designer. Vince Fairchild is our board up and engineer. Our executive producer is Lee Hill. Thanks so much for listening. This is politics with Amy Walter on The Takeaway.
[music]
Copyright © 2020 New York Public Radio. All rights reserved. Visit our website terms of use at www.wnyc.org for further information.
New York Public Radio transcripts are created on a rush deadline, often by contractors. This text may not be in its final form and may be updated or revised in the future. Accuracy and availability may vary. The authoritative record of New York Public Radio's programming is the audio record.