How a Biden White House will Approach Climate Change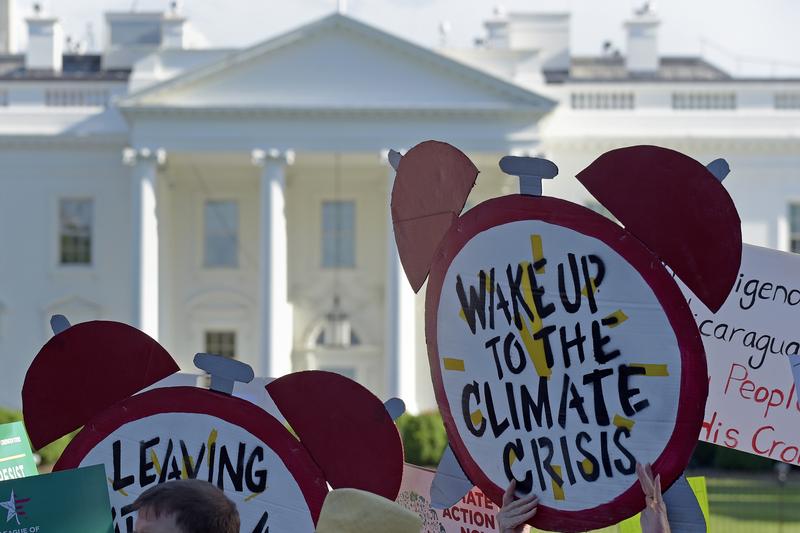 Transcript
[music]
Amy Walter: It's Politics with Amy Walter on The Takeaway. We begin today talking about climate change. The issue like so many this campaign season was often crowded out by the pandemic but we know that for many voters, especially younger voters, environmental justice and climate policy are the top priority. President-Elect Joe Biden ran on an ambitious climate agenda, but his ability to deliver on it is going to be challenging.
First, well, there's still a pandemic raging, which will take up most of the administration's bandwidth. Then there's the fact that at best, he'll have only the narrowest Democratic majority in the Senate. Then there's division within his own party, about how aggressive the White House should be on this issue.
Cori: When I think about my district, where black children are 10 times as likely to go to the ER, for asthma, than white children, we got to do something about it. We're calling on the Biden administration right now, to save lives. Save lives, there's no other alternative. We need better leadership and we're asking you because we voted for you.
Amy: That's incoming freshmen Congresswoman Cori Bush from St. Louis speaking this week in front of the DNC building in Washington. In other words, the big sweeping structural change type legislating to reverse course on climate is a tall order and it's one made bigger by what his predecessor leaves behind.
Coral: The Trump administration rolled back over the weekend, over 100 environmental rules and policies.
Amy: That's Coral Devonport an energy and environmental policy reporter for The New York Times. Those rollbacks Coral just mentioned were done by executive order so Biden can use the same mechanism to reverse them. In fact, the majority of them have to do with traditional air and water pollutants and they weren't even in effect until the last two years, which according to Coral Davenport, means the lasting impact to our air and water won't be that much, but she says climate is different.
Coral: Climate change is caused by putting greenhouse gases into the earth's atmosphere and they stay there. It's cumulative. It's like a garbage dump. You just keep adding to it. The Trump rollbacks, both of the domestic climate change regulations, and the withdrawal from the Paris Climate Accord all came at a moment in the history of global warming, where we crossed the threshold.
The point at which you hit a point of no return with greenhouse gases in the atmosphere is when you cross into 400 parts per million of carbon dioxide in the atmosphere. That is the point past which a lot of the worst impacts of climate change are baked in. You can't really go back. The planet first crossed into that in 2016, the year that Trump was elected. That might have been a moment where if every single major economy was working together to slam on the brakes, you might at least start at the beginning of a U-turn, instead, the US pulled back, undid its own regulations. This year, the planet hit 417 parts per million of greenhouse gases in the atmosphere.
Instead of beginning a turnaround, the planet is speeding ahead. The last four years have made it much, much, much harder to stop or slow that trajectory. That is why even if all these rules get put back, it'll take a couple of years to put them back. Even if the US rejoins the Paris Agreement, it's lost a lot of credibility. It will take time to rebuild those rules and rebuild that credibility and in the meantime, the greenhouse gases just keep accumulating.
Amy: President-Elect Biden has been vocal about rejoining the Paris Climate Accord, but as Coral Devonport points out, rebuilding credibility internationally could be difficult, especially given the history.
Coral: Back in the '90s. Vice President Al Gore went to the rest of the world and said we're going to do the Kyoto Protocol, which was the world's first big international agreement on climate change. "The US is going to be a leader. We're going to be a big part of this. Trust us." Then next President George W. Bush said, "No, sorry, we're not," and the US never formally joined Kyoto.
The US really became this black sheep in the international climate world for years and years and years, and then President Obama helped towards the Paris Agreement and went around the world saying, "Look, the US is back. We have our domestic policies. We have these regulations. We want to do this. Kyoto is not going to happen again. Trust us." A lot of other economies took a leap of faith and joined in and what happened? Boom. It happened again.
When I talk to people in the international climate space around the world, they say, "Look, we are overjoyed at seeing President-elect Biden say he's going to come back to this space and move forward with the US and rejoin Paris." There is so much goodwill around the Biden administration and yet, there is a tremendous distrust of what could happen in the future. That really weakens the US hand in negotiations.
Amy: Well, let's talk then about how this works domestically, and you have on the campaign trail, then-candidate Biden pledging his administration would ensure the US achieves 100% clean energy reaches net-zero emissions no later than 2015. I remember very clearly, back in 2009, Democrats had not just the White House, but they had the House, big margin in the House, big margins in the Senate tried to pass a cap and trade climate bill which had an 83% cut, not 100% but 83% by 2050. It barely passed with a lot of Democrats voting "no" and never got anywhere in the Democratic Senate. Given where we are now with a very narrow Democratic majority in the House, it's unclear where the Senate is going to be but very narrow either way, how realistic is anything legislatively for a Biden administration on something as profound as this?
Coral: Joe Biden, to his credit, absolutely was the first presidential nominee to make climate change essential issue. His climate proposals were absolutely the most aggressive and ambitious climate proposals of any presidential nominee, $2 trillion like you said, net-zero. The country's going to eliminate all emissions in 30 years. That's what scientists say we need but that's tremendous. That's far more ambitious than what was proposed by Obama.
Joe Biden knows that that's not going to happen. Even if it gets a 51 vote majority, it's not going to pass $2 trillion in green spending. It is all but impossible to imagine that there will be any kind of legislation that will mandate major emissions cuts. He's going to turn back to the same tools that President Obama used, and then in some cases, they're just going to go back and put some of those regulations back in place.
In some cases, there's a pretty clear legal path to do that. The biggest regulation that the Obama administration did was increasing fuel economy for vehicles, which significantly lowers auto tailpipe emissions of greenhouse gases. I think that they'll be able to put that back in a fairly straightforward way and have that probably stand up pretty well, legally. Some of the other rules, I don't even think they'll take a stab at or they'll have to put back in a much more modest way and this is because we have a more conservative Supreme Court than Obama did.
I think that they will be looking at that and saying, "This is a Supreme Court that is not going to look favorably on aggressive rules that give federal agencies a lot of authority to regulate huge swathes of the economy. We're going to have to tread more cautiously." They can put these rules in place. In some cases, they may have to be more modest in order to stand up legally. As we've just seen, if you're doing regulation, it can still get undone in the future.
Amy: Talk about the other issue here, it seems to me is, it's not just trying to bring Republicans on board but Biden's got to keep Democrats happy too. We've already started to see some rifts within the Democratic coalition over some of the folks that Biden is bringing on board in his new administration, specifically, bringing in Congressman Cedric Richmond from New Orleans, who many in the progressive movement, especially those from the Sunrise Movement argue is part of the corporate oil and gas cabal. He takes a lot of money from these interest groups, they say. This is exactly the wrong kind of person to be in the White House and that if Biden is serious about climate, he's got to bring people in, who are not from that world.
How serious of a challenge do you think that Biden is going to have in keeping both sides of the Democratic Party happy, the new suburban, moderate wing of the party who may want a more go-slow approach, versus progressive, especially younger, progressive voters who say climate change is the existential issue of our time, and unless you're doing big, structural change, you're not doing enough?
Coral: That rift is very real. Of course, as you know, Amy, that is reflective of the broader rift between the party, not just on this issue, but we're seeing that between the centrist and the progressives. The progressives feel very empowered right now, particularly on climate change. That group, the Sunrise Movement really showed their political power in this political season. They went out, knocked doors, and helped get Ed Markey reelected in Massachusetts which was a big surprise. They showed, "Look, we've got that power."
They publicly pushed candidate Biden to really beef up his climate plan and make it more ambitious, which he did. As a result of that pressure, he increased the amount of money he was going to spend. He made his plans more ambitious. In return, I think a lot of those progressives felt like they held their nose a little bit, but they went out for him. You got to dance with them a brand new. They're saying," All right, we helped to get you here and you made this essential campaign an issue. This is what we demand."
This is already causing headaches. I talked to an operative who's between Biden transition world and the Hill, who said, "Honestly, we think that the biggest problem, the biggest challenge in getting anything through is not going to be Republicans, it's going to be the progressive left because they have these demands. They feel very empowered and emboldened. It feels like they would be prepared to walk or turn against this administration if they tried to make some kind of centrist deal on modest legislation that wouldn't go as far as they would want." Then that could blow things up.
There is a sense of, "We want these people. They helped bring us here. We have to horse trade and manage expectations and that's not really how this world operates." I think that there is already a lot of tension there and we can see it blow up. I don't know. Again, that's a larger dynamic.
Amy: Well, Coral Davenport, thank you so much for talking with us for all the work you do at The New York Times. You're going to be really busy these next few months.
Coral: That mush is for sure.
Amy: Thank you.
Coral: Thank you so much, Amy.
Amy: Coral Davenport is an energy and environmental policy reporter for The New York Times.
[music]
From the moment President Donald Trump took office, he took aim at Obama-era policies that sought to reduce the threat of climate change. Over the last four years, the Trump administration has attempted to roll back more than 100 environmental rules, including withdrawing from the Paris Climate Agreement, reducing protections for wetlands, and weakening the Clean Air Act.
President-Elect Biden has his work cut out for him when it comes to making good on his campaign promise to fight climate change. Jody Freeman is a law professor at Harvard University and former councilor for energy and climate change in the Obama White House. I spoke with her this week about how the Biden administration might proceed with pursuing climate change policy in a hyperpolarized political landscape.
Jody: The challenge will be how to get climate change as a priority attached to other things that have to happen. If a big bill for economic recovery is moving in the Congress, how do you inject climate priorities into it? Green infrastructure spending, investments in R&D and clean technologies, renewables support for batteries and energy storage, that kind of thing you would expect to see the administration attach to a legislative package for the economic recovery plan.
The other thing I would advise is just to get the executive branch up and moving, which I expect they will do meaning, get the agencies going to put back in place all of the regulations that the Trump administration unraveled on climate change, and environmental protection so that the administration can do quite quickly. They can get the Environmental Protection Agency, the Department of Interior, and Department of Energy going and other agencies that have to basically put regulations back in place.
That the President can do without the Congress. It's really those two pieces, managing the executive branch, getting off to a running start, and putting climate-energy policy into whatever else can be moved through the Congress.
Amy: I'm wondering, is the prospect of ever getting something that is a big far-reaching piece of legislation through Congress, and it's going to have to be in a bipartisan way even possible, despite the fact that more Americans than ever now do believe that climate change is real?
Jody: The problem is the Democrats don't control the Senate and may not after the Georgia election. What do you do with divided government? It looks harder than it was even back then to get a sweeping climate package out of Congress when you don't control the Senate. Frankly, even if the Democrats did control the Senate, this is hard to get past because you have some moderate Democrats who are from energy states, who will want to negotiate very carefully before they vote for a sweeping climate bill.
I think this is pretty delicate. I think it's possible to put a price on carbon, let's say, and a new piece of legislation, whether it's a capping carbon in a dividend scheme, like cap and trade or cap and dividend, or a carbon tax. That's eventually possible, but there may need to be smaller steps building up to it. You get some bipartisan support around, let's say, a smaller policy, that's really important, that can make a start, like a clean energy standard.
The states have renewable portfolio standards, meaning a standard to have a certain share of your electricity come from clean, green sources. Republican states support that policy.
You've got a lot of wind in Texas, a lot of wind in Iowa, places like that. You could imagine climate policy getting through Congress with some bipartisan support that begins to take steps toward the more sweeping legislation, but I'm not sure right out of the gate, you get a bill that has everything in it.
Amy: You think about back in the 2008, '09, '10, you still had Democrats from energy-producing areas, and you had Republicans from suburban or urban-ish areas, who were able to bring the points of view of those communities into their caucuses. Now, that's basically gone. There are Democrats from the Dakotas or Nebraska and you don't have Republicans in some of these metro suburbs anymore. It seems to me like it's even harder, that this conversation about climate is based as much on where you live and where your economic drivers are coming from than anything else. How do you make this a national issue for people who live in parts of the country where energy production is the name of the game or agriculture is how they make their living? How do you sell that?
Jody: The climate issue doesn't really track perfectly along party lines. It really depends very much on where members of Congress live, and what their energy endowments are in those parts of the country. Different regions, different states have different endowments. Some have wind and solar, some don't, et cetera. Some depend more on nuclear power, and some on clean hydropower. This doesn't track the normal politics.
It's also harder to get things done, as you pointed out in a hyper-partisan era. I think that you have to figure out a strategy that will serve different parts of the country differently. You don't have to talk about this as climate policy everywhere. In some states, it will be economic policy. When you talk about moving to renewable power, that can be very attractive in red states, but if it's packaged in a way that doesn't sound right to them, if it's packaged as "climate change policy", it may be less appealing. Part of this is explaining that a transition to cleaner energy brings with it economic development. There are good jobs associated with the renewable energy industry.
Amy: You wrote an op-ed recently where you noted that now-Justice Amy Coney Barrett's confirmation would have an impact on President-Elect Biden's ability to enact a climate plan. Can you talk about this? What does the Supreme Court have to do with agencies like the EPA, and how they can wield their regulatory power?
Jody: It's not just Amy Coney Barrett. She's the third of three conservative justices that Trump, of course, appointed to the court. In some sense, big part of his climate legacy, Trump's climate legacy will have been to populate the Supreme Court and the rest of the federal judiciary with conservative judges and justices. That's a problem to some extent because there tends to be skepticism from justices like Amy Coney Barrett and Brett Kavanaugh and Neil Gorsuch and others toward expansive use of regulatory power.
They tend to treat agencies when agencies try to regulate with a certain kind of dubious skepticism saying, "Do you really have legal authority to do that?" There's a judicial philosophy that says, "Agency shouldn't try to do big new things with old laws on the books. We should really have Congress speak to that, again." That sort of a shared philosophy among the conservative justices.
That could pose an obstacle to President Biden when he says to his agencies, "Look for ways to do big things with the laws that we have on the books and use your regulatory powers aggressively and expansively." The agencies have to be careful that they can link their powers to the laws that give them authority and that they can very clearly do that so they don't run into trouble in the courts.
Amy: Obviously Amy Coney Barrett is the newest here, but during the Trump administration, did the court then push back on some of the Trump administration's regulatory agency directives?
Jody: President Trump rolled back somewhere close to 100 different environmental and climate policies, and he ran into trouble in the courts because the lawyers for the agencies did a really sloppy job. The Trump administration lost scores and scores of lawsuits because they didn't carefully conduct their rollbacks. Now, that doesn't mean that the court is going to be friendly to a Biden administration because even a careful Biden administration will still have some trouble if it tries to lean into its statutory authority.
I'll give you an example because it sounds so abstract. When setting standards for carbon for the electric power sector, the Obama team put in place a set of standards that were very forward-leaning, and they counted on substituting natural gas and renewables for coal. The strategy the team used was an innovative legal strategy that read their authority very broadly that said, "We can do this. We can require replacing dirty coal with natural gas and renewables." That reading of their authority, that their approach we could use that strategy was challenged in the courts.
The concern is that, that kind of approach, if it ever reached the Supreme Court might get rejected, and the court might say, "You don't have the power to consider that kind of strategy. You can only set standards for each and every power plant. You can't talk about substituting one form of energy for another." This all comes down to how you read the Clean Air Act, how you read the laws on the books. The court right now, the Supreme Court, the conservative court is not likely to give the agency a lot of room to maneuver. That's the worry. It means that the Biden administration has to pretty much color within the lines, but you can still do lots with its regulatory power. It just has to be careful in doing so.
Amy: Most of its regulatory power then, at least to be successful is just simply reinstituting the rollbacks, or however we say this, undoing what the Trump administration did, but going further than that may be the bigger challenge. Is that what you're saying?
Jody: Yes, I think so. Just to make this concrete, look, the Biden administration can put in place standards for the power sector to try to make it get cleaner, to try to move it in a cleaner direction, meaning toward renewables, away from coal. It can put standards in place for the transportation sector, meaning incentivizing higher fuel efficiency, more electric vehicles, et cetera. It can put standards in place to control methane from the oil and gas sector. These are all really important policies because they all get at reducing our economy's greenhouse gas emissions.
Now it's not the most efficient and effective way to do it because you can think of a national policy that might be more efficient like a carbon tax or a national cap on greenhouse gases, but still this more piecemeal way to do it sector by sector by sector is within the control of the Biden administration. They just have to set rule after rule under the EPA's authority. It won't be as far reaching as it could be if we had a new law, but it's still going to make a significant difference. It sends a signal to these industries that they have to start heading in a cleaner direction.
Amy: Can you talk a little bit about that? Many folks in the industry are saying, "Look, a lot of the stuff we've already been doing. It made economic sense number one, and two, we understand where the consumers are, so we're going to react to both of those things." What kind of relationship, first of all, do you think that the Biden administration can and will have with industry? How much do you think that industry itself is making some of these changes without getting the regulation or the push from government?
Jody: Some of the things we need for a clean energy transition are being driven by market dynamics. There's no doubt about it. The fact that we have abundant cheap, natural gas means you can move coal out of the energy mix to a greater extent. That's happening because of the market, but government policy is actually very important in driving those market trends forward, faster and deeper and that's what we've been missing for the last four years of the Trump administration.
The Obama team tried to do that. They said, "Look, we see these things in the market. Let's put in place, policies that help to cement that trend and drive it further and faster." That's the combination we're going to see with the Biden folks. They're going to say, "Let's adopt some standards that further what we're seeing in the market." In some cases, we don't have positive market trends like the transportation sector.
Oil is very cheap right now, that makes gasoline very cheap right now. That means people can drive big guzzling cars and they're not really incentivized to buy the more fuel-efficient vehicles. You need a bit of a help there. You need fuel efficiency standards for the auto industry to say, "We're heading toward more efficient cars. You need to design for more efficient cars."
Amy: Jody Freeman, I really appreciate you taking the time to walk us through all of this. Thank you so much.
Jody: My pleasure. Great to be with you.
Amy: Jody Freeman is a law professor at Harvard University and former counselor for energy and climate change in the Obama White House.
[music]
Climate change has animated a generation of young voters, many of whom spent months making calls and texts to swing states, even though Joe Biden was not their first choice nominee, but many of them swallowed their ambivalence to Biden and their broader frustration with what they see as a lack of urgency by democratic leadership to address climate change in order to defeat Trump.
Now they want to see President-Elect Biden follow through on the promises he made on the campaign trail. They're paying close attention to who Biden appoints to his cabinet and to head agencies as a way to gauge how seriously he'll be taking this issue. Waleed Shahid, spokesperson for the Justice Democrats is worried that Joe Biden will compromise too much with GOP leaders in Congress.
Waleed Shahid: Joe Biden said he is going to fight for the soul of America. I think there is really going to be a fight for the soul of the Biden administration going forward in the same way that President Obama was pushed by progressives and his administration on fighting for Dreamers, fighting to stop the Keystone Pipeline from being constructed, occupy Wall Street.
There tend to be a renaissance of social movements under Democratic presidents that are not simply about resisting Republicans, but creating the political space for Democrats to act boldly.
On climate in particular, as progressive voters tend to be younger voters, and as younger voters have said in this past election that the climate crisis is their number one issue, I think voters are looking for Joe Biden to deliver on the mandate that he's received from the millions of voters that chose him over Donald Trump. Joe Biden and Bernie Sanders actually came to a number of agreements after the primaries through these task forces they created. One of the main things progressives are looking for is the creation of an office of climate mobilization that directly reports to President Biden. That was something that Joe Biden agreed to in the task forces and something that progressives want him to deliver on day one.
Amy: You have something that you called the Climate Mandate campaign and talking about the climate cabinet, which I assume you mean when looking at the cabinet writ large, the expectations that you, on the progressive side, but specifically for Justice Democrats, have in terms of who should Biden pick or have around him? talk to us about the kinds of people he's brought into his inner circle thus far.
Waleed: We launched this project called climatemandate.org, where we listed that people that we want to see in the cabinet should one, have no ties to fossil fuel corporations or corporate lobbyists, two, represent the diversity of America, and three, have some sort of track record that they have taken the climate crisis seriously in their careers. One person that we're excited about that, as apparently already being vetted is Representative Deb Holland.
Congresswoman Holland is a member of the Progressive Caucus and the House of Representatives. She would be the first indigenous person to be appointed to potentially secretary of the interior. Secretary of the interior also has a lot of jurisdiction over relationships with tribes and tribal lands. It'd be a big deal if she was appointed and we're optimistic that she will be appointed.
We're also looking for people who are really understanding the connection between climate and the economy and so someone like Joe Stiglitz, who is one of the chief economists at the Roosevelt Institute, we would like to see him placed on the National Economic Council. Derek Hamilton, who has done a lot of writing about the connection between jobs and racial inequality, we would like to see him on the Council of Economic Advisors.
Overall, these are people who represent, not the consensus that was around when Joe Biden was senator and even vice-president. The Democratic Party has become more progressive. There are a lot of these people who were part of the Bill Clinton administration and this third-way ideology and the Democratic Party, and we wanted to make sure that there's representation of some of these new voices that have been challenging the inequality that we've seen in our country.
Amy: When you look at the kinds of folks that Biden has brought on thus far to be his chief of staff and others in his immediate inner circle in the White House, a lot of them do come from the Clinton era, have been with him for pretty much, if not his entire career, a good chunk of his career in politics. There was a lot of consternation specifically by the Sunrise Movement, by the appointment of Cedric Richmond, the congressmen to a high profile position there. Thus far, how would you grade the personnel choices that Biden has made? What do you think it portends for the next set of picks?
Waleed: It might be too early to give a letter grade, but I will say that the choice of Ron Klain as chief of staff is significant because the two other men who are considered for that role come from the 1990s Democratic Party tradition of being pretty hostile to progressives. Bruce Reed who was one of the architects of the 1994 Crime Bill was responsible for the 1996 welfare reform laws that Bill Clinton passed and was the staff director of the infamous Bowles-Simpson Commission, which tried to work with Republicans under Barack Obama and Joe Biden to cut the deficit and put cuts to social security on the table.
The fact that Ron Klain was chosen is a good sign for progressives because he is someone who has noted in the past few years that the party has moved in a more progressive direction and it has not been as ideologically hostile to progressive ideas. That said, the appointment of Steve Ricchetti is disappointing. He's been a big pharma lobbyist. He's worked for groups in the industry that oppose allowing the government to manufacture prescription drugs, strongly oppose Medicare for all.
Representative, Cedric Richmond is one of the top recipients in the Democratic Party of money from fossil fuel corporations. He took money from Exxon just this past year and so that was disappointing, but it just provides more urgency for Joe Biden to take some of these other positions. If he's going to represent the big tent of the Democratic Party, 40% of the seats in the House of Representatives that Democrats have belonged to members who are in the Congressional Progressive Caucus so there should be some adequate representation of progressives in some of these other positions.
Amy: There was talk before the election, of course, that Democrats were going to expand their majorities in the House, and there was a strong potential that they would flip the Senate to Democratic control. There's still a possibility of that. We're waiting for Georgia, but if indeed, we're looking at a split congressional control and obviously Democrats having a smaller majority in the House, talk to us about Justice Democrats and their expectations on these issues that we know aren't going to make it through Congress and where compromise is going to happen or where executive authority is going to be more important.
Where are the areas to you that you think, "It's okay. He needs to compromise with Republicans," versus, "You know what? Let's just forget about going the legislative route. We're not going to get what we want. Let's see how much we could do through executive or regulatory action."?
Waleed: First of all, we have a political system where Joe Biden can win, can defeat Donald Trump by 7 million votes, and still that doesn't translate to majorities or wins in the House and the Senate. That is a growing problem in the design of our electoral system, that is not simply about ticket-splitting or the failures of the Democrats in the House and Senate, but also just about gerrymandering and how the lines are drawn for some of those elections.
I do think fundamentally that one of the biggest questions in American democracy going into 2021 is just, how hard will Democrats fight for the American majority that elected them? How hard will Republicans fight to enshrine minority rule in the House through gerrymandering and in the Senate, through Mitch McConnell stonewalling any legislation that could be discussed by Democrats and in the Supreme Court, through the conservative majority?
That makes it even more important for Joe Biden to use executive authority and executive power to move toward creating jobs in the clean energy sector. There's a number of things his treasury secretary could do, that the office of climate mobilization could do to just start creating jobs, retrofitting every federal building in this country. There are millions of federal buildings in this country that could be transitioned to 100% clean energy, that would create many jobs.
In the Obama era, progressives were often pushing President Obama to do these piecemeal things. President Obama told Dreamers for years that there was nothing he could do on executive action for Dreamers, and then they found a way to do it, which was the DACA program. They might even say, "We can't do this," and then a year later they'll do it.
Waleed: One last question for you, which is again, media narrative, everybody likes to put things into nice little boxes, and one of those is that the progressive movement, Justice Democrats, Sunrise Movement, et cetera, are going to serve a role similar to the one that, say, the Tea Party filled in 2010 for the Republicans. That you all are not going to just be pushing for certain policies, but primarying, moderate Democrats trying to push out certain people in the administration or otherwise, going to have a very contentious relationship with the White House. How do you respond to that?
Waleed: Throughout American history, social movements have had complicated relationships with presidents, whether that's the abolitionists and Abraham Lincoln or the labor movement and FDR or the civil rights movement and John F. Kennedy and Lyndon Johnson. Still today, we're in this moment where there will be uncomfortable moments between progressives and social movements and the president. I think about this quote that FDR told civil rights leaders and labor leaders of his time, which was, "I agree with you, now make me do it." I think that is the best of the tradition of how social movements and party leadership can sometimes, without even knowing that they're doing it, help each other achieve goals.
I do think that one thing progressives are really worried about is if Joe Biden returns to his 1970s, 1980s style of politics, which is to achieve these grand bargains with Republicans, where Republicans get something, Democrats get something and we call it a success. Party politics is fundamentally different in 2020 and 2021, you can see across the aisle just how far Republicans are willing to go to threaten the election results, the legitimate election results.
I think Mitch McConnell will try to get Joe Biden to swallow as many toxic poison pills that make it more difficult for democratic constituencies to feel mobilized for the 2022 mid-terms. That could look like a range of things, but that's something that I think a lot of Democrats and a lot of progressives are worried about if Joe Biden returns to some of the fundamental ways he was shaped as a senator in a time where we didn't have as polarized parties.
Amy: Waleed Shahid is a spokesperson for the Justice Democrats.
[music]
We heard from you. You told us how you felt about environmental justice and what you want to see from a Biden White House when it comes to climate change.
Bill: This is Bill calling from Palo Alto, California. I would like to see the incoming administration take educating the public seriously about climate change. There is so much disinformation out there and a very powerful industry machine spreading it, both in the media and from their own websites.
Barbara: I'm counting on President-elect Biden to address climate policy and the environment. We can be doing so much more as a nation, and we've got the creativity and technology to be successful at this, so let's do it. My name is Barbara. I'm in San Jose, California.
Linda: My name is Linda Margrave. I'm from Colorado, and I very much support any action to improve our climate but this is a global effort. It's not one person over another or one business over another, but I do believe that the Biden administration could easily give incentive programs to those who turn to a more environmentally-friendly action. I believe it's the government's responsibility really.
Susan: Hi, this is Susan from Vashon, Washington and I think the climate crisis is the priority for our world right now. Everything else falls from that. What I'd like
the Biden administration to do is rejoin the Paris Climate Accords, rejoin the world in standing up to the climate crisis, support renewable energy, support regenerative agriculture, and turn our economy into one that is designed to conserve rather than to consume.
Amy: We always want to hear from you, give us a call anytime at 877-8-MY-TAKE. It's politics with Amy Walter from The Takeaway, we'll be right back.
[music]
Amy: Right, after the election, I tried to talk to as many of the incoming freshmen members as I can before they're sworn in. This week, I got a chance to talk with-
Marilyn Strickland: Marilyn Strickland, Congresswoman-elect 10th district of Washington state.
Amy: Strickland is one of the newly elected Democrats I was able to snag some time to talk with while she was here in D.C. for new member orientation. I started out by asking her to describe Washington's 10th district and the people who live there.
Marilyn: I describe it as a snapshot of the entire state and in some cases, the entire country. I say that because it is diverse in every possible sense of the word. It is urban. It is suburban. It is rural. Right in the middle of the district is Joint Base Lewis-McChord, the largest military installation on the West Coast. It's a combination of an army base and an Air Force Base and it has an $8 billion a year annual impact on the area.
We have agriculture, we have growing cities, we have areas that have struggled for a long time. We have tribal nations there so it just really is a snapshot of everything you can imagine. There are universities there, there are community and technical colleges there. We have everything from shellfish to timber to manufacturing a port and then even a lot of strong neighborhoods, small businesses. It really is just diverse in every possible sense of the word.
Amy: Talk a little bit about your race. I don't know that our listeners know this, but Washington State has a top two primary process where everybody runs on the same ballot in the primary and the top two candidates go on to face each other in November, in this case, that meant that two Democrats were running against each other. Talk to us about your race, who you were facing, and what the issues were. How does that work when two Democrats run against each other?
Marilyn: As far as the dynamics of the race go, I think that this is where you really start to see some differences between me and my opponent. The 10th congressional district, as I often say is not Seattle. I don't say that disparagingly, it's a different place. As I described earlier, it's diverse in every possible sense of the word, a lot of different types of political affiliations. As the race progressed, I was more in the center-left lane and my opponent was more in the far-left lane. As we were talking to voters and talking to a few communities, we really learned, Amy, that they were concerned about a few key issues, especially given the pandemic.
They were looking for leadership at the national level and a Congress that would support relief packages because people need cash now. They were looking for leadership in economic recovery. Having served as mayor coming out of the last recession, I had built a lot of credibility in that issue. Then because of what's happening right now with people having to try to educate their kids at home, education was a big issue.
I was touting my record in education as a mayor who brought a community together and then, of course, the things that people still thought about even prior to the pandemic, climate change, the health care system, housing, the things that we know have been on people's minds for a long time, even before COVID, but COVID really amplified the inequities in our system.
Amy: You were successful running as you call it center-left. You also had the support of the "establishment." You had former governors of the state endorse you, you served as the Seattle Metro Chamber of Commerce head. What do you take away from that and what do you think this means for those two sides of the Democratic Party looking ahead to putting an agenda together in Washington.
Marilyn: What I've learned just in the short period of time I've been here is that the rift isn't as large and dramatic as people think it is. If we're able to focus on shared values, if we're able to have a clear, concise message to the American public so that people understand that when Democrats are in control, the economy actually does better. When Democrats are under control, we actually create more jobs. When Democrats are under control, we're able to make big progress on human rights and civil rights and the things that are important to so many of us.
I don't think, Amy, that the rift is necessarily as large as it is, although it does exist, but I think the question for us as a party is we need to move forward together in unity. We need to move forward, focus on the values that we have because those values are shared with the majority of the American public and how are we able to communicate that so that it [inaudible 00:45:33] people?
What I've learned again, in this freshman class is a few things. My freshman class is relatively small. It's 15 Democrats, but even though we represent different parts of what I call the political-ideological spectrum, we all get along well, we are very friendly with each other. Again, we have a set of shared values and I think that's the way forward for the party is to think about, we believe in these core values, the distance between one part of the party is not that great so how do we come together and really clearly communicate what it is we stand for and connect our values with the American people? Because most people agree with what the Democrats stand for, but sometimes it's a conversation about communication, and honestly, how was the press portraying it? How was the media reporting the story? Because you know that contrast get clicks.
Amy: Speaking of moving forward, your relationship within your own delegation, forget about just meeting the rest of the Democrats but when you have a member of your own delegation, a Democrat Congresswoman Jayapal, actually not just support your opponent in the general election, but really helped to raise a lot of money there. This was a pretty active support within the party. This was like an intra-family fight. How was your relationship with Congresswoman Jayapal and how did you guys move forward?
Marilyn: I think this is really about focusing on the fact that I'm now a member of Congress and this delegation and a campaign is a campaign and people do what they think they need to do. Even though the political action committees that she was associated with spent a total of nearly a million dollars, we need to move forward as a country because if we think about the challenges that we face, they're just profound. For me, this isn't necessarily about a relationship I have with one person in my delegation.
This is really about the people that I was elected to represent and how I'm going to be able to represent them. You know that I did have the support of Derek Kilmer, Suzan DelBene, Rick Larsen. I know members of our delegation because, during my time as mayor, I worked a lot with them because as you know local government needs strong partnership from the federal government.
For me, this is really about focusing on the people that I want to represent in the 10th district and that includes the people who may not have necessarily voted for me because you were there to represent everyone and to do your best, to pay attention to their needs and to try and do the best you can at the federal level to help local communities be successful.
Amy: One of those issues, certainly that the president talked a lot about in some congressional races, you saw this too, was weaponizing the issue of climate, whether it's the Green New Deal or ban on fracking. Your opponent was a climate activist. That was one of the reasons progressive gave, talk to us about what your position is on some of the climate issues, what you want to see going forward, and where do you think the Democratic Party can go?
Marilyn: First of all, we know that climate change is real. It is a scientific fact. We are seeing on the West Coast, these wildfires that have just been burning during the summer, creating smoke and hazardous conditions for people, health and welfare. When I think about the things that we need to do moving forward, we have to consider a few things. In Washington State and primarily on the West Coast, because of where we live, environmentalism is part of our natural ethos.
When you come to a place like Congress, you have to understand that people come from different parts of the country and their economies are different and they're just different ways that people look at everything. Amy, what Joe Biden did really well is that he talked about climate change, but he also framed it as a job creation program. I say this because there are people who absolutely believe in climate change, but they also are fearful that their livelihoods will be taken away.
As we talk about transitioning to a more clean energy economy, we can make investments and infrastructure, but we have to do it in a way that is just and doesn't just take away people's livelihoods. For me, I look at my history when I was mayor, when the Trump administration withdrew from the Paris Climate Accord, I stood with 140 other mayors around the country to reaffirm our commitment. I was on the boards of two large transit agencies where we made investments in buses, light rail, and mass transit. We in Tacoma actually, made a pledge to increase our tree canopy. We did a lot of work on trying to improve solar usage and increasing that.
My record indicates that I clearly am able to take action to just climate change, but on the national scale, it's a different conversation. It's really about making the investments that make it easier for us as consumers to make better choices and that's the different choices we have with how we heat and cool our homes, with how we use transportation and even how businesses and consume energy.
I think that Biden's plan to invest in infrastructure, to create those good jobs, but to help people transition away from jobs that have put food on the table, allowed people to have comfortable retirements. We have to be mindful of how those things affect everyone.
Amy: The state has changed so much since I first started covering politics, but I remember the battles in the '90s, in Washington State, there was the spotted owl and logging were so much of the conversation there. You're still talking about people's livelihoods and industry, but has that now become really basically an Eastern Washington thing and Western Washington in its own universe now?
Marilyn: No, I would say that everyone recognizes. If you look at the wildfires, for example, and Hilary Franz, who is the Commissioner of Public Lands. She and I are good friends and she supported my candidacy and she has traveled around the entire state of Washington. The fires are happening everywhere and so people recognize that it's a combination of climate change and weather patterns that create drier weather, really aggressive winds but we also know that there's a forest management issue.
To be honest with you, sometimes it's just human behavior, people doing really dumb things that cause fires. I do believe that more people are coming to terms with the fact that climate change is definitely real, but I think the question becomes how do we address it in a meaningful way? It is urgent. It is a public health crisis. It will affect migration patterns.
It affects food security because we know that in Eastern Washington, for example, we have a large agricultural community there.
When the weather patterns are off or not predictable, it has an impact on the harvest season. You can't deny that climate change exists. I think the question for all of this is how are we going to address it? Also, two, Amy, recognizing we can do everything right in Washington State, we can do good things across the nation, but this is a global phenomenon. This is why getting back to the Paris Climate Accord and coming up with an international strategy is so crucial if we're really going to do something about it.
Amy: Congresswoman-elect Strickland, I really appreciate you taking all the time to talk with me, looking forward to you coming to the other Washington.
Marilyn: Well, nice to talk to you.
Amy: Marilyn Strickland is the representative-elect for Washington's 10th congressional district.
[music]
Amy: Next up is my conversation with Congresswoman-elect Ashley Hinson from Iowa's first district. She's a former TV anchor from Cedar Rapids and a state representative. She's part of a record-breaking number of Republican women who've been elected to Congress this year. She represents a purple district where she flipped a seat from blue to red. We caught up on Monday while she was participating in virtual freshmen orientation and isolating after receiving a positive coronavirus diagnosis. She ran on a message of bipartisanship. I asked her if there were a few issues she could imagine working with Democrats on.
Ashley Hinson: I think there's a lot of common ground on what I call the kitchen table issues. We've all been talking about childcare, the cliff effect, some of the challenges surrounding taking leave as a family. I've talked about options for that on the campaign trail. I'm willing to come to the table on that too because I realized that's something that our families need. I think there's a middle ground to be had so if the bill is reasonable, I'm absolutely willing to support the right piece of legislation. That's what I said by running as a common-sense conservative here.
I'm going to vet every bill, absolutely, but if it makes sense for the people of the first district, I'll support it. Immigration is another that I think we absolutely need to move forward on. I don't support blanket amnesty, but many Democrats don't either so I think there are many places in the middle that we can come together and actually move the ball forward, which is what I want to do.
Amy: You've worked in now on both sides of this thing, behind the mic and now somebody else asking you questions. Can you appreciate now more now that you've been in politics, the pressure on someone in elected office to stick with party first?
Ashley: I've always told people where I stand and there have been people who've supported me with a check, who have called me afterward and said, "I don't really like the way you voted on this." I'll say, "I'm sorry, I voted for my district." A lot of times they still support me once I explained the why. Context, for me, is what really matters in all of this. Being able to explain why I did something, what my perspective on it was and all the listening that I did beforehand. When I am able to talk about that, I think that does make a difference to people even when they disagree with you.
As far as the partisan aspect it is tough. I think that, unfortunately, what we've seen is with some of the people who've been in Washington, they've been there a very long time. Those relationships are pre-established and sometimes the personal feelings get in the way I think of getting some things done. I think, unfortunately, we need a new crop of leaders and that's why I stepped up to run for this seat, in general, because I want to build that consensus and get things done.
I've already told our leadership. I told them when I met with leader McCarthy last year, I said, "There are going to be times when I'm probably going to not vote with the caucus. I'll tell you when I'm not going to, but I'll let you know." He said, "That's okay. I expect you'd have to do that. Just be honest."
Amy: What do you to folks who look at the fact, the president has not conceded, is continuing to push theories that have been already denied by even Republican leaders in these states as false about vote counts and fraud. Do you believe that Joe Biden is the president-elect?
Ashley: I believe that there are some very close elections. We have one of those here in Iowa that was within 30 votes. I want to make sure every legal vote is counted. All fraud is investigated, but I do believe also that Joe Biden should be getting security briefings because it is looking like he has a majority of the electoral votes at this point. I am confident that he should be getting those briefings because I think that's what I would have expected with Obama and Trump four years ago as well.
Amy: Do you worry that we're actually undermining integrity when questioning fraud that is not there? Are there specific examples of places where there is enough "fraud" to overturn any one of these states' final margin?
Ashley: I'm not in the weeds on all of the lawsuits that have been filed. I want all the lawsuits to play out. That's what I want.
Amy: I'm talking to-- you are actually quarantining. You recently got a positive coronavirus diagnosis, is that right?
Ashley: Yes. I am isolating at home and we pulled our kids out of school until after Thanksgiving. I've worn a mask everywhere I've gone publicly, with the exception of eating, drinking, or publicly speaking. I've been in isolation and I'm hoping to rejoin my colleagues soon.
Amy: Talk about the issue of the pandemic writ large. First of all, I'm glad that you're feeling better. It sounds like it. Talk about how the pandemic do you think has been handled at the state and at the federal level and now you are going to be somebody-- obviously, you're going to be in the front row here and be making significant decisions about where we go from here.
Ashley: Obviously, I hope we get the vaccine out as soon as possible. I think that's really going to be, for lack of a better way of saying it, the shot in the arm our country needs to be able to move forward. Number two, we need to also make sure we're getting people the relief they need. Unfortunately, as we've seen in traditional D.C. fashion, they've failed at passing a meaningful second relief package here.
When I'm out talking with businesses who are about ready to deal with the second wave here in Iowa, our numbers are very high in terms of the number of coronavirus cases. I'm hearing from them they don't want to shut down, but they do want to make sure that we are doing what we can to reduce the numbers. Making sure we have adequate money coming in for testing so that everybody who needs a test can get one.
Small business relief is another one where I think we absolutely need to make sure-- because the economy has been hurt by this pandemic and they had a number of shutdowns and that is very, very challenging. We've seen local restaurants that are already announcing they're not going to stay in business past mid-December. That breaks my heart because I think some of these places were doing just fine until this pandemic hit. It's not lost on me, how important these decisions are. I think I'm against mass mandates, but I also believe people should be wearing masks in public when they can't socially distance.
Amy: Can it work if there is no mandate, because as you pointed out, even though you have been really vigilant in wearing a mask, you still got sick, which suggests that having everyone where one might be the answer.
Ashley: My son was sent home from school. They require masks at school, except for the occasion when they're eating in the lunchroom, he was directly exposed to someone in the lunchroom during that short amount of time, they had their mask off. I got asked where I got coronavirus last week. I have no idea because it is spreading so rampantly. Regardless of people wearing masks, everyone I was around was wearing a mask too.
Businesses are requiring them to come in. While many of our local communities have issued mask mandates, they're not technically enforceable according to our Iowa code but I look at the number of businesses that have the sign on their door, mask required for entry, and people are doing that in order to go into those businesses. I think it's happened organically.
Amy: I want to ask you about one more thing, which is the fact that you are part of a record number of Republican women elected this year. We haven't gotten the final results yet for the House, but almost every one of the challenger races that have been won where a Republican flipped a Democratic seat was done so by a female candidate, why do you think that is? Do you think that this is assigned for the Republican Party leadership to recruit even more Republican women going forward and put them in more positions of leadership?
Ashley: I think it speaks to a couple of things. I think the number of women who ran this cycle, it was a record-breaking number of Republican women who filed to run, but also when you look at the ones who were able to be successful, they were not only just women but business leaders, leaders in their communities, veterans, minorities. We had a very diverse class of candidates this cycle that I think spoke to not only recruitment but support from leadership.
I had meetings very early on and made clear to them why I believed I was the right candidate and they got behind me. I think that's important in being successful. We had a number of groups, for example, that got behind strong Republican women candidates. They didn't get behind every woman, but they got behind candidates they knew were good candidates and could be successful.
View PAC, for example, and winning for women, EPAC, Elise Stefanik, congresswoman Stefanik's group. Those not only provided resources but also connections across the country. I was already having conversations with other women who were running campaigns and saying, what are you doing, and how's that working? We were able to talk about that, develop relationships, and now I'm going in with a class of women who I respect and admire and I'm just excited to work with.
Amy: You had an informal networking with many of these women candidates where you were sharing, like okay, what did you guys do about this, or what happened when you had to deal with X, Y, and Z issue?
Ashley: Sometimes you just have a bad day and you just need someone to talk to who you know is going through the same thing you are and so many of these women ended up being friends to me on the campaign trail, albeit virtually in many cases, since many of our events were on Zoom. No, I think it's been a very unique year to have to run a campaign in general for anyone on the ballot this year but I think unique in the sense that we did have an incredible class of candidates come in and be successful this year.
Amy: Congresswoman-elect, congratulations. I hope that everything continues to go well with your recovery and we'll see you in Washington soon.
Ashley: Thank you. I'm looking forward to getting to work.
Amy: Ashley Hinson is the Congresswoman-elect for Iowa's first congressional district.
[music]
Amy: One more thing for me.
Rudy: Did you all watch my cousin Vinny? He says to her, "How many fingers do I got up?"
Amy: It's easy to laugh off Rudy Giuliani's attempts to question the legitimacy of the 2020 election. There was the four seasons landscape debacle and Thursday's press conference where the former New York City mayor lobbed numerous baseless conspiracy theories about the election all while black dye ran down the side of his face, but that the president of the United States is not only supporting these attacks on the election but actively stirring them isn't funny, not at all.
Firing Chris Krebs, the director of Cybersecurity and Infrastructure Security Agency who rejected Trump's claims of voter fraud, inviting GOP members of Michigan to the White House in an apparent attempt to delay or deny certification of Michigan's results, continuing to use his bully pulpit to discredit election officials. This is the kind of stuff that in any other country we'd describe as authoritarian and dangerous.
Thankfully, there are enough guardrails built into the system to prevent a coup, but it is dispiriting to see so few GOP officials stand up and tell the president to stop and to see the official RNC account tweet out the false claim that, "President Trump won by a landslide." As states continue to certify their election results, the president's path to disrupting the process will hit a dead end.
Joe Biden will be declared the winner of the Electoral College and on January 20th, he will be sworn in as the 46th president of the United States, whether Trump concedes or acknowledges it. The damage has been done and once again, it is up to us, those of us who believe that this democracy is resilient, to bring it back to life. That means calling out anyone, even those who are on our own team when they try to undermine. That means admitting that winning at all costs isn't worth it.
That's all for us today. Our senior producer is Amber Hall. Patricia Yacob is our associate producer. Polly Irungu is our digital editor. David Gebel is our executive assistant. Jay Cowit is our director and sound designer. Vince Fairchild is our board up and engineer. Our executive producer is Lee Hill. Of course, you can call us anytime at 877-8-MY-TAKE or send us a tweet on @amyewalter. The show is @TheTakeaway. Thanks so much for listening. It's politics with Amy Walter on The Takeaway.
[music]
[01:05:49] [END OF AUDIO]
Copyright © 2020 New York Public Radio. All rights reserved. Visit our website terms of use at www.wnyc.org for further information.
New York Public Radio transcripts are created on a rush deadline, often by contractors. This text may not be in its final form and may be updated or revised in the future. Accuracy and availability may vary. The authoritative record of New York Public Radio's programming is the audio record.