Tavi Gevinson Wonders When It's Done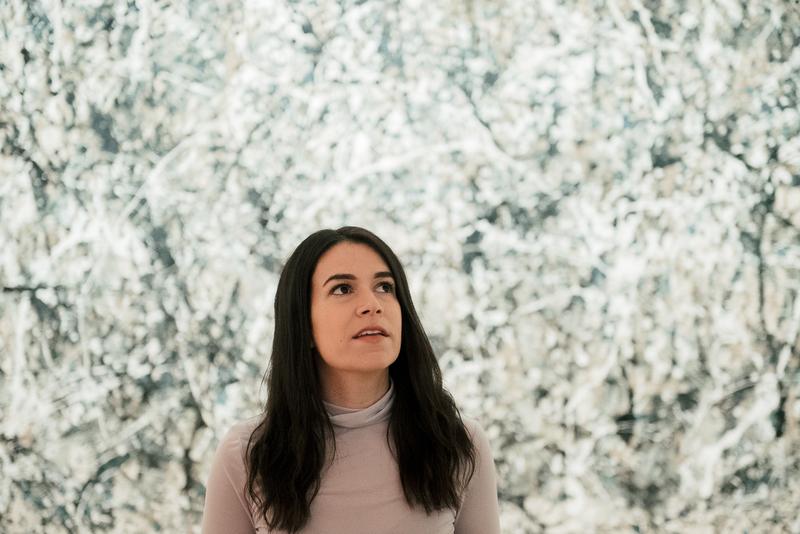 Transcript
EPISODE 2: TAVI GEVINSON WONDERS WHEN IT'S DONE
Tell me if this has ever happened to you. You walk into a museum… It's a little bit crowded, there are people taking selfies next to famous art ...
And finally, you find yourself, like these people, in front of a painting, like a Jackson Pollock…
Visitor: It feels to me like it's a kind of ordered chaos.
Visitor: Normally, I'm usually pretty good at like just saying, OK, this is an idea and then extrapolating on it, but I'm not getting anything out of this.
… these paintings are all over the place in here--squiggles, drips, splotches, splashes, maybe some cigarette butts stuck into it …
Visitor: Is this something that you have to be, for lack of a better word, enlightened to understand?
What is this all about? Is it about anything? And how do you figure out what you're supposed to think or feel about something that seems so… random?
I'm Abbi Jacobson and this is A Piece of Work.
We're talking about abstract art in this episode. And abstract just means any piece of art that doesn't represent some recognizable thing in the world. There's all kinds of abstract art, in every medium, but I'm going to be talking about paintings today.
Abstract Expressionism developed after World War II. And at the time, a lot of people didn't get it: they thought it looked messy and chaotic.
But it's not messy and chaotic. Or maybe it IS those things, but that's because life is that way sometimes. And shouldn't art reflect that?
You can't even really mention abstract painting without Jackson Pollock's name coming up. You probably have a picture in your head of what a Jackson Pollock painting looks like: drips and splatters all over it, there's a lot going on.
But what are his paintings about?
Abbi: OK, you ready?
Corey D'Augustine: Yeah right. Yeah, sure.
Abbi: Y'all ready for this?
Corey D'Augustine: You want to just hang out here? Is this a good spot?
Abbi: Yeah, so we're not blocking it.
Corey D'Augustine: Ok, all right.
And so I went to MoMA to talk with the guy who restores paintings by artists like Pollock.
Corey D'Augustine: My name is Corey D'Augustine. I'm a painting conservator or restorer. I specialize in modern and contemporary art.
Abbi: OK, so we're standing in front of a Jackson Pollock.
It's enormous--over 17 feet long and almost 9 feet high. It's covered with splatters of paint--black, white, brown, and grey.
But what is it about? It isn't like figurative art, where you can say: wow, this really does look like a table with lemons on it.
Corey D'Augustine: It can be very much akin to walking into a room filled with people speaking a foreign language and not having a clue what's going on. A lot of visitors who react negatively to this kind of work--it's because they they have no foothold, they don't have any idea where to find meaning in the work.
Pollock didn't start out making abstract art. He was actually trained as a figurative artist. He kind of discovered drips later. Sort of stumbled into it.
Corey D'Augustine: He was struggling so much with the painting called "Full Fathom Five." It's also in MoMA's collection. That he decided to stick a key in that painting, stick coins in it, and a thumbtack and a cigar, literally just putting anything and everything you could think of and dripped paint was the last on that list of things to add to that painting. And this was the eureka moment.
Abbi: Yeah right, That was like the "aha."
Corey D'Augustine: Yeah.
Back in the late 1940s and early 50s, Pollock's drip paintings made him famous--maybe the most famous artist of his time. But when you look at one of these, what are you supposed to see exactly?
Corey D'Augustine: Think about the actions the physical actions that went into the making of the work.
Abbi: Right.
Corey D'Augustine: And if you know that this painting was painted on the floor and if you've seen some photographs or images or even perhaps Pollock the Hollywood movie and you understand how Pollock danced around this canvas--almost like an athlete really using not only his hand but his wrist and his elbow, his shoulder, his torso, his knees--suddenly you can really start to imagine the physical activities that go into this. And Pollock, this wild passionate artist, immersed in the painting experience, performing, dancing, quite literally.
Action painting--if a Pollock painting is a relic of a kind of dance, then maybe a dancer could help us understand it. So I sent my producer, Rachel, to talk with one.
Mark Morris: My name is Mark Morris and I am a choreographer and I like to look at things and listen to them. What else do you want? It is I, Mark Morris, famous choreographer. I'm at The Museum of Modern Art, where I come a lot to look at fabulous art.
Mark Morris is one of the giants of contemporary dance. His dance company has its own school and performance space in downtown Brooklyn. And he really hates it when people compare a Pollock painting to what he does.
Mark Morris: Dance is live, then it's over. And that's very very different. It doesn't leave a trace. Then you would have the footprints on the floor at the dance studios--how to foxtrot, left, right, left, right, on the floor. So this is a record of gestures, it's not gestures at all. Because gestures can't be done in this medium. I'm gesturing, which you can't tell because I'm on a podcast. I'm also naked, completely naked.
Rachel: [laugh]
When Mark looks at a Jackson Pollock painting, he sees an explosion of emotion.
Mark Morris: You know, it is a tantrum and a mess and you know. It's like "I'll show you how deeply I feel." It's like, "guess what, every single person on earth feels at least as deeply as you do, if not more so." And aside from that, I don't want to analyze it or pick it apart. I can say there's like tan and brown and white and black and glossy and matte and thicknesses and thinnesses and roots. It's one thing on top of another thing. It's palimpsesty. You know, it probably looks exactly like the ladder he used to you know open up a window in his studio because it was splattered with paint. Probably all of his sweaters look like this, you know.
[MUSIC]
Next up, an artist who took that abstract messiness even further into my-kid-could-do-that territory.
Kid visitor: It looks like there could be eraser on there. It looks like some things were painted over with white. It sort of looks like a doodle or something.
This is A Piece of Work.
>>>>MIDROLL<<<<
This episode is all about abstract art.
Tavi Gevinson: It's like scratchy little doodles, right?
I'm at MoMA with my friend Tavi Gevinson. She's the editor of Rookie magazine and a Broadway actor. She's 21, but she got a lot of attention when she started a fashion blog, Style Rookie when she was just 14.
Abbi: We're looking at a Cy Twombly, it's called "Tiznit"
Tavi Gevinson: Tiznit!
Abbi: Tiznit. Actually, Tiznit. (Laughs)
It's four and a half feet by six feet. And the white, creamy background is scribbled over with thin and thick black lines made with pencil and crayon. There's a big triangle, a rocket sort of, and there's a figure that kind of looks like a big letter "F." But it's all scribbled out. Twombly made the painting in 1953.
Tavi Gevinson: I mean when I see something abstract like this I'm always just like, how did they know when to stop? Like because you could be --
Abbi: Yeah, really like they stood back and they were like, that's it. I'm done.
Tavi Gevinson: They're like one more little scratch.
Abbi: Totally. But why is that? I mean, I guess when it's a when it's realism you stop when you feel like you've done the… it looks like it.
Tavi Gevinson: Right. I guess they feel like it looks like the thing in their head, or...
Abbi: Or it feels... they're done having the conversation with the canvas.
Tavi Gevinson: Yes. Snap snap snap. Not to mock -- oh! Some woman just knocked over a sculpture. Rude.
Abbi: Whoa. Mayhem. Someone broke a sculpture. No I'm kidding. Someone dropped an umbrella. (Laughs)
Ok, let's focus up here. What exactly did Twombly see in his head?
Tavi Gevinson: Twombly saw a scratchy black thingamajig. Just to be really reductive and disrespectful.
The painting DOES kind of look like when you give a kid a crayon and a piece paper and they just really go to town. Maybe that's why a lot of people say--
Visitor: But If you can consider your toddler's scribbles on a piece of paper art, then this is definitely art.
I happen to know a toddler, so brought my 3 and a half year-old niece to see what she thought of Cy Twombly.
Abbi: What's your name? I'll say my name first. My name is Abbi Jacobson.
Stella Jacobson: Stella Jacobson.
We sat in the gallery with a sketchpad and some crayons and tried to make some Twomblys of our own. When I pointed to the wall. Honestly, she wasn't that impressed. She's kind of an art snob.
Abbi: What do you think those are?
Stella Jacobson: Paintings.
Abbi: But like of what? What do you see when you look at them?
Stella Jacobson: [makes sounds, laughs]
I needed to know more about Twombly. So I talked with Anne Umland, the curator at MoMA.
Abbi: Hi
Anne Umland: How are you?
Abbi: Good, how are you? It's chilly in here.
Anne Umland: Having a good day? It is chilly in here.
Anne makes being a curator seem like the most fun job in the world.
Abbi: You gotta blast some tunes in here. Can you imagine if you guys played music through the loudspeaker in the museum. Come on.
Anne Umland: It'd be fun.
Abbi: It'd be so fun, right? You would see things in a totally different way.
Anne Umland: You do.
Abbi: You would walk in a different way around the museum. Right?
Anne Umland: I do that when I'm installing and because the public's not here. I always have a boom box.
Abbi: What do you play?
Anne Umland: What do I play? Well, I play David Bowie. Oh well. I'll date myself. David Byrne. I play...
Abbi: These are amazing. Musicians --
Anne Umland: Lyle Lovett.
Abbi: Yeah.
Anne Umland: Who else do I play oh, well, not often Madonna, every now and then Madonna. She's a little--
Abbi: So no one's in here and here and you're installing and you're blasting Madonna and Talking Heads in here?
Anne Umland: Yeah. It's fun. Oh, it's good. You can come the next time we install a show.
Abbi: Stop bragging, Anne.
Anne Umland: I'm not bragging.
Abbi: Right, so we're talking Cy Twombly today.
Anne Umland: We're talking Cy Twombly. We're talking scribbles, right? Graffiti, scrawl.
Abbi: And I tend to be drawn to really raw sort of expressive.
Anne Umland: Mark making?
Abbi: Yeah. I love that kind of work, but I don't know, we haven't heard anything really about.. The artist --
Anne Umland: Who he is and where he came from?
Abbi: Yeah.
Anne Umland: Yes and all that. So, right. Cy Twombly born in the South. And so he moves to New York in the 1950s. He was a cryptographer in the army so he decoded things and --
Abbi: Wow.
Anne Umland: He talks about how that really changed the way that he thought about language -- both the way that it functions and what it looks like visually. And so, when he set out to reinvent the way that he would make an artwork, he began to do something that was kind of akin to writing or akin to language but doesn't add up to an image.
It's kind of like a code. Which is exactly what Mark Morris sees in Cy Twombly's work. Since Twombly was gay and being gay in the 1950s meant hiding a lot of things about yourself.
Mark Morris: You know it was this gay code and you know a lot of these men were married or whatever and they were, it was still against the law to be queer. And so these people who had to protect their queer identity they made the queerest work in the world. So does that answer everything about his work? Nooooooo. It doesn't that's what's so nice about it! You know now you'd have to paint like hard dicks all over everything. And that's like if you're a lesbian feminist. You know it's like c'mon everybody, a little bit of almost naked is usally sexier than naked. But I'm old fashioned.
Anne Umland: Oh, so Tiznit, right.
Back to Anne and this painting.
Abbi: Tiznit. I like the name, too.
Anne Umland: Right, it's the name. A Moroccan village?
Abbi: This feels a little bit woodsy to me.
Anne Umland: It feels woodsy. Morocco!
Abbi: It feels like the woods to me.
Anne Umland: Woods, tent. I mean, but, right, there still are figures of some sort even though they are very abstract, hard to define. So this one really makes me think of an outdoor wall.
Abbi: Yeah.
Anne Umland: I think he wrote about seeing sort of the in later years the graffiti on the walls in ancient Rome and loving that sort of build-up of--
Abbi: Oh yeah this is very cave-drawing-like.
Anne Umland: Yes. Right back to sort of a pre-, pre-linguistic isn't the right word. Prim… primitive...
Abbi: Like a symbol like --
Anne Umland: Primal.
Abbi: Yes
Anne Umland: A sign language, a stick language.
Abbi: We don't have the language to say what it was before language. (Laughs)
Anne Umland: And so he succeeded. [laughs]
Abbi: Yeah.
Anne Umland: He succeeded
Abbi: We can't find the words.
Anne Umland: Maybe we could if it was the morning instead of the end of the day. I don't know.
Abbi: I don't know if I could ever find them, you maybe.
Anne Umland: Yeah, I don't know. Yeah. But I could look at it a long time.
Abbi: Yeah.
The longer I stood in front of that painting, the more stuff I saw in it: ancient graffiti, trees and roots, a forest, kid-like energy. I can't say that I can completely describe what this is or what it's about, or that I get it. But I'm starting to feel more comfortable looking at art that I don't really get. And maybe that's kind of the point.
[MUSIC]
And that's A Piece of Work. I'm Abbi Jacobson.
You can see pictures of the paintings we talked about today on our website apieceofworkpodcast.org. And if you like the show, you can leave a review where ever you get your podcasts.
Special thanks to Anne Umland, Mark Morris, Tavi Gevinson and Corey D'Augustine.

The show is a co-production of WNYC Studios and MoMA.
Thank you so much listening.
Stella Jacobson: Abbi! Stop talking!
Abbi: I'm gonna stop talking but you have to tell me about what you're drawing.
Stella Jacobson: Stop talking!
Abbi: Just a little bit give me some insight!
Stella Jacobson: Nope, stop talking.
Abbi: Alright....
###