Hannibal Buress Really Wants to Touch the Art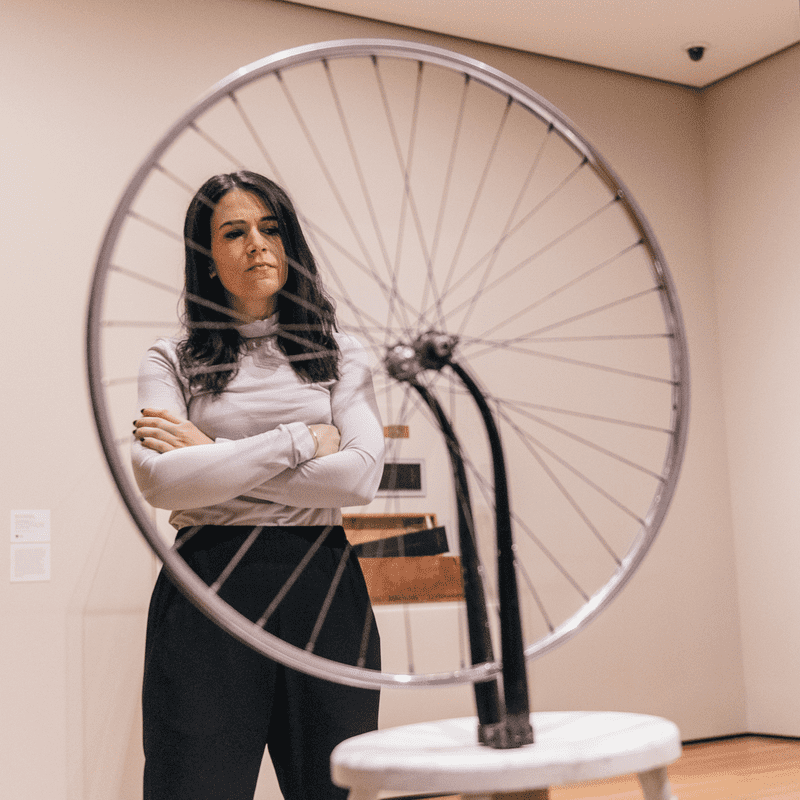 Transcript
EPISODE 1: HANNIBAL BURESS REALLY WANTS TO TOUCH THE ART
This is Abbi Jacobson. You might know me from my show Broad City. But before all of that, I went to art school. I actually grew up with a family full of artists. My dad and my brother are both graphic designers and my mom is a potter and makes found object artwork. And as a kid she used to sell her stuff at craft shows on the weekends. It was a pretty incredible way to grow up. I feel like we were always drawing.
I ended up going to a school called MICA Maryland College of Art in Baltimore. It was a really wonderful experience. I got to study drawing and painting and I minored in video. But around junior year I realized through my video work I was really interested in acting. And I'd always been interested in comedy. I was obsessed with SNL so the next step felt very obvious to me: New York City.
I graduated from school in 2006 and I moved up to New York and I started to try and juggle both of these kind of impossible careers: comedy and being an illustrator. I started this greeting card company and around that time I asked for a membership to The Museum of Modern Art for Christmas/Hanukah. We're not super jewey. We celebrate both - it's fine, it's great. Anyway so I got this MoMA membership which let you go to MoMA for free for a year. So I would go into the MoMA store and there's kind of like this whole wall full of cards and I go into there and I would skip a couple of my cards into some of their displays. With the hope that someone: some tourist, some art fan, some curator would come by and pick up my card and go to the cash register to try and buy it and the cashier would then have to say "what is this? I don't even recognize this artist. This isn't even in our inventory. Who is this person?!" they would turn the card over and they would contact me. And I don't even know what would happen next in the story because nothing did.
But that was just part of my hustle. You know you gotta hustle in New York City. Anyways so at this time my comedy career is starting to take off. As that happened I just had to let go of the artmaking. And that was always very sad for me. And as Broad City picked up, I got to give a lot of my illustration work to my alter-ego Abbi. I even got to do an illustrated book last year called Carry this Book. But I really miss being around art and getting to talk about art and getting to experience art. I think that sometimes when people go into museums they see all these things on the walls and their like "What am I supposed to get out of this?" you know "What is the artist's intention?" "Am I having the correct feeling?" And even after years of art school I feel that way most of the time. But also, I think that what you're supposed to do is look at it and take it in. And feel however it makes you feel. Because whatever that is, is right.
[MUSIC]
Visitor: I don't think it's art.
Visitor: Yeah. The first impression is rather negative. It's ugly, but then the more I thought about it the more I liked it.
Visitor: It just should be here because it's really cool.
Visitor: like this piece a lot.
Visitor: Yeah I think it's in the eye of the beholder
Visitor: It feels like accessible art
Visitor: You have an oil on canvas, it seems like outsie of my reach, it seems like art I could do.
This podcast is called "A Piece of Work." Over the next 10 episodes, I'm going to invite a bunch of my creative friends to basically come look at art with me at The Museum of Modern Art in New York City. because Museums and art are always better with friends. Friends you can talk to, bounce ideas off of, laugh with and even sometimes have transcendental art experiences with. I'm also gonna talk to a bunch of curators and educators and really smart people at moma because you know they have good ideas too. So together you, me them, we're gonna check out some pretty cool shit.
[MUSIC ENDS]
From my art school days, I know that one of THE starting places for modern art is the sculpture I'm standing in front of now. It's a bicycle wheel on top of a stool. It's by Marcel Duchamp. He made the first version in 1913 and he called it… "Bicycle Wheel."
Hannibal Buress: We're not supposed to spin it are we?
And my friend that I brought to look at it with me—Hannibal Buress. He's smart. He's funny. He's not afraid to get up close to the goods. Maybe...too close
Abbi: It feels like it wants to be spun though.
Hannibal Buress: Does it want to be spun? Well, why can't I spin it? No one is here.
Abbi: He used to spin it in his gallery to kind of think, and that's how it became a thing.
"Bicycle Wheel" was one of the first of a kind of art called "Readymades" — art made with common, everyday objects you might buy at the store.
Hannibal Buress: That just looks like some high shit. "What if I put the wheel in a stool?"
Abbi: Exactly. Yeah. A lot of people get angry about it because they're like well it's in these galleries with these masters.
Hannibal Buress: Oh, it wouldn't make me angry, but it's just like moving along. [Laughs]
"Bicycle Wheel" was a crazy idea when it came out—super controversial too. Up until this, art was BEAUTIFUL. Art was RARIFIED. Art was ELITE.
But now, what Duchamp was saying was, basically anything can be art. And if anything can be art, then anyone can be an artist.
In other words, "fuck that! Art isn't what you say it is, it's what anyone says it is."
Abbi: He started doing some of this work because I think he was trying to test a jury system of an art show. If he could get in.
Hannibal Buress: That's the thing. When I say okay, I mean, I could do that. Maybe that's what he's trying to do, inspire people.
Abbi: That's the thing that people are like I could do that.
Hannibal Buress: Okay.
Abbi: Yeah. This is, and then this one is just a shovel.
Hannibal Buress: Just a shovel hanging?
Abbi: Yeah.
Hannibal Buress: Yeah. I mean, maybe he's just trolling. That's how you troll art. Hang this shovel. It's art.
Yes, we are talking about a snow shovel hanging from a ceiling. Also in this gallery includes a window with black leather covering the panes and three wooden measuring sticks of different lengths.
Hannibal Buress: He's got lots of styles. Well, you know what? If this guy only did that, if he only did this stool with the wheel thing, I'd wonder about him, but he has range. He's all over the place. You know? He's like I can do nice paintings also. I can just hang a shovel from the ceiling too.
Abbi: Yeah, and this was him kind of testing the art world, and trying to find just kind of making fun of it, like the pretentiousness of it.
Hannibal Buress: Well contextually in 1913, just putting a wheel on a stool. I bet that was kind of crazy back then. Like what? Yeah.
Abbi: It's very now.
Hannibal Buress: Now it's..
Abbi: Now it's...
Hannibal Buress: Williamsburg.
Abbi: Wait, this is so Williamsburg [laughs] which is where you live.
[Scratchy ambi to signal archival tape]
Marcel Duchamp (archival): The first one was in 1913. It was a bicycle wheel.
This is Duchamp himself talking about "Bicycle Wheel" in 1959 on the BBC. Even then, almost 50 years later, people were still like, really?
George Hamilton (archival): Do you think anybody else could make one?
Marcel Duchamp (archival): Yes, everybody can! That is the very difficult point, because art first has to be defined. All right, can we try to define art? We have tried, everybody has tried, and every century there is a new definition of art. So if we accept the idea that trying not to define art...then the readymade can be seen as a sort of irony, because here it is, a thing that I call art.
In other words: art is what an artist says it is. Even a bicycle wheel.
Marcel Duchamp: I didn't even make it myself...so it is a form of denying the possibility of defining art. In other words, the ideas are more important than the actual visual realization.
And that last point Duchamp made—that the ideas behind the art are more important than the art itself—this opened a floodgate. It redefined what art could be and set the stage for the whole century. Artists began thinking about art in totally different ways — and they really haven't stopped.
That's next, and this is A Piece of Work.
<<<<<MIDROLL>>>>>>
Abbi: Okay, we've begun. We're being recorded now. On the record.
Ann Temkin: Very good.
This is Ann Temkin. She's been a chief curator at MoMA for a decade. She knows Duchamp's work inside and out, and she's a big fan.
Ann Temkin: The insistence Duchamp had on stating on what was important about an artist was his or her idea. As opposed to technical competence. That, for the last 100 years has had an enormous impact on what artists have been able to do, and particularly sculptors in terms of making things that didn't necessarily need to be actually formed by them, that the artist could have an idea and that that idea could be a breakthrough, and could be expressed visually in a thing, but that thing didn't need to be something he or she makes all by him or herself.
Abbi: I don't know, but I feel like moving into this world of ready mades, and it just seems like a total shift in exploring. This it just feels like, this feels like part of a group of-
Ann Temkin: It's an evolution.
Abbi: Yeah.
Ann Temkin: Yeah.
Abbi: This feels like I have this idea that no one else has done.
Ann Temkin: Right.
Abbi: And I am going to run with this.
Ann Temkin: Right. That's a total revolution.
Abbi: Right.
Ann Temkin: And that the idea of a work of art for Duchamp and all of the ideas that it would produce in the head of the viewer looking at the thing was a more interesting way to think about art than to think about it as something beautiful to passively enjoy. The whole idea of beauty as the goal of art, or simple enjoyment as the goal of art, he wanted to replace with the sense of art as something that provokes you, makes you think, questions your traditional assumptions, and that even when you look at young artists today has become the new standard for a goal of a young artist.
Yes! That is it! Why does it have to just be about being beautiful? I mean we've seen that kind of art for centuries. It's about work that makes you think, and it makes you wonder, and yourself and it can even might makes you laugh.
Duchamp's best known readymade is called "Fountain." I feel like if you've seen it you you know exactly what I'm talking about — it's a porcelain urinal on a pedestal.
Ann Temkin: There is a lot of humor in the ready mades.
Abbi: Part of the thing we're talking about is that sometimes people feel that museums can be not accessible to them - they like don't know, cause you do get a feeling when you walk into a museum it's serious. People think museums are serious. And it's so funny to me that this stuff, you kind of are like, "well do I not get it?" You're like you question yourself, but actually his intent was-
Ann Temkin: It's kind of the least.
Abbi: Exactly. There is such comedy there.
Ann Temkin: Yeah. And these should be accessible to you because you know what a bicycle wheel looks like, and you know what a snow shovel looks like.
Abbi: He wasn't coming at it from a pretentious place.
Ann Temkin: Not at all.
Abbi: He was coming at it almost-
Ann Temkin: He was on your side.
Abbi: He was on your side to find humor in the everyday. I mean obviously these things are so artful.
Ann Temkin: Right.
Abbi: These more than the urinal I think.
Ann Temkin: But the urinal too, you can read funny art history articles of the beauty of its curves.
Abbi: Right. He's like, I got it at this, as you said a plumbing supply store or whatever.
Ann Temkin: Yeah. But he really wanted to prick a pin in the balloon of pretension and affectation that so many artists at that time had. And that so many galleries or museums had about how important and special the stuff under their roofs were.
Abbi: His art is kind of about the art world.
Ann Temkin: Yeah.
[MUSIC]
Duchamp changed the art world when he put everyday objects on display. But across the hall, there's another artist who took that idea one step further. And there's another curator, can you believe it? Another ANNE, can you believe it?! Anne Umland, who's gonna show it to me.
Abbi: Sometimes the art world can be very unapproachable and feel dare I say pretentious and scary for people that aren't involved. That don't know a lot about the history. I'm going to say Ann you are very approachable.
Anne Umland: As are you Abbi.
Abbi: Ann is very approachable. She is not scary looking at all, and you're like the behind the scenes. You're the one making the decisions in here.
So the thing Anne's showing me was made by an artist named Meret Oppenheim. Story goes: one day Oppenheim was having lunch with Pablo Picasso, no big deal, super cas. And a few other people. Like you do. And Picasso commented on her bracelet, it was a furry bracelet. And he liked it. So Oppenheim's all like, "Furry …. Hmmmm… What if everything was covered in fur?"
And then she makes this artwork called Object. It's a tea cup on a saucer with a spoon and the entire thing—every part of it—is covered with fur. Soft, beautiful, brown, gazelle fur. Can. You. Handle. It?
Anne Umland: You can clearly recognize it's prosaic utilitarian origins that she has made completely strange, right?
Abbi: Yeah, it is one of the only pieces. I mean there's probably other sculptural pieces in here, but and some paintings that are really thick, but it is one of the only pieces that you feel the sense of touch even though you can't touch it obviously. It does evoke that where most art in here doesn't.
Anne Umland: Right. Not so directly. I think it's touch, and it's taste. I'm thinking what are all the different senses? It doesn't make a sound. You pick it up. You put them to your mouth. Then when you think about putting it to your mouth other reactions-
Abbi: Now there is something weirdly risque thinking about her making this.
Anne Umland: I suppose to me it's hard to not think of it as playing with eroticism. It's also because I know...
Abbi: That's not me being a prude guys. I'm just a prude.
Anne Umland: I like that she could take something so simple and-
Abbi: Yeah. People use it everyday.
Anne Umland: Like you could imagine this sitting on your breakfast table right? It doesn't give you the benefit of the frame on the wall to say "hello I'm art." You kind of have to do a double take. It was about objects like that that could make you look at the whole world in a different way.
Abbi: Right so you go home and you're like I don't have this huge painting but I'm going to drink my tea and the next time I drink my tea I'm like remember the fur-lined cup?
Anne Umland: And maybe if one's in a particularly hallucinatory mode, your own daily implements can sprout fur or look in some odd way. She was 23 when she made this.
Abbi: Isn't that nuts? Do you know what I was doing when I was 23?
Anne Umland: Yeah, tell us!
When I was 23 I was sneaking into the MoMA gift shop with my greeting cards getting trying to get discovered. You guys know the story!
A furry teacup and saucer. A bicycle wheel sticking out of a stool. A shovel.
What is art? And who gets to decide and why?
We're going to be talking about those questions and so many more throughout this series. I hope you come back. I hope you hang. And that was A Piece of Work.
Thanks to Ann Umland, Ann Temkin and Hannibal Buress.
The show is a co-production of WNYC Studios and MoMA.
Thank you so much for listening.
###