Andy Warhol's Art of Self-Promotion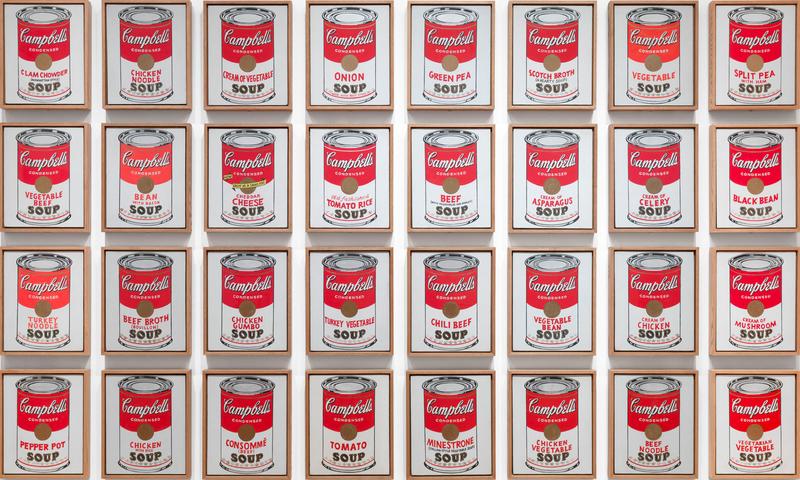 Transcript
EPISODE 8: ANDY WARHOL'S ART OF SELF-PROMOTION
I'm standing in front of Andy Warhol's, Campbell's Soup Cans, and it's a series of, it's eight by four, so there's eight of the same ... they're not the same, now that I'm looking. They're all different types of soup, which I'm so relieved by. I've got to say, I walked in here and I actually thought that they were just prints? Are they? Let me walk over to the thing.
[MUSIC STARTS UNDER]
Abbi: More than 50 years ago, in 1962, Andy Warhol debuted Campbell's Soup Cans in his first solo exhibition at the Ferus Gallery in Los Angeles. Each of the painting's 32 canvases rested on shelves mounted on the wall, like groceries in a store. They're images that almost everyone recognizes.
Visitor: When I was young, I was living in Antibes and we ate Campbell's Soup at that time, in the 50s so I wouldn't thought ever that this would be a multi-million piece of art in the MoMA in NY but there it is.
Visitor: Marketing is different, it's another kind.
Visitor: I mean since a lot of people have said this is art, most people think it is art but it's not.
I'm Abbi Jacobson and this is A Piece of Work.
This episode is all about how artists took pop culture and put it up on a pedestal to celebrate, but also to critique.
Pop art is some of the most popular art out there, so popular that makes a lot of people question whether it's still art...or ever was.
[MUSIC OUT]
The line between art and … and stuff, is fascinating to me. Like where is the line?
This is the kind of idea that also intrigues my friend Tavi Gevinson.
Tavi Gevinson: "I'm a writer and actress and I'm the editor of Rookie and I'm into art"
Tavi is 21, but she started her career as a fashion blogger when she was only 14 and she kind of took the fashion world and the internet by storm. Even as a kid she was an impresario. Kind of like Warhol.
Abbi: You, to me you're so accessible and approachable.
Tavi Gevinson: Oh thank you.
Abbi: You're welcome.
Tavi Gevinson: I've always wanted to be prestigious and everyone's best friend.
Abbi: You've done it.
This is her first time seeing Warhol's Campbell's Soup Cans in person.
Tavi Gevinson: The first time I saw it was probably like on my friend's aunt's tote bag.
Abbi: Oh yeah.
Tavi: Like after she like went on a trip to New York.
Abbi: One of the most popular images in like pop art, right?
Tavi: Yeah, but it's very hard to process that this like the thing, 'Cause I've seen it so many times removed.
Abbi: Do you want to get closer, we're so far away?
Tavi: Yeah.
Abbi: And are you an Andy Warhol fan in general?
Tavi: Yeah, I am. I have a couple friends who are like older than me, have lived in New York for decades and decades and have wildly different opinions about people I idolize.
Abbi: Same. I was talking to someone who was way older and they like cannot stand him. But it might be actually from a personal level and not if you detach the artist, can it exist on its own? You have a bunch of people who feel that way about him in particular?
Tavi: Well, yeah or they're like Andy Warhol or Madonna or Patti Smith or like anyone I would associate with like, "I became familiar with them when I was a kid and it like made me want to move to New York and whatever." And they're like, "Ugh he's a publicist." They feel like that was kind of maybe like the social aspect of everything we're talking about.
Abbi: But I mean, he is the like first art star.
Tavi: Yeah.
Abbi: I could only imagine what would have been if Andy Warhol had social media.
Tavi: Yeah.
Abbi: You know, like, I think people don't like the fact that it was like he was all about fame.
[MUSIC]
Sarah Suzuki: I think for Warhol, that's really a thing he loved the idea of fifteen minutes of fame. He loved the idea that everyone had within them the potential to be a
Abbi: Yeah
Sarah Suzuki: ... now it's come true! Good job Andy, way to foresee the future.
This is Sarah Suzuki…
Sarah Suzuki: "I'm a curator here of drawings and prints, I've been here for many years, almost, It's coming up on 20 years. That makes me sound really old.
Abbi: You're not really old. You started…
Sarah Suzuki: I did start really young. Basically they had me in as an intern between 6th grade and 7th grade.
She says Pop Art … especially when it comes to Andy Warhol, isn't is about more than just about the work itself.
Sarah Suzuki: he was someone who was also really complicit with mass media. Like he was a willing participant. So he wasn't like, "Please don't interview me." He was all "bring it one."
Abbi: No, I feel like it's all the ... it all feels connected in terms of mass producing this content is reflective of wanting to be known and out there and my work to be everywhere.
Sarah Suzuki: Mm-hm.
[MUSIC]
So how's this for a parallel: Warhol actually started off as a commercial illustrator… and then went on to make his own TV show. Guys, do you hear what I'm saying?
Anyways, In the 1960s, Warhol was everywhere. He was all over the media, and his loft was THE meeting space for artists at the time -- Bowie and Grace Jones and Nico and Basquiat were all regulars. He called it The Factory.
I mean, even if you're not an art person, even if you've never been in a museum in your life, you know who Andy Warhol is.
People loved him and people loved to hate him. But isn't that the risk when something becomes popular?
Abbi: I don't know but I think other artists at the time were like he's all about being a famous artist and my art is about my art.
Tavi Gevinson: Right. And it's like no you probably wanted to be famous too.
Abbi: Exactly, exactly! I feel like it all has to be wrapped into that. Or getting recognition.
Tavi Gevinson: Right. I mean I kind of felt that way when I was like…Like my entry into this weird adult world was going like to fashion week and then it became more like, I was around people that were more in like publishing or even activism. And I remember being like at least fashion people, at least all of their superficialness is out in the open as oppose to like, you know, Writers want recognition.
Abbi: Yeah fashion isn't hiding what it wants.
Tavi Gevinson: No. But I remember feeling like at least there was something honest about that and I don't actually think there's anything wrong with wanting recognition for your work. Depending on how you grow up or your background or just where culture's at, at the time it can seem like a really unsavory thing. And I guess maybe that's just what Andy Warhol was seizing on, that like it's everywhere.
Abbi: Yeah.
Tavi Gevinson: Especially now.
Abbi: Especially now.
My work and career began on the internet. Ilana and I started Broad City as a web series on YouTube. And the way we got the word out about this new thing we were doing was posting it on all social media platforms and sharing it and trying to get our friends to share to it and get it seen and heard and viewed by strangers. That the marketing of everything is on social media. And now it feels like that is such a part of the job, that the marketing of everything is on social media...but at the same time, social media is such a personal thing. It's how I show people what I'm interested in and what I care about and cool things I see on the street and what I think the people should be seeing and talking about too. And then I also get very nervous about it, am I sharing too much of myself? Like wait, hold on is this exactly what I want to say am I showing too much of myself? Am I showing too little of myself? Should I be sharing my nieces on social media? They're on the podcast, why did I do that? What is happening? It gives me a lot of anxiety! But my handle is @abbijacobson; just like click it and check me out.
Tavi Gevinson: It's on one hand a way of just sharing stuff that you think is cool and connecting with people but it's also, I mean naturally especially with certain jobs, like a tool for self promotion so that aspect of looking at it can be irritating. But like I...have….a….private instagram where I really just follow like illustrators and artists. And then looking at it is really soothing. it's all about your filter, you know? Know what I'm saying?
Abbi: I get it, for like that soothing stream.
Tavi Gevinson: Yeah, as opposed to like how can I um annoy myself today? Or however it can sometimes function...What do you think Andy Warhol's intention was?
Abbi: I know. Good call, bringing it back.
[MUSIC POST]
So, many Pop artists of the 1960s used commercial images and bright colors in their work. And Warhol was all about mass produced things -- from Coca Cola to celebrities to the Soup Cans. In fact, he kept making those Soup Cans throughout his whole life -- in different colors, blown up huge and deconstructed. And he was sort of infamous for silkscreening them: literally the same basic image repeated over and over and over again.
But the 32 soup cans in the museum are handmade, orignial paintings. So I asked the curator Sarah…
Abbi: Was this a print, and then he hand did each variety? That's what I would have done.
Sarah Suzuki: Fascinating question, excellent question. Because, in fact, in many ways they do seem to be almost identical up to a certain point. Each of them is a different variety of soup, and Warhol did get from Campbell's at the time, the list of soup varieties that they produced and he went through the list he checked each one off as he made it--
Abbi: Yeah.
Sarah Suzuki: Now Warhol, a little later on, becomes quite synonymous with screen print. Warhol is someone who takes up screen print, and he uses it not just to make editions, which he goes gangbusters on that. But he also has used a screen print as a tool to make his paintings unique-
Abbi: Right, like the-
Sarah Suzuki: Unique works.
Abbi: Right. It's just the ... It's almost like if someone was using like a stencil. Yeah.
Sarah Suzuki: Exactly right. And so here's the interesting thing. These kind of look like screen prints, and in fact-
Abbi: They're not.
Sarah Suzuki: It would've been a perfect screen print. It wasn't a perfect --
Abbi: It wasn't. He came to that later.
Sarah Suzuki: It's before he gets to screen print.
Abbi: These things are all originals to look, I mean, they're all supposed to, yeah.
Sarah Suzuki: Yes. So they're all done by hand. He kind of developed his own little stencil to make them. I think if it had been a couple of years later, maybe he would have used screen print.
Abbi: Well, maybe he was like, "Well, God, I painted so many-"
Sarah Suzuki: (laugh) Spent so much time.
Abbi: "I gotta figure out a way to do this."
Sarah Suzuki: Making all these paintings, yeah. And, but really the, one of the interesting things about the way he uses it is, as we were just saying, he uses it to make editions where things are supposed to be standardized. And then he uses it also just to make one-off singular paintings.
Abbi: Right. Okay, I have a question that's more selfish, me wanting to know.
Sarah Suzuki: Okay, very good.
Abbi: So, okay, so now knowing these are original, I personally feel ... the way he draws his, typography and the fonts and everything. I feel like my illustration is so influenced by this.
Abbi: Because it's not ... It's not perfection, it's like seeing the like....The type is like off a little. And it's, you see his…rawness...
Sarah Suzuki: Gaps in the line, and ...
Abbi: I'm an illustrator. And I feel like that's somehow ... is like a different hierarchy in the art world. But it's complicated where it's like is it scale, is it material because illustrators can use paints. But it's like now, the artwork I happen to do since I moved to New York has been on my desk because I don't have space..
Sarah Suzuki: That's where you have the room.
Abbi: so it feels like now I'm an illustrator and that's somehow a different thing than being an artist. I don't know, what do you think? I mean it might also be my insecurity. You know what I mean?
Sarah Suzuki: I do.
Abbi: Like, there's this like weird, and it might be me sensing it, but there's like this weird "well this is actual art and this is for magazines" or something.
Sarah Suzuki: Well, I think you're hitting a really interesting point here, Abbi.
Abbi: Well thank you.
Sarah Suzuki: Well done. Because part of what happened when pop, when an artist like Warhol kind of comes into the public consciousness,
Abbi: Right pop art, the thing we're talking about.
Sarah Suzuki: When he comes into the public consciousness, there's kind of a fair amount of suspicion on the part of certain critics, collectors, art absorbing public because it is a return to the image in some ways, when if you go in a kind of linear fashion, what had preceded it was Abstraction. And there is this kind of intellectual headiness, this kind of emotive power, lone genius in the studio idea that often accompanies Abstract Expressionist painting in New York. And then, all of a sudden, you're at something like, "Oh, common object, everyday object." Does this carry the same weight as that genius abstract painting does?
Abbi: Dare I say? The difference between drama and comedy.
Sarah Suzuki: Drama and comedy. Okay there you go, yeah.
Abbi: It is, like. An abstract painting is very much like a dramatic movie and pop art can, is very much like a, it feels like like more approachable.
Sarah Suzuki: Yeah, it speaks to ... I think part of its goal, in many instances, is to speak to a lot of people. To give that sense of accessibility.
In a way, Warhol did all the things: He continued painting. And he turned painting on its head... and he made prints and films...AND threw crazy parties and was shot at and became icon.
Sarah Suzuki: I think a lot of the ideas of pop persist and they persist in different kinds of ways. I think certainly, culture in some ways has become more inclusive.
Abbi: Yeah.
Sarah Suzuki: Instagram has made me a really fantastic photographer. Like I take the best pictures. I'm totally kidding, but you know what I mean. Like we all have access in a different way to certain technologies that were kind of not available to us before. So yeah, certainly, we live in interesting times.
Abbi: Yes we do.
[MUSIC UP]
Coming up, Pop Art goes global.
This is A Piece of Work.
<<<<<<<MIDROLL>>>>>>>
To me, Pop Art feels so quintessentially American and Andy Warhol is about as American as the Big Mac. But Sarah said Pop wasn't just an American movement. And to show me, she took me upstairs to the Drawings and Prints study center.
Sarah Suzuki: "This is kind of like the nerve center of this curatorial department. We have a very large collection, like probably about 85,000 works on paper and almost 80% is stored on site."
Abbi: Do you usually have to wear gloves in here?
Sarah Suzuki: Generally we don't do gloves. The policy we use generally is clean hands. Very often gloves don't actually fit so you have these extra finger tip bits.
Abbi: Oh yeah, yeah.
Sarah Suzuki: And like what's the point. And our staff does most of the handling.
Abbi: It's weird, she made me remove my pants as well. And now one's allowed to wear pants in this room.
Sarah Suzuki: Well we don't know what you can put into the pockets.
Abbi: I'm kidding!
But it's actually a very open room -- with windows everywhere.
Sarah Suzuki: Yeah, it's like half library, half fish tank is kind of how I think about it. And that is of course so that we can keep eyes on what goes on in here. It's important for us to hold on to these things.
Abbi: Wow do not step out of line in here.
Sarah Suzuki: That's right, no pens!
Abbi: Right, there's no pens or gum allowed in this room.
Abbi: Is it bulletproof glass?
Sarah Suzuki: I've never…
Abbi: (whispering) Say it is, you should say it is.
Sarah Suzuki: I think it might be.
Abbi: Yeah.
Sarah Suzuki: I think it might be.
This place has work by artists from all over the world including Beatriz Gonzalez from Colombia. Which is who Sarah wants to show me.
She's taken out one of her most famous works: a series of red and black prints. Each sheet is about 2 feet by 3 feet.
Sarah Suzuki: Beatriz was born in 1938 and she continues to make work to this day so she really is kind of the grand dame, but I thought it would be interesting to look at these because she really is responsible for putting a pop idiom into Colombian art practice and it's something that she starts doing in the late 60s and it's something that she does to this day. So I think it's also interesting to think about how the strategies of pop moved from those initial centers in NY, into a place like Bogotá, which is where she lives and works today.
Abbi: I agree (laughter) You said a lot of important meaningful things. I completely agree. These are amazing. Like, the one leaning against the wall is like a triptych but not.
Sarah Suzuki: Exactly right.
Abbi: So three pieces of paper, horizontally in a row that go together but they do they not, too?
Sarah Suzuki: They both, they both!
Abbi: They both.
Sarah Suzuki: So here's the story...They both. I'm sure whoever taught me grammar is crying. There are two different subjects here. The one on the left is called the Baseboard of Comedy, Zocalo. And this is the Baseboard of Tragedy. They're both taken from newspaper pictures.
Abbi: Wow
Sarah Suzuki: This one on the left is of the outgoing president, that's him with kind of the big square glasses, he was famous for those glasses, Turbay. And he was kind of bestowing some civilian honor to this guy in the middle. Like putting a medal around his neck or something.The one on the table comes from a very sad tale about a recently returned Korean War vet who killed his wife in a murder suicide. So you have these two images, comedy and tragedy and in a strange way, the style in which she depicts them, it becomes kind of difficult to tell one from the other.
And the way she printed those images is layered in meaning too…
Sarah Suzuki: She wanted to make them as posters, so she essentially commissioned like a lot of local poster shops which would normally produce really inexpensive things on cheap paper, for boxing matches or circuses, she gave them all the template for this image and said print me up a bunch of these.
Abbi: no other directions?
Sarah Suzuki: No. Which is why some of them are red, some of them are black and red, some of them are different reds, some of them are on different papers and then she asked them to kind of put them up around town just like posters.
Abbi: What a cool experiment.
Sarah Suzuki: Totally. Cool. Experiment. There was a little bit of heat for this activity. The poster shop started hearing like we would like to take the rest of the posters, whatever you have from the gov't. Using the images of the president, not so popular. Again this was an incident, again, almost 20 years old at this point, but something that people were not...that was very upsetting. And so what she did at that point and took what she remained and she put them up in a gallery, like a white cube gallery and it was at that point that she kind of installed them like wainscotting in this big repeat.
Abbi: Because they are...If you hang them up together, they are continuous.
Sarah Suzuki: Forever. Like a long frieze of just a repeating image.
A room filled with images of a president and a murderer, a president and a murderer, a president and a murderer. Ballsy.
Sarah Suzuki: Unlike a Warhol screen print edition, as we were saying, where you want them all to hue to a standard, this was much more about letting an image out into the world and relinquishing control of it in a certain kind of way, which I just love. Aren't they great?
Abbi: Yeah, I really love these.
Gonzalez made, and is still is making Pop art political.
But even if you don't recognize the faces of the people in these images, they're still really powerful.
Sarah Suzuki: One of the founding ideas of Pop or one of the kind of attributes of Pop, is the use of mass media imagery. So artists are taking things from the newspaper, from billboards, from ads and reworking them in the studio.
Abbi: Yeah.
Sarah Suzuki: One of the things that's interesting about how pop starts to spread is that while kind of American consumerism is paramount in a lot of situations, you're not gonna have the same movie stars, the same advertisements, the same, you know, car billboards in Bogotá that you are in New York so I think there's necessarily like a built in local flavor to a lot of what happens around the world. So, I mean, when you look at pop in Tokyo you see figures from popular cultures that are familiar to anyone in Tokyo who's looking at it but to us, we're kind of locked out.
Abbi: Yeah.
Sarah Suzuki: And I think there are just a million ways to approach something. I mean, just going back to the soup cans, Warhol talked a lot about the soup cans and he once told someone "oh my Mom served me soup every day for 20 years growing up so I have real nostalgia when I see these images" and to someone else he said, like, "don't worry about what I think, what should matter is what you think about when you see them."
[MUSIC UP]
I think about...grilled cheese. The art of the dunk.
That was A Piece of Work.
Special thanks to Sarah Suzuki and Tavi Gevinson.
The show is a co-production of WNYC Studios and MoMA.
And I'm, still, Abbi Jacobson.
###