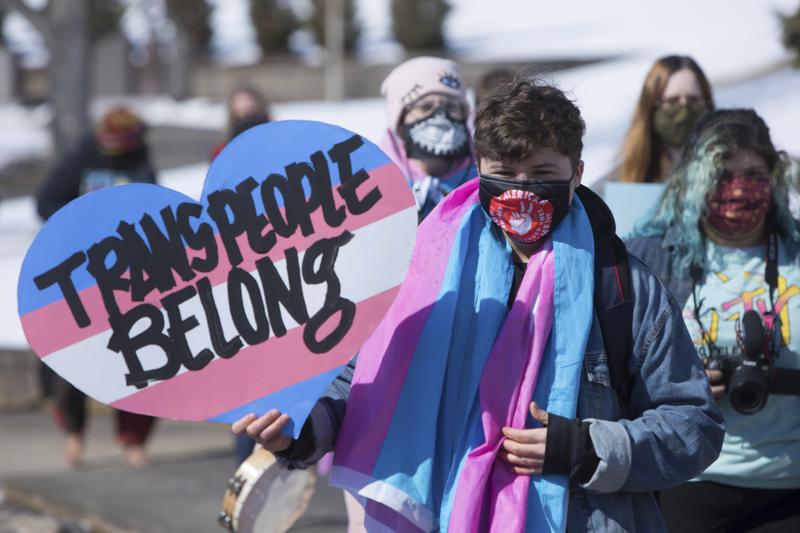 Transcript
Trans* Formations
BROOKE GLADSTONE From WNYC in New York, this is On the Media. This week, the stories behind a sweeping wave of anti-trans legislation.
KATELYN BURNS There's been many a movement in U.S. history that has been about, quote, unquote, protecting the children.
JULES GILL-PETERSON For most of the 20th century. Scientists and doctors believe that everyone was just a mix of male and female.
[CLIP]
SYLVIA RIVERA The street people and the drag queens were the vanguard of the movement. Didn't mind getting our heads bashed in. [END CLIP]
JACK TURBAN You're gonna think, like maybe they're right, maybe I am a threat, maybe I'm confused, maybe I'm mentally ill.
SAM FEDER I want complicated stories. You know, the full picture of a trans person's life.
[CLIP]
SUSAN STRYKER The only positive representation I saw of anything trans feminine was Bugs Bunny. [END CLIP]
BROOKE GLADSTONE Trans visibility and its discontents. It's all coming up after this.
[BREAK]
BROOKE GLADSTONE From WNYC in New York, this is On the Media., Bob Garfield is out this week. I'm Brooke Gladstone. Transgender people are under siege, even though it may seem to some news consumers like their taking over. In fact, their very lives are increasingly at risk. And the argument over whether they even exist at all, if they're really not the gender they were declared to be at birth, still blazes. In some political quarters, it's getting hotter an hour is too short to present all the evidence showing that transgenderism is old news. You can find it in many an ancient tomb. But here in the U.S., where acceptance has ebbed and flowed, transgender people have rarely been so seen and stigmatized and so politically profitable.
[CLIP]
NEWS REPORT A record number of restrictive bills targeting transgender kids makes their way through state legislatures. [END CLIP]
BROOKE GLADSTONE At least 117 bills in some 33 states have been introduced in the current legislative session alone. The most since the Human Rights Campaign, one of the nation's largest LGBTQ advocacy groups, began tracking such legislation more than 15 years ago.
[CLIP]
NEWS REPORT Unless you think this is just happening in Mississippi or Arkansas, think again [END CLIP]
BROOKE GLADSTONE A few years ago banning transgender people from bathrooms that accord with their gender identity was the big thing, but it fizzled. Now it's all about sports.
[CLIP]
NEWS REPORT Tennessee has become the third state this month to impose new laws attacking transgender student athletes, alongside Mississippi and Arkansas. [END CLIP]
BROOKE GLADSTONE OK, the campaign targeting transgender people isn't all about sports.
[CLIP]
KATELYN BURNS They've taken a two-prong approach to it. The most successful prong so far is banning transgender girls from girls sports in school.
BROOKE GLADSTONE Journalist Katelyn Burns writes for Vox and MSNBC and is co-host of the Cancel Me Daddy podcast.
KATELYN BURNS And then the second line of attack is to try to ban transition related health care for people under the age of 18.
BROOKE GLADSTONE Burns says that all the anti trans talking points spring from a single document published in June 2015 by the Family Research Council, a Christian activist lobbying group. It was called Understanding and Responding to the Transgender Movement. It declares that, quote, no one can change his or her sex. The DNA in the body is marked clearly male or female, but we all basically start out female in the womb until the Y chromosome is activated by a gene. If it's missing or if you have a burst of an unexpected hormone or are insensitive to the usual one you won't be what the outside world may say you are. And biology aside, what's it to them? From the document, many movement activists will not be content until they compel all of society to accept their transgender fantasy. This document, by the way, is from the same group that battled marriage equality with everything it had and lost, and yet the family survived, but transgender is not a thing. Not a thing. Meanwhile, these bills are a thing.
[CLIP]
NEWS REPORT The families of three female athletes are stepping up their fight for a level playing field. They filed a federal lawsuit challenging the policy that allows anyone who identifies as a female to compete in girls' sports. [END CLIP]
KATELYN BURNS There was two trans competitors who won almost every sporting event in Connecticut. People are saying, oh, well, they're boys, of course they're going to win and this should not be allowed. The problem is these are the only cases that can be cited at the high school level of trans girls, actually, quote unquote, dominating a sport. The AP went around and asked conservative legislators, how many complaints have there been about trans athletes in your state? And they couldn't find any. The cases that the legislators were always citing was the Connetticut sprinters case.
BROOKE GLADSTONE But if the Save Girls Sports from Trans Girls campaign has traction, why did the trans bathroom ban, born in North Carolina, peter out?
KATELYN BURNS It was one of the first times in American media history that trans people were actually given a voice. Trans people were allowed to explain why these policies were bad for them. The NBA pulled out their All-Star game from Charlotte that year. The NCAA said we're not holding any championship events in North Carolina, which is a huge deal. A later study estimated that the state lost about three point seven billion dollars in revenue just from these boycotts.
BROOKE GLADSTONE And North Carolina Governor Pat McCrory, a big proponent of bathroom sanctity, lost the election that Republicans otherwise swept
KATELYN BURNS State after state businesses say this is bad for our business. You cannot pass these bills. We do not support them. We will not support your reelection campaign if you support them. And there hasn't been another bathroom bill that's passed since then. Tennessee and Arkansas right now are both trying to again, so it's not completely dead, but this actually brings me to my next point. The fear of boycotts has been the primary driver in killing all of these anti-trans bills to date.
BROOKE GLADSTONE Remember a few minutes ago when Burns said there was a two pronged approach to the legislative assault on trans people? The second one would do far more harm than the first.
Speaker 2 One of my fears as a trans person is I don't see anybody trying to organize boycotts against Arkansas who passed probably the most horrific anti trans bill in US history with their trans youth medical ban. Walmart hasn't said a peep, Hardies hasn't said a peep. They're both based in Arkansas, and I think the conservative response to the boycott in North Carolina now is to try to get these bills passed in as many states as possible, because is a company going to pull out of the entire US south? No, they're not. Would the NCAA say, OK, we're not holding championships anywhere in the southeast US? No they will not.
BROOKE GLADSTONE Journalist Katelyn Burns writes for Vox and MSNBC and is co-host of the Cancel Me Daddy podcast. This hour, trans people, well, mostly trans people, will speak for themselves and will answer some of the questions cis people may have been afraid to ask. Dr. Jack Turban is a fellow in child and adolescent psychiatry at Stanford University School of Medicine, where he researches the mental health of transgender youth. Much of the recent spate of anti trans legislation has focused on limiting the access of trans kids to puberty blockers, often the first medical step in transitioning. He says puberty blockers have been used for decades.
JACK TURBAN When they were first used for kids, they were used for a condition called precocious puberty. And then over the past few decades, but more recently, doctors started using these for kids who are transgender. There are now protocols that are outlined by the Endocrine Society and the World Professional Association for Transgender Health that tell doctors how they can use these for transgender kids who start puberty and have really extreme and negative reactions to their bodies developing. For some kids, those psychological reactions can be really severe. So we see kids who come to the emergency room in mental health crises. They may even be having suicidal thoughts. Kids who are so dysphoric towards the way they're chests are developing that they're binding their chests so tightly that they're getting skin infections or having trouble breathing, sometimes even rib fractures. These puberty blocking medications are really spectacular because they put puberty on hold while these kids have time to figure out what's going on, and they also happen to be reversible. So if you stop the medication, the adolescent will go through the puberty that they were going to go through originally.
BROOKE GLADSTONE Is there any indication that withholding puberty blockers causes actual harm?
JACK TURBAN Our group from Harvard Medical School, working with the Fenway Institute, published a paper earlier this year that looked at people who wanted puberty blockers, who were now adults, and we compared those who were able to access the medication with those who weren't able to access the medication. And those who accessed it had lower odds of having considered suicide in their lifetime. Arkansas recently became the first state to take away these medications from transgender youth. One of the doctors who runs a clinic for transgender kids said that she's already seeing more kids attempting suicide.
BROOKE GLADSTONE What about hormones, testosterone or estrogen?
JACK TURBAN That's a bigger decision to start those medications. Estrogen, testosterone will change your body in some ways that are not reversible, at least not fully. So things like voice changes, body fat redistribution, chest development may not be possible to reverse later down the line. So that's a much bigger discussion that doctors have with adolescents and their families about weighing the risks and benefits. What are the risks of not offering that medication versus what is the likelihood that they're going to start these medications and maybe one day in the future regret some of the physical changes, but what we see from the research is that that regret appears to be very rare.
BROOKE GLADSTONE Could you talk about the steps that trans kids need to go through in order to access puberty blockers and hormones?
JACK TURBAN There are a set of criteria that an adolescent needs to meet and they need to have this diagnosis of gender dysphoria. And that diagnosis requires identifying as a gender different than your sex assigned at birth for at least six months. Many clinics will, on top of that diagnosis, require much more assessment and evaluation before they'll offer any kind of medical interventions. Once kids reach, usually age 16, but in certain clear cases age 14, they might start estrogen or testosterone. General surgery is not offered until adulthood. Often these things are all conflated. You'll hear things like seven year olds having genital surgery or little little kids being given estrogen, but that's not how it works.
BROOKE GLADSTONE Talk to me about de-transitioning. That's when a person who's begun to transition decides to reverse it.
JACK TURBAN So this is another topic that unfortunately has been really politicized. Over and over again, people have highlighted the fact that some people will start gender affirming medical interventions and then stop them, and they've created a lot of panic that that is an argument that we should not offer this medical care to anyone. So we published a study, I think it was last month, a large survey of over 27,000 transgender adults, and we asked them if they had ever de-transitioned at some point in their life. These are people who currently identify as transgender, and something like 13 percent of them said, yes, I've de-transitioned at some point in my life, but over 80 percent of them said the reason they did that was because they couldn't get a job or their family rejected them or their spouse rejected them. There were custody battles and they were afraid they wouldn't be able to continue taking care of their child if they didn't detransition – these external factors. There are a very small number of people who do regret the interventions, but from all the research we have so far, this seems to be on the order of like less than 1 percent.
BROOKE GLADSTONE Let's switch gears for a second to talk about another big political issue right now, this question of trans girls participation in sports. Does the science hold up? Would trans girls have a biological advantage?
JACK TURBAN First, it's important to realize that there's not a lot of research in this area. Most of what people have cited when talking about this is comparing cis gender men to cis gender women. Saying, look, these cisgender men have an advantage, but it's really important to keep in mind that a cisgender man is not a transgender woman. Transgender women may have had pubertal suppression, so they may have never really had much testosterone in their system at all for them to have a theoretical testosterone advantage. They may be on estrogen, which is impacting their capacity to compete. Anyone who works with transgender youth will tell you that, physiology aside, these kids have the deck stacked against them. If you're constantly bullied, if you are reading in the news that your identity is not valid, that you're not safe to be in bathrooms. Probably going to be anxious, you might suffer from depression, and all of those things are going to make it really hard to train and succeed in athletics. I don't think it's a coincidence that we don't see a lot of transgender female sports stars in schools. In California, I think its since 2013 we've had a law on the books that protects the rights of transgender girls to compete in sports leagues that match their gender identity. And we don't have transgender girls dominating sports leagues.
BROOKE GLADSTONE You're a medical professional, you're a scientist, and yet you say that certain questions when it comes to trans identity do more harm than good, like research into what determines transgender identity. What's the harm?
JACK TURBAN There's this long history of trying to understand what makes someone transgender, and the research has led down some kind of awful bizarre paths. There was one theory that maybe transgender girls are actually birth assigned boys who are just very, very cute. People treat them as more feminine and that makes them identify as transgender. Researchers did this study where they took pictures of seven year olds who had at the time they used the diagnosis, gender identity disorder, but they were maybe transgender girls, who took pictures of those kids and took pictures of cisgender boys and showed the pictures to a bunch of college students and asked them, like, how cute and handsome and pretty are these kids? Like, a really disturbing question to ask college students about seven year olds. And they found, I think, like on average. College students were slightly more likely to say these boys were pretty or cute like, AHA! Maybe we figured out what makes someone transgender. They've also done all of these studies to see if maybe it's the mom's fault.
BROOKE GLADSTONE It's always the mom's fault.
JACK TURBAN Psychiatry is a long history of saying it's the mom's fault, and so they did these studies and kind of suggested that moms of transgender kids are more depressed or more interpersonally sensitive. And, oh they must be bad moms, and that's how these children become transgender. I mean they kind of downplayed the other possibility is that if you are a mom with a transgender child, where society's rejecting your child, you might be more interpersonally sensitive with people around you.
BROOKE GLADSTONE Yeah, there was another study that said if the parents hadn't been so lenient, if they'd taken that Barbie away from their son, they could have prevented all of this. They needed to just crack down.
JACK TURBAN Yeah. And as recently as 2002, there was a paper published that was a protocol for conversion therapy. They recommended things like if the birth assigned boy identifies as female to not let that child play with other girls. You know, take them out of sports that they like, force them into sports they don't like, try and force them to identify as cisgender. And we published a paper in JAMA Pediatrics last year that found that people who are exposed to those conversion efforts were more likely to attempt suicide. It's illegal in many states, but a lot of social conservatives are trying to challenge that. To bring back this intervention that we know hurts kids in every major medical organization is that it's dangerous, but these politicians are pushing them forward anyway.
BROOKE GLADSTONE I don't know if you have this kind of data at your fingertips, but what is the risk of suicide? What is the risk of addiction? What is the risk of, I don't know, a miserable life?
JACK TURBAN It's high. Before we had these medical interventions, transgender adults who grew up during these times where they couldn't be affirmed had a suicide attempt rates as high as 40 percent,
BROOKE GLADSTONE 40 percent!
JACK TURBAN 40 percent, at some point in their lives. It gets a little bit tricky because there are two things contributing to their mental health problems. One is their bodies developing in ways that don't match their gender identity. And study after study shows that when you give medical interventions that help their bodies align with their identities, they have lower rates of anxiety, depression, suicidality. However, it doesn't fix everything. Even after those affirming interventions, they still have higher rates of anxiety, depression and thoughts of suicide than cisgender people. And that gets used politically. People will say, look, they had surgery, but they're still more depressed than cisgender people, and that's true. The reason is you fixed one problem, but you also have to fix the way society treats transgender people. What's really insidious is the more you're exposed to those external factors, you start to believe that you are less than for being transgender and then that drives the depression. I'm seeing this with patients all the time. They're starting to internalize what's being said by these conservative politicians and hating themselves. It's hard to watch as a therapist because it's not easy to undo.
BROOKE GLADSTONE Is there something you should have asked you, a misapprehension that you encounter a lot that you'd love to address?
JACK TURBAN Yeah, this is another thing that I think people get hung up on. Being transgender is not the same for all kids. Some kids will be transgender and want medical interventions. There are a lot of other kids who identify as transgender and are fine with their bodies and don't want any medical interventions. For instance, I've had patients who are birth assigned females who just really hate the way society thinks about women, and so they identify as non binary and maybe use they/them pronouns, but are very clear that they're fine with their bodies. And this is more a reaction to societal expectations based on their gender than it is about body dysphoria. And so they don't want medical interventions. But there's this idea those kids are somehow tricked into thinking that they want medical interventions. And, you know, sometimes kids aren't sure what they want and they want to be working with a therapist to figure out what gender means to them. So I was a cisgender boy, I grew up in Pittsburgh and a community that wasn't accepting of gay people, you know, actually heard from my father all the time that gay people should be killed. And it's a sin,
BROOKE GLADSTONE oh, my God.
JACK TURBAN Like, I had a Polly Pocket. I liked a lot of feminine things. And I certainly had the occasional passing thought of, you know, it would be so much easier if I were a girl because, you know, girls are allowed to like boys, but I did not identify as a girl for six months and meet diagnostic criteria for gender dysphoria and insist that I was a girl. And I think that's a very different thing, especially when it goes all the way into puberty and kids start having a really negative reaction to the way their body is developing. And we need to protect their right to access the medical care that they need.
BROOKE GLADSTONE Thank you so much.
JACK TURBAN Of course.
BROOKE GLADSTONE Dr. Jack Turban is a fellow in child and adolescent psychiatry at Stanford University School of Medicine.
[BREAK]
BROOKE GLADSTONE This is On the Media, I'm Brooke Gladstone. Given the current politics and depictions of this transgender moment. It's easy to assume it's new and rare, when it's neither. Jules Gill-Peterson, professor of English and Gender, Sexuality and women's studies at the University of Pittsburgh and author of Histories of the Transgender Child, takes us back to before we were born, for the view from a distance.
JULES GILL-PETERSON For most of the 20th century, scientists and doctors believed that everyone was just a mix of male and female. To different degrees, that was normal state of the art science, and it wasn't overturned because it was proven wrong. It was only overturned because there were new dictates, more rigid roles for men and women that came about culturally that had an impact on medicine.
BROOKE GLADSTONE You said that to be trans, you have to justify yourself. Counter the idea that kids don't really know themselves, this is all emotional.
JULES GILL-PETERSON That's right. A lot of times when we're talking about trans kids, this whole issue comes down to gender. And my response is often actually no, the problem here is our concept of childhood. We treat them differently. Of course, there are differences between adults and children, but I think we have to pay attention to when that presumed difference is being utilized to ignore something. And here's what's so incredible about a trans kid. You have a young person who, without any concept or support, has figured this thing out about themself. This profound thing. You know, kids don't go to school and learn how to think critically about their gender identity. They have to teach it to themselves, and so I think by the point a child comes to us and says, hey, I'm a girl, not a boy or whatnot, they've already proven to us that they do know what they're talking about, because it just takes so much work to figure that out. The emotional issue is in adults. We are the ones that get anxious. I talk to lots of parents. Most of them don't have a transphobic response, most of them are responding out of fear. They want the best for their kid, and now they're confused. By the time trans kids come to us with their identity, they've done all the hard work. It's adults that have to play catch up.
BROOKE GLADSTONE So why was there less panic in the 50s then in 2020?
JULES GILL-PETERSON It's so counterintuitive, isn't it? I mean, we tend to think the 50s were such a stereotypically conservative decade, but to answer your question, OK, so we have some idea that people transition in the 1950s, but why was it considered less of a drama for young people than it is today? It's not a rosy answer. Doctors and researchers, clinicians actually didn't really want to help trans kids transition. They were interested in studying trans children, because trans children are still developing. They haven't necessarily gone through puberty. And so doctors and researchers thought if we study trans kids, we'll find out how sex and gender form for everyone. And so they would be willing to see trans kids and reluctantly let some of them transition, but that's not really why they wanted them there. They just wanted to study them and drive new data for understanding how sex and gender work in general. And it's not that many kids got access, most were turned away or were picked up by different institutions like psychiatric institutions or arrested and put in juvenile detention and things like that. So, it was really quite a struggle for trans kids. But weirdly enough, because there was sort of less cultural anxiety over them, they were able to transition without being under the limelight.
BROOKE GLADSTONE So take me back 150 years. Let's dig into the larger history, a figure that comes up very often and any history of trans life in the US is a man named Harry Benjamin.
JULES GILL-PETERSON Harry Benjamin is this doctor born in Germany who came up with Sigmund Freud just right before the start of World War One. He is just on a trip to the US, is going to head home to Germany, and then the war breaks out. And so he's essentially stuck in New York City and he just ends up staying there. He was an endocrinologist, so he's a specialist in this very, very new medical field at the time of hormones. And he ends up becoming one of the architects of what at the time in the 1950s is called transsexuality, because he has all this German medical training right. He loves all these kinds of theories that a lot of American clinicians are pretty resistant to.
BROOKE GLADSTONE Can you give me an example?
JULES GILL-PETERSON Harry Benjamin strongly believed that no one is male or female, that human beings are naturally a mix of male and female. That was the dominant medical explanation for gay and lesbians and also for what they called transvestites. They were just a woman's soul in a man's body or vice versa. So Harry Benjamin goes on to found in the 50s and 60s, the basic outlines of the medical model that we still have today,
BROOKE GLADSTONE How did you come across evidence about trans kids historically?
JULES GILL-PETERSON As I'm poring through those documents, reading about people like Benjamin, I start to see these little footnotes. Harry Benjamin will mention talking to a 16 year old kid. I was like a 16 year old, what? I never heard of any of them transitioning. I went back to the medical archives of the big clinics in the US that saw a lot of trans people. Johns Hopkins Hospital in Baltimore was seen trans and intersex people as far back as the 19 teens. Even before there's any categories to describe them. Places like the University of California: Los Angeles, Harry Benjamin's clinic in New York City and plenty of others. In one of the most remarkable moments at the Kinsey Institute for Sexological Research in Bloomington, Indiana. I've got boxes upon boxes of Harry Benjamin's correspondence over his whole career, tens of thousands of letters. I've been reading them for days, and all of a sudden I'm seeing these letters from trans kids writing handwritten letters to Harry Benjamin in the 1960s and 1970s. And a lot of the letters follow the same format. They say, hi, my name is whatever. I'm a transsexual. I know what transsexual means because I've read about your work in the newspaper or I looked up medical journals or I went to the library, and so they'll write to Harry Benjamin and ask for help. Sometimes it was just like I'm having trouble explaining to my parents what it means to be trans. Could you write them a letter as a medical doctor and explain? Some will say, can you send me hormones in the mail? And of course, he wouldn't do anything like that, but he would write back to people. And so I have in some cases, kids writing to him for years, updating him on their lives, telling him about their transitions, like what their life was like in school, the bullying being institutionalized, transphobia, parental rejection, parental acceptance. It's one of the most exciting moments of my career because the rest of my research, mostly used medical records. You're reading what the doctor said about them. And so I wanted to tell the stories of these kids and do some justice to them because, hey, there's our proof that trans kids aren't new. They figured this stuff out before most of us were born, well, before some of us were born.
BROOKE GLADSTONE Even within the archive, you found that black children and white children's lives were recorded very differently. And I'm wondering if you can describe that and also how it might skew our understanding of trans lives, generally,
JULES GILL-PETERSON A 19th century racist science, the kind of science that argued that there were separate human races, the kind of science that argued in favor of slavery, that argued that the white race was somehow the superior race in the world, that was also anti Semitic. That kind of science argued that the difference between men and women in white northern European society was the most evolutionarily advanced in the Victorian era. We've got women should be sort of sexually repressed and quite right. That notion then actually really informs sex science, right? Because there's still this assumption that the sex binary is this racial phenomenon, that is somehow white. You know, binary sex is white civilization. By World War II, it goes out of fashion after the atrocities of the Nazis. There's no more of this explicit race language, and instead it becomes this implicit idea that white people are more capable of transitioning. And that's something that Harry Benjamin takes on.
BROOKE GLADSTONE I don't understand if a black adult goes to Harry Benjamin and says, you know, I feel that I'm in the wrong body, will you help me? Being black would work against them because he wouldn't think that the hormones would work?
JULES GILL-PETERSON Yeah. Trans women from the era in New York City, all in reminiscences from the era, will say, yeah, you don't go to Harry Benjamin. He doesn't see black girls. Absolutely not. You have to be beautiful and white and blond to get in there. There's actually a scientific history to it. Where the idea of being made normal, it's like, well, we can take disorders and make them normal because white people deserve to be made normal, so that they can participate in society as is their sort of birthright. Not only were black, trans people turned away from clinics, just seen as generally unworthy of treatment. But in the case of kids, black trans girls in particular, any time they said that they were girls would be taken as evidence that they were criminals or that they were delusional or that they had a mental disability. Black trans girls were more likely to be arrested, put in foster care and end up in psychiatric institutions, juvenile detention and be held against their will for decades. And it has a lot for us to think about today in terms of whose gender is considered a problem. Because there's a difference between being considered a medical or a psychological problem, and be considered a criminal problem, right? Both can be bad, but one is a lot worse than the other.
BROOKE GLADSTONE What kind of future do you want to see? For trans kids and also for sex and gender more broadly.
JULES GILL-PETERSON I want us to move away from this sort of real moment of defense, you know. Trans folx are exhausted. I can testify to that personally, but also from everyone I know. We are exhausted from being attacked and want to live in a world where trans children are wanted. Where we see trans childhood not as something that should be managed medically or controlled or policed or at worst eradicated, but something that we want. Something we're excited about! I mean, even if we defeat all of these bills, trans kids will still have been told by their state legislators, by all these adult interest groups that they are not wanted in this country and that casts a shadow over your whole life. So I want to see kids celebrate it, taken seriously for being trans, and for us to be excited, to see them grow up trans and go on to have lives. Our society is the thing that needs to be adjusted, not trans kids.
BROOKE GLADSTONE Jules Gill-Petersen is professor of English and Gender, Sexuality and Women's Studies at the University of Pittsburgh, and author of Histories of the Transgender Child.
So let's build on the lesson we just got on the limits of viewing the history of a marginalized people through their encounters with the medical establishment. What about trans people who never came close to a medical transition, who lived on the streets, stirred up trouble and demanded to be recognized, demanded justice? Marsha P. Johnson was a black trans woman who spent some crucial time in New York City's Greenwich Village in the 60s and beyond until taking her place in history.
[CLIP]
REPORTER Why are you here today?
MARSHA P JOHNSON I want my gay rights now. [END CLIP]
BROOKE GLADSTONE In 1969, Johnson and Sylvia Rivera were pioneers in the gay rights movement. Among the first rioters at Stonewall, a village bar. It was the site of an uprising that helped unite a community of outsiders into a force, and it's commemorated annually in LGBT pride days around the world.
IMARA JONES People often say they threw the first break. The people that were there that night don't agree on who did that. So I don't think that we should say that, but what we can't say that they were instrumental in the Stonewall riot.
BROOKE GLADSTONE Imara Jones, creator of TransLash media and host of the TransLash Podcast, notes that Stonewall has often been assumed, sometimes depicted, as a nice tidy place for mostly white gay men,
IMARA JONES Trans people, people who dressed in drag, who were of color – it was their bar, and for the people that were attracted to them. One of the reasons why the police decided to target it for a raid, was because it was not a white gay male space. Because they knew they weren't going to come across either a politician or a sign of someone wealthy in New York or other people who might be caught up in the dragnet that could cause the trouble. And so they targeted Stonewall and Sylvia and Marcia helped to lead the response that night and then for the next 6 nights and then from that decided to create an entire rights movement.
[CLIP]
SYLVIA RIVERA Marshall and I, we were the liberators. [END CLIP]
BROOKE GLADSTONE Sylvia Rivera reflecting on that time decades later.
[CLIP]
SYLVIA RIVERA The street people in drag queens were the vanguard of the movement. We were the one's that fought the cops off. And we're the ones that didn't mind getting our heads bashed in. [END CLIP]
BROOKE GLADSTONE They founded STAR, the Street Transvestite Action Revolutionaries, a radical collective in the early 70s that staged protests. Work to house homeless LGBT youth and sex workers, stood against police harassment and incarceration, and stood for free education, social services and food for all in need. They modeled a sort of visionary thinking that Imara Jones says black trans women still offer today.
IMARA JONES There is an essential understanding that if we created a society, for example, where black trans women could thrive, then that would be a society where everyone can thrive.
BROOKE GLADSTONE A UCLA study released last year showed a rate of homelessness for transgender adults in the U.S. 8 times that of straight cisgender adults. Trans people are unemployed twice as often as cispeople, and for black trans people, it's even worse – 26 percent. 44 trans or gender non-binary people killed in the U.S. last year. 21 so far this year, which, though horrifying, Jones reminds us, is nothing new.
IMARA JONES Trans people have been targets of violence and extreme violence for time immemorial. As I mentioned to people all the time, Marsha P. Johnson was murdered in the 1990s and we still don't know who killed her.
BROOKE GLADSTONE The role of black trans people is often abbreviated in the historical record, but a more complete history reveals a more complete path to the future. Take the transgender district in San Francisco, the first legally recognized transgender district in the world.
IMARA JONES One of the things that it sees very much as a part of its mission is not only to work for the preservation of trans history, which is of course pivotal, but also to work to rectify the injustices of the past by creating a housing program and an entrepreneurship incubation program and a whole host of other things. It is a living history. Imagine if that were the model for historical preservation across the country. If we looked at taking the Harriet Tubman Museum and it now being a center for actually educating and engaging and rectifying all sorts of racial injustice, inequities and if we did that for so many of our historic districts, the tenement district, even in New York. And what if it was centered on creating models for just housing? In and of itself, that's a radical vision.
BROOKE GLADSTONE The future is trans, you wrote, because the ways we've gone about organizing human life have changed in really fundamental ways. Trans people, just through our existence, show the power and the resilience of change and the possibility of how we can do things differently. We are creating a future less defined by gender roles and defined more by what we can create than what we can destroy. And because we've already had to do this work, we are essential to building this future. What is it then that trans people can envision that has the potential to affect everybody?
IMARA JONES What we know how to do is to think beyond yes and no. We know how to think in and's, and that ability to be able to see solutions where other people only see barriers is what we need in a future that cannot be based upon the way that we lived in the past, because the planet can't sustain it. The way that we have built hierarchical systems and societies where there are winners and losers, we cannot continue in that vein and believe that we have a future as a human species, it's going to work. And so that means that you need to begin to pull in people that fundamentally understand how to think differently about everything, and that's what we have.
BROOKE GLADSTONE Amara, thank you very much.
IMARA JONES Thank you very much.
BROOKE GLADSTONE Imara Jones is the creator of TransLash Media, a cross platform, journalism, personal storytelling and narrative project. She's also the host of the TransLash Podcast.
Coming up, the relatively recent history of transgender depictions in film and TV, ranging from the dangerous to the ridiculous, but edging ever closer to the reality. This is On the Media.
[BREAK]
BROOKE GLADSTONE This is On the Media, I'm Brooke Gladstone. Back in May 2014, TIME magazine released an issue with a striking cover. Laverne Cox, one of the stars of the then new Netflix series, Orange is the New Black, an openly transgender woman standing tall, proud and defiant in a navy blue dress. Beside her in all caps, the words the transgender tipping point. For Sam Feder, director of the Netflix documentary Disclosure. It was a wonderful moment, sort of.
SAM FEDER I was so keenly aware that when that cover story hit the newsstands, the trans people I knew were certainly not at a tipping point. I mean, just the murder of trans women alone, specifically black trans women, had become an epidemic. And the rate of suicide among trans men had been surging. So I was excited about what Laverne would bring to the public conversation, but I was deeply concerned because whenever marginalized community gets mainstream media attention, backlash ensues.
BROOKE GLADSTONE It's interesting you call the film Disclosure, and it certainly seems like the moment of revelation in which a supposedly cisgendered person reveals themselves to be trans is one of the media's most recurring themes when trans characters are centered. One of the most memorable moments in media of Disclosure is in the 1992 movie The Crying Game, in which the twist that a character turns out to be trans is the plot point on which the whole movie hinges.
[CLIP]
FERGUS Jesus, I feel sick
DIL I'm sorry, I thought you knew. [FERGUS caughs in background] [END CLIP]
SAM FEDER Do you remember when the crying game came out and all of the promotion around it and it was all about don't tell the secret. And I remember reading somewhere that the producers were working so hard to make sure the press did not reveal that secret. Quite honestly, it's a beautiful film. It really did not need that plot to make it as successful a film as it was.
BROOKE GLADSTONE Another recurring theme was the trans person as a psychopathic killer. We see it way back in Hitchcock's Psycho when Tony Perkins dressed up as his mother and kills someone with a knife. Certainly famously see it in Silence of the Lambs in the character of Buffalo Bill.
[CLIP]
CLARICE Why does he place them there doctor?
HANNIBAL LECTOR The significance of the moth is change. Caterpillar into chrysalis or pupa from thence into beauty.
CLARICE There's no correlation in literature between transsexualism and violence. Transsexuals are very passive.
HANNIBAL LECTOR Clever girl. So close to the way you're going to catch him. Do you realize that? [END CLIP]
SAM FEDER If we're going to be allowed to actually exist, then we're crazy, then we're killers, that we're mentally ill.
BROOKE GLADSTONE Your film also digs into the kind of trashy talk shows like Jerry Springer and Arsenio Hall.
[CLIP]
WOMAN Baby, I know it's hard for you to understand because you know..
MAN So, you're a man?
WOMAN No, I'm not a man. I was born a boy.
MAN F*ckin Freak.
WOMAN So I'm a freak now? So this is what it is? Won't you talk to me?
MAN Freak. [END CLIP]
SAM FEDER There's a line in the film when Jen Richards talks about, specifically the talk shows, and how distorted and painful and violent they are, but would she had known she was trans had she not seen these early images? And I think that speaks to a sort of ongoing question of visibility at any cost. Is it better to be seen and laughed at or to not be seen at all? And I think the talk shows really speak to that, because for a very specific generation, my generation, you know, where I was born in the 70s and raised in the 80s and early 90s, that was my babysitter. Coming home and watching those talk shows. Those memories are so visceral.
BROOKE GLADSTONE Did you find any trans representations in the media that helped shape what kind of life you thought was possible?
SAM FEDER No, and I think that's why I started making films.
BROOKE GLADSTONE I was intrigued by some of the moments of positive transgender representation. Bugs Bunny as a cross-dressing Valkyrie. Susan Stryker, the historian, said that that was very empowering for her.
[CLIP]
SUSAN STRYKER When Bugs Bunny was doing girl, Bugs Bunny was desirable and was powerful.
ELMER FUDD Oh Brunhilde, you're so lovely.
BUGS BUNNY Yes, I know it. I can't help it [END CLIP]
SAM FEDER I have to say, I've seen Disclosure so many times at this point, you know, but that is the one clip that always made me laugh. And then when I interviewed Lilly Wachowski a few months later, she said the same thing. It was, it was so sweet.
BROOKE GLADSTONE But you have noticed in the past 7 years, a less limited vision of trans personhood. We've had Pose a series about ball culture in the 80s and the 90s.
[CLIP]
PRAYTELL We have a challenge for the legendary children of the House of Abundance. [END CLIP]
BROOKE GLADSTONE We had Transparent.
[CLIP]
SARAH Are you are you saying that you're going to start dressing up like a lady all the time?
MAURA [LAUGHS] Honey, my whole life I've been dressing up like a man. This is me. [END CLIP]
SAM FEDER You know, when Transparent first came out, I just didn't understand why it had to be a cis guy. I understand money and you have to get it greenlit. And, you know, Jeffrey Tambor is a good actor. He did a good job, but there's so much trans talent who could have done that role just as well, if not better, and not sexually assault people on set.
BROOKE GLADSTONE Well, there's that.
SAM FEDER And I think that's very real. And that's something we're very aware of as any marginalized person understands what safety means, and when you see the sacrifices made for the bottom line to make money on your back, you know you're not going to be safe. And I mean, this was a large part why, in making disclosure, we prioritized hiring trans people. We wanted everyone behind the camera as well as in front of the camera, as you see. But everyone behind the camera we prioritized to be trans. And if we couldn't hire a trans person, we mentored one. If you're so excited about telling trans stories, you have to really think about it in a holistic way.
BROOKE GLADSTONE Is there something that you see particularly missing in how those characters are portrayed?
SAM FEDER I want complicated stories. You know, the antidote to negativity, I do not believe is positivity. I do not believe sterilized, positive stories will make the world a better place. I think complicated and nuanced, you know, messy that give a full picture of a trans person's life. We do not need to shy away from the horrors because they're real, but we need to show them in a universe that also has love and community and, you know, the full experience of being human.
BROOKE GLADSTONE Laverne Cox makes a point about cancel culture being used as an excuse not to take up this issue because good liberals don't want to look like they don't get it
SAM FEDER Through the entire making of disclosure. Laverne and I were very much on the same page. I think it's important that we're very critical of our cultural products and that people are held accountable to that critique, but I also think it's really important that people get second chances. That they're given the opportunity to learn and grow. You know, we used Oprah Winfrey as an example of that film. We open up with some really problematic things she said on her shows.
[CLIP]
OPRAH How do you hide your penis? [END CLIP]
SAM FEDER And then we closed the film with literally saying she's evolved. With someone like her who is in such a position of cultural power is so important that we give people a chance to evolve. Not only when you're, you know, this megastar, but I think when we see a society that creates the room and resources for people to evolve and grow and be accountable, we're going to live in a much better place.
BROOKE GLADSTONE What kind of impact do you think the film's had so far?
SAM FEDER We immediately were hearing from people in positions of power talking about how they saw the film. A-list celebrity like Ryan Reynolds or Tracee Ellis Ross saying that this has changed how they will see and make films. There was a press release about how Halle Berry was going to take on a role of a trans man, and then she or her team watched Disclosure and they walked away from the role. So it's become a tool to help the industry do better, and that's very exciting. Stuff I'm even more passionate about is hearing how a group of California judges used clips from Disclosure to educate themselves around the bias they might hold around trans people in their courtroom. You know, on our set, the second day we were shooting, our gaffer were so moved by our production model and she happened to be a chapter president of her union, the largest tech union in the world. She went to her union and helped to institute the first trans sensitivity training and that got copied across the country. So it's had a really vast impact, which, you know, is all a, especially a documentary filmmaker, could ever hope for.
BROOKE GLADSTONE Congratulations!
SAM FEDER Thank you.
BROOKE GLADSTONE Sam Feder is director of the documentary Disclosure available on Netflix.
That's it for this week's show! On the Media is produced by Leah Feder, Micah Loewinger, Jon Hanrahan, Eloise Blondiau and Rebecca Clark-Callender. This week we say goodbye to our beloved intern, Alex Hanesworth. Our technical director is Jennifer Munsen, our engineer this week was Adriene Lily. Katya Rogers is our executive producer. On the Media, is a production of WNYC Studios. I'm Brooke Gladstone.
Copyright © 2021 New York Public Radio. All rights reserved. Visit our website terms of use at www.wnyc.org for further information.
New York Public Radio transcripts are created on a rush deadline, often by contractors. This text may not be in its final form and may be updated or revised in the future. Accuracy and availability may vary. The authoritative record of New York Public Radio's programming is the audio record.