Trans Children Have a Long History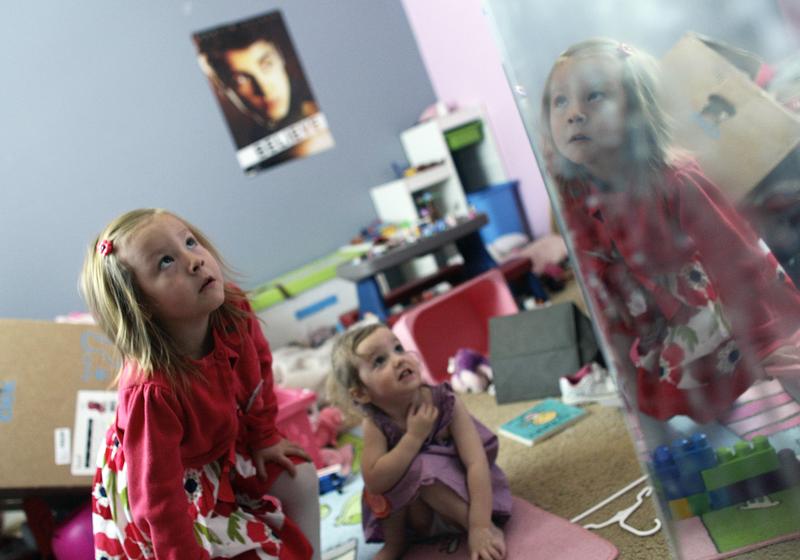 Transcript
BROOKE GLADSTONE This is On the Media, I'm Brooke Gladstone. Given the current politics and depictions of this transgender moment. It's easy to assume it's new and rare, when it's neither. Jules Gill-Peterson, professor of English and Gender, Sexuality and women's studies at the University of Pittsburgh and author of Histories of the Transgender Child, takes us back to before we were born, for the view from a distance.
JULES GILL-PETERSON For most of the 20th century, scientists and doctors believed that everyone was just a mix of male and female. To different degrees, that was normal state of the art science, and it wasn't overturned because it was proven wrong. It was only overturned because there were new dictates, more rigid roles for men and women that came about culturally that had an impact on medicine.
BROOKE GLADSTONE You said that to be trans, you have to justify yourself. Counter the idea that kids don't really know themselves, this is all emotional.
JULES GILL-PETERSON That's right. A lot of times when we're talking about trans kids, this whole issue comes down to gender. And my response is often actually no, the problem here is our concept of childhood. We treat them differently. Of course, there are differences between adults and children, but I think we have to pay attention to when that presumed difference is being utilized to ignore something. And here's what's so incredible about a trans kid. You have a young person who, without any concept or support, has figured this thing out about themself. This profound thing. You know, kids don't go to school and learn how to think critically about their gender identity. They have to teach it to themselves, and so I think by the point a child comes to us and says, hey, I'm a girl, not a boy or whatnot, they've already proven to us that they do know what they're talking about, because it just takes so much work to figure that out. The emotional issue is in adults. We are the ones that get anxious. I talk to lots of parents. Most of them don't have a transphobic response, most of them are responding out of fear. They want the best for their kid, and now they're confused. By the time trans kids come to us with their identity, they've done all the hard work. It's adults that have to play catch up.
BROOKE GLADSTONE So why was there less panic in the 50s then in 2020?
JULES GILL-PETERSON It's so counterintuitive, isn't it? I mean, we tend to think the 50s were such a stereotypically conservative decade, but to answer your question, OK, so we have some idea that people transition in the 1950s, but why was it considered less of a drama for young people than it is today? It's not a rosy answer. Doctors and researchers, clinicians actually didn't really want to help trans kids transition. They were interested in studying trans children, because trans children are still developing. They haven't necessarily gone through puberty. And so doctors and researchers thought if we study trans kids, we'll find out how sex and gender form for everyone. And so they would be willing to see trans kids and reluctantly let some of them transition, but that's not really why they wanted them there. They just wanted to study them and drive new data for understanding how sex and gender work in general. And it's not that many kids got access, most were turned away or were picked up by different institutions like psychiatric institutions or arrested and put in juvenile detention and things like that. So, it was really quite a struggle for trans kids. But weirdly enough, because there was sort of less cultural anxiety over them, they were able to transition without being under the limelight.
BROOKE GLADSTONE So take me back 150 years. Let's dig into the larger history, a figure that comes up very often and any history of trans life in the US is a man named Harry Benjamin.
JULES GILL-PETERSON Harry Benjamin is this doctor born in Germany who came up with Sigmund Freud just right before the start of World War One. He is just on a trip to the US, is going to head home to Germany, and then the war breaks out. And so he's essentially stuck in New York City and he just ends up staying there. He was an endocrinologist, so he's a specialist in this very, very new medical field at the time of hormones. And he ends up becoming one of the architects of what at the time in the 1950s is called transsexuality, because he has all this German medical training right. He loves all these kinds of theories that a lot of American clinicians are pretty resistant to.
BROOKE GLADSTONE Can you give me an example?
JULES GILL-PETERSON Harry Benjamin strongly believed that no one is male or female, that human beings are naturally a mix of male and female. That was the dominant medical explanation for gay and lesbians and also for what they called transvestites. They were just a woman's soul in a man's body or vice versa. So Harry Benjamin goes on to found in the 50s and 60s, the basic outlines of the medical model that we still have today,
BROOKE GLADSTONE How did you come across evidence about trans kids historically?
JULES GILL-PETERSON As I'm poring through those documents, reading about people like Benjamin, I start to see these little footnotes. Harry Benjamin will mention talking to a 16 year old kid. I was like a 16 year old, what? I never heard of any of them transitioning. I went back to the medical archives of the big clinics in the US that saw a lot of trans people. Johns Hopkins Hospital in Baltimore was seen trans and intersex people as far back as the 19 teens. Even before there's any categories to describe them. Places like the University of California: Los Angeles, Harry Benjamin's clinic in New York City and plenty of others. In one of the most remarkable moments at the Kinsey Institute for Sexological Research in Bloomington, Indiana. I've got boxes upon boxes of Harry Benjamin's correspondence over his whole career, tens of thousands of letters. I've been reading them for days, and all of a sudden I'm seeing these letters from trans kids writing handwritten letters to Harry Benjamin in the 1960s and 1970s. And a lot of the letters follow the same format. They say, hi, my name is whatever. I'm a transsexual. I know what transsexual means because I've read about your work in the newspaper or I looked up medical journals or I went to the library, and so they'll write to Harry Benjamin and ask for help. Sometimes it was just like I'm having trouble explaining to my parents what it means to be trans. Could you write them a letter as a medical doctor and explain? Some will say, can you send me hormones in the mail? And of course, he wouldn't do anything like that, but he would write back to people. And so I have in some cases, kids writing to him for years, updating him on their lives, telling him about their transitions, like what their life was like in school, the bullying being institutionalized, transphobia, parental rejection, parental acceptance. It's one of the most exciting moments of my career because the rest of my research, mostly used medical records. You're reading what the doctor said about them. And so I wanted to tell the stories of these kids and do some justice to them because, hey, there's our proof that trans kids aren't new. They figured this stuff out before most of us were born, well, before some of us were born.
BROOKE GLADSTONE Even within the archive, you found that black children and white children's lives were recorded very differently. And I'm wondering if you can describe that and also how it might skew our understanding of trans lives, generally,
JULES GILL-PETERSON A 19th century racist science, the kind of science that argued that there were separate human races, the kind of science that argued in favor of slavery, that argued that the white race was somehow the superior race in the world, that was also anti Semitic. That kind of science argued that the difference between men and women in white northern European society was the most evolutionarily advanced in the Victorian era. We've got women should be sort of sexually repressed and quite right. That notion then actually really informs sex science, right? Because there's still this assumption that the sex binary is this racial phenomenon, that is somehow white. You know, binary sex is white civilization. By World War II, it goes out of fashion after the atrocities of the Nazis. There's no more of this explicit race language, and instead it becomes this implicit idea that white people are more capable of transitioning. And that's something that Harry Benjamin takes on.
BROOKE GLADSTONE I don't understand if a black adult goes to Harry Benjamin and says, you know, I feel that I'm in the wrong body, will you help me? Being black would work against them because he wouldn't think that the hormones would work?
JULES GILL-PETERSON Yeah. Trans women from the era in New York City, all in reminiscences from the era, will say, yeah, you don't go to Harry Benjamin. He doesn't see black girls. Absolutely not. You have to be beautiful and white and blond to get in there. There's actually a scientific history to it. Where the idea of being made normal, it's like, well, we can take disorders and make them normal because white people deserve to be made normal, so that they can participate in society as is their sort of birthright. Not only were black, trans people turned away from clinics, just seen as generally unworthy of treatment. But in the case of kids, black trans girls in particular, any time they said that they were girls would be taken as evidence that they were criminals or that they were delusional or that they had a mental disability. Black trans girls were more likely to be arrested, put in foster care and end up in psychiatric institutions, juvenile detention and be held against their will for decades. And it has a lot for us to think about today in terms of whose gender is considered a problem. Because there's a difference between being considered a medical or a psychological problem, and be considered a criminal problem, right? Both can be bad, but one is a lot worse than the other.
BROOKE GLADSTONE What kind of future do you want to see? For trans kids and also for sex and gender more broadly.
JULES GILL-PETERSON I want us to move away from this sort of real moment of defense, you know. Trans folx are exhausted. I can testify to that personally, but also from everyone I know. We are exhausted from being attacked and want to live in a world where trans children are wanted. Where we see trans childhood not as something that should be managed medically or controlled or policed or at worst eradicated, but something that we want. Something we're excited about! I mean, even if we defeat all of these bills, trans kids will still have been told by their state legislators, by all these adult interest groups that they are not wanted in this country and that casts a shadow over your whole life. So I want to see kids celebrate it, taken seriously for being trans, and for us to be excited, to see them grow up trans and go on to have lives. Our society is the thing that needs to be adjusted, not trans kids.
BROOKE GLADSTONE Jules Gill-Petersen is professor of English and Gender, Sexuality and Women's Studies at the University of Pittsburgh, and author of Histories of the Transgender Child.
Copyright © 2021 New York Public Radio. All rights reserved. Visit our website terms of use at www.wnyc.org for further information.
New York Public Radio transcripts are created on a rush deadline, often by contractors. This text may not be in its final form and may be updated or revised in the future. Accuracy and availability may vary. The authoritative record of New York Public Radio's programming is the audio record.