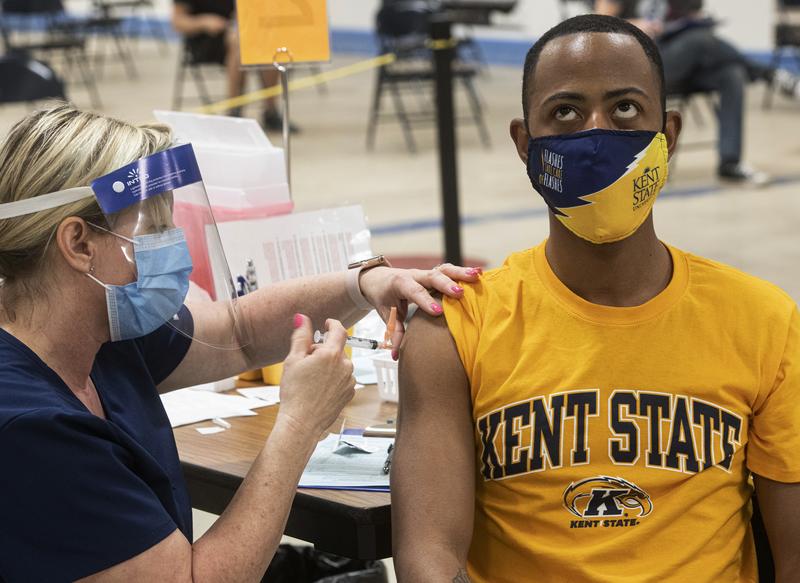 Transcript
NSIKAN AKPAN A central part of science reporting is saying, here's what we know, here's what we don't know and here's why it doesn't mean the sky is falling.
BOB GARFIELD We wrote a guide for making sense of the known unknowns when it comes to vaccine coverage. From WNYC in New York, this is On the Media, I'm Bob Garfield. Plus, why all the pro labor news coverage leading up to last week's failed unionization vote in Alabama might not have been all that helpful.
JANE MCALEVEY I have been in moments where the media were desperately trying to talk to workers in a campaign, and it was like walking through a gauntlet, trying to get into the union hall for a meeting. It seemed like that was happening in the Bessemer campaign.
BOB GARFIELD And how big companies use propaganda and intimidation to steer their workers away from unionization.
[CLIP]
ANTI-UNION PROPAGANDA If you see warning signs of potential organizing, notify your site leader immediately. The most obvious signs would include use of words associated with unions like living wage. [END CLIP]
BOB GARFIELD It's all coming up after this.
[BREAK]
BOB GARFIELD From WNYC in New York, this is On the Media, I'm Bob Garfield.
BROOKE GLADSTONE And I'm Brooke Gladstone. This past Wednesday, the Advisory Committee on Immunization Practices, a special panel within the CDC, met for an emergency. The problem: Johnson and Johnson's coronavirus vaccine.
[CLIP]
NEWS REPORT The CDC and FDA just released a joint statement that is calling for an immediate pause in the use of the Johnson and Johnson single dose coronavirus vaccines. [END CLIP].
[CLIP]
NEWS REPORT This vaccine has already been given to 6.8 million Americans, and now investigators are looking into 6 cases of blood clots, all in women, all under the age of 48 who received that vaccine. [END CLIP].
[CLIP]
NEWS REPORT Johnson and Johnson now says it'll delay the rollout of the vaccine in Europe. [END CLIP]
BROOKE GLADSTONE Was Johnson and Johnson causing these blood clots, or just in the biologically wrong place at the wrong time. If the vaccines did cause the clots? What's the risk to everyone else? Should all of the nearly 7 million recipients of the one-shot wonder be concerned? And then, thorniest of all, the logistics. Pausing production of any vaccine in a pandemic is not a simple calculation.
[CLIP]
NEWS REPORT Any extension of the pause will result in the fact that the most vulnerable individuals, in the United States, will remain vulnerable. [END CLIP]
BROOKE GLADSTONE On this point, there was true debate not just on the panel, not just in the virtual world of Twitter hot takes, but in the world of flesh and bone. Would putting Johnson and Johnson on ice inspire trust in our health systems, or play to the skeptics or the vaccine hesitant? We don't know, and neither does the CDC. Thoughtfully and anticlimactically, the panel punted, deciding not to decide on J and J's fate without more data, because that's what scientists do. Perhaps you wondered, well, what does that mean? How bad is this? So, while we all sit in the great waiting room of science together, we bring you the latest in our series of Breaking News Consumer Handbooks: Vaccine Edition. What the Johnson and Johnson episode exposes, among other things, is our long and paradoxical relationship with vaccines that asks us to invite foreign bodies into our own bodies. There's always a chance that things don't go perfectly. There are side effects, and the other hot button word of the week – breakthrough infections – but the headlines usually emphasize just the top half of a simple fraction to represent the whole, which inevitably yields the wrong answer.
NSIKAN AKPAN We really need to know what the denominator is in order to tell people how big the risk is.
BROOKE GLADSTONE Nsikan Akpan is the health and science editor for the WNYC NEWSROOM. He wrote a piece this week for The Gothamist on the wave of breakthrough infection stories hitting the news.
NSIKAN AKPAN Think back to your middle school math class, and when you're doing fractions. The numerator is the number of top, the denominator is the number in the bottom, and I can tell you percentages or what proportion of people might be involved with a certain situation
BROOKE GLADSTONE When it comes to breakthrough infections, that percentage, it turns out, is very, very low. And that's point 1 in our handbook. Just because the story is everywhere doesn't mean the risks are. Point 2 is to note that the scary headlines tend to focus on the numerator and leave out the contextualizing denominator. One big story recently was about breakthrough infections in Michigan, 246 of them out of a million and a half who got the vaccine. So do the math, 246 out of a million and a half is about one in 10000. So what does that tell us?
NSIKAN AKPAN Everyone has likely heard this 95 percent number with the Pfizer and Moderna vaccines. Do that math for the Pfizer and Moderna vaccines. You would predict that about one in 2000 people who get vaccinated with those vaccines would experience a breakthrough infection.
BROOKE GLADSTONE That is using the 90 to 95 percent efficacy number, right?
NSIKAN AKPAN Exactly. So you have one in two thousand there. You set up the Michigan numbers, 246 breakthrough infections, over 1.5 million vaccinated from the beginning of the year to the end of March. That gives you 1 in 10000.
BROOKE GLADSTONE That's a lot better than one in 2000.
NSIKAN AKPAN Right. What the numbers from Michigan are telling us is that the vaccines appear to be doing better than expected based off of the clinical trial results.
BROOKE GLADSTONE Pretty surprising. That said, we can't just blame the headlines. Beneath them lie a complicated vocabulary of terms that may mean one thing to researchers and something entirely else to the rest of us. Point 3, learn the vaccine lexicon. Pause, for instance, may not mean what you think it means. Kai Kupferschmidt is a science journalist based in Berlin who writes for Science magazine.
KAI KUPFERSCHMIDT Clinical trials with covid-19 were done in 20, 30, 40000 people. If you have a side effect that only occurs, say, once in 100000 people, then you're not going to pick that up before you actually start giving the vaccine to millions of people. This is something that we've seen with many vaccines that you start rolling it out, you see a safety signal. In the beginning, it's hard to know whether this is really something that the vaccine is causing or whether this is just basically a coincidence. And so it's investigated, and normally what you do is you pause using the vaccine while you investigate the safety signal. And then, you know, depending on what you find, you might restarted or stop it or restarted just in some people, of course. What's different this time is that we're doing all of this in the middle of a devastating pandemic that has killed more than three million people. So, the stakes are that much higher.
BROOKE GLADSTONE Science expects these moments and so should we. Breakthrough just means an infection that has made it past the vaccinated person's defenses. Breakthrough does not mean the vaccine no longer works. In inoculating hundreds of millions of people, there will be side effects, infections and deaths, but so much less death. And if you think back to the halcyon days of yore, we know this, we act on this knowledge every single year. Which is point 4, every virus mutates, not necessarily for the worse. We vaccinate annually against the descendants of the horrific 1918 flu. Every year, the offspring of a virus older than Jay Gatsby causes breakthrough infections across the world, but we don't see it that way. We see it as a dinner party anecdote. "You know, I got my flu shot and I still caught it." We don't see ourselves in a headline saying millions saved by vaccines again. But of course, maybe the issue isn't the headlines or the language or even the virus, maybe it's the vaccine itself that's causing this communication problem. That's point 5. Civilization's greatest invention, I think, is the vaccine. But the concept is abstractly terrifying. It just feels risky.
KAI KUPFERSCHMIDT It's worth remembering that humans are very bad at judging rare risks, right. At the moment, this is such a rare event, there was one comparison, I haven't actually checked the numbers, but that you're more likely to have a car accident on the way to being vaccinated than, you know, having the side effect from the vaccination.
BROOKE GLADSTONE Thank God for cars! We're always more likely to get into trouble there than almost anything else!
KAI KUPFERSCHMIDT Exactly that that always helps as a comparison. But I also think that some of these comparisons aren't very helpful, because you do have to remember, you know, the psychology of vaccination is quite complicated. I mean, we are talking about something that you give to healthy people. Most people find the idea of something being injected into the body in itself kind of scary.
BROOKE GLADSTONE You said that we calculate our own risk on the basis of whether or not we are currently well, in part because if we are currently well, maybe we can take measures to ensure we stay well, you know, double mask and all the stuff they tell us to do.
KAI KUPFERSCHMIDT I think there are several things that trip us up when we do these risk calculations. One of them is that as humans, we have this illusion of control. So if somebody injects something in your body, you feel that you have no control over whether you're going to have the side effect or not. When you're driving a car, of course, you know, your control over whether you're going to get in an accident is also very small. You can easily get in an accident even though you do everything right, but we have this idea that we are in control of that risk. The other thing is that we tend towards risks of omission rather than commission. So if you ask, for instance, a mother whether she would vaccinate her child and you tell her, well, there's the same risk for the child getting this rare disease if you don't vaccinate him. But then there's the risk. If you vaccinate him, people tend to choose the risk, which is not their fault. You know, in quotation marks, it's the feeling of, well, if it happens, it happens, but I didn't do it. So there's all of these different factors that play a role psychologically when we're judging these risks, and I think sometimes it just helps to explain these factors, like especially in this pandemic, it's almost become the overriding thing is to try and understand your biases in how we aggregate this data and perceive it and what our ultimate conclusions are.
BROOKE GLADSTONE Not so easy. Tracking how our brain works, it's like trying to see air.
KAI KUPFERSCHMIDT And this is something that in the debate about this Johnson and Johnson pause that really upset me was just the way that everybody, you know, 2 minutes after that pause was announced that everybody was so sure that this was either a complete disaster and the wrong decision or clearly this was right and the vaccine should be immediately taken off the market. Now, these things are quite complicated, and it is worth taking the time to understand all the factors that play a role in this decision making.
BROOKE GLADSTONE A crucial factor in the decision to pause the J&J vaccine was not just about clots, but a particular kind of clot combined with a reduction in platelets. Something requiring study. Digging into these factors enable us to get a grip on risky feelings floating like vapor in the air. You may be inclined to see disaster for yourself in a headline, but the truth is you have a very personalized risk equation. Point 6, scrutinize how you assess risk. When facing patchwork vaccine news, it's vital to know thyself.
KAI KUPFERSCHMIDT 6 cases. That's what we have at the moment. 6 cases in more than 7 million people vaccinated with this in the US, isn't a lot right. But you have to realize that it takes some time to see these blood clots and for people to be diagnosed for it to be reported. Now, the ACIP meeting, the body that decides on these recommendations, which is the body of CDC and FDA, this was on Wednesday evening. In their deliberations, they made it very clear that they would expect that any cases from the first, say, 3.5 million people vaccinated might have been reported now, but the 3.5 million people that were vaccinated with Johnson & Johnson in the past 2 weeks, we probably haven't seen those cases yet.
BROOKE GLADSTONE So assessments are underway to determine who and how many, out of millions, face a risk, however rare. It's a pause, but as he noted, many had already made up their minds. Critics of the pause on social media were quick to compare the risk of the clots experienced by the 6 women with the risk of clots of a different kind associated with birth control pills. The risk of those clots is much bigger, though still very small. So why all the fuss? Point 7, analogies dramatically understate the complexity of the data. Risk assessments also obviously govern our behavior, despite the better than predicted response to the vaccine in Michigan, case rates are soaring. Why? Well, the vaccine rollout hasn't gone so well, but perhaps more important are those personal risk assessments. Nsikan Akpan.
NSIKAN AKPAN There has been what I would describe as a libertarian spirit through much of Michigan's pandemic response. So, you have to think, OK, people are mingling, right? They're getting exposed, and one of the biggest factors, whether or not you catch any germ, is your exposure. And that also applies to vaccinated people. You know, there was this caveat in the CDC's travel policy that came out a few weeks ago that said, OK, people are vaccinated. You still need to wear a mask in transit. That's because you're going to be interacting with crowds. You don't know if those people are vaccinated and are protected. There is the chance that you could get exposed to a large volume of the virus. And then even in that situation, your immunity might break down and you might get infected. You know, your immune system is a bit like the deflector shields in Star Wars or Star Trek. You hit your immune system or your immunity with a short laser beam, a virus [mimic's the PEW of a blaster gun]
BROOKE GLADSTONE The shields hold, but if you're hammered by a ship that is cloaked...
[BOTH LAUGH]
NSIKAN AKPAN Yeah, if Darth Vader is bearing down on you with an imperial class destroyer. Sorry, I'm getting way too nerdy here – your shields are going to have a harder time. So, there is going to be a higher chance that you might catch that virus and that could happen to people who are vaccinated too.
BROOKE GLADSTONE Point 8: effectiveness in a lab and in the real world are two different numbers. Real world numbers come later. They may actually be better. The CDC just announced that 5800 vaccinated people experienced breakthrough infections so far. 77 million Americans have been fully vaccinated. Do the math. But the story isn't over with science. It never is. In the murky early days of the breakout, we were wiping down our groceries, unsure how it spread, now we know better. The virus is still with us, and even vaccinated we're not invulnerable, but new information can guide us if we're flexible. If we see knowledge as a process, as scientists do.
NSIKAN AKPAN An essential part of science reporting is saying, here's what we know, here's what we don't know, and here's why it doesn't mean the sky is falling. I still see people on the street hop down from sidewalks whenever a jogger runs by them. What we know about airborne coronavirus is that the risk is extremely low outdoors, especially when you're spending a short time next to somebody. You know, the odds of that jogger being able to give you coronavirus is next to none. Yet there was so much reporting about airborne coronavirus last summer, people really got it in their heads that the outdoors is a dangerous place. And the lack of context there at the very beginning can have really serious ramifications down the line.
BROOKE GLADSTONE Now, there's a lot of evidence suggesting the outdoors are pretty safe, but those initial headlines tweaked your behavior and your reactions to the behaviors of others months ago. Meanwhile, news happens and some of it changes things, but some of it is not quite ready for consumption. We'll consume it anyway. Point 9, studies are not created equal. Find a voice to help you through the weeds or just walk away.
KAI KUPFERSCHMIDT And I think we have basically systematically miseducated our readers about how science works because we never describe the process all that well and because we keep writing stories that basically say new research shows that 3 cups of coffee a day reduces your risk of Alzheimer's or increases your risk of cancer. You know, I'm not really interested in this one study. I'm really curious to know, what about the 50 studies that have been done about the same issue before? What does the balance of the evidence say? Because you might get a really well-done clinical trial that basically answers the question really well. And then 3 weeks later, another result comes out, that's different, but it's from a clinical trial that was much smaller, that wasn't as well done, but, of course, that's the news. So we have this implicit bias in journalism towards what's new and not what's true, and I think that's a really hard one to break through.
BROOKE GLADSTONE If there's something the news and science have in common is that both are getting faster. Be patient with yourself, working through the numbers, the risks, the benefits is hard. Remember, this is new territory for scientists, and journalists too.
KAI KUPFERSCHMIDT We would serve our readers a lot better if we would write stories that aren't really about results that are about the process. I think in some ways the meeting on Wednesday evening was really interesting because they didn't come up with any decision in the end, you know, they didn't unpause the vaccine or anything, but the process was fascinating to watch. Some of the greatest novels or movies, you know, kind of have an open ending. If you can manage to tell a really, really interesting story, then, you know, then you've got your reader listening to you. And maybe at the end, the fact that there is no result, yet, isn't as important. But of course, that's a hard sell to editors – I know that.
BROOKE GLADSTONE We conclude on point 10: Be flexible. Science is a process that never ends. As the data flow in, the advice will change. Meanwhile, what can I get you? One mask or two? Sanitizer anyone? Or is there a gallon of it at home crying for your attention because, you know, your overbought. This isn't going to last forever, but something else is bound to come up, so don't do it halfway. Either pay really close attention to vaccine news, or not much at all. If you're vaccinated, you've already got it covered the best you can.
BOB GARFIELD Coming up, the blowout in Bessemer and the lessons it holds for organizers and the media.
BROOKE GLADSTONE This is On the Media.
[BREAK]
BOB GARFIELD This is On the Media, I'm Bob Garfield.
BROOKE GLADSTONE And I'm Brooke Gladstone. To the labor sympathetic among us, Bessemer, Alabama, seemed primed to become a big time, good news story. Sure, we learned more and more by the day about how Amazon sought to bust efforts to unionize the new warehouse there, but there was that unmistakable, if muted, presidential endorsement.
[CLIP]
JOE BIDEN It's not up to me to decide whether anyone should join a union. But let me be even more clear, it's not up to an employer to decide that either. The choice to join a union is up to the workers full stop. [END CLIP]
BROOKE GLADSTONE And a parade of political celebrities giving choice quotes to the national media in town for the circus.
[CLIP]
BERNIE SANDERS You are taking on the wealthiest individual in the world and you're doing it in an anti-union state. So, what you're doing requires courage, and from the bottom of my heart, I salute you. [END CLIP]
BROOKE GLADSTONE Meanwhile, Amazon corporate Twitter vociferously denied that some of its workers resort to relieving themselves in bottles and then, well...
[CLIP]
NEWS REPORT ...and not just that, but that drivers were defecating in bags as well in order to meet these absolutely insane quotas. [END CLIP]
BROOKE GLADSTONE For news consumers closely watching the coverage in the lead up to the vote, particularly those following the story through union friendly media outlets, optimism seemed justified. But that's all over now. On Friday, April 9th, the initial tally saw a more than 2 to 1 vote against the union. In The Nation last weekend, labor organizer Jane McAlevey, who's currently a senior policy fellow at the University of California at Berkeley's Labor Center, penned a postmortem on what she called the blowout at Bessemer. She said the media overhyped the campaign, even though, quote, impending defeat was evident everywhere. That might have even done a subtle disservice to the workers.
JANE MCALEVEY The media, in a big campaign like that, can actually start to serve as a distraction to the conversations that the workers need and are having with each other. I have been in moments where the media were desperately trying to talk to workers in a campaign and it was like walking through a gauntlet, trying to get into the union hall for a meeting. It seemed like that was happening in the Bessemer campaign.
BROOKE GLADSTONE McAlevey also wrote that the defeat was yet one more example of how grossly preferential labor law is to would be union busters, and why she argues, the Senate must pass the Protecting the Right to Organize Act – the PRO Act. Among other things, the bill would forbid employers from interfering in union elections, which McAlevey says Amazon, what she calls an A level opponent, did in Bessemer at every step.
JANE MCALEVEY Starts with the captive audience meetings.
BROOKE GLADSTONE When the bosses say we have a mandatory meeting, everybody has to attend
JANE MCALEVEY Unpaid time, and you cannot not attend the meeting. These are at will employees, so you can be fired. So, you walk into those meetings, and there'll be a bank of managers usually. They'll be standing, they'll have clipboards, they'll be checking, you know, did so-and-so report for the meeting. If you raise your hand to ask a question, they'll take a picture of your badge. The top managers looking right at all of their workers and saying, we want you to know we're going to take this as an offense if you vote for the union. You know, those things they are officially, legally not supposed to be able to say, but they say to them,
BROOKE GLADSTONE How will they know if they voted for the union? It's not a secret ballot.
JANE MCALEVEY Oh, it definitely is a secret ballot. Amazon had taken a position legally, that they wanted to have an in-person on location voting, and this is COVID. The union's position was no way, there should be a mail in ballot. So, the mail in ballot prevails, and then magically all of a sudden a post box shows up early February in front of the Amazon factory. What Amazon's public message about that has been is they wanted to make it easier for workers to vote in the election. From an organizer's perspective, what they did was they could make it so that they hold a captive audience meeting. They encourage you to fill out your ballot right then to vote no for the union, and then they asked you to walk out to the postbox and drop them to the post box. Now, yes, it's a secret ballot, but that is super intimidating to a worker. Wow, this company is pretty powerful and they're going to watch whether or not I'm voting.
BROOKE GLADSTONE So the union in Bessemer was facing an A-level boss, and you think that they weren't up to the task. One big moss in Bessemer was the union's decision, for instance, to forgo a majority public structure test. What is that?
JANE MCALEVEY In the beginning of a campaign, organizers have to make a decision. Are we asking workers to sign union authorization cards that say that they want to hold an election? Or do you ask them to sign a petition?
BROOKE GLADSTONE I assume that signing the petition is a lot riskier.
JANE MCALEVEY Well, it is, except let me explain, the way that organizers facing an A level employer campaign, do run a campaign is we'll have a checkbox on the petition that says my signature will be used in public if and when a majority of my coworkers sign this petition. When you take that approach to a campaign, you are beginning from the very first conversation to convey to the workers how hard the campaign is going to be and that unless and until a majority of their coworkers are prepared to publicly support the campaign, it's not likely that they can win it.
BROOKE GLADSTONE So why didn't the union do that?
JANE MCALEVEY They said they wanted to protect the workers from retaliation. I appreciate that answer. The problem is that's insufficient to go up against an A level employer.
BROOKE GLADSTONE What is the impact of a loss? Why is it so bad that it's better not to hold it at all?
JANE MCALEVEY It's important not to put workers on a death march. The kind of things that ought to be legal but that are done in every hard union campaign in this country may make it so that a worker like that is never going to take a risk for the rest of their lives. The employer didn't just come into that campaign to, like, marginally defeat the workers. The employer in an A level campaign. Is coming in to run a psychological terror operation so that no worker in that facility considers ever the question of a union again. In this case, they are trying to send a message all over the United States that it's futile to attempt an election in an Amazon facility.
BROOKE GLADSTONE For reporters on the labor beat, this has been the story for months, but for you, watching labor battles across the country play out at the same time, was it the story?
JANE MCALEVEY There's a lot of union efforts that are going on across the country right now. For example, there was a strike that began in October in California. 3,000 health care workers in the middle of a pandemic, mostly women.
BROOKE GLADSTONE This was in Alameda?
JANE MCALEVEY In Alameda County, yeah, the Alameda Health System. It had been a public hospital system serving poor people in and around Oakland. They had privatized the management system and the privatized management began to immediately do what people try to make a profit do; cut staff, cut more staff. And this is in the context of a pandemic that's already got unbearable conditions for nurses and health care workers in hospitals. And so you saw a very rare moment in America where several unions that usually compete teamed up and they won in the end.
BROOKE GLADSTONE Did they de-privatize the hospital?
JANE MCALEVEY Yes! They challenge the orthodoxy of the free market. They made the kind of demand that's very unusual, which is we want this to be run by the public. And I think that that is a model campaign for so many reasons. Also going on, an open-ended strike by registered nurses going up against Tenet HealthCare, a giant for profit corporation in Massachusetts. They're six weeks into a strike that hasn't gotten a national story last I looked.
BROOKE GLADSTONE So why do you think Amazon got so much attention? I mean, obviously, Amazon, right? Were there other factors at play?
JANE MCALEVEY There is this obsession with defining the blue collar, presenting the image of workers as people who go to factories when in fact most are largely genderized workforces in the health care sector, in the education sector. Now, Amazon is and should be a target. There are Somali workers in an Amazon facility in Minnesota who have several times walked out over being denied the right to pray on their breaktime because of time off task.
BROOKE GLADSTONE Time off task being the reason why some workers apparently resorted to urinating into plastic bottles, because going to the bathroom was time off task.
JANE MCALEVEY I mean, the behavior of this company is sick. The Somali workers in Minnesota working for Amazon couldn't get even the fifteen minutes to go do the prayers that they have to do. That's an active, ongoing fight going on in Minnesota. So there's a lot of interesting campaigns that are going on that need a lot of labor coverage and attention. So is it fair to say that Bezos deserves attention? Yes. Oh, my God, of course. Is it fair to say that once the campaign, in Bessemer, move forward, I think it would be hard to stop the kind of attention it was getting. On the other hand, each journalist is making a choice about what they're covering. Right? So that goes back to the original argument making about should the campaign have continued. And then there was a decision at the union to attract a lot of national attention.
BROOKE GLADSTONE It would seem that that would be a good thing, despite the fact, as you say, the media can be a terrible distraction for the workers. It would seem to be an opportunity to put pressure on the company.
JANE MCALEVEY I mean, it's fine to put pressure on the company, but that's not what's going to help you win the election. My focus as an organizer is to try to teach future Amazon workers and the Amazon workers in Bessemer and every worker in the United States of America what it's going to take to unionize their facility. And getting a lot of media attention is not on the checklist of organizers. It's just not.
BROOKE GLADSTONE Let's talk about what news consumers should watch out for in coverage like this.
JANE MCALEVEY The main thing is evidence of a majority of the workers publicly supporting the campaign. That's what I was looking for the whole time. There was an election in Vermont that happened two weeks ago where I saw a posting for a victory by technologists at the University of Vermont Medical Center. That did get a national story. It's okay, it was a small campaign, relatively speaking, unless it's a rural state. I emailed the organizer in the campaign and said, did you do a vote? Yes, petition. Was it public? Can I see it? And they said, yeah, of course, we have a majority vote yes petition. And they sent me a picture of the vote yes petition with all the worker's signatures saying we're going to vote yes. And they overwhelmingly won the campaign. You want to look for some evidence of it. The other place where it could have showed up, but it didn't show up in Bessemer was actually at the plant gates. If you had seen hundreds and hundreds of actual Amazon workers from the Bessemer facility at the plant gates, that would be an indication that they were in really good shape to win the campaign. But that's not who was at the plant gates. Union staff, supporters from outside, but it wasn't Amazon workers. In my opinion, the only time a plant gate strategy works is if you have a majority of the workers themselves actually standing at the plant gates. That's a show to management. We know you're watching. We know you have cameras on us and we're here anyway.
BROOKE GLADSTONE When you have a campaign that was covered as closely as this one and the readers, the viewers, news consumers were led to believe that they had a good chance to win. The fact that they really didn't win contributes perhaps to a "we can't win" narrative.
JANE MCALEVEY It's very tricky. The PRO Act is being debated in Congress. So there are people who are saying it's essentially not possible to win a National Labor Relations Board election, given how stacked the deck is against workers. And by the way, it's hard as hell, and we should pass the PRO Act. But if we as organizers believe that we need labor law change to win unionization elections, we're condemning ourselves to a very bleak future because we have been trying to change labor law since the 1960s in President Johnson. We tried to do it with a majority in both houses under Jimmy Carter. We tried to do it with a majority in both houses under Bill Clinton. We tried to do it with a majority of both houses under Barack Obama. Just to be clear, we have been trying to pass something like the PRO Act for longer than I've been alive. Therefore, what's dangerous about the narrative is that it sends a message to people that they can't win, when in fact, I just described to you that workers at the University of Vermont Medical Center just won a National Labor Relations Board election. In the world of journalism, there had been one victory after another at a ton of media institutions in the last couple of years. So it's obviously not true that workers can't win, which doesn't mean we shouldn't pass the PRO Act.
BROOKE GLADSTONE Now, in terms of the "can't win" narrative, talk to me about the Smithfield meatpacking plant attempts to unionize beginning in 1994 with the first election.
JANE MCALEVEY Smithfield meatpacking plant was, at the time, the largest meatpacking plant in the United States of America. And the United Food and Commercial Workers, which is the parent union of RWDSU who was involved in Bessemer, committed many of the same mistakes in the first-round election in the Smithfield plant. And then they filed objections to the election and it takes way too long for the National Labor Relations Board to do the investigation. They're underfunded, the workers often are just demoralized. They finally eventually won the right to get a rerun election. And what happened? They lost by far greater numbers. Smithfield did what I'm suggesting Amazon was trying to do in Bessemer. They didn't just go in there to say, we want you to vote no. They went in to deliver a beat down. There was 100% turnover, but the living memory that people had of the beat down in the Smithfield plant and a campaign that did not make adjustments in the second round, meaning that when the union went back, they used most of the same tactics that they used in the first losing election. They lost again.
BROOKE GLADSTONE They did unionize, finally, Smithfield on the third try, correct?
JANE MCALEVEY They did on the third try.
BROOKE GLADSTONE And what did they do right?
JANE MCALEVEY The new team that came in were trying to both ensure that workers themselves were challenging the employer on the plant floor on a regular basis, at the same time that they were running a deeper campaign with a lot of local community involvement. They did wind up winning an agreement that constrained the employer from the same kind of behavior that Amazon committed, but it shouldn't have taken that long. And if they had run the campaign with a lot of the same tactical approach, the very first time, you know, it very likely would have had a different outcome.
BROOKE GLADSTONE What would you say to those who say, look, when a union loses an election, maybe it's because the workers just don't want it?
JANE MCALEVEY I don't believe that a majority of workers didn't actually want the union in the Bessemer facility. I have no evidence of that, I just don't believe it, because I believe most workers in this country would choose to have a union. And the brilliant research Kate Bronfenbrenner did in the 1990s, super incredible research done by Cornell's labor program showed in a huge analysis of National Labor Relations Board elections. Most workers want the union until the union avoidance firm shows up and coaches the management team how to run a grotesque intimidation campaign against the workers. It must stop. We must reform labor law, but we also must offer our very best to every worker when they decide to stick their neck out and try and form a union. We have to look at the research, know the history and know what it takes to win and at least give the workers a fair shot in a hard campaign.
BROOKE GLADSTONE Jane, thank you very much.
JANE MCALEVEY Thank you very much.
BROOKE GLADSTONE Jane McAlevey is a labor organizer, currently a senior policy fellow at the University of California at Berkeley Labor Center. And her piece in The Nation is called Blowout in Bessemer: A Postmortem on the Amazon Campaign.
BOB GARFIELD Coming up, the ebb and flow, mostly ebb of labor coverage.
BROOKE GLADSTONE This is On the Media.
[BREAK]
BROOKE GLADSTONE This is On the Media, I'm Brooke Gladstone
BOB GARFIELD And I'm Bob Garfield. As the sometimes breathless coverage of the union vote in Bessemer, Alabama, showed, labor stories are having a moment. This after a half century that saw the beat go almost entirely to cede.
CHRISTOPHER MARTIN The labor beat since the 1970s has been in decline.
BOB GARFIELD Christopher R. Martin is a professor of digital journalism at the University of Northern Iowa. He's the author of No Longer Newsworthy: How the Mainstream Media Abandoned the Working Class.
CHRISTOPHER MARTIN In fact, by this year, there's maybe seven labor reporters at the top 25 newspapers. We don't have any at the networks. None of the cable networks.
BOB GARFIELD Compare that to 1951, when an AP labor reporter lamented that there were only 23 labor reporters between St. Louis and Boston. He said that there should be at least 200. In the course of researching his book, Martin came across two front page New York Times stories, both about transit strikes but written 40 years apart. Exemplifying, he says, the evolution of labor coverage.
CHRISTOPHER MARTIN The first one starts on a rainy day in March 1941, and there are about 3,500 transport workers union members, who are bus drivers, who walked out. And at that time in 1941, they supplied 95% of the surface transportation in New York City, and it affected 900,000 commuters, almost a million. And what was interesting in 1941 is there's very little focus on the displaced commuters. Instead it was mostly about the contract issues between the workers, the bus company and New York Mayor LaGuardia. So the second one we get started on a rainy day in March 1983. And here we have 622 conductors from that United Transportation Workers Union walking out on strike against the Transit Authority. And this stopped commuter lines and it affected about 90,000 commuters. So about 1/10th of the number from 1941. There was a huge photo on the front page showing three businessmen from Westchester, and they look like fish out of water. They're in their trench coats with briefcases on their laps. And they're riding a dirty, graffiti riddled subway car leaving the station and Bronx. And we get a quote from a commuter saying "The idea of such a small minority having such an impact on such a huge majority is just not right." And that really says everything about who The New York Times thinks its audience is by 1983.
BOB GARFIELD Now, one obvious explanation for the disappearance of labor reporting is the same one for the disappearing state house reporter, or theater critic or foreign correspondent; the collapse of the news industry in the digital economy. But you believe there is a deeper and more sinister explanation that began long before the Internet with newspaper consolidation. What did the rise of newspaper chains have to do with the labor beat?
CHRISTOPHER MARTIN Well, what happened, Bob, is that the newspapers, as they consolidated, started to refocus in the late 60s and early 70s on who their audience was. So instead of a mass audience, which would include the vast working class in America, we start to see by the late 60s and early 70s more of a focus on upscale consumers. So their readers tend to be more people who are middle class and upper middle class. They literally stop delivering papers to people in rural areas, and in inner-city areas. And so that has the effect of making the labor beat go into a long, slow decline, and then we start to see the rise of two other beats. The workplace beat, which focuses more on people in white collar jobs and covers things like office romances or what to wear on casual Fridays. And then we also see the rise of a personal finance beat, and so you see the startup of magazines like Money and sections of newspapers talking about investing and things like that.
BOB GARFIELD So after the press, as an industry, you say gave up on the American worker as a reader, it began looking at workplace issues from a different perspective, a consumer's perspective, a heroic captains of industry perspective. How did the framing change?
CHRISTOPHER MARTIN Well, the framing very much became one where the consumer is king, and collective economic action is bad. So, if you look at, for example, a strike report from the 70s on, I mean, it's very much about the consumer. And actually it's kind of a clever way of actually managing objectivity in labor stories. So, you're not siding with management or labor, you're siding with the consumer. But if there's a strike, I mean, the consumer is very much about things going back to the way they are, forget whatever the workers wanted. You don't want your accessibility to the product or service to diminish. You don't want prices to go up. You just want things back the way it was. So, the consumer being king is one of the important frames that we get. Another one is the production process is none of the public's business. So, we don't get to see the process of production very often, which would include necessarily talking about workers and their conditions.
BOB GARFIELD That sounds like suppression. Skewing the news narrative to accommodate advertisers who are uncomfortable with the naked truth. I mean, I could see publishers hoping for that, but newsrooms?
CHRISTOPHER MARTIN You know, I don't think there's a top down edict to say don't cover how the production process is made, but it's not where stories come from, right? So instead, I mean, if you're going to talk about the auto industry, one of the other frames is the economy is driven by great business leaders and entrepreneurs. So, you go talk to the CEOs and talk about what they want.
BOB GARFIELD I want to also ask you about the demographics of the newsroom until the 70s, until Watergate, that is, and Woodward and Bernstein and the glow around them, the reporting profession wasn't as professionalized as it is now. More blue-collar backgrounds, not many journalism school graduates, less elitism. Can some of this loss of interest in organized labor be traced to socioeconomics and culture?
CHRISTOPHER MARTIN Within a news organization there have been several studies that talk about this the reporters and adopt the so-called ideology or whatever the target audience is of that organization. So, you kind of learn very quickly who you're writing for and writing about in an organization. I think there is some truth to the fact that the reporters today are much more professionalized, or college educated, and until just recently, they likely did not belong to labor unions themselves.
BOB GARFIELD Whatever the various causes, a half century of journalistic neglect takes a toll. How is the public disserved by the vacuum of coverage? Absent journalistic due diligence, who has commandeered the narrative?
CHRISTOPHER MARTIN What you find in the shift towards a more upscale audience in the mainstream media then really kind of leaves the working-class, millions of people without a news media that's really speaking to them. So, what happens is that at least one part of the working class, the white working class, gets picked off in the 70s by Christian Broadcasting Corporation and other evangelical types of news media. In the 80s by talk radio with Rush Limbaugh and others in the 90s, by Fox News, now in the aughts, by a number of websites like Breitbart. And so now we have this situation where they're calling the mainstream media elite and that they're the media for the white working class.
BOB GARFIELD You observed the 2020 Gallup poll showed that 65 percent of Americans are approving of unions in general. And you also observed the uptick lately in labor coverage and a lot of focus on the astonishing disparity in incomes and wealth. Given all of the trends, what is the future of the labor beat? And more to the point, what should the labor beat be?
CHRISTOPHER MARTIN I like what a former New York Times labor writer, the late William Serrin, once said, and he said, to write about labor is to really write about work. So it doesn't necessarily have to be people who are members of labor unions. In fact, there is not as many of them these days, but it should be about people who work. And if you talk about people who work, you realize that there is this inequality in most cases that people aren't well compensated. They should be talking about the arcane rules that govern things like elections for union representation. They should be talking about things like the danger for workers. We should talk about the health care of the workers as well. I mean, there's a lot of different things you could talk about and work is the entree into those issues, talking about things that really matter to just regular people.
BOB GARFIELD Chris, thank you so much.
CHRISTOPHER MARTIN Thank you, Bob.
BOB GARFIELD Christopher R. Martin is a professor of digital journalism at the University of Northern Iowa and author of No Longer Newsworthy: How the Mainstream Media abandoned the working class. To counter the argument for better wages and conditions made by union organizers, employers may defend the status quo with cautionary videos aimed at workers or their supervisors. This is from a 2018 Amazon campaign instructing its Whole Foods managers how to see trouble coming.
[CLIP]
ANTI-UNION PROPAGANDA If you see warning signs of potential organizing, notify your building H.R.M and G.M. site leader immediately. The most obvious signs would include use of words associated with unions, or union led movements like "living wage" or "steward." Some signs are less obvious than finding the actual union flyer. Examples include associates who normally aren't connected to each other, suddenly hanging out together. Associates who are close suddenly stopped speaking to each other. Unusual complaints or change in passion or detail around complaints or any other associate behavior that is out of character. For example, an associate who normally leaves promptly begins hanging out in the break room for an hour after work each day in order to record. [END CLIP]
BOB GARFIELD It was one of a whole genre built around nearly identical anti-union tropes. The effect of work rules on independence and team morale, mandatory dues, ulterior union motives and so on. Here's a supercut assembled with video from Home Depot, Lowe's, Wal-Mart and Target.
[CLIP]
ANTI-UNION PROPAGANDA Unions are nothing to be scared of, and the more you know about them, the more comfortable you'll be in dealing with them.
That's right. Now, you are chosen to work in our store because we think you'll help us achieve our vision of being the best company ever.
In your position as a manager here at Lowe's, you need to know how to talk to employees about unions. Organizers try to persuade your employees that they would be better off with the union representing them. The next step is to have employees sign union authorization cards.
When you sign, you may be giving up your right to speak for yourself.
Then you give the union the right to act for you and make decisions for you on workplace issues, whether you agree with them or not.
Everyone here, from the CEO down, want you to be successful. In fact, Target prides itself on our open-door policy.
We don't think that a labor union is necessary here.
Funny thing is, I always thought unions were kind of like clubs, you know, or charities that were out to help workers, right? Well, I found out that wasn't exactly the case.
Unions make most of their money from dues collected from members.
They took dues money out of my paycheck before I ever saw it, just like taxes.
Money for initiation dues and fines and assessments. You get the picture.
Unions are a business.
That's right. I said business, union business.
We've all found a home with Wal-Mart, and we're glad that you've joined the team. Good luck with your new career, and we hope that you never have to deal with the union organizing drive in your facility. But if you do, we hope that this video has given you the information you need to stay in control of your valuable signature and your career. Welcome to Wal-Mart. [END CLIP]
BOB GARFIELD That's it for this week's show! On the Media is produced by Leah Feder, Micah Loewinger, Jon Hanrahan, Eloise Blondiau and Rebecca Clark-Callender with help from Alex Hanesworth. Xandra Ellin writes our newsletter, and our show was edited...By Brooke. Our technical director is Jennifer Munson, our engineers this week with Sam Bair and Adriene Lilly.
BROOKE GLADSTONE Katya Rogers is our executive producer. On the Media is a production of WNYC Studios. I'm Brooke Gladstone
BOB GARFIELD and I'm Bob Garfield.
Copyright © 2021 New York Public Radio. All rights reserved. Visit our website terms of use at www.wnyc.org for further information.
New York Public Radio transcripts are created on a rush deadline, often by contractors. This text may not be in its final form and may be updated or revised in the future. Accuracy and availability may vary. The authoritative record of programming is the audio record.