How the Bessemer Story Got the Wind Knocked Out of It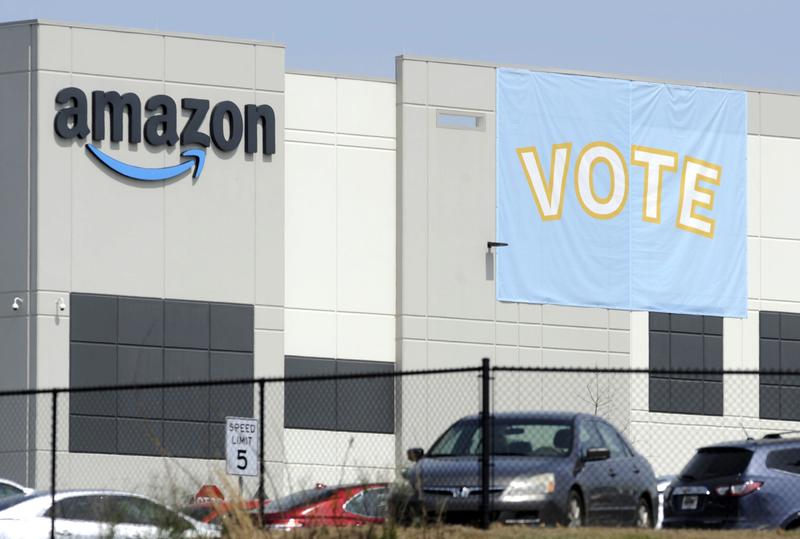 Transcript
BOB GARFIELD This is On the Media, I'm Bob Garfield.
BROOKE GLADSTONE And I'm Brooke Gladstone. To the labor sympathetic among us, Bessemer, Alabama, seemed primed to become a big time, good news story. Sure, we learned more and more by the day about how Amazon sought to bust efforts to unionize the new warehouse there, but there was that unmistakable, if muted, presidential endorsement.
[CLIP]
JOE BIDEN It's not up to me to decide whether anyone should join a union. But let me be even more clear, it's not up to an employer to decide that either. The choice to join a union is up to the workers full stop. [END CLIP]
BROOKE GLADSTONE And a parade of political celebrities giving choice quotes to the national media in town for the circus.
[CLIP]
BERNIE SANDERS You are taking on the wealthiest individual in the world and you're doing it in an anti-union state. So, what you're doing requires courage, and from the bottom of my heart, I salute you. [END CLIP]
BROOKE GLADSTONE Meanwhile, Amazon corporate Twitter vociferously denied that some of its workers resort to relieving themselves in bottles and then, well...
[CLIP]
NEWS REPORT ...and not just that, but that drivers were defecating in bags as well in order to meet these absolutely insane quotas. [END CLIP]
BROOKE GLADSTONE For news consumers closely watching the coverage in the lead up to the vote, particularly those following the story through union friendly media outlets, optimism seemed justified. But that's all over now. On Friday, April 9th, the initial tally saw a more than 2 to 1 vote against the union. In The Nation last weekend, labor organizer Jane McAlevey, who's currently a senior policy fellow at the University of California at Berkeley's Labor Center, penned a postmortem on what she called the blowout at Bessemer. She said the media overhyped the campaign, even though, quote, impending defeat was evident everywhere. That might have even done a subtle disservice to the workers.
JANE MCALEVEY The media, in a big campaign like that, can actually start to serve as a distraction to the conversations that the workers need and are having with each other. I have been in moments where the media were desperately trying to talk to workers in a campaign and it was like walking through a gauntlet, trying to get into the union hall for a meeting. It seemed like that was happening in the Bessemer campaign.
BROOKE GLADSTONE McAlevey also wrote that the defeat was yet one more example of how grossly preferential labor law is to would be union busters, and why she argues, the Senate must pass the Protecting the Right to Organize Act – the PRO Act. Among other things, the bill would forbid employers from interfering in union elections, which McAlevey says Amazon, what she calls an A level opponent, did in Bessemer at every step.
JANE MCALEVEY Starts with the captive audience meetings.
BROOKE GLADSTONE When the bosses say we have a mandatory meeting, everybody has to attend
JANE MCALEVEY Unpaid time, and you cannot not attend the meeting. These are at will employees, so you can be fired. So, you walk into those meetings, and there'll be a bank of managers usually. They'll be standing, they'll have clipboards, they'll be checking, you know, did so-and-so report for the meeting. If you raise your hand to ask a question, they'll take a picture of your badge. The top managers looking right at all of their workers and saying, we want you to know we're going to take this as an offense if you vote for the union. You know, those things they are officially, legally not supposed to be able to say, but they say to them,
BROOKE GLADSTONE How will they know if they voted for the union? It's not a secret ballot.
JANE MCALEVEY Oh, it definitely is a secret ballot. Amazon had taken a position legally, that they wanted to have an in-person on location voting, and this is COVID. The union's position was no way, there should be a mail in ballot. So, the mail in ballot prevails, and then magically all of a sudden a post box shows up early February in front of the Amazon factory. What Amazon's public message about that has been is they wanted to make it easier for workers to vote in the election. From an organizer's perspective, what they did was they could make it so that they hold a captive audience meeting. They encourage you to fill out your ballot right then to vote no for the union, and then they asked you to walk out to the postbox and drop them to the post box. Now, yes, it's a secret ballot, but that is super intimidating to a worker. Wow, this company is pretty powerful and they're going to watch whether or not I'm voting.
BROOKE GLADSTONE So the union in Bessemer was facing an A-level boss, and you think that they weren't up to the task. One big moss in Bessemer was the union's decision, for instance, to forgo a majority public structure test. What is that?
JANE MCALEVEY In the beginning of a campaign, organizers have to make a decision. Are we asking workers to sign union authorization cards that say that they want to hold an election? Or do you ask them to sign a petition?
BROOKE GLADSTONE I assume that signing the petition is a lot riskier.
JANE MCALEVEY Well, it is, except let me explain, the way that organizers facing an A level employer campaign, do run a campaign is we'll have a checkbox on the petition that says my signature will be used in public if and when a majority of my coworkers sign this petition. When you take that approach to a campaign, you are beginning from the very first conversation to convey to the workers how hard the campaign is going to be and that unless and until a majority of their coworkers are prepared to publicly support the campaign, it's not likely that they can win it.
BROOKE GLADSTONE So why didn't the union do that?
JANE MCALEVEY They said they wanted to protect the workers from retaliation. I appreciate that answer. The problem is that's insufficient to go up against an A level employer.
BROOKE GLADSTONE What is the impact of a loss? Why is it so bad that it's better not to hold it at all?
JANE MCALEVEY It's important not to put workers on a death march. The kind of things that ought to be legal but that are done in every hard union campaign in this country may make it so that a worker like that is never going to take a risk for the rest of their lives. The employer didn't just come into that campaign to, like, marginally defeat the workers. The employer in an A level campaign. Is coming in to run a psychological terror operation so that no worker in that facility considers ever the question of a union again. In this case, they are trying to send a message all over the United States that it's futile to attempt an election in an Amazon facility.
BROOKE GLADSTONE For reporters on the labor beat, this has been the story for months, but for you, watching labor battles across the country play out at the same time, was it the story?
JANE MCALEVEY There's a lot of union efforts that are going on across the country right now. For example, there was a strike that began in October in California. 3,000 health care workers in the middle of a pandemic, mostly women.
BROOKE GLADSTONE This was in Alameda?
JANE MCALEVEY In Alameda County, yeah, the Alameda Health System. It had been a public hospital system serving poor people in and around Oakland. They had privatized the management system and the privatized management began to immediately do what people try to make a profit do; cut staff, cut more staff. And this is in the context of a pandemic that's already got unbearable conditions for nurses and health care workers in hospitals. And so you saw a very rare moment in America where several unions that usually compete teamed up and they won in the end.
BROOKE GLADSTONE Did they de-privatize the hospital?
JANE MCALEVEY Yes! They challenge the orthodoxy of the free market. They made the kind of demand that's very unusual, which is we want this to be run by the public. And I think that that is a model campaign for so many reasons. Also going on, an open-ended strike by registered nurses going up against Tenet HealthCare, a giant for profit corporation in Massachusetts. They're six weeks into a strike that hasn't gotten a national story last I looked.
BROOKE GLADSTONE So why do you think Amazon got so much attention? I mean, obviously, Amazon, right? Were there other factors at play?
JANE MCALEVEY There is this obsession with defining the blue collar, presenting the image of workers as people who go to factories when in fact most are largely genderized workforces in the health care sector, in the education sector. Now, Amazon is and should be a target. There are Somali workers in an Amazon facility in Minnesota who have several times walked out over being denied the right to pray on their breaktime because of time off task.
BROOKE GLADSTONE Time off task being the reason why some workers apparently resorted to urinating into plastic bottles, because going to the bathroom was time off task.
JANE MCALEVEY I mean, the behavior of this company is sick. The Somali workers in Minnesota working for Amazon couldn't get even the fifteen minutes to go do the prayers that they have to do. That's an active, ongoing fight going on in Minnesota. So there's a lot of interesting campaigns that are going on that need a lot of labor coverage and attention. So is it fair to say that Bezos deserves attention? Yes. Oh, my God, of course. Is it fair to say that once the campaign, in Bessemer, move forward, I think it would be hard to stop the kind of attention it was getting. On the other hand, each journalist is making a choice about what they're covering. Right? So that goes back to the original argument making about should the campaign have continued. And then there was a decision at the union to attract a lot of national attention.
BROOKE GLADSTONE It would seem that that would be a good thing, despite the fact, as you say, the media can be a terrible distraction for the workers. It would seem to be an opportunity to put pressure on the company.
JANE MCALEVEY I mean, it's fine to put pressure on the company, but that's not what's going to help you win the election. My focus as an organizer is to try to teach future Amazon workers and the Amazon workers in Bessemer and every worker in the United States of America what it's going to take to unionize their facility. And getting a lot of media attention is not on the checklist of organizers. It's just not.
BROOKE GLADSTONE Let's talk about what news consumers should watch out for in coverage like this.
JANE MCALEVEY The main thing is evidence of a majority of the workers publicly supporting the campaign. That's what I was looking for the whole time. There was an election in Vermont that happened two weeks ago where I saw a posting for a victory by technologists at the University of Vermont Medical Center. That did get a national story. It's okay, it was a small campaign, relatively speaking, unless it's a rural state. I emailed the organizer in the campaign and said, did you do a vote? Yes, petition. Was it public? Can I see it? And they said, yeah, of course, we have a majority vote yes petition. And they sent me a picture of the vote yes petition with all the worker's signatures saying we're going to vote yes. And they overwhelmingly won the campaign. You want to look for some evidence of it. The other place where it could have showed up, but it didn't show up in Bessemer was actually at the plant gates. If you had seen hundreds and hundreds of actual Amazon workers from the Bessemer facility at the plant gates, that would be an indication that they were in really good shape to win the campaign. But that's not who was at the plant gates. Union staff, supporters from outside, but it wasn't Amazon workers. In my opinion, the only time a plant gate strategy works is if you have a majority of the workers themselves actually standing at the plant gates. That's a show to management. We know you're watching. We know you have cameras on us and we're here anyway.
BROOKE GLADSTONE When you have a campaign that was covered as closely as this one and the readers, the viewers, news consumers were led to believe that they had a good chance to win. The fact that they really didn't win contributes perhaps to a "we can't win" narrative.
JANE MCALEVEY It's very tricky. The PRO Act is being debated in Congress. So there are people who are saying it's essentially not possible to win a National Labor Relations Board election, given how stacked the deck is against workers. And by the way, it's hard as hell, and we should pass the PRO Act. But if we as organizers believe that we need labor law change to win unionization elections, we're condemning ourselves to a very bleak future because we have been trying to change labor law since the 1960s in President Johnson. We tried to do it with a majority in both houses under Jimmy Carter. We tried to do it with a majority in both houses under Bill Clinton. We tried to do it with a majority of both houses under Barack Obama. Just to be clear, we have been trying to pass something like the PRO Act for longer than I've been alive. Therefore, what's dangerous about the narrative is that it sends a message to people that they can't win, when in fact, I just described to you that workers at the University of Vermont Medical Center just won a National Labor Relations Board election. In the world of journalism, there had been one victory after another at a ton of media institutions in the last couple of years. So it's obviously not true that workers can't win, which doesn't mean we shouldn't pass the PRO Act.
BROOKE GLADSTONE Now, in terms of the "can't win" narrative, talk to me about the Smithfield meatpacking plant attempts to unionize beginning in 1994 with the first election.
JANE MCALEVEY Smithfield meatpacking plant was, at the time, the largest meatpacking plant in the United States of America. And the United Food and Commercial Workers, which is the parent union of RWDSU who was involved in Bessemer, committed many of the same mistakes in the first-round election in the Smithfield plant. And then they filed objections to the election and it takes way too long for the National Labor Relations Board to do the investigation. They're underfunded, the workers often are just demoralized. They finally eventually won the right to get a rerun election. And what happened? They lost by far greater numbers. Smithfield did what I'm suggesting Amazon was trying to do in Bessemer. They didn't just go in there to say, we want you to vote no. They went in to deliver a beat down. There was 100% turnover, but the living memory that people had of the beat down in the Smithfield plant and a campaign that did not make adjustments in the second round, meaning that when the union went back, they used most of the same tactics that they used in the first losing election. They lost again.
BROOKE GLADSTONE They did unionize, finally, Smithfield on the third try, correct?
JANE MCALEVEY They did on the third try.
BROOKE GLADSTONE And what did they do right?
JANE MCALEVEY The new team that came in were trying to both ensure that workers themselves were challenging the employer on the plant floor on a regular basis, at the same time that they were running a deeper campaign with a lot of local community involvement. They did wind up winning an agreement that constrained the employer from the same kind of behavior that Amazon committed, but it shouldn't have taken that long. And if they had run the campaign with a lot of the same tactical approach, the very first time, you know, it very likely would have had a different outcome.
BROOKE GLADSTONE What would you say to those who say, look, when a union loses an election, maybe it's because the workers just don't want it?
JANE MCALEVEY I don't believe that a majority of workers didn't actually want the union in the Bessemer facility. I have no evidence of that, I just don't believe it, because I believe most workers in this country would choose to have a union. And the brilliant research Kate Bronfenbrenner did in the 1990s, super incredible research done by Cornell's labor program showed in a huge analysis of National Labor Relations Board elections. Most workers want the union until the union avoidance firm shows up and coaches the management team how to run a grotesque intimidation campaign against the workers. It must stop. We must reform labor law, but we also must offer our very best to every worker when they decide to stick their neck out and try and form a union. We have to look at the research, know the history and know what it takes to win and at least give the workers a fair shot in a hard campaign.
BROOKE GLADSTONE Jane, thank you very much.
JANE MCALEVEY Thank you very much.
BROOKE GLADSTONE Jane McAlevey is a labor organizer, currently a senior policy fellow at the University of California at Berkeley Labor Center. And her piece in The Nation is called Blowout in Bessemer: A Postmortem on the Amazon Campaign.
BOB GARFIELD Coming up, the ebb and flow, mostly ebb of labor coverage.
BROOKE GLADSTONE This is On the Media.
Copyright © 2021 New York Public Radio. All rights reserved. Visit our website terms of use at www.wnyc.org for further information.
New York Public Radio transcripts are created on a rush deadline, often by contractors. This text may not be in its final form and may be updated or revised in the future. Accuracy and availability may vary. The authoritative record of programming is the audio record.