War, What Is It Good For?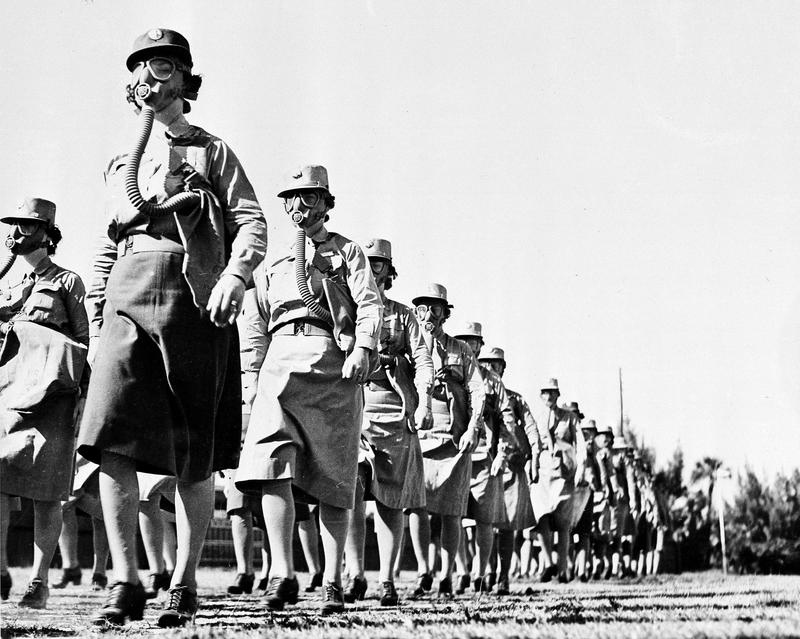 Transcript
EULA BISS This virus does not have intent. It can't be negotiated with. There will be no truce.
BROOKE GLADSTONE Are we at war with COVID-19? The metaphor of choice is framing the way we confront the crisis. From WNYC in New York, this is On the Media. I'm Brooke Gladstone.
BOB GARFIELD And I'm Bob Garfield. If we are at war with this virus, an upside, according to economists, is that it could shake up our social compact.
NICHOLAS MULDER We're all Keynesians in a foxhole because in an emergency situation, even people who normally don't like government will intervene in order to save themselves using the power of the state.
BROOKE GLADSTONE Also, in this time of national unity, should celebrities just shut up?
[CLIP]
VANESSA HUDGENS Even if everybody gets it like, yeah, people are going to be just terrible, like inevitable? [END CLIP]
BOB GARFIELD It's all coming up after this. From WNYC in New York, this is On the Media. I'm Bob Garfield.
BROOKE GLADSTONE And I'm Brooke Gladstone. And this is New York Governor Andrew Cuomo.
[CLIP]
GOVERNOR ANDREW CUOMO This is not going to be a short deployment. This is going to be weeks and weeks and weeks. This is going to be a long day and it's going to be a hard day. And it's going to be an ugly day and it's going to be a sad day. [END CLIP]
BROOKE GLADSTONE But even as the death toll mounts on American soil, is war what we're waging even metaphorically?
[CLIP]
PRESIDENT TRUMP Today, we reached a historic milestone in our war against the Coronavirus. [END CLIP]
BROOKE GLADSTONE We certainly have the fog of war.
[CLIP]
PRESIDENT TRUMP Over one million Americans have now been tested. [END CLIP]
BROOKE GLADSTONE And we have wartime propaganda.
[CLIP]
PRESIDENT TRUMP More than any other country by far. Not even close.
NEWS REPORT But President Trump's numbers have been widely questioned with the U.S. well behind Italy and South Korea in the number of people tested.
NEWS REPORT Well, this is World War C. World War coronavirus. [END CLIP]
BROOKE GLADSTONE And we have the virus on every continent except Antarctica.
[CLIP]
BORIS JOHNSON In this fight, we can be in no doubt that each and every one of us is directly enlisted.
[END CLIP]
BROOKE GLADSTONE But is our reliable stockpile of war metaphors with its explosions and weaponry, soldiers and supply lines the best vocabulary for framing what's going on? I mean, for those of us who aren't health workers and hospitals, just people sheltering in place, this is a real question.
[CLIP]
NEWS REPORT The captain of a U.S. aircraft carrier says more of his sailors are testing positive for Coronavirus. Captain Brett Crozier is calling on Navy leaders to take stronger measures to save the sailors' lives.
NEWS REPORT He wrote, quote, We are not at war. Sailors do not need to die. [END CLIP]
BROOKE GLADSTONE Rather than saying we're fighting in a war, maybe it would be more useful to say we're being trampled by a gray rhino. Risk expert Michelle Walker coined that metaphor to describe an obvious, highly probable, yet strangely neglected danger.
MICHELLE WALKER So I was trying to come up with an image and I was brainstorming with a friend, and I said it's big. It's coming right at you. It's dangerous. You know, like, like with a horn. And that's when the rhino popped into my head.
BROOKE GLADSTONE Rhinos don't appear every day, but unlike those far fetched unforeseeable black swans, we know they exist and that all of them, whether black or white, are basically gray and perilous. And they're not stealthy, any world power could see one coming if they had the guts to face inconvenient truths. I pulled the gray rhino out of a blog post on metaphors written by University of Nottingham Prof, Brigitte Nerlich. Other recent treatments of the metaphor dilemma could be found in The Guardian, The Atlantic and The New Yorker. Metaphors are much on our minds because by framing the issues, they can shape policy. And obviously COVID-19 is framed mostly in metaphors of war. In past shows, we've observed how other metaphorical wars on cancer, for example, or on drugs did little to vanquish those problems and may have even impeded the efforts to address them. This hour we explore the suitability of the war metaphor: politically, economically, historically and personally.
[CLIP]
GOVERNOR HENRY MCMASTER Sixteen billion dollars to buy the supplies we need to win this war. [END CLIP]
BOB GARFIELD South Carolina Gov. Henry McMaster.
[CLIP]
GOVERNOR HENRY MCMASTER The special forces in this war are your nurses and your doctors and your health care professionals. They are the ones that make the disease every day. And all the rest of us are soldiers in this fight. [END CLIP]
BOB GARFIELD At 7 o'clock every night, New Yorkers, like many others around the world, head to their windows, balconies, roofs and front stoops to applaud those special forces on the front lines. Wars, even the most ruinous wars, have heroes, those often of low station who sacrifice out of proportion to how the society has treated them. Indeed, one of the collateral benefits of war is that those heroes are celebrated for their courage by those who had never really ever seen them before. Health workers are our heroes. And right behind them, the mail carriers, sanitation workers and grocery clerks, all essential, all recognized now as crucial parts of the mechanism that holds communities together. Jeet Heer wrote a piece in The Nation this week about how these workers are being empowered by crisis to demand better conditions, equality and justice. Not for the first time.
JEET HEER I think the most clear cut case here is a civil war where Lincoln initially started with the goal of preserving the union with or without slavery. But it was moved towards the abolitionist position by the argument that freeing the slaves would weaken the South, but also that black American soldiers were a crucial part of the war effort, and that you cannot ask these soldiers to sacrifice for no reason. Even after the civil war, there was a very strong push for pensions. And then in subsequent wars, things like the GI Bill after the Second World War, you had the building up the V.A. especially after Iraq and Afghanistan. Every time there's a war, you say you have to come to terms with what do we owe the people who are making sacrifices?
BOB GARFIELD The workers on the frontlines are being referred to as heroes. But here's the thing, unlike volunteer army or the fire department, a frontline nursing assistant or a supermarket cashier hasn't signed up for heroism. They've signed up for a low wage job.
JEET HEER It's not something that they signed up for. I think that's absolutely correct. It's not like the volunteer army. I think it's more like conscription, which is the more common experience of war in American history. And unfortunately, it's a war where they're not given the protection that they need and they're not given the compensation that we would normally want to give our soldiers.
BOB GARFIELD There's already some evidence of reaction to the status quo from workers who are kind of fed up being at high risk with low reward.
JEET HEER So what we've seen is an upsurge of job actions, both official and what are called wildcat strikes that's not sanctioned by a union. And it's particularly pertinent at this point because, you know, unions are weaker now than they have been in more than a century. So we've seen a whole host of actions. There was the workers at Instacart Grocery Delivery Services called for a strike.
[CLIP]
NEWS REPORT Today, several Instacart drivers around the nation went on a strike of sorts. They're refusing to fill orders until more is done to help keep them safe. [END CLIP]
JEET HEER The Amazon warehouse on Staten Island threatened a walkout.
[CLIP]
NEWS REPORT The organizers have said there have been 50 Amazon strikes across the country. The company said it's been more like fifteen. [END CLIP]
JEET HEER And I believe Amazon fired a worker there.
[CLIP]
NEWS REPORT A guy named Christopher Smalls from their Staten Island warehouse. He was the person who was organizing strikes. [END CLIP]
JEET HEER In the Bath Iron Works, a shipyard in Maine, half the workers stayed at home to pressure their employers to clean up the shipyard. Bus drivers in Alabama went on the strike because they felt that they weren't being protected. So this is a nationwide movement of blue collar workers who are withholding their labor to try to push for better conditions.
BOB GARFIELD Now, we may not like to admit this, but demanding higher pay or benefits or any kind of consideration in the midst of a crisis carries with it a political risk. Those seeking economic justice or simply recognition of their contributions will be dismissed as opportunists or as unpatriotic or selfishly trying to cash in on the crisis. Here's conservative pundit Ben Shapiro.
[CLIP]
BEN SHAPIRO If I were Amazon and I had the capacity, I'd fire everybody who strikes right now. And I'd bring in workers who are willing to work. I would, because this is unconscionable. [END CLIP]
BOB GARFIELD Is there not a danger of just feeding that narrative?
JEET HEER The issue we should focus on is justice, either actually just to ask people to do dangerous work without offering them compensation? And that seems very different than the case of a price gouger. And I want to just underscore something, which is that it's not just that people who are doing dangerous work aren't being compensated, because of the economic recession, there's actually a real rollback of wages and compensation. And just yesterday, Alteon Healt,h which is a major employer of doctors and nurses, announced that they were reducing hours, reducing pay, including pension, bonuses and paid time off. And they're doing that because health companies can make money off the coronavirus. They make money off of elective surgery. So we have this perverse situation where the very workers who are most at risk are actually seeing their compensation being cut back.
BOB GARFIELD Companies like Alteon have quite a bit of cover in Congress. There are four senators, including Lindsey Graham, who have tried to resist the expansion of unemployment insurance. And you know, what they say is kind of jaw dropping.
[CLIP]
LINDSEY GRAHAM So you gon' have all these well-trained nurses, they're going to make $24 an hour on unemployment. You're literally incentivizing taking people out of the workforce at a time when we need critical infrastructure supply for the workers. [END CLIP]
JEET HEER I think the proper answer to that is if unemployment is more generous than working, then that kind of shows you're not paying nurses enough. It's very dire in terms of what this is going to do to the medical profession. And we already have doctors and nurses drawing up wills, trying to figure out who's going to take care of the kids. I honestly cannot understand the morality of denying compensation to people in that situation.
BOB GARFIELD We've discussed in the past on this program two potential futures, one in which the crisis enables authoritarian minded leaders to get even more autocratic, to govern by decree and so on, the likelihood that once they've usurped that power, that they're loathe at the end of the crisis to surrender it. But the other possible future seems to be defined by the package that the Congress, the two trillion dollar package for a more socially just distribution of the nation's wealth. Post pandemic, what do you think happens to the social contract?
JEET HEER We're going to see a couple of things happening simultaneously. A spike in unemployment, but also premiums are going to be likely to go up much higher because health insurance companies are not really set up to deal with a pandemic. Also, many medical institutions like hospitals are going to face bankruptcy and are going to have to be bailed out. So within those conditions, I think that there is the perfect parameter for a radical overhaul of the health system to make it universal and free. It doesn't help you to have great private health insurance during a pandemic if many other people don't. You're only as insured as the person who has the least health coverage because if they get it and they're not treated, then the pandemic will spread. And I think the logic of the pandemic itself is going to force that social contract to change. One could have the nightmare scenario where there is a push towards authoritarianism as we see in certain countries like Hungary right now. But there's always been also the other possibility of a picture of a more democratic system that's more inclusive and that really offers people this protection of belonging to a shared collective project.
BOB GARFIELD Jeet, thank you so much.
JEET HEER Thank you.
BOB GARFIELD Jeet Heer is national affairs correspondent for The Nation.
BROOKE GLADSTONE Coming up, the idea of war not only frames our thinking, it shapes our policy.
BOB GARFIELD This is On the Media.
This is On the Media. I'm Bob Garfield.
BROOKE GLADSTONE And I'm Brooke Gladstone.
[CLIP]
PRESIDENT ROOSEVELT Here at home, everyone will have the privilege of making whatever self-denial is necessary, not only the supply of fighting man, but the economic structure of our country, fortified and secure during the war and after the war. [END CLIP]
BROOKE GLADSTONE By the spring of 1942, the US had entered its first few months of World War II, which by then had been raging for years. The front line was in Europe, but FDR, in fireside chat, let Americans know that the sacrifice would extend to their own doorsteps, their own hearts, their own pantries.
[CLIP]
PRESIDENT ROOSEVELT This will require, of course, the abandonment not only of luxury, but of many other creature comforts. Every loyal American is well aware of his individual responsibility. [END CLIP]
BROOKE GLADSTONE Today, those of us in self isolation make a sacrifice. It's our duty to sit inside and many of us watch our livelihoods evaporate to flatten the curve. But what is the government's duty to us? On Wednesday, the IMF published a blog post calling on governments to implement wartime-like economic measures around the globe. "In a war, massive spending on armaments stimulates economic activity and special provisions ensure essential services. In this crisis, things are more complicated," the economists wrote. "But governments should step in with measures like a freeze on evictions, paid sick leave and cash transfers to the unemployed." In Foreign Policy last week, economic historian Nicholas Mulder noted that the idea of a war economy has come to mean many things: productivity, sacrifice, reforms, solidarity and resourcefulness. And that the rhetoric of wartime idealism spills over into economic policy that can have an impact lasting long after the armistice is signed. Nicholas, welcome to the show.
NICHOLAS MULDER Thanks very much for having me on, Brooke.
BROOKE GLADSTONE You wrote, "War economies don't suspend politics. They raise the stakes."
NICHOLAS MULDER That's right. Right now, for example, when you look at approval ratings, Trump's approval ratings have gone up a bit and in many other democracies, the approval ratings of incumbent leaders have gone up. So it seems like a huge incumbency advantage, but only time will tell whether the coronavirus crisis will provide a lasting political benefit, because it's exactly because people now seem to put a lot of faith in leaders that these leaders can also squander that trust much more quickly. So I think that what seems to be a kind of rallying around the flag effect could very quickly turn into mass disillusionment.
BROOKE GLADSTONE You wrote that there is a tendency for more progressive policies to come out of war economies? I'm not convinced.
NICHOLAS MULDER Your skepticism is very understandable because wars, we associate them with this effect where politics is sort of suspended and everyone just agrees to do what the government tells them. But if we actually look at both World War I and World War II, that was not at all what came out of those wars. In fact, the organization and militancy of labor, also the claims of veterans, of widows, disenfranchised groups like African-Americans in the United States made much larger claims to participation in society afterwards. Forces are unleashed in wartime economies that even governments that have conservative politics will find it quite difficult to restrain.
BROOKE GLADSTONE But writing in dissent last week, historian Tim Barker. Did you read that piece?
NICHOLAS MULDER Yes.
BROOKE GLADSTONE He urged this to stay away from war analogies or more to the point, to stay away from using national security as a basis for action, because it could also be used as a rationale for even more draconian immigration policies for xenophobia. Do you worry when we pull a lever that is so associated with real war?
NICHOLAS MULDER Tim Barker's argument is very acute about warning about the dangers. And I agree with that. I would just differ slightly from him in emphasizing that we currently are, of course, not in a war. I've actually been quite surprised that it has taken so relatively long for Trump and Trumpists to turn Coronavirus into arguments against immigration. I would have thought they would have done that much more quickly. But even as they are doing that, they're still reliant on China and other East Asian countries right now for providing supplies.
Last Sunday, there was a big airlift of supplies from East Asia that arrived at JFK of masks, gowns, gloves, thermometers and I think that that was already happening in World Wars I and II which are remembered as moments of increased nationalism, of course, then of national self-reliance and self-sufficiency. But in fact, already at that point, there were very globalized supply chains and even the American war effort was dependent not just on raw materials from abroad, so rubber from Latin America and Africa and Asia, tin, aluminum, etc. America was using its productive base in order to build equipment that the rest of the world used in order to fight fascism. That's something that right now, interestingly, is kind of inverted. We're in a lendlease and reverse situation because most of the production of medical equipment happens in East Asia. And so both the United States and Europe are having to rely on an air bridge now that is being established from East Asia to Europe and the United States. We're still in a very international moment. It's just that the flows are going in the other direction this time.
BROOKE GLADSTONE You wrote that this wasn't so much a problem of prioritizing expenditures or limited resources, the big issue in this case, maybe the unique issue, is sustaining circulation when people are in lockdown. You call this the ventilation or butter dilemma as opposed to the old guns and butter one. Could you fill that out for me?
NICHOLAS MULDER The old dilemma of guns and butter is essentially about priority. What do you do when you have a limited set of resources and you must choose in the short term to spend them on defense, on military production, that's the guns part, or on civilian production? That's butter. Now, a lot of people have been arguing that what we face now is this choice between saving lives and restarting the economy. What we're really dealing with here is whether we can freeze the economy for as long as is needed to control the virus or sacrifice enormous amounts of lives to continue this circulation. And that's why I called it ventilation or butter, because whether we keep the economy on the sort of life supports or want to continue production and circulation at all costs.
BROOKE GLADSTONE You said that the war itself will not necessarily give us what we want politically for the future, but we can see that it creates a common morality. But for how long?
NICHOLAS MULDER If you look at World War II, the kind of moral economy that came out of that conflict, the idea that when people have to mobilize to confront a common threat, they have to put their lives on the line fighting or they have to put their labor, forgo wage increases, forgo the freedoms that they have in peacetime. Then they will also demand a lot back for it when that situation ends. World War II created a kind of moral order that I think persisted for decades in the United States when it came to burden sharing, redistribution, what sort of public services are deemed normal and general and shared. The end of that order didn't come until the late 70s and early 1980s. It persisted for four decades after the war. So I think that the changes can be quite long lasting.
BROOKE GLADSTONE But I mean, you're looking at our government now, right, at President Trump and this Congress? You think that this crisis and this use of wartime economic policies can ignite a similar sense of responsibility from them?
NICHOLAS MULDER I think it's important to look beyond Trump in this regard. Having the right institutions and policies also matters. And I still think that there is a lot that we can do that will be in place for the next president. I find it very difficult to predict what the ultimate political upshot of this crisis will be for politics. But it's certain that the challenge of climate change is exactly the kind of long run problem for which we need state capacity. State capacity that this crisis has exposed is missing in the United States. The points of building a strong healthcare and planning and administrative state is that you have a well-functioning government, no matter who's in power.
BROOKE GLADSTONE Thank you very much.
NICHOLAS MULDER Thank you very much for having me on, Brooke.
BROOKE GLADSTONE Nicholas Mulder is an economic historian at Cornell University. His article in Foreign Policy is called The CoronaVirus War Economy Will Change the World.
NICHOLAS MULDER One other thing worth saying is just there is this expression that we're all Keynesians in a foxhole. So the ideas of John Maynard Keynes, which was basically the idea underneath a lot of war economics and the welfare states, because we all you know, even people who normally don't like government and state action in an emergency situation will intervene in order to save themselves using the power of government and the state.
BROOKE GLADSTONE George Orwell once said never use a metaphor, simile or other figure of speech, which you are used to seeing in print. He said worn out metaphors have lost all evocative power and are merely used because they save people the trouble of inventing phrases for themselves. We asked listeners which Coronavirus metaphors were dominating where they happened to be.
PAUL MCEWAN When French President Emmanuel Macron addressed the nation on March 16th, he used the phrase [french], "We are at war," six times.
BROOKE GLADSTONE Paul McEwan is a professor of media and communications at Muhlenberg College.
PAUL MCEWAN In the United States, there's a history of war rhetoric being used in cases like the war on terror, the war on drugs that France doesn't have that same history. And so even though he used the phrase a lot, it had more of the sense of we need to all come together, we need to to work on this. This is really serious.
BROOKE GLADSTONE Germany's Angela Merkel has stopped short of calling it a war. Listener Seth Knox reported.
SETH KNOX I've seen the metaphor [GERMAN], that is the fight or a struggle against the virus. And so while kompf could be used in a violent or militaristic sense to mean something like combat, it's more flexible in its meaning and usage than a term like war.
BROOKE GLADSTONE And a war implies an enemy. At a G7 meeting last week, world leaders failed to reach an agreement because the Trump administration wanted the official statement to refer to the illness as the Wuhan virus. This after Trump called it the Chinese virus and press conferences last month.
[CLIP]
PRESIDENT TRUMP It's not racist at all, no, not at all. It comes from China. That's why. It comes from China. I want to be accurate.
[END CLIP]
BROOKE GLADSTONE The FBI has warned of an increase in hate crimes against Asian-Americans and is investigating a stabbing of a family in Texas. Eula Biss stands firmly against the war metaphor because she thinks it can lead to xenophobia and racism and also because it shrinks our vision of the crisis. She's the author most recently of On Immunity: An Innoculation: A Historical and Linguistic Exploration of Our Attitudes towards Disease and Each Other.
EULA BISS Viruses don't have nationality. They don't have politics. This virus does not have intent. It can't be negotiated with. There will be no truce. This is part of why it's a bad metaphor. None of the situations that we would expect from war translate.
BROOKE GLADSTONE The effort of the Trump administration to call this the Wuhan virus in international forums, you note in your book that syphilis was always attributed to another nationality.
EULA BISS Susan Sontag notes that syphilis was French to the English, German to the French and the Chinese disease to the Japanese. But there's many other diseases that were thought of as being from or belonging to a different nationality near the turn of the century in America. There were people who believed that only black people could carry smallpox. And that led to the forcible vaccination of African-Americans.
BROOKE GLADSTONE You offer a wonderful exploration of the word immunity. Better metaphors for thinking about it, the idea of health as being like a public bank, immunity like a public square.
EULA BISS And we're seeing that illustrated right before our eyes. Now, you know, in order to maintain a level of immunity within the community, everyone has to cooperate. I think refusing to participate in collective protection from disease is, it's anti-social, especially in this country it's a manifestation of privilege to rely on the risks that other people have taken in terms of vaccinating themselves and their children and to not take that risk yourself. It's not tenable. This is now very obvious, as disease spreads quickly across the globe, no place is remote enough that it's not going to be touched by this disease. People might feel off the grid or removed or out of the way, that's a psychological mirage. And so is individualism actually in this context. In terms of our relationship to disease, we are not free-standing individuals, we're always in relationship to other people in other people's bodies. And our health very much depends on what other people do.
BROOKE GLADSTONE The polio pioneers in 1954, that wasn't long after the war, you suggested that the polio pioneers had a sense of responsibility to the community that we don't have today. But we're talking about 650,000 children from all over the country who are volunteered by their parents to test the first polio vaccine? That's a stunning number.
EULA BISS You know, initially when I first learned about the polio pioneers, I found it hard to imagine it's now not as hard for me to imagine. I have to say and I was just talking to my stepmother and she was describing to me a summer in her childhood in the Bronx when she couldn't play in the water sprinklers in the public parks because there was a polio epidemic. I think now it's a lot easier to understand beyond a sense of national responsibility why people might line their children up for totally self-interested reasons as well. This is what social life depends on. We depend on other people fulfilling their basic duties.
BROOKE GLADSTONE That would strike me as a reason why perhaps the war metaphor is useful. You quote Susan Sontag. She wrote, "abuse of the military metaphor may be inevitable in a capitalist society in which it is thought foolish not to subject one's actions to the calculus of self-interest and profitability." War, Sontag suggests, and you write, is one of the few activities in which we're not expected to consider practicality and expense. Declaring a metaphorical war on a disease is how we justify the expense, the impracticalities of protecting the most vulnerable among us.
Yes, we need some way of justifying actions that don't have the usual justification, and the usual justification is self-interest or profit.
BROOKE GLADSTONE We aren't making decisive moves nationally to cope with climate change. We were slow on Katrina and Hurricane Maria.
EULA BISS Yes.
BROOKE GLADSTONE Going back to your observation about Sontag. She doesn't like the metaphor, but at least that gets us to spend money.
EULA BISS Right, right. But I think that there are still better metaphors that we could use to communicate the same thing that is being communicated when we speak of it as a war while also avoiding this idea of an imagined enemy and a kind of exaggerated nationalism that might come with that.
BROOKE GLADSTONE You mentioned nationalism when immigrants are described as bacteria, then you got a problem.
EULA BISS We translate information that we learn about our bodies being under threat to our nation being under threat. And that happens at a level of thought that is not entirely conscious. James Geary wrote a very beautiful book called I Is An Other: The Secret Life of Metaphor. He writes, our metaphors prime how we think and act. That idea of a metaphor for priming your thought was actually explored in a study that he talks about in that book. Two groups of people were asked about their attitudes towards immigration, but before they were interviewed, one group was given an article to read that described airborne bacteria as harmful, and the people who read that article were more likely to express negative attitudes towards immigration, in part because of the already existing metaphor of the nation as a body. And, you know, this is one of the reasons to put an effort into avoiding the war metaphor, because we're quietly giving our minds instruction on how to think and that thinking translates into action. I truly believe that the wrong language, the wrong words will lead you to the wrong thought.
BROOKE GLADSTONE You mentioned that you were motivated in part to write your book because the war metaphor is used to apply to any germs, quote, invading the body.
EULA BISS Yes, the metaphor that I find most productive around disease is the metaphor of an education. I was interviewing a professor of immunology at the University of Iowa who's also an infectious disease expert, and I was asking him to give me a very thorough introduction to the immune system. This took about two hours and he made it all the way through these two hours without ever once using a war metaphor. My favorite phrase that he used was that pathogens tutor the immune system. Even the technical language around immunity uses this metaphor. So we speak of immune systems being naive.
BROOKE GLADSTONE I loved that part. Immune systems of children, because they've had less exposure to pathogens, have not yet learned how to form the antibodies against them. Their systems are naïve, and that's actually really useful in the context of Coronavirus, because one of the reason it seems to spare very young children so often is because the naive systems of very small children don't overreact.
EULA BISS Yes. Yes. And what's interesting to me is naive is actually the technical term. After I met with that immunologist to use almost strictly educational metaphors to talk about disease, I experimented myself with thinking and talking about my own illnesses, using only educational metaphors. If I had a cold, I would have to say to myself, not, I'm fighting a cold, but I'm getting schooled by this cold. The interesting thing to me is that it was really a different psychological posture, changing my language, changed my relationship to sickness and disease. If you think of yourself as at war, you feel embattled. But if you think of yourself as engaged in an education, you feel like you're making progress. You're getting somewhere.
BROOKE GLADSTONE Yet, of course, you know the doctors and nurses on the front line, when they use the language of war, it's justified. They are embattled.
EULA BISS Yeah. If you're in a hospital in New York City right now, the metaphor of a war is going to feel pretty apt. Doctors are probably much more advanced than lay people in the psychological strategies they use to cope with being constantly surrounded by pathogens. You know, for lay people in the middle of a pandemic, I've been thinking about that education metaphor quite a bit because it also seems to me that it could be extended and think what can we as a country learn from this experience? Quite a few people have already made really interesting observations about our economy. Who we value, who is essential, who's in danger in a situation like this? And who's compensated for that danger? We're in what might be called a teachable moment.
BROOKE GLADSTONE Eula, thank you very much.
Oh, thank you so much. This was such a pleasure.
BROOKE GLADSTONE Eula Biss is the author most recently of On Immunity: An Innoculation, and she also teaches writing at Northwestern University.
BOB GARFIELD Coming up, do we really need celebrities to tell us how they're sheltering in place? Can't they suffer, if you can call it that, in silence? This is on the median.
BROOKE GLADSTONE This is On the Media.
This is On the Media, I'm Brooke Gladstone
BOB GARFIELD And I'm Bob Garfield. For most of the country, it's now been two weeks of home confinement, a phenomenon widely predicted to change our culture forever. A change may even have begun right away on March 16th, when stuck at home, High School Musical star Vanessa Hudgens was moved to post this on her Instagram.
[CLIP]
VANESSA HUDGENS It's a virus. I get it. Like I respect it. But at the same time, like, even if everybody gets it, like, yeah, people are going to die, which is terrible, but like, inevitable? [END CLIP]
BOB GARFIELD What is the impulse for sharing that, whatever it was out loud for millions? On Twitter, one popular surmise was chemical, but maybe it was another kind of intoxication. The feeling that having the platform conferred by celebrity demands, using it as a Elizabeth Taylor once dared to sound the alarm about HIV AIDS.
[CLIP]
ELIZABETH TAYLOR Not only is AIDS information imperative in order to save lives, it is also of critical importance in ensuing compassion and dignity to those who are diagnosed. [END CLIP]
BOB GARFIELD The same dynamic applies to Live Aid, and the women's march and tsunami relief has increased exponentially with the evolution of social media. Now it's like a 24/7 feed, whenever anything's up to inform, commiserate, lecture, consciousness raise, virtue signal, agitate or just as in Hudgens case, speak in tongues. Not that her post was necessarily that most out there. There was, for example, the actress Evangeline Lilly, who proudly instagrammed about flouting social distancing rules for herself and small children. Naturally, she was flamed in the comments as a reckless idiot, whereupon she doubled down, portraying herself as a righteous defender of personal liberty against insane overreaction akin to martial law. Turns out Lilly isn't a reckless mom, she's Patrick freakin Henry. Quote, some people value their lives over their freedom. Some people value freedom over their lives. We all make choices. Okay. By the way, if the name Evangeline Lilly doesn't ring a bell, she was a star of the show Lost.
[LOST CLIP]
BOB GARFIELD That's Lost. Then there's lost in space. Singer songwriter Keri Hilson tweeting that the pandemic can be traced to radiation from 5G wireless service because duh. Luckily, Hilson has only 4.2 million Twitter followers. One Twitterer, a gentleman who calls himself Mazzy Marvin, the paranoid Android was having none of it. This, he tweeted, is why we should be worried about the platform fame gives otherwise stupid celebrities who happened to have one or two talents, which response not only very suddenly expresses annoyance, but also may reflect early signs of that paradigm shift, as writer Amanda Hess mused in The New York Times. The bully pulpit of celebrity is beginning to wear out its welcome. In the midst of gathering catastrophes, she wrote, our awareness has never been so easy to rouse and misuse, celebrities have a captive audience of traumatized people who are glued to the Internet, eyes darting toward trending topics for clues to process the unimaginable horrors looming just outside and instead are finding Madonna bathing in a rose petals strewn bath. No, really. An actual video of Madonna in candle lit refuge naked because she's in the bathtub and because she's Madonna meditating on the incomprehensible egalitarianism of it all.
[CLIP]
MADONNA That's the thing about COVID-19, who doesn't care about how rich or famous you are, how funny you are, how smart you are, where you live. It's the great equalizer, and what's terrible about it is what's great about it. What's terrible about it is it's made us all equal in many ways. [END CLIP]
BOB GARFIELD Wonderful in a way, she says, because the virus doesn't privilege privilege. Terrible because, I don't even want to guess what she's getting at. Amanda Hess points out that entertainment celebrity has always traded on the wealth and fame that offers fans a vicarious glimpse of the unattainable. But the same unattainable ability that once drove media from gossip columns to the lifestyles of the rich and famous to E Entertainment Television is suddenly triggering resentment.
Last week, Jennifer Lopez posted a video from the manicured backyard at fiancee Alex Rodriguez's palatial Miami estate of Alex being served Perrier on a tray by their 12 year old boy on his hoverboard. J. Lo tweeted, we can't go out to any restaurants or anything, but the service and entertainment here is really good. Then the kid hoverboards right into the, if I may say, pretty nice swimming pool. You guys, the hilarity was such a welcome tonic to her 45 million followers that one gushed, "I got laid off." Another tweeted back, "ma'am, could you Venmo me a thousand dollars, please?" Many social media users were equally moved by entertainment mogul David Geffen, who sent a sunset message from his shelter in place in the southern Caribbean. Isolated in the Grenadines. Geffen wrote, avoiding the virus. Avoiding it from the lonely seclusion of his yacht, The Rising Sun, approximately the size of Jupiter. Some on social media seemed to find this a bit tone deaf, which would be ironic because Geffen made most of his money in the music industry. And so, fittingly, the billionaire quickly became the subject of a song by John Mayer. Ah yes, as Victor Hugo famously wrote, music expresses that which cannot be said, and on which it is impossible to be silent. Although sometimes you wish it would just shut up.
[CLIP]
BOB GARFIELD That was actress Gal Gadot and celebrity pals reimagining John Lennon's Imagine for the Coronavirus age. Amy Adams, Mark Ruffalo, Natalie Portman, Jimmy Fallon and more being all earnest or whatever. For all its we are the world's solidarity and emotional generosity, Imagine Part II The Revenge, did not sit well with the hitherto adoring fans. Some found it vapid, others banal. Still others threadbare, hackneyed and trite. As comedian Josh Gondelman concluded, quote, "No politician can unify people in the way that the Imagine video seems to have united every single person against it." One common complaint was the one-two punch of self-righteous, preening and hypocrisy. A reply to Gondelman from Twitter user Manti Miaow said, quote, "It's rich people singing one of the worst songs ever. Add us in a cloying grab for attention and faux charity. It's the worst thing in my life, including COVID-19 and the Balkan Holocaust." Oh, and on the subject of tone deafness, I give you Natalie Portman, Pedro Pascal and Mark Ruffalo.
[CLIP]
BOB GARFIELD Oh, the humanity. The actual off-keyness is what most flummoxed OTM producer Xandra Ellin, who couldn't get her head around why professional performers seeking to convey a sentiment wouldn't begin with, you know, professional performance. Here she is re-creating that moment from our editorial meeting on Monday.
XANDRA ELLIN I mean, that's not how art works.
BOB GARFIELD So has all the Hollywood social mediating glowed garish under what New York Times political reporter Astead Herndon called, quote, a black light for celebrity clownship? No, for every Vanessa Hudgens, there's a Kylie Jenner amplifying the surgeon general's virus hygiene checklist.
[CLIP]
KYLIE JENNER Please stay inside, you guys. Please stay inside. Practice social distancing, self-quarantine. [END CLIP]
BOB GARFIELD Cardi B pointing out that celebrities sometimes get past the bouncers because they're on the Coronavirus testing VIP list.
[CLIP]
CARDI B If a celebrity is saying, hey, listen, I don't have no symptoms, I'm feeling good, I feel healthy, I don't feel like nothing. But I went and got tested and I'm positive for the coronavirus, that caused confusion. [END CLIP]
BOB GARFIELD NBA superstar Stephen Curry getting the straight dope from Dr. Anthony Fauci.
[CLIP]
STEPHEN CURRY You know, how is COVID-19 different from the flu in terms of, you know, how it interacts with the body and just how it spreads?
ANTHONY FAUCI Well, it's similar in some respects, Stephen that it's a respiratory illness that's transmitted by the respiratory route. [END CLIP]
BOB GARFIELD And Food Network host Ina Garten offering an urgent survival tip.
[CLIP]
INA GARTEN Stay safe. Have a very good time. And don't forget the cocktails. [END CLIP]
BOB GARFIELD And then there was the wisdom of Curb Your Enthusiasm, Larry David, who went way off brand this week to fame splain.
[CLIP]
LARRY DAVID The problem is you're passing up a fantastic opportunity, a once in a lifetime opportunity to stay in the house, sit on the couch and watch TV. I mean, I don't know how you're passing that up, well, maybe because you're not that bright. [END CLIP]
BOB GARFIELD Thanks, Larry. Me, I'm fully committed to Tiger King. Meantime, please remember, be against poverty, be against war, be against racism. Follow me on Twitter at @Bobosphere, buy all of my books. We're all gonna die. I'm Bob Garfield.
That's it for this week's show. On the Media is produced by Alana Casanova-Burgess, Micah Loewinger, Leah Feder, and Jon Hanrahan, and Xandra Ellin. This week we bid adieu to producer Asthaa Chaturvedi, who will be leaving our Zoom meetings to join Zoom meetings at a different media company. Asthaa, we will miss you terribly. All the best in the new situation. We had more help from Anthony Bansie and Eloise Blondiau and our show was edited by Brooke. Our technical director is Jennifer Munson. Our engineers this week were Sam Bair and Josh Hahn.
BROOKE GLADSTONE Katya Rogers is our executive producer. On the Media is a production of WNYC Studios. I'm Brooke Gladstone.
BOB GARFIELD And I'm Bob Garfield.