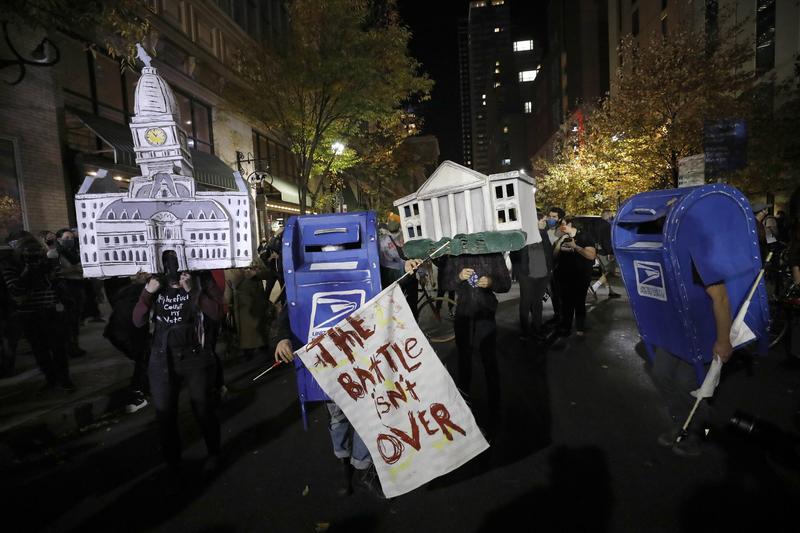 Transcript
[CLIP]
TRUMP They're trying to steal an election. They're trying to rig an election at week's end. [END CLIP]
BOB GARFIELD President Trump clung to a lie as baseless as it was inconceivable. From WNYC in New York, this is On the Media, I'm Bob Garfield. So just how does one steal an election?
JOHN MARK HANSEN This would just require, to use Joseph McCarthy's words, a conspiracy so immense as to make it really expensive and risky for everybody involved.
BOB GARFIELD Also, pollsters faced public ire after they once again appeared to have undercounted Republicans. But it's not just that the prediction was off.
ZEYNAP TUFEKCI There's a lot of evidence and reporting that shows that the forecast itself affects the outcome,.
BOB GARFIELD Plus, the trajectory of the Republican Party. It's all coming up after this.
BROOKE GLADSTONE From WNYC in New York, this is On the media, I'm Brooke Gladstone.
BOB GARFIELD And Bob Garfield.
[CLIP]
TRUMP They're trying to steal an election. They're trying to rig an election. [END CLIP]
BOB GARFIELD Donald Trump on Thursday evening, speaking to the press as his leads in Georgia and Pennsylvania were slipping away with the tallying of mail in ballots. Leveling charges of corruption and fraud, as they say, without evidence, he laid out the cheating process with all the eloquence and rigor to which over four years we have become accustomed.
[CLIP]
TRUMP They're just taking numbers, they're writing down things, the workers and doing a lot of bad things. And we have a lot of information coming and litigation that you'll see that will shake even you people up, and you've seen it all. The officials over. [END CLIP]
BOB GARFIELD Oh, and when he lied about election officials not permitting GOP observers and Trump faithful to witness the counting process, he added this little warning.
[CLIP]
TRUMP The people that are banned are very unhappy and become somewhat violent. [END CLIP]
BOB GARFIELD Noted. Sure enough, by that point, the restless Trump crowds had already formed in Michigan, Pennsylvania and Arizona, such as Phoenix's Maricopa County ballot counting facility, where protesters raged.
[CLIP]
PROTESTORS Fox News sucks! Fox News sucks!
REPORTER And they're actually chanting: Fox News sucks. Fox News sucks, the reason why they're chanting that is because Fox News called Arizona for Biden yesterday. And a lot of people are angry about that. [END CLIP]
BROOKE GLADSTONE Some Fox News watchers weren't the only ones irate at the channel's Arizona call. Fox's own hosts: Greg Gutfeld, Sean Hannity and Jesse Watters questioned their network's report on air.
[CLIP]
TIM MURTAUGH You know, we were livid about the fact that you and then the AP made that call.
BRETT BAEIR Thank you.
TIM MURTAUGH This is going to lead Joe Biden to falsely declare himself the president-elect at some point understood.
BRETT BAEIR Understood [END CLIP]
BROOKE GLADSTONE As of Friday afternoon, Biden had not done so, but Trump had. At least three times, as early as about 2 AM Wednesday.
[CLIP]
TRUMP This is a fraud on the American public. This is an embarrassment to our country. We were getting ready to win this election. Frankly, we did win this election. [END CLIP]
BOB GARFIELD There's a word for this kind of reaction. It's called flailing, a careless form of thrashing about that tends to cause the failure to let his guard down. Here was Trump campaign legal advisor Harmeet Dhillon on FOX, revealing how serious people really rig a game.
[CLIP]
HARMEET DHILLON We're waiting for the United States Supreme Court, which of which the president has nominated three justices to step in and do something, and hopefully Amy Barrett will come through. [END CLIP]
BOB GARFIELD Meanwhile, angry crowds formed on social media. Tick Tock was flooded with viral videos from the president's supporters disputing the legitimacy of the count.
[CLIP]
SOCIAL MEDIA POST I could not be convinced this was a legitimate election. [END CLIP]
[CLIP]
SOCIAL MEDIA POST Three hundred thousand votes in Florida just disappear. [END CLIP]
[CLIP]
SOCIAL MEDIA POST I'm a coal miner. My livelihood depends on this election. [END CLIP]
BROOKE GLADSTONE On Twitter, Eric Trump shared a video taken by a Trump supporter at 4 AM featuring a man pulling a wagon into Detroit's convention center. Conservative media reckoned the wagon carried a lockbox filled with stolen ballots.
[CLIP]
TRUMP SUPPORTER Looks like one of those like boxes. Wish I could tell. [END CLIP]
BROOKE GLADSTONE WXYZ reporter Ross Jones debunked the video saying that the alleged ballot thief was his photographer hauling equipment ahead of a 12 hour shift. Meanwhile, on YouTube, Trump's self-proclaimed news site, One America News Network, told its viewers what the cowardly Fox was afraid to say.
[CLIP]
NEWS REPORT President Trump won four more years in office last night. North Carolina, Florida, Pennsylvania, Michigan, Wisconsin are all Trump's. Even Arizona, which somehow has Biden winning, is rampant with voter fraud. Nevada, same thing. [END CLIP]
BROOKE GLADSTONE And Facebook shut down a group called "Stop the Steal", which in a matter of hours, thanks to coordination by GOP operatives, swelled to 35000 users, some calling for civil war. Thursday night, Trump supporters organized a "Stop the Steal" campaign outside of Phoenix County facility. The Clark County Registrar, Joe Gloria, said he believed these demonstrations were putting his staff in danger.
[CLIP]
JOE GLORIA I can tell you that my wife and my mother are very concerned for me, but I am concerned for the safety of my staff. [END CLIP]
BROOKE GLADSTONE Meanwhile, other online hoaxes led to real world right wing demonstrations like this viral Facebook video.
[CLIP]
WOMAN So the people that were in front of me, there were two people in front of me that used a Sharpie.
MAN Yes.
WOMAN It was given to them by the poll workers.
MAN Yes.
WOMAN It did not read their ballot.
MAN OK.
WOMAN And they Slided in there twice. I use the pen.
MAN Yup.
WOMAN Took their sharpie and threw it away.
MAN And I read your ballot.
WOMAN and It read my ballot.
MAN So what they're doing is they're telling people to use the Sharpies that way.
WOMAN Yes.
MAN Those votes aren't counted.
WOMAN Yes. [END CLIP]
BROOKE GLADSTONE Overnight, Sharpie gate, which is not a thing, became a thing.
[CLIP]
NEWS REPORT People protested in Arizona, claiming some election officials gave voters a Sharpie pens the canceled out votes. Election officials say using a Sharpie would not invalidate a ballot. [END CLIP]
BROOKE GLADSTONE In the mainstream media, A notable moment, Trump's 6:30 PM speech on Thursday timed for the network news aired in its entirety only by Fox and CNN. Others, as if finally heeding the pleas of press critics at the very last moment weere, like Lester Holt on NBC.
[CLIP]
LESTER HOLT We have to interrupt here because the president has made a number of false statements, including the notion that there has been fraudulent voting. There has been no evidence of that. [END CLIP]
BROOKE GLADSTONE However, Iranian state television aired Trump's press conference live and Infl tweeted journalist Negar Mortazavi: "There's no anti-American propaganda, more effective," she wrote, "than POTUS himself undermining the democratic process.
BOB GARFIELD But the big story on American Nightly News was instead the desperation of a political movement facing its democratic reckoning. In surely, what was the most bizarre expression of furious flailing this election week. At one point, Trump supporters in the streets of Arizona, where Trump was losing, were chanting.
[CLIP]
PROTESTORS Count those votes! Count those votes! Count those votes! [END CLIP]
BOB GARFIELD And in Michigan, where Trump was leading and Detroit's mail in ballots still languished until it came the cry.
[CLIP]
PROTESTORS Stop the count! Stop the count! Stop the count! Stop the count! [END CLIP]
BOB GARFIELD Utterly unself aware contradiction. It was the sound of flailing, all right, a last futile grasp at power, last grasp and last gasp.
Thursday evening, with his margins in Georgia and Pennsylvania closing, President Trump once again attributed looming defeat to the doing of bad things.
[CLIP]
TRUMP They want to find out how many votes they need and then they seem to be able to find them. [END CLIP]
BOB GARFIELD Trump actually has been peddling the voter fraud rigged election myth for years. Even after winning the Electoral College in 2016, he alleged widespread Democratic Party mischief. Here was White House aide Steven Miller in February 2017.
[CLIP]
STEPHEN MILLER This issue of bussing voters into New Hampshire is widely known by anyone who's worked in New Hampshire politics. It's very real. It's very serious. [END CLIP]
BOB GARFIELD This time around when, as predicted, Trump's election night red wave gradually revealed itself as a mirage, he jumped up on that table he had so carefully set.
[CLIP]
TRUMP If you count the legal votes, I easily win. If you count the illegal votes, they can try to steal the election from us. [END CLIP]
BOB GARFIELD What Trump never explained is how the Democrats were supposed to have pulled off the caper. John Mark Hansen is professor of political science at the University of Chicago. He has studied precisely what would be required to steal a presidential election. John, welcome to the show.
JOHN MARK HANSEN I'm glad to be here.
BOB GARFIELD OK, let's just say that I want to subvert the will of the people and rig a presidential election. Uh, easy peasy, right?
JOHN MARK HANSEN No, not necessarily. You're not going to do it by recruiting yourself and a few friends to vote a couple of times or even three or four or five or 10 times. So you're going to have to -.
BOB GARFIELD Just organize a massive conspiracy is all.
JOHN MARK HANSEN Yeah. For instance, in Pennsylvania in 2016, there were 6.2 million ballots cast. And, you know, suppose that you're willing to kind of cut it close a little bit and you say, well, let's sort of make sure that Biden's going to win by getting him one percent more of the vote. So 62,000 votes. That's a lot of votes.
BOB GARFIELD How do we go about doing that?
JOHN MARK HANSEN One possibility is that you decide you're going to get a thousand of your best friends and you're somehow going to convince them that they should be willing to risk prosecution and imprisonment and the loss of their reputations. You also have to reassure them that out of the thousand people that you've recruited to help you in this effort, nobody's actually going to open their big fat mouth. There are a lot of criminal conspiracies out there that get undone because somebody wants to brag about it or somebody has a guilty conscience or something. So you're going to have to make sure that you can trust and everybody else can trust all thousand of your confederates.
BOB GARFIELD OK, if you want to obsess on details like that, that's fine. I'm not going to stop you. So you're basing this on the idea of having a thousand friends each willing to trump up 62 ballots. But what if instead of doing that, I just get, let's say, 20000 friends to vote once by mail, once in person, and maybe once at another precinct where they used to live one person, three votes times 20000.
JOHN MARK HANSEN You'd have to persuade all 20000 people that they should take the risk of actually casting a second or a third ballot, because the chance of their being detected goes up the more times they vote. So I would think that people would be pretty hesitant to do something like that. In terms of people who are registered in more than one place. I doubt that, you know, 20000 people who are registered in two different places and even there they would risk discovery. And certainly if you're talking about 20000 people doing it, someone is likely to be discovered as having voted in two different jurisdictions.
BOB GARFIELD Now, I know that because people's signatures tend to change over time, mine has certainly mutated, many jurisdictions are being less rigorous about demanding perfect matches. In that environment, you know, can I get any ballot through?
JOHN MARK HANSEN In terms of mail in ballots, the risk is not so much that your signature will not match, but rather that jurisdictions oftentimes will ask for identifying numbers. So in Pennsylvania, you either have to submit your driver's license number, your state ID number, or the last four digits of your Social Security number. And it's getting a hold of those numbers and matching those numbers. It's going to be the problem,.
BOB GARFIELD But it's also easy just to get a thousand driver's licenses, no?
JOHN MARK HANSEN Uh, not so easy.
BOB GARFIELD I must say. I rather resent your negativity. What about rigging the game during the counting process? Like Trump said on Wednesday morning, somehow finding all these votes after the polls have closed. Can't that be done like sneaking in an extra zero or two or moving a decimal point or even substituting computer data with fake counts that I've sneaked in on a thumb drive?
JOHN MARK HANSEN Well, your chances are better, but there are still quite strong safeguards against doing something like that. One is that most jurisdictions allow partisan observers to actually watch as the ballots are being counted and as the ballots are being tallied and as the tallies are being reported to the central office. And they have an opportunity to say, you know, I don't like that. That's not the way that things are supposed to be going. Even if there aren't any partisan observers, you still have the problem of how you're going to report all those extra votes without someone thinking, boy, that's sure an awful lot of votes being reported from that particular jurisdiction. They only usually report 300,000 votes and now they're reporting 360,000 votes. And that's kind of suspicious.
BOB GARFIELD You know, I'm sorry. I just think you're naive because what you don't know is that I am a pretty good coder. I managed to change everybody's phys ed grade at Aaron Burr High School to an A plus. So, why can't I just break into the county system and just have my way?
JOHN MARK HANSEN This is something that election officials have been worried about quite a lot. And so they've invested quite a lot in trying to maintain security. As you're probably aware, in 2016, there were actually some hacker attacks on county election offices or attempts at hacks on county election offices, particularly from Russian sources. And they seem to have been uniformly unsuccessful. So there's been a lot invested in trying to maintain the integrity and the security of the vote reporting system and the vote recording system. But even beyond that, again, how would you necessarily do it in a way that wouldn't appear suspicious? Various jurisdictions, various counties, they tend to vote pretty similarly from year to year. It would really, really be unusual to see a 20 percent change in a vote or an addition of 50000 votes, so you've got the problem of how you're going to do it without someone noticing when it goes up to the next stage.
BOB GARFIELD Look, John, I've laid on the irony with a trowel, and it's probably getting tedious for the audience at this point. So can I just ask you very plainly - the scenario that President Trump and his proxies are suggesting, is it remotely possible to have taken place with the kind of safeguards that each state has built in the election process going back, you know, a century?
JOHN MARK HANSEN No, this would just require, to use Joseph McCarthy's words, a conspiracy so immense as to make it nearly impossible to be detected and really expensive and risky for everybody involved.
BOB GARFIELD That would mean that the president is a liar.
JOHN MARK HANSEN Some people have said.
BOB GARFIELD John, thank you very much.
JOHN MARK HANSEN My pleasure.
BOB GARFIELD John Mark Hansen is a professor of political science at the University of Chicago.
BROOKE GLADSTONE Coming up, polls, threat or menace.
BOB GARFIELD This is On the Media.
[BREAK]
BROOKE GLADSTONE This is On the Media, I'm Brooke Gladstone.
BOB GARFIELD And I'm Bob Garfield. Mere hours into election night, the forecasters fired up their Twitter feeds and graced our TV screens ready for model combat.
[CLIP]
NATE SILVER So coming in, we had Joe Biden with an eighty nine percent chance of winning. Trump with 10 percent, 1 percent chance of a tie. [END CLIP]
[CLIP]
HARRY ENTEN You know, even if you don't believe the polls and you'd say it takes some sort of discount, you still should have Joe Biden. [END CLIP]
[CLIP]
SNL BIDEN Nate Silver, you will know the score, even though.
SNL NATE SILVER I was wrong before. [END CLIP]
BOB GARFIELD That clip wasn't ABC. That's an impression of Nate Silver on Saturday Night Live just days before the election.
[CLIP]
SNL NATE SILVER So, look, guys, our current model shows that Trump has less than a one and six chance of winning. About the same odds as the number one coming up, when you roll a die. So for example, one. I guess that shows you that it's technically possible, however unlikely. But roll it again and you'll see that it's a hard one. [END CLIP]
BOB GARFIELD Forecasters predicted a democratic romp, a blue wave, a tsunami.
[CLIP]
NEWS REPORTS Democrats expected. Nancy Pelosi even said on our air she thought she would win five, 15, 20 seats. They're going to lose seats. It looks like Susan Collins, Republican of Maine, survives a very, very rigorous challenge from Sara Gideon the House speaker in Maine. But look at this as a big win. Talking to her campaign, they're incredibly pleased. No one thought. [END CLIP]
[CLIP]
SUSAN COLLINS I am the first person since Maine directly elected its senators to win a fifth term. [END CLIP]
BOB GARFIELD As of Friday afternoon, Trump had outperformed the 538 polling average in every swing state. This isn't a dump on 538 because, you know, the polls on which it based its calculations were flawed. They vastly underestimated the Republican vote. But according to Zeynep Tufekci, associate professor at the University of North Carolina Chapel Hill, forecasting models and the inadequate polls that feed them aren't just unhelpful or inaccurate. They're harmful.
ZEYNAP TUFEKCI When we go to these models, we're looking for a prediction. And when you look at it and it says nine chances out of 100, Biden would win, it's kind of hard not to be overwhelmed by what looks like a prediction for a landslide.
BOB GARFIELD We hear 87 percent probability, but what we register is 87 percent of the votes cast, which sounds like a landslide. Is there any evidence statistically that people simply fundamentally misunderstand the percentage?
ZEYNAP TUFEKCI Now, there's academic studies that show that people see a big number, and while they may or may not confuse it with vote share, the bigger point is that they get a sense of certainty because the numbers are so big. And given how many times we see polls with vote share in our lives, it's really hard to cognitively make that switch. And even if you're able to cognitively make that switch, it's really hard because just the way it looks and feels and that's what we're refreshing for. A lot of times I see people just refreshing these things almost as a way to soothe their anxiety because they're worried about what the outcome is going to be. And I just want to say that comfort you seek isn't there because there's so much uncertainty, but that's not communicated.
BOB GARFIELD We do stay in touch with Nate Silver and he mentions a structural problem in the process of modeling itself and namely that there wasn't much data to build the models upon.
[CLIP]
BROOKE GLADSTONE How many elections are we really talking about to base these predictions on?
NATE SILVER Well, since 1972, which is when you had the McGovern reforms and you start to have people actually vote in primaries before it sort of literally was smoke filled rooms. It's depending on how you count somewhere on the order of 10, 12, 15. To say something hasn't happened in 12 tries is much different than when we also make sports predictions. And we can say, well, this hasn't happened in a thousand games, then you're more existentially certain that something is really unlikely. Then you can be in the nomination process or for that matter, the general election to where there have been, I think, 16 or 17 now elections since World War Two in the polling era. That's not a huge sample size either. [END CLIP]
BOB GARFIELD Precious little baseline data and ever-changing conditions such as just, for example, Facebook or as you mentioned in your New York Times piece, the the sudden intervention in 2016 of James Comey talking about Hillary's emails. Things that tend to stymie any attempts to extrapolate on a thin database to begin with. How untrivial is this structural problem, do you think?
ZEYNAP TUFEKCI It is a structural deathblow to the idea that we can reliably model presidential elections? You're basing their whole model on very few events, right. So you can only see what happens to your model, how it performs once every four years. And it's not like you really evaluating the model because every four years there's major differences. We didn't even have Twitter just a couple elections ago. Facebook played a major role in 2016. So there's all these things that are hard to model, plus the inputs into these models are polls. But right now, polling response rates are like six percent, three percent like people aren't picking up their phone. Plus, there's a lot of evidence now that some people see pollsters as a cultural enemy and that those people tend to be supporters of President Trump. So you're missing a substantial segment of the populace, but you don't really know how much of them there are. It's an unknown, unknown.
BOB GARFIELD Garbage in, garbage out.
ZEYNAP TUFEKCI Now, compare that with whether the weather modelers, they get to check their model every single day. So without reliable polls, we don't even know if the models are good. And I'm not even sure what the value added from the models would be if the polls were indeed reliable. We're looking for a scientific prediction when it's not really possible. What is the point of these forecasts if they're not the forecast? That's how people interpret them. We see them as predictions. And worse, there's a lot of evidence and reporting that shows that the forecast itself affects the outcome. That's where they differ from weather forecasts, right. If I don't take an umbrella, the rain is not going to happen just to spite me. Whereas if I think something's more likely to happen and act in a particular way, I may actually be changing the odds it's going to happen.
BOB GARFIELD What you're saying seems to be describing the Heisenberg effect, where the act of measurement actually affects the experiment itself. You believe that voters are actually behaving influenced in part by what they're reading in the polls and particularly the models. Especially, for example, if you think that your candidate already has 87 percent of the vote locked up, why bother going to the polls at all?
ZEYNAP TUFEKCI Of course, it affects the way people behave in the 2016 election. We have FBI Director James Comey on the record saying that he thought Hillary Clinton was basically a shoo in for winning, I'm paraphrasing, and that affected his decision to release that letter, which dramatically impacted the race. There's a lot of reporting that says the social media companies themselves thought Hillary Clinton was going to win. You see a pattern here? And decided not to take some actions on the widespread misinformation on their platforms waiting for the election to be over. There was a famous tweet by Edward Snowden attached to a New York Times forecast showing 93 percent chance of Hillary Clinton winning the presidency, saying there's never been a safer time to vote for a third party, and there's no doubt there were people who thought the same thing and might have cast what they thought would be a protest vote, but ended up helping Mr. Trump. And there's no reason to think this is not the case this election, too, because if you want to, for example, prevent a Democratic trifecta and if you think President Biden's absolutely certain to win, you might vote for a Republican senator thinking that will help balance the Democratic president. You might be thinking, for example, voting in Maine, Susan Collins, she is winning, but the polls before we're showing her losing. So it might be the polls were wrong or it might be that people saw the polls and people saw the predictions for the Biden presidency and decided, well, we can return her as a minority senator. Instead, she's likely going to be a senator in a majority Republican Senate.
BOB GARFIELD Based on your Times op ed and a blog post on the same subject, I would say that you have something like the zeal of the unconverted. Back in 2012, you were quite an apostle of modeling. You wrote a piece in Wired defending Nate Silver and his work from critics, mostly on the Republican side, but not entirely. So why the change of heart?
ZEYNAP TUFEKCI I really was hopeful when the models first came on the scene because at the time there was a lot of horserace coverage. You know, who's going to win, who's not going to win. That was driven by pundits, and in a way, they were almost exaggerating the uncertainty, I felt to create tension and narrative. And I thought, you know what, polls and models are better than that. You know, whatever their shortcomings, and that will hopefully, I thought, give us a opening to say, all right, this is what the models say. And now let's talk about the policy, let's talk about the substance. Let's talk about what's at stake at the election. What I didn't foresee is that the models have become completely incorporated into the horserace coverage. So instead of reading the tea leaves by counting, you know, signs on lawns and things like that, the punditry is very happy to say, oh, the model's gone from 89 percent to 91 percent. Again, not acknowledging the limits of the method.
BOB GARFIELD So far from 538 and other models being alternatives to horserace coverage. You know, they're freakin Hialeah. That's a big racetrack saying up. I'm not sure if you're aware of that. Are you aware of that?
ZEYNAP TUFEKCI I did not know I was going to ask you. That's what it has become though. But the thing that we can do is vote, organize, donate. And that's the only thing that actually affects who's going to win in a healthy manner compared to this kind of constant refreshing that overwhelms. And, you know, after 2016, we should have learned that these things aren't as reliable as we feel they may be. But we went into 2020 almost not remembering what happened and it happened again. And I just feel like maybe we should remember next time and not be so focused on these weak methods.
BOB GARFIELD Now, Zeynap, um, you and I have something in common. We both live on Earth, and as such, we both have the experience of knowing that when tools are available, they are irresistible to those who depend on the latest thing to do their jobs, which is why police used tanks to deal with the burglary and why statistical models have become the center point of our election coverage. In other words, do you expect things to get worse before they get better?
ZEYNAP TUFEKCI I'm a social scientist myself and I live on planet Earth, as you say, and I get the attraction of wanting to predict, but it's just not possible to do it well with our given polling techniques, modeling possibilities and the data we have. What we should just do is say, OK, you know, polls might be useful for campaigns and they'll keep polling. Models have their place, you know. They're good for, for example, trying to figure out if there's fraud. You can look at correlates and things like that. So it's not that they're completely without their use, but we should just put them in their place. And that's not the front page, and that's not top of our minds.
BOB GARFIELD Zeynap, thank you very much.
ZEYNAP TUFEKCI Thank you for inviting me.
BOB GARFIELD Zeynep Tufekci is a contributing opinion writer at The New York Times and author of the newsletter Insight.
BROOKE GLADSTONE Coming up, conservatism isn'tm and never has been, a fan of one man, one vote. I mean - never.
BOB GARFIELD This is On the Media.
[BREAK]
BOB GARFIELD This is On the Media, I'm Bob Garfield.
BROOKE GLADSTONE And I'm Brooke Gladstone. Amid obvious attempts to suppress the vote and then the president's legal efforts to get the vote counters to quit while he was ahead in those states and in Michigan, weirdly, where he wasn't, this week presents yet more evidence that the Conservative Party is not a political ideology enamored of free elections. A while back, Matthew Sitman, host of the New Year Enemy podcast, explained to us how and why in recent years, an expanding array of Republican politicians and thinkers have dropped the pretense of being concerned with democracy and how it has become unafraid to impose the will of the minority on the majority. For, what it deems, the greater good. Rick Perlstein, historian of American conservatism and author most recently of Reagan Land America's Right Turn, 1976 to 1980, has tracked this anti majoritarian current to the American right back centuries. Sure, he says, conservatives are happy to win and keep power by means of a majority coalition. But Perlstein says they've long sought to win and hold power even in its absence. It's a tradition that began pretty much with the birth of the nation.
RICK PERLSTEIN Well, of course, the invention of the Senate and the idea that slaves would be counted as three fifths of a person were not majoritarian ideas, right? I mean, even then, you had big states and small states.
BROOKE GLADSTONE But he says the modern minoritarian project of the American right really got going in the 1950's.
RICK PERLSTEIN In the nineteen fifties, the conservative coalition, which included both reactionary Southern Democrats and conservative Republicans in the North, were very dismayed to learn that the first Republican president since the New Deal, Dwight D. Eisenhower, bought into the New Deal. And then, of course, you get Brown versus the Board of Education. Guys who eventually became the people who ended up drafting Barry Goldwater as the Republican nominee for president. Their first idea was to run a right wing former IRS commissioner named T. Coleman Andrews, who not only was a segregationist but believed that the federal income tax should be banned. And their idea was quite explicitly that if they can only get a few electoral votes safe from his own state of Virginia or from Mississippi or from Alabama or more of the above, and if they could deny the Democrats and the Republicans a majority in the Electoral College, they could basically throw the election into the House of Representatives, where there was, in fact, pretty much a liberal majority, but they could do so for concessions.
BROOKE GLADSTONE Was it successful?
RICK PERLSTEIN Absolutely not. But they tried again. So going into 1960, they had the idea of putting up for president Southern segregationists in the South as a Democratic candidate in primaries, Orval Faubus, and to get a conservative in the north. And then when they lost at their respective party conventions, they would choose one of them to run for president and this kind of united conservative southern and northern ticket. And again, the idea was only to deny a majority of electoral votes and then they would negotiate for the kind of concessions they wanted to say. And Brown versus the Board of Education completely indifferent to the fact that these were completely minority positions. Then they fell in love with this guy, Barry Goldwater, and they realized he had a lot of the same ideas, but they could draft him as a Republican for president in 1960. You know, he didn't go for it, but the Republican Party itself was very weak. It's basically gliding along on Dwight D. Eisenhower's charisma. All these kind of precinct organizations in every county and every state could be taken over. And the guy who actually authored this strategy was a Republican operative named F. Clifton White. And he literally described his method as having been borrowed by the Stalinists that he had seen in the 1930s and 1940s who were able to take over liberal organizations by exploiting parliamentary procedure, keeping the meeting going until 2:00 a.m. and then call a vote when no one was there and they would have control and they were able to get Barry Goldwater the nomination in 1964.
BROOKE GLADSTONE Just by exhausting the people who were there?
RICK PERLSTEIN By exhausting this week organization. They said it was so easy, it was like pushing on an open door. So here they were with this nominee that according to one poll that came out during the Republican convention and seven out of eight issues, the majority of Republicans disagreed with Barry Goldwater. So this is a minoritarian coalition even within the Republican Party. But one of the things that really took off during the 1964 election at an organizational level was the sort of panic over supposed Democratic voter fraud.
BROOKE GLADSTONE Generated by the minoritarian Republican-supporting Barry Goldwater?
RICK PERLSTEIN Yes, they started something called Operation Eagleye. It came out of this folklore, the idea that the Democrats stole the election in 1960, supposedly by voting dead people in Chicago. Literally, they had a guy that explained that you should challenge anyone who doesn't look like a real voter. One of the people who was in charge of this very similar system of claiming Democratic voter fraud in order to intimidate voters so they don't go to the polls and can't cast their votes. Was a friend of Barry Goldwater from Arizona named William Rehnquist, went on to an illustrious career.
BROOKE GLADSTONE As a chief justice appointed by Reagan.
RICK PERLSTEIN Right, so both in his Senate hearings to become Supreme Court justice and then to be chief justice, it came up that he had intimidated voters in the polls in 1962, and 1964 by forcing Spanish speaking people to read the Constitution. That there were people posted at voting places with very scary looking uniforms. So again, this very continuous idea that if more people vote, Republicans are disadvantaged. One of the things that Jimmy Carter realized when he became president was that it was very hard to register to vote. A lot of people who want to vote had a hard time voting. The same kind of stuff we see now. So one of the first major initiatives he undertook as president in the spring of 1977 was to come up with a comprehensive voting reform plan that he presented to Congress, proposing to have a constitutional amendment to end the Electoral College and to have same day registration. When he announced this, there was overwhelming support from both parties. The head of the Republican National Committee, a guy named William Brock, said that it was a quote unquote, Republican idea. But lo and behold, the right wing of the party cried foul. The right wing magazine Human Events called it euthanasia for the GOP. Another figure enters the story: Reagan, the former governor of California who is making a tidy living, writing newspaper columns and giving radio addresses every day. He calls this a horrifying prospect, and he revives that story of civil servants voting because their bosses tell them to of dead people voting. One of Reagan's arguments was that Jimmy Carter won in Minnesota because of same day registration and that this proved that he wanted to use this kind of same day registration scheme to assure Democrats won every election. And once again, the argument is Republicans are harmed when more people vote. In 1980, the Christian Right held a massive rally for ministers in Dallas. One of the speakers said that the Republicans had to be the good government party and then up stepped to the microphone - a Christian right pioneer, a new right organizer named Paul Weyrich, who gave a very famous speech.
[CLIP]
PAUL WEYRICH They want everybody to vote. I don't want everybody to vote. Elections are not won by a majority of people. They never have been from the beginning of our country, and they are not now. As a matter of fact, our leverage in the elections, quite candidly goes up as the voting populace goes down. [END CLIP]
BROOKE GLADSTONE I think of Weyrich is one of the pioneers of direct mail campaigning.
RICK PERLSTEIN Right. They would send out these thousands and thousands of letters accusing Democrats of wanting to have homosexuals teach their children or give welfare to college students. Much like today, elections that the polls thought were in the bag for the Democrats suddenly turned up roses for the Republicans, much like, you know, the kind of target advertising we see on Facebook. It was not the idea that two candidates fight it out on the torrent of ideas before the public. It was this underground media that was feeding horror stories about the Democrats. We saw that attitude carried into the Reagan administration itself. Right. I mean, what was one of Ronald Reagan's dearest policy goals supporting the anti-communist insurgence in Nicaragua known as the Contras. It was just after Vietnam, an extraordinarily unpopular idea.
BROOKE GLADSTONE So he snuck around and did it without buy in from the Congress.
RICK PERLSTEIN Where democracy didn't work, subterfuge intervened. And that was the whole genesis of this conspiracy to illegally fund this very vicious right wing army in Nicaragua.
BROOKE GLADSTONE By selling arms to Iran.
RICK PERLSTEIN If democracy doesn't work, other means just may be necessary.
BROOKE GLADSTONE I guess it was the active expression of an idea that was gaining steam at the time, the doctrine of the unitary executive.
RICK PERLSTEIN After the Vietnam War and after Watergate and after a best selling book called The Imperial Presidency by Arthur Schlesinger, there was an enormous popular mood to rein in the executive branch's power to act unilaterally. Among conservatives, most prominent among them, a young congressman named Dick Cheney, the idea was that the executive branch had to get its power back. This is also an inherently minoritarian project, of course, because the idea that once you an elected president, no rules should constrain his activity is much more of a monarchical ideology than a democratic one. This is all running in parallel with this project that begins with Ronald Reagan creating an ideologically supplicant judiciary. And one of the things that happened in 1981 when Ronald Reagan took over, was that the appointment of judges was taken out of the hands of elected senators. It used to be under previous Republican presidents like Eisenhower and Nixon and Ford, that basically when they needed a federal judge, they would go to a senator who would suggest someone almost on a patronage basis. But what the Reagan administration did was they began scouring the law schools, scouring the federal judiciary for conservative clerks, and they set up this whole ideological evaluation bureaucracy with computers and everything. Testing their ideological opinions on every issue under the sun. And this is extremely controversial at the time.
BROOKE GLADSTONE Litmus tests!
RICK PERLSTEIN Exactly, litmus tests. But this is a once again, this minority and project where you can kind of lock in power, whatever the popular mood.
BROOKE GLADSTONE But is it exclusively conservative policies that are associated with this minoritarian project?
RICK PERLSTEIN The fact of the matter is, the kind of social policies or tax policies that Democrats favor are often popular. And that presents a profound dilemma for a political party in a democracy that wants to undo those policies. So when it comes to something like Social Security, the Cato Institute says this is their Leninist strategy, we must recognize that there is a firm coalition behind the present Social Security system. Basically, they're saying Social Security is popular.
[BROOKE LAUGHS]
RICK PERLSTEIN Before Social Security can be reformed, which means, you know - end, we must be able to divide this coalition and cast doubt on the picture of reality it presents to the general public. Casting doubt on the picture of reality doesn't sound like normal democratic politics to me. It sounds like conspiratorial politics because in a fair fight and the battleground of ideas, they lose.
BROOKE GLADSTONE What about the nature of hierarchy and class and authority? Do those things find a place in that effort?
RICK PERLSTEIN The bottom line of why conservative politics is conservative is it's about preserving the existing hierarchy. It's about preserving authority, it's about keeping society in its proper place, right. And the striking thing about that is there have been all kinds of policies that have been considered conservative over the years. In fact, I used to have a Ku Klux Klan pamphlet from the 1920's that was calling for national health insurance program because immigrants are dirty and we don't want to get sick, right. Obviously, it's big intrusive government when you have government agents breaking into immigrants homes and snatching them from their children. Small government, big government. Ultimately, what the name of the game is, is preserving hierarchy and authority. If it means more social programs, it's OK. If it means less social programs, it's OK. And if it means states rights, it's OK. If it means violating states rights. I mean, the extraordinary things we've been seeing from the federal courts leading up to the 2020 presidential election of individual judges reaching deep into the guts of state voting rules. Nothing could be further from the Constitution's injunction that states run their own voting systems imaginable.
BROOKE GLADSTONE So how does understanding the history of the American right in this way change things?
RICK PERLSTEIN It forces some very hard questions about our very conception of these two broad coalitions, factions, parties, whatever you want to call them, that make up the American political culture. You know, left and right, liberal, conservative, Democrat and Republican, we uphold this ideal of bipartisanship as a way to preserve and extend democracy. When do we begin to get to a point where we have to think of cooperating with a party which has turned minoritarian, anti-democratic ideals and rank distortion of reality into its program for keeping and holding power? When did they disqualify themselves from cooperation?
BROOKE GLADSTONE But who does the disqualifying? Not the party out of power. The only one who can do that is the electorate.
RICK PERLSTEIN And if the electorate is being disenfranchised in a systematic way, when does cooperation become something more like collaboration? If Donald Trump is an aspiring dictator and more and more he begins acting like one, is cooperating with them, in fact collaborating with dictatorship. But when one of the parties in a two party system is about delegitimizing the other party, you begin to wonder whether they aspire to create a one party system.
BROOKE GLADSTONE But if bipartisanship is an untenable, even misguided goal, what's a small D democrat to do except to cease being democrats themselves?
RICK PERLSTEIN Well, if the alternative is becoming complicit -
BROOKE GLADSTONE So let's assume it is collaboration, a betrayal of democracy.
RICK PERLSTEIN Why should it be an ideal to get along with someone who is trying to destroy you, right? Who doesn't is a legitimate participant in the American political project? And where does that leave us?
BROOKE GLADSTONE Where does that leave us precisely? If small D democrats still believe in democracy and the other party does not, and you can't even begin to govern together drawing from a common pool of facts. Then then where does that leave the democrat? Large d or small. What option is open to them other than becoming like the Republicans?
RICK PERLSTEIN I think we have very few models for this within the American experience that don't end in violence. We have to begin to look to resistance movements in places like South America.
BROOKE GLADSTONE But small d Democrats aren't the ones with the guns.
RICK PERLSTEIN So one interesting concomitant of the question you just posed is why are you asking that of the Democrats? Why is it why is the burden on the Democrats to fight a dictatorship? Why aren't we talking to the dictator?
BROOKE GLADSTONE We talk to the dictators all the time, but it's the nature of dictatorship that they don't listen.
RICK PERLSTEIN Yeah, it's true. It's true. I have no easy answers. It has to be asked of maybe wiser, prophetic figures than myself. I think we have to look very hard at what is actually happening. And that's the first step, right?
BROOKE GLADSTONE I mean, I feel like we've been staring it down now for years and years.
RICK PERLSTEIN Yeah. I mean, as we have this conversation, there's an enormous debate going on left about when protesters should go on to the streets to call attention to the election rhetoric and actions that the Republican Party is carrying out. Because if we do, the people on the right who have been primed to believe that the Democrats are about to steal the election in conspiracy with the deep state might see this as the opening toxin of the civil war. Are we going to live on our feet or die on our knees? Is a classic question that subjects of tyrannies have had to ask for centuries. Now Americans begin to have to ask that. And we have very few emotional, intellectual political resources to draw on. And just once again, in joining, there is no red America, there is no blue America. We only have the United States. America doesn't seem to be doing the trick.
BROOKE GLADSTONE You are scaring the crap out of me more than I've already been scared. The militias that we've been following say that everything they do will be defensive.
RICK PERLSTEIN That's also what the Confederate troops who fired at Fort Sumter did, too. They were defending themselves against the John Browns of the world, the senator Charles Sumners, the guy who was beaten within an inch of his life for telling the truth about the slave south being a rapeocracy. Do we tell the truth or do we evade the truth?
BROOKE GLADSTONE Rick, thank you very much.
[RICK LAUGHS]
RICK PERLSTEIN Does that make any sense? Is that OK?
BROOKE GLADSTONE Did it make any sense? It made too much sense. Rick Perlstein is a historian of American conservatism and the author most recently of Reagan Land America's Right Turn, 1976 to 1980.
BOB GARFIELD That's it for this week's show, On the Media is produced by Alana Cassanova-Burgess, Micah Loewinger, Leah Feder, Jon Hanrahan and Eloise Blondiau with help from Ava Sasani. Xandra Ellin writes our newsletter and our show was edited... by Brooke. Our technical director is Jennifer Munsen, our engineer this week was Josh Hahn.
BROOKE GLADSTONE Katya Rogers is our executive producer. On the Media, is a production of WNYC Studios, I'm Brooke Gladstone.
BOB GARFIELD And I'm Bob Garfield.
Copyright © 2020 New York Public Radio. All rights reserved. Visit our website terms of use at www.wnyc.org for further information.
New York Public Radio transcripts are created on a rush deadline, often by contractors. This text may not be in its final form and may be updated or revised in the future. Accuracy and availability may vary. The authoritative record of New York Public Radio's programming is the audio record.