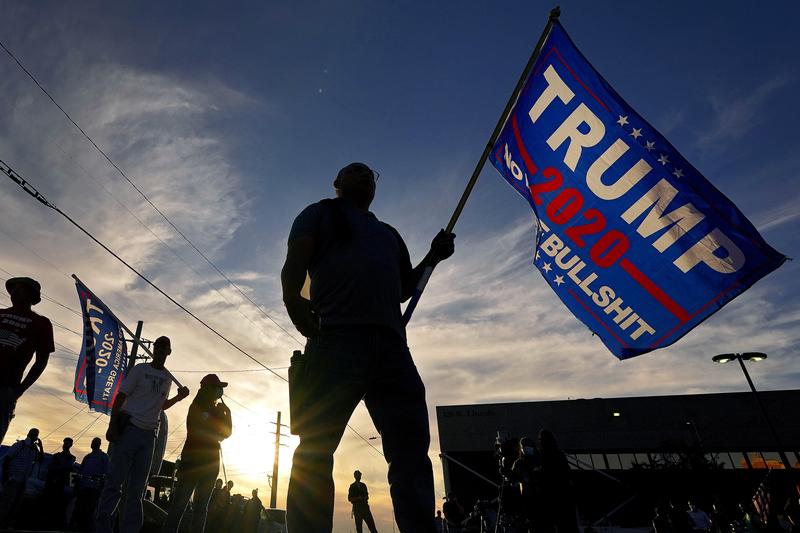 Transcript
[CLIP]
TRUMP They're trying to steal an election. They're trying to rig an election at week's end. [END CLIP]
BOB GARFIELD President Trump clung to a lie as baseless as it was inconceivable. From WNYC in New York, this is On the Media, I'm Bob Garfield. So just how does one steal an election?
JOHN MARK HANSEN This would just require, to use Joseph McCarthy's words, a conspiracy so immense as to make it really expensive and risky for everybody involved.
BOB GARFIELD Also, pollsters faced public ire after they once again appeared to have undercounted Republicans. But it's not just that the prediction was off.
ZEYNAP TUFEKCI There's a lot of evidence and reporting that shows that the forecast itself affects the outcome,.
BOB GARFIELD Plus, the trajectory of the Republican Party. It's all coming up after this.
BROOKE GLADSTONE From WNYC in New York, this is On the media, I'm Brooke Gladstone.
BOB GARFIELD And Bob Garfield.
[CLIP]
TRUMP They're trying to steal an election. They're trying to rig an election. [END CLIP]
BOB GARFIELD Donald Trump on Thursday evening, speaking to the press as his leads in Georgia and Pennsylvania were slipping away with the tallying of mail in ballots. Leveling charges of corruption and fraud, as they say, without evidence, he laid out the cheating process with all the eloquence and rigor to which over four years we have become accustomed.
[CLIP]
TRUMP They're just taking numbers, they're writing down things, the workers and doing a lot of bad things. And we have a lot of information coming and litigation that you'll see that will shake even you people up, and you've seen it all. The officials over. [END CLIP]
BOB GARFIELD Oh, and when he lied about election officials not permitting GOP observers and Trump faithful to witness the counting process, he added this little warning.
[CLIP]
TRUMP The people that are banned are very unhappy and become somewhat violent. [END CLIP]
BOB GARFIELD Noted. Sure enough, by that point, the restless Trump crowds had already formed in Michigan, Pennsylvania and Arizona, such as Phoenix's Maricopa County ballot counting facility, where protesters raged.
[CLIP]
PROTESTORS Fox News sucks! Fox News sucks!
REPORTER And they're actually chanting: Fox News sucks. Fox News sucks, the reason why they're chanting that is because Fox News called Arizona for Biden yesterday. And a lot of people are angry about that. [END CLIP]
BROOKE GLADSTONE Some Fox News watchers weren't the only ones irate at the channel's Arizona call. Fox's own hosts: Greg Gutfeld, Sean Hannity and Jesse Watters questioned their network's report on air.
[CLIP]
TIM MURTAUGH You know, we were livid about the fact that you and then the AP made that call.
BRETT BAEIR Thank you.
TIM MURTAUGH This is going to lead Joe Biden to falsely declare himself the president-elect at some point understood.
BRETT BAEIR Understood [END CLIP]
BROOKE GLADSTONE As of Friday afternoon, Biden had not done so, but Trump had. At least three times, as early as about 2 AM Wednesday.
[CLIP]
TRUMP This is a fraud on the American public. This is an embarrassment to our country. We were getting ready to win this election. Frankly, we did win this election. [END CLIP]
BOB GARFIELD There's a word for this kind of reaction. It's called flailing, a careless form of thrashing about that tends to cause the failure to let his guard down. Here was Trump campaign legal advisor Harmeet Dhillon on FOX, revealing how serious people really rig a game.
[CLIP]
HARMEET DHILLON We're waiting for the United States Supreme Court, which of which the president has nominated three justices to step in and do something, and hopefully Amy Barrett will come through. [END CLIP]
BOB GARFIELD Meanwhile, angry crowds formed on social media. Tick Tock was flooded with viral videos from the president's supporters disputing the legitimacy of the count.
[CLIP]
SOCIAL MEDIA POST I could not be convinced this was a legitimate election. [END CLIP]
[CLIP]
SOCIAL MEDIA POST Three hundred thousand votes in Florida just disappear. [END CLIP]
[CLIP]
SOCIAL MEDIA POST I'm a coal miner. My livelihood depends on this election. [END CLIP]
BROOKE GLADSTONE On Twitter, Eric Trump shared a video taken by a Trump supporter at 4 AM featuring a man pulling a wagon into Detroit's convention center. Conservative media reckoned the wagon carried a lockbox filled with stolen ballots.
[CLIP]
TRUMP SUPPORTER Looks like one of those like boxes. Wish I could tell. [END CLIP]
BROOKE GLADSTONE WXYZ reporter Ross Jones debunked the video saying that the alleged ballot thief was his photographer hauling equipment ahead of a 12 hour shift. Meanwhile, on YouTube, Trump's self-proclaimed news site, One America News Network, told its viewers what the cowardly Fox was afraid to say.
[CLIP]
NEWS REPORT President Trump won four more years in office last night. North Carolina, Florida, Pennsylvania, Michigan, Wisconsin are all Trump's. Even Arizona, which somehow has Biden winning, is rampant with voter fraud. Nevada, same thing. [END CLIP]
BROOKE GLADSTONE And Facebook shut down a group called "Stop the Steal", which in a matter of hours, thanks to coordination by GOP operatives, swelled to 35000 users, some calling for civil war. Thursday night, Trump supporters organized a "Stop the Steal" campaign outside of Phoenix County facility. The Clark County Registrar, Joe Gloria, said he believed these demonstrations were putting his staff in danger.
[CLIP]
JOE GLORIA I can tell you that my wife and my mother are very concerned for me, but I am concerned for the safety of my staff. [END CLIP]
BROOKE GLADSTONE Meanwhile, other online hoaxes led to real world right wing demonstrations like this viral Facebook video.
[CLIP]
WOMAN So the people that were in front of me, there were two people in front of me that used a Sharpie.
MAN Yes.
WOMAN It was given to them by the poll workers.
MAN Yes.
WOMAN It did not read their ballot.
MAN OK.
WOMAN And they Slided in there twice. I use the pen.
MAN Yup.
WOMAN Took their sharpie and threw it away.
MAN And I read your ballot.
WOMAN and It read my ballot.
MAN So what they're doing is they're telling people to use the Sharpies that way.
WOMAN Yes.
MAN Those votes aren't counted.
WOMAN Yes. [END CLIP]
BROOKE GLADSTONE Overnight, Sharpie gate, which is not a thing, became a thing.
[CLIP]
NEWS REPORT People protested in Arizona, claiming some election officials gave voters a Sharpie pens the canceled out votes. Election officials say using a Sharpie would not invalidate a ballot. [END CLIP]
BROOKE GLADSTONE In the mainstream media, A notable moment, Trump's 6:30 PM speech on Thursday timed for the network news aired in its entirety only by Fox and CNN. Others, as if finally heeding the pleas of press critics at the very last moment weere, like Lester Holt on NBC.
[CLIP]
LESTER HOLT We have to interrupt here because the president has made a number of false statements, including the notion that there has been fraudulent voting. There has been no evidence of that. [END CLIP]
BROOKE GLADSTONE However, Iranian state television aired Trump's press conference live and Infl tweeted journalist Negar Mortazavi: "There's no anti-American propaganda, more effective," she wrote, "than POTUS himself undermining the democratic process.
BOB GARFIELD But the big story on American Nightly News was instead the desperation of a political movement facing its democratic reckoning. In surely, what was the most bizarre expression of furious flailing this election week. At one point, Trump supporters in the streets of Arizona, where Trump was losing, were chanting.
[CLIP]
PROTESTORS Count those votes! Count those votes! Count those votes! [END CLIP]
BOB GARFIELD And in Michigan, where Trump was leading and Detroit's mail in ballots still languished until it came the cry.
[CLIP]
PROTESTORS Stop the count! Stop the count! Stop the count! Stop the count! [END CLIP]
BOB GARFIELD Utterly unself aware contradiction. It was the sound of flailing, all right, a last futile grasp at power, last grasp and last gasp.
Thursday evening, with his margins in Georgia and Pennsylvania closing, President Trump once again attributed looming defeat to the doing of bad things.
[CLIP]
TRUMP They want to find out how many votes they need and then they seem to be able to find them. [END CLIP]
BOB GARFIELD Trump actually has been peddling the voter fraud rigged election myth for years. Even after winning the Electoral College in 2016, he alleged widespread Democratic Party mischief. Here was White House aide Steven Miller in February 2017.
[CLIP]
STEPHEN MILLER This issue of bussing voters into New Hampshire is widely known by anyone who's worked in New Hampshire politics. It's very real. It's very serious. [END CLIP]
BOB GARFIELD This time around when, as predicted, Trump's election night red wave gradually revealed itself as a mirage, he jumped up on that table he had so carefully set.
[CLIP]
TRUMP If you count the legal votes, I easily win. If you count the illegal votes, they can try to steal the election from us. [END CLIP]
BOB GARFIELD What Trump never explained is how the Democrats were supposed to have pulled off the caper. John Mark Hansen is professor of political science at the University of Chicago. He has studied precisely what would be required to steal a presidential election. John, welcome to the show.
JOHN MARK HANSEN I'm glad to be here.
BOB GARFIELD OK, let's just say that I want to subvert the will of the people and rig a presidential election. Uh, easy peasy, right?
JOHN MARK HANSEN No, not necessarily. You're not going to do it by recruiting yourself and a few friends to vote a couple of times or even three or four or five or 10 times. So you're going to have to -.
BOB GARFIELD Just organize a massive conspiracy is all.
JOHN MARK HANSEN Yeah. For instance, in Pennsylvania in 2016, there were 6.2 million ballots cast. And, you know, suppose that you're willing to kind of cut it close a little bit and you say, well, let's sort of make sure that Biden's going to win by getting him one percent more of the vote. So 62,000 votes. That's a lot of votes.
BOB GARFIELD How do we go about doing that?
JOHN MARK HANSEN One possibility is that you decide you're going to get a thousand of your best friends and you're somehow going to convince them that they should be willing to risk prosecution and imprisonment and the loss of their reputations. You also have to reassure them that out of the thousand people that you've recruited to help you in this effort, nobody's actually going to open their big fat mouth. There are a lot of criminal conspiracies out there that get undone because somebody wants to brag about it or somebody has a guilty conscience or something. So you're going to have to make sure that you can trust and everybody else can trust all thousand of your confederates.
BOB GARFIELD OK, if you want to obsess on details like that, that's fine. I'm not going to stop you. So you're basing this on the idea of having a thousand friends each willing to trump up 62 ballots. But what if instead of doing that, I just get, let's say, 20000 friends to vote once by mail, once in person, and maybe once at another precinct where they used to live one person, three votes times 20000.
JOHN MARK HANSEN You'd have to persuade all 20000 people that they should take the risk of actually casting a second or a third ballot, because the chance of their being detected goes up the more times they vote. So I would think that people would be pretty hesitant to do something like that. In terms of people who are registered in more than one place. I doubt that, you know, 20000 people who are registered in two different places and even there they would risk discovery. And certainly if you're talking about 20000 people doing it, someone is likely to be discovered as having voted in two different jurisdictions.
BOB GARFIELD Now, I know that because people's signatures tend to change over time, mine has certainly mutated, many jurisdictions are being less rigorous about demanding perfect matches. In that environment, you know, can I get any ballot through?
JOHN MARK HANSEN In terms of mail in ballots, the risk is not so much that your signature will not match, but rather that jurisdictions oftentimes will ask for identifying numbers. So in Pennsylvania, you either have to submit your driver's license number, your state ID number, or the last four digits of your Social Security number. And it's getting a hold of those numbers and matching those numbers. It's going to be the problem,.
BOB GARFIELD But it's also easy just to get a thousand driver's licenses, no?
JOHN MARK HANSEN Uh, not so easy.
BOB GARFIELD I must say. I rather resent your negativity. What about rigging the game during the counting process? Like Trump said on Wednesday morning, somehow finding all these votes after the polls have closed. Can't that be done like sneaking in an extra zero or two or moving a decimal point or even substituting computer data with fake counts that I've sneaked in on a thumb drive?
JOHN MARK HANSEN Well, your chances are better, but there are still quite strong safeguards against doing something like that. One is that most jurisdictions allow partisan observers to actually watch as the ballots are being counted and as the ballots are being tallied and as the tallies are being reported to the central office. And they have an opportunity to say, you know, I don't like that. That's not the way that things are supposed to be going. Even if there aren't any partisan observers, you still have the problem of how you're going to report all those extra votes without someone thinking, boy, that's sure an awful lot of votes being reported from that particular jurisdiction. They only usually report 300,000 votes and now they're reporting 360,000 votes. And that's kind of suspicious.
BOB GARFIELD You know, I'm sorry. I just think you're naive because what you don't know is that I am a pretty good coder. I managed to change everybody's phys ed grade at Aaron Burr High School to an A plus. So, why can't I just break into the county system and just have my way?
JOHN MARK HANSEN This is something that election officials have been worried about quite a lot. And so they've invested quite a lot in trying to maintain security. As you're probably aware, in 2016, there were actually some hacker attacks on county election offices or attempts at hacks on county election offices, particularly from Russian sources. And they seem to have been uniformly unsuccessful. So there's been a lot invested in trying to maintain the integrity and the security of the vote reporting system and the vote recording system. But even beyond that, again, how would you necessarily do it in a way that wouldn't appear suspicious? Various jurisdictions, various counties, they tend to vote pretty similarly from year to year. It would really, really be unusual to see a 20 percent change in a vote or an addition of 50000 votes, so you've got the problem of how you're going to do it without someone noticing when it goes up to the next stage.
BOB GARFIELD Look, John, I've laid on the irony with a trowel, and it's probably getting tedious for the audience at this point. So can I just ask you very plainly - the scenario that President Trump and his proxies are suggesting, is it remotely possible to have taken place with the kind of safeguards that each state has built in the election process going back, you know, a century?
JOHN MARK HANSEN No, this would just require, to use Joseph McCarthy's words, a conspiracy so immense as to make it nearly impossible to be detected and really expensive and risky for everybody involved.
BOB GARFIELD That would mean that the president is a liar.
JOHN MARK HANSEN Some people have said.
BOB GARFIELD John, thank you very much.
JOHN MARK HANSEN My pleasure.
BOB GARFIELD John Mark Hansen is a professor of political science at the University of Chicago.
BROOKE GLADSTONE Coming up, polls, threat or menace.
BOB GARFIELD This is On the Media.
Copyright © 2020 New York Public Radio. All rights reserved. Visit our website terms of use at www.wnyc.org for further information.
New York Public Radio transcripts are created on a rush deadline, often by contractors. This text may not be in its final form and may be updated or revised in the future. Accuracy and availability may vary. The authoritative record of New York Public Radio's programming is the audio record.