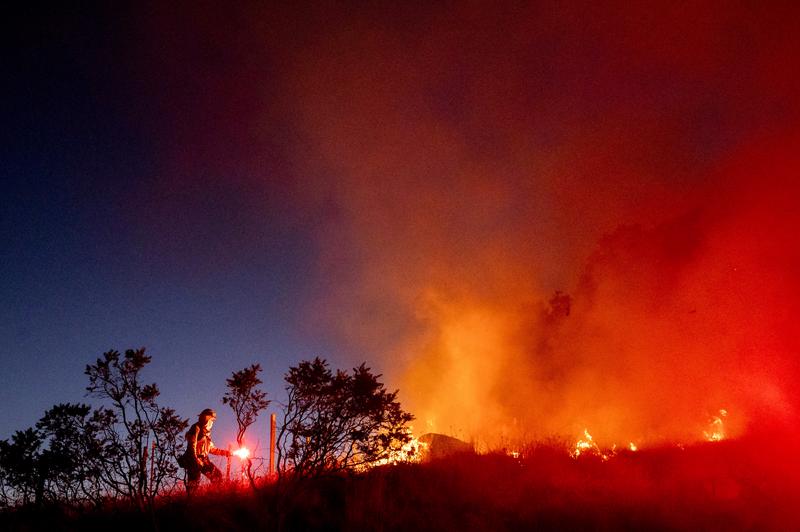 Transcript
SARAH KLIFF I've heard from other health departments who have actually purchased new fax machines since coronavirus started to keep up with the volume of reports they're getting.
BOB GARFIELD Yes, our public health system in the year 2020 hinges on - the fax machine. From WNYC in New York, this is On the Media. I'm Bob Garfield. Human beings in the midst of radical change aren't so hot at noticing how severe it is.
DAVID ROBERTS Someone can tell you, we didn't used to have fifteen days above 100 degrees every year, but to you whatever you find feels normal.
BOB GARFIELD Also...
[CLIP]
JO RAE PERKINS Where we go one, we go all. [END CLIP]
BOB GARFIELD QAnon was once just a cultish Internet conspiracy, but with the help from Donald Trump, this November, we will see real life, QAnon associated candidates on the ballot.
[CLIP]
JO RAE PERKINS I stand with President Trump, I stand with the Q and the team. Together, we could save our republic. [END CLIP]
BOB GARFIELD It's all coming up after this.
From WNYC in New York, this is On the Media, Brooke Gladstone is out this week. I'm Bob Garfield. You may have missed this amid all the headlines recently, but, you know, Siberia is on fire.
[CLIP]
NEWS REPORT What's been going on in Siberia and in northern Siberia toward the Arctic Circle has been crazy. It's been so unusually warm. It's ridiculous. [END CLIP]
[CLIP]
NEWS REPORT Emergency crews in northern Russia are using explosives to put out nearly 300 fires. Unusually warm weather has helped fires break out across Siberia. [END CLIP]
[CLIP]
NEWS REPORT This is not Santa Cruz. This is Siberia. [END CLIP]
BOB GARFIELD An extraordinary heatwave is having its way with one of the coldest regions on earth. And with it, a dramatically altered ecology, melting ice sheets spewing of carbon dioxide into the atmosphere. All in all, the latest alarming news from the biggest story in the history of the planet. Amid pandemic, social revolution, and an outlaw administration, this latest unthinkable environment catastrophe flashed for an instant and promptly disappeared from the news. Why? Why are humans and the subset of humanity called "the media" still subordinating the destruction of planet Earth as a vague and distant threat?
Well, obviously, part of the answer is the immediate threat, COVID-19, a plague infecting the entire globe right now, but coronavirus has its own odd psychology. The notion that one way or another, in a reasonable amount of time, whether by vaccine or by its own natural lifecycle, the pandemic will soon enough be behind us. Kids in school in Orange County after Labor Day - Why not? Opening up the economy, normal campus life, pro sports - just around the corner.
[CLIP]
PRESIDENT TRUMP Easter is our timeline. What a great timeline that would be. [END CLIP]
[CLIP]
NEWS CLIP This virus. The good news is it'll be over by summer. [END CLIP]
BOB GARFIELD But what if cellular prosperity is not right around the corner? How often is that very real possibility ever top of mind? David Roberts writes about energy policy at Vox. He's written about the mental phenomenon of shifting baselines in which we calibrate our expectations to the world we were born into, irrespective of what came before, and in so doing, underestimate the severity of threats to our well-being. The term first emerged in 1995 when fisheries scientist Daniel Pauly observed that each generation of fisheries scientists accepts as a baseline the number of fish and the species composition at the beginning of their careers and uses that baseline to evaluate changes.
DAVID ROBERTS Say if you live in the American Southwest and you're, I don't know, 18 today in your city, just aware of the weather around you in the world around you, someone can tell you, we didn't used to have, you know, fifteen days above 100 degrees every year. We didn't used to have two or three days a year where you literally have to stay inside to avoid dangerous heat. But to you, whatever you find feels normal. And similarly to the next generation, it'll be a little hotter for the next generation, but that will feel normal to them.
BOB GARFIELD Now, what you're describing is something called generational amnesia. But, I am old enough to remember 50 years ago. And researchers have shown that hot summers, through much of the United States, are 200 times more likely than they were 50 years ago. And by hot summers, I mean very high average temperatures, warnings not to go outside, and so forth. Well, 50 years ago, I was 15, running around in summer, and nonetheless, even though I myself am awash in, you know, climate health alarm - to me going outside and it's 96 degrees just feels like... summer.
DAVID ROBERTS Basically what psychologists have found is you have a window of like two, to call it, two to 10 years of your recent experience that you will benchmark as normal. And so, if the summers are very slowly and incrementally changing, your baseline of what's normal is also slowly and incrementally changing. They've done studies about Londoners during the Blitz, right. You would think that bombs falling randomly on your city for months on end would just be something that feels intrinsically unusual. But the Blitz went on for long enough that people basically adjusted and more or less led lives that they thought were sort of modest and normal and happy while bombs were falling on London. So, like even that, you can adjust to. So, you know, I look at that and I think, well, what is climate change ever going to do that's going to match the London Blitz.
BOB GARFIELD Or the civil war in Lebanon or the siege of Sarajevo. And right now, we're in the siege of Sarajevo, it's called COVID-19. You know, I was talking about adapting to hot summers. Only five months has elapsed.
DAVID ROBERTS Yes. If you went back five months and explained to someone what it would be like now, that would feel alarming because it's a jump. But instead, we've just sort of backed our way into this, incrementally. Like, oh, we've got to stay home, oh we've got to wear masks, oh, school is going to be half at home. Just like things are so unusual and crazy, but already we're getting used to it. I think the real key distinction here, and this is what the psychologists all told me, is we can get used to anything as long as it's consistent. The reason we haven't totally adjusted ourselves already to this pandemic is that there hasn't been any consistency. We keep getting new information, new questions, the administration keeps taking new lines and asserting new things. And so it's really uncertainty and ambiguity that humans hate above all else. If the grinding stay at home, come to work in shifts, go to school in shifts, if all that becomes kind of our consistent reality, we will very quickly lose even what level of panic and outrage we have today. I hate to say it because I worry like someone in the Trump administration might hear it, but if you want people to get used to something, that's what you have to focus on. It doesn't matter if circumstances are bad as long as they are consistent over time.
BOB GARFIELD So you can plan your day tomorrow.
DAVID ROBERTS Exactly.
BOB GARFIELD All of these responses in the aggregate constitutes something they called the psychological immune system. How does that work?
DAVID ROBERTS Yeah, this is one of the most interesting and consistent actually findings in modern psychology. Is if you ask people: what would it do to your happiness if you had a car accident and lost a leg, right, something like that. People intuitively will think, well, I'll be less happy. And similarly, if you ask what would happen if you won the lottery? People think, well, that would, in an enduring way, make me happier. And it turns out that we basically have, each of us, something like a happiness set point, a natural equilibrium based on our brain chemistry and experiences, whatever else, and we generally will return to that set point. Our immune system sort of like neutralizes these big new events into normality, right. So, the person who loses a leg and the person who wins the lottery will, a year after those events, be roughly as happy as they were before. Your psychological immune system quickly absorbs new experiences, rationalizes them, makes sense of them in the world, and you return to your set point.
BOB GARFIELD It would seem that it's antithetical to action to deal with chronic problems.
DAVID ROBERTS Right. This is the paradox we keep returning to over and over again in modern society as our evolved cognitive and emotional machinery is built to respond to events that are proximate to us in our immediate circumstances. We're just not built to think about or much less to, sort of, emotionally react to these longer term incremental changes. So, we have to do all the work with our heads. If you tell me Arctic ice has been incrementally reducing for 20 years, I can say, yes, I know that. But it takes some real work on my part to feel that in any kind of way. It takes some work to translate what we know into the emotion that's required to respond to it. It's emotions that motivate us to action, not facts.
BOB GARFIELD These phenomena you're describing also apply to our economic dire straits, to the disappearance of local news, the normalization of toxic politics and so-called alternate truth. There's a lot of chaos, perversity, depravity that we've just kind of accepted.
DAVID ROBERTS If you told someone in 2015 how the U.S. president would be behaving today, it would absolutely strike them as ludicrous and crazy and worth mobilizing to stop. But instead, we've just lived through this kind of incremental loss of norms and standards, such that now Trump can do stuff on a daily basis that barely even makes us blink anymore, stuff that would have been absolutely a scandal, an impeachable not very long ago.

We've already normalized it, and this raises a really interesting thing. One of the things that leaders can do through their sort of rhetoric and their example is make something that we are taking as normal and kind of lift it up and make us look at it from a different perspective and make us see it as anomalous and bad.
BOB GARFIELD What part can journalists play in contextualizing these outlier events and making them seem less inevitable and create an environment where society addresses them and trusts to intervene?
DAVID ROBERTS Well, I think the honest answer is I don't really know. I mean, there are individual media projects like the one I mentioned in my post is this journalist, John Sutter, who's going to go visit these places that are being affected by climate change every five years through 2050. The idea is just maybe if we can see with our eyes the changes over time, they'll be more salient to us. And that's really interesting and maybe it will work. But ultimately, what you need in media is kind of the same what you need in politics, which is leadership. If media is entirely driven by what gets clicks, it's always gonna be the short term. That's where the outrage lives. To pull the lens back and show the longer view and the bigger view takes some leadership. And in the media, we used to call that gatekeeping, right? And notoriously now, there are no gates anymore. So who is the agent in media who would push back against and say, OK, we're gonna sacrifice some short term clicks and ad revenue to kind of pull the lens back and try to emphasize this longer view. And it seems like the media is getting carried along in the short term-ism as bad or worse than any other person or institution around us.
BOB GARFIELD Well, you know, I must say, John Sutter sounds like the most cockeyed optimist on Earth. Do you think that anyone's going to be around to take the pictures in 2050?
DAVID ROBERTS Well, yes, there will be people. And the crazy thing is they will feel like they're living in a normal time too, right. I mean, as crazy as it is. There will be more storms, there will be more heat waves, these pandemics might be as frequent as the seasonal flu. This is a danger someone raised in my article. We could just start thinking, oh, it's winter, time for us all to go indoors. See you on Zoom until June. As crazy as it seems to us now, you can absolutely imagine people getting used to that. You can imagine people in 2050, we would think, oh, that world looks chaotic and dangerous. There's all these migrations of climate refugees and, my God, there's heat waves killing thousands of people. But to those people, we will have gotten there through these incremental stairstep changes that just get incorporated. And by the time they live there, to the people who are becoming adults in 2050 - that's normal.
BOB GARFIELD We have spent this whole conversation discussing the human ability, evidently, the product of evolutionary adaptation to be blind to the threat right in front of us. Is there any part of that psychology that also makes us blind to progress?
DAVID ROBERTS Yes, in the exact same way, incremental moves in a positive direction also get kind of ignored and incorporated. In just as big losses don't strike us as big losses, often big wins don't strike us as big wins. So, for instance, you know, you look at the number of women and girls in the developing world who are getting an education. For the last decade or two, that number has been rising and rising, but it just rises slowly enough that no one ever stops and thinks of that as a giant and notable victory. It's incremental in the exact same way, so...
BOB GARFIELD ...infant mortality, per capita income.
DAVID ROBERTS Yeah, there's a lot of social indicators that are moving in the right direction, but we're not chalking them up as giant victories for the same reason; we're just sort of incorporating them. Also, one of the things I think leadership and good media can do, in addition to making us aware of these long term threats, it can also make us aware that it is possible to move in the other direction. So if we draw more attention to those victories, I think it can help people conceive of winning against these dire threats.
BOB GARFIELD David, thank you very much.
DAVID ROBERTS Thanks, Bob.
BOB GARFIELD David Roberts writes about energy and politics for Vox. Coming up, dating apps and turn by turn road directions; we have the technology. Getting COVID test results to public health officials; not so much. This is On the Media.
This is On the Media, I'm Bob Garfield. To have a baseline for how many fish is not enough fish, it helps to count fish. Bonus points for making the numbers consistently, indisputably, public. For coronavirus data this week, consistency and indisputability ran low.
[CLIP]
NEWS REPORT Meanwhile, a big change for hospitals. They must now report all coronavirus data directly to the Department of Health and Human Services instead of the CDC. That's the order from the White House. The big difference, the HHS reports directly to the president. Experts are concerned the data may not be made available to the public. [END CLIP]
BOB GARFIELD The quiet directive issued a week ago, but first reported on Tuesday, gave health care providers only days to prepare for the change. Now their numbers are not bound for the CDC in Atlanta, but for Washington, by way of Pittsburgh, where a contractor will do the fuzzy work of building and maintaining this most crucial of databases.
[CLIP]
NEWS REPORT The company, TeleTracking Technologies will now collect certain data, including bed occupancy, staffing levels, PPE supplies, and more. [END CLIP]
BOB GARFIELD Anxieties over the new reporting system grew on Thursday when coronavirus data disappeared from the CDC's website in the morning, but was back online within hours.
[CLIP]
NEWS REPORT The Trump administration briefly removed COVID-19 data coming in from hospitals that's accessible on the website for the Centers for Disease Control. Data that included hospital bed occupancy, staffing, and personal protective equipment supply figures. While the data was later restored, the White House denied it's hiding anything. [END CLIP]
BOB GARFIELD CDC director Dr. Robert Redfield sought to reassure reporters, describing what he saw as a totally valid effort to, quote, "dramatically improve and modernize our public health data in America."
Just as the pandemic has overwhelmed the American health system, bottlenecks and technological antiquities in our health information infrastructure are bogging down our pandemic response. At the health department in Harris County, which is to say Houston, Texas, the fax machine is at times so overwhelmed that incoming pages just fly out onto the floor. Some Western states are mobilizing the Pony Express. Okay, I made that last part up, but check back next week when it may have come true. Sarah Kliff is an investigative reporter specializing in health care at the New York Times. With her colleague, Margot Sanger-Katz, Kliff wrote this week about the data backlogs. As one public health official told her, the tools and resources given to public health departments by their government funders have left them feeling like they're on the information superhighway, quote, "traveling with a bus pass."
SARAH KLIFF Yes. So what he was referring to was the fact that we've actually spent as a country billions of dollars over the past decade helping doctors go digital. There was a huge stimulus package during the Obama administration called the High Tech Act that gave out lots of monies to hospitals and doctors offices to go from paper records to digital records. But public health departments were not included in that stimulus package. So they're left with this bus pass. They're left with the fax machine, while some of their colleagues in the private sector have had a lot of money to get digital mix systems up and running.
BOB GARFIELD What else are health officials struggling with with tools from previous epoch's?
SARAH KLIFF They are really struggling with incomplete data. So even when they do get things sent to them electronically or emailed, often they say it's missing the patient's address, or the patient's name is spelled wrong, or their age isn't there, or their phone number isn't there. All these details that aren't that important to a medical laboratory - the medical laboratory just needs to figure out is a positive or negative - but are so important to public health departments because they want to contact trace this person. They want to figure out if it is a positive who this person has been in touch with. And, you know, you want a phone number to reach the person to ask them those questions.

The other thing I'd say they're dealing with is a lot of duplicate records because things are sent by email, by fax, by phone through electronic systems, and because they come from different actors, they come from hospitals, they come from medical laboratories. They say they get a lot of reports that are duplicates that came in some other channel and they spend a lot of time just trying to figure out, do we have this report already? And that's time they could potentially be spending on other public health work like contact tracing.
BOB GARFIELD But the bottom line is that, in many spots around the country, there are public health offices with just stacks and stacks of reports, test results and so on, just sitting there waiting for attention.
SARAH KLIFF Right. I mean, that's what happened in Washington state. The most extreme version of this I heard of was they actually brought in 25 members of the national Guard to assist with manual data entry, because they had all these stacks and stacks of paper they needed to go through. You know, since that story ran, I've heard from other health departments who have actually purchased new fax machines since coronavirus started to keep up with the volume of reports they're getting. And that's...
BOB GARFIELD Wait! The solution is more fax machines!
SARAH KLIFF So, I mean, it is not a long term solution, but in the short term, public health departments are just trying to keep their heads above water. You know, it is the case that there is some money being put at this problem right now. The CARE's Act, one of the stimulus packages, did include a half billion dollars for public health departments to digitize. But it's really hard to, you know, start setting up a new electronic reporting system when you're in the middle of a crisis.
BOB GARFIELD I mean, it's not as though the data communications gap has just now reared its head. It's an old complaint. In 2017, a former information technology official at the Department of Health and Human Services told you, quote, "If we want to killed the fax, we need to schedule a funeral." Have governments just, like, crossed their fingers, hoping to hold out just a little bit longer before being dragged kicking and screaming into the 21st century?
SARAH KLIFF That official you mentioned, one of his colleagues, from the Obama administration, he told me they almost had like a Field of Dreams theory about fax machines. Like if you build better technology, people will come. If you give people money to digitize, you'll have this great digital exchange of information and people will quit the fax machine just like you and I did. But it turns out it's not a natural transition in medicine. You have all these competing businesses. Hospitals are businesses who compete for patients, and they don't want to share information, so they don't set up the systems to share with their competitors. And I think that's what that official was saying, that, look, in medicine, it's a different situation. If you want to get rid of the fax machine, you're going to have to tell people that's not an acceptable way to transmit information anymore.
BOB GARFIELD There's also HIPAA, right? Privacy concerns that militate against having a universal pool of shared data.
SARAH KLIFF So one of the things that HIPAA did, that turns out to be quite consequential, is it defined the types of technologies that are safe for patient data transfer. And one of the ones that gave the blessing to was fax machines. It said it is OK, it protects patient data if you transfer data by fax. Email was not included on the list because this law was passed the mid 1990s and e-mail was not a common technology. There are secure e-mail platforms, but it is not listed in HIPAA. Doctors often, when I asked them about this, they'll just cite HIPAA saying, look, HIPAA says fax is fine, so we're gonna use fax and that's how we've been doing it, that's how we'll continue to do it.
BOB GARFIELD You spoke to the director of Harris County's public health department, Dr Umair Shah, who told you, quote, "the data is moving slower than the disease." Does Dr. Shah's observation mean that the time delays are also making it pointless even to do corona testing?
SARAH KLIFF It's getting closer and closer to that point. You know, we're seeing the data move so slowly and some of the data is just literally the test results which Quest, one of the largest diagnostic laboratories in United States, they're now saying it takes more than a week for them to turn around coronavirus tests. For a disease with a known incubation period of two weeks, we're getting pretty close to the test being a little bit useless. It means that you might have folks who, if they'd had their positive test, would have isolated, going out in the community because they're waiting so long for it.
BOB GARFIELD It's not as if nobody has conceived of ways to get around these bottlenecks and to make the data flow more efficient. They've been conceived, floated, maybe even in some cases developed and then not pursued.
SARAH KLIFF Yeah, I mean, one of the things you see other countries do, and one of the things our country considered doing a number of years ago, was creating unique patient identifiers for each and every person. So essentially, the idea is it's almost like a Social Security number for health care, where any time you interact with health care system, your number is going to be on the document, and that's when you're identified as your medical record. That would be really helpful in a system like coronavirus, because if those numbers were on all these medical labs, you wouldn't have public health workers trying to track down phone numbers and addresses and trying to figure out, is this a duplicate record? Is this patient's name spelled right? You would know from that patient identifier who this belonged to, what their contact information was, and that would help get rid of a lot of the data legwork that's happening.

And you see in places like Canada and places like England, they use these patient identifiers without much controversy. HIPAA actually said that the government should create these unique identifiers for all of us. But there were privacy concerns about, what would it I mean to have this number that ID's us in all our health care interactions. And Congress has repeatedly passed legislation to bar the federal government from creating those identifiers, so they don't exist right now, Ron Paul was the first person to campaign against this. His son, Rand Paul, who's now in the Senate, kind of holds the torch at this point. So we don't have those numbers that might help us track data significantly better.
BOB GARFIELD I got to tell you, Sarah, this whole situation reminds me of the Polish army in 1939. I mean, the enemy has tanks and planes. The Poles have soldiers on horseback. Whose fault is this?

SARAH KLIFF You know, for this fax situation, I think it's the failing of years of not investing in public health. You've seen at the federal level, at the state level, at the local level, pretty significant budget cuts and policy decisions made to spend on other things. And a lot of those things might have been perfectly worthwhile. They're education, they're health care services, they're all these things that are really critical to our society.
And I think public health is very easy to ignore when things are going well. But now we're seeing when there is an outbreak like this and the fax machines are literally overwhelmed, just spitting out paper, you really see the consequences of that lack of funding.
BOB GARFIELD Fax machines. I'll tell you in my personal investment portfolio, I think I'm going to go long on carrier pigeons,.
SARAH KLIFF The Pony Express that you mentioned at the start of this. That might be an intriguing option.
BOB GARFIELD Sarah, thank you.
SARAH KLIFF Thanks for having me.
BOB GARFIELD Sarah Kliff is an investigative reporter at The New York Times.
As information infrastructure collapses before our very eyes, making it difficult for public health officials to take stock of where we are, we can add that to the list of 2020 havoc. Yes, it's been sheer pandemonium from beginning to ... well middle. And we can be sure that pandemic, social revolution, a fraught election and a crashing economy will be seen as singular and most likely historic by future generations. But remembered how? Will it be at the Museum of 2020? Who will put together the hydroxychloroquine exhibit? When will enough time have passed for historians to process what is now taking place? Five years. Fifty years? Nope.

Turns out the process is already underway. Archivists across the country are already, or more to the point, always collecting the artifacts that define the current moment for future museum goers. Anthea M. Hartig is the Elizabeth McMillan director of the National Museum of American History, one of the Smithsonian's 19 museums and galleries. There, the suggestions for artifacts have run the gamut from Polaroids of medical staffers, so that patients know the faces behind the masks, to protest signs, to a complete one thousand piece jigsaw puzzle. Anthea, welcome to On the Media.
ANTHEA M. HARTIG Well, thank you so much, Bob. It's an honor to be here.
BOB GARFIELD The honor is ours. Conventional wisdom, and I define that, of course, is what I personally thought was true. It's that history is like a dinosaur skeleton that remains undisturbed for ages until historians and curators unearth the bones and try to put them back together. But evidently, that's the old school style of curating. If it ever reopens, what's the new school approach?
ANTHEA M. HARTIG It's a great analogy and it is somewhat dated and fossiliferous. Really, since the rise of what we call social history, of history from the ground up, history from the people's perspective, we've been examining those notions of what is historic, who makes history, and how is that perspective important. It's a great African proverb about the hunt from the hunter's perspective instead of the lion's perspective. And so we've been really trying, as a profession, to think about how that plays out in our collecting. And what different strategies we need to work with people, with communities who are alive and who are experiencing history in the moment. And it is that really important working tension in between, you know, where does journalism start and history begin? And right now they're colliding, which I actually I find in that incredible energy and excitement.
BOB GARFIELD Now, we don't name federal buildings for dead political leaders for a while after their passing in order to get emotions to cool off and to provide a little historical distance. Current events can seem outsized in the moment, but more transitory and mundane sometime later. Not to mention more in focus, which would argue for the old approach. What is the benefit of digging right in?
ANTHEA M. HARTIG The intensity of our collecting, especially around political collecting, started really after the great March on Washington in 1963, where curators then realized they missed an opportunity. They didn't do as much. They didn't collect that moment. We know we don't want to miss moments.
BOB GARFIELD So even in the context of the way you've gone about your business the last number of decades, when this pandemic began, your museum announced that it was deploying a rapid response task force to begin collecting objects of the moment. Is there a historian consensus already that 2020 is a watershed year?
ANTHEA M. HARTIG I believe so, Bob. We had a long history of documenting pandemics, epidemics, AIDS, H1N1. So, we had known working with the CDC about the rise of the novel coronavirus, like late fall or early winter. So that that part of our collecting and our mentality was already there as well as we were already collecting in the field for the watershed 2020 election. So, when those two came together, it was very clear to all of us here that it was imperative to document this moment, especially in ways that we hadn't before. We can't go out and collect as easily. We are asking people to hold things, their handmade signs. Now, a lot of this material is ephemeral and thus fragile and fleeting. And the response has been tremendous.
BOB GARFIELD Now, this is not a perfect analog, but during the 1918 flu pandemic, we witnessed what might best be described as the anti-rapid response collecting process. It was basically a collector's worst nightmare. What happened?
ANTHEA M. HARTIG H1N1, the so-called Spanish flu, where 30 percent of the world was infected, they estimate, and north of half a million Americans died, came at a very complicated time, of course, at the end of World War 1. But two key things happened to memories. One, many of the objects themselves were destroyed and incinerated or just simply not saved, either for medical reasons or for personal reasons. And then, two, when you're just finished a world war and still enmeshed in a lot of tensions domestically, there was a certain kind of shame of dying of the flu when you could have died in war. And then the way in which people remembered was definitely changed, and then really altered, I think, over time and we don't learn about it in our history books. Like we didn't learn about the Tulsa Race Massacre in 1921.
BOB GARFIELD You're describing erasure.
ANTHEA M. HARTIG Absolutely. The pain of those times, I think, may be led to some personal erasure. And then the deficit of artifacts and materials also led to historians not kind of coloring back in those those parts of the book that had been erased.
BOB GARFIELD Now, that impulse for erasure could easily repeat itself in our circumstances today. Are you and your teams doing anything to get ahead of the psychology of trauma?
ANTHEA M. HARTIG I think the most important thing we can do with the psychology of trauma is to acknowledge it. To be incredibly careful, filled with care, respectful of what people are going through, and that their first impulse might not be to save things from such a painful time. We're hoping, though, that they also feel a part of a community of memory in which they are contributing, whether it be their personal stories or their families or their businesses or their communities.
BOB GARFIELD One of the grievances of the Black Lives Matter movement is that the story we tell ourselves about this country is whitewashed. That it is from a white perspective for a white audience and everybody else has to just sort of fill in their own blanks. And that's why we see statues of slave owners and colonizers across the country coming down. As you collect historical artifacts of a nation in crisis in real time, what's the process for representing the whole of 2020 American society for the whole of future American society?
ANTHEA M. HARTIG The way in which we go about telling the most inclusive and diverse set of stories we can rests on growing sets of scholarships, especially by scholars of color and voices in the first person, really, from Phillis Wheatley to David Walker through Frederick Douglass, and then well into the incredible flowering of Black and brown voices throughout the 20th and now into the 21st century. So a big part of that is is honoring, paying attention, and integrating that scholarship.
Our lens for collecting COVID from the start from March has included a key face to the prism, if you will, of how we're looking at it through the lens of race and racism. And it's startling. The impact of institutional racism, denial of health care, all of that has just magnified the impacts on people of color, and especially so many of whom are essential workers or frontline workers, whether they be in meatpacking plants in the Midwest or in hospitals in major urban areas. So we're we're tracking that very carefully and and wanting to make sure that, again, the fullness and the complexity of the story are all represented within both our intellectual framing of the moment, but also our collecting.
BOB GARFIELD Now, look it Anthea. I've been talking about the Museum of 2020 as if it were a real thing, as opposed to, let's say, an exhibit of the year 2020 in your American History Museum. But should be a discreet museum? Should someone be scoping out real estate on the National Mall?
ANTHEA M. HARTIG For the Museum of 2020?
BOB GARFIELD Yeah.
ANTHEA M. HARTIG I think we owe it to ourselves to become the multipart type museum of 2020. My hope for the work that we're doing as historians and curators, archivists and journalists is that we form a collective set of compassion, of empathy, of a world in which we understand how we're connected and how we need to find the resiliency to both combat these multiple pandemics and then to do our best to solve them and come out on the other side of history.
BOB GARFIELD Anthea. Thank you very much.
ANTHEA M. HARTIG Thank you.
BOB GARFIELD Anthea M. Hartig is the Elizabeth McMillan director of the National Museum of American History. She's busy. Coming up, mind your Ps and Qs. Anyway - your Qs. This is On the Media.
This is On the Media, I'm Bob Garfield. Years from now, as future journalists and historians work to make sense of our turbulent times, they will find a 21st century internet marked by distrust, distrust in public health officials, scientific data, academia, well-meaning civil servants, media outlets, Hollywood, just about every institution that once conferred authority. Of course, that virus of distrust also makes it hard in the here and now, especially when the narrative of our times has been grotesquely distorted by conspiracy theories and the online scoundrels who propound them. Chief among them, the mother of all crackpot communities: QAnon.
[CLIP]
NEWS CLIP Which, um, essentially believes the entirety of the Democratic Party and much of Hollywood are conspiring and running an underground pedophile sex trafficking ring. [END CLIP]
[CLIP]
NEWS CLIP Recent searches on YouTube turning up bogus claims about Tom Hanks and Steven Spielberg. [END CLIP]
[CLIP]

Q ANON SUPPORTER Steven Spielberg is a pedophile. [END CLIP]
[CLIP]
NEWS CLIP The QAnon community believes that Donald Trump knows all about this cabal, is fighting them behind the scenes with the assistance of a group of military intelligence officials known as Q-Team. [END CLIP]
BOB GARFIELD If you find any of this hard to follow, well, that's kind of the point. The supposed conspiracy is portrayed as so elastic and so sprawling that all of Donald Trump's perceived political enemies can be easily integrated into the supposed plot. And because the conspiracy could, and indeed has, led extremists to carry out criminal or violent acts, the FBI has labeled QAnon as a potential terror threat. Alex Kaplan, senior researcher at Media Matters for America, has been tracking the slew of crimes tied to the group.
ALEX KAPLAN QAnon has been tied to multiple acts of violence.
[CLIP]
NEWS CLIP Down in Tucson, Arizona, where a guy was in an armed standoff with police last year because he believed there was a child sex trafficking camp that was really a homeless encampment. [END CLIP]
ALEX KAPLAN There have been multiple attempted kidnappings tied to QAnon supporters.
[CLIP]
NEWS REPORT In July, a 24-year-old man was charged in the shooting death of a reputed mob boss. Written on his hand in the courtroom were QAnon symbols. [END CLIP]
ALEX KAPLAN A man held up the Hoover Dam who was armed, who was a QAnon supporter. I believe there was another man in Michigan who expressed support for QAnon and threatened to kill the governor of Michigan and the state's attorney general. This has been an issue.
BOB GARFIELD It's tempting to write off this bizarro subculture as a marginal freak show, but its grass roots activity has begun to win support from major figures in the Republican Party. In fact, by Kaplan's count, Donald Trump has amplified QAnon Twitter accounts, at least 185 times. Kaplan says the president's not-so-subtle endorsement has helped pave the way for at least 13 QAnon connected congressional candidates who competed in primaries and will be on the ballot this November.
ALEX KAPLAN To just name a few, one, in Georgia, Marjorie Taylor Greene came in first in her primary, but she still has to go to a primary runoff because she didn't reach 50 percent. She has expressed strong support over the years for QAnon, has written about it on social media, saying things like, "Oh, great post by Q today." She's tweeted the QAnon slogan "Where we go one, we go all," has talked about it in videos.
[CLIP]
MARJORIE TAYLOR GREENE Q is a patriot. We know that for sure. I'm going to tell you, I don't know who Q is, but I'm just going to tell you about it because I think it's something worth listening to. [END CLIP]
ALEX KAPLAN She is favored to be elected. And there has been others like Jo Rae Perkins.
[CLIP]
JO RAE PERKINS Hello, my name is Jo Rae Perkins. I'm honored and blessed to be the U.S. Senate nominee in Oregon on the Republican ticket for 2020. [END CLIP]
ALEX KAPLAN And she's very vocal in her support of QAnon.
[CLIP]
JO RAE PERKINS Where we go one, we go all. I stand with President Trump. I stand with Q and the team. Thank you, Anons and thank you, Patriots, and together we can save our republic. [END CLIP]
ALEX KAPLAN Earlier in July, she posted a video taking an oath in support of QAnon. There have been multiple candidates that have made it in California. One, for example, literally has the QAnon on slogan in their profile, that person is on the ballot in November.
BOB GARFIELD You mentioned the oath. Tell me more about the oath.
ALEX KAPLAN Yeah, it was something that Q posted a few weeks ago. I believe it's like a military oath, normally. The only difference is that at the end you give the QAnon slogan: "where we go one, we go all." Maybe the most prominent person that's posted a video of themselves taking this oath is former national security adviser Michael Flynn.
[CLIP]
MICHAEL FLYNN Where we go one, we go all.
CROWD Where we go one, we go all.
MICHAEL FLYNN God bless America.
CROWD God Bless America! [END CLIP]
BOB GARFIELD This is General Michael Flynn, former head of the Defense Intelligence Agency, fired by Trump at the beginning of the administration, but now defended by Trump, and someone who himself is subject of the QAnon conspiracy theories.
ALEX KAPLAN I know family members of his have supported QAnon in the past. QAnon supporters see him as like a big player. They basically love him. I saw multiple QAnon supporters very excited when he posted that video.
BOB GARFIELD You name some of the true believers. Let's talk about the Q light candidates who just appear to be throwing red cues to the base.
ALEX KAPLAN Yes. So maybe rather than being true believers, they seem to see QAnon supporters, the conspiracy theory, as kind of a way to reap some type of political benefit. And there's one other candidate in California, her name's Erin Cruz, that made it to November, that's been pretty open about this. She told NBC last year that basically you can't ignore QAnon people. They're, kind of, a base of voters just like everyone else. And there's been others like Lauren Boeburt in Colorado.
[CLIP]
NEWS REPORT Republican Lauren Boebert pulled off a stunning upset by taking down five-term Congressman Scott Tipton. And her path to victory, was straight out of the far-right playbook. [END CLIP]
ALEX KAPLAN She has gone on a show run by a QAnon supporter and made positive comments about QAnon.
[CLIP]
HOST Do you know about the Q movement? Are you familiar with what that is?
LAUREN BOEBERT I am familiar with that. So that's that's more my mom's thing, she's a little friend.
HOST Do you think Q is a bad thing or is it just, sort of, I mean, what's your opinion?
LAUREN BOEBERT Yeah, honestly, everything that I've heard of Q, I hope that, I hope that this is real because it only means America is getting stronger and better and people are returning to conservative values. [END CLIP]
BOB GARFIELD It kind of looks like she was going to use it as much as she could to win the nomination. And now she's trying to backtrack and disassociate herself now that she's made it to the general election.
ALEX KAPLAN I think that's right. There's a feeling maybe in Republican primaries that the supporters maybe can be a political benefit. But the flip side of that is if you reach the generals suddenly, maybe they're not so beneficial and they can be a liability. You have seen Lauren Boebert trying to distance herself from QAnon since she won the primary. She's called it like fake news and said that QAnon can mean different things to different people, and said she doesn't follow it. But again, she had gone on this show and made those comments. She gone on another QAnon show. She apparently seems to have a YouTube account that subscribes to QAnon channels. So there is a flip side to this.
BOB GARFIELD And what about the Republican National Committee when they have a QAnon friendly, or QAnon adjacent candidate suddenly on the ticket in November, are they telling these people to tamp it down, walk back your association, because the party itself doesn't wish to be tarred with whatever negatives that the QAnon would pose?
ALEX KAPLAN Not really from what I've seen. After Boebert won her nomination, people started putting out the QAnon stuff pretty much immediately. And pretty soon after that, the NRCC, National Republican Congressional Committee, I believe, put out a press release saying something like in response to this, they did "what-about-ism," so they pointed out, like "what about Democrats in Russia?" rather than confront this directly. And like an Oregon with Jo Rae Perkins, for example, we saw, I believe, the Oregon Republican Party. It wasn't like a full throttle endorsement, like there wasn't enthusiastic, but they still supported her. So I think that kind of goes to show that there hasn't been a strong denunciation.
BOB GARFIELD Four years ago, we watched our coverage of Donald Trump's serial outrages and ravings amplify his message in a way that he could never have done without that just wall to wall coverage. Many have argued that the press invented the Trump presidency, that he is our fault. So, if we call the thing by its name and QAnon candidates for their conduct, do we merely succeed in transmitting the virus?
ALEX KAPLAN So there's a concern about amplification, misinformation, disinformation, and conspiracy theories, whether by amplifying it, you're making the problem worse. But a tipping point would be where the benefits of warning about this, trying to let people know that this is an issue, outweigh the concerns about amplification. And in my opinion, we are well beyond the tipping point on this, well beyond it. QAnon has been around for a few years, there have been so many people that have embraced it or least hinted at it that you have to talk about it. You have to point this out. You have to warn about it. We'll see if any of them make it to Congress. I should mention that there are some QAnon on supporters that are already serving in state legislatures around the country. So I think you do need to point it out. I think we're well beyond the point where it will be a concern to amplify it by talking about it.
BOB GARFIELD Alex, thank you so much.
ALEX KAPLAN Thanks for having me on.
BOB GARFIELD Alex Kaplan is a senior researcher with Media Matters for America, a progressive organization dedicated to identifying misinformation and disinformation in the rightwing press.
That's it for this week's Show. On the Media is produced by Alana Cassanova-Burgess, Michael Loewinger, Leah Feder, Jon Hanrahan, Xandra Ellin and Eloise Blondiau with more help from Eleanor Nash. And our show was edited this week by executive producer, Katya Rogers. Our technical director is Jennifer Munsen, our engineers this week where Josh Hohn and Sam "look-who-just-had-a-baby-girl" Bair. On the Media, its production of WNYC Studios. Brooke Gladstone, we'll be back next week. I'm Bob Garfield.