Suing to Save the Planet, and How Climate Activism Got a Bad Rap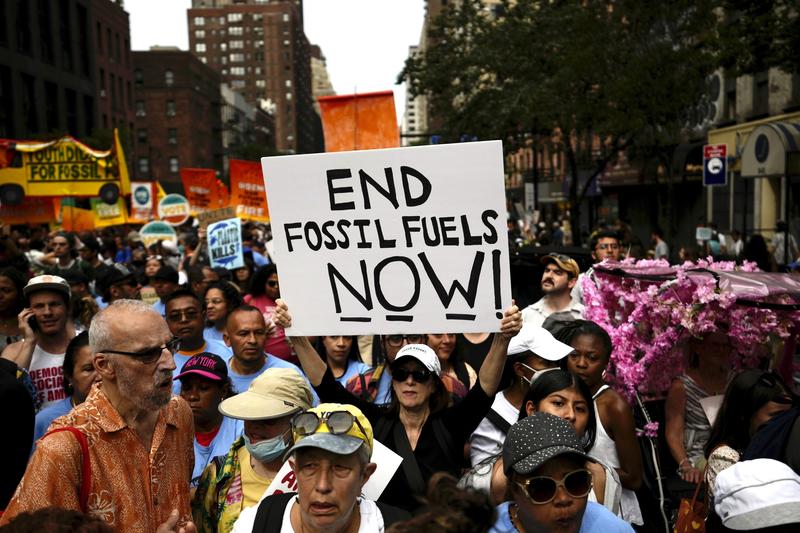 Transcript
Brooke: Last week, California sued Big Oil for deceiving the public about the climate crisis. The suit is part of a rising strategy to make those most responsible pay.
Rebecca: Putting a face to that can be hard, and that's what these lawsuits are doing. They are connecting the dots between the perpetrators and the people who are affected.
Brooke: From WNYC in New York, this is On the Media. I'm Brooke Gladstone. A shadowy network of think tanks is seeking to turn the public against climate activists.
Amy Westervelt: The think tanks push the messages that the companies want to be out there but don't want to be affiliated with.
Brooke: Plus, how radical climate activists were deemed the leading domestic terror threat in the US in the '90s and early aughts despite not hurting anybody.
Leah Sottile: There was a real fear called the Green Scare that environmentalists were stalking the woods in the shadows ready to go off on the system and entire society.
Brooke: This is all coming up after this. From WNYC in New York, this is On the Media. I'm Brooke Gladstone. This week, New York City hosted the 2024 United Nations General Assembly. The topics were wide-ranging. Among them, Ukraine, of course, and pandemic prevention and unavoidably, climate change.
News clip: Thousands of people have been killed in catastrophic flooding in Libya.
News clip: Catastrophic infernos now marking the deadliest wildfire in modern US history.
News clip: Canada, not California, is suffering from disastrous fires right now and it's making the entire northeast look like the surface of Mars.
Secretary-General Antonio Gutierrez: Humanity has opened the gates of hell.
Brooke: That's United Nations Secretary-General Antonio Gutierrez known in international policy circles for not mincing his words.
Secretary-General Antonio Gutierrez: Many of the poorest nations have every right to be angry. Angry that they're suffering most from a climate crisis they did nothing to create.
Brooke: The leaders of some of the world's biggest polluters were conspicuously absent, such as Emmanuel Macron of France, Xi Jinping of China, Vladimir Putin of Russia, and Rishi Sunak of the UK. In fact, the conference opened with only one member of the UN's Permanent Security Council in attendance, the host nation, but Joe Biden kept calm and carried on.
Joe Biden: We see it everywhere. Record-breaking heat waves in the United States and China, wildfires ravaging North America and Southern Europe, a fifth year of drought in the Horn of Africa, tragic, tragic flooding in Libya.
Brooke: But seeing does not necessarily translate into action. The United States was not invited to speak at the UN's Climate Ambition Summit because Guterres said only countries who took climate action seriously would have a seat at the table. Just blocks away, protestors rallied against funding fossil fuels.
News clip: Loud, angry, and defiant, hundreds of activists from all over the country marching on the city's financially-- [crosstalk]
News clip: Demanding Biden stop approving new oil and gas drilling permits.
News clip: We need to have leaders in crisis mode. I don't sense that. The countries are not doing enough.
Brooke: We stand, it seems, at another climate crossroads, no longer debating the impact of humanity on the state of the planet, but still averting our eyes, some of us anyway, from the climate catastrophe already upon us. Yes, Biden seems to have undergone a genuine conversion on the issue, embracing a range of progressive climate policies, but for those protesting outside the UN this week, that wasn't nearly enough. Even if it were, our current Congress will not be moved. Where to go when stymied by the Big Oil behemoths? How about big legal?
News clip: The State of California is suing some of the largest oil and gas companies in the world, accusing them of over 50 years of deception. The lawsuit claims that the companies covered up the risks fossil fuels pose to the environment and protected their profits over the health of the planet.
News clip: Now more than two dozen US cities and states from coast to coast have filed suit against Big Oil. Yesterday-- [crosstalk]
News clip: Leaders of nine small island nations have brought a case to the UN Maritime Court to protect the world's oceans and themselves from catastrophic climate change.
News clip: 16 youngsters sued the State of Montana alleging they've been harmed by climate change. They won.
Brooke: A report published this summer sponsored by the UN Environment Program and the Sabin Center for Climate Change Law at Columbia University tracked the surge in climate lawsuits and found that the caseload stood at 2,180 as of last year. That's more than double the number in 2017. They're not just cases in the US. Around 30% were filed elsewhere in the world with an increasing number from the global south, which faces the brunt of climate impacts. Now, different parts of the world bring different climate arguments before the bar.
The US suits tend to focus on Big Oil while human rights won the day for the Indigenous Torres Strait Islanders of Australia, though Australia has yet to act. Last year, Brazil's Supreme Court found that the government had a duty to act on climate change, interpreting the 2015 Paris Climate Agreement as a human rights treaty that superseded domestic law. This essentially sent Brazil back to the drawing board to devise stronger protections for the Amazon rainforest.
Rebecca: In the US, this would look very different than we've seen in Brazil and Germany.
Brooke: Rebecca Leber covers climate change for Vox.
Rebecca: One important theme in this report is cases being determined in one part of the world can influence what's happening elsewhere. Just because we might not see a successful lawsuit saying the US must adhere to its admissions cuts in the Paris Agreement, we're seeing other kinds of cases like the Montana youth lawsuit that does find it credible that young people do have a climate right to a safe and healthy future.
Brooke: I found it interesting and remarkable that the argument won.
Rebecca: A group of young people sued the state over language in its constitution that actually guarantees a right to a clean and helpful environment. Ironically, Montana is a huge exporter and producer for coal, oil, and gas, and the case really rested on this discrepancy here, that Montana was not adhering to its own constitution. The judge sided with that argument and said the state needs to step up because Montanans have a fundamental constitutional right to a clean and healthful environment. We might see someday this land at the Supreme Court to ultimately settle this question.
Brooke: What about the racketeering argument?
Rebecca: The racketeering charges echo what happened with tobacco years ago. There were cases against tobacco companies for similar charges of misleading the public on the science in a way that resembles organized crime, and ultimately, those cases led to changes in federal and state policy, and also big funds to repair some of the damages of what tobacco companies did. Now, oil companies could face the same fate. We've seen dozens of these cases, not just around racketeering, but around oil deception.
Just this week, the governor of California announced that the state would sue Big Oil over similar claims joining the dozens of lawsuits throughout the country. Going after Big Oil and saying they need to pay up for the damages they're causing.
Brooke: I guess the bigger question is, have these cases had an impact in the aggregate? Have the big guns changed their policies based on the fear of litigation?
Rebecca: Shareholders have been pushing back on companies raising resolutions saying that oil companies and financial institutions that back them have to seriously assess the risks of continuing to invest in fossil fuels. We're still a little bit early on to see the true consequences because few of these cases have been decided, but there was an interesting analysis done by the London School of Economics looking at the whole body of climate litigation. That research showed that climate activists are winning a little over half the time.
Brooke: If corporations and governments see that they have a 50% chance of losing, that would tend to make them more risk averse perhaps?
Rebecca: Right. It's telling governments and corporations that people are trying to hold them to account and potentially succeed in courts so I think this is just the start for climate litigation of seeing its consequences.
Brooke: What specifically are the various plaintiffs asking for?
Rebecca: The National Oceanic and Atmospheric Administration found that we've hit a record number of billion-dollar disasters already this year. The question around who pays is very much a live one. One area where we see climate science and litigation strategies really converging is trying to get to the bottom of how much a company's emissions contributed to a specific disaster.
Brooke: This is really fascinating to me. There's an idea that all of us are to blame for climate change, but this new technology is able to actually assign blame.
Rebecca: Climate attribution science, the fact that we can now drill down into the question of how much did ExxonMobil contribute to a hurricane or a wildfire, that's pretty new territory, and it's playing a really big role in the lawsuits against oil because you have to prove in courts, what were the damages, and what role did these companies play here. The fact that there's now an actual accounting, really changes the game here, makes these arguments a lot more convincing to judges who can then determine what kind of payouts for these kinds of disasters.
Brooke: You've observed that back in 2014, the climate march theme was the People's Climate March calling for greater ambition on climate activism, but you noted that this year, during Climate Week, the protesters were very focused on the fossil fuel industry, and that's because much of the damage can now be directly attributed to that.
Rebecca: The march this week in New York was literally called The March to End Fossil Fuels. We're seeing a narrower focus.
Brooke: One thing that we've often observed here on the show is that lawsuits are great for keeping issues in the headlines. It's something to cover. It has characters, good guys and bad guys, depending on your point of view. Lawsuits can change the narrative. Do you think that lawsuits are changing how climate change is covered?
Rebecca: When we cover climate change, we're talking about emissions, regulation, and worldwide action. Putting a face to that can be hard, but when you get past the emissions and talk about people, things really start to click and make a lot more intuitive sense. That's what these lawsuits are doing because they are telling that story of how a town or community is affected by decisions made throughout the decades by these massive oil companies.
By shifting the narrative around climate change from this idea that everyone's responsible, we must all do our part to what the science actually reflects, which is a few powerful entities have played a disproportionate role in fueling the situation we're in. These lawsuits are shifting that narrative and focusing it more on the actual perpetrators.
Brooke: The Wall Street Journal last week published an investigation regarding oil companies fostering climate change skepticism that made this discovery from a lawsuit that didn't end up moving forward, a lot of internal documents came out of it.
Rebecca: These lawsuits can have an impact, even if they don't necessarily win in courts through discovery. We can expect as dozens of these lawsuits move forward that attorneys general and hopefully eventually the public gets its hands on more of these documents of internal oil company decisions throughout the years. This Wall Street Journal story is a great example of that important investigation that showed how Exxon much later than we previously understood, has fostered doubt around climate science.
Now, as some lawsuits uncover documents, they will start to feed into lawsuits we're seeing elsewhere and building this larger narrative that oil companies did foster this deception campaign, and has played a really instrumental role in delaying climate action.
Brooke: Later on in the hour, we're going to be discussing radical, even criminal action against climate change, but do you think that this emphasis on lawsuits now represents a greater faith in working within the system?
Rebecca: I think the lawsuits do reflect some level of faith that this is a space where the law is on climate activist sides, and they can use that as a tool to enforce what governments have already promised.
Brooke: I can't help thinking though, that it's the continuous bombardment of catastrophe and disaster reflecting climate change. That's the biggest driver of it all.
Rebecca: We've seen this year climate change become personal for billions across the world. More people than not are experiencing hotter than average temperatures, disasters in places that haven't traditionally faced them like Maui's wildfires, like a tropical storm in California, wildfire smoke throughout the Northeast earlier this summer.
Brooke: Inundation in Libya, submerging thousands upon thousands.
Rebecca: There's actually been a shift in public perception around climate where it used to battle for attention with issues like health care and the economy in public polling, but now, it is top of mind, especially for Democrats. These lawsuits continue to keep climate change in the headlines even at times of the year that we might not be dealing with constant disasters. They continue to remind the public, this is not going away. This is only going to amplify.
Brooke: Rebecca, thank you so much.
Rebecca: Thank you.
Brooke: Rebecca Leber is a senior reporter at Vox, covering climate change. Coming up, what action is most likely to yield serious substantive climate policy now and in the future? Can extreme activism win the hearts and minds? This is On The Media. This is On The Media. I'm Brooke Gladstone, so we've reviewed the current rush to legal remedies for climate change. Where else is the battle being waged? Obviously, if you're a Big Oil, you make your case in the court of public opinion through PR campaigns, extolling your exemplary service to humanity, and greenwashing.
That is, aligning yourself with environmentalists, but when PR can't do the job, there's another way, one more covert and not-so-pretty.
Jeremy Walker: The thing with the think tank method was it allowed corporations to say things that they couldn't say themselves.
Brooke: Jeremy Walker is a researcher and senior lecturer at the University of Technology in Sydney.
Jeremy Walker: They'll throw something out into the public sphere, which will get a little bit of press, and then before you know it, a new law has been written now you have the criminalization of what was previously seen as legitimate civil protest.
Brooke: The think tank in question is actually a confederation of hundreds of think tanks globally known as the Atlas Network. It began as a lone UK-based institute in 1955, but a couple of whopping grants from Royal Dutch Shell and BP enabled its great leap forward to producing white papers, meeting with Politicos, liaising with the media, writing laws, swaying law enforcement, and governments and through them, many of us. For Atlas, it seems no climate action is too small to swat.
In 2019, Australia, for example, in Atlas affiliate called the Australian Taxpayers Alliance sent an intern on to Sky News to denounce the school walkouts in protest of the climate crisis.
News clip: I just don't think a bunch of kids who don't understand the impacts are what they're advocating for waving around posters, telling the Prime Minister to go F himself is the informed debate that we need in this country.
Brooke: Elsewhere, Atlas think tanks have pushed the idea that climate activism is a cult antithetical to Christianity. Take this 12-part video series titled Resisting the Green Dragon, produced by the affiliated Tennessee-based Cornwall Alliance.
Amy: This so-called Green Dragon is seducing your children in our classrooms and popular culture. It's less for political power, now extends to the highest global levels, and its twisted view of the world elevates nature above the needs of people of even the poorest and the most helpless.
Brooke: Climate reporter, Amy Westervelt is the host and producer of the podcast Drilled. In her latest investigation, co-reported with climate journalist Geoff Dembicki. She charts the global impact of Atlas think tanks on the public perception of climate activists. Not long ago, Atlas focused on a group called The Last Generation. Amy, welcome to the show.
Amy: Thank you. I'm so excited to be here.
Brooke: Earlier this year, you noticed a swift and somewhat shocking backlash to climate protesters in Germany. Describe what you saw.
Amy: The last generation had just started doing protests in 2022. Their main tactic was to block roads and they had what seemed like straightforward and not even particularly ambitious requests, like they wanted to see a speed limit on the Autobahn of 100 kilometers an hour, and they wanted discounted public transit.
Brooke: And so what happened?
Amy: First, I started seeing footage of other people being violent with the protesters themselves, like grabbing people by the hair and moving them out of the street.
Brooke: You wrote that a young woman who had glued her hand to the asphalt of the road was ripped off the road by her hair.
Amy: Correct. Yes, there's a video of that.
Brooke: And a young man was run over by a truck driver?
Amy: Yes.
Brooke: A passerby punched protesters and was cheered?
Amy: Earlier this year, there were police raids of multiple homes of these protesters. They took laptops and devices, and they froze their bank accounts. It was pretty extreme. They said that it was because they were a criminal organization that was fundraising to perpetrate more criminal acts. I guess those criminal acts were protests. It was particularly interesting because around the same time, there were farmer protests in Germany, where farmers blocked roads with their tractors, and there was none of this kind of response.
Nobody got punched, there were no politicians talking about them as radical anarchists, which is how politicians were talking about the climate protesters.
Brooke: As you were trying to work out why this last-generation protest movement so enraged German politicians and media, all the roads led to a politician named Frank Schaffler who you found was linked to this little-known but hugely influential global network of think tanks called the Atlas Network. What was Schaffler doing that was so effective at shaping the perception of climate protesters as dangerous, and what role did Atlas play?
Amy: Frank Schaffler is a conservative politician in Germany.
Brooke: Now, he is a member of the Bundestag, part of the Free Democratic Party.
Amy: I think in the US, we'd probably call him a Libertarian. On his off time, he started a think tank called the Prometheus Institute. He joined that think tank up to the Atlas Network, which is this network of almost 600 now like-minded think tanks. They include lots in the US like the Heartland Institute and the Cato Institute and a lot of the places that are funded by the Koch Brothers Universe. Also, lots of think tanks in Europe, Latin America, Africa, and Australia, they give a lot of support to their member organizations. They talk to the people who run other think tanks.
They have regional events where they bring everyone together. They put out regular publications so he would have been getting quite a bit of input from other Atlas think tanks about what's going on with these climate protests. Almost as soon as last generation started protesting, he started comparing them to the RAF, the Red Army Faction. It was also known as the Baader-Meinhof Gang. They were a leftist Marxist group in the '60s and '70s who kidnapped politicians and assassinated people, bombed people.
Brooke: They were terrorists.
Amy: Actual terrorists, yes. He even proposed in the Bundestag that the government should investigate them and particularly their fundraising. He talked about it in the exact same way that police doing these raids ended up talking about it, which was, "Look, they're fundraising to commit crimes, and therefore, they should be investigated."
Brooke: A number of major German media outlets, including the conservative publisher Welt and more mainstream-named Tagesspiegel, were echoing Schaffler's framing based on nothing much. Is that fair?
Amy: In some cases, they have also painted the outside of headquarters. I think at one point they ran onto a runway to try to block a runway for private jets, those kinds of things. Those would be trespassing, but that's pretty much it. We're not talking about violent crime, we're not talking about theft or even property damage.
Brooke: I'm thinking of not long ago the Italian branch of last generation seemed to be behind one of the protests in art museums where a young climate activist threw a can of pea soup at a Van Gogh painting in Rome that was protected by glass. Was the reaction in Italy just as extreme as the ones in Germany?
Amy: The reaction in Italy was not as extreme as the ones in Germany, and I think part of that is that you did not have a think tank or a particular politician that was really going after it.
Brooke: I want to pause here just a moment to note that you've long looked at how oil and gas companies have seeded disinformation about climate change, but you make a point of distinguishing between what PR agencies have done in the past and what was happening here.
Amy: The way I see it is that the things that the companies can say publicly, that's what PR takes care of, putting them in company with people that make them look good or crafting messages that make it sound like they're really acting on climate. The think tanks, they push the messages that the companies want to be out there but don't want to be affiliated with. When they wanted to keep pushing climate denial but it was not great for them to be seen doing that publicly, they would work with think tanks to do that.
The same thing has been happening here where it doesn't look good for the oil companies to go after, especially youth climate protesters. That is something that is being left up to think tanks. The more we looked into it, the more we realized, "Oh, that's kind of the entire purpose all along of the think tanks," was to get out corporate messages that the corporations don't really want to be affiliated with and to use that to shape public policy.
Brooke: Atlas has had a hand in crafting legislation in Germany, and your piece describes great efforts elsewhere in Europe and Latin South America. It's having an impact.
Amy: Yes, in some cases, the think tanks are actually writing the legislation directly. That happened in the UK with a group called Policy Exchange.
Brooke: What kind of legislation is it?
Amy: It's often referred to as the UK policing bill. It basically increases the jail time and fines for protest. It also limits where people can protest and it gives police new powers to stop and search activists. The very troubling thing about the UK legislation is that it has had a real impact on how activists are allowed to defend themselves in court. They are not allowed to provide any context for why they were protesting in the first place.
Brooke: Really?
Amy: Yes. Anytime you're limiting how people are able to defend themselves in court, that's a pretty slippery slope.
Brooke: Well, I know that a group called Extinction Rebellion, which was famous for shutting down parts of London and calling for aggressive climate action, described as an extremist organization seeking the breakdown of liberal democracy and the rule of law. In the wake of all of these legal pushbacks, they just basically said they wouldn't engage anymore.
Amy: They decided not to do any more direct action.
Brooke: But they were an aggressive organization.
Amy: They were, but again, they were not doing anything violent whatsoever. Were they being annoying? Sure. Extinction Rebellion is such an interesting story because you have this white paper come out from Policy Exchange in 2019 called Extremism Rebellion, where they talk about these people being anarchists and terrorists and pushing for the breakdown of society. You have them really suggested that more needs to be done from a legal perspective to get control of this.
Just earlier this summer, Prime Minister Rishi Sunak, at a Policy Exchange party, thanked them for helping to draft this legislation so this rhetorical war has worked really well, and a lot of people think of climate activists as being professional activists who are out there on the fringe but there's a climate scientist who's part of Extinction Rebellion who's been in prison for seven months in the UK for chaining himself to a bridge. Again, it was an act of terrorism, so this is happening to lots of different types of people, and yes, the legal fallout is quite significant.
Brooke: You found that the Atlas Network is enormously influential on elites, especially through the media, but it isn't swaying public opinion. They are rather swaying the political perception of public opinion.
Amy: Yes.
Brooke: Can you tell me more about that?
Amy: I was talking to a high-level Biden administration person recently who was saying even a lot of Democrats are worried about pushing for more aggressive climate policy because there's been such a rise in climate denial again, and there's not as much support for the climate activists anymore. I said, "Where are you getting that from because the data on public opinion about these things does not match what you're saying?" He was like, "I know, but that's the perception."
Brooke: Politicians are afraid that there is public disapproval of climate action, though there isn't, and so they'll be more likely to block climate action because they think it will reward them, at least with conservative voters.
Amy: That's right. The perception is that being too far out in front on climate is a risk, even though I have yet to see a poll that actually backs that up, but these think tanks and the oil companies and the PR firms, all of these tactics working together have really helped to create a sense, both in the media and on social media, that there is less approval for climate action than there actually is and more disapproval for climate protest than there actually is.
Brooke: You put a lot of work into this story. How do you want people to use what you found out?
Amy: I'm somewhat fascinated by how narratives get shaped in the public mind and in the media because I think that stuff really does impact policy. I think just making people aware of the fact that if they're seeing narratives consistently repeated amongst thought leaders and politicians and media that that's not organic, usually that is some kind of a coordinated effort. It's useful to think, "Okay, well, why? Who's paying for that? What's their agenda? What are they trying to accomplish?"
Brooke: Thank you so much, Amy.
Amy: Thank you for having me.
Brooke: Amy Westervelt is a climate reporter and the host producer of the Climate Change podcast Drilled. Her latest investigative series is about the global criminalization of climate protest, and it's called the Real Free Speech Threat. Coming up, three decades ago, a radical climate group rocked the West Coast. They were at one point America's Most Wanted, but were they as they were labeled terrorists? This is On the Media. This Is On the Media, I'm Brooke Gladstone.
In the US, Vilification of Climate Activism stretches back nearly three decades in the '90s, in the early aughts, radical climate activists, and one group, in particular, was all over the news and the coverage took no prisoners
News clip: Multi-million dollar dream homes up in flames. The FBI is investigating the suspicious fires as an act of domestic environmental terrorism of the Earth Liberation Front or ELF is taking credit for the fires.
News clip: The trial continues in the case of a suspected Earth Liberation Front member accused of conspiring to destroy government property, including the Nimbus Dam in Sacramento County.
Brooke: At the time, a smaller underground faction of the group dubbed The Family by the FBI was deemed one of the largest domestic care threats in the country. It targeted often through arson, businesses, and government facilities. It saw as harming the environment. According to the FBI, from 1995 to 2001, the group was responsible for around $45 million in damages in Oregon, Wyoming, Washington, California, and Colorado. The group was so underground that until their arrests, many of them didn't even know each other's real names.
When they discovered, the government was on their tail, a few of them fled the country. By the late 2000s, the so-called Family largely faded from the public eye, though not from the sites of the FBI and in 2018.
News clip: A man suspected of being an eco-terrorist in Oregon and Washington on the run for more than a decade, is now behind bars in Portland.
News clip: He's 50-year-old Joseph Dibee of Seattle, and he was found in Cuba and brought back to Oregon yesterday. Let's switch to--
Brooke: Leah Sottile has long reported on extremism and is the host of the BBC Podcast Burn Wild. The podcast looks deep into these once-notorious activists and the obvious moral questions.
Leah: When the planet is burning, what are you supposed to do? Play by the rules or take direct action? If you take action, how far is too far to go?
Brooke: Burn Wild begins by focusing on a group called the Earth Liberation Front, and then it zooms in further to an underground part of the group called The Family, which I think was a term designated by the FBI.
Leah: That's right.
Brooke: They allegedly committed something like 25 arsons between 1996 to 2001. Lots of damage, but unlike other most wanted terrorists, no one was actually hurt during these attacks, at least not physically. This was the era of the Oklahoma City bombing. Just before 9/11. With that context in mind, how did these arsons become such a priority for the FBI?
Leah: I think it's important to talk about what terrorism means. It's typically defined as ideologically motivated violence. It was right in this time, right before 9/11, when elected officials were starting to make a case that environmentalism was in essence an ideology. These criminal acts were ascribed to environmental groups. The most famous one of the Earth Liberation Front in America was the torching of the Vail Ski Resort in Colorado. When that group wrote, ELF or sent out a communique saying these arsons were the work of our group, legislators latched onto that and said, "Well, that's an ideology."
Brooke: It was national news, and they were described as eco-terrorists in the coverage, but they weren't actually like the Manson family. I think the effort was to equate them with the Mansons, maybe by calling them The Family.
Leah: Absolutely. The Earth Liberation Front was super loosely affiliated. I can't even tell you how many people were in it. When the FBI designated this group, The Family that ranged from 12 to 20 people. What the Earth Liberation Front was doing was going after industries like logging, oil, things like the Vail Ski Resort that were clear-cutting massive areas of endangered species habitat to build commercial operations.
Brooke: In 2006, indictments were issued for 11 members of the group that were still in the country. The ones tried at the time, faced long prison terms. The remaining two, Joseph Mahmoud Dibee and Josephine Sunshine Overaker, both fled. Dibee was captured in 2018. He's a major character in your podcast, and he said that they were made out to be a lot scarier than they were because they had an ethos of never harming a living creature.
Leah: So that is not quite squaring up in my mind with this idea of ideologically motivated violence. During the podcast, I asked the main FBI agent who is still looking for Overaker, so violence in your mind, in the eyes of the government is also burning down a building. He said, "Yes, absolutely. That arson is violence."
Brooke: Dibee was an active environmentalist and it was an episode of clear-cutting when he was a kid that actually drew him into this fight.
Leah: Yes, a story that was kind of common. Some people forget that in the West, nature is very close by and very important to a lot of people. He was someone who grew up in Seattle in a rather privileged family. He would go hiking on the weekends and he had this specific place that was a real refuge for him.
Dibee: By happenstance, I was plowing through this horrible clear-cut and somehow they'd forgotten a little piece of it to cut. It had some second growth in it, it had some old growth in it. It had a little creek that ran through it, and it was really beautiful. If you walk quietly, like deer would jump out from behind the trees. It was this sort of refuge I went to. After a while, I got there and I was looking forward to stomping around the meadow and somehow they remembered that they'd forgotten to cut it. I think that stirred me pretty deeply.
Brooke: Two of the things he did involved trying to put an end to misuse even the torture of animals.
Leah: Dibee specifically was very fired up over a horse meat processing plant that was in Eastern Oregon.
Brooke: They would take wild horses, pen them up, turn them into food, and send the meat abroad.
Leah: At the point when Dibee took his actions on that facility, horse meat processing was something that Americans had very much said, "We do not want to do this." This place was one of the very last places in America that was operating that way. When Joe Dibee did commit an act of arson, essentially destroying that business, he really was taking one of the last horse meat processing plants to the ground.
Brooke: It was a pretty torturous place from the descriptions that I've heard.
Leah: Absolutely. I mean, there were people who would talk about the noise that it made when those horses were killed. There were stories that I heard anecdotally that there would be blood outside of the facility in the streets. Even people that lived in that city did not like it.
Brooke: One of the questions that you and your producer Georgia Catt struggled to break down in Burn Wild was at what moment does disruptive activism cross into terrorism? You came to the conclusion that in fact, this is less a moral question than a political one.
Leah: The Earth Liberation Front always operated from this standpoint that they had to hit the bottom line of corporations and extractive industries in order to make change. The government is the one who decides who is a terrorist. One thing that was really revealing to us was when we came to understand this piece of legislation that was called the Animal Enterprise Terrorism Act, which was essentially purchased by powerful corporate lobbyists in the biomedical research industry. Those are the people who want to test on animals, and that act essentially expanded the definition of what a terrorist was.
Brooke: Let's talk about the charge of terrorism because just as law enforcement was beginning to investigate some of these arsons, 9/11 happened. You observed that as a result, the federal departments that handled terrorism were given a lot more money and support to go after anything that was considered to be a domestic threat. Is this part of what impelled the idea that these charges against the arsonists should be enhanced, so to speak, to terrorism?
Leah: Originally, some of the people that were being charged in connection with events that the Earth Liberation Fronts touched off, they weren't being called terrorists. But I think this moment around 9/11 is so interesting for our working definition of terrorism because initially, when those planes crashed into the Twin Towers, there was a senator from Alaska who said, "I can't say it's not environmental activists that did this." There was a real fear. This is often called the Green Scare, that these environmentalists were stalking the woods.
They were in the shadows ready to just go off on the system and entire society. These wheels that were already turning, that were in motion sped up when 9/11 happened. You're right, the government had a lot more money and a lot more leeway to start charging people as terrorists.
Brooke: Between 1995 and 2001, prosecutors say that the Earth Liberation Front and the Animal Liberation Front caused more than $45 million in fire damage to businesses and government buildings. None of them physically hurt anybody, but in some cases, it hurts small towns and local residents. Some of the people you spoke to believed that those acts should be classified as terrorism.
Resident: There was a huge backlash and discussed about really, why would you do this to people here who are just trying to make a living.
Leah: Do you think that the Earth Liberation Front were terrorists?
Resident: Yes, I do. They were burning down other people's property. I don't care if you--
Brooke: They said they didn't want to harm people, but they still did.
Leah: It was very interesting to talk to all of them and say, but you had to have known that you were harming someone, that there would be people, business owners, local people who would be scared. I think two a tea, each of them had some real conflicted feelings about that knowing that their actions ultimately didn't upend the system the way that they wanted to, but that they lived with this label that continues to affect the environmental movement today.
Brooke: Joe Dibee himself has said how sorry he is for the people who faced harm from the damage he caused, and in his statements during his sentencing hearing even started to cry.
Leah: In every interview I did with Joe, hours and hours and hours, almost days of interviews with him, he said, "I'm not sure that I would've done this again." He saw very personal impacts in his life. His friends held a funeral for him because they thought he was dead. His father had dementia, and so by the time he came back, he didn't know who he was. Also, I think that what surprised every single person in this movement that I spoke to was that people really did buy what the government said about them being terrorists.
They didn't see that really everything that the Earth Liberation Front was saying in groups like Earth First was saying, these are all things that are coming to pass now with climate change.
Brooke: In 2006, the Animal Enterprise Terrorism Act was passed in the US. It was applied to environmental activism too. How has the 2006 Act been applied since then?
Leah: It's been applied really broadly. It's been applied, obviously, to people who do animal release, so animal rights protestors, but it's also been implied to people like Valve Turners. This has been a big thing in the environmental movement in the last few years with the Dakota Access Pipeline and these big Canadian tar sands pipelines going through the country. In some cases, people who did pretty minor acts, you know, cutting a pipeline, they ended up being sentenced with this animal enterprise terrorism enhancement and going to prison for a very long time.
In one case with a guy named Ken Ward, who used to be the head of Greenpeace and is now an environmental activist living in Oregon, he was a part of a group called the Valve Turners, who essentially fanned out across the country and made a concerted effort to turn off Canadian tar sands pipelines at the same time. Completely non-violent act. They turned the wheel, stuck some flowers in it, and waited for the police to arrive. Ken Ward, what he did was really interesting. He invoked something called the Necessity Defense.
He said, "Look at my resume. Look at my work. I have tried every single legal path available to try to change things and it hasn't worked so I had to break the law." That actually worked. The judge in court said, "You're right."
Brooke: When Joseph Dibee was finally caught in 2018, he chose to plead guilty to the 1997 arson of Cavel West. That was the slaughterhouse in Central Oregon that butchered wild horses and sold them me to Europe. He also pleaded guilty to the 2001 arson of a Bureau of Land Management, Wild Horse Corral in Litchfield, California. The government asked for more than seven years of prison time, similar to the sentences given to other members of "The Family," but Dibee had already served a couple of years in custody, and he was ultimately sentenced just to time served. Judge Ann Aiken said this, which is read by an actor in your podcast.
Judge Ann Aiken: The work he's trying to do now to pay back to society, to work towards the common good has to be acknowledged. There can be no greater gift or rehabilitation than the giving of one's time and energy to the helping of others without expecting anything in return.
Brooke: She is referring to the environmental work that Joe did while he was on the run, working with the Syrian government on renewable energy and with indigenous groups in Alaska.
Leah: I think what makes Joe so interesting is that he never stopped working in the environmental movement. When he was on the run, when he was in Syria, when he was in Russia, he was always working in some capacity on these issues. When he came back and he was eventually released at home detention, and even there, he was monkeying around, trying to figure out how to use kelp to capture CO2. When she sentenced him, she really was saying this is somebody who so believes in what he's doing and the world has changed.
It shouldn't invite people in the environmental movement to mimic Joe Dibee's actions. It was a nod, I think to the fact that maybe this idea of these people as terrorists is not quite right.
Brooke: I was struck by the sobering conclusion in a New York Times magazine piece by Matthew Wolf. He noted that Dibee's two years in jail had overlapped with the summer of 2020 when "3,000 square miles of Oregon and Washington were burned by wildfires." The infernos consumed over 4,000 homes and other structures, including a cattle ranch, a gas station, a timber mill, precisely the environmental degradation that the Earth Liberation Front had targeted. Now though, there was no one to take credit, no one to hunt down, put behind bars. I mean I'm thinking similar things must have gone through your mind.
Leah: While Georgia and I were making this podcast, you know, I live in Oregon and she lives in London, and at one point, we were tracking the podcast and I said, "I have to stop because I might have to evacuate," because of wildfire that was coming close. I think that that's one thing that is often missed in this idea of the Earth Liberation Front, these shadowy balaclava-clad. People stalking the woods is that the issues that they were talking about are extremely mainstream now. Yes, I think that that New York Times magazine piece is right on the money.
It was very strange to be working on this show to be breathing in wildfire smoke and thinking, "Were they wrong in trying to get people's attention?" All of the people that we spoke to from the Earth Liberation Front started as somebody writing letters and waving signs in the street. Eventually, they just felt the issue was so pressing and dire that they had to do something extreme. That makes a lot more sense when you're breathing in wildfire smoke.
Brooke: What's Joe doing now?
Leah: Joe is still trying to do his work with indigenous people on the Alaska coastline. He is continuing to run into hurdles because of the Earth Liberation Front case and because of this brand of terrorists. I spoke to him a few months ago and he said he was still having trouble taking plane rides up to Alaska. He would get his bags overturned that were filled with the things that he's using to measure CO2 in kelp. I think that it continues to haunt him.
One thing that I did ask Joe is if he has any interest in telling his story, so it might inspire or caution other people, and he said, "Absolutely not. I want to live a quiet life and I want to do my work on the environment because this is what I care about."
Brooke: Thank you, Leah.
Leah: Thank you. I really appreciate you having me.
Brooke: Leah Sottile is the host of Burn Wild, which you can find on BBC Sounds. And that's the show. On the Media is produced by Micah Loewinger, Eloise Blondiau, Molly Schwartz, Rebecca Clark-Callender, Candice Wang, and Suzanne Gaber with help from Shaan Merchant. Our technical director, Jennifer Munson. Our engineers this week were Andrew Nerviano and Adrian Lilly. Katya Rogers is our executive producer. On the Media is a production of WNYC Studios. I'm Brooke Gladstone.
Copyright © 2023 New York Public Radio. All rights reserved. Visit our website terms of use at www.wnyc.org for further information.
New York Public Radio transcripts are created on a rush deadline, often by contractors. This text may not be in its final form and may be updated or revised in the future. Accuracy and availability may vary. The authoritative record of New York Public Radio's programming is the audio record.