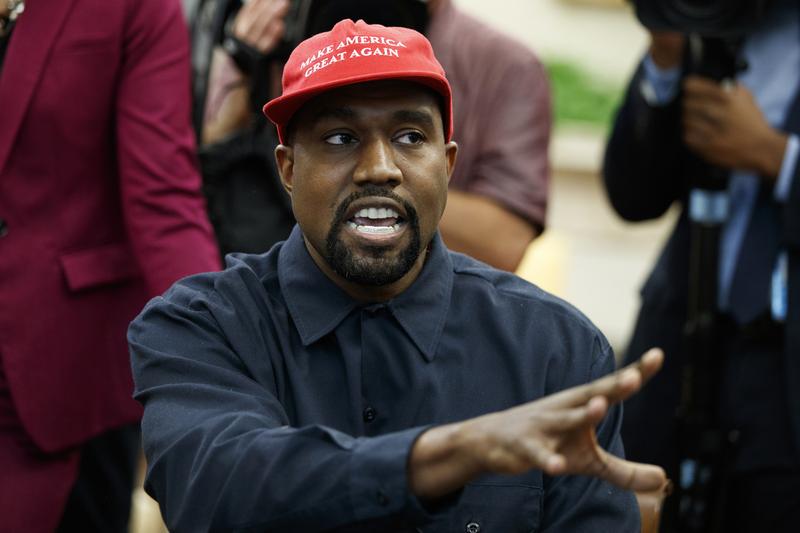 Transcript
BROOKE GLADSTONE A strange cast of characters is bringing a very old form of prejudice back to the media main stage.
LEO FERGUSON Nick Fuentes, Ye and Trump is like a perfect encapsulation of the messy, confusing landscape of anti-Semitism that we've been experiencing for the past few years.
BROOKE GLADSTONE From WNYC in New York, this is On the Media. I'm Brooke Gladstone. This week, a peek into how a special class of investigative journalists solved some of their trickiest cases from finding those behind a plane crash that killed 300 people in 2014.
ARIC TOLER MH17 is unique in the sense that there is a very, very long digital footprint.
BROOKE GLADSTONE To the identity of a Russian agent who charmed her way onto NATO's social scene.
CHRISTO GROZEV Whenever Maria walked into a room, men stood up and no woman would let Maria with their husbands or partner alone.
BROOKE GLADSTONE It's all coming up after this.
BROOKE GLADSTONE From WNYC in New York, this is On the Media. I'm Brooke Gladstone. There's a variety of maladies that everlastingly eat away at the American project: racism, sexism, xenophobia, homophobia, to name a few. They flare up on and off the front page — given the politics of the day. And this week's -ism or phobia is another hardy perennial.
NEWS CLIP Former President Donald Trump is defending himself against a Republican backlash over his recent dinner with two known anti-Semites. Trump hosted white nationalist and Holocaust-denier Nick Fuentes at Mar-a-Lago last week, along with the rapper Ye, formerly known as Kanye West.
BROOKE GLADSTONE Trump claimed not to know who Fuentes was, blaming Ye for the inclusion, but that actually was the work of Milo Yiannopoulos, or so he claims. Formerly of Breitbart, Yiannopoulos resigned under pressure after a video of him seeming to endorse pedophilia emerged. And now he serves apparently as Ye's unofficial campaign manager. He told NBC that the dinner time retinue he had assembled chided Trump for betraying his true loyalists, the January sixers, by putting no money toward their defense. That Trump was good enough to run for vice but was pasted as president. The top job apparently belongs to Ye. Milo says Ye is finally giving voice to what everybody already knows.
[CLIP]
MILO YIANNOPOULOS No one had the balls or power or the platform to say before. Someone who's prepared to lose everything.
UNKNOWN PERSON Yeah, that's huge. Yeah.
MILO YIANNOPOULOS Like it's never happened before.
[END CLIP]
BROOKE GLADSTONE Someone with the courage to blame everything he hates on the Jews. On Thursday, Ye sat down with Alex Jones in an hours-long conversation where he said things that even made the man who denied the reality of the Sandy Hook massacre uncomfortable.
[CLIP]
ALEX JONES That's right. You're not Hitler. You're not a Nazi. You don't deserve to be called out and demonized.
YE Well, I-I see-I see good things about Hitler also.
[END CLIP]
BROOKE GLADSTONE Then he said something kind of incoherent about loving everybody – maybe Jews, I couldn't tell. And then concluded...
[CLIP]
YE Every human being has something of value that they brought to the table, especially Hitler.
[END CLIP]
BROOKE GLADSTONE There's been a documented rise in anti-Semitism, violent and otherwise, but the recent slew of celebrities seemingly involved in its propagation, the normalization of it, the tepid responses of some politicians, not to mention the enthusiastic responses of other ones, seemed just more logs on the fire of American Fear and Loathing.
LEO FERGUSON Nick Fuentes,Ye, and Trump is almost like a perfect encapsulation of the messy, confusing landscape of anti-Semitism that we've been experiencing for the past few years.
BROOKE GLADSTONE Leo Ferguson is the director of Strategic Projects of the Jews for Racial and Economic Justice, and he says that to fully understand these stories, there's quite a bit of context we need to catch up on.
LEO FERGUSON So on the one hand, you have Kyrie who is clearly fueling anti-Semitism by sharing a video that has some really hateful ideas and myths and untruths about Jews. On the other hand, I don't think that this is someone who is animated by hatred of Jews or anti-Semitic ideology in a deep way. I mean, Kyrie Irving is a fantasist, a conspiracy theorist. He believes in the flat earth. He believes in all kinds of ridiculous things. And among these things are anti-Semitic conspiracy theories. Then you have someone like Ye who clearly feels this. This is someone who has some really deep animosity in his heart. That's a real bummer because he's a great musician. But there's something really dark and ugly there. And then you have someone like Nick Fuentes who has a premeditated political project wishing violence upon Jews and trying to create an America that is explicitly a white, Christian ethnostate.
BROOKE GLADSTONE So why do you think Kyrie and Ye are getting so much airtime?
LEO FERGUSON It's a story. These are both public figures with massive followings doing something controversial. It's the kind of coverage; it's the quality of the coverage. And it's the environment into which these stories flow.
BROOKE GLADSTONE Mm hmm.
LEO FERGUSON So as someone who is black and Jewish, who cares deeply about anti-Black racism, who cares deeply about anti-Semitism, it's very clear that within the Jewish community, there is a powerful preoccupation with anti-Semitic acts committed by people of color, especially Black people. And that's just about racism. That's just about white Jews in the United States having assimilated into the white supremacist culture that has existed in this country for hundreds of years. But there is no such thing as black anti-Semitism.
BROOKE GLADSTONE Mm hmm.
LEO FERGUSON There is just anti-Semitism. And if this feels like a moment that's new or shocking, it shouldn't. It's a sad moment. It's disturbing on a visceral level. But we have to understand that anti-Semitism has been a defining feature of Western culture for at least 2000 years.
BROOKE GLADSTONE When I think of important political leaders and leaders of movements, in America, you have to go way back to find people like, you know, Henry Ford or Father Coughlin, blatant anti-Semites holding the mic, so to speak. You don't have to go as far to find Malcolm X and Farrakhan. So would that contribute? And then there's the problematic conflation of Jews with Israel and Israeli policy, even though there's a big split in America, certainly between those two things. Doesn't that particularize a little bit, this tension between two groups?
LEO FERGUSON Yeah, great question. So crib notes for the particularity would be James Baldwin's writing about anti-Semitism and about the conflict between non-Jewish black people and white Jews. I think that's probably a great place to start, on the specifics of the American experience and the relationship between white Jews and African-Americans. The piece I'm referring to is "Negroes are Anti-Semitic because They're Anti-White."
BROOKE GLADSTONE I have it.
LEO FERGUSON Yeah.
BROOKE GLADSTONE He wrote in the New York Times in 1967.
LEO FERGUSON Yeah,.
BROOKE GLADSTONE Under the headline, "Negroes are Anti-Semitic Because They're Anti-White."
"The grocer was a Jew, and being in debt to him was very much like being in debt to the company's store. The butcher was a Jew. And yeah, we certainly paid more for bad cuts of meat than other New York citizens. And we often carried insults home along with our meat. We bought our clothes from a Jew, sometimes secondhand shoes. Pawnbroker was a Jew. Perhaps we hated him most of all. The merchants along 125th Street were Jewish. At least many of them were. I don't know if Grant's or Woolworth's are Jewish names. I remember that it was only after the Harlem riot of 1935 that Negroes were allowed to earn a little money in some of the stores where they spent so much." You know, he goes on to say, "the army may or may not have been controlled by Jews. I don't know and I don't care. I know that when I worked for the Army, I hated all of my bosses because of the way they treated me. I don't know if Nabisco's Jewish, but they didn't like clearing their basement. I don't know if Rikers is Jewish. I didn't like scrubbing their floors. The root of anti-Semitism among Negroes is, ironically, the relationship of colored people all over the globe to the Christian world. This is a fact that may be difficult not only for the ghettos, most blasted and embittered inhabitants, but also for many Jews to say nothing of many Christians. But it is a fact, and it will not be ameliorated. In fact, it can only be aggravated by the adoption on the part of colored people now of the most devastating of the Christian vices." And since I'm just reading this for the first time, is he talking about anti-Semitism?
LEO FERGUSON I think he's talking about white supremacy. I think what's so powerful about that piece, you know, I think every line in that is deeply considered. And he's doing a really interesting trick, which is that he is, I think, maybe to get under the skin of Jews, certainly to be thought-provoking. He is essentially describing Jewish assimilation into Christiandom, rather than Jewish assimilation into whiteness.
BROOKE GLADSTONE Mm hmm.
LEO FERGUSON Which is a really interesting choice. I don't know if it's because he was aware of Jewish people of color, the global Jewish diaspora, or if it's because he was thinking very specifically of, as he calls it, the vices of white Christianity in the United States, the enabling of anti-black racism, of enslavement, of Jim Crow, of lynching, of every terrible thing that's been done to black people on this land. So much of that has been enabled by Christianity and excused by Christianity. And when Jews emigrated to this country in large numbers for the first time at the turn of the 20th century, they began a process that I think we often think about in racial terms, in terms of assimilating into whiteness. What Baldwin is naming here is that it also looks like, in many ways, assimilation into a preexisting religious and cultural hierarchy, which Jews have benefited from enormously. Right. The white parts of my family are part of that story of upward mobility coming from deeply unsettled and unsafe homelands in the old country and coming here and eventually finding a kind of stability in the United States. But in part, that was by virtue of whiteness. And of, at a certain point because of McCarthyism, letting go of their political radicalism and not challenging the status quo.
BROOKE GLADSTONE It's long been obvious that wealth has been extracted from the black community by white people of all kinds and all stripes. I'm just wondering, since Jews are considered both a religious group or an ethnic one or both. When we talk about anti-Semitism right now, is that steeped in the religion or in race?
LEO FERGUSON I think that what we're seeing is much more about culture and a general sense of the other. The Jew is the other, the outsider, the interloper. This has a long history in the anti-Semitic ideology going back to both theories around immigration and cultural change, exactly the same kind of things that you hear Donald Trump saying about Mexican and other immigrant groups, the kinds of things that people have said about Jews for hundreds of years. Certainly in the 20th century, the idea of Jews as communists, as people who were going to come in and undermine society. But also the flipside of that, the idea of Jews as the masterminds controlling everything. Right? All of these ideas play on the idea of Jews as being not real Americans, not one of us, but actually beholden to their own self-interest and their own selfishness.
BROOKE GLADSTONE You said that the difference in this moment is that the thoughts and arguments of right-wing chat rooms have made it to the mainstream. There's always an argument centered around normalization. Whether or not seeing this ugly side reflected everywhere publicly is ultimately a good thing or a terrible thing. Will we grow from this or stumble?
LEO FERGUSON Well, it's always better to be out in the sunlight than in the darkness.
BROOKE GLADSTONE You're sure about that?
LEO FERGUSON I think so, at least. It's a question, right. I think that there's been a longstanding question about whether Trumpism is meeting a preexisting need for red meat and hatred within the electorate, or whether the appearance of Trumpism has, in fact, created something – stoked something that wasn't there before.
BROOKE GLADSTONE Could be both, you know? Meeting a need and fanning the flames.
LEO FERGUSON What? Complexity, nuance? Yeah, you're absolutely right. It certainly could be both. But I think in either case, it's better to be real with who we are as a country so that we can find real solutions. Yeah, I don't think that we've been well-served by ignoring the parts of our culture that we don't like — pretending that they're not there.
BROOKE GLADSTONE So what do you think about the coverage of all of this?
LEO FERGUSON Well, first, let me address one thing that you said earlier that I just didn't want to forget about.
BROOKE GLADSTONE Good.
LEO FERGUSON Which is you mentioned Henry Ford and Father Coughlin and then sort of analogize them to Malcolm X and Louis Farrakhan.
BROOKE GLADSTONE The analogies were only that people who had microphones, but I did use the word "leader."
LEO FERGUSON They are all leaders. The question is how big is their following? And I think it's important to say that Father Coughlin had a radio listenership in the millions, a massive figure of American mass media. Henry Ford, similarly, was one of the wealthiest people in the country and had his own newspaper. When we are talking about Louis Farrakhan, we're talking about the black Hebrew-Israelites who've been in the news recently. These are tiny, tiny movements with absolutely no real political power. They don't elect people to office. They don't have a following. They can't get the governor on the phone. They're just isn't a comparison. That's one piece. The way that that plays into the question of coverage is we have seen far too much focus on celebrities, especially black celebrities, saying or doing things that are anti-Semitic and on random, shocking acts of violence and focused far too little on the environment in which these things are happening. And the way that this comes up in political coverage is false equivalency, is what-about-ism — something that I know you guys talk about all the time. So people talk about left anti-Semitism and right anti-Semitism.
First of all, it's important to say that none of the people we've been talking about in the black community are on the left. There is often a conflation of blackness and leftness of blackness and radical politics. Louis Farrakhan is a homophobic, patriarchal, nationalist figure who would never be welcome in any of the progressive movements that I am a part of. The same thing is true of Black Hebrew Israelites. These are not figures of the left. And yet often people will use these folks as examples of left anti-Semitism. Is there anti-Semitism on the left? Of course there is. Just like there is sexism on the left and homophobia on the left. We live in a society in which they're in the water, they're in the air that we breathe. The question is, where is this a political project? The left is not organized around trying to hurt Jews. In fact, on the contrary, when we see anti-Semitism on the left, it's usually the place in which it's handled most deftly and immediately. We call people out. We call people in. We have conversations. If someone is problematic, they're usually not welcome in our spaces. And if someone has just made a mistake and gotten things wrong and needs some education, then we are more than thrilled to bring them into conversation. The right in the United States has built its coalition intentionally on the back of white Christian nationalist ideology. It is not an accident that the meteoric rise in anti-Semitism and anti-Asian hate violence and anti-immigrant sentiment in United States followed the election of Donald Trump. So you have, on the one hand, a group who has made this their political project and has done it not just in language, not just in dog whistles and winks and nods and tweets, but in policy. We had Stephen Miller crafting immigration policy explicitly designed to keep the brown people out and make it easier for white Europeans to immigrate, and talked about it openly. That is a political project of the white Christian nationalist movement. There is no equivalent of that on the left.
BROOKE GLADSTONE How do you think the press could help clarify this? In a way it is currently not.
LEO FERGUSON The first thing is look for false equivalency. Are people talking about anti-Semitism on the left, on the right, in the same way? If they are, something's wrong. Number two, is this actually a story about anti-Semitism or is it a story about ignorance? And is it a story about mental illness? Is it a story about power? You know, I work on hate violence prevention in New York City. I look at the statistics very closely, and I hear all the stories. And one of the things that you find when you dig a little deeper is that only a small portion of what is commonly reported on as anti-Semitism, is actually anti-Semitism. When a 13 year old draws a swastika on a playground, that's a kid who understands that some symbol has power because the grownups seem to get upset, and they're testing boundaries. But it will be written up as anti-Semitic violence. When a mentally ill person who is shouting about anti-Jewish conspiracy theories attacked someone that's tragic and it is caused by anti-Semitism. It's happening in part because those ideas are out there. But this is not someone who has a deep-seated ideology that they've carefully considered. This is a stew of confused ideas that have leaked out of right-wing chat rooms and into the public consciousness. So one of the things we have to do is get careful about that.
BROOKE GLADSTONE What you're saying, though, echoes a lot of the excuses that are made for the largely white, male shooters: they hit on hard times, they have histories of mental illness. But the context in which they themselves believe they're doing this is one of hatred. So who's the person we write off as mentally ill and who's the person we write off as a lethal bred-in-the-bone anti-Semite?
LEO FERGUSON Well, as a wise person said to me very recently, Can it be both?
BROOKE GLADSTONE Touché. But how is the press to address it then?
LEO FERGUSON We just need more nuance. And we need more stories about the systemic nature of all of this. I'm not bothered at all by coverage of someone who is legitimately mentally ill and also commits an act of racial or anti-Semitic violence. We are much better served by honest conversations that get at the fullness of this terrible disease than our culture. As Bryan Stevenson says, "Know when is the worst thing that they've ever done." And that kind of nuance has to get applied to these acts as well. It's not about excusing or even forgiving people who commit hateful acts. It's about understanding that, as long as those ideologies are out there in the foundations of our society, people are going to do things like this. It's never going to go away. We only get at this by building the society in which racial violence, anti-Semitic violence, gender-based violence don't have fertile soil to grow in.
BROOKE GLADSTONE Thank you very much, Leo.
LEO FERGUSON It's been an absolute pleasure to talk with you.
BROOKE GLADSTONE Leo Ferguson is the director of Strategic Projects at Jews for Racial and Economic Justice.
Coming up, the first verdict from a years long investigation into the downing of Flight MH17. This is On the Media.
BROOKE GLADSTONE This is On the Media, I'm Brooke Gladstone. On July 17th, 2014, Malaysia Airlines Flight 17, departing from Amsterdam for Kuala Lumpur, was shot out of the sky over Ukraine. The footage was horrifying.
NEWS CLIP The debris field in eastern Ukraine is being guarded by pro-Russian rebels, some of them allegedly drunk, who are restricting the activities of international investigators. The bodies of some of the 298 victims, 80 of them kids, seen here simply lined up on the side of the road.
NEWS CLIP How could this happen? Who was responsible? and why did they do it?
BROOKE GLADSTONE Eight years later, earlier this month, the District Court of the Hague handed down answers.
NEWS CLIP A court in the Netherlands has delivered its verdict. We can tell you now that two Russians and one Ukrainian have been found guilty of shooting a passenger plane.
NEWS CLIP Most of the victims were Dutch. The attack came just months after Russia had invaded Crimea. The missile was fired from Russian-held territory.
ARIC TOLER MH17 is unique in the sense that there's a very, very long digital footprint.
BROOKE GLADSTONE Aric Toler is the director of research and training at Bellingcat, an investigative news outlet that was founded just three days before MH17 was shot down.
ARIC TOLER And this huge digital footprint led to this ungodly amount of information linking exactly the chain of command.
BROOKE GLADSTONE Bellingcat specializes in that kind of investigation. The one where there is an ungodly amount of information online. They partnered with journalists and researchers around the world to find the route that the Buk surface-to-air missile traveled from Kursk, Russia to the crash site in eastern Ukraine and the people behind it. The MH17 case, launched Bellingcat. Since then, they've published one bombshell investigation after another, uncovering the people behind the poisoning of Sergei Skripal and his daughter in Salisbury, England, the Russian intelligence officers who poisoned opposition leader Alexei Navalny, and details about the 2018 chemical attack in Douma, Syria, soon after MH17 went down in 2014. Ukrainian intelligence posted intercepted calls between Russian military commanders on YouTube. These calls offered evidence for who was behind the attack. But the voices were hard to make out. The Dutch criminal proceedings put out a call for help identifying two of the speakers. They went by codenames "Delfin" and "Orion." Bellingcat found them.
ARIC TOLER The Delfin was a guy named Tkachev, and he honestly turns out to not be that important. The one who actually was important was Orion. He was called Andrei Ivanovich.
BROOKE GLADSTONE But that was a fake name, using a phone number provided by a Ukrainian intelligence. The Bellingcat team found a second number associated with him by using caller I.D. apps.
ARIC TOLER And the idea behind them is very simple. If someone calls you and you don't know who it is, it'll show you the name of the person calling you. Even if you don't have them in your contact book.
BROOKE GLADSTONE That's Aric Toler, Bellingcat's head of training and research.
ARIC TOLER The way they get this information is not through, you know, black magic or like talking to the phone companies. They get them from other users who install this app. Most of these apps are searchable. So if I type in a phone number, I can see the name of the person according to other people and other contact books. And when we did this, we searched it and we found that this phone number which Orion was using was listed as Ivannikov on one of these apps, which is the real last name of Orion. But there's one place where he actually had his photo and his real first name, which is Oleg because it turns out his kid — I think he goes to school in Switzerland. So he talks to his kid on Skype and he uses this phone number. And so when we look up his phone number in Skype, we see Oleg with his real face right in front of us, like, "oh, my God. Here he is. Here's the big spy. Here's Orion." And so from all these, we can figure out the exact chain of command who was talking about whom, who was in charge of whom, both on the Russia side of the border and on the Ukraine side.
BROOKE GLADSTONE One of the groups close collaborators, the person who phoned Orion to identify his voice, is the Roman Dobrokhotov. He's the founder and editor in chief of The Insider, a Russian investigative online news outlet and one of the people who figured out who was behind the downing of MH 17, I asked him for his hot take on the decision from the District Court of The Hague.
ROMAN DOBROKHOTOV So many people underestimated this decision because they felt that this is the low level people. Yes, they were on the ground. Yes, they are guilty, among others. But this is only the first stage. So I'm pretty sure that many of people who we were investigating, General Tkachev of General Ivannikov from GRU or General Burlaka from FSB, Vladislav Surkov, Putin's helper, all of them will be in this trial later, so we just need to wait a bit.
BROOKE GLADSTONE Just to deal a little bit with the alphabet soup. The GRU is Russia's military intelligence agency, while the FSB is Russia's main intelligence agency, it'she successor to the KGB. And the SBU is Ukrainian intelligence.
ROMAN DOBROKHOTOV Absolutely.
BROOKE GLADSTONE Take us back to the days after the plane was shot down. What compelled you and The Insider to join up with Bellingcat to figure out who was responsible for shooting down the plane?
ROMAN DOBROKHOTOV We already had some experience working on Russian intelligence and Russian military involved in Europe. So when this trial was started on MH17 and they required evidence on who gave direct orders to so-called separatists and who brought the book in Ukraine, we were optimistic because we knew of some new instruments, digital instruments, that can help to find anyone in this world.
BROOKE GLADSTONE Can you tell me a little bit about the leaked data sets in your investigations, the cell phone metadata? You found that a lot of this metadata is sold on the black market by the police and the FSB, and that they have a lot of clients. They could be real estate agents or criminals or policemen who don't want to bother to get a court order and would rather spend ten bucks to do this. You said that if you have 100 bucks, Russia is the most transparent country in the world.
ROMAN DOBROKHOTOV Yes. The first time I said this, it was, I think three years ago. And we were expecting that at some point Putin will do something to close this black market, especially after our investigation on Navalny poisoning. But you can't fight against corruption if you are a corrupted leader yourself. If Putin wants to get rid of corruption in Russia, he had to go out of power. That would be the simplest solution. So for Russian investigative journalists, as long as Putin is in power, our investigation will prosper.
BROOKE GLADSTONE How is the reporting on Russian intelligence informed your reporting on the war in Ukraine? We know there's a relationship between the GRU and the Wagner group that's been called the "de facto private army" for Vladimir Putin. It operates outside of the law.
ROMAN DOBROKHOTOV Well, it's ironic that when we published our first investigations about GRU involvement, about FSB involvement, about Wagner's group and Prigozhin involvement, and it was important that we approve this. And Prigozhin, who even went to court against The Insider and Bellingcat.
BROOKE GLADSTONE Evgeny Prigozhin is an oligarch and a close friend of Putin's who controls the Wagner group. So he went out to get you and to disprove the charge that he was connected with Wagner. And what happened?
ROMAN DOBROKHOTOV In the end of summer, he opened and said that he is actually a founder of Wagner's group, and even he built a business center that's called Wagner Group. And he made a big PR out of this. And I think that actually this criminal investigation against me is still underway and that I'm pretty sure that I will be found guilty in Russian court because it is Russian court. But this is funny that at the same time, Prigozhin has already no motivation to hide all of this because it became common knowledge of our investigation. This year after the war started, they are not hiding anything like this anymore. They're not hiding that Russian troops are in Ukraine, that Russia hacked American emails and interfered in elections.
BROOKE GLADSTONE All the bridges have been burned. And you said it looks like nothing can shock the Russian national public anymore. The norms have shifted so much, and I know that we've had a similar experience with what used to be the norms of public behavior over here.
ROMAN DOBROKHOTOV Yeah, but I don't think that this is the end of journalism because first of all, this result that everybody knows, it is known because of us. Because I remember times when even my colleagues from independent Russian journalists didn't believe me when I said it were GRU who hacked Hillary Clinton and Emmanuel Macron and Bundestag. They said like, 'that cannot be so. We can't believe that people are sitting in the center of Moscow just openly making these hacking attacks.' All these revelations were sometimes very counterintuitive and very important for people, and they are now common knowledge. But we have lots of other important investigations.
BROOKE GLADSTONE Do you ever despair of bringing people to justice because people are no longer shockable? Or does the verdict in the case in The Hague about the downing of the Malaysia airplane tell you that justice is possible? You say they got the low-hanging perpetrators first, but you don't believe they'll stop there, that they'll continue up the chain.
ROMAN DOBROKHOTOV Yeah, I think both things are important. First, we, of course, need some court decisions. For example, in case of Berlin murder, when FSB agent killed Khangoshvili or a Chechen immigrant to Germany. When we found the real name of the murderer I witnessed in court officially and helped to imprison him for life there. So it was like instant karma. But sometimes we need to understand that we have to wait for the results if we want to change something in Russia for good. We need to explain what's going on in the country, even if there is no immediate revolution. Still, it is very important for them to understand that the country is run by criminals, that they shouldn't trust the governmental propaganda. So this result is also very important for me.
BROOKE GLADSTONE Thank you so much.
ROMAN DOBROKHOTOV Thank you.
BROOKE GLADSTONE Roman Dobrokhotov is founder and editor in chief of The Insider. Coming up, how step by step, Bellingcat unearthed a sleeper spy. This is On the Media.
BROOKE GLADSTONE This is On the Media, I'm Brooke Gladstone. Christo Grozev is lead Russian investigator with Bellingcat. His probe into the identities of suspects of the 2018 poisoning in the U.K. of several people, most notably a Russian double-agent for British intelligence. Sergei Skripal won the European Press Prize for investigative reporting. Last November, he exposed a sleeper spy who for years had cozied up to unwitting officials in NATO. Earlier this year on Bellingcat's website, Bellingcat disclosed exactly how they did it. Welcome to the show, Christo.
CHRISTO GROZEV Thanks for having me.
BROOKE GLADSTONE So last November, you were combing a list of passport numbers suspected to have been used by Russian spies. Well, first of all, why were you doing that?
CHRISTO GROZEV That's what I do on my spare time. And I'm not kidding. When I'm on an airplane, when I have a little time between assignments, I like to go over old data sets that we haven't parsed through completely and look for new things. So I had access to this Belarusian border crossing database. We had kind of gone through that a few times. But one thing I decided to do is look for new passports from the known wreckage that we had discovered earlier to belong to Russian military intelligence.
BROOKE GLADSTONE A known range of passport numbers.
CHRISTO GROZEV That is correct. We have found out in 2018 that what the Russian GRU, the military intelligence did is for laziness or for whatever reason, they issue passports under fake identities in sequential numbers. So you would have one spy traveling with a passport number like 6435793, and the other one accompanying him would have only the last digit differ. So this obviously gave us a way to discover new spies because all we needed to do is just look for neighboring numbers in all kinds of different data sets.
BROOKE GLADSTONE And in a list of male Russian names, you stumbled across one "Maria Adela Kuhfeldt Rivera."
CHRISTO GROZEV That stood out completely from everything else. So I started Googling her name and I found a 2006 entry in a congressional report in Peru, of all places, where this name had been mentioned, along with two other names, as applicants for Peruvian citizenship based on fake identities. Obviously that night I didn't sleep because I had to find everything I could until the morning.
BROOKE GLADSTONE And what else did you learn right away?
CHRISTO GROZEV She already had a Russian passport. This was particularly important because it provided a possible explanation as to the identity of an illegal. An illegal spy, somebody who is sent by a government to live under a cover identity for ten, 20 years. The term illegal comes from the fact that there's no diplomatic protection for such a person. If they're caught, they get jailed like the Americans from the TV show.
BROOKE GLADSTONE Sleeper Agents. How often do these people come up?
CHRISTO GROZEV Extremely rare. It can equate this to a scientist discovering a new species or something, or an astronomer finding a new star because it's so rare. Definitely in the last 25 years, there have been only ten such illegal spies outed by the United States. And since 2010, there have been only one case of discovery. It was a young male with a Brazilian passport and cover identity who had almost gotten the job at the International Criminal Court in The Hague, where he was going to work as an analyst analyzing Russian war crimes in the war in Ukraine. And this turned out to be a Russian illegal.
BROOKE GLADSTONE Wow. And so with regard to Maria Adela, you looked at her travel records and she had 13 really long train trips. And that struck you as odd.
CHRISTO GROZEV It was grueling, long trips. So we had to come up with some hypothesis. Was it because she was carrying something more easily transported by train, or was it because she had a fear of flying? Anyway, there are more strange things that we discovered, for example, that this woman had registered a trademark, which was a jewelry brand called Serene in France in 2012. And then she had moved this trademark registration to Italy. And then we were able to find through the name of the brand a Facebook account, and we could see where she had been and the circle of people that she was interacting with. And those were mostly Americans, mostly from the NATO base in Naples in Italy, called the Joint Command Center for the Allied Forces. It's kind of the naval center of all NATO forces. This woman who, by this point, we believe pretty strongly was a Russian spy had managed to befriend hundreds of Americans and Germans and Italians who were working at NATO.
BROOKE GLADSTONE And how did she do this?
CHRISTO GROZEV Well, we were looking for Patient Zero who connected her to NATO, and we found that she had relaunched a dormant chapter of a charity organization called Lions Club. This particular local branch of the Lions Club had been launched by a NATO general from Germany in 2003, but when he retired, it was dormant. Our Maria Adela in 2013 shows up in Naples and relaunches it, as we can see from a little story that praises her on the website of this club.
BROOKE GLADSTONE You found that the chairman of the club was a data protection officer for NATO.
CHRISTO GROZEV Exactly. The photographer of the club was the photographer of the NATO base and the photographer for her jewelry brochures.
[BOTH LAUGH]
BROOKE GLADSTONE But you never had any suspicions about him?
CHRISTO GROZEV Definitely not suspicions that any of these people knowingly were collaborating. But that's even worse. They were passively being apparently exploited. And that was clear. One of her acquaintances, he even had a romantic fling with her. And he was a NATO officer. She had either raven black long hair or short blond hair, and she would change every year or a couple of years. She had a very cute black cat, which, by the description of many people who thought were her friend, was the only stable thing in her life. And actually, that was quite important for our investigation, because you want to find something stable because that would travel with the person into their real identity.
BROOKE GLADSTONE She spent over a decade undetected in Europe, primarily in Italy. She had a Russian accent, which one of her cover stories explained. I'm just wondering whether you were able to piece together how she wound up, where she wound up.
CHRISTO GROZEV It was a big mystery. If she had not been outed by the Peruvian government and she had acquired that passport, she would have traveled around the world, never admitting any connection to Russia. She would have pretended she came from Peru. She would have learned a backstory very well about where she grew up and what her mother was like, and so on and so forth. She didn't get that passport, but by that time, apparently, she had traveled under that Peruvian identity. So it was too late for them to change the name so they had to come up with the second best. And that was a Russian passport issued in the same name. But then they had to come up with a really crazy backstory. This crazy back story was that she was the daughter of a Peruvian mother and a German father born in Lima, Peru but was brought by her mother to Soviet Russia to see the Olympics when she was aged two and her mother had to leave urgently back to Peru and she left her with a local Soviet family, and that Soviet family became her adoptive parents. She didn't have a great relationship with them, which explained why she wanted out of Russia. And considering how stereotypical this is that young Russian attractive women want to get out of Russia and marry a foreigner, preferably a wealthy one. This didn't really raise a lot of concerns.
BROOKE GLADSTONE And who do you think was making up the backstory, the GRU?
CHRISTO GROZEV Absolutely. What was wrong there, however, in the backstory and this is the reason why she was caught by the Peruvian Migration Office, was that apparently the birth certificate that was issued to her in 1978 was issued by a church which actually was built only nine years later. And the new cover story, which is this complicated one with the Moscow Olympics, it would have been created on the fly to retrofit the facts and it would have been done by the jury in Moscow.
BROOKE GLADSTONE You mentioned why she seemed to be an unlikely spy. A lot of people who thought they were her friends viewed her as very chaotic and emotional. She had love affairs and even seemed to take some of them seriously.
CHRISTO GROZEV Yeah, we thought a lot about what the reason for this might have been. Some colleagues thought, well, maybe it looks attractive to people for somebody to appear weak. Maybe that was all staged. Or it could be that she was not a great spy and she was just the daughter of somebody important that arranged for her that sweet job. Who she really was was the biggest mystery. I mean, we had figured out what she did, the access she got to NATO. But for me, really, the longest time of this investigation was the search for the real Maria Adela.
BROOKE GLADSTONE And you found her?
CHRISTO GROZEV At the last minute. It took almost 11 months of hunting for the real Adela. She was back in Moscow at the time we were looking for her because she was recalled at some point in late 2018. So we knew that we would have to look for somebody who was in Russia relatively recently from the end of 2018, and most likely somebody would have a cat. Because everybody told us how much Maria Adela loved Luisa. Now we had a lot of photographs of Luisa the cat ranging from the time she was a kitten of a couple of days old, all the way until she was two and a half – three years old.
BROOKE GLADSTONE You had a dossier on Maria Adela's cat.
CHRISTO GROZEV We literally have a file called "The Cat Dossier." We did a face recognition of a cat trying to match this cat for another cat doing face comparison of cats. We even got the microchip number of the Italian cat, and we were trying to find that chip number in hundreds of leaked pet databases in Russia, but she wasn't there. So then we did face-search for the woman known as Adela in the Russian passport database because almost 100 near matches. But we didn't come up with anything very, very strikingly similar. One of them, however, appeared a possible match from the time that she was 15. So we thought, why would this person not have a fresh photograph in her passport file? So that was the first clue. But we had a name. So we looked in all kinds of leaked Russian databases to find that this person with the name Olga Kolobova had had a pretty lively presence in Russia until the year 2007. And then suddenly there was an abrupt stop of any digital presence. And she reappears again – guess, when – in November 2018, again with a very, very lively digital presence. The first thing she does is she buys an Audi. Now, Maria Adela, the spy, drove an Audi. The second thing she does is she signs up at the vet clinic as a regular client. We know she has a cat. Then she registers an account on the Russian equivalent of Facebook. So she befriends her old school friends from a small village, by the way, and she never posts a selfie or a photograph of herself, which was interesting in itself. Other similarities began piling up. For example, both Adela and this person were posting many, many photographs of bouquets of roses. And in one of these photographs, you could see the hand of Olga Kolobova. Believe it or not, we have access to a hand recognition expert.
BROOKE GLADSTONE What?
CHRISTO GROZEV Yes, it exists. Hands are completely unique, and you can use them almost as fingerprints to identify a person.
BROOKE GLADSTONE Amazing.
CHRISTO GROZEV The vein distribution on the hand is completely unique from one person to another because it is randomly created at the time of gestation in the body. So we compared this hand to many of the hand pictures of Maria Adela, and we found a match. And then we were able to get from a whistleblower with access to driver's licenses in Russia, a photo of the driving license of Olga. And it was the same woman.
BROOKE GLADSTONE Just amazing. In the course of your reporting, you weren't able to uncover exactly the kind of intelligence she gathered in her decade chatting up NATO personnel. What did you learn about the impact of her work?
CHRISTO GROZEV Even if we take the most conservative estimate, which is that she did not acquire files and data from these quite informed friends, she became close to including the data officer and the health officer and the legal counsel. Even in that very innocent hypothesis, she would have been able to describe and create profiles psychological, financial, medical, even, of tens, if not hundreds of NATO personnel and NATO officers. This is extremely valuable information because this could allow them to target their offers of blackmail or financial incentives for recruitment. Some of Adela's circle of acquaintances went on to go back to the States and get other jobs at a higher level. One of her perceived friends went on to become a candidate for Congress, and all of those people would have been very, very attractive targets for the GRU. That's why it was important to alert them of our findings as soon as we could. And none of the other sleeper agents that we have looked at that are known would have have ever achieved anything so valuable in terms of proximity to just the right people. But we have to ask ourselves — was that all? I don't think that was all because, again, sharing a photographer with NATO would incidentally, accidentally or otherwise allow you access to some photographs, having the ability to visit homes of senior NATO officers for dinner. It definitely exposes their system to being bugged. I mean, think about it. She was gifting jewelry to her naval friends and officers wives. Imagine the possibilities. For example, is there a bug in this jewelry? It's not unheard of. It did happen before. So we're not aware what the impact is. We know that the risk of the impact is huge.
BROOKE GLADSTONE I'm wondering about the tools you used. Widely available facial recognition software, some of it? Open source investigation?
CHRISTO GROZEV Well, first of all, the knowledge that you can use open source tools to discover dark government crime and espionage. That alone has changed the game. Changed the game for the better, because we have disabled whole bunches of clandestine operations. We have made it impossible for 30 or 40 Russian spies who previously went around the world blowing things up and assassinating people and poisoning people with Novichok. They can no longer travel and recruiting and training new people who are not going to be certain that they will not be found out, is much harder, is going to take time and money. But we being transparent about how we do it is also the game. It's made the Russians in this particular case more careful. They don't anymore use sequential passports. So this is almost like a multilevel computer game. We win one level and then the system, in this case, the Kremlin, fixes something and then the next level is much harder to win. But it's a bigger challenge. And at the end – works.
BROOKE GLADSTONE Bellingcat is the coolest thing in the world today.
CHRISTO GROZEV Okay, I'll take this quote, and we'll use it in a commercial.
BROOKE GLADSTONE Christo Grozev is lead Russia investigator with the investigative journalism group called Bellingcat. He spoke to us from Vienna. Thank you so much.
CHRISTO GROZEV Thank you.
BROOKE GLADSTONE And that's the show! On the Media is produced by Micah Loewinger, Eloise Blondiau, Molly Schwartz, Rebecca Clark-Callender, Candice Wang and Suzanne Gaber with help from Temi George. Our technical director is Jennifer Munson. Our engineers this week were Andrew Nerviano and Mike Kuchman. Katya Rodgers is our executive producer. On the Media is a production of WNYC Studios.
But wait, there's more. If you want to hear an extended version of my conversation with Chriso Grozev, check out our mid-week podcast of September 14th called "How a Russian Sleeper Agent Charmed Her Way onto NATO's Social Scene" and while you're there, you can now find the second and third episodes in our own five part investigation called The Divided Dial into how a lesser known entity in talk radio stealthily and massively amplifies the message of the extreme right. It's a paradox. I'm Brooke Gladstone.
Copyright © 2022 New York Public Radio. All rights reserved. Visit our website terms of use at www.wnyc.org for further information.
New York Public Radio transcripts are created on a rush deadline, often by contractors. This text may not be in its final form and may be updated or revised in the future. Accuracy and availability may vary. The authoritative record of New York Public Radio's programming is the audio record.