Donald Trump, Ye, and The New Old Anti-Semitism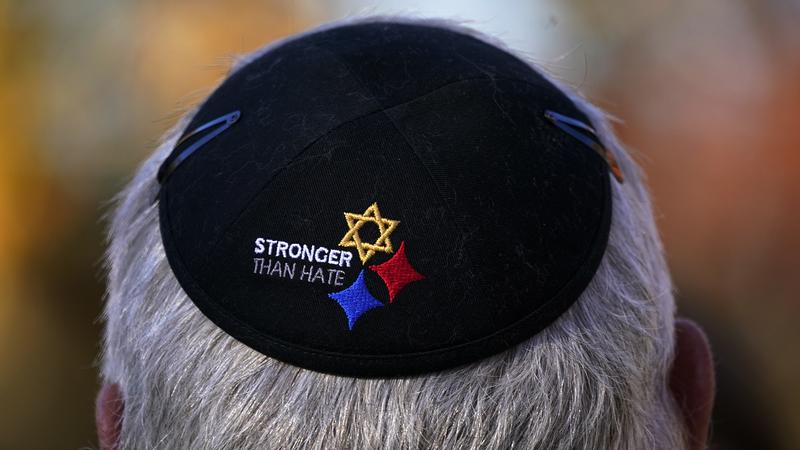 Transcript
BROOKE GLADSTONE From WNYC in New York, this is On the Media. I'm Brooke Gladstone. There's a variety of maladies that everlastingly eat away at the American project: racism, sexism, xenophobia, homophobia, to name a few. They flare up on and off the front page — given the politics of the day. And this week's -ism or phobia is another hardy perennial.
NEWS CLIP Former President Donald Trump is defending himself against a Republican backlash over his recent dinner with two known anti-Semites. Trump hosted white nationalist and Holocaust-denier Nick Fuentes at Mar-a-Lago last week, along with the rapper Ye, formerly known as Kanye West.
BROOKE GLADSTONE Trump claimed not to know who Fuentes was, blaming Ye for the inclusion, but that actually was the work of Milo Yiannopoulos, or so he claims. Formerly of Breitbart, Yiannopoulos resigned under pressure after a video of him seeming to endorse pedophilia emerged. And now he serves apparently as Ye's unofficial campaign manager. He told NBC that the dinner time retinue he had assembled chided Trump for betraying his true loyalists, the January sixers, by putting no money toward their defense. That Trump was good enough to run for vice but was pasted as president. The top job apparently belongs to Ye. Milo says Ye is finally giving voice to what everybody already knows.
[CLIP]
MILO YIANNOPOULOS No one had the balls or power or the platform to say before. Someone who's prepared to lose everything.
UNKNOWN PERSON Yeah, that's huge. Yeah.
MILO YIANNOPOULOS Like it's never happened before.
[END CLIP]
BROOKE GLADSTONE Someone with the courage to blame everything he hates on the Jews. On Thursday, Ye sat down with Alex Jones in an hours-long conversation where he said things that even made the man who denied the reality of the Sandy Hook massacre uncomfortable.
[CLIP]
ALEX JONES That's right. You're not Hitler. You're not a Nazi. You don't deserve to be called out and demonized.
YE Well, I-I see-I see good things about Hitler also.
[END CLIP]
BROOKE GLADSTONE Then he said something kind of incoherent about loving everybody – maybe Jews, I couldn't tell. And then concluded...
[CLIP]
YE Every human being has something of value that they brought to the table, especially Hitler.
[END CLIP]
BROOKE GLADSTONE There's been a documented rise in anti-Semitism, violent and otherwise, but the recent slew of celebrities seemingly involved in its propagation, the normalization of it, the tepid responses of some politicians, not to mention the enthusiastic responses of other ones, seemed just more logs on the fire of American Fear and Loathing.
LEO FERGUSON Nick Fuentes,Ye, and Trump is almost like a perfect encapsulation of the messy, confusing landscape of anti-Semitism that we've been experiencing for the past few years.
BROOKE GLADSTONE Leo Ferguson is the director of Strategic Projects of the Jews for Racial and Economic Justice, and he says that to fully understand these stories, there's quite a bit of context we need to catch up on.
LEO FERGUSON So on the one hand, you have Kyrie who is clearly fueling anti-Semitism by sharing a video that has some really hateful ideas and myths and untruths about Jews. On the other hand, I don't think that this is someone who is animated by hatred of Jews or anti-Semitic ideology in a deep way. I mean, Kyrie Irving is a fantasist, a conspiracy theorist. He believes in the flat earth. He believes in all kinds of ridiculous things. And among these things are anti-Semitic conspiracy theories. Then you have someone like Ye who clearly feels this. This is someone who has some really deep animosity in his heart. That's a real bummer because he's a great musician. But there's something really dark and ugly there. And then you have someone like Nick Fuentes who has a premeditated political project wishing violence upon Jews and trying to create an America that is explicitly a white, Christian ethnostate.
BROOKE GLADSTONE So why do you think Kyrie and Ye are getting so much airtime?
LEO FERGUSON It's a story. These are both public figures with massive followings doing something controversial. It's the kind of coverage; it's the quality of the coverage. And it's the environment into which these stories flow.
BROOKE GLADSTONE Mm hmm.
LEO FERGUSON So as someone who is black and Jewish, who cares deeply about anti-Black racism, who cares deeply about anti-Semitism, it's very clear that within the Jewish community, there is a powerful preoccupation with anti-Semitic acts committed by people of color, especially Black people. And that's just about racism. That's just about white Jews in the United States having assimilated into the white supremacist culture that has existed in this country for hundreds of years. But there is no such thing as black anti-Semitism.
BROOKE GLADSTONE Mm hmm.
LEO FERGUSON There is just anti-Semitism. And if this feels like a moment that's new or shocking, it shouldn't. It's a sad moment. It's disturbing on a visceral level. But we have to understand that anti-Semitism has been a defining feature of Western culture for at least 2000 years.
BROOKE GLADSTONE When I think of important political leaders and leaders of movements, in America, you have to go way back to find people like, you know, Henry Ford or Father Coughlin, blatant anti-Semites holding the mic, so to speak. You don't have to go as far to find Malcolm X and Farrakhan. So would that contribute? And then there's the problematic conflation of Jews with Israel and Israeli policy, even though there's a big split in America, certainly between those two things. Doesn't that particularize a little bit, this tension between two groups?
LEO FERGUSON Yeah, great question. So crib notes for the particularity would be James Baldwin's writing about anti-Semitism and about the conflict between non-Jewish black people and white Jews. I think that's probably a great place to start, on the specifics of the American experience and the relationship between white Jews and African-Americans. The piece I'm referring to is "Negroes are Anti-Semitic because They're Anti-White."
BROOKE GLADSTONE I have it.
LEO FERGUSON Yeah.
BROOKE GLADSTONE He wrote in the New York Times in 1967.
LEO FERGUSON Yeah,.
BROOKE GLADSTONE Under the headline, "Negroes are Anti-Semitic Because They're Anti-White."
"The grocer was a Jew, and being in debt to him was very much like being in debt to the company's store. The butcher was a Jew. And yeah, we certainly paid more for bad cuts of meat than other New York citizens. And we often carried insults home along with our meat. We bought our clothes from a Jew, sometimes secondhand shoes. Pawnbroker was a Jew. Perhaps we hated him most of all. The merchants along 125th Street were Jewish. At least many of them were. I don't know if Grant's or Woolworth's are Jewish names. I remember that it was only after the Harlem riot of 1935 that Negroes were allowed to earn a little money in some of the stores where they spent so much." You know, he goes on to say, "the army may or may not have been controlled by Jews. I don't know and I don't care. I know that when I worked for the Army, I hated all of my bosses because of the way they treated me. I don't know if Nabisco's Jewish, but they didn't like clearing their basement. I don't know if Rikers is Jewish. I didn't like scrubbing their floors. The root of anti-Semitism among Negroes is, ironically, the relationship of colored people all over the globe to the Christian world. This is a fact that may be difficult not only for the ghettos, most blasted and embittered inhabitants, but also for many Jews to say nothing of many Christians. But it is a fact, and it will not be ameliorated. In fact, it can only be aggravated by the adoption on the part of colored people now of the most devastating of the Christian vices." And since I'm just reading this for the first time, is he talking about anti-Semitism?
LEO FERGUSON I think he's talking about white supremacy. I think what's so powerful about that piece, you know, I think every line in that is deeply considered. And he's doing a really interesting trick, which is that he is, I think, maybe to get under the skin of Jews, certainly to be thought-provoking. He is essentially describing Jewish assimilation into Christiandom, rather than Jewish assimilation into whiteness.
BROOKE GLADSTONE Mm hmm.
LEO FERGUSON Which is a really interesting choice. I don't know if it's because he was aware of Jewish people of color, the global Jewish diaspora, or if it's because he was thinking very specifically of, as he calls it, the vices of white Christianity in the United States, the enabling of anti-black racism, of enslavement, of Jim Crow, of lynching, of every terrible thing that's been done to black people on this land. So much of that has been enabled by Christianity and excused by Christianity. And when Jews emigrated to this country in large numbers for the first time at the turn of the 20th century, they began a process that I think we often think about in racial terms, in terms of assimilating into whiteness. What Baldwin is naming here is that it also looks like, in many ways, assimilation into a preexisting religious and cultural hierarchy, which Jews have benefited from enormously. Right. The white parts of my family are part of that story of upward mobility coming from deeply unsettled and unsafe homelands in the old country and coming here and eventually finding a kind of stability in the United States. But in part, that was by virtue of whiteness. And of, at a certain point because of McCarthyism, letting go of their political radicalism and not challenging the status quo.
BROOKE GLADSTONE It's long been obvious that wealth has been extracted from the black community by white people of all kinds and all stripes. I'm just wondering, since Jews are considered both a religious group or an ethnic one or both. When we talk about anti-Semitism right now, is that steeped in the religion or in race?
LEO FERGUSON I think that what we're seeing is much more about culture and a general sense of the other. The Jew is the other, the outsider, the interloper. This has a long history in the anti-Semitic ideology going back to both theories around immigration and cultural change, exactly the same kind of things that you hear Donald Trump saying about Mexican and other immigrant groups, the kinds of things that people have said about Jews for hundreds of years. Certainly in the 20th century, the idea of Jews as communists, as people who were going to come in and undermine society. But also the flipside of that, the idea of Jews as the masterminds controlling everything. Right? All of these ideas play on the idea of Jews as being not real Americans, not one of us, but actually beholden to their own self-interest and their own selfishness.
BROOKE GLADSTONE You said that the difference in this moment is that the thoughts and arguments of right-wing chat rooms have made it to the mainstream. There's always an argument centered around normalization. Whether or not seeing this ugly side reflected everywhere publicly is ultimately a good thing or a terrible thing. Will we grow from this or stumble?
LEO FERGUSON Well, it's always better to be out in the sunlight than in the darkness.
BROOKE GLADSTONE You're sure about that?
LEO FERGUSON I think so, at least. It's a question, right. I think that there's been a longstanding question about whether Trumpism is meeting a preexisting need for red meat and hatred within the electorate, or whether the appearance of Trumpism has, in fact, created something – stoked something that wasn't there before.
BROOKE GLADSTONE Could be both, you know? Meeting a need and fanning the flames.
LEO FERGUSON What? Complexity, nuance? Yeah, you're absolutely right. It certainly could be both. But I think in either case, it's better to be real with who we are as a country so that we can find real solutions. Yeah, I don't think that we've been well-served by ignoring the parts of our culture that we don't like — pretending that they're not there.
BROOKE GLADSTONE So what do you think about the coverage of all of this?
LEO FERGUSON Well, first, let me address one thing that you said earlier that I just didn't want to forget about.
BROOKE GLADSTONE Good.
LEO FERGUSON Which is you mentioned Henry Ford and Father Coughlin and then sort of analogize them to Malcolm X and Louis Farrakhan.
BROOKE GLADSTONE The analogies were only that people who had microphones, but I did use the word "leader."
LEO FERGUSON They are all leaders. The question is how big is their following? And I think it's important to say that Father Coughlin had a radio listenership in the millions, a massive figure of American mass media. Henry Ford, similarly, was one of the wealthiest people in the country and had his own newspaper. When we are talking about Louis Farrakhan, we're talking about the black Hebrew-Israelites who've been in the news recently. These are tiny, tiny movements with absolutely no real political power. They don't elect people to office. They don't have a following. They can't get the governor on the phone. They're just isn't a comparison. That's one piece. The way that that plays into the question of coverage is we have seen far too much focus on celebrities, especially black celebrities, saying or doing things that are anti-Semitic and on random, shocking acts of violence and focused far too little on the environment in which these things are happening. And the way that this comes up in political coverage is false equivalency, is what-about-ism — something that I know you guys talk about all the time. So people talk about left anti-Semitism and right anti-Semitism.
First of all, it's important to say that none of the people we've been talking about in the black community are on the left. There is often a conflation of blackness and leftness of blackness and radical politics. Louis Farrakhan is a homophobic, patriarchal, nationalist figure who would never be welcome in any of the progressive movements that I am a part of. The same thing is true of Black Hebrew Israelites. These are not figures of the left. And yet often people will use these folks as examples of left anti-Semitism. Is there anti-Semitism on the left? Of course there is. Just like there is sexism on the left and homophobia on the left. We live in a society in which they're in the water, they're in the air that we breathe. The question is, where is this a political project? The left is not organized around trying to hurt Jews. In fact, on the contrary, when we see anti-Semitism on the left, it's usually the place in which it's handled most deftly and immediately. We call people out. We call people in. We have conversations. If someone is problematic, they're usually not welcome in our spaces. And if someone has just made a mistake and gotten things wrong and needs some education, then we are more than thrilled to bring them into conversation. The right in the United States has built its coalition intentionally on the back of white Christian nationalist ideology. It is not an accident that the meteoric rise in anti-Semitism and anti-Asian hate violence and anti-immigrant sentiment in United States followed the election of Donald Trump. So you have, on the one hand, a group who has made this their political project and has done it not just in language, not just in dog whistles and winks and nods and tweets, but in policy. We had Stephen Miller crafting immigration policy explicitly designed to keep the brown people out and make it easier for white Europeans to immigrate, and talked about it openly. That is a political project of the white Christian nationalist movement. There is no equivalent of that on the left.
BROOKE GLADSTONE How do you think the press could help clarify this? In a way it is currently not.
LEO FERGUSON The first thing is look for false equivalency. Are people talking about anti-Semitism on the left, on the right, in the same way? If they are, something's wrong. Number two, is this actually a story about anti-Semitism or is it a story about ignorance? And is it a story about mental illness? Is it a story about power? You know, I work on hate violence prevention in New York City. I look at the statistics very closely, and I hear all the stories. And one of the things that you find when you dig a little deeper is that only a small portion of what is commonly reported on as anti-Semitism, is actually anti-Semitism. When a 13 year old draws a swastika on a playground, that's a kid who understands that some symbol has power because the grownups seem to get upset, and they're testing boundaries. But it will be written up as anti-Semitic violence. When a mentally ill person who is shouting about anti-Jewish conspiracy theories attacked someone that's tragic and it is caused by anti-Semitism. It's happening in part because those ideas are out there. But this is not someone who has a deep-seated ideology that they've carefully considered. This is a stew of confused ideas that have leaked out of right-wing chat rooms and into the public consciousness. So one of the things we have to do is get careful about that.
BROOKE GLADSTONE What you're saying, though, echoes a lot of the excuses that are made for the largely white, male shooters: they hit on hard times, they have histories of mental illness. But the context in which they themselves believe they're doing this is one of hatred. So who's the person we write off as mentally ill and who's the person we write off as a lethal bred-in-the-bone anti-Semite?
LEO FERGUSON Well, as a wise person said to me very recently, Can it be both?
BROOKE GLADSTONE Touché. But how is the press to address it then?
LEO FERGUSON We just need more nuance. And we need more stories about the systemic nature of all of this. I'm not bothered at all by coverage of someone who is legitimately mentally ill and also commits an act of racial or anti-Semitic violence. We are much better served by honest conversations that get at the fullness of this terrible disease than our culture. As Bryan Stevenson says, "Know when is the worst thing that they've ever done." And that kind of nuance has to get applied to these acts as well. It's not about excusing or even forgiving people who commit hateful acts. It's about understanding that, as long as those ideologies are out there in the foundations of our society, people are going to do things like this. It's never going to go away. We only get at this by building the society in which racial violence, anti-Semitic violence, gender-based violence don't have fertile soil to grow in.
BROOKE GLADSTONE Thank you very much, Leo.
LEO FERGUSON It's been an absolute pleasure to talk with you.
BROOKE GLADSTONE Leo Ferguson is the director of Strategic Projects at Jews for Racial and Economic Justice.
Copyright © 2022 New York Public Radio. All rights reserved. Visit our website terms of use at www.wnyc.org for further information.
New York Public Radio transcripts are created on a rush deadline, often by contractors. This text may not be in its final form and may be updated or revised in the future. Accuracy and availability may vary. The authoritative record of New York Public Radio's programming is the audio record.