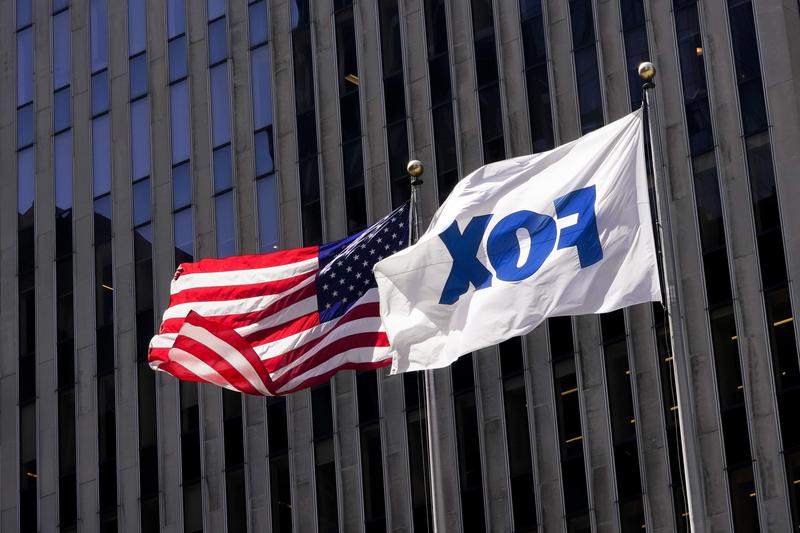 Transcript
Brooke Gladstone From WNYC in New York, this is On the Media. I'm Brooke Gladstone. Earlier this week, media reporters descended on Wilmington, Delaware, to see one of the biggest First Amendment cases of the century, a lawsuit brought by a voting technology company.
News Clip Dominion had accused Fox News of knowingly pushing false conspiracy theories about what former President Trump had claimed were rigged voting machines following the 2020 presidential election. Part of this case centered on what Fox News host said on air to millions versus what some of them were saying and texting in private about these false claims.
Jim Rutenberg But I'm telling you that everyone involved in the case on the ground here were prepping to go to trial full bore so this thing was going forward.
Brooke Gladstone Jim Rutenberg, writer at large for The New York Times and its Sunday magazine, was there.
Jim Rutenberg There we are in the court. It's starting. The jury is impaneled. There's actually some jousting between the Fox lawyers and the Dominion lawyers.
Brooke Gladstone The room charged with anticipation.
Jim Rutenberg And suddenly, just as we're all gathered at 1:30 p.m. on Tuesday to hear these opening arguments, the judge disappears. The jury doesn't come out. And then the minutes tick by. The minutes become a half hour. Half hour becomes an hour, 2 hours. And then, lo and behold, late afternoon.
Brooke Gladstone Stephen Colbert said it best.
Stephen Colbert I want my trial! You are supposed to provide me six weeks of delicious content. I wanted to see Rupert Murdoch put his hand on the Bible and burst into flames.
News Clip The two sides agreed to a $787.5 million settlement just hours after the jury was seated.
Jim Rutenberg And it was pretty dramatic.
Brooke Gladstone Yeah, dramatic. How, though, did you hear a lot of reporters cursing?
Jim Rutenberg Well, I think no matter what, everyone in that room was eager to see this big fight over libel law in this country in the age of disinformation.
Brooke Gladstone A case that actually had a chance of being won. Because the thing that makes it so hard, proving flagrant disregard of the truth was a little easier in this case?
Jim Rutenberg Yeah, the Dominion lawyers managed to get their hands on pretty extensive discovery. Four weeks before trial, we were seeing Fox and its corporate parent, the Fox Corporation, led by Rupert and Lachlan Murdoch, knew that this conspiracy theory was as bonkers as everybody else knew it to be. Outside the.
News Clip Highest ranking executives at Fox News, Rupert Murdoch, Suzanne Scott, the CEO, as well as some of the top hosts, Sean Hannity, Tucker Carlson, Laura Ingram. They knew these election fraud claims from the Trump team were nonsense. They used very harsh language to describe them, but they allowed these lies to take hold on the network's air
Jim Rutenberg Dominion was focused on particularly 20 instances of the conspiracy, getting unfettered access to their airwaves. Now, the thing at trial would have been who was really responsible? Did Rupert Murdoch control the shows per se? So there were going to be a lot of technicalities, but it was going to be an accountability moment.
Brooke Gladstone The Dominion attorney said money is accountability, but the public doesn't get to hear what happened.
Jim Rutenberg Well, the lawyers answer to that and they've been asked a lot is that ultimately their responsibility was to their client. The client wanted its reputation restored. They think they achieved that much because in their view, all those things you're talking about democracy, misinformation, the sanctity of our elections, they were in the mix. But this trial was really about these 20 statements and what they did to Dominion Voting Systems reputation and its bottom line.
Brooke Gladstone Right. And it wasn't their responsibility to serve the nation in this regard. I get that. It's just frustrating. And you wrote the one question that only time will answer is whether the settlement was enough to cause Fox News to change the way it handles such incendiary and defamatory conspiracy content. The amount was huge. Fox News certainly doesn't want to see a similar settlement any time soon. Notably, a $2.7 billion suit from another election technology company, Smartmatic. You said only time will answer whether Fox will change its ways. But would you venture a guess?
Jim Rutenberg It's hard, right? Because even as this trial was moving forward and you'd think that Fox would want to really be minding its P's and Q's, the host, Tucker Carlson, was running programing that was basically even according to Mitch McConnell, the top Republican in the Senate, and according to special report, its main news show that was misrepresenting what happened on January six through selective editing of video. So Fox has seemed to have been able to get out of this without having to make any great mea culpa. But this was not good for them. So will they do anything to avoid it? And that's going to come down to two things. Does the desperation for ratings, which led it to defame Dominion, override everything once again? Or is there a realization that we need to pull back from the brink? But what we now know is there has to be someone being defamed. You can say all kinds of things about people who aren't going to sue, right? The difference was that here was a company that was ready to sue and had a lot of money to hire an incredible team of lawyers.
Brooke Gladstone We have Smartmatic coming around the horizon. Will we expect something different in that case?
Jim Rutenberg I have to imagine that one settles because the one thing Fox really wants to do here is skip past all this discovery that was out in the ether. Its audience, we all know, is in a certain bubble. It has not been greatly exposed to all of the emails and the texts that other media have been focusing on, but that discovery can come back. They don't want that, but they also don't want to send the signal that we're open season come to us and we're going to give you money to go away. So they're in a bind. Some people have submitted that Rupert Murdoch won.
Brooke Gladstone No, really.
Jim Rutenberg I don't agree with that. But that's a view because they are not having to make any kind of big apology on air.
Brooke Gladstone Something that Dominion really wanted.
Jim Rutenberg And we're still trying to find out what changed there, people point to the money. Kind of obvious, but I don't think he won here. And we're going to see what Wall Street thinks of this. How many big settlements is Wall Street going to put up with? And eventually, does the board have to act? So there is some considerable accountability going on here, no matter what.
Brooke Gladstone Your 2019 article is called, How Rupert Murdoch's Empire Remade the World. Quote, Murdoch and his feuding sons turn their media outlets into right wing political influence machines that have destabilized democracy in North America, Europe and Australia. Give me some examples of the impact of the Murdoch empire on world culture.
Jim Rutenberg Look, in Australia, his newspapers, they are absolute leader makers. If they want to see a Prime Minister go, they can do a lot to push that person out. That was happening in 2019. They had been part of this push to get rid of Prime Minister Turnbull, then look to Brexit. Brexit was fascinating because one thing that gets lost in the Rupert Murdoch storytelling is that he has some outlets that are much more responsible, much better grounded in basics of journalism. Times of London, Wall Street Journal. So in the UK, the Times of London was not pro-Brexit. The U.K. Sun, his tabloid was. And the U.K. Sun is so much more influential because it plays to these populist passions. So The Sun and Rupert Murdoch were very much helping along this process toward Brexit and really pushing the limits of journalism as they did so that Britain. Now, here, do we have to even go beyond this dominion case you had hosts like Tucker Carlson night after night for many nights in a row saying something's going on here, even when Tucker Carlson would hedge a little bit. I'm just asking questions.
Tucker Carlson And that means we have to answer them. For example, in Pennsylvania, Nevada and Michigan, the Trump campaign has now collected signed affidavits that attest to criminal activity during the voting process in the city of Detroit. Witnesses have alleged under oath that ballots were improperly backdated and counted without matching signatures. Now, all of that is real. We spent all weekend checking it. False claims of fraud can be every bit as destructive as the fraud itself. So we need to be careful and responsible, all of us. But what we just told you is true. And there's more of it.
Jim Rutenberg If you're buying into that, that would be enraging to any sentient being if an election really had been stolen. So that matters. And that was really in the mix here.
Brooke Gladstone So Murdoch got his start in Australia, then he went to the U.K., moved into media markets, notably in the U.S., also in India and China. What is his playbook, Jim? How does the empire work?
Jim Rutenberg That story really starts when Rupert lands in the U.S. in 1973. I could go farther back for you, but I think that's early enough for a pattern. He came here and he made it very simple declaration. We're going to give the public what they want. And when he comes into the U.S., Watergate is going down. The press is at the height of its power in this country based on the notion of reporting the news without fear and favor journalism post World War Two. So like the journalism that helped give attention to the civil rights movement, the journalism that help stop the Vietnam War, in Murdoch's view, when he lands here, these journalists are now getting too full of themselves. They're losing touch with their public. They think they know what's best. And I'm just going to give them what they want. His first local papers are in San Antonio, buys a couple of papers and he lights that town on fire by giving the people what they want. The screaming headlines. And by the way, San Antonio had a paper that was part of the Hearst chain, not known as a shrinking violet chain, but he out Hearst'd Hearst. And that repeats itself again and again and creates extraordinary success for him.
Brooke Gladstone So let's talk about 1980. He meets Roy Cohn, the former advisor to Senator Joe McCarthy, a Trump mentor who introduces Rupert to Governor Ronald Reagan's inner circle.
Jim Rutenberg He also introduced him to a Cohen aide de camp named Roger Stone. That was the beginning of Rupert's incredible American political journey because Rupert Murdoch at the time owned the biggest paper at that time the New York Post. We think of the New York Post now, it's fairly big, but it's a New York City paper. It was then, too, but it was one of the biggest papers in the country. And New York at the time was a contestable state. Reagan had a chance to win it. And Rupert, after meeting Cohn and working with Cohn's aide de camp, Roger Stone, they turned the post into a pamphlet for Reagan, and that is credited with helping Reagan win New York. Maybe that would have happened anyway. Reagan was incredibly popular, but Rupert was ready to take his credit for it and to get what he wanted from the Reagan administration,.
Brooke Gladstone Which was?
Jim Rutenberg He wanted loosened regulation because Rupert already knew he had an eye on getting into television, broadcast television. Because I think people forget that in 1980 cables there you have CNN, but it's not in every household. At that time, broadcast television was where it's at, and broadcast television was hyper regulated in terms of political content, in terms of what you could own. So what Rupert Murdoch really wanted was a way to keep his newspapers and buy television stations to start a network. The law blocked him from doing that.
Brooke Gladstone You weren't allowed to own a TV station and a newspaper in the same market?
Jim Rutenberg Yes.
Brooke Gladstone Reagan waived that prohibition, allowed Murdoch to hold on to his big metro dailies, The Post, The Boston Herald, even when he moved TV into both cities. That was a big deal.
Jim Rutenberg It allowed him to start this fourth network, which took him to a whole other stratosphere, by the way. Another thing that happened, though, was that we had prohibitions still have prohibitions on who can own an American television station. Murdoch was an Australian citizen. Well, during the Reagan administration, he managed to get his American citizenship very fast. Very fast. He's always denied he caught any favors. But Democrats at the time were very suspicious. So the Reagan administration was very, very good to Rupert Murdoch.
Brooke Gladstone The final word on Murdoch is always it's about the money. He'll dance with Hillary Clinton. He'll dance with Donald Trump, with Tony Blair, with whomever in order to get what he wants. Is it about the money now or is it about politics? Has he changed?
Jim Rutenberg Well, there are different views on that question from people who know him well. Okay. But I just want to say one thing. Yes. It's about the money, always about the money. But I always think the politics and the power have always been mixed up together. Yes, he'll dance with the liberal, but when he's dancing with Tony Blair, Tony Blair is also getting behind the war in Iraq, which Rupert Murdoch really wanted. So certain kinds of Democrats help flirt with. But inexorably, the line he's drawn has been to the right and the influence he's exerted has been conservative. Now, has he changed? There's a view among some people around him that, yes, he has in fact, changed, that he'd like to see himself as afflicting the powerful and fighting for the little guy. And that was the way his papers, the tabloids positioned themselves.
Brooke Gladstone Standing up for the have nots. So that what you're saying?
Jim Rutenberg Yes. And someone outside the elite circles, which on one level, I mean, he was born of incredible privilege, but self-image for all of us, right, drives you more than reality sometimes. But there is a view that as he got more inside the halls of power, he did change. But what hasn't changed and it's clear in the transcripts that came out in this Dominion trial is there's always been this sort of nonchalance about it, like, oh, everyone's getting all worked up about this democracy stuff. Give me a break. We're not responsible for that. The rest of the press, mostly liberal, they just are out to get me anyway. So there is a lot of consistency. Some people see some differences over time, and the end of the day it really doesn't matter because the result is the same and the results we all live with.
Brooke Gladstone Right. Jim, thank you very much.
Jim Rutenberg Thanks so much for having me.
Brooke Gladstone Jim Rutenberg is a writer for The New York Times. SmartMatic's 2.7 billion dollar defamation lawsuit against Fox News is pending. The trial date is still to be determined. Coming up, the nation's main media mogul as seen on TV. This is On the Media.
Brooke Gladstone This is On the Media. I'm Brooke Gladstone. And that's the ghoulish gothic opera theme of the wildly popular show Succession, currently in its fourth and final season on HBO. The show's creator and showrunner, Jesse Armstrong, asserts that succession is inspired by more than just the Murdochs.
Jesse Armstrong If you look at the American media landscape, you have CBS owned by Viacom, which is a family business, the Redstone's. You have NBC, which is a family business owned by Comcast, the Roberts family. You have ABC, which was Disney and which is no longer a family firm. But the politics are kind of Byzantine and not unlike our show. You have the Sinclair family who are buying up most of local TV. You have the Mercer family who are all over the data mining. There are a lot of influential media families in the US for us to think about and draw on.
Brooke Gladstone Which. Sure. But the parallels between the Roy family in succession and the real life Murdochs are hard not to see. You've got the aging media mogul, the sparring kids, the divorces, the young girlfriends, the big sale of much of the company. And it was rumored that some Murdoch family members might have leaked storylines like this family therapy scene to the show.
[Succession Clip]
Brooke Gladstone Robert Thompson is a professor of television, radio and film at Syracuse University. He says the characters in succession are rather Shakespearean, but he objects to the incessant comparisons to King Lear. True, the patriarch, Logan Roy, as his name suggests, is a kind of a king. But that's where the similarity ends.
Robert Thompson In that Logan Roy is a lot smarter than King Lear. It's as though Logan Roy had seen enough productions of Lear to know not to do what Lear does in the very first scene, if I'm not mistaken, of King Lear, the King marches up with a map and says, Here are my territories. I'm going to divide them up between my three children
[King Lear Clip]
Robert Thompson The beginning of King Lear. The heirs are announced. Rupert Murdoch has still not divided up the map.
[King Lear Clip]
Robert Thompson And nor did Logan Roy.
[Succession Clip]
Brooke Gladstone The other big parallel between Logan Roy and Rupert Murdoch is the inseparable relationship between the media and political power.
Robert Thompson Right. In this dance with political power and journalism, administrations come and go. These big mogul run journalistic operations are there for the long run. Fox News has got more chronological continuity than the American Democratic Republic. Think how many presidents, how many Congresses have changed since Fox News starts in the mid 1990s? Political leaders come and go. Rupert Murdoch comes but never goes.
Brooke Gladstone And yet for most people, he's pretty much known as an old guy who has romantic relationships with not so old women and just a very powerful global force of conservatism. What does succession perhaps tell us or doesn't tell us?
Robert Thompson Succession lets us see Logan Roy. This kind of Rupert Murdoch standing in all of these intimate situations because they get to make it all up. People can now watch succession and like a Trojan horse, secretly get in on all the things that are really going on in a big mogul run operation like Murdoch's. That would seem good that we're getting through fiction, some kind of the the foundation of what's going on, in fact. However, I have found, even in my own watching of this show, I'm ashamed to say that there is what I would call the Archie Bunker effect. Remember, Archie Bunker back in the seventies was this bigoted guy who said all kinds of things that were racist and sexist.
[Archie Bunker clip]
Robert Thompson But because he was on every week, he became this kind of loveable bigot.
Brooke Gladstone It is true that Archie Bunker, for all of his bigotry and ignorance, was a lovable figure to many people who felt that he was winking at them. Just like the Stephen Colbert right wing character he played on. The Colbert Report was also seen to the horror of Colbert perhaps being a winking acknowledgment of the truth. But the difference is that Archie Bunker was fundamentally a loser, and Logan Roy is a winner.
Robert Thompson It's true. At the end of every episode of Archie Bunker, he was exposed as the buffoon. He spouted all that racist stuff when Sammy Davis Jr was in his living room. But Sammy Davis, Jr kisses him in the final scene of that episode.
[Archie Bunker clip]
Robert Thompson We get to see the bigot. He becomes lovable, but he is always exposed as the loser and the buffoon. Now we have Logan Roy, who is completely unredeemable, and he always wins. And there is something kind of appealing about that. Logan Roy, in his ruthless success by any means Necessary, I think has got a modern 21st century American appeal. Donald Trump very much played up that. I'm rich, I'm successful, and therefore I should be admired. And I think that might be one of the dangerous and insidious things about succession. Yes, it teaches us maybe about some of the at least metaphorical detail of what's going on with the Murdoch operation, but it also domesticates it. And I am sure there are a number of people you could find if you went out on the street who would be happy to support a Logan Roy for president, but some of them with a wink and a nod, some of them completely seriously.
Brooke Gladstone You have said, though, that if the show were less good, it would probably cleave more to the Murdoch story than it actually does.
Robert Thompson What I think makes succession a fine work of television art is the fact that like so many other things, it is inspired by real things, but it then brings them the art and art of this that allows it to be more interesting. If we're watching the real series, that is Rupert Murdoch. Every now and again, things happen that are really unsatisfying from an artistic, dramatic standpoint. The settlement that just happened is a perfect example of that. So I think it's a testament to succession's quality that it's not directly mirroring what's happening. If nothing else, and I haven't heard Rupert Murdoch talk a lot, but Logan Roy is certainly a more rhetorically dynamic person than Rupert Murdoch is.
tape Anyone who believes that I'm getting out, please shove the bunting up here. This is not the end. I'm going to build something better, something faster, lighter, leaner, wilder, and I'm going to do it from in here. Where do you want? Yeah. Pirates.
Robert Thompson You know, in great art, even when you are basing it on something. Let's go back to our friend Shakespeare. His history plays. If you want to know the history of the reign of Richard the Third, you do not watch Shakespeare's Richard the third. No. Oh, there's all kinds of liberties taken both in the source material and everything else. However, if you want an extraordinary, fictional, dramatic, artistic, transcendent experience, you don't go to the sources and read the history of Richard the Third. You watch Shakespeare's Richard.
Brooke Gladstone Right. What about the impact of Murdoch's empire on the broader culture?
Robert Thompson I think Rupert Murdoch has probably been more successful at doing bad things for the future of democracy and the republic that many other people have been doing for a long time. He's just been really, really good at it. However, we also have to acknowledge that within that building up of that empire, some really interesting and I think good things happen. The best example of that would be the Fox Broadcasting Network, and it really did provide alternative programing, including some voices that were not heard in the usual oligopoly of ABC, CBS and NBC. The Simpsons before The Daily Show came along was probably the most trenchant political and social satire we had on all of regular broadcast television. In Living Color would certainly not have gotten the Fox News seal of approval. I always used to say that in many ways it was once again brilliant synergy in that the Fox network would play TV shows that would then give the people on the Fox News Channel next morning something to be outraged about.
Brooke Gladstone This brings us to the final assessment of Rupert Murdoch and his impact on the culture and what he really cared about.
Robert Thompson Rupert Murdoch, I think, in the end will be most remembered for really solidifying a major change in the way we think about what we once called journalism. And I think in almost every case, he did that to the detriment of real journalism.
Brooke Gladstone And there's no way The Simpsons can compensate for that.
Robert Thompson If I'm up at the gates of St Peter's and I'm putting The Simpsons on one end of the scale and Fox News on the other end of the scale. I'm sorry, Bart, but I just don't think you're going to outweigh that.
Brooke Gladstone Bob Thompson, thank you very much.
Robert Thompson It's my pleasure. Thank you.
Brooke Gladstone Robert Thompson is pop culture scholar at Syracuse's Newhouse School of Public Communications.
Brooke Gladstone Coming up, the cozy relationship between Clarence Thomas and Harlan Crowe is about something much larger than a simple quid pro quo. This is on the media.
Brooke Gladstone This is On the Media. I'm Brooke Gladstone. Earlier this month, ProPublica broke news about Clarence Thomas and a Texas real estate tycoon.
News Clip For years, Justice Clarence Thomas has secretly accepted luxury gifts from a GOP mega-donor Harlan Crow.
News Clip He took these trips to places like New Zealand, Indonesia on private yachts, private jets.
News Clip A $500,000 trip to Indonesia one year.
News Clip Many of these trips went undisclosed on Thomas's ethics filing, despite that being required by law.
News Clip Clarence Thomas has also reported accepting gifts in 2000 to 1200 dollars worth of tires from an Omaha businessman. A Bible once owned by the abolitionist Frederick Douglass, which Thomas valued at 19,000 and a bust of President Lincoln valued at 15,000. It is the unreported largesse that is illegal. But to Corey Robin, journalist, professor and author of The Enigma of Clarence Thomas, none of it is surprising. Robin says that accepting these gifts, these friendships are of a piece with Thomas's most deeply held beliefs and his jurisprudence. Thomas always was open in his views a black nationalist who held that whites and blacks could never really be reconciled, and that the only path to power in America was to use the rowdiest tool at hand, one that could be wielded with relative equality. Money In a way. As you will hear, it has shaped his decisions on everything from the right to refuse to bake a cake for a gay wedding to campaign finance reform. In a piece this week in Politico, Corey Robin noted that corruption is far more amorphous and pernicious than a simple quid pro quo.
Corey Robin The way corruption often happens is that you have men of wealth and men of power who are part of a fraternity. They exchange words and they exchange ideas, and they gain each other's respect and trust. And Thomas is a particularly important person in that fraternity because he really believes in the worthiness and the legitimacy in the standing and in the stature of those men of wealth. He wants those men of wealth to play more of a role in our society. So he takes their words very, very seriously. The problem here is that Thomas not only doesn't really hide from that. He's created an entire jurisprudence that justifies that.
Corey Robin These are men who already see pretty much eye to eye on the broad questions, right?
Corey Robin Absolutely.
Corey Robin Thomas, you say is someone who believes in the moral authority of rich people and businessmen, which is quite interesting because Thomas's upbringing was not one of wealth and ease. And you would think that maybe he would see a moral authority, perhaps in poverty.
Corey Robin Not at all. And it's a very good question. One of the most important people in Thomas's life was his grandfather, Meyers Anderson, whom he came to live with when he was six years old. Thomas had lived for his first six years in tremendous poverty, but Meyers Andersen owned his own business, delivering wood and then coal and then finally oil to members of the black community in Savannah. Thomas, his grandfather, was able to build a solid middle class home for Clarence Thomas, and his brother put them through private schools and eventually amassed a bit of property and become a landlord. When Thomas thinks of wealth. He really thinks of people like Meyers Andersen. In other words, they began dirt poor. I think Meyers Andersen was maybe one or two generations removed from slavery himself. But they were able to build an institution that protected the members of the black community that came within its ambit. In a 1987 speech at a libertarian think tank in San Francisco, Clarence Thomas really set out his views about wealth and American politics. The center character was his grandfather, and Thomas's critique and attack on American liberalism was that it viewed men like his grandfather with scorn. He still has in his mind this stolid man of discipline, of limited wealth, who created a protective institution in which someone like Clarence Thomas could not only survive, but eventually thrive.
Brooke Gladstone You wrote that in the sixties and seventies, progressive lawmakers treated the freedom of political speech as sacrosanct and spent decades building legal protections around it. And in that, Thomas saw a chance to apply those same legal protections to business activities.
Brooke Gladstone Exactly. In the 1960s, then in the 1950s and 1970s, the Supreme Court and liberals came to a kind of settlement. Anything that the government did in terms of economic regulations, laws about business and all the rest of it, the Supreme Court would essentially give the executive branch and the legislature a pretty free hand. The idea being that these were legislative and political activities that did not rise to the level of constitutional scrutiny.. On the other hand, there was a sphere of activity that really did deserve constitutional protection. And the heart of those activities, the palladium of liberty, as it was called, was the freedom of speech. That words are our most intimate expression of who we are. We reveal ourselves as individuals, as citizens, through our speech. And so sacred is that an activity that we have to do everything we can in our society to protect it from the regulation and repression and constriction of the government and of the state, hence the First Amendment. And conservatives looked at that settlement and they thought to themselves, this really puts us in a bind because it means the business community can be regulated, strangled, constricted in all sorts of ways, and the Constitution has nothing to say about it. So what are we going to do? And the innovation of the conservative movement in the 1970s and Thomas articulates this very clearly in this 1987 speech, is that if we can reimagine the activity of the businessmen, the activity of the banker, not as economic activity, but as speech, perhaps that activity will then ascend in the moral imagination of America and ascend in its constitutional status, becoming something deserving of the protection of the Supreme Court. And where they begin this process is with advertising. Advertising, of course, is the form of speech. It involves words and images. When I was a kid mobile, the oil company would take out a quarter page ad on the op ed page. It was a learned exegesis of the value of fossil fuels. And the question is, is that an advertisement or is that political speech? And conservatives made the case, and the court eventually came around to this position that that kind of advertising is, in fact, political speech. That was like the Trojan horse. They started moving out from there to all different kinds of other things. So if we can jump ahead 30 years, we had that case coming out of Colorado, of the case maker, the wedding cake maker.
Brooke Gladstone Right.
Corey Robin The wedding cake maker did not want to make cakes for gay couples and that was primarily a religious freedom case. Thomas and Gorsuch wrote another opinion saying, in addition to violating religious freedom, this violated the free speech of the cake maker, because making a cake is like an artistic form of expression.
Corey Robin And you note that Elena Kagan recognized the dangers of this position in her dissent for Masterpiece Cakeshop versus Colorado's Civil Rights Commission. She said that the First Amendment was being weaponized
Corey Robin She went on to say in that dissent versus let's think about this, what part of the economy does not involve speech? You can. Can't fire someone without either putting it into writing or saying to them, You're fired. In fact, all of American business activity operates on the basis of written contracts. Kagan was saying, Look what's going on here. They're taking bit by bit pieces of the economy enveloping them in the fact that they come as speech acts. And then having done that saying now they all have to come up under the scrutiny of the First Amendment.
Brooke Gladstone And that under this approach, you suggest the constitutional and civilizational order of the New Deal could have been overturned.
Corey Robin Exactly. Because going back to that 1987 speech that Thomas gives, Thomas was talking about these midcentury liberals. He had people like John Kenneth Galbraith in mind. And what Thomas claimed was that they viewed money as really in bad form. I guess you could say that there was something unseemly about it. Instead, the people that they valued, these liberals, according to Thomas, were what Thomas called the idealistic professions journalists, professors, lawyers. And Thomas describes them as people who make their living by producing words. There's something about speech that is elevated in the mind of the liberal. This is really the original cultural war between the right and the left. Really a civilizational struggle over the status of the man of words and the man of money. And Thomas saw it as his project to re moralize the businessman and the banker to give them not just constitutional status, but cultural status.
Corey Robin So what might have been in Kagan's mind when she made that observation was the 1976 case, Buckley versus Valeo. That's a landmark case that ruled that limitations on campaign contributions are a legitimate means of eliminating the, quote, reality or appearance of corruption in the electoral process. And Thomas has spent decades successfully chipping away at this.
Corey Robin Exactly. There's this famous Wallace Stevens poem where he says money is a kind of poetry. And Thomas takes that very seriously. When we make a donation to a candidate, we're not simply assisting their campaign. We're expressing our values. And Thomas runs with that fact because he says, in modern politics, we're always doing this. Most American citizens, when they try to express their opinions in addition to voting, they have to speak through a medium. And you have a lot of small dollar donors who give their money to various campaigns in the hopes that speaking through that medium, their message will get out. And Thomas says that is the nature of democracy. That's why money is speech. But Thomas acknowledges that in American democracy, these campaigns are expensive. He says quite directly that costly campaigns require big donors. This is in McConnell versus Federal Election Commission, which was the case in 2003. He says the only effect that the immense aggregations of wealth will have on an election is that they might be used to fund communications to convince voters to select certain candidates over others. The corporations, he goes on to say on behalf of their shareholders, will be able to convince voters of the correctness of their ideas. He doesn't hide this anywhere. This isn't tucked in a footnote somewhere. This is a Supreme Court opinion. He is providing a roadmap here about why wealthy people, like everybody else, will seek to speak through their donations to convince candidates to take their positions and then ultimately to have those positions prevail in American government.
Corey Robin And you say that for too long, progressives have fought a losing battle to strengthen campaign finance laws, claiming that money isn't speech. Arguing that the Roberts Court and Citizens United are solely to blame. But that ship you say, had already long sailed. So what is the actual issue at hand?
Corey Robin So if we go back to that Buckley versus Valeo decision right there in that statement, which was coauthored by William Brennan and Thurgood Marshall, the two great liberal justices of the second half of the 20th century, they accepted the position. That money is speech that is in that decision. So, for instance, when a campaign spends money in that decision, the court rules those expenditures cannot be limited. Because if you were to limit those expenditures, you're essentially limiting the speech of a candidate or of a campaign. So one half of the political process that involves money, namely campaign expenditures, is completely off limits from government regulation. And there is another sentence in that opinion that says if you are going to limit and now we're talking about campaign contributions. And as you said earlier, you can limit contributions for the sake of protecting against the stench and taint and appearance of corruption. But what you cannot do is to limit campaign contributions for the sake of equalizing speech. If you're doing it to try to level the playing field, that violates the spirit of the First Amendment. We have there in the quote, money is speech on the one hand, and then on the other hand, the statement that you cannot regulate money for the sake of equalizing speech. That has been the settlement upon which liberals have been trying to construct a campaign finance regime that would protect democracy for money and failing to do so. And I think really requires us perhaps to rethink that approach.
Brooke Gladstone So have at it, Corey.
Brooke Gladstone I think the problem comes in that question about equality, which everybody on the court, from the liberals to conservatives, took off the table because if money is speech, then there is no way that the voices of those of us who are small donors, the individual voices, will ever be the equivalent of the voice of a Harlan Crow. The real issue is the distribution of money in the economy.
Brooke Gladstone That's a really long and rocky road.
Corey Robin It certainly is. However, it's a road that has been trodden many times before going back to the foundation of the American Republic. People like Noah Webster, who gave us our dictionary, were very alert to the problem of concentrations of wealth. It would be essentially impossible to have a republic or a democracy when there were concentrations of wealth. And over the course of the 20th century. We didn't do a great job, but we did a decent job in leveling those concentrations such that the distance between the poorest person in America and the wealthiest person was imaginable. Let's say it was a span that one could imagine. Today, that distance is unimaginable. And we come back to this question of money and speech. If Noah Webster could say we're never going to have a democracy, if some people have a lot more money than others and a lot more wealth and property.
Brooke Gladstone He said that without equal distribution of wealth and power, liberty expires.
Corey Robin Exactly. No freedom unless there is equal freedom for all. This Harlan Crow scandal has really opened up not just how much money wealthy people have, it's how much money is required for them to have the access. So I think this is an opportunity not to have the same old discussion about campaign finance reform.
Brooke Gladstone But that at least is possible in order to reduce the astronomical distance between the rich and poor would require the sorts of regulations that would probably be impossible now because they would be seen as impinging on the speech of business.
Corey Robin Yeah, I agree. That's exactly what needs to be taken on. If you can point out that in a way, Clarence Thomas and the right have charted our course for us when they claim that money was speech. If that is true, you cannot have a democracy in the political sphere unless you democratize the distribution of money in the economic sphere. When we engage in questions of distribution, in the economic sphere, when we are battling over things like the minimum wage and all these other things, we're not just dealing with economic questions. These are cultural questions. These are who gets to talk in our society. I mean, we do have a very sophisticated discourse, for instance, around the question of race and whose voices get heard in the media. The one thing we have not really had a reckoning on that question of who gets to speak and who gets heard is the question of money.
Brooke Gladstone In the fallout from the ProPublica report. Progressives have called for a hearing regarding Thomas's actions, maybe even his impeachment. What's your take on that?
Corey Robin I don't. Think it'll go anywhere. From the very beginning, the man had the taint of illegality. Almost everybody who has studied this issue knows that he committed perjury before the Senate when testifying about Anita Hill. That, in the end, didn't do anything to affect his career on the court. In a few years, he will be the longest serving justice in American history. These kinds of allegations and charges don't really make a dent in him because he now has at least four brethren on the court who are willing to side with him. His power only grows.
Brooke Gladstone This friendship between Clarence Thomas and Harlan Crow necessarily implies that rich people are heard more than poor people.
Corey Robin You know, we have a tradition of one person, one vote, and the premise of that tradition is that nobody is worth more than anybody else. And that was a long and hard fought battle, fought through questions of slavery, fought through the question of the denial of the vote to women and so on. And we won that battle. The most grievous assault and undoing of that battle has been, I would argue, these decisions about the value of the man of money, that he is, in fact, worth more, not just in the economic sphere, but in the political sphere. That has been the work of Clarence Thomas. And if we hope to have any kind of a democracy, that work has to be undone.
Brooke Gladstone Corey, thank you very much.
Corey Robin Thank you.
Brooke Gladstone Corey Robin is a political theorist and journalist, and he is the author of The Enigma of Clarence Thomas.
That's it for this week's show. On The Media is produced by Micah Loewinger, Eloise Blondiau, Molly Schwartz, Rebecca Clark-Callender, Candice Wang and Suzanne Gaber, with help from Temi George. And our show was edited by me. Our technical director is Jennifer Munson. Our engineers this week were Andrew Nerviano and Sham Sundra.
Katya Rogers is our executive producer. On the Media is a production of WNYC Studios. I'm Brooke Gladstone.
Copyright © 2023 New York Public Radio. All rights reserved. Visit our website terms of use at www.wnyc.org for further information.
New York Public Radio transcripts are created on a rush deadline, often by contractors. This text may not be in its final form and may be updated or revised in the future. Accuracy and availability may vary. The authoritative record of New York Public Radio's programming is the audio record.