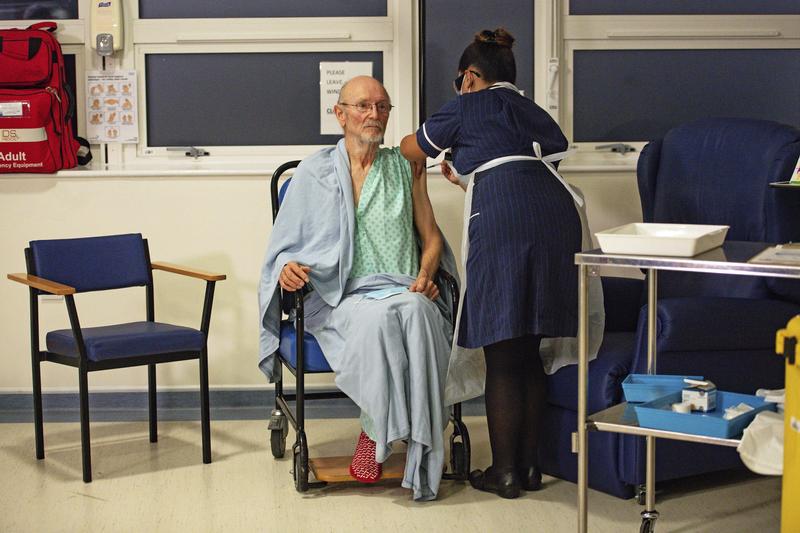 Transcript
LAST WISH TRANSCRIPT
BROOKE GLADSTONE This week, the media engage in wishful thinking that the vaccine will be an instant fix or that the president will be charged with a crime.
ANKUSH KHARDORI Yeah, I mean, one of the assumptions is that there is a criminal case. It's just, you know, which one and where do you find it?
BROOKE GLADSTONE From WNYC in New York, this is On the Media, I'm Brooke Gladstone. Frontline health workers are forced to make ethical decisions leaders further up the chain are too chicken to take on.
JORDAN KISNER They're terrible decisions to make. And so they get shunted downward and downward until they're in the lap of the person who's standing in front of the patient and cannot not make a decision.
BROOKE GLADSTONE Also COVID's that's changed the way we say goodbye to our dead, leading us to face our grief in new ways, which are old ways.
AMY CUNNINGHAM He said, well, ordinarily we would have a wake. And I said, Listen to me, she's in the bed. She's dead. This is your wake.
BROOKE GLADSTONE All coming up, after this.
[BREAK]
BROOKE GLADSTONE From WNYC in New York, this is On the Media, Bob Garfield is out this week. I'm Brooke Gladstone. And this week saw Americans of all political humors bewitched by wishful thinking. Some seeing Donald Trump after many stumbles finally on the path to victory.
[CLIP]
NEWS REPORT 17 states have joined Texas in support of its Supreme Court lawsuit, which seeks to stop Georgia, Michigan, Wisconsin and Pennsylvania from finalizing their election results. President Trump on Twitter called this case, quote, the big one. [END CLIP]
BROOKE GLADSTONE And others for seeing the delectable prospect of a rule breaking, tax dodging, constitution shredding precedent on trial.
[CLIP]
NEWS REPORT There are credible allegations that Donald Trump has engaged in a tax fraud, bankruptcy fraud, probate fraud. [END CLIP]
[CLIP]
NEWS REPORT Instances of possible obstruction of justice that Robert Mueller outlined in his report on Russian interference in the election. [END CLIP]
[CLIP]
NEWS REPORT Meanwhile, the president and his family actually have a whole lot more to deal with. New York's attorney general is investigating whether or not the Trump organization misled investors by inflating assets. [END CLIP]
BROOKE GLADSTONE As court filings and news reports hinted investigations well underway, certainty mounts within the caucus sphere.
[CLIP]
NEWS REPORT We should probably expect that there will be charges filed against him, that he will be indicted in this case, will probably go to trial. I think there's an excellent chance that he will be found guilty. And if he is found guilty, there's an excellent chance he'll wind up in prison. [END CLIP]
BROOKE GLADSTONE Last month in the New York Review, writer, lawyer and former federal prosecutor Ankush Khardori reviewed the various arguments, including his own for the likely prosecution of Donald Trump. But Khardori also conceded that, in fact, such speculation is, quote, insane. Among his critiques of the media commentariot it that there are too many former prosecutors, himself included, represented, and that there are too few defense attorneys who know better than anyone how to scramble a prosecution. And that no one is willing to say we just can't know.
ANKUSH KHARDORI I guess it's not a great way to get Twitter followers or cable news hits, but it just fundamentally true, there are lots of things we don't know and facts could change. And, you know, it's very rare that I see anyone saying that.
BROOKE GLADSTONE Which brings us back to August.
[CLIP]
NEWS REPORT Cyrus Vance sent a subpoena last year to Deutche Bank as part of its investigation into President Trump's business dealings. The Times says the bank complied with that subpoena. [END CLIP]
ANKUSH KHARDORI When that news broke, a lot of people were strongly suggesting there might be a bank fraud case.
[CLIP]
NEWS REPORT What the Manhattan D.A. is looking at here is overstating the value of your assets to get loans, understating the value of your assets when it comes tax time. That kind of thing is straightforward, textbook fraud. It's much easier for prosecutors to prove those kind of charges. [END CLIP]
ANKUSH KHARDORI Well, just compare the two and then, you know, he's in huge trouble. If they're not the same. A bunch of people are saying this is not just a bunch of people, but a bunch of prominent former prosecutors with significant followings on Twitter and cable news contributor gigs. I was just really taken aback because I found it fundamentally very misleading.
BROOKE GLADSTONE You basically said the speculation was insane. That you'd done this at DOJ and it's simply not how fraud investigations are conducted.
ANKUSH KHARDORI Yeah, no, that is the word I used in The Wall Street Journal in saying in particular about the suggestion that had been made by former acting solicitor general under Obama, Neal Katyal.
[CLIP]
NEAL KATYAL I think it's totally possible for all of this to come out before the 2020 election in terms of New York's prosecutors getting this information and acting on it. [END CLIP]
ANKUSH KHARDORI And that was really surprising to me, coming from someone who is at least supposed to know better.
BROOKE GLADSTONE According to convicted Trump's lawyer, Michael Cohen, Trump inflated his assets when it was opportune to do so, deflated them one that was profitable. And if Cohen is right, doesn't that mean that a prosecutor could just compare one accounting book with another, find the mismatched numbers and, you know, it's over?
ANKUSH KHARDORI No, I mean, it's a very reasonable supposition, but when you're investigating a financial fraud case, the fact that some documents, some numbers may differ from one set to another is often just the start of a case. You have to figure out why they differ. Does it matter why they differed? Who prepared them if their lawyers, accountants and auditors involved, what did they have to say about the relevant figures? Trump did not have a huge business. Right. This is something that I think David Fahrenhold at the Post has been very good at illustrating for the public in a fairly small organization. But that organization still had lawyers, had an accountant. That is going to substantially complicate any investigation.
BROOKE GLADSTONE If the lawyers overstepped and they can't prove that this was a conspiracy with which Trump was involved, then he's not liable.
ANKUSH KHARDORI That's correct. We don't even really know what Trump's involvement was in the preparation of any of these figures. And that would be the crucial question. You'd want emails if they exist. And of course, he notoriously does not use email. You'd want to know whether he had spoken to people and provided them potentially with oral instructions. Now, in the case of Cohen, that is what he says, right, that Trump instructed people to falsify these figures.
BROOKE GLADSTONE But it's not a great witness.
ANKUSH KHARDORI He's not a great witness at all. So you would want people to corroborate that. You'd want much more than Michael Cohen, ideally. You know, if you were just playing the odds, the odds usually disfavor an indictment, right? People do things that look problematic. You look a little closer. There are sometimes innocuous explanations or maybe you just can't build the case to prove what you think really happened. And so charges are not brought. There may not be a criminal case against the president, even if the Justice Department looks aggressively at what we know so far and digs up additional things. And that's itself a big if.
BROOKE GLADSTONE You say that there's a bunch of assumptions built into this genre of reporting, the reporting on the president's future prosecutions, that baffles you.
ANKUSH KHARDORI Yeah, I mean, one of the assumptions is that there is a criminal case. It's just, you know, which one and where do you find it? Another assumption is that Cy Vance will definitely be charging the president.
BROOKE GLADSTONE Are you talking about the New York magazine piece that said: "considering the number of crimes he has committed, the time span over which he has committed them, and the range of jurisdictions in which his crimes have taken place, his potential legal exposure is breathtaking."
ANKUSH KHARDORI That was certainly one of them. I think the L.A. Times columnist that you mentioned, that assumption is also built into his piece. There was a piece at Politico on December 3rd about Trump's pardon power that said, well, he's got all this criminal exposure in the states. And, you know, criminal exposure is kind of a term of art. Just means like the risk of potential criminal charges. It is not really that informative because a lot of people have criminal exposure a lot of times and never get charged. And, you know, Vance's office in particular, I have to say, I find it really strange that this assumption has sort of taken hold at all because his office's history of pursuing complex white collar cases is quite checkered, including in recent years.
BROOKE GLADSTONE But here's Neal Katyal on MSNBC last month.
[CLIP]
NEAL KATYAL Even if Trump had hoped to avoid criminal prosecution, his post-election behavior basically guarantees it. I mean, you've got a guy who's right now literally committing, if not crimes, pretty darn close, even when he's being forced out the door in terms of conspiring with these Michigan canvassers or these state legislators. It is a federal crime. It's a state crime to try and take someone's right to vote away. [END CLIP]
ANKUSH KHARDORI I mean, there's so much going on in that one clip that really exemplifies the problems in the commentary here. I mean, first of all, the notion that anything pretty much guarantees a federal prosecution is just nuts on its face. One of the things that has caused me to be a little cautious and a little frustrated with this overconfidence and certainty in this area is because we kind of just went through this with the Mueller investigation.
[CLIP]
NEWS REPORT Can you just feel the tension? The White House, Congress, all of us on pins and needles with the Mueller report expected to drop at any time now. [END CLIP]
[CLIP]
NEWS REPORT I think, and more indictments are coming. And I think there'll be broad based and there'll be a general conspiracy indictment. [END CLIP]
BROOKE GLADSTONE Mueller, Mueller, Mueller, Mueller. I remember that period very well as one of the great anticlimax of all time. And you say that the media and the punditariot that have learned the wrong lesson from that episode.
ANKUSH KHARDORI Yeah, I mean, because you would think, you know, gosh, maybe we covered this in a way that wasn't entirely accurate. Maybe we need to be a little bit more cautious. But that does not seem to be what's happening among the commentariot. I have noticed, I think that the editors and writers in this space, journalists, their coverage I think has noticeably improved. I think Jane Mayer's piece in The New Yorker before the election I thought was excellent. I thought Jonathan Miller's piece in The New York Times magazine a couple of weeks ago was really good. They're able to write in a way that conveys nuance and uncertainty. Among the commentariot. It's that the lesson seems to have been, you know, predict, predict, predict, be confident, and you'll find that people really enjoy hearing that.
BROOKE GLADSTONE So talk about the convergence of what good lawyers do best and what so much of the media is hungry for.
ANKUSH KHARDORI For a prosecutor in particular, their whole job is looking at facts usually more complicated than they seem and fitting them into a narrative to try to make sense of them in a way that seems to lead to a particular result. That can be a very effective and helpful skill. But the media already is primed to hear from people who have strong opinions and present them with authority and confidence. I think a lot of people are filling the space with a lot of overconfident commentary.
BROOKE GLADSTONE So do you have any advice for news consumers who really care about this subject? Any red flags that you think that they should take note of when they're taking in these stories and these commentaries?
ANKUSH KHARDORI Anyone who is projecting into the future about kind of what evidence will show or what evidence may or may not exist that we don't yet know about now, I would be very, very wary about. People who predict with some certainty that something is going to happen on a particular timeline, an investigation like, you know, Harry Lippmann's claim that Cy Vance is going to reach charging decisions within a few months. Here again, who knows? I mean, you mentioned the New York magazine article from September, right? That piece says, you know, the case could go to trial sooner than you think. Well, who knows? I mean, also, there could never be a trial.
BROOKE GLADSTONE Could you confidently predict that there will be new facts?
ANKUSH KHARDORI That's easy. I mean, there will definitely be new facts. There are people who are going to feel comfortable coming forward saying things. Well, you know what? Let me back on that. Actually, I think it's very likely. Let me put it that way, that we're going to learn new things. Right. I shouldn't be doing this thing that I'm criticizing other people for and predicting anything with any kind of certainty. But I see a lot of pathways and a lot of incentives for people to come forward with information after the administration changes.
BROOKE GLADSTONE Thank you so much.
ANKUSH KHARDORI Thanks for having me.
BROOKE GLADSTONE Ankush Kaddouri is a writer, lawyer and former federal prosecutor. Coming up, how wishful thinking also muddies the real picture on salvation via vaccine. This is On the Media.
[BREAK]
BROOKE GLADSTONE This is On the Media, I'm Brooke Gladstone. News of an imminent and effective coronavirus vaccine is undeniably good, but who gets the goods first? That is the question. Consider the special care provided to Trump's inner circle.
[CLIP]
NEWS REPORT There have been people like President Trump, Housing and Urban Development Secretary Ben Carson, the former New Jersey governor Chris Christie, who have praised the antibody cocktails, drugs like Regeneron that they got and they believe help them to recover quickly. [END CLIP]
BROOKE GLADSTONE Rudy Giuliani disclosed this week that he, too, was a Regeneron winner, even though he wasn't that sick.
[CLIP]
GIULIANI If it wasn't me, I wouldn't have been put not in a hospital. [END CLIP]
BROOKE GLADSTONE In November. The FDA granted emergency authorization for several antibody drugs, including Regeneron. But the treatments are in short supply, so much so that Colorado is using a lottery system to allocate them. The reason it takes so long to produce is because they're actually grown in living cells. And that's why at this point, even though they started this months ago, Regeneron only has 50000 doses available.
BROOKE GLADSTONE The decisions about who gets what are agonizing to make, and they always come at a price. Jordan Kisner wrote a piece in the Atlantic called What the Chaos in Hospitals Is Doing To Doctors. She says that to understand the problems that await us in vaccine distribution, we need only look back to earlier this year. Her example, an ethical conundrum that faced the doctor in New York. Five patients landed in the E.R. minutes apart, all in need of ventilators. And there were five ventilators, but only two teams of practitioners to work them. The patients couldn't be treated in order of arrival because they arrived at the same time. They couldn't be treated in order of urgency because they were all drowning. Who should be ventilated? First, the doctor called up a bioethicist for a consult.
JORDAN KISNER The ethicist advised the doctor to work according to something called a SOFA score, which stands for Sequential Organ Failure Assessment, which helps a doctor determine which patient is most likely to survive in the short term if given an intervention like being put on a ventilator. And so they prioritize in that way by figuring out who is most likely to benefit, who is most likely to survive. If we put them on the ventilator and those patients get the ventilator first.
BROOKE GLADSTONE It sounds a bit like triage.
JORDAN KISNER It's exactly like triage. Deciding who gets the attention of the physicians first is pretty routine. Though, when there is resource scarcity, it's a much more dramatic and wrenching set of decisions.
BROOKE GLADSTONE One of your sources, bioethicists named Joseph Fins.
JORDAN KISNER Yes.
BROOKE GLADSTONE Said that situations like this in which all of the options are bad and you have to make a decision, create a kind of moral scar for the clinician.
JORDAN KISNER Yeah, they felt horrible when patients didn't survive. And so part of the editor's job was helping them to understand the care you gave was ethically defensible. And that helps ameliorate the moral scar.
BROOKE GLADSTONE But you spoke to a number of different bioethicists who don't always agree on how to act in crises like these.
JORDAN KISNER There are a lot of strains of philosophy within ethics generally and within bioethics more specifically. So some of the ethicists that I spoke to consider themselves pragmatists. I'm not an ethicist, I'm paraphrasing, but the most kind of hard line version of pragmatism is utilitarianism, which says just maximize the good outcome for the greatest number of people. Then there are sort of more moderate and softer kinds of pragmatism that say, OK, you want to maximize good outcomes, but you also want to do it in a way that, say, considers justice, considers equity. Another strain of ethics that several people I talked to adhere to is something called deontology.
BROOKE GLADSTONE I was really interested by that word because it was completely unfamiliar to me deontology. So I looked at the etymology and it comes from the Greek meaning to bind. Deon is a kind of a binding, so it must be what we owe each other as human beings.
JORDAN KISNER Exactly. It asks us to consider what are the values we want to uphold in our decision making? Is that honesty? Is it equity? And you make the decision that adheres most closely to those values.
BROOKE GLADSTONE Can you think of a situation where a pragmatic approach would directly contradict a deontological one?
JORDAN KISNER So there's an example that was given to me by Dr. Matt Renia, who's a bioethicist in Colorado, and he has spent a lot of his career working on the ethical problems that surround exactly what COVID is, which is a public health calamity, and he said so one thing you might think is save the most lives. That's a very pragmatic approach. Then what that would lead you to do is to focus your life saving resources on the lives most easily saved. Now, in under COVID, we see that COVID disproportionately affects communities of color, the elderly. Those are populations statistically more likely to die from this disease. And if you were to only be maximizing the number of lives saved, that would mean that you would be directing resources away from communities who are more vulnerable to death, which runs us into a huge problem of equity and justice. And so Dr. Renia was saying it's important that we try to save as many lives as possible, but it is also important that we attend to some deontological values like caring for the vulnerable.
BROOKE GLADSTONE So when it comes to the coronavirus vaccine, there seems to be a consensus among bioethicists that the most vulnerable people should get it first. And that's also in line with the guidelines proposed by the National Academy of Sciences, Engineering and Medicine, which seems to be offering advice on this.
JORDAN KISNER That was essentially an advisory document that the CDC is taking under consideration. And the CDC will then issue its formal guidelines that will then be available to the states who are ultimately the ones that are going to be making the plans.
BROOKE GLADSTONE Their general list is first responders and frontline health care workers, including the people who have to clean out the facilities. Also, anyone with a dangerous underlying health condition, older adults living in group homes or unable to self isolate then teachers, school staff, child care workers and essential workers whose job increases their exposure risk like public transit workers. And there's a discussion of prioritizing high vulnerability areas, but absolutely not defining them in terms of race.
JORDAN KISNER That's correct. Dr. Jerry Rice, who is a lawyer and a bioethicist, pointed out to me that one potential pitfall that would come from, say, giving explicit priority to people of color in a vaccination effort would be that it would create a legal precedent for a race based preferential allocation of health care resources, which she essentially said in a country with a history of white supremacy, could be weaponized in the wrong direction. And that, generally speaking, creating that kind of precedent would be legally dicey in any case. But I also spoke to Dr. Yolanda Wilson, who's a political philosopher from Howard University who specializes in bioethics, and she slightly disagreed, saying that actually we as a society have a duty to prioritize Americans of color who are especially vulnerable to this disease, particularly given the history of the way that those communities have been, so to speak, deprioritized.
BROOKE GLADSTONE I assume, given what we've seen so far about the management of this pandemic, that there will be problems in implementing those priorities in any case.
JORDAN KISNER Yeah, what we know is that there is a very, very rocky road ahead. In October, all the states in US submitted interim plans for prioritizing and administrating vaccines. And what we know is that a lot of those plans are still patchy. So, for example, Washington State doesn't have any warehouses that are ready to store a vaccine that needs ultra cold temperatures, which we know Pfizer's vaccine does. Georgia is is going to be relegating distribution decisions to its counties and districts. It has that it's not really going to create a statewide plan. A number of states don't have clear plans for how to get vaccines to rural populations. The chief medical officer for the CDC's vaccine task force told ProPublica in November that she doesn't anticipate the vaccine will be widely available in rural communities.
BROOKE GLADSTONE We talked about the moral scar for the clinician of making these decisions and how bioethicists can help treat them. I guess there's such a soaring rate of suicide among health care practitioners now, and I can't help but think it has to do with taking a kind of moral responsibility for decisions that they knew they weren't equipped to make.
JORDAN KISNER We set up whole systems like the New York State Task Force on Life in the Law, so that when this happened, it would not fall in the lap of the clinicians. And that it did. And that's not just in New York. When there is a kind of a vacuum of decision making at the top of the food chain, that happens because they're terrible decisions to make. Nobody wants to make them. And so they get shunted downward and downward until they're in the lap of the person who's standing in front of the patient and cannot not make a decision.
BROOKE GLADSTONE You quote Dr. Fins in your piece saying "they needed to believe we were superheroes. But why do we value heroes? Because heroes assume a disproportionate share of the burden. He shook his head. We had to do more than we should. A pandemic response based on heroism is a thin reed." When the vaccine becomes available, will the brunt of moral decision making again be left to overworked doctors and health care workers? Is there any way to avoid it?
JORDAN KISNER Is there any way to avoid it? Yikes. I mean, I think the thing that feels like the eerie repetition to me is this sense of confusion of states are saying we don't have firm guidelines yet from the CDC about the order in which we vaccinate and they know that they're going to be getting doses, but they don't know how many doses and they don't know when. And so it's hard to make plans for that reason. They know that there will be some funding coming from the federal government to help with implementation, but they don't know how much yet. So far as I know, there's a lot of people everywhere in the power structure looking up to the next rung up, going, what's going to happen? What am I supposed to do? What are we supposed to do? And that is a really risky situation. That confusion and that uncertainty creates a kind of ethical and moral stress. And also it creates disproportionate harm in communities that are disproportionately vulnerable.
BROOKE GLADSTONE Jordan Kisner is author of an article in The Atlantic called What the Chaos in Hospitals is Doing to Doctors. Thank you very much.
JORDAN KISNER Thank you. Really such an honor to get to talk to you.
BROOKE GLADSTONE Coming up, numbness and a genuinely uplifting take on Death. This is On the Media.
[BREAK]
BROOKE GLADSTONE This is On the Media, I'm Brooke Gladstone. The mounting stress of the pandemic has spawned a mental health epidemic.
[CLIP]
NEWS REPORT What can we do to flatten the curve? Well, the number one thing we can do is avoid COVID fatigue. [END CLIP[]]
[CLIP]
NEWS REPORT There's pandemic fatigue setting in around the world. [END CLIP]
[CLIP]
NEWS REPORT Many people are feeling now what we call COVID burnout. [END CLIP]
[CLIP]
NEWS REPORT The overwhelming anxiety and stress from being shut down and restricted. It is very, very real. [END CLIP]
BROOKE GLADSTONE In our editorial meeting this week, producer Michael Lowinger spoke about his inability to meet each horrific new day with the emotional response he believed it was owed, which is why he brought up a piece in The Washington Post that jolted him out of his numbness for the first time in months. We thought it was worth sharing, so I asked him to recount what he'd said at the meeting.
MICAH LOEWINGER Getting push notifications from The New York Times. And there's like some stat about the number of people who have died or, you know, states where the virus is surging or the rising unemployment rate. You know, I just swiped that stuff away. I'm no longer feeling the appropriate magnitude of what is taking place.
BROOKE GLADSTONE A psychiatrist that I spoke to in the poverty series that we did a couple of years ago, a professor named Paul Bloom, he said this about empathy.
PAUL BLOOM There's a wonderful collaboration between Tania Singer, a neuroscientist, and Matthieu Ricard, a Buddhist monk and biologist, where they train people to feel empathy. Then they train another group to be compassionate, to care about other people, but not necessarily engage in the same way. What they found was empathy group. They suffered more and they helped less. The compassionate group felt good and they helped more. So if you took away empathy, what would you replace it with? A sort of rather cold blooded, rational cost benefit analysis? Go not after what gives you the buzz, but what really helps other people. And then the second thing is we need some sort of emotional push. But to push need not come from empathy. The push can come from love, from caring, from compassion, from more distance emotions that don't swallow us up in the suffering of others.
MICAH LOEWINGER That's fair. And if I were like in the fetal position crying every time I read a story about this pandemic, maybe you could say, oh, Micah, you're taking it a little too far. Like, this isn't healthy, but no longer feeling it just feels like another extreme.
BROOKE GLADSTONE So, Michael, tell me this story that set you off, that was in The Washington Post.
MICAH LOEWINGER The story is told from the perspective of a man named Bruce McGillis, who's at a nursing home in Ohio and begins with this really haunting image of him feeling helpless and stuck and bored in his nursing home room. He has preexisting conditions that would make him especially susceptible to the virus. And his doctor has basically told him, like, the only way to survive is to not get it. And so he's he's sort of panicking in this nursing home. You know, news begins to spread that, you know, one person has it and two people have it. Then thirty people have it. And so each morning he's waking up and he sees the plastic on the walls and in the hallways where the infected members of the nursing home are being, you know, physically quarantined. And this plastic barrier is actually just creeping closer and closer to his room. He doesn't know what to do. He calls the CDC. He can't get through to them. He calls the local priest. He finds a phone number for Dr. Fauci. He calls Dr. Fauci. It just goes to an answering machine. He calls 911, they say, what's the emergency? He explains. They say that doesn't really sound like an emergency.
BROOKE GLADSTONE What was he looking for? What did he want to see your doctor forced you to do?
MICAH LOEWINGER I I don't know. I think he needs someone to hear him. He even says at some point. Out loud, "hello, can anybody hear me? Is anybody going to do anything?" And this was kind of a moment where I felt like he was addressing something that I was experiencing, but I hadn't articulated, he says people are thinking, oh, it's just another nursing home. They were already at the end of their road. For a lot of people in here, you know, maybe that's true, this is their last stop. But there's still people and they're still alive. I don't know. Just like. Reading that like it just kind of screwed me up. There was just something about him stating it so plainly just we matter, you know, my life matters. What's happening here matters. And like, maybe you're numb to me. You know, maybe the woman on the phone is numb to me, but like. Don't look away, and it made me realize I had been looking away and the end of the story. He says he's come to the realization that the only way to survive is complete isolation. And so he finds a plastic picnic blanket in a linen closet in the nursing home. And he tells the journalist that he's going to tape it over his door and just trap himself inside. That's all we know about Bruce.
BROOKE GLADSTONE So what do we know about you from this experience? I mean, how bad is bad enough to feel?
MICAH LOEWINGER I don't know, I mean, that's a good that's a good question. Should a person feel guilt if they don't feel bad enough about the bad things in the world? You know, there was a statistic this week, and I'm sure by the time this goes to air, the statistic will be worse, but it was that more people had died on a day this week than on 9/11. And on 9/11, when I was a little boy, I cried a lot and I was very disturbed. And it shook up the way that I saw the world. And I haven't felt that intensely about this pandemic in a really long time. Maybe at the very beginning, but the days just keep going and the world is telling me like, hey, there's as much tragedy as the biggest tragedy in recent American history. And so I should feel an equivalent amount of sadness. And I really don't. And I want to and I understand it. And it's our job on the show and as citizens to understand it and to care, but if I'm being utterly honest, I just don't feel that sadness every day.
BROOKE GLADSTONE I mean, isn't pain disabling? I guess I wonder if keeping those receptors is as sharp and as sensitive as always works toward improving that project or whether it might make it harder?
MICAH LOEWINGER Yes, it would be very hard to exist as a functional person.
BROOKE GLADSTONE If you had your skin flayed off on a daily basis.
MICAH LOEWINGER Yes, exactly. Which could be a rational response to what's going on. But I just think it is our responsibility to feel the pain of of people around us.
BROOKE GLADSTONE What good does it do them?
MICAH LOEWINGER We could hold those in power accountable.
BROOKE GLADSTONE You know, there's nothing more immobilizing than depression.
MICAH LOEWINGER Yeah. I guess the point I'm trying to make is I feel like I'm so far from being depressed. I'm not even I'm just not getting close to depression. I'm just I'm just on another part of the emotional plane altogether. And that it feels frightening. It feels unhuman.
BROOKE GLADSTONE Tell me about that plane.
MICAH LOEWINGER You know, it's something like a bell curve. If you feel nothing, you do nothing. If you feel too much, you do nothing. But in the middle, there's some kind of sweet spot of action, of productivity and inspiration and motivation. And I fear I'm too far to the inactive side of the bell curve that doing nothing, feeling nothing. You know, I'm going to survive. I'm going to be fine. The people around me, for the most part, are going to be fine and do OK. This is not an existential moment for me, but that doesn't mean I don't have a responsibility.
BROOKE GLADSTONE Micah, thank you so much.
MICAH LOEWINGER Thank you.
BROOKE GLADSTONE Micah Loewinger is a producer for On the Media. Back in July, The Washington Post reported that several sources familiar with White House thinking were banking on Americans growing numb to the pandemic. And research does suggest that anything that is consistent can induce that effect. But the pandemics ebb and flow has hardly been that. And every death that every person experiences is unique and extraordinary. So let's talk about death. Our funeral industry is swamped. It can no longer swiftly separate us from the bodies of our loved ones and dispatch them. But there are movements long afoot that assert sweeping the remains out from under the bereaved does more harm than good. The death positivity movement is premised in part on the idea that Hands-On participation at home with the body chilled for a day or three on dry ice while preparing the casket or celebrating the life lived is a far better farewell. The Green Burial Movement encourages giving back to the planet by returning the body directly to the soil or from ashes to ashes. Amy Cunningham is a practitioner of all these movements, including the dry ice preservation technique originating in Southern California. She's a death educator, a funeral director and owner of Fitting Tribute, Funeral Services in New York City.
AMY CUNNINGHAM At first, when the coronavirus hit as an eco friendly funeral director, I felt like I had very little to offer. But then when I found myself on the telephone with a man in the Bronx whose mother in law was dead in the house of the coronavirus, the medics had come and pronounced the death and turned him over to find a funeral director to come collect her. And every funeral director in New York had 15 cases ahead of his. He found when I told him I couldn't help him immediately, he said, well, ordinarily we would have a wake. And I said, Listen to me. She's in the bed, she's dead. This is your wake, put on music, get clergy on face time, allow your wife an opportunity to grieve, keep your masks on. And I helped them find a way to navigate that terrible moment when they felt so hopeless. I think if I hadn't had experience in home based funeral design, I wouldn't have known to tell them to make that moment a meaningful experience that you didn't have to wait for a funeral director, that he could take the reins right there, celebrate this woman and honor her.
BROOKE GLADSTONE It seems in a way reminiscent of rituals from a long time ago, maybe centuries ago, when all over the world and still in many places, people are more used to confronting death, both the pain of it, the omnipresence of it and the inevitability of it. You know, before this interview, I went back and looked at some ancient rituals. In many places, women were expected to suffer more isolation and discomfort than men, even as late as Victorian times. But at least no one would have told a Victorian woman to hurry up and get over it.
AMY CUNNINGHAM Bereavement experts now say that the Victorians were not as crazy as we laughed them off to be. That there's something very beautiful about changing the way we dress, announcing - things are different around here. There are little buttons now that say I'm grieving, go gentle. You can also put a wreath on your door, some kind of announcement that you are walking through this doorway, a changed person. At the height of the crisis, I told a gentleman on the Upper East Side whose wife was dying of cancer, in the midst of all this, I said, when it happens, when she dies, call hospice, report the death, but then take yourself to the eighteen hundreds. You're in the home. You can light candles and you can make this as beautiful as you want it to be. Just take it back in time and you know what to do. It's in your bones. People have been dying and honoring the dead for a long, long time.
BROOKE GLADSTONE I'm not an observant Jew, but when my parents died, I was so appreciative of the rituals, the piece of black torn cloth. You didn't have to wear it so that it could be seen, but you wore that for a prescribed time. There was the unveiling of the tombstone, after a year. There were stages to grief and I found it profoundly comforting.
AMY CUNNINGHAM The Jewish protocol has phases and moments and particular days of commemoration. So to we need to see a death in the family as the launching of moments. Each of which could have ceremony and ritual attached. The moment at the bed, the moment at the gathering. If none of these moments are as you would have hoped, there are other moments that you can create. The first birthday after the death. We're going into the holiday season, a lot of people are deeply, deeply grieving. A holiday without someone. Photos, recipes, all kinds of homebound things can support us. You can bring all the elements of nature and play the out of doors are enormously important to us all, and we were so close to our computers and are closer to them than ever, perhaps. But now is such a vitally important time to step outside and be in the weather. I personally, as a funeral director, I've got to get warmer boots, long underwear. I'm going to be outside for the rest of the season. But once you're out, they're bundled up and with a thermos of hot tea. You recognize that? Gosh, I wouldn't have had it any other way.
BROOKE GLADSTONE But what about corpse aversion? Many of the rituals you talk about would just sound macabre to many people living in the US today. When my father died, we called the funeral home and they came and basically zipped him up in a, what looked like a garment bag and took them away. And I thought there must be a better way. But three days in a bed seems like a lot. What are you do about the fact that corpses in our culture are not a sign of affirmation?
AMY CUNNINGHAM We like things pretty in our culture. We put makeup on to look less old, but there are such powerful lessons to expanding our definition of what beautiful is. And I've been surprised the natural body isn't always gorgeous, but there's some aspect of it that has appeal, even if it's just a wrinkled, weathered hand that you've grown up with and held for so many years. It's not for the faint of heart, I guess, but there are signals the body gives us that it's time to separate and we are not our bodies. A rabbi in Brooklyn Heights named Rabbi Serge Lipp taught me to say at funerals that we don't cremate people, we don't bury people, we bury and cremate bodies. It's the bodies we separate from. A lot of people are coming to me lamenting the fact that they weren't able to have a proper farewell. Many of them haven't been able to say goodbye in person. And some of these people may not believe in God, so they're there at sea because they don't know where that person is. So I try to tell them and I haven't figured it out completely. I wish I could say they're there for you. The relationship will continue and you can grow within it. And you may be astonished to find that even that person you're missing is still growing. As you live on the rest of your life. You'll be in conversation with that loved one.
BROOKE GLADSTONE When I was talking to our producer, Michael, lowinger about the pain he wasn't feeling and how he was worried about it and wondering about what value that pain had. I was thinking about it and I was reminded of this poem by Pablo Neruda called The Dead Woman. And if you'll indulge me.
AMY CUNNINGHAM Yes, please.
BROOKE GLADSTONE If suddenly you do not exist, if suddenly you no longer live, I shall live on, I do not dare, I do not dare to write it. If you die, I shall live on. For where a man has no voice there. My voice where blacks are beaten. I cannot be dead. When my brothers go to prison, I shall go with them, when victory, not my victory, but the great victory comes. Even though I am mute, I must speak. I shall see it come even though I am blind. No, forgive me if you no longer live, if you beloved my love, if you have died, all the leaves will fall in my breast, it will rain on my soul night and day. The snow will burn my heart. I shall walk with frost and fire and death and snow. My feet will want to walk to where you were sleeping. But I shall stay alive because above all things, you wanted me indomitable, and my love, because you know that I am not only a man, but all mankind.
AMY CUNNINGHAM Wow, it's beautiful. Confronting death is sort of a key to unlocking and entering into a house of empathy and caring. When we're so angry and alienated from each other, perhaps of the deaths surrounding us will enable us to communicate, caring that we all share, and I hope through this national grieving process and I hope that our new president as a griever-in-chief, will perhaps be able to guide us through the coming year. I engage in my work with such deep appreciation because a good grief sharing event can send you out into your own life with a different approach. And yes, we're facing each other on Zoom and speaking to our losses as articulately as we can. But even that kind of event can set you off into having a better life in the time you have left. So many people are saddened, they feel that their loved one died alone, but my observations of the dying process and my work with families grieving a loss has taught me that we all die alone. We lift off from this planet and all the harsh realities. I think we move into a different space and it's OK that we do that by ourselves. There's a beautiful poem that's another great one, like the Neruda called The Long Boat by Stanley Kunitz. When his boat snapped loose from its mooring under the squeaking of the gulls, he tried at first to wave to his dear friends on shore. But in the rolling fog, they had already lost their faces. Too tired even to choose between jumping and calling. Somehow he felt absolved and free of his burdens, those mottos stamped on his name tag. Conscience, ambition and all that caring. He was content to lie down with the family ghosts in the slop of his cradle, buffeted by the storm, endlessly drifting. Peace. Peace could be rocked by the infinite, as if it didn't matter which way was home, as if he didn't know he loved the Earth so much he wanted to stay forever. It's like as you lift off from all that caring, you stop remembering that you really didn't want to die. I was lecturing and we were talking about home funerals and dry ice layouts in the house, and I said, you know, truthfully, even though I teach this stuff, I'm not sure I want to be laid at my house with my husband and my kids put dry ice around me. As much as I like that for others, I said for one reason, I still rather vain and I want to be seen when I look my best. And a woman in the back row raised her hand and shouted, You'll get over that.
[BROOKE LAUGHS]
AMY CUNNINGHAM So it's caused me to think, oh, gosh, we the to be liberated from caring how I looked.
BROOKE GLADSTONE Amy, thank you so much.
AMY CUNNINGHAM Thank you.
BROOKE GLADSTONE Amy Cunningham is a death educator, funeral director and owner of Fitting Tributes Funeral Services in New York City.
And that's the show. On the Media is produced by Alana Cassanova-Burgess, Micah Loewinger, Leah Feder, Jon Hanrahan, and Eloise Blondiau with help from Ava Sasani. Xandra Ellin writes our newsletter. Our technical director is Jennifer Munsen. Our engineers this week were Sam Baier and Josh Hahn. Katya Rogers is our executive producer.
On the Media is a production of WNYC Studios, Bob Garfield will be back next week.I'm Brooke Gladstone.
Copyright © 2020 New York Public Radio. All rights reserved. Visit our website terms of use at www.wnyc.org for further information.
New York Public Radio transcripts are created on a rush deadline, often by contractors. This text may not be in its final form and may be updated or revised in the future. Accuracy and availability may vary. The authoritative record of New York Public Radio's programming is the audio record.