The Moral Burden of Pandemic Decision-Making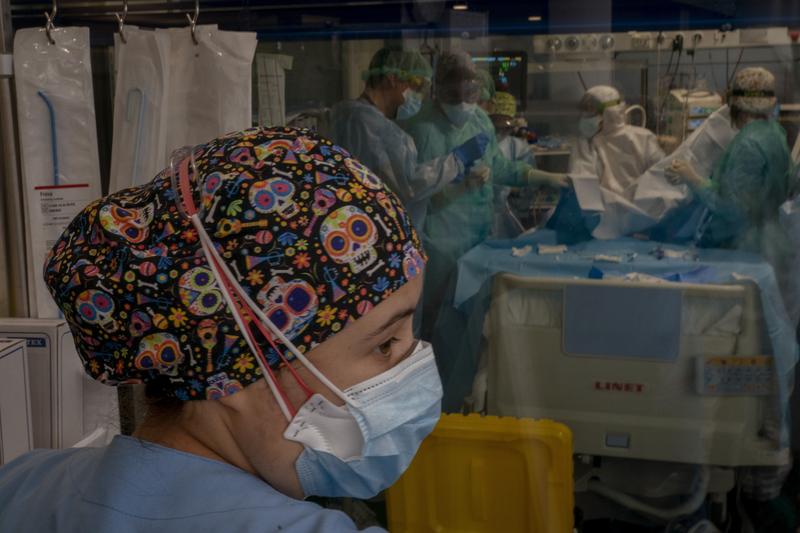 Transcript
BROOKE GLADSTONE This is On the Media, I'm Brooke Gladstone. News of an imminent and effective coronavirus vaccine is undeniably good, but who gets the goods first? That is the question. Consider the special care provided to Trump's inner circle.
[CLIP]
NEWS REPORT There have been people like President Trump, Housing and Urban Development Secretary Ben Carson, the former New Jersey governor Chris Christie, who have praised the antibody cocktails, drugs like Regeneron that they got and they believe help them to recover quickly. [END CLIP]
BROOKE GLADSTONE Rudy Giuliani disclosed this week that he, too, was a Regeneron winner, even though he wasn't that sick.
[CLIP]
GIULIANI If it wasn't me, I wouldn't have been put not in a hospital. [END CLIP]
BROOKE GLADSTONE In November. The FDA granted emergency authorization for several antibody drugs, including Regeneron. But the treatments are in short supply, so much so that Colorado is using a lottery system to allocate them. The reason it takes so long to produce is because they're actually grown in living cells. And that's why at this point, even though they started this months ago, Regeneron only has 50000 doses available.
BROOKE GLADSTONE The decisions about who gets what are agonizing to make, and they always come at a price. Jordan Kisner wrote a piece in the Atlantic called What the Chaos in Hospitals Is Doing To Doctors. She says that to understand the problems that await us in vaccine distribution, we need only look back to earlier this year. Her example, an ethical conundrum that faced the doctor in New York. Five patients landed in the E.R. minutes apart, all in need of ventilators. And there were five ventilators, but only two teams of practitioners to work them. The patients couldn't be treated in order of arrival because they arrived at the same time. They couldn't be treated in order of urgency because they were all drowning. Who should be ventilated? First, the doctor called up a bioethicist for a consult.
JORDAN KISNER The ethicist advised the doctor to work according to something called a SOFA score, which stands for Sequential Organ Failure Assessment, which helps a doctor determine which patient is most likely to survive in the short term if given an intervention like being put on a ventilator. And so they prioritize in that way by figuring out who is most likely to benefit, who is most likely to survive. If we put them on the ventilator and those patients get the ventilator first.
BROOKE GLADSTONE It sounds a bit like triage.
JORDAN KISNER It's exactly like triage. Deciding who gets the attention of the physicians first is pretty routine. Though, when there is resource scarcity, it's a much more dramatic and wrenching set of decisions.
BROOKE GLADSTONE One of your sources, bioethicists named Joseph Fins.
JORDAN KISNER Yes.
BROOKE GLADSTONE Said that situations like this in which all of the options are bad and you have to make a decision, create a kind of moral scar for the clinician.
JORDAN KISNER Yeah, they felt horrible when patients didn't survive. And so part of the editor's job was helping them to understand the care you gave was ethically defensible. And that helps ameliorate the moral scar.
BROOKE GLADSTONE But you spoke to a number of different bioethicists who don't always agree on how to act in crises like these.
JORDAN KISNER There are a lot of strains of philosophy within ethics generally and within bioethics more specifically. So some of the ethicists that I spoke to consider themselves pragmatists. I'm not an ethicist, I'm paraphrasing, but the most kind of hard line version of pragmatism is utilitarianism, which says just maximize the good outcome for the greatest number of people. Then there are sort of more moderate and softer kinds of pragmatism that say, OK, you want to maximize good outcomes, but you also want to do it in a way that, say, considers justice, considers equity. Another strain of ethics that several people I talked to adhere to is something called deontology.
BROOKE GLADSTONE I was really interested by that word because it was completely unfamiliar to me deontology. So I looked at the etymology and it comes from the Greek meaning to bind. Deon is a kind of a binding, so it must be what we owe each other as human beings.
JORDAN KISNER Exactly. It asks us to consider what are the values we want to uphold in our decision making? Is that honesty? Is it equity? And you make the decision that adheres most closely to those values.
BROOKE GLADSTONE Can you think of a situation where a pragmatic approach would directly contradict a deontological one?
JORDAN KISNER So there's an example that was given to me by Dr. Matt Renia, who's a bioethicist in Colorado, and he has spent a lot of his career working on the ethical problems that surround exactly what COVID is, which is a public health calamity, and he said so one thing you might think is save the most lives. That's a very pragmatic approach. Then what that would lead you to do is to focus your life saving resources on the lives most easily saved. Now, in under COVID, we see that COVID disproportionately affects communities of color, the elderly. Those are populations statistically more likely to die from this disease. And if you were to only be maximizing the number of lives saved, that would mean that you would be directing resources away from communities who are more vulnerable to death, which runs us into a huge problem of equity and justice. And so Dr. Renia was saying it's important that we try to save as many lives as possible, but it is also important that we attend to some deontological values like caring for the vulnerable.
BROOKE GLADSTONE So when it comes to the coronavirus vaccine, there seems to be a consensus among bioethicists that the most vulnerable people should get it first. And that's also in line with the guidelines proposed by the National Academy of Sciences, Engineering and Medicine, which seems to be offering advice on this.
JORDAN KISNER That was essentially an advisory document that the CDC is taking under consideration. And the CDC will then issue its formal guidelines that will then be available to the states who are ultimately the ones that are going to be making the plans.
BROOKE GLADSTONE Their general list is first responders and frontline health care workers, including the people who have to clean out the facilities. Also, anyone with a dangerous underlying health condition, older adults living in group homes or unable to self isolate then teachers, school staff, child care workers and essential workers whose job increases their exposure risk like public transit workers. And there's a discussion of prioritizing high vulnerability areas, but absolutely not defining them in terms of race.
JORDAN KISNER That's correct. Dr. Jerry Rice, who is a lawyer and a bioethicist, pointed out to me that one potential pitfall that would come from, say, giving explicit priority to people of color in a vaccination effort would be that it would create a legal precedent for a race based preferential allocation of health care resources, which she essentially said in a country with a history of white supremacy, could be weaponized in the wrong direction. And that, generally speaking, creating that kind of precedent would be legally dicey in any case. But I also spoke to Dr. Yolanda Wilson, who's a political philosopher from Howard University who specializes in bioethics, and she slightly disagreed, saying that actually we as a society have a duty to prioritize Americans of color who are especially vulnerable to this disease, particularly given the history of the way that those communities have been, so to speak, deprioritized.
BROOKE GLADSTONE I assume, given what we've seen so far about the management of this pandemic, that there will be problems in implementing those priorities in any case.
JORDAN KISNER Yeah, what we know is that there is a very, very rocky road ahead. In October, all the states in US submitted interim plans for prioritizing and administrating vaccines. And what we know is that a lot of those plans are still patchy. So, for example, Washington State doesn't have any warehouses that are ready to store a vaccine that needs ultra cold temperatures, which we know Pfizer's vaccine does. Georgia is is going to be relegating distribution decisions to its counties and districts. It has that it's not really going to create a statewide plan. A number of states don't have clear plans for how to get vaccines to rural populations. The chief medical officer for the CDC's vaccine task force told ProPublica in November that she doesn't anticipate the vaccine will be widely available in rural communities.
BROOKE GLADSTONE We talked about the moral scar for the clinician of making these decisions and how bioethicists can help treat them. I guess there's such a soaring rate of suicide among health care practitioners now, and I can't help but think it has to do with taking a kind of moral responsibility for decisions that they knew they weren't equipped to make.
JORDAN KISNER We set up whole systems like the New York State Task Force on Life in the Law, so that when this happened, it would not fall in the lap of the clinicians. And that it did. And that's not just in New York. When there is a kind of a vacuum of decision making at the top of the food chain, that happens because they're terrible decisions to make. Nobody wants to make them. And so they get shunted downward and downward until they're in the lap of the person who's standing in front of the patient and cannot not make a decision.
BROOKE GLADSTONE You quote Dr. Fins in your piece saying "they needed to believe we were superheroes. But why do we value heroes? Because heroes assume a disproportionate share of the burden. He shook his head. We had to do more than we should. A pandemic response based on heroism is a thin reed." When the vaccine becomes available, will the brunt of moral decision making again be left to overworked doctors and health care workers? Is there any way to avoid it?
JORDAN KISNER Is there any way to avoid it? Yikes. I mean, I think the thing that feels like the eerie repetition to me is this sense of confusion of states are saying we don't have firm guidelines yet from the CDC about the order in which we vaccinate and they know that they're going to be getting doses, but they don't know how many doses and they don't know when. And so it's hard to make plans for that reason. They know that there will be some funding coming from the federal government to help with implementation, but they don't know how much yet. So far as I know, there's a lot of people everywhere in the power structure looking up to the next rung up, going, what's going to happen? What am I supposed to do? What are we supposed to do? And that is a really risky situation. That confusion and that uncertainty creates a kind of ethical and moral stress. And also it creates disproportionate harm in communities that are disproportionately vulnerable.
BROOKE GLADSTONE Jordan Kisner is author of an article in The Atlantic called What the Chaos in Hospitals is Doing to Doctors. Thank you very much.
JORDAN KISNER Thank you. Really such an honor to get to talk to you.
BROOKE GLADSTONE Coming up, numbness and a genuinely uplifting take on Death. This is On the Media.
Copyright © 2020 New York Public Radio. All rights reserved. Visit our website terms of use at www.wnyc.org for further information.
New York Public Radio transcripts are created on a rush deadline, often by contractors. This text may not be in its final form and may be updated or revised in the future. Accuracy and availability may vary. The authoritative record of New York Public Radio's programming is the audio record.