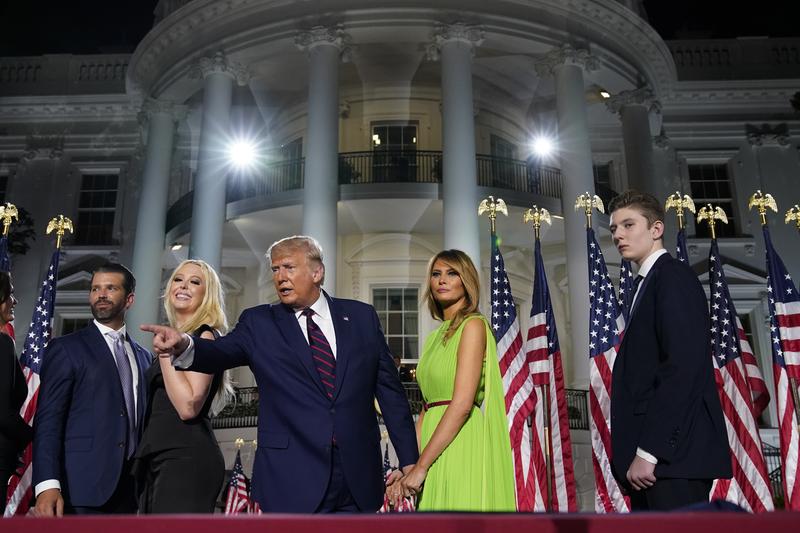 Transcript
JAMES FALLOWS Every night there were ways in which things that had not been done before were done, including a secretary of state weighing in from Jerusalem.
BROOKE GLADSTONE Both party conventions were unconventional, but in very different ways. From WNYC in New York, this is On the Media, I'm Brooke Gladstone. Also, it's back to school time. What does that even mean now?
SAM GALLOWAY When you see these university presidents making strident statements about welcoming students back to campus? I think that's Latin for parents. Please send in your tuition check.
BROOKE GLADSTONE Even as campus life shrivels and universities ponder their futures, some students will thrive in the academic environment shaped by the virus.
MICAH LOEWINGER Is it too strong to say that online school saved your life?
OMAR I mean I was suicidal at the time because I had failed and failed and felt that I had no other options. So maybe it's not too strong to literally say it saved my life yet. I could say it did, for sure.
BROOKE GLADSTONE It's all coming up, after this.
From WNYC in New York, this is On the Media. Bob Garfield is away, I'm Brooke Gladstone. After an unusually grim week in an endless series, one in which a young black father shot in the back by a cop in Kenosha, Wisconsin, in front of his three kids. That moment, and nothing else was captured on video.
[CLIP]
JACOB BLAKE They shot my son seven times, like he didn't matter. But my son matters. He's a human being, and he matters. [END CLIP]
BROOKE GLADSTONE The incident prompted action by athletes in the NBA. The Milwaukee Bucks responding this week with an unprecedented one day strike.
[CLIP]
NEWS REPORT And it spilled over to Major League Baseball because the Milwaukee Brewers and Cincinnati Reds have also decided not to play tonight. [END CLIP]
BROOKE GLADSTONE It spurred the sudden departure of an NBA commentator from the set in what seemed like a moment of anguish and solidarity.
[CLIP]
KENNY SMITH As a black man, as a former player - I think it's best for me to support the players and just not be here tonight. [END CLIP]
BROOKE GLADSTONE It ignited protests in Kenosha streets, which spurred a gun toting, Trump loving teen to join other armed vigilantes responding to what they heard as a call to stop the violence. Mostly against property. The kid killed two and injured one. You may think it's a bit gratuitous, even unfair, to drop the president's name here, but if you do, it's because you didn't watch the RNC this week. You missed the McCluskey's of elite St. Louis, who in June stood sentry in front of their marble palazzo and brandished firearms at Black Lives Matter protesters marching past. The McCluskey's were charged with a felony and were featured in RNC primetime hailed as heroes. You missed the lines drawn sharp as razors between Americans. Whether slinging guns or throwing shade.
[CLIP]
PROTESTOR Racist, rapist! Racist, rapist! [END CLIP]
BROOKE GLADSTONE And lucky you avoided the deep and dizzying disorientation that viewers of the bizarro vision of the bizarro president experienced, night after ever loving night.
[CLIP]
TRUMP And I say very modestly that I have done more for the African-American community than any president's since Abraham Lincoln. [END CLIP]
[CLIP]
SEINFELD Yeah, like bizarro Superman. Superman's exact opposite. Who lives in the backwards bizarro world? Up is down, down is up. He says hello when he leaves. Goodbye when he arrives. [END CLIP]
BROOKE GLADSTONE It's not a new analogy, but I really doubt it's ludicrous force watching the RNC this week. Apparently, the pandemic is over.
[CLIP]
LARRY KUDLOW It was awful. Health and economic impacts were tragic, but presidential leadership came swiftly and effectively. [END CLIP]
BROOKE GLADSTONE The nation is a hellscape.
[CLIP]
TRUMP JR Anarchists have been flooding our streets. Small businesses across America, many of the minority owned, are being torched by mobs. [END CLIP]
BROOKE GLADSTONE It's a hell scape, and it will become a hell scape if Joe Biden becomes president.
[CLIP]
TRUMP Just imagine if the so-called peaceful demonstrators in the streets were in charge of every lever of power in the U.S. government. Just think of that. [END CLIP]
[CLIP]
BIZARRO Child man listen Bizarro have best words! [END CLIP]
Bizzaro's telescopic vision allows him to see a short distance behind him rather than a long distance in front. His microscopic vision makes objects - say pandemic's, violations of the Hatch Act, smaller.
[CLIP]
BIZARRO Bizarro vision make you happy [END CLIP]
BROOKE GLADSTONE It's nauseating, literally! Trying to find a footing in a world where up is down and wrong is right. Watching the convention, James Fallows of The Atlantic felt it too.
JAMES FALLOWS There were these speeches saying: we welcome Black people, we welcome immigrants, we welcome women, we are inclusive, Donald Trump is nice - and that was at odds with the gun toting couple from St. Louis saying they're coming to get you. And the speakers saying that Donald Trump was the bastion of Western civilization, which was under siege on all fronts. So that was the conflict the Republicans had of what they were saying to the base and how they hoped to invite people in.
BROOKE GLADSTONE It struck me that it was to reassure white people that they wouldn't be racist if they voted for him.
JAMES FALLOWS Reassure women also that they wouldn't be anti feminist or anti woman if they decided to go with Trump. What they showed and did was more powerful than what they said.
BROOKE GLADSTONE Do you think that the convention's new virtual format actually encouraged the president to violate the Hatch Act. To blatantly break the law? You're not supposed to use your office directly for politics.
JAMES FALLOWS Every night, things that had not been done before were done. Including a secretary of state weighing in from Jerusalem. The Hatch Act applies to everybody else in the government, but not to the president. Everything a president does is implicitly political. Previous presidents have tried to stay on one side of the line. They haven't done actual explicitly political events from on the White House property. And so Donald Trump has - that's one of many norms that he has not observed. And maybe if he had to go to Charlotte, he would not have done so many events from the Rose Garden or inside the White House.
BROOKE GLADSTONE So how do you think journalists are covering these different conventions?
JAMES FALLOWS Probably for the public, it means there's more concentration on what is actually being said and signaled and conveyed.
BROOKE GLADSTONE A little more fact checking.
[JAMES FALLOWS Real-Time fact checking. You know, trying to keep up most stalwartly and valiantly, Daniel Dale on CNN.
[CLIP]
DANIEL DALE It's not just big things like this, broad revisionism on the response to the pandemic. It's a little inaccuracy, carelessness. We had someone, Laura Trump, cite a fake Abraham Lincoln quote tonight. [END CLIP]
JAMES FALLOWS We're seeing a distillation of the challenge our comrades have had for the last three plus years, which is if you judge things by normal standards, you will sound one sided. If you say they're lying 100 times as much in one of these conventions than the other, you will be factually accurate. But all of your fair and balanced instincts make you think, well, that sounds unbalanced. So that's the challenge that even now I think most of our colleagues are having.
BROOKE GLADSTONE In the Atlantic, you write about cool media and hot media - in the Marshall McLuhan sense - and suggested that it pretty well summed up the styles of the Democratic and Republican conventions this year.
JAMES FALLOWS At the Republican convention, the staple shot was a public figure standing at the podium and orating at a crowd that didn't happen to be there. Like in old conventions, you shout to emphasize certain points, etc., etc. So that was sort of the old fashioned, hot, sweaty in your face rhetoric, whereas the Democrats recognizing they did not have a crowd. The more representative one was either Barack or Michelle Obama very quietly looking at the camera and talking directly to you.
[CLIP]
PRESIDENT OBAMA You can give our democracy new meaning. You can take it to a better place. You're the missing ingredient. [END CLIP]
JAMES FALLOWS It was like FDR in a fireside chat over the radio to people during the depression. That kind of intimacy.
[CLIP]
FDR My friends, my enemies, my daily mail. Bring to me reports of what you are thinking and hoping. [END CLIP]
BROOKE GLADSTONE McLuhan said that cool media are those that need the participation of users due to their low definition.
JAMES FALLOWS Yes, and so I will stipulate that, Marshall McLuhan, who came up with this categorization long ago in Understanding Media, I think, and in the mid 1960s - his definitions of the terms may be at slight odds with the way I'm using them.
BROOKE GLADSTONE Yeah, I always had trouble with his definitions, actually.
JAMES FALLOWS The way I think of hot media is something that is coming at you. The best representation we've seen in the last 10 days was Kimberly Guilfoyle.
[CLIP]
GUILFOYLE President Trump believes in you. He emancipated and lifts you up to live your American dream. [END CLIP]
JAMES FALLOWS That was something that resembled only two other parts of modern discourse. One is Sunday morning preachers and the other is some 3AM and infomercial guy.
BROOKE GLADSTONE The bass-o-matic.
JAMES FALLOWS Yeah, and maybe the My Pillow guy has been the the rhetoric coach for the whole convention.
[CLIP]
LINDELL Ten years ago, I invented my pillow. It took me two years to develop because I wanted to have everything you would ever want in a pillow. [END CLIP]
JAMES FALLOWS Whereas a cooler approach to me is something that invites you in, rather than yells at you.
BROOKE GLADSTONE In the article you wrote in The Atlantic, you harken back to Norman Mailer, who saw John Kennedy's ascension at the 1960 Democratic National Convention as a moment when the cool invaded the political sphere. He was, Mailer said, unlike any politician who'd ever run for president in the history of the land. And if elected, he would come to power in a year when America was in danger of drifting into a profound decline.
[CLIP]
KENNEDY The victory we seek in November will not be easy. We know that in our hearts. We know that our opponents will invoke the name of Abraham Lincoln on behalf of their candidate. [END CLIP].
BROOKE GLADSTONE Similar to the poise of a fine boxer, quick with his hands, neat in his timing and two feet from his corner when the bell ended the round. There was an elusive detachment to everything he did.
JAMES FALLOWS I was contrasting that to say, Hubert Humphrey or Lyndon Johnson. Politicians of Kennedy's time who left nothing behind. They would grab you by the lapels. They would get so close in your face you would feel their spittle. In the days before that had a mortal, mortal danger to it. I thought the Democrats couldn't do a sort of hot, sweaty convention because of the virus. Although Republicans tried. And so I thought they really leapt to embrace the cool style.
BROOKE GLADSTONE Have you thought about which style is more effective? For what purpose?
JAMES FALLOWS So I'll give an illustration of an early touch in the Democratic convention that I hadn't expected before the instant I saw it. But then after it was over, I thought, well, of course, that's the right way to try to do things. And that was the roll call of states.
BROOKE GLADSTONE Yeah, that was really entrancing.
JAMES FALLOWS And that's been sort of the most formulaic balderdash part of conventions over the years. Where you'll go to the floor and the great state of Oklahoma, home of Will Rogers and, you know, the Tulsa oil wells, whatever, cast all of its twelve votes and they were made. They were talking about their states, but it was all almost campy and they were sort of outdoing each other in ridiculousness. And there was a touch of that with the Democrats, especially with the calamari guy from Rhode Island.
[CLIP]
MCNAMARA The calamari come back state of Rhode Island cast one vote for Bernie Sanders, then 34 votes for the next president, Joe Biden.
JAMES FALLOWS Without having to spell it out. It gave you the idea that this is a big country and it's a different country and it's a beautiful country and that people are connected to where they're from.
[CLIP]
KILELEMAN Half a day, tea roll and hello from Paradise, the Northern Mariana Islands. We may be far away, but we're American citizens. [END CLIP]
JAMES FALLOWS That roll call did not have to have a single thing saying E Pluribus Unum, but its entire message was conveying that. I thought it would reinforce people who were already Democratic partisans, I think. But also it might invite some people to say this looks more like the country I'd like to rebuild.
BROOKE GLADSTONE The Democratic Convention didn't have huge ratings by any means, but they were still better than the Republican convention. So that probably bothers Trump.
[BOTH LAUGH]
JAMES FALLOWS You think?
BROOKE GLADSTONE The Democratic Convention had a more laid back approach? Biden's speech at 24 minutes was one of the shortest acceptance speeches in recent memory. Fundamentally, though, does it matter?
JAMES FALLOWS There is an existential question of whether anything matters in politics now. Whether national politics is all simply tribe resentment and identity. But here's a thought experiment of things that might have mattered. You mentioned that Biden's acceptance speech was the shortest in modern conventions. I think that's because this was a profoundly TV event, as opposed to a live event. And if he'd spoken for an hour, nobody would have kept watching. But imagine the world we would live in right now if during that speech, Biden had had some physical problem, if he'd stumbled coming up to the stage. Imagine if he had seemed to have lose his way - in the text. Imagine if he'd had said something that was just embarrassing or wrong. And so I think his speech was actually quite important. Now, Trump's attack is, oh, Biden must've been taking some kind of performance enhancing drug. That mattered. And I think there's nobody who will say that his or her vote was changed by seeing Joe Biden give a coherent speech. Seeing Joe Biden tell a story of her life. But a million things go into these feelings. And I bet those will be some of the million.
BROOKE GLADSTONE Jim, thank you very much.
JAMES FALLOWS Brooke, it is a great pleasure to speak with you once again.
BROOKE GLADSTONE James Fallows is a staff writer at The Atlantic. Coming up, pandemic delusions in the nation's higher ed. This is On the Media.
This is On the Media, I'm Brooke Gladstone. About the pandemic, wouldn't it be great if, as former CNBC host and current director of Trump's National Economic Council, Larry Kudlow, declared - it was all over.
[CLIP]
KUDLOW Presidential leadership came swiftly and effectively with an extraordinary rescue for health and safety to successfully fight the COVID virus. [END CLIP]
BROOKE GLADSTONE After spring semester held mostly over Zoom, many of the nation's colleges and universities have reopened with precautions for the fall.
[CLIP]
NEWS REPORT Today, CAL revealed plans for undergrads. Universities using a hybrid model with large lectures provided remotely. [END CLIP]
[CLIP]
NEWS REPORT Potential guidelines for UC Berkeley students living on campus this coming fall. Only a limited number of students will be allowed to live in dorms on the campus.
[CLIP]
NEWS REPORT The University of Arizona is helping contain the Corona virus pandemic by using a special new app that tracks students. [END CLIP]
BROOKE GLADSTONE These precautions are a gesture toward sensible public health decision making. But they've so far failed to protect against some predictable coed behavior.
[CLIP]
NEWS REPORT UNC issued a campus wide alert reporting new clusters. Texas A&M ordered chapter wide quarantines for two sororities, and a fraternity house at Georgia Tech is on lockdown after at least two dozen tested positive.
BROOKE GLADSTONE At the University of Alabama in Tuscaloosa, over 500 cases. At the University of Missouri in Columbia over 200. These infections not only imperil the students, they also threaten their institutions blue collar workers and their parents and grandparents and communities. Scott Galloway is professor of marketing at NYU Stern School of Business and co-host of the podcast Pivot. I asked him why the decision to open the doors.
SCOTT GALLOWAY Money. If you're a liberal arts, private school or even a public school and you get, say, between 30 and 50 thousand in tuition, and let's say you get half of that upfront - you have 20000 students. I mean, you're literally expecting, in some instances, three, four or five hundred million dollars to roll in in a two week period in the late summer. And then all of a sudden you wake up and you're facing potentially 10, 30, 50 percent reduction in that cash flow. When you see these university presidents making strident statements about welcoming students back to campus. I think that's Latin for parents: please send in your tuition checks.
BROOKE GLADSTONE And in the face of all of this, what kind of school suffers the least and what kind the most?
SCOTT GALLOWAY So let's take Princeton, Harvard and Stanford. Princeton has the largest endowment per student. Harvard has the largest endowment just by gross tonnage, 40 billion. And I think Stanford is in the top five. So if there's three schools, it should have the resources to figure this out. Testing every day, protocols, reconfigured the dorms. It's these three universities. And despite these resources, what they've decided is they're going all remote. And the reason why they're going all remote is, again, because they have the most resources. And that is they're not worried about a short term hit to their balance sheet, which indicates that the companies that aren't going remote feel more financial pressure to stay open.
BROOKE GLADSTONE You contrasted the Ivies with a publicly funded school like Cal State and suggested that those schools also have more flexibility than the ones in the middle.
SCOTT GALLOWAY That's right. There's the guys at the top that have a lot of resources and can afford to stay closed and be remote and have amazing brands. And by the way, the 20 percent of students who say they're not going to show up at Harvard this fall, Harvard, have no problem filling those seats with their waiting lists. That consists of 95 percent of the people applied and didn't get in. So they're fine. They're bulletproof. And then on the other side of the spectrum, you mentioned Cal State. Half a million students. Seven thousand dollar tuition in-state, 17000 out-of-state. About 80 percent are commuters. So the value proposition there isn't a leafy college football game experience, a value proposition of some certification, some education at a really good price. That largely remains intact in a period of COVID. And as a result, they weren't one of the first to announce or going all online. They have the confidence to say, look, we're going to focus totally on online learning. We're going to shut this down for this semester and we look forward to welcoming you back hopefully in spring in January or February. The ones in the middle are in a more difficult spot that has led them down this rabbit hole of what I would call incremental bad decisions.
BROOKE GLADSTONE Are there data that show enrollments have in fact, fallen?
SCOTT GALLOWAY According to the surveys you read, you know, over half of kids, freshmen kids, say they would prefer an all remote experience.
BROOKE GLADSTONE I wonder what the number one preferences among parents of freshmen.
SCOTT GALLOWAY We should be careful not to conflate the calculus around deciding what we're going to do with K through 12 and higher ed. When you're talking about the decision to send kids back to school K through 12. You're talking about developmental disability. They're talking about economic strain. You're talking about a single mother who can't go to work. Nutrition. You're talking about the collapse of households. A 19 year old stuck at home, that can't return to Tulane for his or her sophomore year is a nuisance, not a tragedy. And I think the media portrays it as a tragedy because it's happening to wealthy households.
BROOKE GLADSTONE You've suggested that we were kind of headed in this direction anyway with regard to higher education.
SCOTT GALLOWAY Well, just to use a pandemic as a metaphor, there's several comorbidities across higher education and this has been the opportunistic infection that may kill a bunch of them. And that is just demographically. Population growth among college age kids has either been flat or down in most states, so there's just fewer consumers. Two, we've been raising prices faster than inflation without any underlying increase in quality or innovation. So whenever you raise prices faster than inflation, you make yourself vulnerable. Especially if the product isn't very strong. Think about technology that every year improves dramatically. Your computer, your browsers, the apps is dramatically different and the price goes down every year. Education is the opposite of technology. Less for more is the way you would describe education over the last 40 years. And we've reached a tipping point. After talking to a bunch of leadership at what I'll call the elite universities - the MIT's, the Browns, the Dartmouth's of the world. I'm now convinces that they will double down on their exclusivity. They no longer see themselves as public servants. They see themselves as luxury brands, and their key attribute is their scarcity. They're essentially hedge funds, educating very wealthy kids and some freakishly remarkable kids from middle and lower income households. Such that they can wipe Vaseline over the fact that they've totally lost the script. They're not about education. They're about positioning themselves as luxury brands.
BROOKE GLADSTONE You've said that the ultimate vehicle for a luxury item is to massively and artificially constrain supply. Harvard had more people in the past, but now they celebrate the fact that, each year, they're able to reject more.
SCOTT GALLOWAY In NYU, our dean will stand up and say we rejected 88 percent of our applicants and people see that as a good thing. I would argue it's tantamount to a housing shelter bragging that it turned away nine and 10 people who showed up last night. I don't think it's anything to be proud of. Spring used to be a nervous but an exciting time to see where you're going to college. Now it's become The Hunger Games, where you have to call on every contact. And then if you're lucky enough to get into a school, you have to sit down and plan out how the household is going to take on that level of debt. The real value here is the certification. The three hundred eighty thousand dollars that Yale is going to cost you. That value is recognized when you get in. And that is for the rest of your life, you'll have this branding that says you got into one of the world's most elite exclusive clubs. Just look at influence. Only a third of America has a college degree. Only 10 percent has a graduate degree. But look at the economy, culture, media, the most powerful cohorts in America. What is it, 90, 98 percent of a college degree?
BROOKE GLADSTONE You say the cruel truth of what pretends to be a meritocracy is a caste system in that your degree largely indicates your lifetime earnings.
SCOTT GALLOWAY The angle of the cannon your shot out of is not only whether or not you're getting a college degree, but where you're getting that college degree. And then the question goes, well, who gets shot into this world of amazing prosperity? And it's generally two cohorts. The first is the children of wealthy people. If you come from the top one percent, you're seventy seven times more likely to get into an elite university. If you come from the other 99 percent, 88 percent of kids from households in the upper quintile go to college. In the lowest quintile, it's eight percent. You just have an entirely from prospect of not only going to college, but going to a great college. When you have access to what I'll call the industrialized test prep complex where your dad might know somebody. I see it happen personally. Most of my friends are financially successful. They call me because they might think I have some pull at one of the universities I'm affiliated with. And you can just see how kind of the wheel spins. There is a second cohort, and it's what I would call freakishly remarkable, 15 to 17 year olds. And here's the thing. America needs to fall back in love with its unremarkables. I can prove that ninety nine percent of our children are not in the top one percent. To be fair, universities have done a great job reaching into lower income communities and finding remarkable kids. But the test of a society and the role of higher ed is not finding remarkable kids and making them billionaires instead of millionaires. It's what we do with our unremarkables. And the US higher ed, I would argue World War two to 2000, used to be a place where the son of a single immigrant mother who lived and died, a secretary, got to go to UCLA for total tuition for $4000 into graduate school at Berkeley for a total tuition of $5000 and then go on to be a productive citizen and have remarkable opportunities to have the chance, come on public radio and talk about higher education. Yours truly. That's not happening any longer. And it's a national tragedy.
BROOKE GLADSTONE So what happens next?
SCOTT GALLOWAY Well, I think where we're headed is the following. I think the truly elite universities are going to double down on their exclusivity. They're going to look, smell and feel the same. We'll use technology to enhance their offering, but it's not going to be core. I think the opportunity is for some of the great state systems. Ohio State, University of Texas has 200000 kids, University of California has a quarter of a million kids. Cal State has half a million. To embrace small and big tech. And if you take 50 percent of your classes online - and another dirty secret of academia is about 50 percent of our classes probably could be online without a huge erosion in value. But if you take 50 percent of the classes and put them online, you've effectively doubled the size of the campus, doubled the capacity. So good kids, not just remarkable kids, have an opportunity to get a remarkable education, at a much lower price.
BROOKE GLADSTONE But they won't be credentialed if the school's not fancy.
SCOTT GALLOWAY Yeah, I think the degree from UCLA in the 80s may not have the same level of prestige as it does now, but I still think you can get a great job. I still got a job at Morgan Stanley. I still got into graduate school when UCLA was letting in 60 percent of its applicants. It's now 13 percent. I think this erosion of brand value is B.S. They are not in the business of education. They're not in the business of advancing our society. They're in the business of being alternative investment hedge funds. Stanford, Stanford just decided because of, quote unquote, financial pressure to shut several sports teams down. And the question is, well, why don't you use part of your 35 billion dollar endowment? And they said we now have access to our endowment because we might have capital calls from the commitments we've made to private equity funds that we're investing our endowment in.
BROOKE GLADSTONE What's a capital call?
SCOTT GALLOWAY So an organization like Stanford who has an endowment of 35 billion and a huge team of well compensated investment managers charged with increasing it. They make investments in private equity funds or hedge funds that will go out and buy companies, buy stocks, and they commit to, say, a billion dollars. And then over the course of the next three, five years, that private equity fund will say, OK, we need the money and they call it or draw it down. And then when that you get a capital call, you're supposed to send in your money. Nearly every decision among university leadership, I believe, over the last two decades has been with one goal, and that is to reduce our accountability and increase our compensation. And the net effect of that is there has been a transfer of about one and a half trillion dollars in wealth from middle income and middle class households to universities and tenured faculty. That transfer has to stop. We need a reckoning. We need to dramatically lower costs and dramatically increase supply. We need to let technology set us on a path where we can substantially decrease the cost of delivering education over the next decade.
BROOKE GLADSTONE So when you say embrace big tech and small, that's everything from handheld technologies, from Apple to CRM, from Salesforce to some of the existing tech out there. To zoom to squad cast. You're going to see an explosion in tools focused on higher learning. There's going to be more money invested in Ed Tech over the next 24 months than there has been over the last 24 years. I think that's a social good. I think that's an investment worth making. The way I would summarize the issue here is I teach 160 kids typically in the fall. My brand strategy course, it's seven thousand dollars. Because we're going online, they've increased the capacity and I'm now teaching 280 kids starting in three weeks it'll be all online.
BROOKE GLADSTONE And it'll still be 7000 dollars.
SCOTT GALLOWAY That's exactly right. As a matter of fact, they've increased tuition three and a half percent. So think of it this way. Over 12 nights of Zoom, NYU is going to charge these two hundred and eighty kids approximately two point one million dollars. Pfizer just came out with a drug to treat muscular atrophy that cost two point one million dollars for a treatment. And I started thinking, OK, which is worse. Preying on someone at the most vulnerable point of their life and asking them to figure out a way to give you two million dollars to help with their disability. Or is it preying on the hopes and dreams of middle class households spread across 280 of those households and putting them seven thousand dollars more in debt such that they can have access to a better life? And I think the answer is yes. Which is more morally corrupt? Yes. I think we have to take a hard look at what this means in terms of a transfer of wealth from middle income households to universities. It's gone on too long and the reckoning is overdue.
BROOKE GLADSTONE Thank you so much.
SCOTT GALLOWAY Thank you.
BROOKE GLADSTONE Scott Galloway is professor of marketing at NYU Stern School of Business and co-host of Pivot podcast. Coming up, math, schizophrenia and the story of a life saved by the Internet. This is On the Media.
This is On the Media, I'm Brooke Gladstone. So in the coming months, students will continue a giant educational experiment. Where once there were a boisterous classroom discussions and group projects, they will now be awkward Zoom calls and online quizzes. But the old way wasn't perfect either. Brick and mortar schools could be alienating and unforgiving. Especially for marginalized students. Some might be better served by virtual school. On the Media, reporter Michael Lowinger tells the story of how distance learning saved his friend's life.
MICAH LOEWINGER I'm going to change your name to Omar and keep the personal details fuzzy, you know.
OMAR OK.
MICAH LOEWINGER I thought maybe we could just start with. Do you remember when we first met?
OMAR I believe we met through friends during our freshman year of college.
MICAH LOEWINGER Well, I remember the first, like, real interaction that we had. We were walking on Fifth Avenue and you were like: "Micah, wassup man! Hit me up if you want to smoke some time!" I was like, "who is this guy?" You always had people around you. You know, one of the first things that drew me to you was just how unabashedly kind of intellectual and nerdy you were. I could just see that there was this kind of glowing energy about you.
OMAR That's very nice of you to say.
MICAH LOEWINGER But what really solidified our friendship was when we started playing Super Smash Brothers.
[SUPER SMASH BROTHERS INTRO.]
MICAH LOEWINGER Smash became a kind of watering hole for a group of friends to catch up and talk shizz. I had a fascination with documenting my life during college, so I got into the habit of recording.
[CLIP]
OMAR Aw! [LAUGHS] You Bastard! [END CLIP]
MICAH LOEWINGER The funny part of it is that I obliterated you basically every time we played.
OMAR [LAUGHS] I don't remember it quite that way.
[CLIP OF OMAR HOWLING FROM LOSING IN SMASH]
OMAR I'm kidding, I do. Yeah.
[BOTH LAUGH]
OMAR Those were some of the happiest times of my life. I would say.
MICAH LOEWINGER I know now, that even when he was thriving, Omar was suffering from a severe mental illness. He didn't hide it.
OMAR I might tell someone what I was going through the first time I met them.
[CLIP]
OMAR You guys have like battles over religion with your parents, if your parents are religious [END CLIP]
MICAH LOEWINGER Late one night, I captured one of these moments on tape. I used this footage in a student documentary about Omar's life and his turbulent journey through college.
[CLIP]
OMAR My family's made me drink holy water on multiple occasions. They think I'm possessed.
FRIEND Posession of what?
OMAR Demons.
FRIEND [LAUGHS] With intent to distribute?
OMAR [Laughs] Yeah [END CLIP]
OMAR The first time I remember being very depressed was when I was in first or second grade. And one day it struck me that, like, things would change. You know, like my brother is going to leave. My parents are going to die. And, you know, then I'll be on my own and I won't be with my happy family. Blah, blah, blah. My first visit to the mental hospital, I was in my senior year of high school, and I mean, I was out for like about a month. I was having psychotic symptoms like hearing voices. There are sometimes a single voice. Sometimes multiple voices. Sometimes they're male, female. You know, I don't want any voices. I don't care if they're saying good things are bad things. And they're annoying. You know, I can't sleep sometimes. I can't focus.
MICAH LOEWINGER Not long after we met, Omar was diagnosed with schizophrenia. It's common for mental illness to flare up right around the time a student ships off to college - 18 to 21. His condition got worse as school went on. But he clung to the one thing that gave him hope. His dream of becoming a math professor.
OMAR Everything was, you know, in my mind was just chaos. There was no order to my thoughts. Life seemed like a big paradox. Math was a safe haven for me to retreat to. It's like this crystalline world where things sort of make sense. In math, you have what are called axioms, which are things that you assume to be true. You know, from there you're the builder and you have your tools of logic and you can prove things to be true or false. It helped give my life structure and meaning and purpose, and my dream was to learn as much math as possible. Get the best grades, go to the best graduate school and have the best chance at what I considered was a fulfilling life.
MICAH LOEWINGER The genius academic who suffers from schizophrenia is a controversial archetype. Most people think of the film A Beautiful Mind, a biopic about John Nash, the Nobel Prize winning mathematician who helped develop game theory.
[CLIP]
NASH If we all go for the blonde, not a single one of us is going to get her. So then we go for her friends, but they will give us the cold shoulder because nobody likes to be second choice. What if no one goes to the blog? We don't get in each other's way and we don't insult the other girls. It's the only way we win. [END CLIP]
MICAH LOEWINGER But the list of troubled mathematical geniuses goes on. Isaac Newton. Alexander Grothendiek, Ludwig Boltzmann. Omar looked up to those men, and I saw his work ethic up close when we became roommates our sophomore year, but we also went to parties together, stayed up late, playing Super Smash Bros. One time I filmed him shaving his head in the bathroom.
[BUZZING HAIR]
MICAH LOEWINGER The footage shows his black hair sprinkling over the big red anarchy tattoo on his right shoulder. Omar had been radicalized in high school by Michel Foucault's 1961 book Madness and Civilization. Foucault helped influence the anti psychiatry movement, arguing that modern medicine dehumanize the mentally ill, robbing them of their rights. This inspired Omar to refuse medication until college, when his psychosis and his paranoia got worse. The drugs definitely helped, but they made him sleep constantly. Sometimes like 18 hours a day.
OMAR With a lot of these antipsychotic medications people become very, very sedated. And it might help the problem, but at what cost? I guess you could ask.
MICAH LOEWINGER It upset his doctor, but he went off the meds. But that made sitting in lectures unbearable.
OMAR Going to class was really a sensory overload and a stimulus overload. I was full of dread at being around others.
MICAH LOEWINGER What was it about other people?
OMAR They haunted me.
MICAH LOEWINGER Were you haunted by me and our friends?
OMAR If I have to be honest then - yeah. It would drive me crazy. Every time I would talk to someone, you know, I was so paranoid about what they might go away and say behind my back. What they were thinking about me. My mind took it to the worst possible place.
OMAR Our junior year, Omar went to the Center for Students with Disabilities with a last ditch solution. Which was to not have to go to class because I just couldn't handle it. I was fine reading the books myself and doing the assignments myself without the classroom instruction. I suppose there's a pretty rigid hierarchical administrative structure to what they can and cannot do. You know, they can give you more time on a test, for instance. But for me to ask not to go to class. They said they couldn't do it. So I just stopped. I stopped going.
I just kind of want to learn in seclusion. One day I was like, you know what? I'm going to just find some woods and stay there for a few days and just take my books with me and be left alone.
MICAH LOEWINGER He left his phone wallet and a scribbled notes his desk. He took the ferry to Staten Island and he wandered by the water in the moonlight.
OMAR Made myself a nice place to sit at the foot of a tree. The roots are kind of hard on your back at times. And, you know, there are a lot of plants and stuff crawling around, so you don't want to get all bitten up. But all in all, it's pretty manageable and you get used to it. I just brought three of my textbooks. One was called Abstract Algebra, one is called Real Analysis, one was called Advanced Logic. I made, I think, pretty good progress.
MICAH LOEWINGER What did you eat?
OMAR I'm a vegan, so I brought a loaf of bread and I went out to buy another one. As I was coming back, there's like a security checkpoint and the guy's like - "hey, where you going?" Like, "can I see your ID?" and I was like - "I don't have one." He's like - "Do you have any idea what you're doing?" I said, "no." He's like - "well, this is a military base, so turn around and walk the other way." I was like - "Oh, okay." and that's when I came back.
MICAH LOEWINGER It turns out that Omar had spent two nights in Fort Wadsworth. A Coast Guard base at the foot of the Verrazzano Bridge. Meanwhile, his parents and his shrink had been freaking out.
OMAR I was pretty much asked to go to the hospital immediately. And they don't force you physically, but they, like, pretty darn well, force you verbally.
MICAH LOEWINGER When he got out, the school administration placed him on temporary medical leave. Omar knew he wasn't coming back. The day before he left the city, I asked him to meet up with me and tell me what he planned to do after he dropped out.
OMAR I have like a log cabin, West Virginia, in the mountain. I just want to be there on my own, studying and learning the stuff. And my psychiatrist points out like, you need a job, like you need to support yourself and deal with things at some point. You know, you can't live in a fantasy world forever. And, you know, I want to live in that fantasy world I guess. Someone that wants to be a musician, someone who wants to be a basketball star. I want to be a mathematician. Because that's the way I'm going to be doing what I love and making a living out of it. And otherwise, I think I'll feel very unsatisfied. Let's say I want to publish something at some point in time. Well, first of all, you have to submit it to a peer review journal or something. You don't have a college degree, maybe no one's going to take you seriously. Even if you do get published, no one's going to pay attention to it. There are maybe some exceptions, but that's the general principle of things. I mean, there are always exceptions. And maybe in the back of my mind, I'm like, I really want to be one of those exceptions, but it's just so unlikely. But we all have this thing called optimism bias. So I think I can do things which really are highly unlikely. It's unlikely for me to make my mark anywhere, teach anyone anything, do something new without graduating.
MICAH LOEWINGER After a semester off, he decided to give school another shot and he enrolled at a public university in Virginia. But within the first couple of weeks, he found himself overwhelmed by the stimuli of the classroom.
OMAR And basically what I asked them to do was I'll turn in all of the assignments, I'll take the test. I just have to come into the lecture. They weren't okay with that. And I understand that I might well fail or not do well in the class. I just want the opportunity, you know, to try.
MICAH LOEWINGER He explained all this to me over video chat after he dropped out again.
OMAR I was very upset because I had felt like an education had been made inaccessible to me because of my problems. If you have a clear physical problem like this, I'm blind or deaf, I'm in a wheelchair. This is something people can see and I'll accommodate you right away. But if it's a mental issue, something they can't see, then people are more skeptical. They're less willing to work with you.
MICAH LOEWINGER He ended up stuck at home with overprotective parents and no prospects. As a way to keep his mind off of things, Omar found a job that would let him work with people without the crushing anxiety of face to face interaction. He became an online math tutor.
OMAR You get connected with a student. And then there's like a virtual whiteboard and like a chat box on the side. And they'll ask their questions or write it on the whiteboard. And then, you know, you do it in real time. You like work out the problem.
MICAH LOEWINGER That job gave him a lot of confidence and it helped him see the Internet as a way to participate in society.
OMAR I did some research and actually found that there was a at the time, I believe it was the only one. There was a bachelors degree in mathematics that could be completed entirely online through a small Midwestern university.
MICAH LOEWINGER This was not one of those predatory schools that you might have seen in a TV ad. Omar's program was 100 percent legit. Just the online version of a traditional university.
OMAR Back when I was in school in New York, I never even spoke to anyone. Especially this is the nature of a mathematics lecture. You go in, you sit down. Someone talks at you for an hour and then you leave. And if you have a question, you might ask your question. But in my experience at this particular school, there's a lot of encouragement of collaboration. You have to post a minimum number of posts on the course webpage per week. Even though they are many miles away, I feel like I know them better than I knew any of the students who are in my classes, before I left brick and mortar school.
MICAH LOEWINGER His classmates were local students in their early 20s, soldiers stationed abroad and people with full time jobs finishing their degrees at night. They made his program feel human. He didn't feel paranoid interacting with them through a screen. Finally, Omar could study in peace.
[CLIP]
SPEAKER He has been one of the top students upper level math classes during his time here. [END CLIP].
MICAH LOEWINGER That year, his school flew him out for an awards ceremony where he was named Math Student of the Year. Out of all the students at the school, online and in-person.
[CLIP]
SPEAKER For example, in fall 2004, 14 excuse me, he took six mathematics courses. Six mathematics courses. 19 credits and his GPA was 4.0. [END CLIP]
MICAH LOEWINGER Is it too strong to say that online school saved your life?
OMAR I mean, I was suicidal at the time because I had failed and failed and felt that I had no other options. So, maybe it's not too strong to literally say it save saved my life. Yeah, I would say it did for sure.
MICAH LOEWINGER I finished my student film about Omar in 2015, the year he and I graduated. One of the last scenes of the movie featured this comment from his older brother.
[CLIP]
OMAR'S BROTHER He could potentially do his PhD online, so I think the future is very bright in that regard. The fact that he's doing so well speaks for itself. [END CLIP]
MICAH LOEWINGER Omar's future was bright. He went on to enroll in two online master's programs, one in computer science, one in applied math. He got a lucrative full time job. And on weekends, he saved lives as a certified volunteer fireman. Neither jobs triggered his illness, but the prospect of returning to a campus terrifies him. So he's still waiting for really good math program to offer a completely online doctorate because the ones that are available now aren't respected by other mathematicians.
OMAR There's just this culture of you're a researcher, you're on the chalkboard with your advisor day and night hashing things out.
MICAH LOEWINGER But why couldn't you just be at a virtual chalkboard? It makes no sense to me.
OMAR Yeah. Doesn't make a lot of sense to me either. But sometimes institutions are slow to change.
MICAH LOEWINGER Of course, we could never have anticipated how much the higher education system would be radically transformed.
[CLIP]
NEWS REPORT Princeton University is reversing course and having undergraduate students be fully remote for the fall semester. [END CLIP]
OMAR I think society has been forced to accept the notion of distance education. Maybe now there might be some universities that are open to offering remote doctoral programs as well.
MICAH LOEWINGER Omar's hunch really interested me. So I emailed about 25 professors from several of the top ranked math departments in the country. Public and private schools, and I called Omar back to tell him what I'd learned.
Keeping things vague, I explained why someone like you in your position wouldn't want to do the program in person and you'd want to do a completely online. And whether they were more likely to accommodate a student with your kind of disability because of the pandemic, I think it's worth saying that no one professor has all that much pull in a admissions process. But several people very enthusiastically at several different schools across the country told me that they would work with somebody like you.
OMAR Oh, wow.
MICAH LOEWINGER This is from Catherine Wareheim from UC Berkeley. "Micah, My hesitation would be lack of community and support. That's a hard one for students with marginalized identities and backgrounds, even before we go online. In theory, going online could help to remedy that. But it would require intentional effort. And in most top math departments, I haven't even seen the intention. Personally, I did start A PhD advising relationship with a student that I had only met once in person. He eventually transferred to my university, but honestly, our meetings were more productive online, so I wouldn't hesitate to advise someone remotely.".
One professor wrote to me, said: "Hi I was the math consultant to A Beautiful Mind, the film. The math was incidental, although they took my contributions seriously. We were really making a movie about mental illness after all. Yes, of course. I'd take a fully virtual PhD student.
OMAR What are the odds of that?
[BOTH LAUGH].
MICAH LOEWINGER I don't know
OMAR Well, those two seemed like out of the park great responses for someone like me. I mean, I consider those people heroes. People like that can really make a big change in certain people's lives. I'm actually very excited. It's actually, it's a bit of a lot to take in in some sense because, you know, I had sort of given up hope. I will definitely have to dust off the old transcripts and everything like that. Polish up the resume. I haven't applied to school in a little while. In some sense, yeah, out of this tragedy there comes, you know, a silver lining for me - and some hope. That I'll be able to do the thing that I love most.
MICAH LOEWINGER Historic cataclysms can sometimes clear a path for people who never had one. As David Beyer pointed out, he's the guy who worked on A Beautiful Mind, he's also the chair of the math department at Barnard College and a Columbia University student adviser. World War 2 was actually the best thing that had happened for women's equality because it drew all the men overseas. Perhaps we're on the cusp of an accessibility revolution in academia, where at least, as we reimagine and rebuild our education system for the web, a door that was always closed will suddenly pop open for those who hoped but never thought it would.
For On the Media, I'm Micah Loewinger.
BROOKE GLADSTONE For anyone considering hurting themselves, you can speak to someone right now by visiting suicidepreventionlifeline.org. On the Media is produced by Alana Casanova-Burgess, Micah Loewinger, Leah Feder, Jon Hanrahan, Xandra Ellin, and Eloise Blondiau. Our technical director is Jennifer Munson, our engineers this week, or Sam Bair and Josh Hahn. Katya Rogers is our executive producer. On the Media, is a production of WNYC Studios, I'm Brooke Gladstone.
Copyright © 2020 New York Public Radio. All rights reserved. Visit our website terms of use at www.wnyc.org for further information.

New York Public Radio transcripts are created on a rush deadline, often by contractors. This text may not be in its final form and may be updated or revised in the future. Accuracy and availability may vary. The authoritative record of New York Public Radio's programming is the audio record.