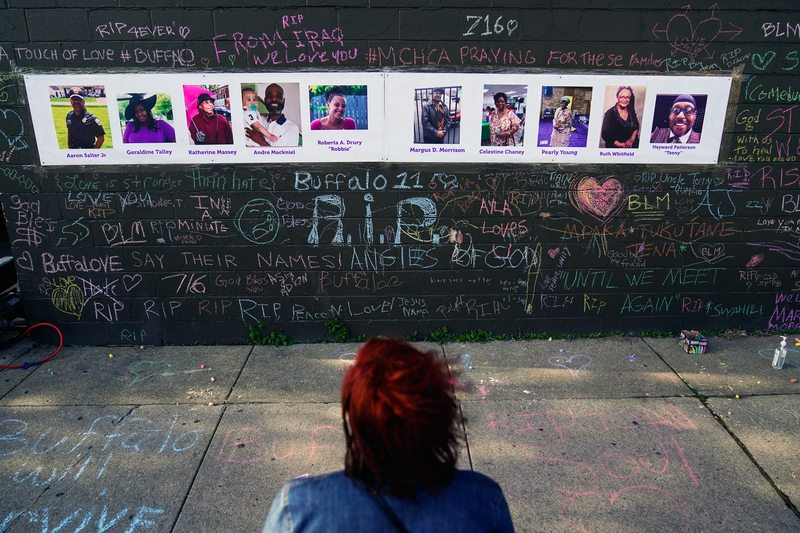 Transcript
VICTOR BLACKWELL Are we destined to just keep doing this city after city? Have we just resigned that this is what we are going to be.
BROOKE GLADSTONE Another mass shooting and why reporters and all of us feel like hamsters on a treadmill. From WNYC in New York, this is On the Media, I'm Brooke Gladstone. Also, with election season now underway, should journalists at long last change tactics?
JAY ROSEN You know, you can always ask who's the winners and the losers? Who's ahead? What's the strategy? That's a very portable lens on politics. And you can keep looking at the world through it right up to the point where democracy disintegrates.
BROOKE GLADSTONE Plus, how one young author forever changed the way we told stories and then faded away.
PAUL AUSTER He was a comet who flashed across the sky. And then he disappeared.
BROOKE GLADSTONE It's all coming up after this.
[END OF BILLBOARD]
BROOKE GLADSTONE From WNYC in New York, this is On the Media. I'm Brooke Gladstone. This past weekend, we once again witnessed murder and mayhem. You know the story as well as we do...
[CLIP]
NEWS REPORT Taking you now to Buffalo, New York, where police officials are discussing a mass shooting that happened in a supermarket. CBS News has confirmed at least ten people are dead, more are injured.
NEWS REPORT Witnesses say a man armed with a rifle entered that market and opened fire.
NEWS REPORT Among the lives tragically lost. 86 year old Ruth Whitfield visiting her husband at a nursing home. 77 year old Pearl Young, described by her loved ones as a woman of faith and a pillar of the community. And top security guard Aaron Salter, a 30 year old veteran of the Buffalo Police Force who tried to stop the gunman. Potentially saving even more lives. Then there was Heyward Patterson, a local driver and church deacon killed while helping a shopper load groceries in his car. [END CLIP]
BROOKE GLADSTONE The stories are heartbreaking, enraging and worst of all, deeply familiar. And so is the coverage, which is still prey to the same errors made the last time and the time before that. Starting with the initial reports.
CRAIG SILVERMAN Misidentification of people, usually victims of perpetrators, very consistent.
BROOKE GLADSTONE Craig Silverman, author of the Poynter Institute's Regret the Error blog.
CRAIG SILVERMAN We'll often see mistaken numbers in terms of the number of victims, in terms of the number of perpetrators and that kind of thing as well.
[CLIP]
NEWS REPORT At least seven people have been shot and killed in a mass shooting at a Topps grocery store. [END CLIP]
BROOKE GLADSTONE If the death toll is wrong or mounts, we'll hear it rise. Then we wait for the name, the perp, someone to blame. But as Tom Teves, who lost his son in the Aurora, Colorado, movie theater shooting, told us in 2015, that's a fraught attribution.
[CLIP]
TOM TEVES When we talk to different journalists and they talk about what we have to research their backgrounds to find out what motivated them, I much applaud that. You do need to research their background. What you don't need to do is use their names and their likenesses. Definitely, if they're at large, use their names and their likenesses to bring them to justice. But once they're apprehended, that's really no longer part of the story other than to create a call to action. For another like minded killer to take his plans and his thoughts and make them deeds. [END CLIP]
BROOKE GLADSTONE Once we've nailed the who, what, when, where and how, we're obliged to shift our focus to the why. But that path, too, is riddled with pitfalls. In 2019, Joan Donovan, research director of the Shorenstein Center on Media, Politics and Public Policy, warned us against highlighting not just the shooter's name, but words as well.
[CLIP]
JOAN DONOVAN It's very important for journalists as well as researchers not to allow attackers, as well as white nationalists and white supremacists to drive our attention to their issues and their claims. When we link to these things outside of our own articles, we invite our audiences to move away from our own explanations and framings and into the anonymous forums. Which heroize this attacker. [END CLIP]
BROOKE GLADSTONE Even calling their reasonings manifestos lends them a glamor they don't deserve...
[CLIP]
JOAN DONOVAN This is not really a manifesto. It's much more like a rant or a screed. The other thing that we have to understand is that this screed functions a lot more like a press kit. We're also not going to get the conversation in the public that we need if we focus on this person's words and ideas. [END CLIP]
BROOKE GLADSTONE Still, the public has the right to know what delusions inflame the killer. Especially if they have broad currency. The trick is not to make them any broader.
[CLIP]
NEWS REPORT Law enforcement officials say this alleged shooter posted a 180 page manifesto online just days before the attack. And it draws on and references replacement theory at least 28 times. Now, at one time, this was considered, quote unquote, fringe. This is being amplified and pushed by some very influential people in America and specifically on the right. For example, Fox News host Tucker Carlson. [END CLIP]
BROOKE GLADSTONE Carlson declared himself shocked – shocked! Shrugging off the replacement threat that he'd long flagged, and anyway, that's not why the killer did it right. Tucker defaulted to another trope: mental illness. Very often applied to white male shooters because, you know, their violent actions aren't a racial characteristic, just weird. Another fave Tucker trope: it's all Joe Biden's fault.
[CLIP]
TUCKER CARLSON So how did the adults around him let this happen? In a country with functioning leadership, we would be asking that question. The signs of mental illness were certainly there. The people in charge miss those signs, but they let a killer slip through.
NEWS REPORT An 18 year old white male has been arrested and charged with first degree murder for a mass shooting at a supermarket in Buffalo, New York. In what authorities called an act of racially motivated violent extremism. [END CLIP]
BROOKE GLADSTONE But this mass murderer did not describe himself as racially motivated. He called himself a racist. He chose that Topp's grocery store because it served mostly black people. Even calling him an extremist ignores the fact that in our history, this moment is not especially extreme.
MICHAEL GERMAN We have to understand how our society itself is shaped by the history of our founding as a white supremacist project. Right.
BROOKE GLADSTONE Retired FBI agent Michael German, now a fellow with the Brennan Center for Justice, Liberty and National Security Program, spoke to us last year.
MICHAEL GERMAN So it's not as if this is some extreme belief system, a bunch of crazy people on the margins invented, for the most part. They're actually delving into the history of the United States of America in a way most Americans never do. And taking what were foundational documents explaining why it was these European colonists believe that God gave them the authority to dominate other cultures and commit genocide, in doing so. White supremacist today has actually a better understanding of our history than than the history most of us learn in school.
[CLIP]
VICTOR BLACKWELL Listen, I was counting in the car talk with my producer. I've done 15 of these. At least, the ones I could count.
[AMBI CONTINUES UNDER]
BROOKE GLADSTONE CNN's Victor Blackwell.
VICTOR BLACKWELL And we keep having the conversation about Democrats will say guns, Republicans will say mental health. And nothing will change, and I'll probably do another one this year. Family after family having nowhere to go with their grief. We'll get into a political conversation later, but... Is this the way we're supposed to live? Are we destined to just keep doing this city after city? Have we just resigned that this is what we are going to be? [END CLIP]
BROOKE GLADSTONE Let's end this segment with another trope Einstein's famous observation that he never made. About how the definition of insanity is doing the same thing over and over again and expecting different results. That quote, according to the Professor of Buzzkill History blog, anyway, first appeared in a 1981 document published by Narcotics Anonymous, apparently trying to convince its members that attempting to kick a deadly habit on your own was folly. And yet that's what we as members of the Fourth Estate keep trying to do. We know a majority of Americans want more gun control. Why can't we get it? For the same reason we need it so badly. Because we're suffering from a cancer that disables our ability to provide. It's in our history, our media, and most devastatingly, our politics. Not the horse race, but the rot at the root, where we now see inevitable acts of nature. We should see injustice and focus on consequences with our eyes fixed on Washington, on Wall Street, on the media, and all who enrich themselves by enabling murder. If we hammer on about anything, it should be about consequences and personal responsibility as individuals and a nation. It's cynicism that's killing us. If we live up to our old principles for the first time... maybe we can move on.
Coming up, journalism in emergency mode. This is On the Media.
[BREAK]
BROOKE GLADSTONE This is On the Media, I'm Brooke Gladstone. So as we laid out in the previous segment, reporters who are charged with covering these stories of men firing bullets at imaginary demons and hitting innocent people, often make them feel trapped in some Grand Guignol version of Groundhog Day. Same points, same tropes, same tears. No enduring consequences, no serious measures taken to mitigate the chance. It'll happen again. These cases are treated like acts of God or nature, but our emergency management of hurricanes or winter storms, though pretty spotty, is better than this. Thus, unspeakable incidents heap one upon the other natural, social and political. This week, the results of the Republican primaries reminded us yet again that no amount of fact checking will untether the party from the grip of the big lie. The newly minted GOP nominee for governor in Pennsylvania disputes that language. Of course.
[CLIP]
DOUG MASTRIANO There are a lot of issues and burying our head in the sand and calling it a big lie. Shame on any journalist, so-called, that says that. The big lie was them with Russia, Russia, Russia for three or four years based off the zero evidence. We do have evidence, nothing was done about it, so we're going to do something about it now. [END CLIP]
BROOKE GLADSTONE State Senator Doug Mastriano. His resume includes chartering busses to a pre insurrection rally, leading a campaign to decertify Biden's victory and a Trump endorsement. If he wins the governor's race in November, he'll choose the person who will certify the results of the 2024 election.
[CLIP]
DOUG MASTRIANO I could decertify every machine in the state with the stroke of a pen via my Secretary of State. I already have the Secretary of State picked out. It's a real world class person that knows the voting integrity better than anyone else in the nation, I think. And I already have a team that's going to be built around that individual. [END CLIP]
BROOKE GLADSTONE In North Carolina, GOP Senate nominee Ted Budd also won Trump's support, and he, too, rode the wave of election denialism to victory.
[CLIP]
REPORTER You voted to overturn the election in 2020. Do you still stand by that vote, sir?
TED BUDD Oh, absolutely.
TED BUDD We need to choose men and women who believe in the America first agenda that President Trump is still fighting for, because we believe that it should be easy to vote and hard to cheat. [END CLIP]
JAY ROSEN We live in a two party system and one of the two parties is anti-democratic. That is a civic emergency.
BROOKE GLADSTONE Media critic Jay Rosen.
JAY ROSEN And the Republican Party, instead of disinvesting in Donald Trump, has invested more in his lies.
BROOKE GLADSTONE Since Trump's presidency, Rosen has called for journalists to enter emergency mode to sound the alarm on repeated attacks on democracy. Rather than re-assuming what he calls 'the view from nowhere.' And to their credit, many outlets The Washington Post and The New Yorker among them covered the primaries with this urgency. Take this lede in The New York Times, where reporter Reid J. Epstein said the primary results, quote, made clear that the November midterms may well affect the fate of free and fair elections in the country. In my conversation with Rosen last year, he explained that when the stakes are this high. Journalists cannot treat politics like a game.
JAY ROSEN You can always find the game part of it, you know, you can always ask, what was the winners and the losers? Who's ahead? What's the strategy? That's a very portable lens on politics, and you can keep looking at the world through it right up to the point where democracy disintegrates. The root that I talked about last time I was on this show in which the press becomes pro-democracy, pro voting, pro truth – those are much stronger identities than "on the one hand, on the other hand"-journalism or we're going to take you inside the power game. And there is some indication that it's happening here and there.
BROOKE GLADSTONE You cited some examples on press think. One of my favorites is something that WITF Public Broadcasting in Harrisburg, Pennsylvania, says it'll do.
JAY ROSEN WITF has decided on a never forget policy. Each time they put into their news product the name of a public official who voted for the Big Lie, or to overrule the voters or to decertify the election in Pennsylvania. They will remind their listeners and viewers. They wrote a like a boilerplate paragraph to insert into any news article mentioning Congressman Smith.
BROOKE GLADSTONE I found it here: Senator, insert name here. Who signed a letter asking members of Congress to delay certifying Pennsylvania's electoral votes despite no evidence that would call those results into question. Today introduced a bill. Blah, blah, blah.
JAY ROSEN They're doing it to create a kind of accountability. This is their way of saying, we can't just move on. We have to be a stronger force for democracy.
BROOKE GLADSTONE CNN anchor Jake Tapper floated a blanket ban on booking proponents of the big lie on his show.
JAY ROSEN It's interesting that Chris Wallace said Tapper's stance is a kind of moral posturing and that he wasn't going to do that. I don't think there's a general solution that works all the time. You can say we're not going to bring on our show people who participated in the big lie, but there could be exceptions.
BROOKE GLADSTONE And you cited what is a very familiar conversation in media criticism circles. You know, when someone says, "don't put those liars on the air," you'll say, "I hear you, but sometimes I have to tell people what's going on." And then the other person says, "you're spreading their propaganda for them," – "it's already spread and having real world effects" – "Well, it wouldn't spread if you denied them a platform." – "Gatekeepers don't have that kind of power anymore." – "They might if they work together" – "that just drives it underground. It gets even worse." It was such a perfect crystallization of the endless argument. But what's your solution?
JAY ROSEN Sunlight is the best disinfectant, but it also allows things to grow. It's kind of a paradox. There's no solution to it. There are only better or worse decisions. This is another reason I talk about this simple method of the truth sandwich. When you feel you have to report on a falsehood, you should start with a true statement, sandwich, the misleading one in the middle, and end with a true statement. As opposed to "this isn't true, but you know what? It could be a winning strategy." Suppose Kevin McCarthy becomes Speaker of the House, now you have to decide whether you're going to give a platform to that person or invite and confront.
BROOKE GLADSTONE But as you've observed also in press think it's very hard for these mainstream shows to even book Republicans.
JAY ROSEN Because there's a huge portion of the public that has tuned mainstream journalism out. The politicians who appeal to that group can also tune it out.
BROOKE GLADSTONE There was once this notion that if you made fun of a leader, you would diminish the power of that leader. But if making fun of the leader means also making fun of the leader's supporters, then you're only pushing them further and further away from the opportunity to read actual facts.
JAY ROSEN You know how in politics you try to raise the candidate's negatives? Trump originally, but now the Republican Party as a force has successfully raised reality's negatives. It's extremely difficult to adapt our political vocabulary to that reality. And so we use other terms that we're more familiar with. So like Brian Stelter is convinced that Fox became more right wing after the election in order to recapture the Trump base. To me, that really understates how weird the phenomenon was. It wasn't so much that Fox drifted to the right –
[THUNDEROUS CRASHING SOUND].
[BROOKE GASPS]
JAY ROSEN What was that?
BROOKE GLADSTONE There was just this a huge thunder explosion when you said that.
JAY ROSEN See, that's an indication of the kind of point I was making. Fox News is not moving to the right. It's moving, you know, less connected to reality than it was. By investing so much in this lie about the election in bizarre rituals like the Arizona audit, which are premised on fantasies and political fictions. You can't even debunk anymore because they've been debunked so many times.
BROOKE GLADSTONE So sidestep the political spectrum and create a reality spectrum, instead, when describing arguments and cases made.
JAY ROSEN What does it really mean to be pro verification or pro truth? I think there are changes in practice that come with that and it's up to our big newsrooms to develop those changes.
BROOKE GLADSTONE If Trump, let's say he was a dumpster fire – easy to spot. There are now little fires everywhere dividing the attention of the national media and creating a space where local reporting is so much more important.
JAY ROSEN Yes, the Republican Party turning anti-democratic is an example of a story that's national in scope, but happening at the local level. This is a case where the national story is actually not happening in the nation's capital. It's happening in the state capitals, so that's one thing. A second thing is that the local level is still a place where it's possible to imagine a common set of facts between people on opposite sides of the political divide. For example, how do we open our schools now that we have the vaccination? That's not an easy problem, but it's at least possible to imagine people just want to solve it, even with those on the opposite side of the aisle. The more politics is rooted in problem solving that people can see in their lives, the less likely this dueling reality's universe is to take over. The more things shift to national politics, the more the result of raising reality's negatives will be seen.
BROOKE GLADSTONE On the national level. One positive sign you've seen is the creation of democracy beats.
JAY ROSEN Yes, there are more reporters who are, in a way, full time on this problem of an anti-democratic movement that's in charge of one of the two major parties. Ari Berman of Mother Jones has been covering elections and voting rights for years, but there are many more reporters on that beat now. ProPublica has a democracy beat. But that's just the start. We need that. We need the focus on local problem solving, and we need to create accountability. Like WITF.
BROOKE GLADSTONE Their never forget policy.
JAY ROSEN They're never forget policy. And we need to find a better language for talking about this.
BROOKE GLADSTONE But even if outlets and reporters were explicitly pro-democracy, if local news were better funded, I mean, how powerful are the media?
JAY ROSEN Even if the political press did everything their critics like myself, wanted them to do, a lot of it wouldn't make any difference because the Trump base isn't there at the end of the receiving channel. They're not listening. At one time, the gatekeepers addressed the majority of the public, and now the mainstream media is only one stream within a river system that flows in many directions independently of what journalists are doing. The press that we wish were better has lost power to social media, to going direct between a political figure and fans. You can have something completely debunked and it still has a political life. We don't have the power in journalism to alter the situation that we're in.
BROOKE GLADSTONE Jay, thank you very much.
JAY ROSEN My pleasure, Brooke.
BROOKE GLADSTONE Jay Rosen teaches journalism at New York University and is founder of the Media Criticism site PressThink dot org.
Coming up. More than 100 years ago, Stephen Crane captured the real America in the factual and the fictional. This is On the Media.
[BREAK]
BROOKE GLADSTONE This is On the Media, I'm Brooke Gladstone. We've often practiced on this show the art of looking back, to understand the present, especially the past that has been forgotten or nearly. And those who explored it and defined it likewise unremembered. Like the writer Stephen Crane.
PAUL AUSTER Born on the day of the dead, and dead five months before his 29th birthday, Steven Crane lived five months and five days into the 20th century. Undone by tuberculosis before he had a chance to drive an automobile, to watch a film projected on a large screen or listen to a radio. A figure from the horse and buggy world who missed out on the future that was awaiting his peers.
BROOKE GLADSTONE That's acclaimed novelist Paul Auster reading from his new book of nonfiction Burning Boy The Life and Work of Stephen Crane. In it, he makes the case that not only did Crane miss out on his future, but we, his readers, missed out on the radical literature he could have written if only he'd lived longer. Before his death in 1900, Crane found enduring critical acclaim and a mass audience with the Red Badge of Courage, a Civil War novel he wrote at 23.
PAUL AUSTER Not once does he name the war. Not once does he say what the war is about. The word slavery is never mentioned, the name Abraham Lincoln is never mentioned. The name of not one general is ever mentioned. We don't even know where we are. We're in a kind of haunted space inside the mind of a 16 or 17-year-old boy.
BROOKE GLADSTONE That's the book that most of us who can remember Crane, know him by. Auster read it in high school, but when he returned to Crane's work decades later, he found a captivating corpus, vast in size and impact. To pay his constantly mounting bills and debts, Crane produced reams of mostly journalism, vivid fly on the wall accounts of people reckoning with poverty, natural disaster, war. Crane also wrote poems. I asked Auster to launch our talk by reading this one.
PAUL AUSTER In the desert, I saw a creature naked, bestial, who, squatting upon the ground held his heart in his hands, and ate of it. I said, "is it good friend?", "It is bitter, bitter," he answered, but I liked it, because it is bitter and because it is my heart.
BROOKE GLADSTONE Let us begin close to the beginning with Maggie, because this sets him on his path. What is it that Stephen Crane originated? I think it's fair to say that a big part of that starts with Maggie.
PAUL AUSTER Well, it's true. Maggie is his first novel. It's really a novella. He wrote it when he was 20 and the early months of being 21. It's a book set in the slums of New York City in an imaginary neighborhood called Rum Alley or Devil's Row. And it's about an impoverished family, a rough, hard-drinking family.
'Maggie broke a plate. The mother started to her feet as if propelled– good god, she held her eyes glittered on her child with sudden hatred, the fervent read of her face turned almost purple. The little boy ran through the halls, shrieking like a monk in an earthquake.'
And the central character, Maggie, is through a series of misadventures with a loudish young man, is reduced to walking the streets as a prostitute and eventually dies. It's not so much the subject that is so astonishing about this book. It's the vividness of the writing, and it is also Crane's refusal to moralize, which was the standard approach of any writer of the day writing about the poor. It had to have uplift, it had to have hope, it had to offer solutions to making the world a better place. In any case, Crane's first writing experiences were as a journalist. He had the good fortune to have an older brother, 19 years older than he was, who owned a news agency. Crane, as a teenager, was working for his big brother Townley, doing little tidbits for the summer season in Asbury Park, which was the most thriving seaside resort on the East Coast at the time. It was a great place for Crane to learn his trade. This journalistic neutrality carries over into the fiction, he wrote. Therefore, no judgments. This was so shocking that every publisher in New York rejected it, and he was reduced to having to publish the book himself by scraping together the money of his inheritance, which wasn't very much. Even the printer was so shocked they refused to put their name on it. Members of Crane's own devout Methodist family hid their copies in the attics of their houses and eventually burned them.
BROOKE GLADSTONE You say that in his lack of judgment and his attention to detail, he actually pre-figures people like Camus or Joyce others.
PAUL AUSTER Hemingway was very influenced by Crane. Yes, Crane is the one who opens the door unto a new sensibility.
BROOKE GLADSTONE He was a rebel with regard to his own family, and he referred to himself as the black sheep.
PAUL AUSTER He rebelled against this hypocritical piety. The great thing that drives all of Crane's work was, to be honest, not to tell lies. To actually explain and describe and tell stories about the real world. But he's not a realist in the strict sense of the word. He's not Zola or that tedious, long winded over-detailed realism. No, no, no, and this is why I say he's the first modernist. Crane's approach to telling stories was to strip out everything that wasn't absolutely fundamental to his purpose. So all the tropes of the traditional 19th century novel and the beautiful things that we all love so much, Crane got rid of it all. So as I say somewhere, yeah, you can curl up on a sofa with a Tolstoy novel. You have to read Crane sitting bolt upright in your chair.
[BOTH LAUGH]
BROOKE GLADSTONE You describe Crane's writerly tone in Maggie as reminiscent of a war correspondent who steadily surveys carnage as it unfolds. And of course, Crane would later report on war for a variety of newspapers. You've ignited a discussion about whether Crane was a journalist.
PAUL AUSTER This was the golden age of newspapers. In New York City alone, there were 18 daily papers published in multiple editions every day, with elaborate full-color Sunday supplement. In addition to those, there were 19 foreign language daily papers. The press was everywhere, and the press needed well as they say today– content. And so there were many more kinds of writing that appeared in newspapers then than is the case now.
BROOKE GLADSTONE Poe and Twain both wrote in papers, and they both put in stories that were completely fictitious.
PAUL AUSTER Yes, but newspapers also published overt fiction, and they published poetry. And then there was a form, and this is the one that Crane excelled at. Called the sketch, which shares traits of traditional reportage and fiction writing. Often the lines blur so much that you can't tell. Crane, throughout 1894 was writing many of these sketches and their marvelous pieces about all kinds of things going on in New York City. You know, there was a tremendous economic depression going on, then the panic of 1893, he wrote. The Men in the Storm, it's a great piece of work about unemployed men waiting to get inside a shelter for the night.
BROOKE GLADSTONE In the Men in the Storm, he came back the worse for wear. After going and joining those people who were trying to get into the shelter...
PAUL AUSTER 'Some of the gusts of snow that came down on the close collection of heads cut like knives and needles. The men huddled and swore not like dark assassins, but in the sort of an American fashion, grimly and desperately, it is true, but yet with the wondrous under-effect. Indefinable and mystic as if there was some kind of humor in this catastrophe.'
Yeah, because he went out into a February blizzard without an overcoat. He might not have had an overcoat then, he was so poor.
BROOKE GLADSTONE A friend said, Why didn't you just put on a few extra undershirts?
PAUL AUSTER And Crane said, How would I know what those poor devils were feeling, if I didn't feel it myself?
BROOKE GLADSTONE He observed that there were two kinds of, mostly men, waiting outside for the shelters. The temporarily unemployed and the habitually unemployed and their views of the world differed enormously.
PAUL AUSTER Yes, the unemployment rates in New York City were staggering. I think it was 30 percent were unemployed here. He talks about the recently unemployed men. He says that the men are not angry at the rich nor the poor. They're just bewildered where they went wrong to have lost out in the game. But this sense of personal failure in the capitalist battleground that America has always been is a very deep comment for someone that young to be able to make. This is the same attitude that one felt during the next big depression. Even bigger in the 1930s, and explains, It seems to me why America has never had a socialist revolution. The worker's movements in America and there were violent strikes all through Crane's lifetime. They didn't so much want to overturn society, they just wanted a fair shake at doing well in the established a society that had been set up. And it's a very different attitude. It's not a revolutionary one, but an evolutionary one.
BROOKE GLADSTONE You observed that a contemporary reporter witnessing a scene similar to the one that Crane observed in 1894 would have cited unemployment rates and included statements of experts and so forth. And he didn't. He just sat down and watched and listened. And this sketch featured the kind of observation that even a mountain of data could not have provided.
PAUL AUSTER He didn't even go inside. He didn't talk to anybody who worked there. You know, journalists today would be obliged to do that and count how many beds there were. What kind of services that they provide. Where was the money coming to fund it? How many people did they have every week, every month? None of that. He just stood because it was too cold to sit. There was a foot and a half of snow, but he just stood there and watched and listened, and then he walked home. He sat down and wrote a seven-page piece after all of that and collapsed in bed. It's a remarkable piece of writing, but again, it does not conform to what we would call journalism today. So it irritates me a bit when people say Crane learned everything about how to write fiction from being a reporter, he was never really a reporter.
BROOKE GLADSTONE Spoken like a true novelist. And then there's the story The Open Boat, which you call a documentary fable. In it, he writes about his experience of being shipwrecked. This piece, you say, and he said, changed him.
PAUL AUSTER Oh, definitely. The shipwreck happens before the story begins. What we are is in the middle of the Atlantic Ocean, off the coast of Florida in a little ten-foot rowboat, a dinghy.
BROOKE GLADSTONE He describes how the boat pranced and reared and plunged like an animal as each wave came. She rose for it. She seemed like a horse, making it a fence outrageously high.
PAUL AUSTER This ship has sunk. There had been 20 men on board, 7 of them drowned, and Crane was stuck out there. In this story, he calls himself the correspondent.
'There was this comradeship that the correspondent, for instance, who had been taught to be cynical of men, knew even at the time was the best experience of his life. But no one said that it was so. No one mentioned it.'
The somewhat hard boiled, suspicious, sometimes cynical Crane had a transformative experience there. You know, just to sum up, his approach to the world is that the gods have vanished, we live in an absurd, meaningless cosmos. It's not as if nature is cruel, nature is just simply indifferent. This could lead to a nihilistic position about things. If nothing matters, then why be good? And what his work tells us is that he says no. What human beings do with and among one another counts for everything. Even if we mean nothing in the cosmos, we are the measure of all things for ourselves. We can create extraordinary moments of cooperation and solidarity that give life meaning, or we can divide, go at each other and make life hell. I think this is the push pull conflicts that he's dealing with, particularly in the last years of his writing life. And it's this position is very close to Camus. You know, it is existentialism, you know, before the facts.
BROOKE GLADSTONE The story The Open Boat reminded you of one of Crane's poems: A man said to the universe: "Sir, I exist." "However," replied the universe. "The fact has not created in me a sense of obligation."
PAUL AUSTER That's Crane's wit at work, too. He could be so deadpan, ironic when he chose to be.
BROOKE GLADSTONE It was such a struggle, and not just with his health, but with his finances and the stress of it, you convey incredibly well, Paul. Let's talk about the society of his final days. Our listeners, some of them may not know Crane's name, but they are far likelier to have heard of his close friends Joseph Conrad, Henry James. He was friends with H.G. Wells and Ford Maddox Ford, not to mention, obviously his erstwhile fans and frenemies like Teddy Roosevelt and William Randolph Hearst. Why do you reckon Crane has been mostly forgotten while the other writers from his day are more read and remembered?
PAUL AUSTER The answer to that question is simply that he lived such a short life. He was a comet who flashed across the sky, and then he disappeared. He never gained a real toehold in the literary world. All of these other writers lived reasonably long lives, and they had time to develop. Time to establish themselves in their different cultures. Henry James, he never sold that many copies of his books. He was not a popular success. James's real success has come in the many years following his death, and now he's considered a master. Then he was considered an interesting writer, but a little stuffy. [LAUGHS]
Welles, we don't need to talk about, he wrote all his most famous science fiction books, then. During the period when he knew Crane. I mean, Conrad struggled terribly in the beginning, just as badly as Crane had. But eventually, of course, he became recognized. But Crane fell in love with Conrad's work, and he understood that Conrad was a spiritual brother, and Conrad was overpowered by Crane's work, and these two became the closest of close friends. Conrad worked, I think, for the rest of his life, with the photograph of Crane on his desk. Conrad wrote very movingly about his friendship with Crane. The story he tells, I mean Crane was so weak he could barely talk. He was in a bed overlooking the sea. He just said, I'm so tired. Conrad just stood there in the door looking at Crane, who was looking out the window at a boat passing by.
BROOKE GLADSTONE You make reference all through the book to things that Crane did first. The lack of moralizing, Dialogue, that in one story, you likened to Raymond Chandler. The sort of beginnings of... Is it fair to say, a stream of consciousness? Following the thoughts inside of a head during a time of great stress. So many things that were later done and I think credited in the popular imagination to others. One thing that you note was that his unique ground on which he wrote, was coherence and a blur.
PAUL AUSTER I'm glad you brought this up because it's a fascinating moment in his work. If one really wants to understand Crane, one must read the journalism. Whatever, however, you want to define this journalism because some of the most pertinent statements he made are buried in these pieces for newspapers. Crane left the city for a day to write a piece for Pulitzer's World on the electric chair at Sing Sing, and it's called The Devil's Acre. Crane goes out and visits the graveyard in which the, you know, the dead prisoners have been buried. There's a house at the edge of this graveyard overlooking the Hudson River, and he simply writes this:
If people on this veranda ever lower their eyes from the wide river and gaze at these tombstones, they probably find that they can just make out the inscriptions at the distance and just can't make them out at the distance. They encountered the dividing line between coherence and the blur. Now, I think this is an extraordinarily perceptive remark that line that Crane inhabited as a writer. And I think he's the first one to discover this territory and stick it out as his own.
BROOKE GLADSTONE What do you imagine he might have done had he lived beyond the age of 28?
PAUL AUSTER It's the inevitable question that one can't help but ask and fully understanding that there's no answer to it. It's impossible to say. If he had followed his best instincts and impulses as an artist, if he hadn't been crushed by poverty. Assuming that he was still on his feet, assuming that his vision hadn't been corrupted, what he was going towards is writing in the first person, which is something he really didn't do. Except there's a piece that he wrote in the last year of his life called War Memories. It's over 40 pages, so pretty long for Crane, it's written in the first person, and it's about his experiences in Cuba. I think for the first time in a text, all sides of Crane are present, almost simultaneously. Humor, and it's very funny at times, but also, you know, the dark, even tragic things that he encountered there. And the voice is so vibrant, that I think if he had lived, I think he might have found another avenue to express himself through these first-person narratives. And I speculate that it's fascinating because early on his position is so rigorously third person, defiantly third person. You know, I am the invisible fly on the wall. But no, he's feeling more comfortable about himself. You know, he's still not even 30 years old, and he's starting to get his feet on the ground. So, who knows?
BROOKE GLADSTONE I mean, from the moment the reader encounters him, he seems to know his time is running out. I wonder if that affected the nature of his work.
PAUL AUSTER I think it did. And I think it affected the nature of his life as well, which would account for his tremendous risk-taking and his great love of gambling. The early years of his life, he was sick a lot. I think he started talking about how he wasn't going to live long when he was as young as 20 and knowing that in terms of the work that his writing gravitated towards essential questions. So most of his great work is about people in extreme situations, whether it is crushing poverty, war, physical danger. And that's why the work doesn't get old because these things don't change in human life. You know, he can write as well as anybody ever wrote. What goes through your mind when someone's pointing a gun at you and you think the trigger is going to be pulled within the next 15 or 20 seconds? 1890 or 2021? Its just the same experience, and therefore I think his work is eternally relevant. That's why I wrote this book because my sole aim was simply to get people to start looking at Crane's work again.
BROOKE GLADSTONE Thank you so much, Paul.
PAUL AUSTER Brooke, it was a pleasure to do this with you.
BROOKE GLADSTONE Paul Auster is the bestselling author of 4-3-2-1, Sunset Park, Invisible, The Book of Illusions and The New York Trilogy, among many other works. His most recent book is Burning Boy: The Life and Work of Stephen Crane.
We first aired this interview in November.
And that's the show On the Media is produced by Micah Loewinger, Eloise Blondiau, Rebecca Clarke-Callender, Candice Wong, Suzanne Gaber, and Max Walton. Xandra Ellin writes our newsletter. Our technical director is Jennifer Munson. Andrew Nerviano engineered this week. Katya Rogers is our executive producer. On the Media, is a production of WNYC Studios. I'm Brooke Gladstone.