How to Cover the Ongoing Siege On Democracy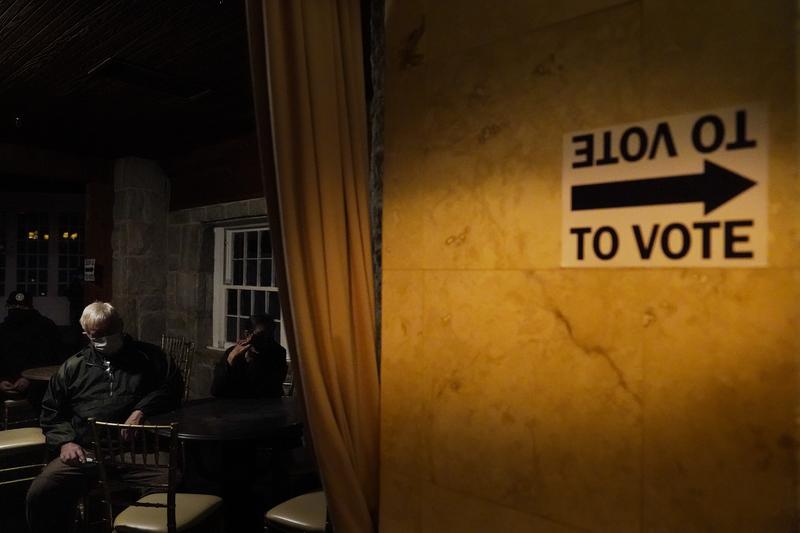 Transcript
BROOKE GLADSTONE This is On the Media, I'm Brooke Gladstone. So as we laid out in the previous segment, reporters who are charged with covering these stories of men firing bullets at imaginary demons and hitting innocent people, often make them feel trapped in some Grand Guignol version of Groundhog Day. Same points, same tropes, same tears. No enduring consequences, no serious measures taken to mitigate the chance. It'll happen again. These cases are treated like acts of God or nature, but our emergency management of hurricanes or winter storms, though pretty spotty, is better than this. Thus, unspeakable incidents heap one upon the other natural, social and political. This week, the results of the Republican primaries reminded us yet again that no amount of fact checking will untether the party from the grip of the big lie. The newly minted GOP nominee for governor in Pennsylvania disputes that language. Of course.
[CLIP]
DOUG MASTRIANO There are a lot of issues and burying our head in the sand and calling it a big lie. Shame on any journalist, so-called, that says that. The big lie was them with Russia, Russia, Russia for three or four years based off the zero evidence. We do have evidence, nothing was done about it, so we're going to do something about it now. [END CLIP]
BROOKE GLADSTONE State Senator Doug Mastriano. His resume includes chartering busses to a pre insurrection rally, leading a campaign to decertify Biden's victory and a Trump endorsement. If he wins the governor's race in November, he'll choose the person who will certify the results of the 2024 election.
[CLIP]
DOUG MASTRIANO I could decertify every machine in the state with the stroke of a pen via my Secretary of State. I already have the Secretary of State picked out. It's a real world class person that knows the voting integrity better than anyone else in the nation, I think. And I already have a team that's going to be built around that individual. [END CLIP]
BROOKE GLADSTONE In North Carolina, GOP Senate nominee Ted Budd also won Trump's support, and he, too, rode the wave of election denialism to victory.
[CLIP]
REPORTER You voted to overturn the election in 2020. Do you still stand by that vote, sir?
TED BUDD Oh, absolutely.
TED BUDD We need to choose men and women who believe in the America first agenda that President Trump is still fighting for, because we believe that it should be easy to vote and hard to cheat. [END CLIP]
JAY ROSEN We live in a two party system and one of the two parties is anti-democratic. That is a civic emergency.
BROOKE GLADSTONE Media critic Jay Rosen.
JAY ROSEN And the Republican Party, instead of disinvesting in Donald Trump, has invested more in his lies.
BROOKE GLADSTONE Since Trump's presidency, Rosen has called for journalists to enter emergency mode to sound the alarm on repeated attacks on democracy. Rather than re-assuming what he calls 'the view from nowhere.' And to their credit, many outlets The Washington Post and The New Yorker among them covered the primaries with this urgency. Take this lede in The New York Times, where reporter Reid J. Epstein said the primary results, quote, made clear that the November midterms may well affect the fate of free and fair elections in the country. In my conversation with Rosen last year, he explained that when the stakes are this high. Journalists cannot treat politics like a game.
JAY ROSEN You can always find the game part of it, you know, you can always ask, what was the winners and the losers? Who's ahead? What's the strategy? That's a very portable lens on politics, and you can keep looking at the world through it right up to the point where democracy disintegrates. The root that I talked about last time I was on this show in which the press becomes pro-democracy, pro voting, pro truth – those are much stronger identities than "on the one hand, on the other hand"-journalism or we're going to take you inside the power game. And there is some indication that it's happening here and there.
BROOKE GLADSTONE You cited some examples on press think. One of my favorites is something that WITF Public Broadcasting in Harrisburg, Pennsylvania, says it'll do.
JAY ROSEN WITF has decided on a never forget policy. Each time they put into their news product the name of a public official who voted for the Big Lie, or to overrule the voters or to decertify the election in Pennsylvania. They will remind their listeners and viewers. They wrote a like a boilerplate paragraph to insert into any news article mentioning Congressman Smith.
BROOKE GLADSTONE I found it here: Senator, insert name here. Who signed a letter asking members of Congress to delay certifying Pennsylvania's electoral votes despite no evidence that would call those results into question. Today introduced a bill. Blah, blah, blah.
JAY ROSEN They're doing it to create a kind of accountability. This is their way of saying, we can't just move on. We have to be a stronger force for democracy.
BROOKE GLADSTONE CNN anchor Jake Tapper floated a blanket ban on booking proponents of the big lie on his show.
JAY ROSEN It's interesting that Chris Wallace said Tapper's stance is a kind of moral posturing and that he wasn't going to do that. I don't think there's a general solution that works all the time. You can say we're not going to bring on our show people who participated in the big lie, but there could be exceptions.
BROOKE GLADSTONE And you cited what is a very familiar conversation in media criticism circles. You know, when someone says, "don't put those liars on the air," you'll say, "I hear you, but sometimes I have to tell people what's going on." And then the other person says, "you're spreading their propaganda for them," – "it's already spread and having real world effects" – "Well, it wouldn't spread if you denied them a platform." – "Gatekeepers don't have that kind of power anymore." – "They might if they work together" – "that just drives it underground. It gets even worse." It was such a perfect crystallization of the endless argument. But what's your solution?
JAY ROSEN Sunlight is the best disinfectant, but it also allows things to grow. It's kind of a paradox. There's no solution to it. There are only better or worse decisions. This is another reason I talk about this simple method of the truth sandwich. When you feel you have to report on a falsehood, you should start with a true statement, sandwich, the misleading one in the middle, and end with a true statement. As opposed to "this isn't true, but you know what? It could be a winning strategy." Suppose Kevin McCarthy becomes Speaker of the House, now you have to decide whether you're going to give a platform to that person or invite and confront.
BROOKE GLADSTONE But as you've observed also in press think it's very hard for these mainstream shows to even book Republicans.
JAY ROSEN Because there's a huge portion of the public that has tuned mainstream journalism out. The politicians who appeal to that group can also tune it out.
BROOKE GLADSTONE There was once this notion that if you made fun of a leader, you would diminish the power of that leader. But if making fun of the leader means also making fun of the leader's supporters, then you're only pushing them further and further away from the opportunity to read actual facts.
JAY ROSEN You know how in politics you try to raise the candidate's negatives? Trump originally, but now the Republican Party as a force has successfully raised reality's negatives. It's extremely difficult to adapt our political vocabulary to that reality. And so we use other terms that we're more familiar with. So like Brian Stelter is convinced that Fox became more right wing after the election in order to recapture the Trump base. To me, that really understates how weird the phenomenon was. It wasn't so much that Fox drifted to the right –
[THUNDEROUS CRASHING SOUND].
[BROOKE GASPS]
JAY ROSEN What was that?
BROOKE GLADSTONE There was just this a huge thunder explosion when you said that.
JAY ROSEN See, that's an indication of the kind of point I was making. Fox News is not moving to the right. It's moving, you know, less connected to reality than it was. By investing so much in this lie about the election in bizarre rituals like the Arizona audit, which are premised on fantasies and political fictions. You can't even debunk anymore because they've been debunked so many times.
BROOKE GLADSTONE So sidestep the political spectrum and create a reality spectrum, instead, when describing arguments and cases made.
JAY ROSEN What does it really mean to be pro verification or pro truth? I think there are changes in practice that come with that and it's up to our big newsrooms to develop those changes.
BROOKE GLADSTONE If Trump, let's say he was a dumpster fire – easy to spot. There are now little fires everywhere dividing the attention of the national media and creating a space where local reporting is so much more important.
JAY ROSEN Yes, the Republican Party turning anti-democratic is an example of a story that's national in scope, but happening at the local level. This is a case where the national story is actually not happening in the nation's capital. It's happening in the state capitals, so that's one thing. A second thing is that the local level is still a place where it's possible to imagine a common set of facts between people on opposite sides of the political divide. For example, how do we open our schools now that we have the vaccination? That's not an easy problem, but it's at least possible to imagine people just want to solve it, even with those on the opposite side of the aisle. The more politics is rooted in problem solving that people can see in their lives, the less likely this dueling reality's universe is to take over. The more things shift to national politics, the more the result of raising reality's negatives will be seen.
BROOKE GLADSTONE On the national level. One positive sign you've seen is the creation of democracy beats.
JAY ROSEN Yes, there are more reporters who are, in a way, full time on this problem of an anti-democratic movement that's in charge of one of the two major parties. Ari Berman of Mother Jones has been covering elections and voting rights for years, but there are many more reporters on that beat now. ProPublica has a democracy beat. But that's just the start. We need that. We need the focus on local problem solving, and we need to create accountability. Like WITF.
BROOKE GLADSTONE Their never forget policy.
JAY ROSEN They're never forget policy. And we need to find a better language for talking about this.
BROOKE GLADSTONE But even if outlets and reporters were explicitly pro-democracy, if local news were better funded, I mean, how powerful are the media?
JAY ROSEN Even if the political press did everything their critics like myself, wanted them to do, a lot of it wouldn't make any difference because the Trump base isn't there at the end of the receiving channel. They're not listening. At one time, the gatekeepers addressed the majority of the public, and now the mainstream media is only one stream within a river system that flows in many directions independently of what journalists are doing. The press that we wish were better has lost power to social media, to going direct between a political figure and fans. You can have something completely debunked and it still has a political life. We don't have the power in journalism to alter the situation that we're in.
BROOKE GLADSTONE Jay, thank you very much.
JAY ROSEN My pleasure, Brooke.
BROOKE GLADSTONE Jay Rosen teaches journalism at New York University and is founder of the Media Criticism site PressThink dot org.