4. "I Wonder if I Take You Home" — Freedom in Freestyle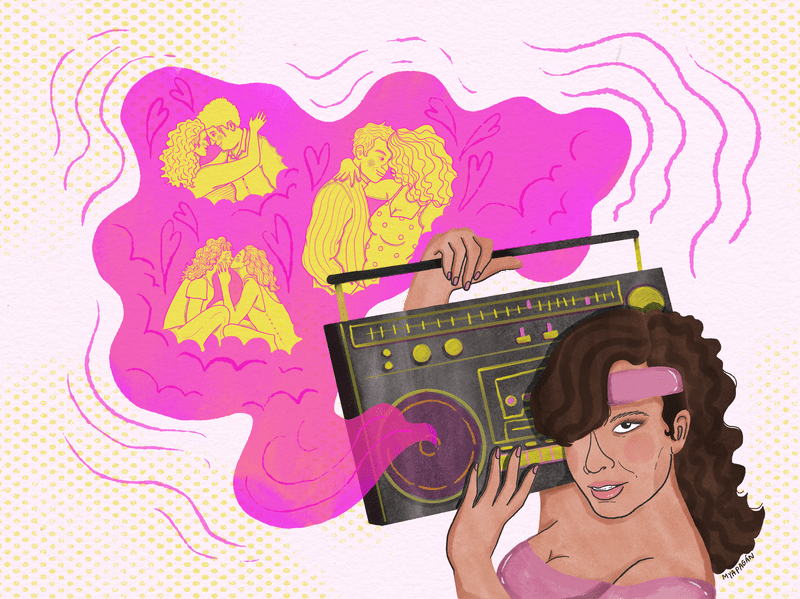 Transcript
[WNYC SONIC ID]
[FUTURO SONIC ID]
Alana: So as soon as we knew we were going to make this season of La Brega all about music, we knew we wanted to do an episode about love songs. Actually, every episode in this season is about love of one kind or another – love for the island, for our history, for our families. Then I was talking with Raquel RYE-kurt Reichard – she's the deputy director at Refinery29 Somos. And she told me, there's this one love song that totally shaped her. And shaped a lot of the women in her life. It's I Wonder If I Take You Home, by Lisa Lisa & Cult Jam, released in 1985.
It's about romance and intimacy... so yes, we're going to talk about sex. And for that reason, I want to give listeners the heads-up, there's some frank talk in here that may not be suitable for younger listeners. Really.
Here's Raquel with the story.
[AMBIENT - Skating rink DJ: "...backward skaters, backward skaters only!"]
[MUSIC - Freestyle upbeat with synthesizers]
Raquel: It's a Friday in 1999, and I'm at Universal Skating Rink in East Orlando…on teen night. I'm only 9 years old – but my mom lets me sneak in and join my older brother to make sure he "stays out of trouble." We're on a street called Goldenrod, where my family moved to from the montañas de Moca four years earlier. On the rink and in the dance room, most of the teens look or sound like I do: We're young Puerto Rican transplants from the archipelago, New York, Jersey, Philly, and Chicago — and we're just trying to have a good time in our swampy new city.
[AMBIENT - DJ spin and talking into the mic]
Raquel: The DJ is sick, spinning hits from Puff Daddy and TLC —
[MUSIC - "Creep," TLC]
Raquel: and then we hear those very familiar horns
[MUSIC - "Dream Boy / Dream Girl" horns, Cynthia and Johnny O]
Raquel: It's Cynthia and Johnny O's "Dream Boy / Dream Girl". Immediately, the whole room starts singing a song that came out when most of us were in diapers.
[MUSIC - "Dream Boy / Dream Girl," Cynthia and Johnny O: "You're my dream boy"]
[MUSIC - Upbeat freestyle]
Raquel: I wasn't even born when this Latin dance track dropped, but somehow I know it word-for-word — and in the eyes of this middle school and high school crowd, that makes me pretty cool. As the duo sings, tween girls dance together in a circle. Young couples hide underneath the DJ booth to sneak in a quick makeout sesh. And others rush out of the dance room – to the rink – where they bust the grapevine, the moonwalk and other skating tricks. In my experience, this is what happens when Freestyle comes on.
[MUSIC - Freestyle drum beat]
Raquel: I don't know how music that my old-ass parents used to listen to back in Far Rockaway, Queens, is the barometer of edge, but there is just something about those Spanish-accented stories of love and heartbreak sung over 808 claves that enliven us all. Freestyle music taught a generation of boricuas about love and sex. And even more specifically, freestyle taught us — a bunch of boricua girls in the south — to fight for our desires and our bodies. And we all had our anthem: one song that helped us navigate our relationships…and sexual curiosities.
[MUSIC - Theme song]
Alana: From Futuro Studios and WNYC Studios, I'm Alana Casanova-Burgess…
Raquel: and I'm Raquel Reichard.
Alana: And this is La Brega. In this episode, track 4: I Wonder If I Take You Home.
Raquel: Dear Lisa Lisa, I need some advice.
[BEAT]
Raquel: More than 20 years since those nights at Universal Skating Rink, freestyle still plays a big role in my everyday life.
[AMBIENT - Raquel and her mom talking and laughing in the kitchen]
Raquel: That's mami scolding me for picking the guandules out of the olla. I've been plucking the pigeon peas from her yummy yellow rice since I was a kid, and my parents have been hosting backyard Flori Bori house parties like this one since before then.
[MUSIC - Merengue beat]
Raquel: Papi, our resident DJ, makes sure the set includes salsa, merengue, and, of course, freestyle, and mami dances around the kitchen using cooking spoons as choreography props. It's wild to me that I, "una bad bitch girl de los 90's," — someone who grew up on the girl power of the Spice Girls, the female independence of Ivy Queen, and the brazenness of Cardi B — still feels so liberated by this music from an era that came before me — and that other women do, too. Freestyle just feels so…
[MUSIC - Energetic Freestyle beat and horns]
Raquel:…freeing. Freestyle is a feeling. It's been described as a sonic novela and an android descarga. But this doesn't make it any easier to explain. It's not hip-hop, it's not totally pop, and it's not even house — but it is kind of like a prima to all these genres.
Louie Ortiz - Fonseca: I think house music is like four on the four. Like there's this constant boom, boom, boom, boom.
[MUSIC - Isolated beat thumping]
Raquel: That's Louie Ortiz-Fonseca, a freestyle historian and artist.
Louie: Where, um, I think freestyle to describe it sonically, like, Doom ch doom. Doom ch doom
[MUSIC - Snare drum and electronic voice on beat a la freestyle]
Louie: like you hear, um, the snare.
Raquel: While there's not one singular freestyle beat, there are a few key ingredients that go into a freestyle track.
[MUSIC - Cymbal drag into freestyle beat]
Nic Lopez Rodriguez: I think about freestyle musically as a cousin to what salseros are doing, right?
Raquel: Nic Lopez Rodriguez is a DJ and performance studies scholar.
[MUSIC - Light salsa beat and keyboard]
Nic: We have timbales. We have the synths and the rhythm, but then we have what we see in salsa music, which is like sometimes my favorite, which is the keyboard break, right? There's always sort of a bridge or hook with a keyboard. You hear that in freestyle music, but it's gonna be with a synthesized keyboard.
[MUSIC - Freestyle beat with synthesized keyboard and electronic voice]
Raquel: Freestyle was originally called Latin hip-hop, and it was co-created by the same communities: Caribbean and Black-American youth in the Bronx. The beats are similar to early hip-hop – but the delivery is different: to put it simply, hip-hop artists rap about what happens on the streets. Freestyle artists sing about what happens in their hearts. Louie describes it as music from the same block, just different sides of the avenue.
[MUSIC - Freestyle beat]
Stacey: The beats and the rhythms were very much similar to sounds that are from your parents' records and your cassettes. So there's that familiarity as well, those Latin beats, so to speak.
Raquel: That's Stacey who grew up on my block in East Orlando. She arrived to the neighborhood in 1982, nearly a decade before the first mass migration of Puerto Ricans to the area. And part of what made freestyle music so enticing for her was that it connected her to a city where diasporic Puerto Rican culture boomed: Nueva Yol.
Stacey: With the moves like break dancing, you know, it all came together and it was just this, this perfect package of New York: good looks, good beats, confidence, wilding out … there's no other word to describe it, it was cool. And we wanted to be cool, too.
Raquel: What made this genre so dope for her was that it was performed mostly by second-generation Puerto Rican teenage girls. Who sang, danced, and looked incredible. Singers like Judy Torres,
[MUSIC - "Come into my Arms," Judy Torres: "Come into my arms baby, this love for you is real"]
Raquel: the Cover Girls
[MUSIC - "Wishing on a Star," The Cover Girls: "I'm wishing on a star!"]
Raquel: and one of the flyest — Nuyorican vocalist Lisa Velez, also known as Lisa Lisa.
[MUSIC - "I Wonder if I Take You Home," Lisa Lisa & Cult Jam: "Because I need you tonight, oooooohhh"]
Raquel: These artists had a sound and look that everyone wanted to emulate: sexy, daring, and colorful.
Stacey: Just the, the looks that these girls had — bright colors and eyeshadows and lipsticks. For us today it would seem like it's gaudy, but it's, it just all worked and was put together in a way that if you're a young girl like me, you're looking, "Oh man, like, I wanna look like that".
[MUSIC - Beachy beat]
Raquel: I get what she means. I wanted to look like that, too: bold, confident, free. As a young person, watching and listening to these women sing about crushes, heartache and sex felt liberating. I grew up in a Pentecostal home. While my mother didn't force me to wear long denim skirts or forbid me from rocking jewelry like her mom did, my life as a girl still felt constricted in so many other ways. During my adolescent years, mami and I were besties, always side by side. We would spend entire weekends curled up under sabanas on the sofa watching those classic 90s "made for TV" movies. You know the ones. To us, they were all about the dramatic lives of white women and their children. On the screen, I saw a reality way different from my own: parents talking to their kids about sex and contraceptives and young people having sex — lots of it and everywhere.
My mom and I, we could talk about shopping, school, even race and police harassment. But S-E-X…that was a topic of discussion that mami and I did not touch.
Those rare moments when it had come up at church or home, I was taught that teen dating leads to sex, and female sexuality is sinful. So I rarely expressed my crushes, didn't have many boyfriends, and was scared to death of sex. Your girl was shook, about everything. If I had a so-called impure thought or experienced arousal of any kind, I would cry myself to sleep, begging God not to condemn me to hell for all eternity. I avoided holding hands because I thought it would lead to pop-kissing. And if I kissed someone, it was a wrap. I broke up with them immediately, because that made me one step closer to having sex. The message at church and home was clear: My body was not my own.
To me, the women of freestyle broke free from all the expectations that were still tearing me apart — and that didn't just make them cool; it made them courageous, powerful, and inspiring. They dressed and danced in ways that made them feel good, and they went after all the things that they wanted, even if that meant breaking the rules. And there was one song in particular that guided us all: "I Wonder If I Take You Home" by Lisa Lisa & Cult Jam, which along with Lisa Lisa included members Alex "Spanador" Moseley and Mike Hughes.
[ARCHIVAL - The Dick Clark Show]
Lisa: Mike Hughes Dick: "Mike Hughes" Lisa: and Espanador Dick: "Hello sir"
Raquel: In 1985, Lisa Lisa & Cult Jam appeared on American Bandstand…
[ARCHIVAL - The Dick Clark Show]
Dick: Ladies and gentlemen, Lisa Lisa & Cult Jam!
Raquel: The same year MTV debuted "I Wonder If I Take You Home" – as the first-ever Latin hip-hop music video.
[MUSIC - "I Wonder if I Take You Home," Lisa Lisa & Cult Jam]
Raquel: Stunning in a fluorescent pink headband and a curve-hugging, off-shoulder jumpsuit with parachute bottoms, there were few, if any, acts hotter than Lisa Lisa. No one — not Madonna, Cyndi Lauper, or Debbie Harry — could rival this Puerto Rican teen girl from Hell's Kitchen.
[MUSIC - Upbeat]
Michelle Cortes: And I just remember we were all kind of in awe. We were all in awe. Like, Oh wow.
Raquel: Michelle Cortes and her family moved from Brooklyn to Long Island in 1985, where they enjoyed cable TV for the first time. One of her most memorable moments in her new home was watching that MTV debut of "I Wonder If I Take You Home."
Michelle: I mean, now you see women in videos, you know, everyone's got a big ass and tatas and all that. But back then, you know, you had to be skinny, man. You really had to be like a rail, you know, to be on television. And she was not that.
Raquel: She had a body-oddy.
Michelle: Yeah, she had a body-oddy. It was like, "All right, well she's one of us." And you know, it was nice. It was really nice.
Raquel: And then, there were the lyrics: Bold, relatable, and autonomous.
[MUSIC - "I Wonder if I Take You Home," Lisa Lisa & Cult Jam: "I wonder if I take you home, would you still be in love baby…]
Raquel: Here was a young Puerto Rican woman singing about her sexual desires without shame … "I wonder if I take you home, would you still be in love, baby, because I need you tonight?"
[MUSIC - "I Wonder if I Take You Home," Lisa Lisa & Cult Jam: "...baby, because I need you tonight, oh oh oh…]
Raquel: In one chorus, she expressed what women needed to hear, even if the media, the church, and our education system didn't want to tell us: women want to have sex, too. But we have to weigh that decision against real-life possibilities: your partner hittin' and quittin', unwanted pregnancies, sexually transmitted infections, revenge porn, or simply being labeled la sucia of the block.
[MUSIC - "I Wonder if I Take You Home," Lisa Lisa & Cult Jam: "Take me, take me, take me home"]
Raquel: So Instead of just giving into her partner's pleas… Lisa Lisa advocates for herself, saying it's on her time or not at all.
[MUSIC - "I Wonder if I Take You Home," Lisa Lisa & Cult Jam: "If you love me, you would WAIT."]
Raquel: Even though these conversations weren't happening in the home, freestyle came out of a decade when women were gaining more agency over their bodies and fighting for access to public health.
[MUSIC - Mysterious]
Raquel: In the 1970s, the Puerto Rican led community organization the Young Lords had centered healthcare in their struggle for community empowerment. In the South Bronx, they famously occupied Lincoln Hospital in July 1970 – and even made a point of highlighting women's care there.
[ARCHIVAL - Takeover: The Hospital Occupation That Changed Public Health Care]
Community Organizer: What we want this rally for is to express our desire to have community worker control of Lincoln Hospital, A hospital that for some time has been condemned, paint this chipping from the emergency room, our uncles, our grandmothers, our mothers have died in that hospital. And nobody has pushed…
Raquel: Meanwhile, Dr. Helen Rodríguez Trías, a Nuyorican public health expert, helped to establish protections for marginalized women who were targeted for sterilizations, like requiring patients to sign consent forms. This is Dr. Trias, in the 1982 Documentary La Operación.
[ARCHIVAL - La Operación]
Dr. Trías: Sterilization has been pushed really internationally as a way of population control, and there is a difference between population control and birth control.
Raquel: By the end of the decade, feminist groups in Puerto Rico celebrated two big wins: A new government agency called the Commission for Women's Affairs. And Law 54, which outlawed domestic violence. Puerto Rican women everywhere were taking control over their bodies, their hearts, and their lives — at home and through politics. And soon enough — in nightclubs, too.
[MUSIC - Freestyle beat with synthesizers]
Raquel: Throughout the 1980s, there was a boom in culture-pushing songs about love and sex — most of them from a white woman's POV. But Freestyle was deeply rooted in Latina self-advocacy and sexual agency. It was empowering, even liberating. As Stacey says,
Stacey: To have these young women saying, you know, singing these songs and dressing their - how they are, and even staying out late at the club singing the song, you know, for an audience. I mean, to me that's like, like, get it girl.
Raquel: And if I were making a mixtape to help me get into my own "get it girl" energy, I'd include starter tracks like Nayobe's "Please Don't Go," where she calls out fragile masculinity.
[MUSIC - "Please Don't Go," Nayobe: "There's something scary about the look that's in your eyes…]
Raquel: The Cover Girls's Show Me for demanding respect and receipts.
[MUSIC - "Show Me," The Cover Girls: "...show me, you really love me…"]
Raquel: Corina's "Temptation,"
[MUSIC - "Temptation," Corina: "It's time you look away, he knows just how to touch me…]
Raquel: Because she sings about ditching her man for someone who treats her (and, let's be real, fucks her) better….
[MUSIC - "I Wonder If I Take You Home," Lisa Lisa & Cult Jam]
Raquel: And, of course, Lisa Lisa's I Wonder If I Take You Home because she keeps it one hundred about her sexual desires.
And the music was fire. These vocalists from the diaspora and their self-assured lyrics made their way down the Atlantic coast, crossed the Caribbean where they also became hits in Puerto Rico, inspiring young women…despite language barriers.
Lisa: Pues, eso pa nosotros unos wow, una boricua que chulería que es chévere y eso era…
Raquel: This is the mom of my friend Stephanie Piniero. Her name, as luck would have it… is Lisa.
Lisa: Y entonces cuando en la escuela me llaman Lisa Lisa… Hey, Lisa Lisa y yo uy, como un DJ… (laughter)
Raquel: Growing up in Toa Baja, Puerto Rico, in the 1980s, Lisa discovered freestyle music through a neighbor and became obsessed with the genre — especially Lisa Lisa.
Lisa: Y eso era algo bien grande en Puerto Rico.
Raquel: Steph and I haven't known each other long, but we've gotten close over the last four years. We've bonded over our feminist work, growing up as Puerto Rican girls in the south with a shared love of alligators and, surprise, freestyle. Like in my house, freestyle music often blasted from Steph's childhood home in Jacksonville, Florida. Her mom, Lisa, used to murmur the words while cleaning. These songs transport Lisa back to her teenage years. At the time, there just wasn't anything like it — a fierce boricua gal singing in English? It was huge, it was exciting — even if Lisa couldn't understand the lyrics yet.
Lisa: No entendía cero, pero nada.
Raquel: But the rhythm spoke for itself.
Lisa: El ritmo era pegajoso.
Raquel: The music was hot, and the makeup, hairstyles, and fashion were just as fresh. We're talking, lots of neon.
Lisa: Ese rosita fosforescente amarillo fosforescente… [fade down]
[MUSIC - Freestyle beat snare drums and voice]
Raquel: These songs that Lisa didn't entirely understand became the soundtrack to her romantic life as a teenage girl: crushes, dating, and sex. She was dating a boy when Lisa Lisa's "I Wonder If I Take You Home" made its way to Puerto Rico, it's a song that she refers to as an anthem for her. For very, very personal reasons.
Alana: After the break — how freestyle, and this Lisa Lisa jam, holds a special, intimate memory for Lisa and generations of other women. This is La Brega, stay with us.
MIDROLL
RaiNao: Hello, this is RaiNao.
ÍFÉ: And this is ÍFÉ.
RaiNao: And you're listening to La Brega.
Alana: This is La Brega, I'm Alana Casanova-Burgess. Writer Raquel Reichard has a special place in her heart for freestyle music. And turns out, she's not alone. There are GENERATIONS of boricua women who grew up on the sounds, styles, and stories found in freestyle… like, her friend's mom, Lisa. Raquel picks it up from here.
Raquel: Freestyle offered Lisa a sort of roadmap to her early love life, identity, and sexuality. But it was I Wonder if I Take You Home - an anthem to sexual agency - that provided a young Lisa the scoring to one of the most intimate moments of her life.
Lisa: Fue como un himno, para mi fue cuando yo perdí mi virginidad…
[AMBIENT - Nervous laughter]
Raquel: Soooo, that was Lisa, very casually sharing a secret…
Stephanie Piñiero: So…(laughter) okay. So…
Raquel: A secret that not even her daughter, my friend Stephanie, knew about her.
Steph: Okay, so to recap, so you're saying that "I Wonder When I Take You Home" was the song that the person you lost your virginity to had on replay? And played it over and over again?
Lisa: Over and over…and over…
Steph: And you remember…
Lisa: Esa canción me llevó a eso.
Steph: It reminds you of that moment?
Lisa: Yeah, it reminds me of that moment.
Raquel: And it was a moment that you don't forget… like exactly what you were wearing…
Steph: So you wore a corduroy skirt?....
Lisa: Yeah…
Raquel: Exactly where and when it happened…obvio…
Lisa: It was in my aunt's house. Right. But no, listen. This is not actually inside the house. In her house, it was a little house next to her, right? It was something you can get it in under, under the house. And it was under the house…(laughs)
Steph: What?
Lisa: It was under the house…(laughter)
Steph: Ay, mom.
Raquel: You made it work.
Lisa: Yeah. Yes.
Steph: You and your Corduroy skirt?
Lisa: Yeah. That bitch. Oh yeah, yes.
Raquel: And what Lisa would never forget was what was playing when it happened. Remember, Lisa didn't understand the words to this song when she was, well, taking someone home. But a few years later, after living in Jacksonville and learning English, she heard it again — and she was floored!
Steph: So you understood when you were married and you had kids already, that's when you finally understood what that song meant.
Lisa: Exactly. I was like, Oh shit, this motherfucker know this…(laughter)
Steph: Cause he knew!
Lisa: He knew what I meant. It wasn't me that I didn't know, but he knew! (laughter)
Steph: I, I've never heard this, and me and my mom are pretty close. Like I know a lot of the stories…but I didn't know that one. I didn't know that story. (laughter)
[MUSIC - dreamy drone beat]
Raquel: But Steph knows a lot of other stories. She knows about Lisa's past boyfriends, drunken nights at Vico C concerts, and that when Lisa was 25 years old, she opted for sterilization over other forms of birth control that made her ill.
For generations in Puerto Rico and in the U.S., the bodies of Puerto Rican women were used for birth control experiments: from pills, to jellies, to sterilization.
In the 1950s, the first large-scale human trial of the birth control pill was carried out in impoverished neighborhoods in Puerto Rico. U.S.-based physicians, scientists, and government officials coerced women into receiving certain contraceptives – and even sterilization – many without their informed consent. For decades, sterilization was encouraged there, and it became one of the most accessible forms of birth control available to Puerto Rican women. While it's not anymore, it remains one of the few options women know intimately and, thus, choose. By the 1970s, over a third of Puerto Rican women of childbearing age had been sterilized.
[ARCHIVAL - La Operación]
Narrator: "En Puerto Rico, una de cada tres mujeres en edad de procrear ha sido esterilizada. Tan común es el método, que se le conoce simplemente como – la operación."
Raquel: It was so common that it was known simply as la operación – the operation.
[MUSIC - Soft guitar]
Raquel: For Lisa, mothering four young children in an unfamiliar city away from her family in Puerto Rico, sterilization felt like the best decision for her, and one that other women in her family made as well.
Steph: My tía was sterilized too. My grandmother, she took birth control in the seventies and it failed her…and my mom was born… and it made her feel very sick. So the context that I have is that the reproductive health services that are available to us in our socioeconomic status and level were not good. They were not things that empowered somebody to have agency over those decisions.
Raquel: THIS is actually something I knew about my mom, too. She was also sterilized in her 30s. I was a teen, and all I knew was that the procedure that left her bedridden for weeks would stop her from having babies. I didn't know what the operation entailed or why she decided on it. We never talked about those things. We weren't supposed to.
[MUSIC - Beachy]
Raquel: It was weird, though. In so many ways, my mom was my best friend. I spent more time with her than anyone else. We laughed and talked about so much while shopping, watching TV, and cooking together. But there were certain topics that I knew — or maybe that I just thought — were off limits. And that included the ever-terrifying sex conversations. So when I was 19, in love for the first time, and realizing that sex was something I wanted to explore with my partner — and maybe even something that I was OK risking purgatory for — I didn't know who to talk to about it. Then, one spring day, I was in the kitchen with my mom when a familiar voice… came blasting through our home speakers:
[MUSIC - "I Wonder if I Take You Home," Lisa Lisa & Cult Jam: "...cause you will have me and sooner than you know it, if you could only wait, oh I don't know…"]
Raquel: There, in the kitchen, I blurted out, "damn, she's so right!" My mom was at the stove cooking her ensalada de papa. And, to my surprise, she said, "she sure is." My mami, the one who dressed me in my Sunday best for hours long servicios, turned to me and said something like, "that's why you have to be sure about your decision. You don't do it for the man; you do it for yourself. So whether they stay or go, you don't feel bad about yourself."
[MUSIC - light drones]
Raquel: Damn, that was a holy word. Lisa Lisa wasn't the only one who understood me — apparently mami did, too. After years of feeling like I couldn't talk with my mom about sex, "I Wonder if I Take You Home" was the spark. When I finally started getting busy, my mom and I began talking even more about sex — and we haven't stopped talking since. The song invited us to start speaking freely and openly about pleasure, masturbation, fantasies, birth control. All of it. I'm not kidding. My mom knows more about my sex life than most of my closest friends. 13-year-old me would have never believed this.
Stephanie and her mom, Lisa, have a similar thing going on — and this song helped Steph make sense of the woman who raised her.
Steph: I have always wondered where my mom came from. My mom has always been just free. She has always, like, she dressed her own way, she dropped outta school when she was 15, she moved outta her parents' house when she was 15. Knowing that these songs were the songs like the soundtrack to those moments in her life, she saw what Lisa Lisa was wearing. She was like, oh, I could rock that. I could kill that. Had my mom not had those experiences, I would not be the woman that I am right now.
Raquel: Today, Stephanie is the executive director of Florida Access Network, the only queer, women-of-color led abortion fund in the state. So much of her work centers on expanding reproductive justice and bodily autonomy.
Steph: Part of destigmatizing abortion has also been really addressing and destigmatizing sex.
Raquel: And for Steph, a lot of this music that her mother listened to, and that she now also blasts from her car radio in Orlando, was about sexual autonomy.
Steph: Young people deserve to feel sexually liberated too, and deserve not to feel stifled and ashamed, for being human beings. Which, like having sex and feeling sexual feelings is part of the human experience.
[MUSIC - dreamy synthesizers]
Raquel: For many of us, freestyle music speaks to these questions and conversations that come up during Latina girlhood. The lyrics to these songs sound like bedroom chisme among homegirls. Each track is a diary entry of a time in a girl's life. It's our stories, in our words, and on our terms. It's a coming-of-age tale, where we are the subjects — not the objects. And like girlhood, freestyle has often been derided as frivolous and trivial.
Nic: I find it interesting that the songs that are sort of about the desires of, of black and brown women, specifically in the longings and the yearnings of black and brown women were seen as not substantive.
Raquel: That's Nic Lopez Rodriguez again, the DJ and scholar.
Nic: And yet they were also the same women who were the backbones of caretaking the results of a lot of the sociopolitical conditions that were happening at a time. Right? And so, like freestyle music was the only music in which women explore these complicated thoughts of like human interaction.
Raquel: Dismissed as trivial chatter among Puerto Rican street kids, freestyle's popularity began to wane in the 90s, with some music experts citing its all-out death in 1995.
Nic: Because a lot of freestyle songs at, at their core, they're about love, right? And so I think that people don't find it substantive because we see these as like frivolous, frivolous things. But that's also how we see women in our society, right? We see the sort of lives and the interpersonal lives of women as, as frivolous. And again, I would argue to say the leaders of freestyle were black and brown women.
Raquel: But if freestyle died, you wouldn't know it walking around Orlando.
[MUSIC - Upbeat Freestyle]
Raquel: Here…Freestyle thrives. Those 808 claves blast from cars carrying mini Puerto Rican flags on their rearview mirrors from East to West Colonial. Nightclubs and brunch spots host Freestyle Fridays and freestyle-themed costume parties. Women pair their rhinestone-encrusted bustiers with Yankee fitteds. Men sport tees that read "Real Men Listen to Freestyle." And artists come to perform at least once every two months, filling up small venues and huge stadiums.
Orlando is now home to one of the largest and the fastest-growing Puerto Rican populations in the country. The preservation of this genre could be interpreted as simply nostalgia, but for us, it's so much more. So… inspired by the ways freestyle bonds people together, my friend Steph and I devise a plan. Our moms haven't had many girlfriends since their young adult years, so we've been talking about parent-trapping them into homegirls for about a year. The meet-cute: a Lisa Lisa concert, obvio.
[AMBIENT - Raquel, Steph and their moms, chatting and laughing]
Raquel: In this car, there are two generations of adult Puerto Rican women: Single thirty-somethings who were raised in Florida, and our married 50- and 60-year-old mamis from the archipelago. And, of course, we are running fashionably late:
[AMBIENT - Raquel, Steph and their moms, chatting and laughing]
In mami's SUV, there are fluorescent pink headbands, black lace gloves, long red acrylic nails, and black tights that still have the price tag attached to them. Because, in true señora form, the 'fits will be returned after tonight.
[AMBIENT - Raquel, Steph and moms sing along to music: show me show me you really love me!]
Raquel: The car ride feels reminiscent of a typical girls night. We're dishing juicy girl talk, like when Lisa talks about how every song…
[AMBIENT - Lisa: ...cada canción te recuerda a un novio diferente! (laughter)]
…reminds her of a different guy she dated. Reminds her of a different guy she dated. And I decide… to reveal a secret to my mom.
[AMBIENT - (chatting) Raquel: ...I used to sneak into my mami's drawer (screams) to steal her thongs!" (screams and laughter) "My mom had lingerie for every holiday! (chatting and laughing)]
Our moms haven't even known each other for an hour, but they are already chatting about makeup, laughing at sex stories, and gushing about their daughters. For these three hours, we are like teenage BFFs — and we are ready and excited for this performance. Lisa Lisa: the woman who helped strengthen these cross-generational relationships.
[AMBIENT - Raquel's mami: ...And when she starting…yo me voy a mear!... (laughter and chatter)]
Raquel: Luckily, we arrive right on time.
[AMBIENT - Lisa Lisa: Because of you we old schoolers still have a stage to perform on so thank you so so much!]
Raquel: The Hard Rock Live in Hollywood, Florida fits 7,000 people, and this place is packed. People drove from all around the state to sing along with heavy-hitters like Lisa Lisa. As soon as the now 56-year-old star hits the stage in a cleavage-baring black leather two-piece, it's clear that Lisa Lisa has had a similar impact on many of the other women in the venue.
[AMBIENT - The crowd chants: Lisa! Lisa!]
Raquel: And when our anthem comes on … the four of us, like thousands of others that night… sing every single word…
[AMBIENT - The crowd sings: "Baby, I know you're wondering why I won't go over to your place…"
[MUSIC - "I Wonder if I Take You Home," Lisa Lisa & Cult Jam: "...cause I'm not too sure 'bout how you feel, so I'd rather go at my own pace. And I know and you know that if we get together, emotions will go to work. And I might do something I might regret the next day, and end up hurt. Oh, I don't know! Will you still love me if I take you home?!"]
Alana: That's Raquel Reichard. Now before we wrap up this episode, we've got one more tribute to Lisa Lisa. You've heard me talking about the album of covers we're making of the songs in the series. And for this one, we turned to an artist who also puts desire, autonomy, and feminism front and center.
RaiNao: I'm RaiNao and I'm a Puerto Rican artist.
Alana: We asked RaiNao to collaborate with ÍFÉ – who, yes, composed our theme song – and really thinks hard about percussion… .
[MUSIC - "I Wonder if I Take You Home" cover, RaiNao and ÍFÉ: "...take me home!"]
ÍFÉ: I took the basis of the beat of the song. It's similar to a rhythm that we use in salsa sometimes, that's called orisa. And I'm using, uh, you know traditional progression like shekeres uh, maraca or claves and things that you would use, you know, inside of rumba.
RaiNao: As a Puerto Rican I have those rhythms in my veins…It made me feel like this cover was home…
[MUSIC - "I Wonder if I Take You Home" cover, RaiNao and ÍFÉ: "...I wonder if take you home, would you still be in love baby, because I need you tonight!"]
RaiNao: I feel very lucky to discover new things in music, challenge myself, it's been a very cool experience.
Alana: You can listen to the rest of RaiNao and ÍFÉ's cover in March, when we release the La Brega cover album.
[MUSIC]
CREDITS:
Alana: This episode was written by Raquel Reichard. It was edited by Mark Pagán and produced by Joaquín Cotler, with support from Liliana Ruiz, Tasha Sandoval and Ezequiel Rodríguez Andino.
Original art for this episode is by Mya Pagan.
Raquel: Excuse me, Alana! Just wanted to thank Zoe Colón, Angel Vendrell, Jackie and Emily Diaz, Richie Rosario, Cynthia Torres, DJ Dominick and my mami and papi.
Alana: The La Brega team includes Jeanne Montalvo, Ezequiel Rodriguez Andino, Joaquin Cotler, Liliana Ruiz, Tasha Sandoval, Mark Pagan, Maria Garcia, Victor Ramos Rosado, Juan Diego Ramirez, Marlon Bishop and Jenny Lawton.
Fact checking this season is by Istra Pacheco and Maria Soledad.
Our engineer is Joe Plourde.
Our theme song is by ÍFÉ. Original music is by Balun.
This season of La Brega was made possible by the Mellon Foundation.
AND – Next week, we're going to take a break – just picture us working away on our next episode, Track 5: Las Caras Lindas – that'll drop the following week, March 2nd… In the meantime, if you're new to La Brega might I suggest going back and listening to Season 1? We've got 8 great episodes for you to catch up on – all available in English and Spanish. There's a Cold War spy story about betrayal, a David and Goliath face-off with the US on the basketball court, and so much more – including a singing grandmother who can't get enough of Bad Bunny.
If you're new to our show, welcome, and…. enjoy!
See you back here in a couple of weeks. Baiiii.
---
Copyright © 2023 Futuro Media Group and New York Public Radio. All rights reserved. Visit our website terms of use at www.wnyc.org for further information.
Transcripts are created on a rush deadline, often by contractors. This text may not be in its final form and may be updated or revised in the future. Accuracy and availability may vary. The authoritative record of New York Public Radio's programming is the audio record.