6. The Bankruptcy Letters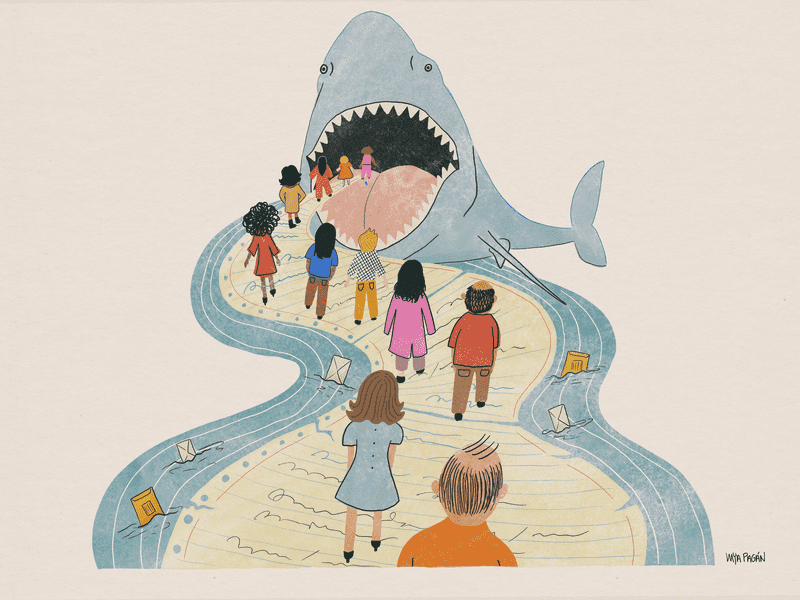 Transcript
Alana: Bueno, ¿puedes presentarte?
Luis: Bueno, mi nombre es Luis Valentín y soy periodista del Centro de Periodismo Investigativo.
ALANA: This is a call I had with Luis Valentin, a reporter from el Centro de Periodismo Investigativo -- the Center for Investigative Journalism, they partnered with us for this episode.
LUIS: Llevo ya más de cinco años, diría yo, cubriendo la crisis fiscal y también lo que es el juicio de la quiebra
ALANA: For the past five years he has been covering Puerto Rico's fiscal crisis and the Commonwealth Bankruptcy proceedings...
LUIS: y ahí es en donde yo estoy metido todos los días en el docket
ALANA: One of the ways Luis keeps up with this complicated case is by getting an email digest from the "docket" -- that's a repository where every single fillable document that pertains to the bankruptcy case "lives". He then sent me a particular link that was the spark for this episode of La Brega...
LUIS: Y quizá me gustaría que fueras a una entrada en específico [si, si] 1 1 7 9 1.
ALANA: 7 9 1, ok.
11791- these five digit, seemingly cold number, led to a very warm and human artifact...a scan of a handwritten envelope and letter .. It's not the kind of thing we're using to seeing on bureaucratic government websites. He asked me to read letter out loud.
Alana: Nombre: Collazo Delgado, Mariluz. Dirección que está en Patillas, en Puerto Rico. [...] Tengo derecho a reclamar en mi número de reclamo 8 3 9 3 3. Número 2 (DUCKS UNDER) Trabajé para el Departamento de Educación de Puerto Rico de los años 1982 hasta el 2013. Número 3. De acuerdo a la Ley 96 del primero de julio 2002, donde concede un aumento de sueldo a empleados públicos del Gobierno Central del (COMES BACK) Estado Libre Asociado de Puerto Rico, nunca llegó.
ALANA: A letter by one Mariluz Collazo from Patillas, Puerto Rico. A retired special education teacher that claimed the Government of Puerto Rico owes her money for a raise she was promised, but never received.
Luis told me that in 2019 he started noticing that the emails he received from the docket started showing names that were not the usual names he had been seeing on his past research...names like…...
LUIS VALENTIN: Comencé a ver muchos Pérez, Rodríguez y otros nombres que me llamaron un poquito la atención...
ALANA: Collazo...
L: Sí, por ejemplo Collazo. [THE FOLLOWING GOES UNDER ALANA]
Names like Perez, Rodriguez and Collazo -- names that were actually Puerto Rican. So, he took a closer look.
L: Son muchas cartas, muchas cartas escritas a mano, como las de Mariluz.
And he found out there were a LOT of handwritten letters just like the one by Mariluz....
IFE THEME MUSIC STARTS
From WNYC Studios and Futuro Studios, I'm Alana Casanova-Burgess and this is La Brega.
In this episode, the people standing on the long waiting line of Puerto Rico's debt… And their struggle to collect what the government owes them.
IFE THEME ENDS
VIDEO Alejandro Garcia Padilla: La deuda pública, considerando el nivel de actividad económica actual, es impagable
THAT WAS FORMER GOVERNOR OF PUERTO RICO, ALEJANDRO GARCIA PADILLA, ON PUERTO RICAN TV OFFICIALLY ANNOUNCING THAT THE DEBT OF THE COMMONWEALTH WAS UNPAYABLE.
THIS ANNOUNCEMENT, BACK IN 2015, WAS CONFIRMATION OF A VERY POPULAR SUSPICION.
PUERTO RICO HAD NO MONEY LEFT TO PAY ITS DEBTS...AND THERE WERE A LOT OF OVERDUE BILLS TO PAY.
THE MAIN PROBLEM WITH ALL OF THIS: THE GOVERNMENT OF PUERTO RICO COULD NOT DECLARE BANKRUPTCY AND SEVERAL HEDGE FUNDS WERE THREATENING TO SUE, AND TO EMBARGO GOVERNMENT ACCOUNTS.
IN THE SUMMER OF 2016, THE US GOVERNMENT INTERVENED. THEN-PRESIDENT BARACK OBAMA PASSED "LA LEY PROMESA". Promesa means promise. A YEAR LATER, PUERTO RICO DECLARED BANKRUPTCY UNDER PROVISIONS OF THIS NEW LAW.
AND WITH THIS, The process BECAME THE BIGGEST GOVERNMENT BANKRUPTCY IN THE HISTORY OF USA.
A LOT OF THE FINANCIAL INSTITUTIONS THAT THREATEN SUING THE GOVERNMENT ARE NOW CREDITORS IN THIS LEGAL ACTION. IN OTHER WORDS, THE GOVERNMENT OF PUERTO RICO OWES THEM MONEY.
BUT THEY ARE NOT THE ONLY ONES. THERE IS ANOTHER KIND OF CREDITOR, LIKE MARLIUZ COLLAZO...AND THIS GROUP OF CREDITORS ARE THE FOCUS OF OUR STORY.
LUIS VALENTIN PICKS UP THE STORY FROM HERE.
LV: In the summer of 2018, Mariluz Collazo started to hear a lot about the Promesa law -- the word PROMESA was being used all the time.
MARILUZ: ¡La famosa PROMESA! Se escuchaba, se escuchaba de que nos debían un dinero y que había una pelea legal.
She heard it in the context of a legal battle and the Government owing money to folks like her. Mariluz is a retired elementary school teacher, she worked all her life in Puerto Rico's public school system.
She was 22 when she started and still remembers her first day on the job:
MARILUZ: Me voy para allá con mi bultito, asustada como es.
She packed a bag and went to school, a little scared.
MARILUZ: una compañera se presentó y entonces me llevó a su salón
A co-worker introduced herself, showed her around, and pointed out her classroom through a window.
MARILUZ: y por la ventana me dice, Mira, ese que está allí, es tu salón y yo, ¿ajá? con los ojos prendidos. .
Look, there it is, she said. And Mariluz remembers feeling excited at that moment...
She took care of that space, decorating and fixing it by herself.
For over twenty years, Mariluz was a special education teacher. Then she took a break and taught social studies and science classes -- but like a river that returns to its course, she says, she returned to special ed. Because that's what she liked.
MARILUZ: Pero como el río vuelve a su cauce, volví a Educación Especial. Porque eso es lo que me gusta.
She also remembers her first check.
MARILUZ: Mi primer cheque fue de 435 dólares
It was $435. Today that would be around $1,200. 40 years later, the starting salary for a teacher in Puerto Rico is $1,750 a month, the lowest in the United States.
MARILUZ: A medida que fueron pasando los años y los gobiernos. Hubo gobiernos que nos dieron mucho. Hubo gobiernos que no dieron casi nada.
She also recalls that over the years, some administrations have given the schools a lot of resources, and some have given nearly nothing.
MARILUZ: no han dado nada, absolutamente nada
The most recent administrations have given nothing.Because since the start of the 2006 financial crisis, the public sector has seen budget cuts, salary freezes and the massive firing of public employees. So the working conditions for Mariluz and fellow teachers only got worse, with little or no institutional support.
In 2013 Mariluz decided to retire, and today she thinks she did it just in time.
MARILUZ: Porque ahora sí está difícil. Se necesitan muchas cosas que los maestros no tienen, lamentablemente.
Things are more difficult now. For example, Mariluz has noted that there are no longer assistant positions to help special education teachers.
In 2015, Mariluz moved to Florida. She lives there with her husband, daughter and two grandchildren.
In the midst of her retirement, she started receiving letters from the US Federal Court. All of them about the bankruptcy case under PROMESA.
MARILUZ: En junio de 2018, ese verano, surge esto de que llegaron unos papeles que había que llenar porque están luchando para que nos den el dinero que nos, deben.
It was june 2018 when she received the first forms that had to be filled out as part of what she describes as the struggle to get the money that is owed.
What Mariluz received is part of any bankruptcy process, when a debtor contacts a creditor.
MÉNDEZ ... the proof of claim is basically a form where a creditor would state what's the debt that he's owed and what's the classification of that debt if it's an unsecured or secured or priority debt...
This is Jessica Méndez Colberg, a lawyer in Ponce. She has been practicing law for six years and has represented creditors in Puerto Rico's bankruptcy since the start of the case in 2017.
MÉNDEZ: ...they received these letters saying you need to file your proof of claim and people didn't know if they're owed something or not.
And these people received these letters after being listed as potential government creditors. The first of these lists identified more than half a million persons and entities.
MÉNDEZ: So people started receiving these notices with a deadline.
One of them was Mariluz, and she and all the others received a letter with a form. In that document they had to detail all that was owed to them...
MARILUZ: todo el dinero que nos deben de los pasos, de promesas de gobiernos, de esas cosas. Y yo wow...
Or, as Mariluz puts it, they had to detail all the government 's promises. What she means is all the wage increases that were promised by the Commonwealth of Puerto Rico and its administrators, but which never materialized.
For example, Mariluz mentions a one hundred dollar monthly increase from a law that then-governor Sila Maria Calederón signed into law in 2002. Mariluz never saw that in her checks.
And a lot of ex-teachers and thousands of public servants had similar experiences, so when these letters from the court came in…
MARILUZ: Entonces todo el mundo se volvió como loquito y buscando los papeles.
...everyone went a little crazy looking for these forms, she recalls. When Mariluz received her own, she had only two days left until the deadline to send back her information. She was not alone. A lot of her co-workers also didn't get a lot of advanced notice. None of them were very clear on how the process worked and were even less sure of how much the government owed them.
MUSIC
So she decided to meet with some of the people that were in the same boat.
MARILUZ: Y voy para la escuela, mi última escuela que yo trabajé, voy para la escuela y están todas las maestras en un salón llenando, llenando los papeles.
She went to her old school and met with all the other teachers, in a packed classroom, all of them frantically filling out forms.
Picture the scene, dozens of elementary school teachers, most of them retired… sitting at the desks of their former students...figuring out the math behind pay raises they never received.
MARILUZ: Pues yo más o menos, más o menos saque la cantidad, pues vamos a poner sobre 75 mil pesos. Ahí.
Her estimate was seventy five thousand dollars. And of course, filling that out was just the beginning, they had to turn it in. There were six locations on the island for people to bring their forms in person, and she went to the one in the city of Ponce -- the only one in the south of the island. It was at the Federal Courthouse there.
MARILUZ[00:42:20] Mira Luis, y yo le doy gracias a Dios que no había coronavirus.Eso era tremendo revolú...
Mariluz says she's grateful that Coronavirus didn't exist when she filed her claim… because the crowd didn't allow for social distancing. She recalls how the place in Ponce was just a mess. She even saw people filling out their papers right there on the spot. Hundreds of retired public servants were gathered, most of them over the age of 60.
MÉNDEZ: It was very sad because, You know they are there because they feel that they need to do this, but they don't actually know what they're doing....
Jessica Mendez, the lawyer we heard before, remembers seeing all of them, her office is very close to the courthouse.
MÉNDEZ: ...and watching them making these long lines under the sun. The heat of Ponce for example! And not knowing what's going to happen....
So... so it was very, very heartbreaking.
And these scenes unfolded in all of the places where retirees were turning in paperwork. Back in San Juan, there were reports in the Puerto Rican media about it...
RADIO ISLA: Seguimos aquí en la avenida Chardón, en la Corte Federal, donde vemos que sigue creciendo la fila de servidores públicos que vienen a reclamar, [START TO FADE DOWN] según me han informado, aumentos salariales que el Gobierno ha legislado y que no han sido otorgados.
This is sound from a social media video from one of the major news radio broadcasters on the island . You can see the reporter approaching an elderly woman who is sitting on the sidewalk. She's trying to cover herself with an umbrella from the searing sun.
REPORTER- Señora discúlpenme, estamos transmitiendo para Radio Isla 1320. ¿Se siente bien?
The reporter asked her if she's alright.
LADY- Sí, sí, es que no puedo estar haciendo mucha fila porque tengo lupus.
Yes, she told him, since she has LUPUS she had to take a break. Yes. LUPUS. She had been under the sun for one hour waiting in line. At that moment the line was so long, it went around the whole building.
Many others were there for the same reason that Mariluz was there: seeking money from a promised pay raise for public employees.
REPORTER- Pero ese aumento, no se, no se les dio? No, ese aumento nunca se dio..
And then the reporter asked, "but that raise, it was never given?" No.
¿A pesar de que se legisló? A pesar de que se legisló y se aprobó, nunca se dio
The reporter then followed up and asked Even though it was a law? Yes, it was legislated and approved, but it was never given.
All of these people are creditors of the Government of Puerto Rico. They are part of a big and diverse group of individuals, organizations and companies that are asking for over 43 trillion dollars… Yes, that's right, trillion with a T.
But not all creditors will get their money back...because not all creditors are equal…
When Puerto Rico 's debt bubble broke, and PROMESA was enacted, eventually leading to the bankruptcy process, most media outlets referred to a very specific creditor...
FOX BUSINESS: "We should point out Goldman and Sachs really isn't the biggest holder of puerto rican debt, Hedge Funds own it, 40% is owned by retail investors
CNN BUSINESS: "...the Hedges funds went all in March of 2014 when Puerto Rico issued three and a half billion dollars of general obligations bonds
CNBC: "Along with two other relatives, Gervarsio Garcia Rodriguez, his wife Maria and her brother...say they lost almost two million dollars, duped into putting their retirement savings into funds filled with Puerto Rico Bonds..."
The bondholders. These are the institutions and people who knowingly bought Puerto Rico 's municipal bonds. And these bondholders come in many flavors, ranging from the suit-and-tie Wall Street type… to the middle class Boricua pensioners who invested their life savings in Puerto Rican bonds. But Mariluz and thousands of other Puerto Ricans like her fit a whole different profile.
MÉNDEZ: So the social creditor, it's a figure that's not necessarily recognized before these proceedings began.
Mendez knows social creditor groups very well. She, alongside her law firm partner, Rolando Emanuelli, have represented various public sector employee unions since the beginning of the bankruptcy process.
MÉNDEZ: ...they are parties in the proceedings that are affected by these proceedings because we have the Oversight Board that comes to establish austerity measures and cuts all over in essential services...
The Oversight Board. La Junta.
MÉNDEZ: ...they are a board of seven members and an Executive director, and they are appointed by the President of the United States. And we need to remember that in Puerto Rico, Puerto Ricans don't have the right to vote for the president of the United States or any member in Congress, except for the resident commissioner who has no vote in Congress.
And these unelected officials have a long reach...
MENDEZ: ...they can have a say into what laws are going to be enacted, if those laws are going to affect the budget and the restructuring process or not. And they can even rescind those laws if they deemed that they are not compliant with the fiscal plan...
And since 2017 "La Junta" basically controls Puerto Rico's checkbook. They have the last word in any debt negotiations while acting as a legal guardian of the elected Puerto Rican Government in the debt proceedings.
And many, like Mendez, see a conflict between what the board is doing, and what serves Puerto Ricans:
Méndez: ...their focus is on restructuring the debt, but giving as much as they can to the bondholders instead of the well-being of the people.
I reached out to the fiscal control board to ask for an interview about how they see their role in the bankruptcy, but they had not replied by the deadline for this piece.
LUIS: TO SUMMARIZE, IN THE VAST ECOSYSTEM OF PEOPLE AND ENTITIES THAT ARE OWED MONEY BY THE GOVERNMENT OF PUERTO RICO, THERE ARE TWO MAIN CATEGORIES: THE BONDHOLDERS AND THE REST OF THE CREDITORS, MOST OF WHOM ARE SOCIAL CREDITORS.
AC: AND OF COURSE, THE DIFFERENCE BETWEEN THESE GROUPS CAN BE HUGE… AND THAT FACT IS OFTEN REFLECTED IN THE LEGAL REPRESENTATION EACH GROUP HAS.
AS MARILUZ TELLS US , WHEN SHE SENT HER CLAIMS LETTER TO THE COURT, SHE HAD TO WRITE IT HERSELF, BY HAND, BECAUSE SHE DID NOT HAVE A WAY TO TYPE IT OUT. .
WHEN WE COME BACK, WE'LL HEAR MORE PROOF OF THAT DIVIDE: HANDWRITTEN LETTERS, AND THEY'RE NOT THE ROMANTIC KIND.
WE'LL BE RIGHT BACK. THIS IS LA BREGA.
Midroll
ALANA CASANOVA: AND WE ARE BACK TO LA BREGA.
PUERTO RICO'S DEBT IS LIKE A BIG OCEAN WITH A LOT OF FISH. IN THERE YOU CAN FIND ALL TYPES OF GOVERNMENT CREDITORS, THE MOST POWERFUL HEDGE FUNDS IN THE WORLD ARE THE BIG FISH.
THEN YOU HAVE THE SMALL FISH: THOSE ARE THE UNIONS AND GOVERNMENT CONTRACTORS. AND THEN THE EVEN SMALLER ONES, LIKE MARILUZ, WHO WE MET AT THE BEGINNING OF THIS STORY.
AND SHE IS NOT THE ONLY ONE. THERE ARE MORE TEACHERS, POLICE OFFICERS AND OTHER PUBLIC EMPLOYEES WHO NEVER RECEIVED THE RAISES THEY WERE PROMISED BY THE GOVERNMENT.
THE BANKRUPTCY CASE SEEMS TO HAVE GIVEN THEM THE OPPORTUNITY TO FINALLY CASH IN ON THESE PROMISES. BUT MOST OF THEM DON'T HAVE THE MEANS TO PAY LAWYERS, SO THEY ENTER INTO THIS COMPLICATED JUDICIAL PROCESS ALMOST BLIND. THIS SITUATION BEGS THE QUESTION: WHY IS IT SO IMPORTANT TO SETTLE DEBTS WITH CREDITORS LIKE THESE? WHAT IS OWED TO THEM FOR THEIR SERVICE?
LUIS VALENTIN CONTINUES THE STORY FROM HERE
LV: Mariluz has felt like quitting many times since she waited in line under the sun in Ponce. It's been two years since that day, and nearly two decades since she was promised that salary increase that never arrived.
Mariluz: Hay momentos dado que hasta me olvido.
Sometimes, Mariluz told me, she forgets about the whole thing. For her, it's hard to grasp the process around her case and what she has to do to navigate it. When she receives a new letter from the court, or some of her retired friends bring it up, or perhaps, when a news reporter calls to ask about her situation... then she starts thinking about the prospect of finally getting that money.
MARILUZ: Me han hecho tener un poquito de esperanza. Así que vamos a ver, vamos a ver qué pasa.
My calls have rekindled some hope in her, she tells me. While she waits she keeps all the official correspondence she receives.
MARILUZ: Mire Luis, yo tengo en mi casa una cajita llena de todos los documentos que nos envían, de las sentencias
She has a box full of what she calls her "court sentences". What she's referring to are actually official orders from Judge Laura Taylor Swain, the appointed federal judge from New York who is leading the bankruptcy proceedings.
MARILUZ: Y ahí se queda. Se quedó en nada, en nada, de verdad, en nada.
Mariluz is under the impression that those letters are a big pile of nothing. But it's not. Over the past year, the Fiscal Control Board and the court have denied thousands of claims, most of them from social creditors.
One of those claims belonged to Mariluz.
And, as part of that claim, Mariluz sent a letter addressed to the court.
MARILUZ: Y ahí es que yo hago mi carta con todo mi corazón, que tú la leíste.
Mariluz tells us that she poured her heart into this letter. And she read it out loud for us...
[música montaje de cartas]
MARILUZ: Pues mire, esta carta fue hecha el 18 de febrero de 2020. La tuve que hacer a mano porque no tenía para hacerla a maquinilla.
She wrote it on the 18th of February, 2020, by hand -- because she didn't have a way to type it out.
Even so, it employs the formal language of court documents.
Dice así: Soy maestra jubilada que trabajé por 30 años y 9 meses. Completé la información que se me requirió por ustedes.
"I am a retired teacher, she wrote, and worked for 30 years and nine months. I completed the information required by you.
El motivo de la reclamación es de 75000 o más a la que tenga derecho.
Her claim is for 75 thousand dollars or whatever she is legally entitled to.
And the thing that gets me about her letter is that it was written by a teacher who dedicated her life to educating some of the most underserved students in Puerto Rico… and you can sense the deep hope that she will finally get paid what she was promised…
De acuerdo a la Ley 96 del primero de julio de 2002, donde concede un aumento de sueldo a los empleados públicos del Gobierno Central del Estado Libre Asociado de Puerto Rico. Nunca llegó.
[Fade Under: lectura de carta]
And in this part, she mentions the 2002 pay raise that never arrived.
And there are more. More letters from Puerto Ricans who are claiming money owed to them, like Vicenta Matos...
Voz de Mujer 1: "Trabajé para el Departamento de Educación por espacio de 31 años, desde el 1982 al 2013. El Honorable gobernador Carlos Romero Barcelo otorgó un aumento salarial a los maestros..."
She worked for the Department of Education for 31 years, and she refers to a previous pay raise, one promised by then-Governor Carlos Romero Barcelo in the 80's.
Voz de Mujer 1: (DUCKED UNDER) "Lo único que les pido es que me tomen en consideración y se me otorgue el dinero adeudado al cual tengo derecho. (COMES BACK) Trabajé para ello y fui una empleada responsable y de excelencia".
She writes that she was a responsible and excellent employee and she just wants what is rightfully hers.
Here is another one, From a man called José Baez...
Voz de Hombre 2: "Llevo trabajando en el gobierno de PR desde el 2004, como agente de la policía de PR,
He's a police officer asking for benefits that he never received, benefits that were passed into law during his years of service.
y no he recibido ninguna reclasificación o remuneración durante todos estos años al cual tengo derecho según los dictan las leyes laborales firmadas por distintos gobernantes."
Here is a letter from Jesus Rabell, who wrote his in english, claiming five hundred dollars that the government owes him due to the death of his sister, a public servant.
Voz de Hombre 1: I feel confident that the filing of the objection as to my proof of claim has been an inadvertent error in this voluminous case
And the letters come from all different kinds of places. This next one was written by Daniel Almeida Medina, who is incarcerated.
Voz de Hombre 4: llevo años luchando y ese dinero es lo único que he ahorrado para mi hijo y ahora 8 años después me dicen que el país está en crisis y que la ley promesa. Para el año 2012 no se hablaba nada de la ley promesa".
[Clip fades under]
Daniel says that when he was arrested, the police appropriated money that was for his son. 8 years later, he writes, they tell him about the PROMESA law and that Puerto Rico is in crisis… but he believes he can claim his money back.
And this is how I found out about Mariluz, while reading letters like these from a bankruptcy case docket alongside thousands of legal motions and objections.
A group of actors read these letters for this story to give a better idea of their content. We kept them in the original language that they were written in -- even though the language of this court case is English.
So, how does Judge Swain deal with these letters? We know that the court dismisses a lot of them for technicalities, like not including an english translation for example, but the letters keep on coming. The Judge does not talk to the media, so I decided to contact a Puerto Rican lawyer that knows the bankruptcy case well.
John Mudd- My name is John Mudd. I'm 63 years old and I am unfortunately a lawyer by profession.
He, like Mendez, the lawyer we heard from earlier in this story, also represents creditors. So I asked his opinion about Judge Swain.
MUDD: I am not going to answer that except to say that she always is extremely polite. And she always, always it's obvious that she reads everything.
LUIS: Even the letters?
MUDD: Even the letters.
And I'm sure they affect her because she's a human being. And some of those letters are heart rendering. But she has to do her job.
So even though the two lawyers we have spoken to represent the same type of creditors, they have different perspectives about this process.. We heard Mendez say that the Board seeks to pay bondholders more by promoting austerity measures that affect the majority of Puerto Ricans. But Mudd tells me…
MUDD: I thought that the board would do more control. I never thought the board would fight so much against bondholders as as it has fought and is fighting.
But there is something that they both agree on: that the process is really difficult for small social creditors like Mariluz. For starters, they normally don't have the means to pay an attorney to guide them through the process...
MUDD: How are you supposed to get an attorney who knows about this?, Who's going to charge you, for Puerto Rico standards, a lot of money.
On an island where almost half its population lives under poverty, access to justice is a serious issue.
MENDEZ: ...it's people worried, stressed, anxious about all of these proceedings and not knowing if they are involved, if they are not involved, if they should do something else, if they should, if they need legal assistance or not...
Mariluz, for instance, doesn't have a lawyer. .
Mariluz: me llega mucha, mucha, mucha sentencia cambiando las fechas de verse la vista.
She tells me she has received a lot of letters with "court sentences". She's also received a lot of date changes regarding hearings in front of Judge Swain.
Mariluz: Esa es la esperanza, que se vea en la Corte.
And that is her hope, she says, to have her day in Court. But the experience can be intimidating.
The courtroom has tall ceilings and is very cold. It has a dozen wooden benches at each side divided by a corridor that leads to a lonely podium. And there's a dais looming over it all, with the judge sitting in the middle.
On days where there is an actual hearing, they only put up a single wooden bench for the attendees and the press. All other spaces are occupied by lawyers, most of them belonging to white shoe law firms from the United States. They tend to bill a thousand dollars an hour . They have been part of the biggest bankruptcy cases in the world: Enron, Argentina, Detroit, GM...you know, the big leagues.
Mendez describes it this way:
MENDEZ: ...you have this courtroom full of people, full of the media. And the other attorneys, the attorneys that, are not from here, everybody in English, but we're in Puerto Rico. So we still speak Spanish. And it's pretty intimidating... ...So if it is intimidating for me, imagine someone that has never stepped into a courtroom before...
Mendez actually had the opportunity to witness a scene like that one in a hearing in 2019
MENDEZ: ..I remember that the judge decided to give opportunity to to people to to speak...
...She wanted to hear from the people and it was devastating for me to see that they were giving just five minutes. That's nothing. That's nothing.
... And five minutes turns into two minutes ,or three minutes at the most, because they are they need a translator. So it was very devastating for me to see these people be brave and stand in the podium and face the judge and these other the other people present in the courtroom and state their frustration, their fear, about what's going on and how their income is being affected.
In October of last year, I had a chance to see a social creditor in action. The court had set several dates for claim hearings.
I met with Ezequiel Rodriguez, one of the producers of this story, to attend...
Luis: ...and we are at 250 Ponce de León Avenue where satellite hearings for the omnibus objections from the Board are supposed to be held...
Yep, you heard right, we are not in court. The federal court in Puerto Rico was closed due to COVID-19 restrictions and Judge Swain wasn't in San Juan. She attended via videoconference from New York, same with the lawyers.
Woman: I'm sorry?
Luis: The person that works for the court?
Woman: The court? Yes, she's here.
Luis: She's here? Can I ask her something?
Woman: Absolutely. Would you like some water or snacks or anything?
Luis: No, it's fine.
Woman: I've got some good snacks. Granola bars?
Luis: Don't worry, don't worry.
Woman: So she's in conference right now. But if you guys can wait, that'll be great…
Luis: I'll wait, I'll wait.
Ezequiel: Thank you!
Woman: You are very welcome!
We were in a modern coworking space in San Juan. And on that day, the place was basically empty except for the security guard and a couple of office workers.
Woman: So you're here for the hearing?
Luis: Just to cover it, I know that we can't tape it or anything like that.
Woman: Ok! So I would put you in an office where the hearing is going on.
And this friendly host took us to one of the three private rooms they had rented for the proceedings. The court prohibits recording these so we can't share it with you, but you're not missing much:
Luis: no claims, no social credits showed up today, so....
The hearing was over in less than half an hour..
Luis: Basically what happened is that the court and the judge, Judge Swayne, held the hearing...
And even though the hearing agenda included twelve people who were set to attend, not a single one of them showed up.
Luis:...but since nobody showed up, she basically ruled in favor of the Board...
...these claims are now disallowed so they can no longer pursue these claims in this process...
This was really hard for me to understand. How do we go from hundreds of people enduring long lines under the sun to empty offices with granola bars? And what abou social creditors like Mariluz. Will they ever get to speak to the judge?
Weeks later, a second hearing was called. It was in the same coworking space.
I listened in on my phone while we waited outside. To my surprise, after the judge was told nobody arrived at the hearing, I saw some social creditors leaving the building.
Leticia: aparentemente hubo un conflicto de comunicación en el cual las personas que estaban en la lista, ninguna era las personas que estábamos presentes.
This is Leticia Flores, and she told me there was apparently a "communications conflict" -- or at least that is what she was told. That none of the people who arrived that day were on the court's list of participants . She came all the way from Cidra, a 45 minute drive, to help her husband, a retired public servant, with his claim of unpaid salary raises.
Then at least 10 more people came out. All of them with similar stories. But not all of them took this as a mere "communications error".
Carmen: No sabían lo que tenían, que tenían que hacer, todo lo que vinieron de sitios lejos.
'Ah, no, no, no, te tienes que ir' ¿Cómo que te tienes que ir?
This is Carmen Lopez, who also is retired from the Department of Education. She noted that everyone who came that day had to travel from outside San Juan, and she felt that the whole event had been hastily put together. . She was the last person to come out that day, and her right leg was in a cast.
Carmen: Es una cogida más a nosotros los puertorriqueños, esto de la ley promesa. No, no, no, no, no estamos hablando mi idioma. Yo le voy a escribir una carta a la jueza Taylor.
She told me they are not on the same page. She was frustrated, and said she would write a letter to Judge Swayne. Another letter… this time to let her know that social creditors like her are not happy about the kind of treatment they're receiving.
Carmen: ..y ya es hora que se acabe esto. Que se haga justicia a los empleados públicos.
It is time for this to be over, she said, and for justice to be served for the public servants.
Mariluz also received a letter telling her about this hearing, but since she was in Florida, she saw it way past its due date. Weeks later she received another letter from the court and called me to discuss it...
MARILUZ Bueno, déjame ponerme los espejuelitos, mijo.
She was happy. Everytime she gets a letter, she hopes it's the one that tells her she'll get paid.
MARILUZ: Dice aquí, en una de las partes dice usted está recibiendo este aviso porque los deudores han determinado que sus reclamaciones deben resolverse utilizando los procedimientos administrativos existentes del Estado Libre Asociado.
This was new. The court was informing her that her claim will now be handled outside the bankruptcy case, by Government agencies. More than 15,000 claims like hers were transferred to this administrative process.
(DUCKED UNDER) Su reclamación se resolverá utilizando uno de los procedimientos indicados a continuación. Ay… (COMES BACK HERE) Por favor consulte el aviso, el aviso de reconciliación...
There is not a lot of information of how this will work and Mariluz has no idea what she has to do.
MARILUZ: Yo siento que lo que hacen es que lo alargan para que la gente se desanime.
She feels that they delay the whole thing to discourage people. In this new process, for instance, her claim can take months to be resolved and she could end up without seeing a single cent.
MARILUZ: Ah, y muchos de mis compañeros, empleados de gobierno son más mayores que yo, y alomejor con condiciones, se mueren y nunca supieron. ¿Entiendes?
She says she is worried about her many co-workers who are older than her... that they might die without seeing a resolution.
MARILUZ: Algunas veces pienso que eso no lo vamos a ver, Luis, de verdad.
She told me, sometimes I think we will never see this come to an end...
No lo vamos a ver porque hay hay tanto y tantos problemas en el Gobierno.
We won't see it because the Government has so many problems...
pues mira, va a llegar el momento que esto se va a quedar en papeles.
So this will probably end up in a big pile of papers...
En una carta de una maestra pobre que se retiró en el 2013.
And a letter from a poor teacher that retired in 2013.
She told me, it makes me want to cry.
Me da ganas de llorar también.
When former-governor Garcia Padilla said that the Puerto Rican debt was unpayable, he was referring to the bondholders. But there is another kind of debt.
What do we owe to social creditors? These Puerto Ricans who worked for decades in government jobs, and who received blow after blow from years of financial crisis and economic depression?
Their salaries were low and they dedicated the most productive years of their lives to public service, and when they were promised a bit more, the government failed them.
Now, after almost three years of letters and waiting in line, the promises are, once again, broken...and the debt keeps piling up.
ACB; LUIS VALENTÍN IS A REPORTER WITH EL CENTRO DE PERIODISMO INVESTIGATIVO, BASED IN SAN JUAN.
AS OF TODAY, MORE THAN SIXTY THOUSAND CREDITORS' CLAIMS HAVE BEEN rejected.
THERE ARE STILL FIFTEEN THOUSAND PENDING CLAIMS.
MOST OF THEM ARE FROM RETIRED PUBLIC SERVANTS.
As of this recording MARILUZ IS STILL iN THE DARK ABOUT THE STATUS OF HER CLAIM.
Copyright © 2021 Futuro Media Group and New York Public Radio. All rights reserved. Visit our website terms of use at www.wnyc.org for further information.
Transcripts are created on a rush deadline, often by contractors. This text may not be in its final form and may be updated or revised in the future. Accuracy and availability may vary. The authoritative record of New York Public Radio's programming is the audio record.