Potion, Emotion, Devotion: Wagner's Tristan und Isolde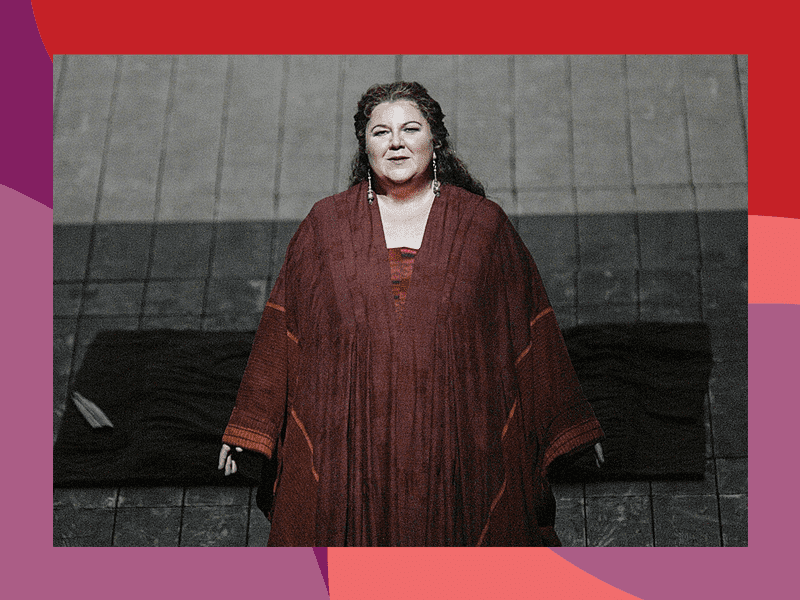 Transcript
Aria Code S3 Ep 16
"Liebestod"
from Richard Wagner's Tristan und Isolde
BILLBOARD
Theme music
EAGLEN: I think that the potion just is an excuse for destiny to happen. They're supposed to be together.
GIDDENS: From WQXR and the Metropolitan Opera, this is Aria Code. I'm Rhiannon Giddens.
ROSS: Maybe that's sort of the ultimate irony of this monologue that we keep calling the Liebestod. It's not about death. It's about life.
GIDDENS: Every episode, we dig deep into a single aria to see what lies within. Today, it's the Liebestod from Tristan und Isolde by Richard Wagner.
CATRON: Having a relationship is about choosing to invest in someone because they're kind, because they're really worth spending time with. And I think our love stories so rarely capture that.
GIDDENS INTRO
Have you ever fallen in love? I mean, REALLY fallen in love -- like, the ground suddenly opened up under you and you were plummeting to the center of the earth -- that kind of love? I know I have, and it's both thrilling and absolutely terrifying.
But isn't it funny the way we talk about love as something we "fall" into… something that happens to us without us really having any say in the matter?
That understanding of love comes through in so many of the stories that we tell over and over again. In movies, TV, books, plays… and definitely in operas.
Exhibit A: Richard Wagner's Tristan und Isolde. It's based on an ancient legend about the Irish princess, Isolde, and the Breton-Cornish knight, Tristan. For political reasons, she's betrothed to his uncle Marke, King of Cornwall. But as Tristan is bringing her across the Irish sea for the wedding, they both drink a love potion and -- Kapow! -- they find themselves desperately, passionately in love.
But because this is opera, it's doomed from the start. They're discovered by King Marke's men and Tristan is fatally stabbed.
Today's aria, the "Liebestod" -- which literally means Love-Death, people -- is the final few minutes of the opera. Isolde is singing over Tristan's lifeless body, and it's a gorgeous, swelling expression of her love for him.
But it's also what Wagner called a "transfiguration," because by the end, Isolde has sung herself into another realm so that she and Tristan can be together.
Okay, so we've got a love potion, agonizing desire, and a passion so forbidden that it can only exist in the afterlife. It's a lot to unpack! But I've got three great guests to help us do it.
First, soprano Jane Eaglen. Isolde was one of her signature roles.
EAGLEN: If you had said to me, "While you're singing your first Isolde, you will meet your husband," I would have laughed and said, "There's just not any chance of that happening because I'm going to be way too busy singing Isolde." But in fact I did meet my husband at Seattle opera. And so, Isolde is a very special role for me for so many reasons.
Next, Alex Ross, music critic for The New Yorker and author of the book Wagnerism.
ROSS: Wagner's the most fascinating composer to kind of wrestle with. His antisemitism, his notorious sense of having somehow prophesied Nazi Germany, but also, the Soviet Unon and Gilded Age America. He hasn't faded away into the woodwork, he hasn't become a dusty marble bust. He's still kind of out here causing problems.
And finally, Mandy Len Catron, who's spent most of the last decade researching and writing about romantic love.
CATRON: I got really interested in love because it occurred to me one day that I was really bad at it. And so I started thinking about how the romcoms of the 90s that I grew up with, had shaped the way I thought about love, and maybe for the worst. And so I was really interested in finding better and more useful ways to think about this basic human experience.
Mandy wrote an essay for the New York Times Modern Love column that went viral back in 2015 called, "To Fall in Love With Anyone, Do This." It's about her experience with taking a kind of contemporary love potion — a list of questions that scientists had discovered could help two people develop intimacy.
Now get ready to fall in love with the "Liebestod" from Richard Wagner's Tristan und Isolde.
DECODE
ROSS: Tristan is an old, old legend, whose exact origin is not known.
EAGLEN: It's a passionate, really engaged love story, um, which goes wrong.
ROSS: You see stories like it, you know, the illicit love affair, the doomed love affair, all around the world. So there's something very elemental about it and, Wagner added his own preoccupations, and his own obsessions to the given material. And this is what he always did with legends and myths.
CATRON: I think the reason we're drawn to love stories is because. There is this theory that when we are reading a book or watching a movie, there are these mirror neurons in our brains that are essentially replicating the experience to a degree. So my brain is a little bit reacting as though that is happening to me. And it feels really good. It has this sort of similar intoxicating quality.
ROSS: This music was perceived as intoxicating, narcotizing, having the power to create this kind of bliss and rush, and that this was perceived to be dangerous, almost like dangerous substances that sort of needed to be regulated.
EAGLEN: I think it's the very highest extremes of those things. It's really a love story.
CATRON: So I was interested in figuring out if I could map the prototypical love story. And pretty much every love story that you can find there are these four components. The first is the meeting. So the two people who are going to fall in love meet, and in almost every case, there is this sense that there is some larger force, whether that's just charisma, or whether it's something as big and potent as fate, or the intervening of a deity drawing the two people together.
ROSS: So the action of Tristan is actually quite simple, but there is a complicated backstory. Tristan is the nephew of King Marke of Cornwall. His parents have died and he's been, sort of adopted as King Marke's son.
There's been a political negotiation between Cornwall and Ireland, and Isolde is being given to King Marke as a bride.
But there's a severe complication in the fact that, on a previous expedition, Tristan had killed Isolde's fiance, Morold. And so at the very beginning of the opera, she is absolutely seething with rage.
Isolde feels humiliated, being carted off, to be married, to this foreign king and the fact that she is being conveyed by this awful Tristan but there's something else at work here. There's the fact that Isolde had cured the wounded Tristan and there was already some spark, of something, between them.
EAGLEN: There's a wonderful line when Isolde says "He didn't look at the sword, he didn't look at my hand. He looked into my eyes," and that was the moment that everything changed for them. That was when they basically fell in love.
And so then I think when she's now on the ship and he's taking her to be married to King Marke, she feels so completely and utterly betrayed by him because he's kind of pretending that didn't happen I think and he's just doing his job really.
ROSS: She decides that she is going to kill Tristan, and she's going to die, uh, herself, uh, in the process. And so a potion, a death potion, is prepared by her attendant, Brangaene. But Brangaene is extremely fond of Isolde and doesn't want her to perish in this fashion. And so she switches the potions and they drink what turns out to be a love potion. And they fall in love.
CATRON: The second stage or the second element is awareness of love. So it's this moment that we see in every love story where either one or both of the lovers suddenly realizes that they have these strong feelings and that they need to do something about them.
EAGLEN: It's very interesting as to whether the potion really is something that has worked or not. And sometimes I've absolutely been directed that this is nothing. This is just water and it's the connection between you that you feel you're allowed to have at this point, because you've had a potion that maybe did something but it didn't. There's also been times when I've been directed to, "Yes, this really is a love potion, and this is what makes it happen." And I think that the potion is just an excuse for destiny to happen. Really, it just allows them what is supposed to happen for them. They're supposed to be together.
ROSS: And so they're now desperately in love. And they're on the verge of this catastrophic situation. Where Isolde is supposed to be married to King Marke.
CATRON: Then the third element is potential obstacles. So there's always something in the way. And that can be something simple like one person is in a relationship and the other person is pining after them. So there's something that they have to overcome in order to be together.
EAGLEN: All the marriages at that point were very much organized and you had no choice. She is being sent on the ship and that's kind of the end of it.
CATRON: And then the obvious fourth step is union. So something brings these two people together. If it's a comedy there's a wedding or they kiss for the first time. If it's a tragedy it's followed by either a breakup or death.
My own love story, was essentially, there was this guy that I knew this guy, Mark and over a couple of years, it occurred to me, that I had like a little bit of a crush on him. I didn't take it very seriously because I had a lot of crushes at the time. It was just out of this long-term relationship for 10 years but I always thought like, "you know, if he's ever single, I would be interested in spending more time with him." And it happened that he posted a photo on Instagram of one of our mutual friends. So I think I sent him a message and and then.He asked if I wanted to go for a beer. So we went to this bar and started drinking and he said to me, "I have this theory that you could fall in love with anyone, if you kind of put your mind to it." And it reminded me of this study. I had read. By this psychologist, Arthur Aron. And essentially the psychologists had heterosexual men and women spend 90 minutes answering these 36 increasingly personal questions. And then at the end they would make eye contact for four minutes without speaking. And essentially what they found is that answering these questions in order creates intimacy between two people really quickly. So Mark and I were sitting there, we were drinking, it was late, and I'm feeling brave and I'm like, you know, "I've always wanted to try this." And, he was like, "let's do it." And so we did, we sat in this bar taking turns, asking the other person the questions. And the way it works is they start out just like general kind of icebreaker questions, but they increasingly become more and more personal. And to me, that felt so vulnerable.
ROSS: In act two King Marke has gone off on a hunt and so, Tristan and Isolde have their night of love, this endless, wildly passionate, and also at times extraordinarily becalmed and then sort of hypnotic, form of ecstasy.
EAGLEN: So the love duet in act two starts off with a lot of them, just talking to each other. It's very sort of conversational, but as the duet goes on, they then start to sing together. So it's very much about their passion.
It is when they start to become closer. Physically emotionally start to understand each other better.
CATRON: And so we did these questions and I was like, you know, and that wasn't bad. Like I'm sure the staring in the eyes part is way more weird. And he was like, "don't you think we should do that too? What if we walk out to the bridge?" So we walked to the apex of the bridge. And I set a timer on my phone for four minutes and we stared into each other's eyes without speaking, truly like one of the more uncomfortable experiences of my life. You know, I was, I was really nervous and like giggly and awkward for the first couple of minutes, but then we just kind of settled into the experience and it was really intense. And, you know, I think there are these physiological things that happen when you make eye contact, like sweaty palms and your heart rate goes up
Then the alarm went off and I was like, "oh, it's done?" And so, I walked him to his place. so we stood in his backyard--And we kissed. And then I left and I thought, who knows, this could go either way, like this could be the start of a romantic relationship, or it could be the start of a really good friendship.
EAGLEN: And at the end of the Act II duet there's no resolution because then Brangaene shouts and Marke's coming
ROSS: And so they are discovered, and there's a fight and Tristan is mortally wounded. And then a great deal of the third act is simply Tristan, back in Brittany, suffering from his mortal wound, sort of going through spells of madness, but hoping that Isolde will appear. And indeed Isolde is on her way with a potion that could cure him. Isolde does arrive, but it's too late. All they can say is "Isolde," before he dies.
EAGLEN: And then all hell breaks loose. King Marke comes on and everyone's killed and it's all kind of crazy. But I think that for Isolde, she's not aware of any of that.
ROSS: She's completely in her own world by this stage. She has just passed into another realm and she no longer has any awareness of, of what's happening around her.
And then Isolde sings the Liebestod.
So everyone calls this passage, at the end of the opera, the Liebestod, which means, love death. And it's actually a total misnomer. The ending of the opera, he called Isoldes Verklärung, Isolde's transfiguration, which is something quite different, I think, from, love death. But I think it kind of creates an image of this whole opera being about somehow this almost morbid, sort of suicidal form of, of love that kind of actively desires, its own destruction, and extinction.

CATRON: I spent a lot of time researching metaphors and looking at how we talk about romantic love. Part of what I noticed is that a lot of the metaphors are to do with illness or aggression. You know, we would say, "Lovesick" or "crazy in love" or being "crushed" or being "smitten." Smitten is like the past participle of the word smite, which is like this biblical term for the actions of an angry vengeful God, and so I think it's so interesting that when we talk about having these intense feelings and what is presumably like a very meaningful and positive experience in our lives that we actually position ourselves as victims of intense suffering.
ROSS: As the Aria begins, Isolde is standing in this world of death. This is the grim fallout of this great, romantic, love story, but Isolde is completely indifferent to that and she is seeing Tristan alive. And so this, this music that breaks in this steady, stately, melodic line, mild und leise, "Gently and softly, as he smiles."
EAGLEN: I would always try to start it with a kind of smile, because she says he's smiling. and everything is going to be fine. And she starts off looking into the distance and then very soon you know, "don't you see friends, can't you see what's happening."
ROSS: It is a total break, from everything else that we've been experiencing in the moments leading up. This opera has been very turbulent, very wild, very dissonant, uh, you know, sort of these constant kind of collisions of, of different kind of emotional states you know, here, all that recedes.
And so you pass over into Isolde-land, you know, into this, completely different sphere where the outer world is, fading away. And we're, we're hearing this music that is, that is just sort of deeply, deeply calm.
EAGLEN: Seht ihr's nicht?, "don't you see this?" She asked them again, can't you see what's happening? She knows there's people around and she's just trying to express how she feels.
ROSS: She keeps saying, Seht ihr's, Freunde, "do you see, uh, friends?" And so, you know, who are these friends? it's probably not. The kind of now quite small group of people who are still alive at the end of this opera. It's almost as if she's delivering an address to a crowd. Is she talking to us? Is she talking to the audience?
EAGLEN: I think this aria is very much on a sensual level. So many of the things he does give you a physical response, and I think my job is to make the audience feel those things. I have to interpret that in a certain way but I do think that, it's very emotional, it's very physical, but it's also uplifting in a way.
ROSS: If you look at the text it's intensely, synesthetic, she's just singing about his voice, his face, his appearance. And she's sort of trying to use all of her senses and all of her memories to create this cinematic image of her beloved Tristan, to capture his presence and bring it to life.
CATRON: One of the things I came across in my research was this idea that for love to feel meaningful as a part of our lives, we have to know that it's finite. So essentially if we, if we were immortal, if we lived forever, um, romantic love, wouldn't be meaningful to us the way it is when we understand ourselves to be these mortal creatures. We have to know that it has an ending. So I think, I think there's this way in which love and death actually are inextricably linked.

EAGLEN: And then when it gets to not quite the big climax but the first of many, the voice part is actually not the most important part of the music at this point. I think the orchestra kind of takes the lead and it's very much interwoven. It's like, you are totally just an instrument of the orchestra.
ROSS: And then she says, "Resounding yet more clearly, wafting about me, are they waves of refreshing breezes," so everything is sort of bleeding together, sort of melding and merging.
EAGLEN: She does indeed speak about the waves and the water. And so, because in act one there on the water. So that's very descriptive in his, in his way of writing the orchestra that it's all about how these waves come So you have a loud a bit and then suddenly it goes away a bit. And then starts building up again and building up. I think it's sexual in many ways.
ROSS: Right from the very first bars of the opera, Tristan has been about tension without release, so that, a phrase is extended and stops and then it doesn't resolve and, whenever you seem to be arriving at a moment of, stability, something else slips in under the harmony and tilts it in a different direction. So this has been going on for, for hours and hours and hours and, the Liebestod, it, it does kind of bring that dynamic to its highest pitch in the sense that it is just all one unbroken phrase, and there are these moments where it's sort of building and building and this wonderful, moment, where the whole string sound had these tremolos, that sound just sort of automatically gets under your skin and sort of gives you the sense of, something that's about to happen. And sort of something is about to be, revealed this kind of the, the orchestra, literally trembling with excitement.
EAGLEN: In the Liebestod, the accompaniment starts with eighth notes and then it goes to triplets and then it goes to 16th notes. So it sounds like it gets faster as the heartbeat is getting faster, but it actually doesn't, the pulse stays the same, but you get this feeling of this building up and building up because of the way he wrote it.
Stamina is obviously a key thing. If you're going to sing for five hours, pretty much, you have to have good stamina and so on. And I've always had that. I think my mother tells me that I could cry for hours and would not stop until I got my own way. So I guess even as a baby, I was building up my lungs.
CATRON: When we have these intense romantic feelings, that feeling provides a kind of momentum. But I also think that we have a lot more say than we think we do.
We think of a soulmate as someone who is like predestined for us, someone that the universe has designed for us to be with. And, maybe a better way to think about it is someone with whom we've sort of mutually chosen to create a life together.
EAGLEN: You don't really get a chance to kind of regroup while you're singing this aria. There's really nowhere where you get even a bar off. And so you have to really sort of husband your resources a little bit. Yeah. But the way it's written with all these waves actually helped because then you can kind of go back to a more mezzo piano place, and then you just keep building up and building up.
ROSS: And then there's this whole sense of the orchestras, swelling and shimmering, and kind of literally trembling with excitement. And then the sort of quick rush up to this big forte cord.
EAGLEN: And that's this "Welt-atems wehendem all." Kind of the biggest climax in, in all opera that I know,
ROSS: "In the surging swell, in the ringing sound, in the world breath's wafting vastness." That's a typical Wagnerian mouthful. "To drown, to sink, unconscious. Highest bliss."
EAGLEN: Höchste Lust. The the highest level of, of emotion in a sense,
ROSS: But musically Isolde has finally come to rest and, and the music has finally come to rest, on a single fixed harmony, it feels as though she's reached the axis, the center of everything and she's sort of standing absolutely still now.
EAGLEN: And usually honestly just hearing those final bars of the orchestra would have much more of an emotional effect on me than actually any of the bits I sang… Because I can enjoy it at that point. as opposed to having to think, "oh, I've got another bit to sing in a minute, but to keep myself together."
ROSS: Even right at the, at the very end, there's one last, little quiver of Sadness or loss or, that deep melancholy that has been in the opera from the very beginning. Um, but that passes and, and we do finally arrive at the, terminal bliss, of B major in, in the very last three bars.
EAGLEN: It's a positive way to end what is a tragic story

REFLECTIONS
ROSS: [But] what is actually going on, um, at the, at the end of the opera, Isolde is not talking about death at all. She never says the word death. It's this, this hallucination of Tristan being still alive.
EAGLEN: What he says in the, in the score is that she sinks into Brangaene's arms. So something happens to her physically. Um, but I don't think she dies. I think it is more of a transfiguration.
ROSS: I mean, maybe that's sort of the ultimate irony of this. This monologue that we keep calling, the Liebestod. It's not about death, it's about life. It's about the, the, the memory of a person whom Isolde is bringing to life, in her own mind. I mean, all of this kind of metaphysical and philosophical and, and kind of musical logic. endless debate and discussion of this music, it is very, very simple. You know, it is this sort of, absolutely pure and kind of all powerful form of love.
CATRON: You're probably wondering if he and I fell in love basically what happened is that we became friends for a while and what I think really is true is that we decided to fall in love. Like we both made the choice. And that was, um, seven years ago. And we just had twin boys that we brought home from the hospital.


END OF DECODE
Writer Mandy Len Catron, soprano Jane Eaglen, and New Yorker music critic Alex Ross...
...decoding the "Liebestod" from Wagner's Tristan und Isolde. Get ready, because you're about to hear Jane sing the whole shebang.
MIDROLL
Tristan has died. And now, after four hours of intense longing and desire, Isolde is going to sing herself into a place where these two lovers can finally be together forever. Here's soprano Jane Eaglen singing the "Liebestod" from Tristan und Isolde by Richard Wagner, on stage at the Metropolitan Opera.
Liebestod
Well now people, that's what transfiguration sounds like. Soprano Jane Eaglen just brought us to another realm with her performance of the "Liebestod" from Wagner's Tristan und Isolde.
Next time, an aria based on one of the most famous speeches in the history of famous speeches: "To be or not to be," set to music in composer Brett Dean's contemporary adaptation of Hamlet.
Aria Code is a co-production of WQXR and The Metropolitan Opera. The show is produced and scored by Merrin Lazyan. Max Fine is our assistant producer, Helena de Groot is our editor, and Matt Abramovitz is our Executive Producer. Mixing and sound design by Matt Boynton and Ania Grzesik from Ultraviolet Audio, and original music by Hannis Brown. This project is supported in part by the National Endowment for the Arts. On the web at arts.gov.
I'm Rhiannon Giddens. See you next time.



EASTER EGG
Copyright © 2021 New York Public Radio. All rights reserved. Visit our website terms of use at www.wnyc.org for further information.
New York Public Radio transcripts are created on a rush deadline, often by contractors. This text may not be in its final form and may be updated or revised in the future. Accuracy and availability may vary. The authoritative record of New York Public Radio's programming is the audio record.