Stravinsky's The Rake's Progress: I Walk the Line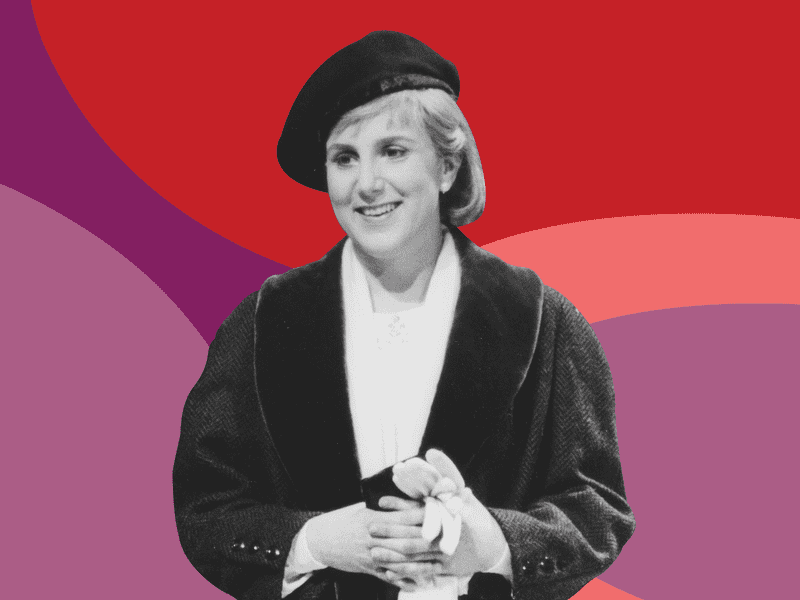 Transcript
Aria Code S3 Ep 5
"No word from Tom… Quietly Night"
from Stravinsky's The Rake's Progress
BILLBOARD
Theme music
CASH: He was disappearing, really. And my mother was still incredibly devoted to him. I could see it in her eyes, I could hear it in her voice.
GIDDENS: From WQXR and the Metropolitan Opera, this is Aria Code. I'm Rhiannon Giddens.
BRAGG: Should I do this, do I go back to my Trulove? Or do I go and drink and smoke and party and do all of the things that sound so much like fun?
GIDDENS: Every episode we listen closely to a single aria so we can hear how it still resonates in our lives. Today, it's "No word from Tom" from The Rake's Progress by Igor Stravinsky.
TINWORTH: She's almost presented like an angel of mercy coming to relieve him from the complete pickle he's got himself into.
GIDDENS INTRO
You know from listening to our show that opera can tell us who we are... if you can look past the wigs and hoop skirts. But in today's episode, you don't even have to work that hard, because this opera was written yesterday, more or less. 1951! That's when The Rake's Progress, by Igor Stravinksy, premiered in Venice.
Now the opera is based on a series of 18th-century paintings by William Hogarth, and it tells the tragic story of Tom Rakewell. Tom has just inherited an unexpected fortune, and he goes to London to claim it. But instead of coming back to his fiancée, he disappears into a life of debauchery, loses all his money, marries another woman, and ends up in an insane asylum.
In the paintings, the story is all about Tom. But in the opera, you also get to know the woman he abandons. Her name says it all; Anne Trulove is not about to give up on her Tom.
Standing by your man, even as he gets into all sorts of mischief and leaves you… well that's complicated. In opera, yes, but even more in real life. Take the story of Vivian Liberto. She met a man in 1951, the exact same year the opera premiered, on a roller rink in San Antonio, Texas. They fell in love and got married. But soon, her new husband became famous, and eventually, all kinds of unreliable. His name? Johnny Cash.
Their love story has some uncanny parallels to Stravingsky's opera, and our four guests today will guide us through it all!
First, soprano Dawn Upshaw, who performed the role of Anne Trulove many times during her career.
UPSHAW: Some of my happiest moments on an opera stage were singing this role. So, you know, I adore the music, how it lives in my body, actually, as I'm singing, and I always felt that it was a gift to have been able to perform it so many times.
Next, Michael Bragg the Music Planning Associate and Librarian at the San Francisco Opera.
BRAGG: Stravinsky will always have a special place for me because so many composers were influenced by him, and you can totally hear why -- because he is a perfect mixture of old and new and future.
Third, Jo Tinworth, who curates collections at the museum where the paintings that inspired the opera have been hanging for over 200 years -- the Sir John Soane's Museum in London.
TINWORTH: Oh, my word, they are some of our most popular exhibits. People will queue up for the opportunity to see them within the museum. They're super popular.
And finally, Tara Cash -- the fourth and youngest daughter of Johnny Cash and Vivian Liberto.
CASH: My mother was a very private person and she didn't share a lot about her life. But she always told me when I was growing up, "I'm going to write a book someday. I want people to know my side of the story." I think she felt pretty erased. You know, it was always about my Dad.
Her mother did write that book. It's called I Walked the Line: My Life with Johnny. Vivian Liberto passed away in 2005, so today, her daughter Tara will share her memories and stories.
You heard that old one about when Johnny Cash, Igor Stravinsky and William Hogarth walked into a podcast? You're about to. Here's "No word from Tom" from The Rake's Progress.
DECODE
Background
TINWORTH: The Rake's Progress is a series of eight paintings painted by William Hogarth in 1734. And they were constructed not just as standalone pictures, but almost like a play.
UPSHAW: These characters are all somewhat simple.
BRAGG: They represent ideals, they represent archetypes, which sounds kind of like it could be boring or the story wouldn't have any movement, but that's not true because you're actually getting a narrative story out of pictures, out of little scenes or paintings, if you will.
TINWORTH: The eight paintings of A Rake's Progress describe the moral and the physical journey through life of its protagonist, a young man called Tom Rakewell, who's the son of a miserly city merchant, and his long-suffering lover, Sarah Young, who I think is named Anne Trulove in Stravinsky's opera.
Hogarth presents the consequences of Tom's moral choices, which are universally awful: desertion, social climbing, extravagance, he indulges in the sins of the flesh. And as a result, he suffers shame, debt, degradation, and ultimately madness followed by death. Sarah Young -- or Anne Trulove -- is a constant support to Tom throughout, but he foolishly ignores her and never takes any of the opportunities for redemption that she offers him throughout the story.
BRAGG: Once Stravinsky saw this painting he immediately sat down and was like, "Okay, who do I need to get to write the libretto because English is not my first language?" And luckily he was living next to someone who just happened to be friends with W.H. Auden. Auden writes in a language that is elevated. People are speaking as if of another time, even though it's the late 1940s and 50s when this piece is being written.
UPSHAW: Anne Trulove lives with her father in the country outside of London.
BRAGG: They are simple country folk, there is this sense that they are probably religious.
CASH: My mother came from a Catholic family and she was raised with a lot of strict discipline. They lived in a small white house in San Antonio, very modest. So she was pretty sheltered from the big world.
BRAGG: Anne is just this sweet, beautiful young woman who's just fallen in love with this very charismatic man who has big dreams.
UPSHAW: She's probably in her late teens, we don't know for sure.
CASH: So my mother met my father when she was 17 and he was 19, and they met at a roller rink in San Antonio where he was stationed before he went off to Germany in the Air Force. And my mother really looked like a movie star. She was glamorous and exotic. My father was tall and handsome, and he had a great sense of humor, and I think they just kind of locked eyes and felt that magnetism between them and began to skate together, and my mother just really kind of lost track of time and fell for him.
BRAGG: Stravinsky has this beautiful way of writing in a style we all know and understand, which is neoclassical sort of music -- think Mozart, Beethoven. So we understand that musical language, but then he does very Stravinsky things, like fussing with the rhythm of the language, fussing with sometimes the crunchiness of tonality. So you get these incredible moments of like, "Oh this is not 18th-century, this is clearly 20th-century music."
UPSHAW: We learn that there's some skepticism on Anne's father's part about whether Tom is really a good choice for his daughter, whether he's a good man or not. But Anne has faith, and she's in love.
CASH: So they got married and they moved to Memphis. My mother wanted to get pregnant right away. I think they planned to have eight children. They just didn't have any money, but they were so happy. They were so happy in love. They had a baby, my oldest sister Rosanne. Ten months later, my sister Kathy was born. And my father got a job as a door-to-door salesman. And was terrible at it. So, within like a year he auditioned and got a deal with Sun Records. She used to say those were the happiest days of her life. She said, "We were happiest when we didn't have two nickels to rub together."
TINWORTH: Scene One is called "The Heir," and the heir is Tom Rakewell, a young man with blonde hair and an elegant figure. He's standing in the center of a very shabby room, because what he's just inherited is a huge fortune from his miser of a father who wouldn't spend a penny on decoration or on even wood for the fire. He's being measured for a new suit. We can tell already he's going to be a spendthrift and not a miser. At the door to this room are two women, a mother and a daughter, Sarah Young. The daughter's pregnant but rather than use his newfound wealth to start a life with Sarah as a family, with their unborn child, Tom's holding out his hand, which is filled with golden coins. He's trying to pay her off rather than do the right thing by her and marry her.
UPSHAW: Tom goes off to London and we see him at a brothel and... a very different life that's introduced to him in London.
BRAGG: Tom is constantly yo-yoing back and forth of like, "Should I do this? Do I go back to my Trulove? Or do I go and drink and smoke and party and do all of the things that sounds so much like fun because I haven't had money to do that?" So he always represents someone who has good intentions, but is always missing the mark.
CASH: My father really was, you know, going for it and going toward the bright lights and the big city. And at that point, their lives took a dramatic turn. All of a sudden they were from poor to having money. So they bought a house from Johnny Carson in North Hollywood and had a swimming pool, and a monkey. We had a bull, a chihuahua, we had a parrot. They were just so excited they didn't know what to do with themselves.
Orchestral intro
UPSHAW: It's somewhat unusual to have a very long introduction, like we find with "No word from Tom."
BRAGG: Stravinsky does no disservice to the diva in this show because the opening is this beautiful double clarinet and bassoon trio.
UPSHAW: The winds are kind of responding to each other in their melodies, in their rhythms.
BRAGG: It's very pensive music.
UPSHAW: Beautiful, thoughtful music.
BRAGG: You, you hear the way in which the rhythm and the dada, before we even hear her say, "No word from Tom." It's almost like the music is saying, "No word?"
UPSHAW: And it's usually staged where she is wandering, and really we see her struggle because she's really not sure what to do.
[sings "No word from Tom"]
CASH: My father was increasingly on the road more and more. He thrived on that energy. He thrived on travel.
And my mom had by now four young girls under the age of six. She was doing a lot on her own at that point.
My mother would try to find my father on the road and have a very hard time getting in touch with him. She would call, you know, the wives of the other musicians in the show or she would desperately try to call the hotel or wherever she thought he might be staying and just couldn't get through. She... she couldn't find him.
First recit
UPSHAW: So the introduction finishes and she finally speaks and says aloud, "No word from Tom," all in the same pitch and with nothing from the orchestra underneath her.
BRAGG: It's so poignant because there's no need for instruments at that moment. The instruments have already said their business, it's now her business.
UPSHAW: She begins by asking questions. "Has love no voice?" If this is really love, wouldn't I have heard from him? "Can love not keep the May-time vow in cities?" Does love really change depending on where you are? She's almost in disbelief that she still hasn't heard from him.
TINWORTH: The second scene in the series is called "The Levée," a word that's derived from the French verb lever, "to rise," or colloquially, "to get up," and Tom is in completely different circumstances now. He's in a very elegant classical interior at a London townhouse with big windows and classical arches. And he's surrounded by people we'd now call hangers-on. They all want a piece of his fortune. And they're trying to take him for all they can. So you begin to see the clues here, this young man really isn't up to managing his fortune. He's probably not going to hold onto it very long.
CASH: My father started getting into drugs. Someone in his band offered him some uppers, some pills that would keep him awake so that he could do the show, and some other pills that would help him relax and come down after the show. And knowing who my father is, a little bit is not enough and there's no such thing as too much. So he really kind of went down a very big downward spiral when it came to drugs. And he was disappearing, really. And my mother was still incredibly devoted to him.
Cavatina
BRAGG: So we get the end of the recit, "Love is, love knows love answers him across the silent miles and goes." And at that moment, there's two rests. So it would appear in the score that it -- that's the end of the thought, we may just go to the next scene. But all of a sudden we get [sings].
[singing]
The music represents her sort of movement, where now she's not only just in thought, but now the thought has become an action, and the music represents that so beautifully with the [sings].
UPSHAW: She asks for the moon and the night to guide her. And she's hoping that he's looking, of course, at the moon, maybe at the same time that she is, it's the same moon, and trying to connect with him that way.
BRAGG: The lyrics are this, "Quietly, night / O find him and caress / And may thou quiet find / His heart, although it be unkind / Nor may its beat confess / Although I weep, although I weep / It knows of loneliness."
[singing]
UPSHAW: And there's the bassoon being used as kind of a second,
very important solo voice in, in the music. You know, if you're able to, from the stage with all the other instruments going on, you know, be able to sing and at the very same time, hear the bassoon player, it's such a beautiful, beautiful solo.
There's pain and kind of a crying out in it, especially in this phrase, "Although I weep." It's so plaintive and really longing... so much longing in it.
BRAGG: And the music never stops, it's still [sings].
[Music stops]
Even though she's weeping and lonely, she's gonna keep pressing on.
CASH: My father went to -- he was touring in Mexico and he somehow got a hold of a lot of pills. And he came back and flew into El Paso with a guitar case filled with amphetamines and barbiturates. And they were onto him. They knew he was coming through with drugs and they arrested him, took him to jail. And that was a very, very devastating time for my mother, this devout Catholic. She ended up going to El Paso and going to court with him and she didn't really understand addiction. It was just incredibly painful to her. It was a dark time.
TINWORTH: Scene Four is called "The Arrest," and you have Tom on the left-hand side coming out of a sedan chair, and what he's actually doing is hiding from the bailiffs. He's in debt. His fine clothes mean nothing anymore. He's run through all that money already. He's about to be taken away and put into prison, and out comes Sarah Young -- Anne Trulove. She's become a milliner. She's working to support their child, and you can tell this from the box of ribbons that's falling to the ground as she thrusts herself forward, offering Tom her purse, probably her life savings, so that he's not arrested for debt. She's almost presented as an angel of mercy coming to relieve him from the complete pickle he's got himself into. However, as we'll see later in the series, he doesn't take the opportunity to be with her and to reform his life.
BRAGG: So after we get this beautiful sort of aria, we get a high note.
[singing]
She sings this beautiful high B. When the soprano sings the high note or the tenor sings the high note, or any opera singer sings a high note, it's like, "Okay, we're at the end of this,right?" But he tricks us, and there's a hold in the music. Then it continues unaccompanied.
[singing]
"A colder moon, a colder moon upon a colder heart," and then the orchestra comes in. And so at that moment, we understand that there's going to be more, she's not done saying what she needs to say.
CASH: At some point the Carter family, the First Family of country music, started working with my dad on his show. It was Mother Maybell Carter and her three daughters, Helen, Anita, and June. And my father, you know, listened to them as a little boy, you know, when they had a radio in the house that they had to conserve the batteries at night and he was allowed to listen for an hour a night. And here was June Carter and she was young and fun and feisty and funny. And my mother was at home with the children and sad and missing him. And I think it was just too much temptation, so it was, it was a heartbreaking time for my mother. She desperately wanted him back, desperately. And you know, a lot of times it -- he didn't come home. His heart was leaving and hers was breaking.
Second Recit
BRAGG: And then we hear a voice and it's her father.
UPSHAW: "Anne, Anne!" He's calling for her. She's suddenly sort of, I feel, brought back to reality a little bit.
BRAGG: And we get "My father! Can I desert him and his devotion for a love who has deserted me?"
UPSHAW: And it's that moment she realizes that she needs to leave and go to Tom.
BRAGG: She says, "No, my father has strength of purpose." So she already knows that her father doesn't need her help, "While Tom is weak and needs the comfort of a helping hand." Her hand.
And so she beautifully says so, so innocently and so sincerely, "I understand the man that I love and he needs my help."
CASH: My mother and us girls were, were there one night, with my dad on tour -- I believe it, it was in L.A. And after the show was over, my dad came back and June was with him and they both said goodbye to the family before they left on their next tour. And my mother really started realizing that she is now like the third wheel in this relationship.
TINWORTH: The fifth painting is called "The Marriage" and shows what Tom has decided to do to get himself out of debt, which isn't go back to the city, pick up his old life. No, it's marry a wealthy, very finely dressed older woman. At the back of this painting, very dimly pictured and not at all central, is Sarah, holding their child. She's at the door of the church, trying to get past a church warden, who's stopping them from entering. So not only can you not really see them, but they're quite clearly not going to be able to stop this marriage because it's going ahead literally in front of their eyes.
Sarah and their child are going to be abandoned, going to be without a father permanently. And there's nothing that can change that.
BRAGG: And then you get a prayer, which if you're a soprano, you're going to get used to singing a lot of prayers because sopranos love to pray to God. Why would Anne Trulove be any different?
UPSHAW: She says, "Oh God protect, dear Tom. Support my father. And strengthen my resolve." I love that Stravinsky brings the soprano voice down to its lowest register. When I sing that, I feel like I'm finding strength from my deepest core.
BRAGG: She has grown up. She understands that life is not simple and that love, as unconditional as it can be, doesn't always have a happy ending.
CASH: My mother, she realized that the marriage was over and asked for the divorce. She had a lot of shame around that being, you know, raised a Catholic. Divorce in the Sixties was a really big deal. So she took me and my three sisters and we went away.
TINWORTH: Tom Rakewell as presented by Hogarth as an archetypal, immoral young man. In direct contrast to Tom, though, you have Sarah. Her love is continuous and unswerving. She offers all her money to Tom, she's there when he's in prison. It's almost as if she's sort of painted in a slightly saintly way.
CASH: You know, my mother never stopped loving my father. She loved him until the day she died, and she never said it, but it was really apparent to me as a kid. Every time he would come on TV, she would go over and sit right in front of the TV and just watch every move. And that, that was a really kind of a key, you know, light bulb moment for me. It's like, "Wow, she really loves him still." I could see it in her eyes. I could hear it in her voice. She never stopped loving him.
Cabaletta
BRAGG: She says, "And strengthen my resolve," and then guess what happens? Her resolve is strengthened, because the orchestra comes in and not just the strings. It is now an ever-beating trumpet [sings]. Now that's the strings, but always underneath you get this incredible [sings]. We all think of brass instruments as being solid, as being sort of the backbone of, of the orchestra in many ways. It gives us the power that we always love. The trumpets represent her resolve. It's the [sings]. And the strings always represent to me Anne's love. And so you have the love on the top and the resolve in the bass. If you know nothing about opera, you understand it at that moment what is happening. You can feel it.
UPSHAW: It's in C major. It's rhythmically articulated like a fanfare almost. It's like a trumpet call to me. And her words are kind of like, "Okay, I'm, I'm gonna do this. I, I go to him, I'll go to him. Love cannot falter, cannot desert." Her decision has been made. And we're off to a really fun gallop of 16th notes.
BRAGG: There is a, a little sort of B section, which goes to a minor mode. There's a true shift of like thought, when she says, "O should I see / My love in need / It shall not matter / It shall not matter / What he may be." And the key, the mode almost represents her doubt.
UPSHAW: It's one of the shortest B sections I know of, or that I've ever encountered, and serves really to show us that Anne, like any human being, does have doubts.
TINWORTH: The eighth painting in the series is entitled "The Mad House," which was in fact called Bedlam, the Bethlehem Institute for the Insane. In the foreground, oblivious to all of the chaos going on around them, you have Tom and Sarah, completely absorbed. We know now that he has descended to a point of insanity where he's lost to Anne completely. She's crouched just behind him, sobbing, concerned for his fate. And this could in fact be the last time that Tom and Sarah are going to see each other.
CASH: My mother went to see my father one last time, and it was a month after June died. And I think she felt somewhat freed that she was able to do that without, you know, the interference of his wife who was always by his side.
He was pretty ill at that point. He was pretty much a hundred percent blind. He couldn't walk. I saw fear in him for the first time in my entire life. I think he realized his fate and he was alone for the first time, his career was done.
And by the time my mother went to visit with him, I think he was, he was in a place where he was just open. He was humble and they had a really lovely visit. And she came home on a cloud after that. She was like a schoolgirl. I remember her being so excited -- so much of the weight had been lifted off of her shoulders. I think she just finally felt like she could connect with him.
And it was, you know, at that moment that the healing took place between my parents.
UPSHAW: She comes back stronger and she comes back sooner. "I go to him," is now one beat longer because she just couldn't wait to get started again
BRAGG: "Time cannot alter / Cannot, cannot alter." She keeps repeating it. She is truly not going to give up this resolution. She's going to continue this all the way to the end.
UPSHAW: A lot of people wait and they're fascinated by the high C, and the release, the energy flying at the end, is so exhilarating.
CASH: Dad died two or three months after my mom came to visit him and she died two years after him. My mother always wanted to tell her story, she wanted to write a book, and it didn't even come out until after her death. So it was kind of tragic for her in one way. Maybe it's best that she just kind of took it with her. She told her story and that was the most important part. So, I'll read a little bit from that book:
"It hurts my heart to know that afternoon was the last time I would see Johnny. If I had known, I wouldn't have been so quick to leave... I would have told them all the things I wanted to tell him over the years but never did. I would have hugged him tighter... I would have asked questions that have lingered in my heart... And maybe I would have told him my darkest secret, which I am only now able to admit. I would have told him that I never stopped loving him. Through all of it, despite everything, I never stopped loving him for one second."
GIDDENS:
Johnny and Vivian Cash's youngest daughter Tara Cash, soprano Dawn Upshaw, San Francisco Opera Music Librarian Michael Bragg, and curator Jo Tinworth decoding "No Word from Tom" from Stravinsky's The Rake's Progress. Dawn will be back to sing it for you after the break.
MIDROLL
Sometimes, a woman's love knows no bounds. And sometimes, an aria can perfectly capture her devotion and strength. This is that aria. Here's Dawn Upshaw singing "No word from Tom" onstage at The Metropolitan Opera.
"No word from Tom"
Dawn Upshaw's voice is the perfect combination of strength, flexibility, and utter, utter, sweetness, just like Anne Trulove.
I've always loved that opera, and Dawn Upshaw really is the iconic Anne Trulove. That was "No word from Tom" from "The Rake's Progress" by Igor Stravinsky.
We'll hear from yet another spurned lover on the next episode… opera's full of them! But this time, it's gonna be the world of ancient Rome and the music of George Frideric Handel in his Aria Code debut!
Aria Code is a co-production of WQXR and The Metropolitan Opera. The show is produced and scored by Merrin Lazyan. Max Fine is our assistant producer, Helena de Groot is our editor, and Matt Abramovitz is our Executive Producer. Mixing and sound design by Matt Boynton and Ania Grzesik from Ultraviolet Audio, and original music by Hannis Brown.
If you're enjoying the show and want to make sure that other people know the Code, be a hero or a heroine by leaving a rating or review, or by raving about it to anyone who'll listen! Really, anyone! I'm not kidding -- just go up to a stranger, start tugging on their sleeve, just start talking about it.
BRAGG: Rein it in, girl. Rein it in! [Laughter]
GIDDENS: I'm Rhiannon Giddens. See you next time! [Laughter]
Copyright © 2021 New York Public Radio. All rights reserved. Visit our website terms of use at www.wnyc.org for further information.
New York Public Radio transcripts are created on a rush deadline, often by contractors. This text may not be in its final form and may be updated or revised in the future. Accuracy and availability may vary. The authoritative record of New York Public Radio's programming is the audio record.