Once More Into the Breeches: Joyce DiDonato Sings Strauss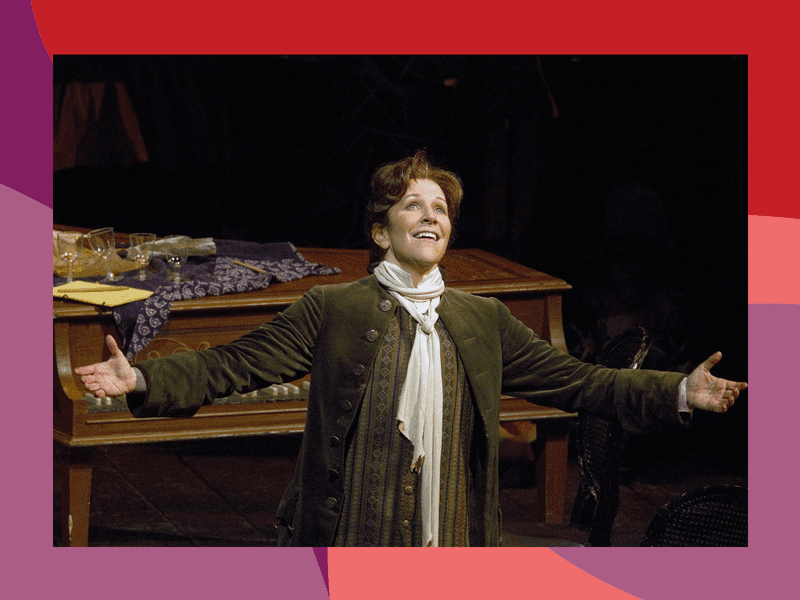 Transcript
Aria Code S3 Ep 13
"Sein wir wieder gut"
from Strauss's Ariadne auf Naxos
BILLBOARD
Theme music
DIDONATO: His entire worldview shifts, the ground under his feet opens up and he is no longer standing in the same place that he has been standing for his whole life.
GIDDENS: From WQXR and the Metropolitan Opera, this is Aria Code. I'm Rhiannon Giddens.
THOMASON: His emotion goes plummeting from being way at this ecstatic moment, he's in the depths of despair.
GIDDENS: Every episode, we go behind the scenes of a single aria. Today, it's the Composer's aria from Ariadne auf Naxos by Richard Strauss.
FISCHER: There are so many rules, and the great thing about drag -- you break 'em all.
GIDDENS INTRO
Transformation is at the heart of any opera performance. Not just because the singers are all playing their roles, but also because music itself has the power to inspire and change us. And today's episode is all about transformation. About the things that allow us to be different versions of ourselves.

Well, no opera captures this better than Ariadne auf Naxos by Richard Strauss. Today, we're gonna focus on the Prologue, and it's basically all backstage intrigue and shenanigans.

The opera opens inside the house of Vienna's richest man. He's hosting an evening of entertainment at his private home theater, and two troupes of performers are getting ready backstage: a fun-loving vaudeville group, and a group of opera singers who take themselves very, very seriously.
But you haven't seen serious until you've met the Composer. This young man is a thousand percent devoted to what he considers the sacred art of music, and he'll be premiering his brand new opera tonight. But then, minutes before the curtain goes up, he's told that there's not enough time for these two separate music acts, and his very serious opera will have to share the stage with that silly vaudeville troupe… at the same time.
Now it's pandemonium, and the Composer is furious. But then, in the midst of all the chaos, he falls hard for one of the vaudeville performers, Zerbinetta. We hear how this sudden bolt of romance invigorates and transforms him in the aria "Sein wir wieder gut," which means, "It's all good."

One important thing about the Composer is he's what opera folks call a "trouser role," a woman singer playing the part of a young man, so she wears pants, or trousers, to transform herself.
Well, here's the woman wearing the pants today: mezzo-soprano Joyce DiDonato, who performed the Composer at the Met in 2011.
DIDONATO: I love him, and I understand him -- his ardor, his passion, his total commitment and belief in what he lives; through the page, through the music, and that transformation that happens.
Next up, a guest who knows firsthand about the power of transformation: Mo Fischer, or Mo B. Dick, drag king and historian.
FISCHER: I really think everyone should crossdress at some point in their life, because allowing this whole breaking down and destroying the binary is so much fun.
And finally, Paul Thomason, a music writer and Strauss fanatic.
THOMASON: He's really sort of the great humanist, as far as composers go. He's never preaching to us. What he does is present the human condition, totally no-holds-barred, and he leaves it up to us.


Alright, let's go find out what changes Strauss has in store for us in the Composer's aria from Ariadne auf Naxos.

Decode
THOMASON: The commedia dell'arte players were stock characters in the Italian theatre.

FISCHER: Commedia dell'arte troops traveled throughout Europe and, um, they brought their wit, their comedy, their gender bending and inspired opera to begin in France and Germany.

DIDONATO: The young Composer in Strauss' opera is one of the really extraordinary young pants roles in all of opera. It's an entire world of discovery. There's this thrill of watching that journey and that jump from adolescents or boyhood into manhood. And that's usually the trajectory of these pants roles.
FISCHER: Breeches and trousers roles were titillating firstly, because they showed a woman's figure. In women's attire, her breasts were always showing because that was the fashion. You could see cleavage yet we didn't know their shapes and forms below the belt, because the dresses were so large and hoop-skirts and whatever. So with the breeches roles, they were wearing waist coats, and ascots and then these tight-fitting pants showed the woman's figure, and became very provocative for the largely male audience and became wildly popular because of that.
But then it allowed women economic empowerment, permission to explore a variety of characters and most importantly permission to have full range of human expression.
THOMASON: The composer was originally slated to be created by a very famous soprano, but she didn't show up for the first two rehearsals. She was ill and Vienna had this new soprano named Lotte Lehmann, Strauss was totally smitten by what she did. And he decreed, "She will create the role." And she became an overnight sensation. And ever since the role of the composer has attracted some of the most remarkable singing actresses.
DIDONATO: It's such a passionate role. It's young, it's meant to be a character that is right on the midst of manhood, but has spent his whole time with his head buried in his scores and his world of music without ever having lived it. So the voice quality has to have a youth. And a naivete to it.
THOMASON: So it's that in-between time in a teenage boy's life that's captured in the voice, which can be rich but also obviously female.
FISCHER: I grew up in a big Irish Catholic family of six brothers and three sisters, and so it was very male dominated. And my father always had this air of authority and confidence when he walked. I was just enamored by it. I thought, "Oh, I want that when I grow up, I want to have that walk and that presence." And, I didn't know how to do that as a woman, because I was so angry, I was so, like, "God damnit, look at what women have to go through, where you don't have agency over our own lives," I mean, it's infuriating!
THOMASON: The opera's set in the house of the wealthiest man in Vienna and everybody's running around right and left -- total chaos. They're all frantic and they're getting ready to go on stage. We meet the composer who is a young teenager. He's something of a nerd actually, and he's written an opera that is very mythological, it's very philosophically-oriented. It deals with transformation, the art form of music, all sorts of great themes.
DIDONATO: And he's so convinced of what good music is. And he's so convinced of his expertise at his young age, and he talks about it in a very allegorical way.
THOMASON: And it turns out that that's not the only entertainment the wealthy man is offering his guest. He's also offering them a troupe of Commedia dell'arte players, who's going to come in and do a comedy.
FISCHER: When you look at the different theater genres, Commedia dell'arte vaudeville, British music hall and modern day drag Kings, there's a running through line for sure; they're all highly theatrical, improv is a big factor in all of them, big gestures, big movements, and, zaniness. You didn't know what you were going to see cause they were keep trying to outdo each other. And when you go to a drag show, you don't really know what they're going to perform, what they're going to do. So it's, there's always that element of surprise. You know, you're going to laugh, you know, you're going to have fun and you're going to be entertained.
DIDONATO: However, the passion and the confusion and the chaos is often served as well by something a little bit more earthy and grounded that you can find in the mezzo soprano voice.
THOMASON: Well, the role of the composer can be sung by either a mezzo or a soprano. Mainly it's in the sort of center of the voice. So if a soprano has a good lower and middle voice, she can sing it. And if a mezzo has really good upper range, then it will work for her.
FISCHER: One of the things that differentiates me from other drag Kings is I try to modify my voice. I say, "Hey, how you doin'? I'm Mo B. Dick, what's going on?" You know, so I adopted a New York accent, and I naturally have a little bit of a deeper resonance in my voice so it's not a huge stretch. several of the other drag king hosts also adopt a different resonance in their voices and, you know, try to go to a deeper level.
THOMASON: As the end of the prologue approaches, in comes the major-domo. And he says, "My master has decreed that because time is running short, the opera will not follow the commedia dell'arte players and they will not follow the opera. Instead, these two pieces will be done simultaneously."
And obviously the composer is frantic.
DIDONATO: It's such an affront to everything he holds dear in his life. this catastrophe of having to actually perform his brilliant genius opera alongside essentially vaudeville, very bawdy, performers.
THOMASON: The head of the commedia dell'arte players is a very beautiful, very flirtatious woman named Zerbinetta.
DIDONATO: Zerbinetta's, you know, the super sexy, young, but seasoned, glamazon person that comes into his life. She strikes up a conversation with the composer, and they're fighting and he's trying to defend his territory and she's saying, "Honey, you don't know what you're talking about." And at one point he finally, I think, picks his head up out of his score and looks at her in the eyes and his entire world view shifts.
The ground under his feet opens up and he is no longer standing in the same place that he has been standing for his whole life. And of course it happens in a flash, as it often does in our life.
FISCHER: I spent the summer of 1995 in Provincetown, Massachusetts. I thought, "Oh, I can't spend another hot sweaty summer in New York City." And, got a little waitressing job and was just hanging out and met a bunch of performers who were also from New York city, drag Queens, sketch comedy artists, and two drag Kings. And I thought, "Wow, I've never heard of this. Oh my gosh, I got to try this." So when I got back to New York, I got my haircut, saved the clippings, went to a local thrift store, found a shirt that said "Dick," on it. And I went, "Huh, Mo B. Dick. Perfect," and wore baggy pants, and put facial hair on me. I stuffed a pair of socks in my panties, walked down the street in the East Village, there were a bunch of guys that were on the corner and I thought, "Uh oh," and sure enough, I walked by these guys and they said, "Hey," and I went "Hey," and I turned the corner. I went, "Oh my God. I passed. Wow. I didn't get harassed. I didn't get catcalled. I can't believe this." And there was this feeling of safety that overcame me, that I went, wow, I can be free in the streets. I don't have to be on guard. And I thought, "Oh, there's something to this."
DIDONATO: And all of a sudden the composer comes out and he says, "Oh, I see everything with new eyes now." It's this pivotal moment, it's a juncture in his life that there's a real delineation between before and after. And he says it so beautifully that "I, now I see this, everything is, is with a different view. Now I have more understanding," and immediately you know that he's going to write music differently. You know, that he's not going to be the same composer.
FISCHER: When I first became a drag king, it opened up my world. And so instead of being an angry woman, I became a funny man. That's always been my motto. So Mo B. Dick is fast-talking, you know, tough-talking, outspoken… So I could make these political statements in this comedic way by usurping male privilege and power. And so it was great fun!
THOMASON: So the composer sees the world as this totally new place. "It's gorgeous. Everything is beautiful. The world is wonderful and I'm ready to charge into it."
The aria begins with the composer saying that now he sees everything through very different eyes. Well, Zerbinetta has opened his eyes to a world he didn't know existed. And he goes on to say that there's so much more that can't be put into words. The depths of existence are just absolutely immeasurable.
DIDONATO: So 1, 2 "Sein wir wieder gut," and "gut" is the downbeat of the bar. And it's very concrete and it's very clear and it's sort of immovable, it's like the scaffolding. And we arrive there.
THOMASON: And what that does is to give a sense of impetus to the music, a wonderful sense of forward motion.
DIDONATO: But he can't quite resolve yet because he has so much still to express. So it's all of this expansion and twisting of the rhythm so that we get an aching, a euphoria, a sense that we don't, we don't want the phrase to end. Sing through the bar line, go over the bar line. It's where the rainbow arches, it's the peak of the, the taffy pole. And it's where we, mmm, expand.
FISCHER: There are so many rules for men and women. And the great thing about drag, you just break it all down and you realize it doesn't matter. All these rules don't make sense. Just putting people in their boxes and their places, women in their homes and their cages doesn't make sense. When I can tear down the binary, there's something that happens that I feel complete. And I feel like all the nooks and crannies and gender in me, I get to explore and experience. I take up that space and I allow myself this permission to experience whatever I want. And I go there.
DIDONATO: The composer feels like he's unlocked the key to everything, all the interaction with Zerbinetta, all of the, the lightning bolts that have gone off, he now feels like he really understands women and himself.
He's just said that poets use very good words, but, but somehow, somehow, any searching in this syncopation, "jedoch."
THOMASON: And he repeats that, and yet, "jedoch."

DIDONATO: And it gains steam, "jedoch, jedoch."
THOMASON: He's just about to explode.
DIDONATO: Downbeat high note, "Mut ist in mir." "Courage is within me." It becomes something that connects also at a indescribable heart level.
FISCHER: I love looking at the Latin derivatives of words and, courage comes from "couer," heart. And so when you tap into that courage, you're tapping into your heart's desires to speak your mind, to be your authentic self, to express yourself, to not have those barriers. And the courage that by me expressing myself in this confident, strong way, it opened doors for other women.
DIDONATO: Then he says, this amazing line, "Die welt ist lieblich, und nicht fürchterlich den Mutigen." "The world is lovely," and on this word "die Welt," he takes it up to our first B-flat. "Lieblich," that is beautiful, the world is beautiful, but he's stretching our range and, and he's giving more and more opportunity to express and to break out of the confines of this sort of nerdy, uh, composer that has always had his head in a book. He's now breaking out into the world.
FISCHER: The physical transformation is when the character development really starts. First it's the facial hair. I had somebody make me a lace front-goatee, mustache, and sideburns. So they're very easy to put on and off, and, you know, contouring, filling out my eyebrows. And I wear wigs in a variety of colors. I like to have fun and drag it up a little bit. I have purple, I have blue, burgundy and big blonde bouffants. The tip of the iceberg though, is the breast binding that's when it seals the deal. There's something that happens. That's the wall of protection then, men aren't looking at my breasts they're looking at me in my eyes and in my face and I add an appendage and I've come to realize how men have so much energy on their genitals. You can't help it. You got it on the outside, it's hanging out on the outside, so now I can understand. But then the clothing -- I wear, , pants that are size larger to minimize my curves I put in also a gold tooth, that I had made in Brooklyn, that just kind of sets me off and it was more of a punk rock, you know, rockabilly rebel aesthetic and more edgy-looking that's the look and the feel of it. And the transformation creeps up on me as I'm getting ready. And then I think about my dad and then the confidence starts.
DIDONATO: As the aria goes on and he's started to realize that the world is beautiful. Everything I have all of this power, this courage inside of me, he says all of a sudden, he's, he's caught with this idea of "what then is music?" Here we have a slowdown and it becomes more internal.
THOMASON: It's almost prayer-like, actually. The music changes key and Strauss marks it to be played pianissimo.
DIDONATO: And as he repeats this word "Musik ist eine heilige Kunst" the tonality changes. The meter changes, the sensation changes, and it does it for the first time. He actually knows how to articulate a definition for what he's eaten, slept, bathed, thought his whole life has been music, but for the first time he actually understands what it is. And it's a heilige Kunst, the holiest among all art forms.
THOMASON: The notes get held longer and longer, and it keeps going up. Stair-step, which is thrilling.
Suddenly Zerbinetta gives this wild whistle and she, and all of her committed, a lot of the players come charging through where the composer is and go running up on stage. And he suddenly sees, "oh my God, those are the people who are going to be involved with my opera." And his emotion goes plummeting from being way in this ecstatic moment, he's in the depths of despair, but he's a teenager and that's what teenagers do.

DIDONATO: It's short, but it's mighty, this aria, it's like being shot out of a cannon. And he shoots us right back into the action. And the composer is completely taken out of this moment of euphoria and realization as happens in life all the time, you know, we may have a huge success and the show and we're high as a kite. And then we come and we see a text on our phone after, and it slams us right back into the real world. You are catapulted into the heights of the highest highs and thrust down right in into a fiery dark alley that feels like it has no outlet. (LAUGHTER) And that's how the prelude ends.
THOMASON: One of the reasons I love Ariadne so much is the incredible variety of emotion, and therefore the incredible variety of kinds of music we have all in this one little opera. It runs the big gamut. And it's so clear, it's so delicate, and yet at the end it's so profoundly moving.
Reflections
FISCHER: So when you're dressed in male drag, you're taking on a character, you're transforming yourself. You're becoming something different than what you normally are and how you normally express yourself. And then the audience starts to believe you. And then they start to have this shift in perspective and they start to have their own experience because you've broken down the walls then they get to open their minds and their hearts in this new way. And then maybe re-experience something or experience something new.
DIDONATO: And that can remind us of what passion is and, and where that abandon lies, because so much of it. I think the temptation as we go into adult life and the world sort of beats us down and there's a kind of hardness that can come into our lives as we get older. And I think it's the gift of our lives to be built, go and experience a story again, and be reminded and have those ideas of "Well, I don't know, maybe there is hope," and so I think it's really one of the most valuable parts of, of theater and performance is that we're reminded that we can, if we choose remain really young at heart.
End of Decode
GIDDENS: Mezzo-soprano Joyce DiDonato, writer Paul Thomason, and drag king Mo B. Dick, decoding the Composer's aria from Ariadne auf Naxos by Richard Strauss. Joyce will be back to sing it for you after the break.

MIDROLL
The Composer has just fallen in love for the first time, and it changes the way he feels about everything -- even music. Here's mezzo-soprano Joyce DiDonato on stage at the Metropolitan Opera.

Sein wir wieder gut
Hearing Joyce DiDonato sing "Sein wir wieder gut" from Ariadne auf Naxos is just about as exciting as falling in love for the first time. And just as gorgeous.
Well we've been talking about transformation. So we've decided to put our money where our mouth is, and do a little something different next time. Instead of decoding an aria, we'll do a deep dive into one of the most famous opera choruses: "Va pensiero," from Verdi's Nabucco.
Aria Code is a co-production of WQXR and The Metropolitan Opera. The show is produced and scored by Merrin Lazyan. Max Fine is our assistant producer, Helena de Groot is our editor, and Matt Abramovitz is our Executive Producer. Mixing and sound design by Matt Boynton and Ania Grzesik from Ultraviolet Audio, and original music by Hannis Brown. This project is supported in part by the National Endowment for the Arts. On the web at arts.gov.
Are you enjoying the show? Great! Let us know about it by leaving a rating or review. We love reading them, and they help people find us.
I'm Rhiannon Giddens. See you next time.
EASTER EGG
Copyright © 2021 New York Public Radio. All rights reserved. Visit our website terms of use at www.wnyc.org for further information.
New York Public Radio transcripts are created on a rush deadline, often by contractors. This text may not be in its final form and may be updated or revised in the future. Accuracy and availability may vary. The authoritative record of New York Public Radio's programming is the audio record.