Saint-Saëns's Dalila: She's a Femme Fatale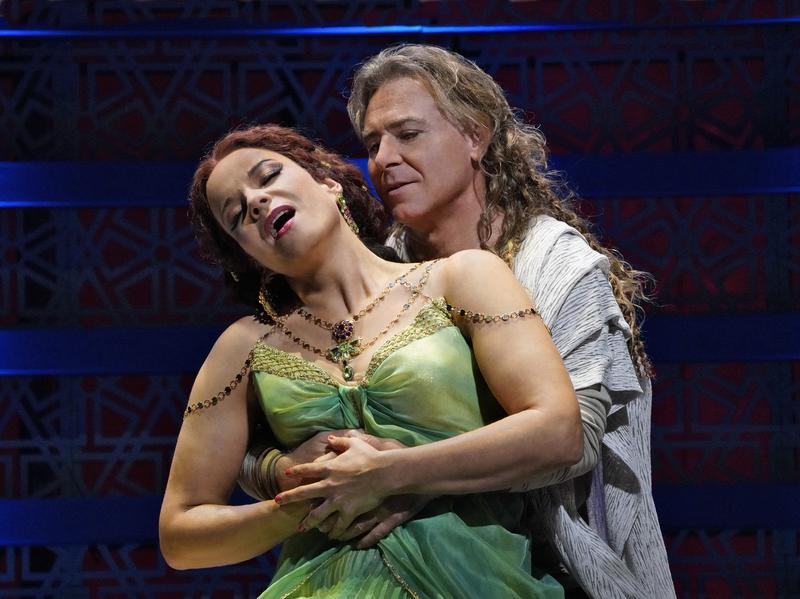 Transcript
[music]
Elīna Garanča: The voice is just the incredible, thick honey river. There is just like an oil which just covers your body around it, and you don't even realize that suddenly, it's everywhere around you.
[music]
Rhiannon Giddens: From WQXR and the Metropolitan Opera, this is Aria Code. I'm Rhiannon Giddens.
James Jorden: As she sings, it's almost as if she's slowly removing her clothing one note at a time.
Rhiannon Giddens: My mission, break down one famous aria so you can hear it with fresh ears. On this episode is "Mon cœur s'ouvre à ta voix" from Samson et Dalila by Camille Saint-Saëns.
Caroline Blyth: We think she really loves him, and then in the following scene, vengeance is all she's after, and we see just how terrifyingly treacherous she is.
[music]
Rhiannon Giddens: The femme fatale, she seduces, she ensnares, and sometimes she destroys men. It's an ugly cliché, but it's one that's stuck around for as long as we've been telling stories. I'm not really a fan of it myself. I prefer more of an ass-kicking lady like The Girl with the Dragon Tattoo, for example, but the femme fatale makes for good drama, which is why, of course, we find her in opera. We've got Carmen, Lulu, and the one we borrowed from the Bible, Delilah, well, in French it's Dalila. She seduces her ex-lover Samson for cold hard cash, and then she betrays and destroys him, leaving him blind and with a really bad haircut.
Samson et Dalila is based on the biblical story, and in act two when Dalila seduces Samson, we hear one hell of a gorgeous aria, "Mon cœur s'ouvre à ta voix." It sounds like a love song, but below the surface, it's simmering with seduction and betrayal, you know, the juicy stuff. I wanted a crash course in how Dalila weaves her deadly web and why it works so well in the song, so I put together a mean team of opera decoders. We've got a singer, a writer, and a professor. The singer is mezzo-soprano Elīna Garanča.
Elīna Garanča: My daughter today, she said, "Why do you like singing?" and I said, "I love that moment where I feel that I can connect. That for me is the best reward for being on the stage."
Rhiannon Giddens: I can relate. The writer is James Jorden.
James Jorden: I think it's fair to call "Mon cœur s'ouvre à ta voix" the signature aria of the femme fatale in opera. It is all about seduction.
Rhiannon Giddens: He's the editor and publisher of Parterre Box, the world's first opera blog, and would you believe he sang this aria himself once upon a time?
James Jorden: [singing] I love to sing that. That was great, that G-flat was just wonderful in my voice in those days. Now I don't sing anymore.
Rhiannon Giddens: The professor is Caroline Blyth, a lecture in religious studies at the University of Auckland in New Zealand. She studies biblical themes in contemporary culture.
Caroline Blyth: I've spent the past eight years researching Delilah and I can safely say that we've become best friends.
Rhiannon Giddens: Let's get this decode party started, "Mon cœur s'ouvre à ta voix" from Samson et Dalila.
[music]
James Jorden: Samson is the leader of the Israelites; Dalila is sent by an opposing party to seduce him and to find out the secret of his great power. She finds it out, which is his hair.
Caroline Blyth: Samson gives Delilah a bit of a backstory with Samson, which is not in the bible story at all. He presents her as a former love interest of Samson. They were lovers in the past, but Samson has then made the decision at some point to leave Delilah and turn his full attention to doing God's work. Delilah is just incandescent with rage, no man can leave Delilah, so she sets about seeking her revenge on her former lover, and that's the real motivation that lies at the heart of this opera. Delilah wants vengeance on Samson.
Elīna Garanča: Dalila has a certain task that she has to fulfill. However, she's full of admiration for Samson, I think, and this is how it very often happens in a life. The two people meet, they know it won't end well. and somehow their attraction, admiration, passion, love is just so strong that it's unavoidable, so these people come together and one of them has to crash.
[music]
James Jorden: Right before this aria begins, Dalila has made, I guess you'd call it a date to meet with Samson because he's so fascinated with her. Samson arrives and the first thing Dalila does is to say, "Go away, you don't love me anymore."
[music]
The aria is about seduction, making Samson fascinated with Dalila. She does this by relating how attracted she is to Samson.
[music]
Caroline Blyth: What we have is a meeting of two former lovers and Delilah wants vengeance on Samson because he dared to leave her when she loved him so much. It's partly a desire to help out her people and to be a patriotic Philistine, but also, there's a personal motivation there as well that we can't really ignore. We just see how powerful Delilah is because he just turns into this lilly-lover, jelly meat man who cannot resist her charms.
[music]
James Jorden: Once he is interested in her and fascinated by her, then she softens, and she starts talking about how her heart is opening like a flower in the first lyric of the aria.
[music]
Elīna Garanča: I think that you can hear the seduction of Delilah in the music. First of all, it's the structure of the orchestra who has all the time this kind of a palpitation.
James Jorden: The accompaniment at the beginning of the aria is based on a fast-moving figure, a patterning sound, very soft, that starts very low and moves upward and then back down again.
[music]
It goes through all the instruments of the orchestra. Everybody has a crack at this lovely figure because it does go on through the whole aria. It gets louder, it gets softer, it gets higher, it's lower. What I hear is a heart beating really fast and in this shallow beating that you get when you're nervous and you're shy and you want to present yourself to someone in an attractive way.
[music]
Elīna Garanča: I think it's like breathing in and breathing out. It really is just the feeling of, [sighs] "Okay, I'm going to start." I think obviously, being seductive is not always very easy just to go and say, "I want you. I love you, come." You need to find the right words. I think for her, while she's breathing in and breathing out, she also searches for the words how to start to say whatever she has to say.
[music]
James Jorden: My heart opens to your voice like the flowers open to the kisses of the dawn. The imagery and the poetry of the text is very sensuous and very based in nature. I think the poet Lemaire who wrote the libretto, is consciously imitating Bible verses. That he's actually trying to write something that is an imitation of Psalms or the Song of Solomon, where there's a strong use of nature imagery in that scripture.
Caroline Blyth: That idea of a flower opening conjures up all sorts of ideas of eroticism and desire. In the Bible, these images, flowers, fruit, nature are all very sexualized. I think the start of this aria really taps into that eroticism.
[music]
Elīna Garanča: It's all very rich and very fantasy full. It's esoteric. It's not daily language. It wouldn't be something which evoke you to be realistic, but just trying to connect in the spiritual and in the central way.
[music]
Sensuality is a sensation, but you give between lines. It's a certain electricity, it's a certain mental desire that you're trying to transmit. It's a millisecond of smell of something that you look at the person and you know you're going to like him, or you will not like him, but that first millisecond that we cannot control.
[music]
James Jorden: Between the verse and the chorus, there are a couple of changes that go on. One is that it goes into a different time signature, and it also slows down.
[music]
The change from the three-four time to the four-four time and also the change in tempo means that the music relaxes a bit. It's almost like Dalila has been standing up presenting her position, and now she's leaning back on the couch and just letting it pour out.
[music]
Elīna Garanča: The Dalila as the voice is just the incredible, thick honey river who just goes and smoothly takes every curve, and there is just like an oil which just covers your body around it, and you don't even realize that suddenly, it's everywhere around you.
[music]
James Jorden: It also has this slowly descending chromatic scale.
[music]
Elīna Garanča: You start on the one longer note, and then just slowly slide down on the scale and make it more and more intimate.
[music]
Caroline Blyth: The music has the chromatic slithering sensation as Delilah wraps herself around Samson, and it's wonderful the way that the music emulates that serpentine quality of Delilah. Any talk of a serpent might hearken back to the bit of Genesis and the story of Adam and Eve, and the serpent becomes seen as this symbol of evil and temptation.
James Jorden: A chromatic scale is the scale you would play if you used both the black keys and the white keys on the piano. Because it has these extra added notes that the ear doesn't necessarily expect, it's teasing and tantalizing. Chromatics in a woman's voice always means sex.
[music]
Elīna Garanča: Somehow the composers obviously thought that the chromaticism going from top to down must mean that it's sexy, [laughs] seductive.
James Jorden: Dalila in this aria has a lot in common with Carmen in her most important aria, "The Habanera." The refrain in each case is this slow chromatic descending melody. Slightly different in "The Habanera" than it is here. It's obviously not exactly the same tune. In a way, the melodies are sisters just as Dalila and Carmen are sisters. They're both femme fatale.
Caroline Blyth: During this time period at the end of the 19th century in Europe, there was a development of the character of the femme fatale that became really popular in the art of the time. Women were starting to make some more demands for social, sexual, and legal agency, and I think this became a real cause for concern during this period.
James Jorden: The concept of the femme fatale was a very early and mostly erroneous attempt on the part of men to understand how women's sexuality worked. Then men felt sexually attracted to women and they didn't understand why that happened, and so instead of looking inside themselves, they thought these women must have some kind of magical power that draws me to them, that causes me to do things that are destructive to me personally and ruined my family and all these other things. In a way, they projected their own sexuality onto the femme fatale.
Caroline Blyth: Her power is understood to lie in her sexuality, and I think that's key to understanding this character. The way that she can destroy men is by luring them into this erotic sticky web of sensuality. Men will know that she is utterly dangerous and that she's going to destroy them, but they can't resist her, and I think that's where her power lies.
[music]
Elīna Garanča: Every strong woman has a moment of doubts because it's very hard to be powerful all the time. I think that those doubts to bring them out, you have to have a lot of courage on every day because nobody wants to be seen vulnerable, particularly if you're considered to be a strong woman, but I think for the character, if you play it on the stage, it becomes very interesting because it gives a new dimension. I try to find, even if it's just for the split of a second, just to show a little moment where maybe she is just a normal woman and not this incredibly powerful calculative destroyer, the machine of destruction.
It makes my character actually interesting because I have to be very honest, if you just purely look from one dimensional, it's not an interesting character. It's not because she doesn't change from the beginning until the end. For me to make it interesting, I need to find my reasoning, and I try to imagine, and that's the beauty of the theater; everything is open to interpretation.
[music]
James Jorden: Like one sees the blades of wheat that wave in the light wind so trembles my heart ready to be consoled by your voice that is so dear to me. In the second verse of the aria, the accompaniment is changed slightly from the first verse and there's a quarreling sound that comes into the music that could be the sound of the wind going through the wheat.
Caroline Blyth: There's a repeated motif played by flutes that symbolizes breeze.
[music]
It reminds me anyway of that shifting restless spirit, the passion that blows over us and that we can maybe feel on our skin as well as in our heart.
Elīna Garanča: She starts to become more urgent in her rhythmical expression which I think demonstrates even stronger urge of achieving what she has to achieve.
[music]
Caroline Blyth: Dalila embodies this breeze that as it grows in strength, it becomes more and more dangerous. She's like this tornado of passion, and that's something that gets more powerful as we draw nearer and nearer to Samson's betrayal.
[music]
James Jorden: It also suggests this exotic music where a flute would play very rapid scales.
[music]
This is the sort of music that you might hear or might have heard of coming from the Middle East or from Asia. People were traveling more and because Napoleon was going from Europe through the Middle East conquering places, there was much more interest and much more knowledge about places outside of Europe, and so people were becoming more interested, what is happening in Egypt? What is a pyramid? What is a sphinx? Even if Saint-Saëns didn't go to these places, word was coming back.
Caroline Blyth: It was a time of colonialism and colonial expansion and imperialism, and there was a fascination and fear with foreign women and foreign lands. Foreign women became seen as something desirable to plunder, to colonize, to capture, sexually fascinating, but also quite dangerous and so making Delilah this exotic, erotic foreign woman. It just made her that little bit more dangerous and I think that comes out really strongly in the setting and also the music.
[music]
James Jorden: This aria also calls for a really beautiful and sustained legato on the part of the mezzo-soprano. Legato is the art of connecting one note to the next seamlessly so that you don't get the sense of note, note, note, note, but a beautiful paragraph of sound, a beautiful wave or curve of sound. It's very difficult to do, especially in this aria where the phrases are so very long.
Elīna Garanča: It's crucial for this aria to have a really impeccable legato. On top of this nervous, if you want to say, orchestra, you want to have a line which just never ends.
[music]
You just have this permanent slow-motion snowball which just goes and goes and grows and grows and grows until the highest point of it. It doesn't have a very high note where you could impress the people by the brilliance of the sound or something, it's just a very body like ecstasy screen.
[music]
James Jorden: As she sings, it's almost as if she's slowly removing her clothing. She starts out in the middle part of the voice and goes into an even more glamorous part of the voice and reveals each part of the voice slowly one note at a time.
[music]
Caroline Blyth: At the end of the opera, Samson destroys the temple and Delilah is there at the temple, and we know that she dies there. I think in many femme fatale narratives, we often see the femme fatale either being destroyed or redeemed because it's almost as though she's too dangerous to survive, and so what Saint-Saëns has done is he's killed her off. He cannot let Delilah win.
Elīna Garanča: I do believe that there is a moment where she genuinely wishes that they could just stay in this glass bowl, and being protected from everything else, and they could live happily ever after, so to say. I want to believe that she really means it because otherwise, it really is not a very nice character to play. [chuckles] I also believe that everybody has two sides, three or four sides in there. You cannot be just a cold-blooded murder.
James Jorden: "Mon cœur s'ouvre à ta voix" is an aria that all mezzo-sopranos want to sing, and basically, every other voice type would sing if they could. It is a gorgeous melody. It shows off the voice beautifully and it has a wonderful natural beauty. In other words, when you hear it, you think, "Oh, I've always known this piece." It sounds like something you never had to hear for the first time.
Caroline Blyth: Had Saint-Saëns and Lemaire asked me what I thought about Delilah in this opera, on the one hand, I would have said, "She's amazing, she's fantastic. I love the fact that you've created this incredibly passionate woman. A woman that's emotional but also powerful and strong. I would love to have that power myself." At the same time, "Why did you make her die at the end? I would have said keep her alive. Let's see her striding off in the distance, off to enjoy a better life."
Rhiannon Giddens: See, it's a lot more than just a gorgeous love song, and it makes somebody like me, who doesn't really like the femme fatale storyline, it's not really my thing, and it makes me love it because it's opera, [chuckles] and that's what opera does because it's magic.
[music]
Now let's hear Elīna sing it.
[music]
[applause]
That was Elīna Garanča singing "Mon cœur s'ouvre à ta voix" from Samson et Dalila by Camille Saint-Saëns. That's it for this episode of Aria Code. This show is a coproduction of WQXR and the Metropolitan Opera. Our producer is Merrin Lazyan, Brendan Francis Newnam is our editor, and Matt Abramovitz is our executive producer. Mixing and sound designed by Matt Boynton and original music by Hannis Brown. Our team also includes Khrista Rypl and Ricardo Quinones. Special thanks to Elīna Garanča, James Jorden, and Caroline Blyth for their insights. Join me next time as we climb the Mount Everest of tenor arias, will we make it?
Speaker 1: I consider opera singers as athletes because we are athletes. Singing those nine high Cs it will be like making nine quarterback sacks in the NFL. If you don't have that first C, [singing] kiss today goodbye. [laughs] The pressure is really, really high.
Rhiannon Giddens: I'm Rhiannon Giddens. See you next time, and todah, that's Hebrew for thank you.
Copyright © 2022 New York Public Radio. All rights reserved. Visit our website terms of use at www.wnyc.org for further information.
New York Public Radio transcripts are created on a rush deadline, often by contractors. This text may not be in its final form and may be updated or revised in the future. Accuracy and availability may vary. The authoritative record of New York Public Radio's programming is the audio record.
aria-code120418_episode1
Diana Damrau: Remember who you are, povera donna, a poor woman, sola, alone, abandonata, completely pushed away by everybody.
[music]
Rhiannon Giddens: Hey, I'm Rhiannon Giddens, from WQXR and the Metropolitan Opera, this is Aria Code.
Cori Ellison: In so many of his operas, Verdi was all about difficult choices, and usually it's between love and honor. Violetta is choosing between love and freedom.
Rhiannon: In each episode of Aria Code, singers and other experts decode one aria, and then we get to hear it all the way through with fresh ears. Today it's "Ah, fors'è lui" and "Sempre Libera" from one of Giuseppe Verdi's most famous operas, La Traviata.
Brooke Magnanti: Sex workers are everywhere. Anywhere that you could imagine yourself being, that's where we are, especially the opera house.
Rhiannon: Before we get started, there's a couple of super important things you need to know about me. First of all, I'm a Pisces, I'm also a folk singer, banjo player, and a fiddler. My main job on this planet is to excavate the hidden corners of American music. I co-founded a band called The Carolina Chocolate Drops. Yes, we're a Black string band, we played banjos, we won a Grammy, it was cool. The MacArthur Foundation called me one day to say that I was a genius, but none of this is why I'm here with you right now. Once upon a time in a faraway land called Oberlin, I trained to be an opera singer.
I wore the corsets, I sang the high-key sharps, and I completely fell in love with it, even though I left it to go play banjo. It just never went away, it just stayed with me, this music, this art form. I've branched out in different directions, but something always keeps me coming back, so the question is, why? Why does it lodge into your heart, into your very soul, and it just won't leave? That's the question this podcast is going to answer. For 10 episodes, we'll listen to some of the greatest singers from the Metropolitan Opera, talk about and sing some of the greatest areas ever written.
Not just singers, we'll hear from lots of other folks too. People who can take you deep inside a song and bring out some of the amazing details you might otherwise miss. In this first episode, let's start with one of my favorites because I actually used to sing it. Well, I tried to sing it. As you'll hear, it's a really hard aria. It's from Verdi's La Traviata, and it's more than an aria really, it's a full-on scene. Let me paint you a picture. We're in Paris, it's the 1800s, and Violetta is the Traviata, a fallen woman. She's a high-class escort, basically, and she's got it pretty good, except for the whole dying of tuberculosis thing.
There's this guy, Alfredo, he's been sweet on Violetta for a year and finally confesses his love. She tells him he is crazy, it's never going to happen, but then he leaves and Violetta, who's never been in love before, can't get his voice out of her head, so now she's got a choice to make and it's a big one. Freedom, or love. She's completely torn, and she's having all of the feels. Because it's opera, those feelings are set to song, and this one is pretty epic. To help reveal some of the magic, I've assembled a crack team of brilliant women.
Diana: Hello.
Rhiannon: Soprano Diana Damrau.
Diana: When I was 12 years old, I saw La Traviata, and it opened up my mind, my horizon, my future, my life.
Rhiannon: She's singing the role of Violetta at the Met. Dramaturg, Cori Ellison.
Cori: Glad to be here.
Rhiannon: She's sort of my go-to opera guru.
Cori: Always happy to talk about Traviata.
Rhiannon: Brooke Magnanti.
Brooke: I am such a fan of this aria.
Rhiannon: You could say her resume is eclectic. She's got a PhD in forensic pathology, and she used to be a call girl.
Brooke: Woo, [laughs] I'm excited.
Rhiannon: All right, Brooke, that's what I'm talking about. They're going to show us what's really at stake for Violetta musically, and dramatically, as she makes the biggest decision of her life. Now, let's decode the Act I finale from Verdi's La Traviata.
Cori: Who is Violetta? On the one polarity, she's every woman.
Brooke: Violetta absolutely is every woman. She has a moral core, and she goes on a real journey.
Cori: On the other hand, she's also based on an actual human being who lived in the 19th century.
Diana: Marie Duplessis, a real courtesan, who lived in Paris.
Cori: She had huge success and rose to absolutely the top ranks of Parisian society.
Diana: She must have had an aura where everybody turned around and was captivated by this woman.
Cori: She ended up, of course, becoming very ill with tuberculosis, which, at the time, was a death sentence.
Brooke: She died adored but impoverished, all of her things had to be auctioned off. That is something that is a seed of fear for a lot of sex workers, "When this is over, what do I really have?" I have what appears to be freedom now, but will I always have it?
Diana: Courtesans were a kind of status symbols of the man in that time. Instead of a Porsche, "This is my house, this my swimming pool, this is my sailing boat. This is my courtesans." [laughs]
Brooke: I'd like to think that if we knew Violetta today, she would be working the way that I worked. What I offered was a thing in the business that we call girlfriend experience, so meeting with me was not like being with a long-term companion so much as it was like going out on a date with somebody who was very interested in you, and where there was guaranteed sex.
[music]
Cori: Act I of Traviata takes place at Violetta's home, and she's giving this grand party. Everybody is all dressed and in a very festive mood, and she's introduced to this young man from the country, Alfredo Germont. He claims that he's been in love with her from afar for a year, and she laughs it off. "Oh, I'm not the marrying kind, you're barking up the wrong tree," but obviously, it's affecting her. She likes him, she's very interested.
Diana: This is really a little shock for her. She cannot collect her thoughts, and she feels things she has not felt before. She feels hope that maybe she can experience love for the first time in her life.
Brooke: I can definitely relate to being completely unaware that love is even a possibility until it's literally right there in front of you, confronting you. I never had particularly strong feelings for any of my clients, but after I retired, and I was just dating out in the civilian world, I went on a series of very disappointing dates. I'd resigned myself to, "Okay, I'm just going to have hookups. I'm not going to get attached to anyone, and I'm not going to make myself emotionally available." The man that I later end up marrying and is still my husband, when he admitted to me that he was having feelings, it was like the first time for me that it had ever occurred to me, "Oh, or maybe I have feelings for this person as well." You weren't looking for it, you weren't thinking about it, and then all of a sudden there it is like some kind of gift.
[music]
Diana: She also knows that if a courtesan experiences love, she will have to pay for it. She's torn to both sides, "Yes, it will work, I can love, and I can change my life," and on the other hand, actually not, "I'm caught, I'm in the cage. I cannot escape the town, the people, the society, and death also." She's sick, she'll probably not recover. She doesn't know how much time will be left, and that's how the aria starts. It comes out of nothing, the people are gone, and the house is empty, and then we go like a big zoom into Violetta's heart, hard and she says, "È strano, è strano."
"It's strange, really strange." "In core Scolpiti ho quegli accenti." "It's written into my heart now the words," Alfredo, this young man, said. Then you hear, "Pa, pa, pa, pam, pa, pa, pa, pam." You can almost hear her heartbeat. She says, "Could it be something bad for me to experience serious love?" The music goes up, and you have long notes, and you hear softness in her voice, as well as that she's deeply, how do you say it, struck by what just happened, the scene with Alfredo. I think this was just a shock to get this wave of love of this young man. She ends the recitativo with actually almost the question, "Can I not take it?" We know the answer, she wants it.
Brooke: Love is important no matter who you are. That conflict between being paid to give people an experience of love versus the love that you want for yourself, it's something that a lot of sex workers, even now, wrestle with because there are very deep assumptions that somebody who has sold sex cannot feel love. That she has somehow shut off her heart from the rest of the world and can't know what it truly means to love. Something that, of course, is proven untrue. She sacrifices absolutely everything for love.
Diana: Then we go into the andantino of the aria, it's, pa, pa, pa, pa. These triplets which go up in courts, it's like she becomes a little girl. She really expresses her deepest wish, "Ah, fors'è lui che l'anima, solinga ne' tumulti." That means, "Oh, maybe it's him. It's him my soul was longing for. He's the dream prince." The prince charming, you would say in English. You hear this in every little melody, and every little note Verdi has written for it. She's whispering her hopes and her dream.
Cori: It's such an amazing aria because she says, "Is he the one that I've been dreaming about?" The first part of the aria is an F minor. It's this bittersweet kind of thing, warm and hopeful but hesitant. Then all of a sudden, it blooms into F major, where what she is doing then is literally quoting his music that he sang to her earlier in Act I in their duet, Un dì, felice.
Diana: "Ah, quell'amor, quell'amor ch'è palpito dell'universo, dell'universo intero."
Cori: Love is the heartbeat of the whole universe.
Diana: Then she repeats it word by word with the right rhythm, with the right notes. It's absolutely identical. That means it's really inside her heart. You feel her excitement, you feel the longing. Verdi really shows us, it's love, but for the courtesan, there will be a bitter end, and she knows it. There is another little recitativo accompagnato, we can say, that means accompagnato is that the voice is not really free. It has a rhythm which goes through, and the orchestra plays much more. It's the moment when she says, "Follie, follie." This is complete craziness.
This is wrong. This is stupid. It's delirium. You're fantasizing. It can never happen. Then comes the moment when the scene is steadily repeated over one, two, three, four, five, almost six bars. I think it's like she would hammer it into her mind, into her consciousness. "Remember who you are, povera donna, a poor woman, sola, alone, abandonata, completely pushed away by everybody." Nobody can be as alone as she is. After continuing one note forever, [heavy sigh] then she releases. She's opening a bottle of champagne, "I have to enjoy life, I have to live in voluta."
That means, not sex, drugs, and rock and roll, but that means, "Yes, let's go for it." You can hear it in the music. The vocal line goes up and then goes down in circles. It's full of life and full of power. Power.
Brooke: Power in our society is money and freedom. Sex work is literally empowering. It puts money in your pocket, it gives you free time, it gives you peace of mind of not having to worry about how I'm going to pay the rent next month, or "How am I going to have enough time to do the things that I need to do?" I loved being a sex worker. It sounds terrible and glib, and all the bad things to say that. Everybody has their bad days at work. I had my bad days at work. I've had far worse days as a writer. It was good to me.
Diana: Now is the moment the huge orchestra starts playing the Allegro Brillante, pa, pa, pa, pa, ram, pa, ram, pa, ram pa, the Sempre Libera. In this moment, it is not happiness. It's not joy, it's almost frenetic. It's really, she's desperate. You can hear it in the music, and she always goes up and higher and higher. It's, I think, almost like a little, in that scene, she's so desperate. She doesn't know what to do.
Cori: She knows that she's a ticking time bomb. She knows that she only has a certain amount of time left, and she wants to live it to the fullest. The sentiment that she expresses in Sempre Libera, she says, "Sempre libera degg'io, folleggiare di gioia in gioia." That, "I want to flick from joy to joy." It's like she wants to live life at high speed. She wants to take in all of the joys of a full long life in the short time that she has.
Diana: It goes up and down fast, and that's what coloratura is. It has to be sung in a very virtuosic way. That means all the notes should be there and should be hearable. What is more important is the meaning behind, and there's the coloring behind, why? Why is she singing this in this tempo, in this movement?
Cori: She has to go through this incredible gamut of emotions, which Verdi maps out quite clearly, but that takes her from long lyrical lines to the most dizzying coloratura. It has this relentless quality because he's trying to just whip herself into this lather of pleasure and enjoyment and dispel these thoughts of love.
Diana: Then there is the famous last note, the famous high note at the end, which is actually not written by Verdi. It became tradition, and I think, yes, if the soprano has this note, if she feels good that night. and she sings it fine, wonderful.
Cori: Act I ends with her having gone through this real deep reflection about love, and could this be it, to, at the end of the Act she just asserts, "No." Her independence, "I'm just going to be free and enjoy myself." By the beginning of Act II, we see how well that vow has worked because we find that she's been living in the country with this Alfredo who has just swept her off her feet.
Brooke: I think I would have gone the other way from Violetta. In that very moment, me, a 27-year-old woman trying to survive in London, who, in her heart did not believe in love, I think I would have chosen that feeling of freedom, I'm afraid. Life has gone in other directions for me, and it's shown me that would have been the wrong choice.
Cori: Who hasn't experienced something like that? Who hasn't had to mull over some kind of a really difficult decision between their heart and their head? I think everybody can relate to this.
Diana: For me, it was also very difficult. I searched for a long time, and I kissed a lot of frogs. [laughs] It's also a question of luck, and also, it's timing. I think when you really feel it deep inside, there's no question. You will go for it. For me, there was no question at all.
Rhiannon: Hey, this is Rhiannon. That was Soprano, Diana Damrau, dramaturg, Cori Ellison, and writer and former call girl, Brooke Magnanti decoding the Act I finale of La Traviata by Giuseppe Verdi. Now, let's hear Diana sing it uninterrupted with the Metropolitan Opera Orchestra.
[music]
[Act I finale of La Traviata performed by Soprano, Diana Damrau with the Metropolitan Opera Orchestra]
Rhiannon: That was Soprano Diana Damrau, singing the Act I finale from Verdi's La Traviata. Aria Code is about to aria close out this episode. See what I did there? Our producer is Merrin Lazyan. Brendan Francis Newnam, I love that name, is our editor, and Matt Abramovitz is our executive producer. Sound designed by Matt Boynton and Original Music by Hannis Brown. Our team also includes Ania Grzesik, Khrista Rypl, and Ricardo Quinones. This show is a co-production of WQXR and the Metropolitan Opera. Special thanks to Diana Damrau, Cori Ellison, and Brooke Magnanti for their insights into the Act I finale from Verdi's La Traviata. Join me next episode when a biological anthropologist puts a lovesick tenor into a brain scanner.
Female Speaker: If I were to put Rodolfo into my brain scanner, directly after he's fallen in love with Mimi, I would have found activity in a tiny little factory near the base of the brain, called the ventral tegmental area. It's a brain region that actually makes dopamine, giving you that feeling of elation, focus, motivation, and craving that you could see so clearly in him and in her.
Rhiannon: I'm Rhiannon Giddens and we'll see you next time. Mille Grazie.
[music]
Copyright © 2022 New York Public Radio. All rights reserved. Visit our website terms of use at www.wnyc.org for further information.
New York Public Radio transcripts are created on a rush deadline, often by contractors. This text may not be in its final form and may be updated or revised in the future. Accuracy and availability may vary. The authoritative record of New York Public Radio's programming is the audio record.