Rossini's Barber of Seville: On a Wig and a Prayer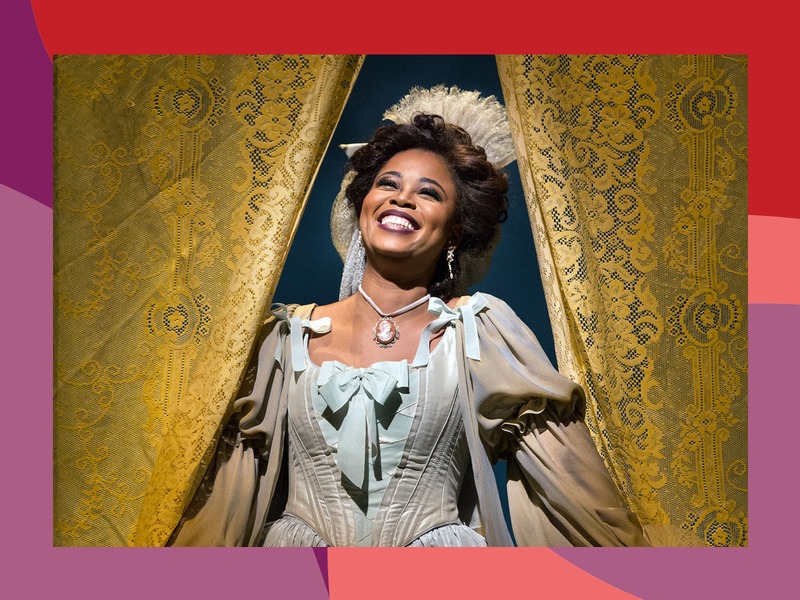 Transcript
Aria Code
"Una voce poco fa"
from Rossini's Il barbiere di Siviglia
BILLBOARD
Theme music
YENDE: It's like a pigeon, being locked in and not allowed to fly. And all she wants is to just get out of this house and enjoy freedom.
GIDDENS: From WQXR and the Metropolitan Opera, this is Aria Code. I'm Rhiannon Giddens.
CONLON: People should be free to choose their own mate, and they should not have that forced upon them by anybody.
GIDDENS: Every episode we crack open a single aria so we can see what's inside. Today, it's a feisty number from Rossini's Barber of Seville -- "Una voce poco fa."
SANGHERA: And I just remember thinking, "Ugh," at the thought of marrying a stranger. And there was this rising feeling of, "No, I'm not accepting this. I'm not marrying him."
GIDDENS INTRO
[Singing] Figaro… Figaro… Figaro, Figaro, Fiiiiigaro!
[post music]
You know that one!! It's from The Barber of Seville by Giaochino Rossini. And here goes, in my Italian this time: Il barbiere di Siviglia.
The Barber of Seville is based on a play by the French writer Pierre Beaumarchais. It's about scheming men and a clever woman who escapes a forced marriage and finds her freedom. It's got some of the most memorable characters and loopy plot twists in opera history. So buckle up, 'cause here we go.
First there's the young, handsome Count Almaviva, a nobleman from Madrid who's very wealthy, and he's got the hots for Rosina, a beautiful young woman from Seville.
So he does what anybody would do: disguises himself as a poor student named Lindoro, goes to Seville and serenades Rosina beneath her balcony window. And the dude can sing!
The Count learns that Rosina's been locked away in the house of the grumpy old Doctor Bartolo. He wants to marry her. (Gross.) But Rosina turns out to be a total firecracker, as you'll hear in her first big aria, "Una voce poco fa." She lets us know that while she might act the part of the submissive ingenue, she is really, really not to be messed with! And she certainly will not be forced to marry anyone she doesn't love. In a world where women are expected to accept the lives laid out for them, she writes her own story.
So The Barber of Seville is a light and energetic comedy... but with some pretty deep stuff hiding just below the surface.
And because this is Aria Code, you know we're going to get into that deep stuff with three stellar guests.
First, soprano Pretty Yende. She first sang Rosina in Norway in 2014.
YENDE: This girl is such fun. She's witty, she's smart. And it gives me so much joy and I'm happy every time I sing it.
Next, James Conlon, conductor and Music Director at the Los Angeles Opera.
CONLON: The Barber of Seville is the opera that opened up my life to classical music, and I realized suddenly that I couldn't live without it. I was 11 years old when I saw it, and all I could think about is The Barber of Seville.
And third, Jasvinder Sanghera.
SANGHERA: I regard myself as a survivor of a forced marriage, but also most importantly an activist and a campaigner for women's rights.
Jasvinder has spent the last four decades advocating for women, children, and men silenced by domestic abuse and forced marriages. In 1993, she started a charity called Karma Nirvana.
We'll hear Jasvinder's story, and Rosina's, as we decode "Una voce poco fa" from Rossini's Barber of Seville. Let's do this!
DECODE
CONLON: The Barber of Seville is a classic rescue story. It's very much like fairytales with a young maiden who is locked away in a castle by some ogre. And there's a young man who's going to go through all sorts of trials in order to free her. Then they marry and live happily ever after.
The three central characters are the Count of Almavia, his ex-servant Figaro, and Rosina.
YENDE: I did my debut singing Rosina in Oslo, in Norway, a few years ago. And it actually ended up being one of my favorite roles. My character, actually, she succeeds, and she never dies, which is very, very rare. Most roles that I play, it's assured that I will die at the end, but this one, no, they actually probably live happily ever after.
SANGHERA: I am one of seven sisters. I have one brother. I grew up within a traditional Indian Sikh family. We were born in England. My father came from India in the late 1950s. And I describe my childhood as colorful, sharing a bed with my sisters because we lived in a very small house. And playing in the streets when we were younger and laughing and my mother cooking some sort of curry on the stove and you could smell it throughout the whole house. And I remember the love between us.
CONLON: Rosina is the ward of an older man who is a doctor/lawyer named Dr. Bartolo, and she is living in his house. She presumably is an orphan, probably from a high-class family, but we don't really know. And she's miserable because he wants to marry her and he keeps her in prison, as it were, he doesn't let her out, she can't talk to anybody.
YENDE: She's a young woman, locked into this house of Bartolo, wanting to escape. It's like a pigeon, you know, being locked in and not allowed to fly. And all she wants is to just get out of this house. She's very determined to go out and enjoy freedom.
SANGHERA: As we got a little bit older, my brother's life was very different to ours in terms of the freedom that he was allowed and that we were not allowed. And I used to question that all the time. I used to say, "But why? Why, mum? Why can't I go out with my friends? He goes out with his friends. You know, he can have a bicycle and he's allowed to listen to Western music," because we were not even allowed to listen to that, "and have friends that were not from the same Asian community, but we're not." And my mother would just shout back at me and say, "Look, just leave it. That's how it is. You're a girl." And I was a bit of a tomboy, actually. So I would steal his bike for a little ride, climb trees and things. My mother would always shout at me for doing that. But I persisted.
CONLON: Now The Barber of Seville starts with the Count of Almaviva coming early at dawn to serenade Rosina, with whom he's never spoken. And he sees his old servant Figaro. And together they are going to plot how to get Rosina out from under Dr. Bartolo's clutches.
Dr. Bartolo is this classic type of a belligerent older man -- complaining, domineering. But he, in the end, will have to get out of the way because the lesson, if there is one, the moral is: young people should be able to be together by choice. People should be free to choose their own mate, and they should not have that forced upon them by anybody.
SANGHERA: So an arranged marriage was a valued tradition within my family. My mother and father would be arranging these marriages for the majority of my sisters when they were children. And then they would be expected to marry these men under the age of 16 years old. They were almost like lambs going to be slaughtered. And their marriages were terribly unhappy marriages.
And I came home from school one day. At the time I was 14 years old and my mother -- very jovial, very happy -- said, "I want to talk to you." She sat me down and she explained to me that it's time to get married. And then she pulled out this photograph of this man who she explained to me I was promised to from the age of eight years old, and that he was going to be my husband. And I remember looking at this photograph and thinking, "He's shorter than me, he's older than me." And he had this weird short haircut. And I just remember thinking, "Ugh," you know, at the thought of marrying a stranger. And there was this rising feeling of, "No, I'm not, I'm not accepting this," and I dared to say, "I'm not marrying him. I want to go to school. I want to go to college." And that was when the rage from my mother hit me. She was very clear. "You will not dishonor this family by saying no." In Punjabi, she said "Tere full lagge aa," which means, "Do you think you have flowers attached to you? You know, why are you different?" And she put the photograph on the fireplace and she said, "You look at this picture every day and you will grow to like him."
Recitative
YENDE: We have seen the exchange between Figaro and Lindoro talking about this girl who's up there, because apparently the Count has fallen in love with her. And of course they are organizing this way to get in contact with her. So she has just received a song, which he was serenading to her, which is why she then says, "Una voce poco fa."
[singing, "Una voce poco fa"]
CONLON: "A short time ago, I heard a voice, and it has wounded my heart."
YENDE: She explains to us that she has already been taken by the sound. And of course, that sound, or that voice, was Lindoro. And then she vows that she will have him.
CONLON: "Yes, Lindoro," who is the Count of Almaviva, "is going to be mine. I swear it, and I will win him."
SANGHERA: At the age of 15 and a half, when my friends, you know, my peers were being adolescent teenagers, exploring life, sexuality, makeup, hair, boys,my life was the opposite, but I desperately wanted a life where I could express myself. And that was when I was really kicking back with my mother about the marriage. "I'm not marrying this stranger. I'm not, Mother, I'm not." And I almost had a secret life where I would, you know, do things that would be deemed shameful -- not crazy things, basic things like, you know, going out with your friends or just having a cigarette in secret or talking to a boy -- just talking, nothing else. My mother saw that this rebel, this person who is rocking the boat, who was very sassy, needs taming. So I was taken out of school and I was locked in my bedroom with the padlock on the outside of the door. And I would have to knock on the door to go to the toilet. Food would be brought to the door and the door would be open to allow me to eat. So I was a prisoner in my own home.
CONLON: When Rosina sings the name of Lindoro, she does so with mounting intensity. She repeats it. And when she repeats it, it's higher and there are a rapid repetition of notes, fast, and this is her way of emphasizing her interest.
YENDE: And so, as an interpreter, you have this incredible ways of telling us how do you feel about this person. Love has come to play, and she's very, very sure that she will have him. Throughout the aria, she always, always insists on that. So through the relationship between her, Lindoro, and Figaro, they actually get to make a plan for her escape.
SANGHERA: So that was when I planned an escape. I thought, "If I say yes, then at least I'll be allowed some freedom of movement." So I said to my mother, "I will marry him." Oh, and she was elated. The padlock was removed from the door, and I played the role of dutiful daughter, wife-to-be, in order to allow the freedom of movement around the house and even the freedom of movement to be allowed to see my best friend.
And that was when I met my best friend's brother. Jesse was his name. I was 16 and he was in his early twenties. And I began to disclose to him what was happening in my life at that time. And I started to like him, and he began to like me, and we became girlfriend and boyfriend in secret. And we were sharing and expressing love with each other, kindness, and that unconditional love is something I'd never experienced in my life. So it was a very new welcomed feeling from that world of punishment and being held captive.
And then it all changed.
Aria - Second part
CONLON: The feeling of the second part of the aria is different. And that's where Rosina tells us who she is. She's going to reflect on herself, and that's when the tempo changes.
YENDE: We go into an, a very intriguing part of the aria, which is probably the most melodic, harmonic. This way Rossini introduces to us the character of Rosina. Rossini allows Rosina to actually tell us who she is. She says, "Io sono docile."
CONLON: "I am sweet."
YENDE: "Sono rispettosa."
CONLON: "I am respectful."
YENDE: "Sono obbediente."
CONLON: "I am obedient."
YENDE: "Dolce."
CONLON: "Sweet."
YENDE: "Amorosa."
CONLON: "And loving."
YENDE: "Mi lascio reggere."
CONLON: "I allow myself to be commanded."
YENDE: "Mi fo guidar."
CONLON: "I allow myself to follow."
SANGHERA: One day I heard my mother on the phone talking to somebody about the time nearing for me to go to India to have this marriage. And she was discussing the air flights, the tickets. And I knew it was imminent. It was getting close. And that was when it became really frightening. And that was when I told Jesse that "you have to help me." And when I was in the bedroom, Jesse would come down the entry to the house and look up at the window late at night. And how he got my attention was he would throw stones at my window. And I was like, what's that noise? You know? And then I spotted him... there. And he's mouthing something. Obviously he can't talk and he's just letting me know, "I'm here. You know, I am here." And that gave me hope.
CONLON: She is touched by the fact that she heard this young man singing to her from outside the balcony. There is a feeling of optimism that this young man is actually going to be able to help her change her life situation. And then he's going to don two disguises in order to get access to the house: once as a drunken soldier who has orders that the doctor has to put him up for the night; and the second time he comes disguised as a music teacher, so that the Count has a chance to talk to Rosina, and she to him. So disguise plays a big role in this opera.
SANGHERA: We were shopping one day in our local town for my wedding. We went into this shoe shop, and my sister was with me, Robina. My mother was there and we were looking at the shoes. And there's this strange-looking woman in the shoe shop. You know, her makeup was out of place and what she was wearing just didn't seem to fit her. She looked really strange. And my sister was touching me and she was giggling about it. And then my mother went across with Robina to one side of the shoe shop. And then this person came really close to me, grabbed my hand, and put something in my hand. And then they lifted their hairline up, they had a wig on. And I realized it was Jesse in disguise, secretly dressed as a woman, trying to get a message to me. And then he scuttles out of the shop very quickly. And I just keep very quiet, just desperate to read this note.
The note said, "Get your suitcases ready. Just put them in your garden, and I will come down the entry at three o'clock in the morning. I will collect them and take them home." So now there was this preparation happening for us to elope. And in my mind, I'm thinking, "How am I going to be able to do this?"
Aria - Third part
YENDE: The first part of the aria, "Una voce poco fa," it's like telling a story of what's just happened before. And then eventually she says who she is and how she feels. And then of course we get to the part where she says, "Ma" -- "But." But if they touch where my weak spot is, I will be a viper before giving up. I'll make them fall. Yes, I'm all these nice things. I can be nice and respectful, but you know, I also have a side that you don't want to cross." Basically you don't want to get on Rosina's bad side.
CONLON: And so we see the two sides of her character, "I'm sweet," et cetera, et cetera. "But if you cross me, I can become a viper." And that's the essence of what's going on in both the orchestra and coming from Rosina herself.
We get an opportunity to hear that she can sing coloratura, that means she can sing quickly and rapidly, thus fulfilling the function of introducing us to a character -- the zesty and spicy young woman who was fulfilling expectations of the time that she be sweet and docile, but at the same time she shows character. She shows that she's a strong person as well.
YENDE: You need to learn incredible phrasing. You need to learn about dynamics, breath control, but also incredible understanding from the heart because otherwise it can be boring. There's a responsibility to that artist to find the mystery, the authenticity of yourself and how the music inspires your soul in a way that could be unique.
And I believe very, very much that Rosina's "Una voce poco fa," it shows us the sentiments of her looking at her situation. And then eventually saying, this is who I am, but this is what I want to do. "Vincerò, vincerò."
SANGHERA: What I decided was I would pack two cases, and I literally put the cases... tied them on sheets and lowered them from the bathroom window to land in the garden. I kept on flushing the toilet, so my mother would think if anybody heard me, "Oh, she's just in the bathroom." And I lowered the two cases, pulled the sheets back, closed the window carefully, went back into my room and I was praying, in the morning they wouldn't be there. You can imagine it -- my mother going in the garden, which she often did, you know, her seeing two cases there. That's it, you've given the game away.
In the morning, I went down and thankfully the suitcases were not there. He'd taken them. So the plan was getting closer and closer.
YENDE: She likes to play and to scheme her way out, but not in a very malicious way. Yes, she is such a good person. Yes, she respects authority. Yes, she wants fun, joy, and love and happiness. But she is still a human being, and there are parts of us that are very precious, very sacred, and not to be messed around with. It is so serious, actually, but the way Rossini writes it, he writes it like oom-cha oom-cha, oom-cha, oom-cha, which in a way goes against the seriousness of what she means.
CONLON: So we see it treated in a light type of comedy in The Barber of Seville. Comedy tells us something about serious situations, and does so in a way that makes it attractive and entertaining for us while a more serious issue is being addressed.
SANGHERA: My father used to work nights and he would sleep during the day. My mother was at work. My sisters were at school. And, I just decided, I have to go and I have to go now. And I remember writing a note for my mother and my father telling them how much I loved them, but I did not want to marry a stranger, and that this was the only way. I remember going downstairs, opening the front door and just running through the streets like a demented person almost three miles to where Jesse worked, because I knew as soon as they realized that I had gone, then they're going to start looking for me. And I stood outside his factory waiting and waiting. And then he came out with all the crowds of people coming out and he was absolutely shocked to see me. And I grabbed him and I said, "We have to go. We have to go right now. You have to help me." So he went home, got the suitcases, got the things, filled his car. I remember being crouched behind this wall for what seemed like hours. And I was somebody that was never allowed to go anywhere without my parents' permission, and the fear was immense, because at some point, somebody's going to find the letter and they're going to know I've run away from home. So the clock was ticking.
Aria - End
YENDE: One of the things that I enjoy the most about singing this aria is the possibilities that are always at my disposal. How I will end it. Will I end it with the high E or will I go down to a normal conclusion? Of course, any audience that comes to see Il barbiere di Sevilla, they are looking forward for those highlights -- the money notes.
But performing it at The Metropolitan Opera house is such an incredible feeling because the audience is so warm. And most times as I go through the evening and go through the aria, I can sense and get inspiration in the moment.Yeah, I'm that kind of a singer. I'm always living in that moment.
SANGHERA: And then Jesse came and got me. I jumped into his car, his car was full -- blankets were in there, pillows were in there, everything was in there. And he looked at me and he said, "Where shall we go?" And, I had no idea. I just, I don't know. So he opened up this big map and he said, "Close your eyes and wherever your finger lands, that's where we will go."
So I remember closing my eyes, putting my finger towards the top of the map because I thought, they'll never find us somewhere up there. And my finger landed on Newcastle. And I said, "Newcastle." And he said, "Right, Newcastle it is."
YENDE: I never do things the same way. But most times I was inspired to actually end the aria with the high E.
CONLON: So the violins and the flute at the top are going to lead the way, and the orchestra finally gets its say to have a very brilliant ending.
Reflections
CONLON: So we learn in the course of the opera that Rosina is very smart, intelligent, quick-witted, determined, can show a fiery character, she's brave, and that she is in love. And she's going to get out of this situation where she is oppressed and she is going to be able to choose her mate.
YENDE: One thing that I love most about what I get to do is to walk into the shoes of incredible human beings, through beautiful music in the most beautiful places and concert halls and opera houses of the world. And the inspiration from these amazing human beings can always contribute to how we feel or how we will have an outlook in life. And as I think of Rosina, I think that probably she's one of the most positive characters I've played on stage, being determined for freedom and for a full life.
SANGHERA: Jesse saved me in so many ways. And we both grew through this experience. He was my first boyfriend, the first person I ever kissed. But also I was also dealing with so much trauma at the time, and I was still a child. So we grew apart is the fact of the matter. But when I look back at my 16-year-old self, and I look at the decision that I made, would I make that decision again? Absolutely. I would, for a number of reasons. And the key one for me is that my three children will never, ever have to inherit a legacy of abuse.
And I'm pleased to say that I am in a loving relationship today, and me and my children have immense love and they're independent, free thinkers, which is the greatest gift I could give them as a parent.
So, I'm in a good place and I'm thankful that that sassy being who said what she thought and felt that was different dared to push the boundaries in order to have a life of freedom and independence that everybody should be entitled to. That really makes me feel proud.
GIDDENS: Human rights activist Jasvinder Sanghera, soprano Pretty Yende, and conductor James Conlon decoding "Una voce poco fa" from Rossini's Barber of Seville. Pretty will be back to sing it after the break.
MIDROLL
The young Rosina has heard a voice that's shot straight to her heart, and nothing will keep her from having the life that she chooses. Here's soprano Pretty Yende with "Una voce poco fa."
"Una voce poco fa"
And that, ladles and gentlespoons, is how you do it! Soprano Pretty Yende hitting the kind of notes most of us only dream about in "Una voce poco fa" from Rossini's Barber of Seville, and making it sound so easy.
And in case you're wondering what happens to the two lovebirds from The Barber of Seville, just hang tight for a couple weeks, because next time, the Count is back -- this time in Mozart's The Marriage of Figaro… Figaro… Fiiiigaro. Sorry, it's just really hard to stop doing that.
Aria Code is a co-production of WQXR and The Metropolitan Opera. The show is produced and scored by Merrin Lazyan. Max Fine is our assistant producer, Helena de Groot is our editor, and Matt Abramovitz is our Executive Producer. Mixing and sound design by Matt Boynton and Ania Grzesik from Ultraviolet Audio, and original music by Hannis Brown.
Please keep those ratings and reviews coming into Apple Podcasts -- we love reading them! And thanks so much for all the lovely tweets about the "Nessun dorma" episode. @2Bistheanswer and @WatchNwachukwu… I feel you. Keep spreading the word, good people!
I'm Rhiannon Giddens. See you next time!
Copyright © 2021 New York Public Radio. All rights reserved. Visit our website terms of use at www.wnyc.org for further information.
New York Public Radio transcripts are created on a rush deadline, often by contractors. This text may not be in its final form and may be updated or revised in the future. Accuracy and availability may vary. The authoritative record of New York Public Radio's programming is the audio record.