Philip Glass's Akhnaten: I Am Your Sunshine, Your Only Sunshine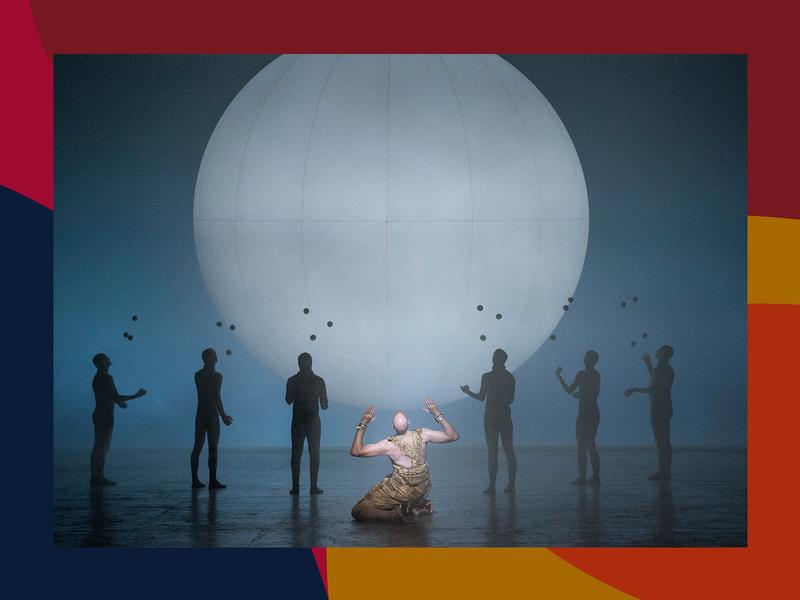 Transcript
[music]
Anthony Roth Costanzo: Is Akhenaten not an occult leader? Is he terrifying or is he a prophet in the best sense of the word? [music]
Rhiannon Giddens: From WQXR in the Metropolitan Opera, this is Aria Code. I'm Rhiannon Giddens.
Kara Cooney: It's the perfect storm to set up an experiment in religious change that pulls people along with it to its most bitter conclusion.
Rhiannon: Every episode, we excavate a single Aria so we can see what's below the surface.
Karen Kamensek: If you're like, "Oh my gosh, I love this music, but I can't describe why," I think it's because it might force you into a kind of meditation."
Rhiannon: Today, it's the Hymn to the Sun from Akhnaten by Philip Glass.
John Schaefer: It's hard to imagine a contemporary composer who has not been influenced by Philip Glass. It's a sound that's been endlessly imitated, and yet, it's never been duplicated.
Rhiannon: Now, I can pretty much guarantee that you've heard of Einstein, and Gandhi too, but both inspired operas by the American composer, Philip Glass. They're part of a trilogy, actually, three portrait operas about revolutionary thinkers. The third opera in that trilogy is about Akhenaten. He's cool, I had to look them up too. Akhenaten was a pharaoh in Egypt about 3,400 years ago, and this was back when people believed in a lot of Gods. They were polytheists and Akhenaten believed in only one God, only one, and that was the sun. He pushed this controversial new idea, monotheism. The Egyptians completely despised him for it back in the day, and even now, people argue about whether he was a visionary or really just a cult leader. Some people think his ideas from the roots of modern religions, but more on that later. Either way, he made his mark on history. Philip Glass writes this opera about Akhenaten. Over about 10 scenes, the opera shows his rise and his fall. Right at the point where he's really established himself as a ruler, you get the only real Aria in the piece, Akhnaten's Hymn to the Sun. Now, this Aria doesn't sound like the other ones we usually talk about on the show. There aren't any grand melodies or vocal acrobatics, it's simple, repetitive, and entrancing, a.k.a Philip Glass's thing, but there's more here than meets the ear. I've asked four brainy people to help unpack this music. [music] First up, we have Anthony Roth Costanzo. He's the countertenor who sang the role in Los Angeles in 2016, and he's bringing it to the Met now.
Anthony: Working on this has made me realize why people get so obsessed with ancient Egypt because now, I wear a little Horus eye around my neck and I have postcards and books and all kinds of things at home.
Rhiannon: Next, we have Karen Kamensek.
Karen: I'm a bit of a Philip Glass groupie.
Rhiannon: She's conducting Akhnaten at the Met and she and Glass, go way back.
Karen: I met Philip when I was 20-ish. He's been a mentor for me and I love him.
Rhiannon: John Schaefer, the host of New Sounds on the radio station WNYC.
John: I was offered the chance to do the premiere broadcast of Akhnaten, and I took the opportunity because the first two operas in this portrait trilogy were so important, and it was interesting to see what he would do next.
Rhiannon: You can't very well talk about ancient Egypt without an expert in the room, Dr. Kara Cooney is here.
Kara: I am.
Rhiannon: She's a professor of Egyptology at UCLA.
Kara: I grew up some upper-middle-class white chick in Houston, Texas, a Roman Catholic girl amongst Baptists and for some reason, I see the world around me best through the lens of ancient Egypt.
Rhiannon: You'll also hear the voice of Paula Stone Williams, a pastor and LGBTQ advocate, she's reading the text of the Hymn to the Sun. [music] All right, let's lift the lid on Akhenaten's tomb and have a look inside. [music]
Anthony: This opera is about Akhenaten's the ancient Egyptian pharaoh who over the course of 17 years, changes the entire society and also changes religion and in some people's opinion, changes the course of Western history really.
Kara: Akhenaten was this strange King at the very top of Egyptian society during the 18th dynasty, and he developed a new way of thinking about God.
Karen: Akhenaten was the first one who had a monotheistic take on religion.
Anthony: Why at 17 years old did this Pharaoh decide that instead of hundreds of Gods, which had existed forever in Egypt, we'd have one God?
John: The deity was the sun, and he, Akhenaten, was the embodiment of that deity. It was a rather self-aggrandizing form of monotheism, but it was still an important step in the development of human spirituality.
Anthony: It was radical, it was in the words of today, also progressive in that it changed the way society functioned, it changed the way art was made, and Akhenaten did that himself. Then, Akhenaten disappears. We don't know exactly how or why we could assume he's killed, and everything he's created is reversed. [music]
John: There were very few surviving portraits of Akhenaten and the one that we do have is this really strange figure with these wide, almost feminine hips. He looks androgynous.
Kara: An ancient Egyptian king, he's a god king, so he has to be represented in a particular way. For thousands of years, the Egyptians would represent this masculine god king with a perfectly virile body, a chest full of muscles, biceps on his arms. Now, Akhenaten starts to mess with that. He morphs that super fit Arnold Schwarzenegger buffness of body and he turns that into this spindly, elongated, almost concave chest, narrow shouldered, long necked being that has a pendulant belly and really big hips and thighs. His leg looks like a drumstick, like a piece of fried chicken from KFC. It's this very bizarre and strange body that is messing with all of that idealism of perfected manliness. [music]
Anthony: People have speculated that Akhenaten is a hermaphrodite, because all the statues that remain of him show full hips and lips and even breasts. Perhaps, he was making himself somewhere between man and woman in an attempt to be closer to God. [music]
John: Philip chose to present him as a countertenor, which is the very high male voice up in a register that we associate with female voices.
Anthony: Basically, a man who sings in falsetto and the countertenor as such contains both male and female.
Karen: For me, it's a kind of exoticism. It's always going to make you feel a little bit uncomfortable. You think, "Wow, how does that come out of that person?" I think this exoticism also towers above the peace a little bit. I mean, if you're talking about the sun god to have something that sounds so lofty, and high, and reverent, it just fits.
Anthony: Also, there's an otherworldly quality, there's a shocking quality. There's all of these wonderful paradoxes contained in the voice hype itself, so it makes perfect sense for Akhnaten. Akhenaten's been crowned Pharaoh. He's united with his wife Nefertiti. He's destroyed the previous establishments. Now, the new city has been built.
Kara: The Hymn to the Sun is best preserved not in any temples, but in the tombs of Akhnaten's elites who followed him to his new city. They carved this hymn into the walls of their tombs, and they show Akhenaten worshiping the sun. They showed the solar disk in the heavens with its rays coming down and touching the face and the family of Akhenaten and giving him the breath of life.
Anthony: This moment, this Aria is unlike anything else in the opera because it is the pharaoh alone with his god, alone with the sun.
John: The Hymn to the Sun begins with a long flowing orchestral introduction. It's very kind of modal, almost ancient-sounding scale form that's being used.
Anthony: The hymn is one big crescendo. He starts with just the bassoon playing just to scale upward. [bassoon music] Then other instruments come in eventually and start playing a scale downward in juxtaposition to that, and we get little syncopations with the trumpet where it goes, bah, bah, bah, ba. [trumpet] It's tranquil.
John: The accompaniment is kept deliberately clear and transparent so that you can just follow this beautiful step-wise motion of the melody. [music]
Karen: When the piece was supposed to be premiered, when they commissioned the work, it was intended to be a full orchestration and then in Stuttgart, the Opera House was being renovated. They went to visit the alternative venue where they would be playing the premiere and there wasn't enough room for whole a orchestra. Philip said, "Okay, we'll take out the violins." The violas leave the orchestra actually, it's a very rich sound, a very mellow sound, a very grounded sound, the only kind of high pitches that we hear from the flutes and piccolos.
John: I think one of the things that surprise people is Philip Glass's music sounds so simple, you hear what appears to be just a repeating figure over and over again. If you actually sit down and try to play them, you find, wait a minute, I'm getting lost here because it's not repeating the same way every time. There are odd little rhythmic changes, there are harmonies that sound easy on the ear but which are surprisingly subtle.
Karen: Philip Glass I think is wrongly labeled as minimalist, I prefer to call him an additive composer. Someone who begins with something very small and builds on it. [music]
Paula Stone Williams: Thou dost appear beautiful on the horizon of heaven. Oh, living Aten. He who was the first to live. [music]
Karen: This hymn was conceptualized to be sung actually in the language of whichever country it's being played in. Here we'll have it in English.
Anthony: That's because it's a prayer essentially and the audience is in effect, traveling inside the Pharaoh's head, and so can understand everything he's thinking in their own language.
Kara: It's a really clever thing that Philip Glass did to make sure that the Hymn to the Aten is always in the language of the audience because that's what Akhenaten often did himself. Akhenaten change the Egyptian written language such that it represented what the people were actually speaking. It's as radical as translating the Bible from its original language, into the language of the people. Putting that Hebrew, Greek, or Latin text into English is a radical thing that allows people to connect with text one on one in a way that they couldn't previously.
Anthony: Everything else in this opera is in ancient Egyptian, Aramaic, or Hebrew. This Aria is very, very personal and that's part of what makes it so touching. [music]
Kara: What's most interesting is the duet between the countertenor voice and the trumpet that goes through this whole thing. The trumpet has a connotation as being a regal instrument announcing any kind of a leader and the trumpeter is really overlapping with the voice all the time and supporting in the same register.
Paula: When thou hast risen on the Eastern Horizon. Thou art fair, great, dazzling. High above every land, thy rays encompass the land to the very end of all thou hast made.
Karen: This is also in musical terms for me, the most Baroque moment, which is really cool. It's accompanied by this ostinato the kind of rolls along the whole time. [music]
John: That ostinato, that repeating pattern is supporting this sonic meditation and keeping it grounded so that it doesn't drift off into the ether.
Anthony: When you're in church and they say something like, and may the Lord be with you and then the congregation responds, and also with you, it's a kind of repetition of what's being said, and it feels a little bit like that.
John: There's an interesting echo of Philip Glass's early involvement with Indian classical music in this Hymn to the Sun where you get a figure say, boom, boom, boom, boom but then he doubles it to boom, boom, boom, boom, boom. It gives the effect of an accelerating sound. When in fact the music is still moving along at the same pace, you just have double the material stuck within each bar, and this suggests something happening beneath. As we know, Akhenaten the person, his career did not end well. There's perhaps the first rustlings of unease in the sudden crush of sound. [music]
Paula: How manifold is that which thou hast made thou sole God. [music] There is no other like thee. Thou didst create the earth according to thy will.
Kara: He tells us that this divinity created everything. He is light and dark. He is land and sea. He is all trees and plants. He is every animal. The sun is every creation.
Anthony: As Akhnaten goes through the piece and starts talking about nature, it builds to the point of almost exaltation and as I walk downstage center at the climax of the Aria, I feel almost the burning of the sun on the back of my neck. It feels like that's coming from the music.
Kara: If you've ever been to Egypt or North Africa or the middle East, you know that the sun is indeed the most powerful element of your world. It is the thing that wakes you up. It is the thing that beats down on your head at noon and the sun in Akhenaten's eyes was the God who was responsible for mankind's journey in every way, shape or form.
Paula: Thy rays nourish the fields. When thou dost rise, they live and thrive for thee. Thou makest the seasons to nourish all thou hast made. The winter to cool, the heat that they may taste thee. [music]
Paula: There is no other that knows thee save thy son, Akhnaten. For thou hast made him skilled in thy plans and thy might. Thou dost raise him up for thy son ho comes forth from thyself. [music]
Anthony: Thinking about how Egypt responded to Akhnaten is fascinating to me right now, especially as we're looking at Brexit and America and Trump and all of these things, because the country was divided. There were people who did not want that change. People who were uprooted from their homes, traditions and practices that were obliterated by this man.
Kara: Essentially, Akhenaten is telling us, one, there is only one, God who's created everything. Two, I'm the only one that can see into his mind. I'm the only one that can appreciate this and bring this beauty and light to you. If you want to get to God, you've got to go through me. You have to do everything that I say. I am the only one that understands it. The text while it has been read by most Egyptologists as this beautiful understanding of monotheism. There is a very dark underbelly of Akhenaten's religion of light. For me, it's rather chilling.
Anthony: There is one way to look at Akhenaten as this incredibly forward-thinking ahead of his time. queer, doesn't matter if you're male or female, but I've also heard this idea that the Nazis and Hitler saw the way he stood on a balcony the window of appearances and made his speeches and that that's what changed people's minds. Then you see Hitler standing on a balcony.
Kara: We must never forget that this is an authoritarian regime. Meaning, this is a place where your king, your ruler, is divine incarnate, and if you say anything negative about your king, you could be killed. This is not something that people would ever commit to writing so that an archaeologist could find it.
Anthony: The fundamental question that arises is, is Akhenaten a cult leader? Is he terrifying or is he a prophet in the best sense of the word? Is he showing Egypt the future and putting all of Islam, Judaism, Christianity on a track? I don't have the answer, and it makes it difficult, in a way, to portray this character. [music]
John: When Akhnaten concludes his Hymn to the Sun, he subsides and we hear, coming from offstage in most productions, a choir singing in Hebrew. [music]
Karen: We go into a half acapella rendition of a portion of Psalm 104 out of the Hebrew Bible, and if you can understand the ancient Hebrew, then more power to you. He's raising up to the sun at the end of his aria just giving it up to the universe, I guess.
John: The implication is that what he has just done in focusing our attention on this one point of light, both metaphorically and literally, will have later ramifications in the Abrahamic religions, in Judaism and later, of course, Christianity and Islam, and that whatever is going to happen to Akhenaten, this idea of monotheism will survive him.
Kara: I will leave you with the notion that Abrahamic religion has done no favors for humanity, in my opinion, in terms of humans getting along with each other. Abrahamic religion opens up a Pandora's box of competition, of people believing that one religion is wrong. As soon as you create this new way of understanding religion, you are becoming exclusionary to an extent that people will die over belief. It is Akhenaten that started humanity on that journey.
Anthony: When he died, everything he taught was reversed. They destroyed all of the statues, all of the representations of him because he was so radical.
Kara: What happened to Akhenaten remains very much a mystery. It's not clear how this man died. It's completely possible that somebody within his court, somebody very close to him, got really fed up and assassinated him and did so the way you would do it in authoritarian regime. It's a confusing jumble of information, and it's going to take Egyptologist some time to figure this out.
Anthony: What I love about this opera is that it taps into the same thing that the spiritual things to tap into, but this piece in particular, because the narrative comes from ritual, it does feel like a spiritual experience, and when we're on stage, it's as if we're going into this very special place and taking the audience with us. That is why I feel audiences have become almost addicted to it.
John: At this point, it's hard to imagine a contemporary composer who has not been influenced by Philip Glass. Even those who say they don't like that style of music have had to react to it. It's become part and parcel of the sound of our films and TV commercials. This is a guy who's been an answer on Jeopardy, who has been parodied on South Park, when you get a classical composer insinuated into our culture to that extent, you're talking about someone on the scale of Leonard Bernstein. We just, we don't have classical composers like that in modern America. Except that we do and his name is Philip Glass.
Rhiannon: That was countertenor Anthony Roth Costanzo, conductor Karen Kamensek, soundcheck host John Schaefer and Egyptologist Kara Cooney decoding the Hymn to the Sun from Akhnaten by Philip Glass. You also heard Reverend Paula Stone Williams reading the text of the hymn. Anthony will sing it for you after the break. [advertisement]
Rhiannon: Now, here's countertenor Anthony Roth Constanzo performing the Hymn to the Sun from Akhnaten on stage at the Metropolitan Opera. [music] [singing] [applause]
Rhiannon: There's something so unique and special about the countertenor voice, isn't there? That was Anthony Roth Costanzo, singing the Hymn to the Sun, from the Opera Akhnaten by Philip Glass. Well, it's time to wrap up this episode of Aria Code. Get it? Wrap up, like a mummy. Anyway, if you pray to the opera gods, why don't you head over to Apple Podcasts and leave us a review. Aria Code is a co-production of WQXR and The Metropolitan Opera. The show is produced and scored by Merrin Lazyan. Emily Lang is our associate producer, Brendan Francis Newnam, and Helena de Groot of Public Address Media are our editors. Matt Abramovitz is our executive producer. Sound design and mixing by Matt Boynton, and original music by Hannis Brown. I'm Rhiannon Giddens, see you next time.
Paula: Do you want a 1960s destructive version? Thou dost appear beautiful on the horizon of heaven. Oh, living Aten. When thou hast risen on the Eastern Horizon, thou art fair, great, dazzling.
Copyright © 2020 New York Public Radio. All rights reserved. Visit our website terms of use at www.wnyc.org for further information.

New York Public Radio transcripts are created on a rush deadline, often by contractors. This text may not be in its final form and may be updated or revised in the future. Accuracy and availability may vary. The authoritative record of New York Public Radio's programming is the audio record.